I know this seems like it has been months in the making (it has!!) but our patio is officially finished and I can share all the pretty makeover details with you!
I won't drag this out, but let me quickly refresh your memory of what our backyard looked like this past spring;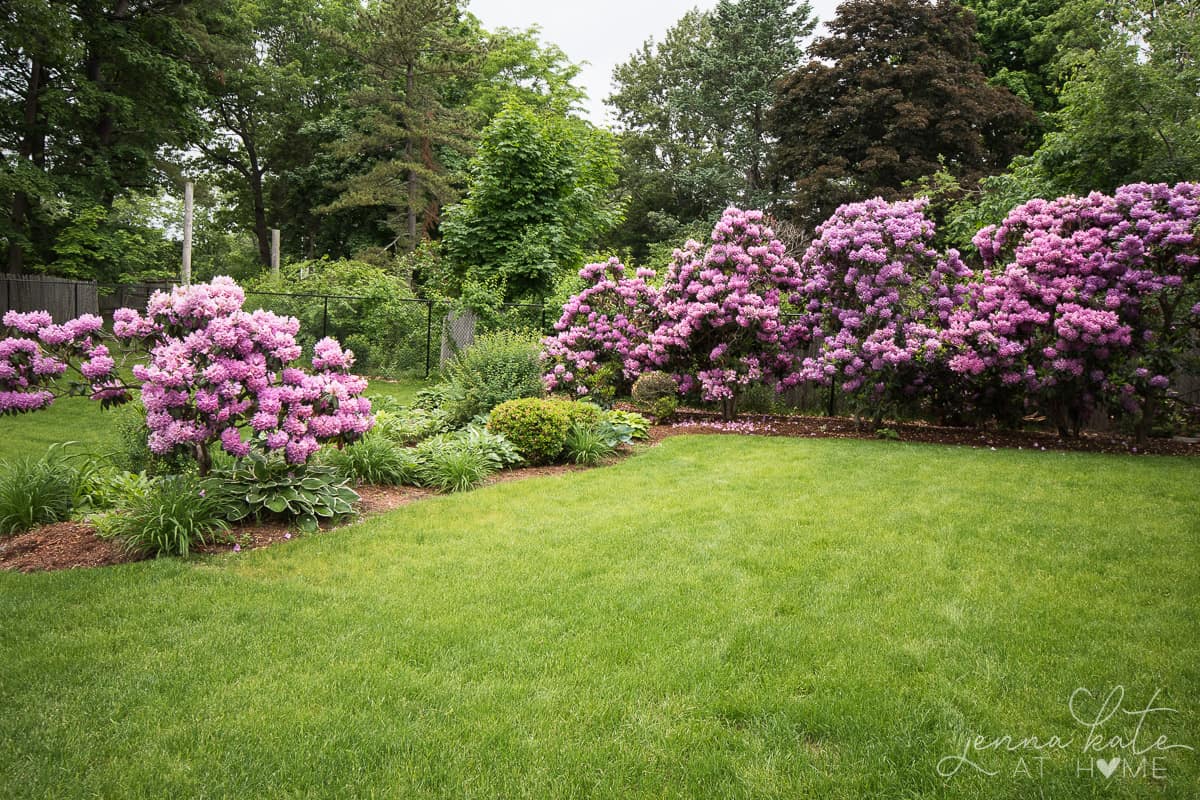 It was a lovely, flat section of grass right next to our deck. But we have a huge back yard and only had a tiny little deck. We dreamed of having a patio space…and so we had one built! Here's what it now looks like…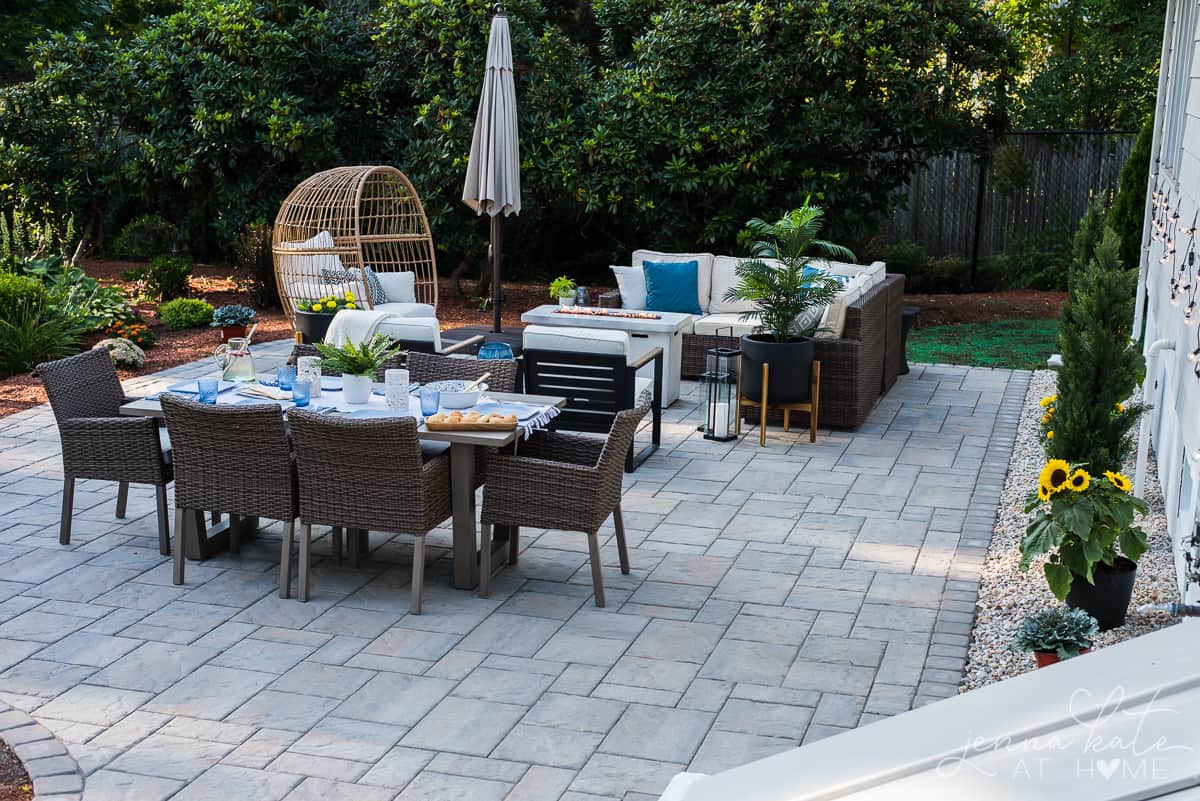 *Posts on JennaKatetatHome.com may contain affiliate links. See full disclosure HERE*
How Do You Do a Patio Makeover?
To do a patio makeover, you first need to decide on the areas your patio will encompass. Do you want a dining area, a sun lounging area or a casual area to just hang out? Deciding up front the exact function your patio will serve is the most important.
For us, we knew we wanted a seating area with a fire pit where we could just hang out, as well as an area for outdoor dining. This was an important detail in decided on the size of patio we wanted to create.
Your budget will also be a factor. We already owned the majority of the outdoor furniture, it was just scattered throughout other areas of our backyard. If you know you will need to buy everything, then that will be an important consideration to take into account when figuring out how much you can spend on the actual patio installation and whether to DIY or hire out.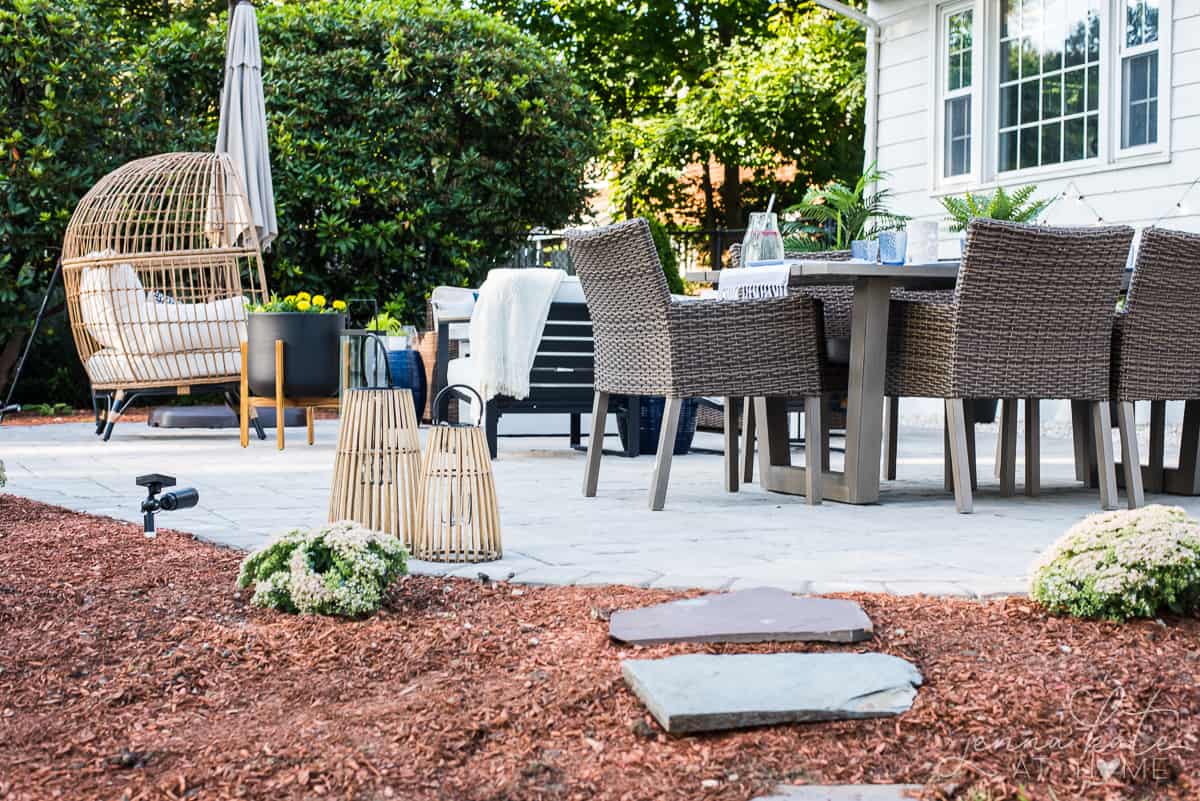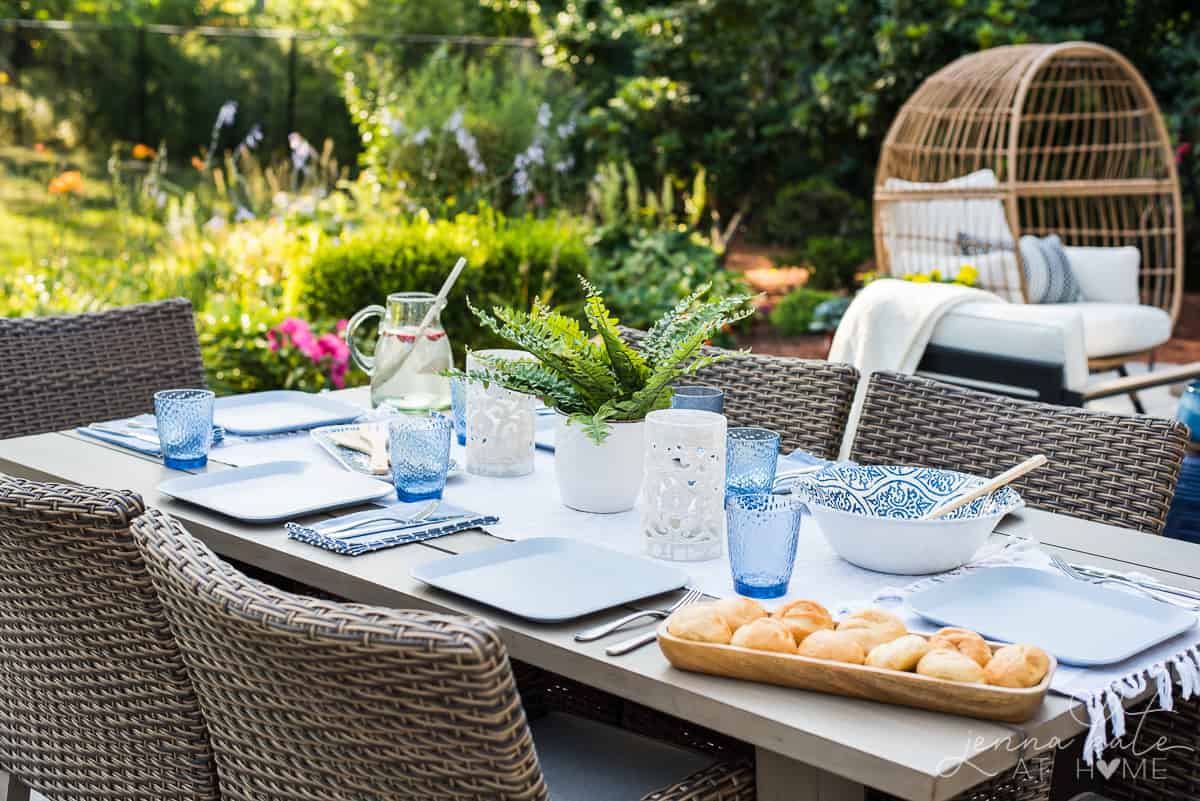 Ready for the full reveal? I'm sharing lots of images below to hopefully give you some ideas for your very own patio makeover!
I also have a patio video tour for you!
---
Looking For More Room Reveals & Makeovers?
---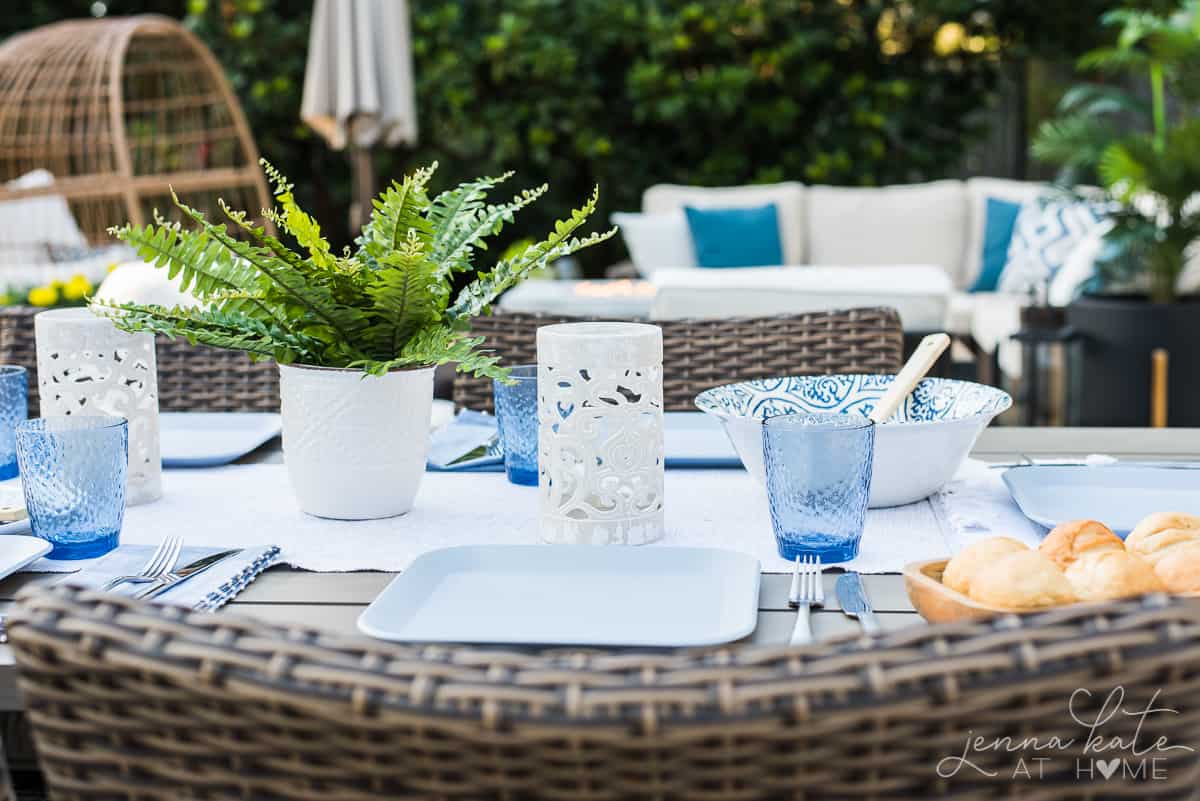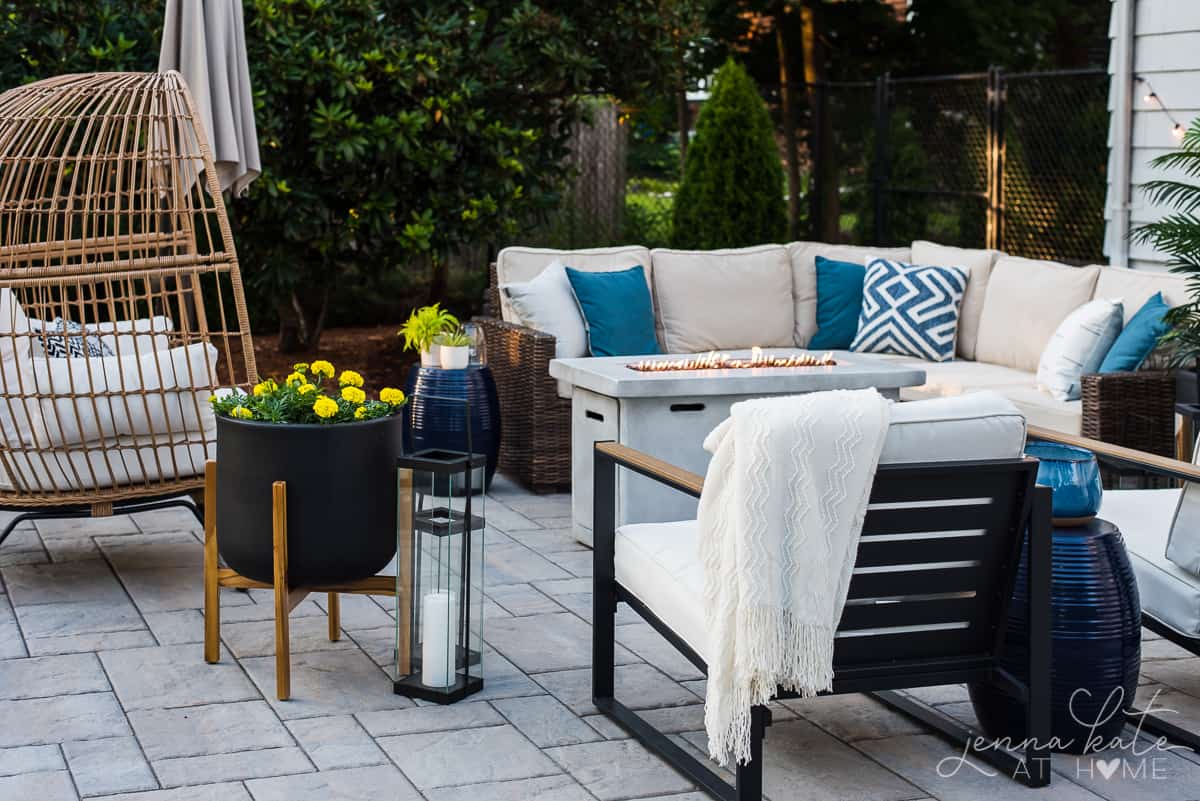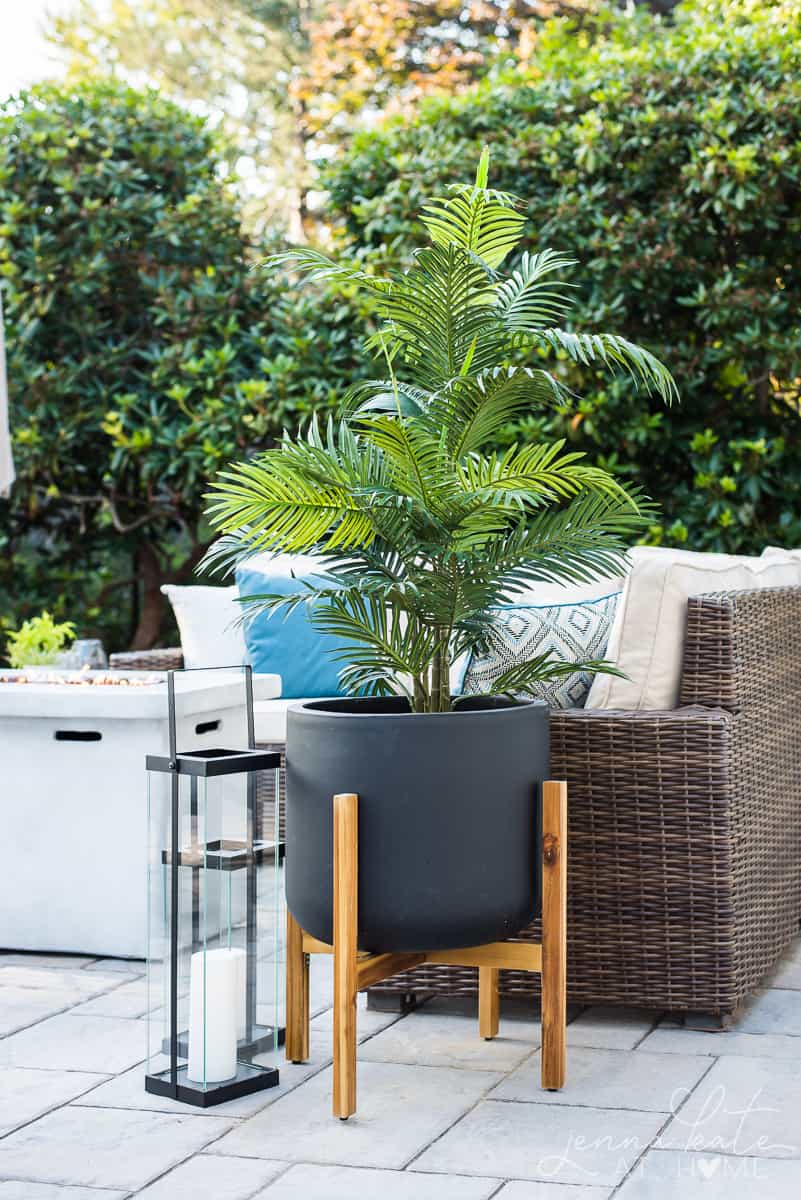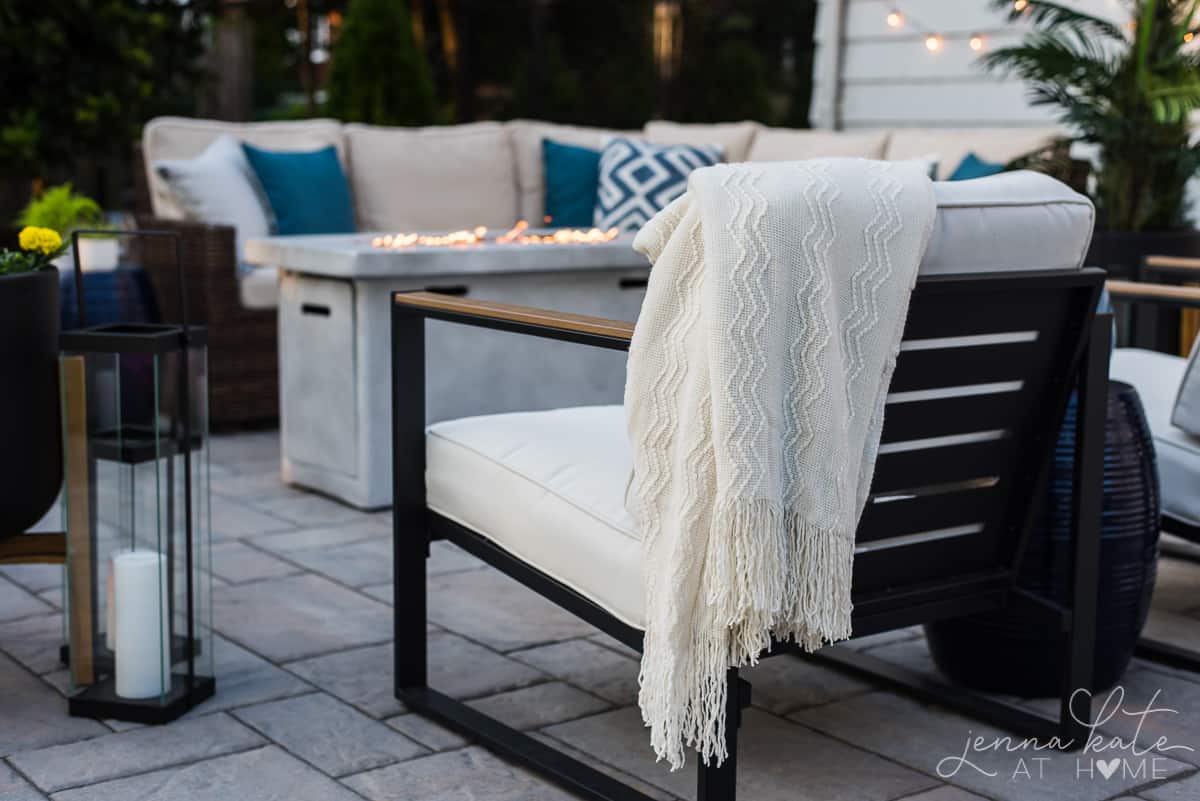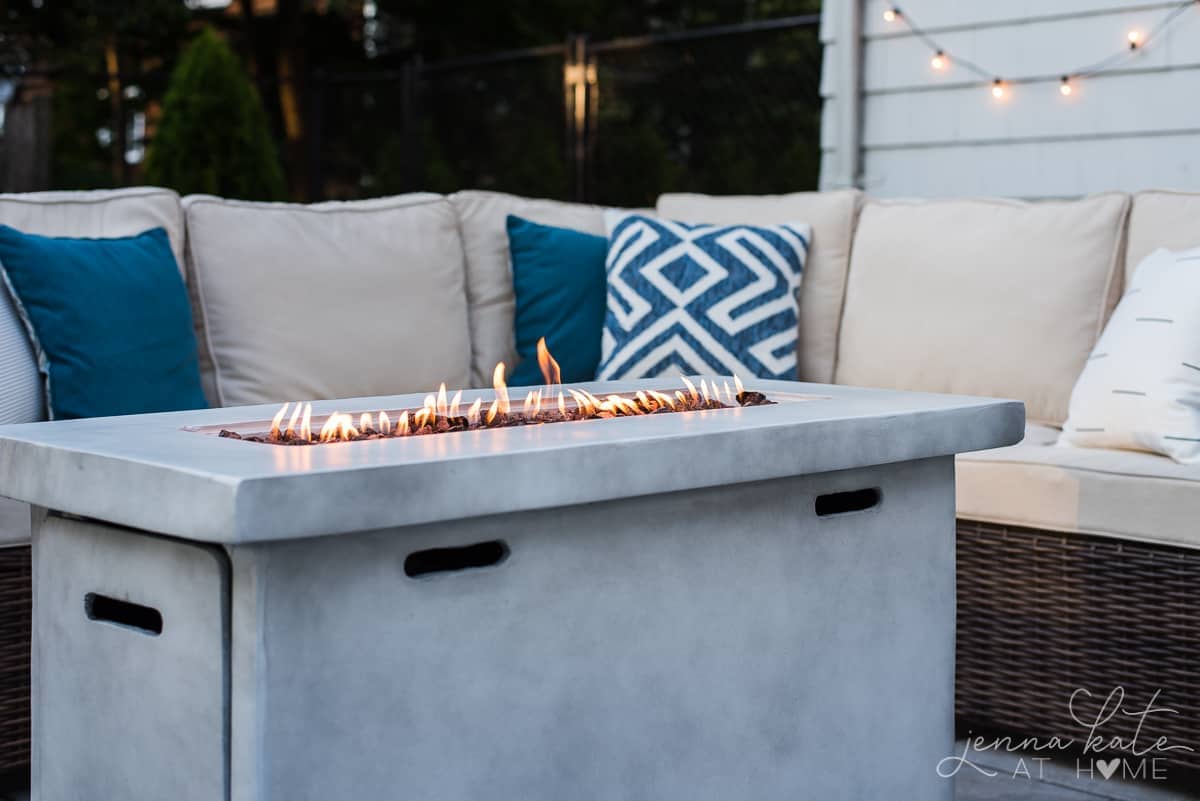 While the patio has technically been finished for a couple of months, final touches like painting out our house's foundation to match the siding, adding the river rock border and painting the bulkhead door were the final touches that needed to be completed in order for the patio to truly look finished.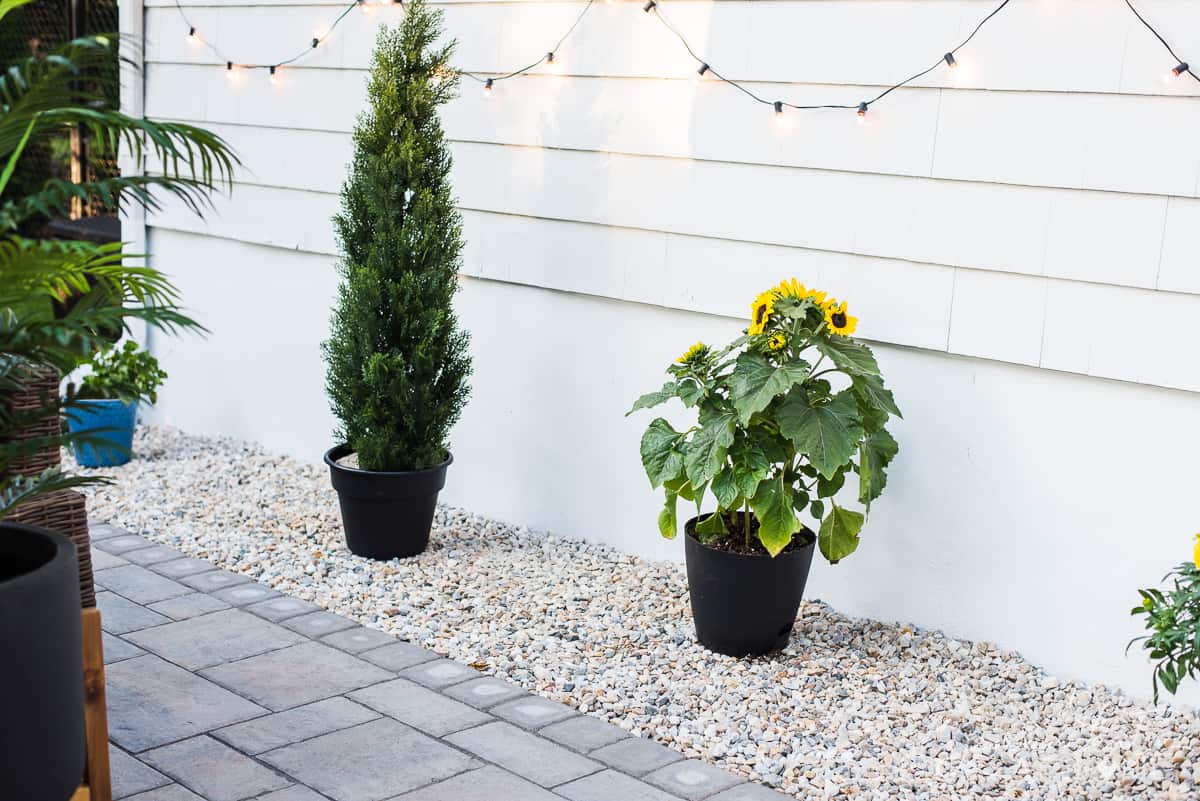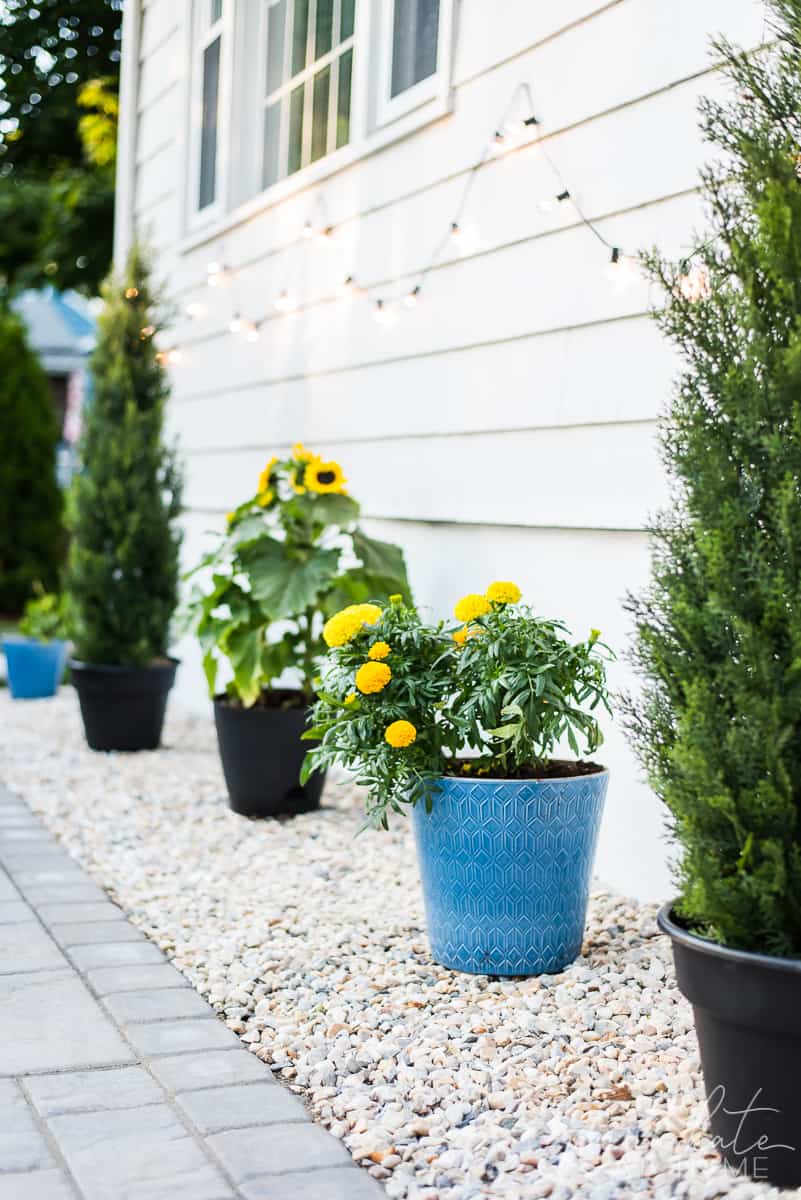 The painted foundation and stone border make everything look so much cleaner! We couldn't run the patio right up against the house because of how our irrigation lines run so this was the solution we came up with. And I really love how it looks!
Painting the foundation to match the siding was a simple project that only took a couple of hours and completely transformed this side of the house. I also painted the ugly black bulkhead doors to blend in and it's no longer a crazy eyesore. You can read all about that project and the paint sprayer and paint I used here.
The river rocks provides natural drainage for the gutters that run down the house, too, so we don't have to worry about water rushing over the patio any time it rains.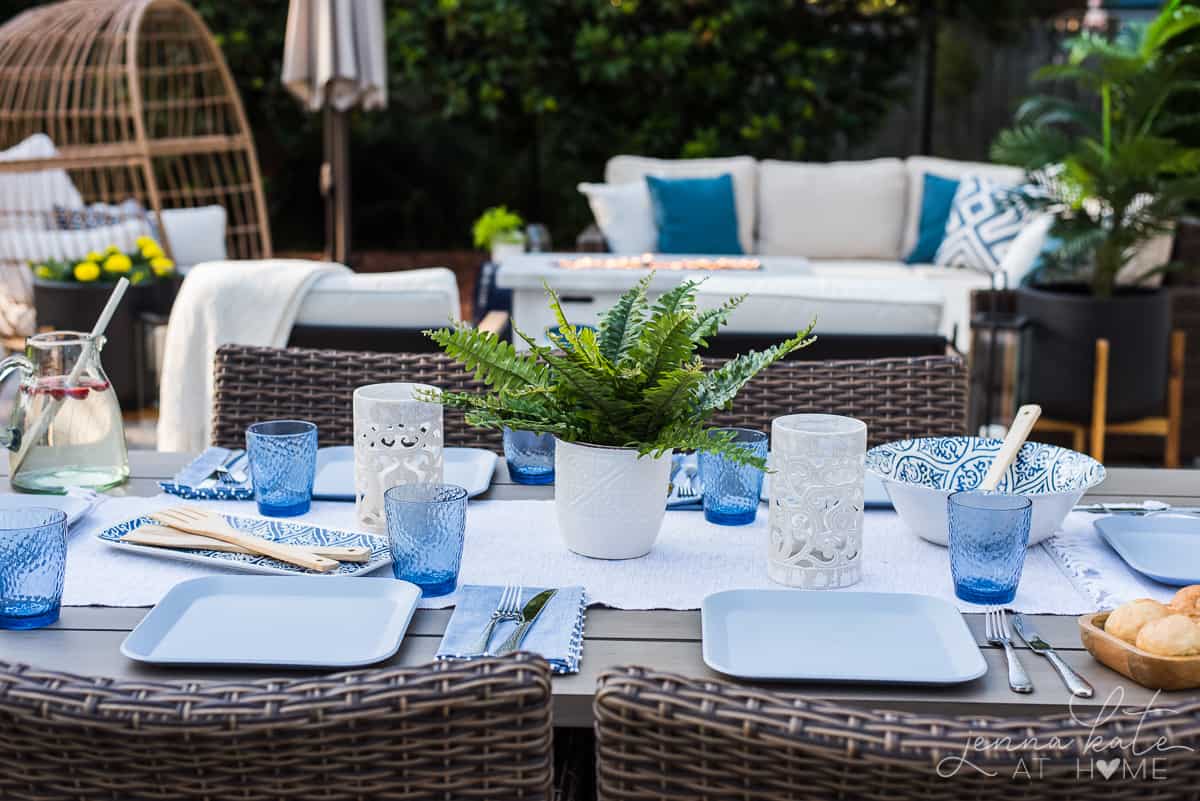 We've enjoyed many dinners at this table already. Then we usually head back to the sectional, turn on the fire pit and make s'mores.
I love all the memories we have already made out here!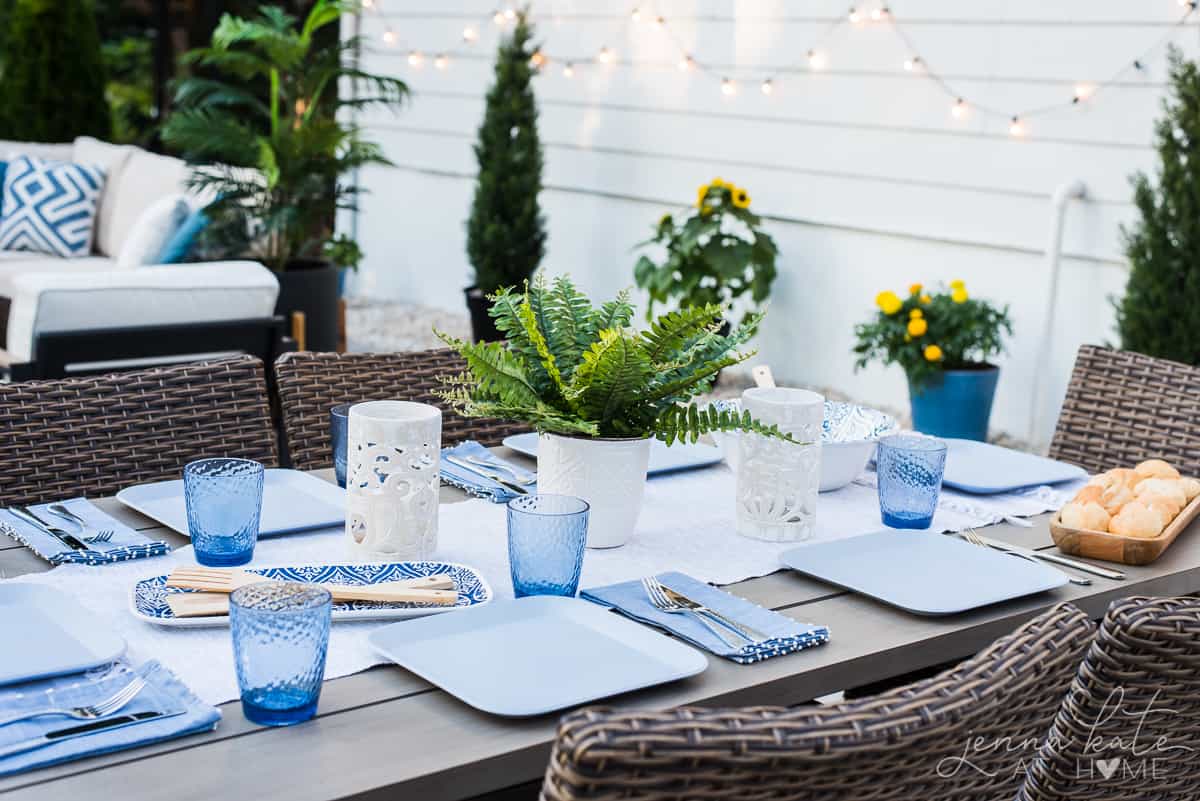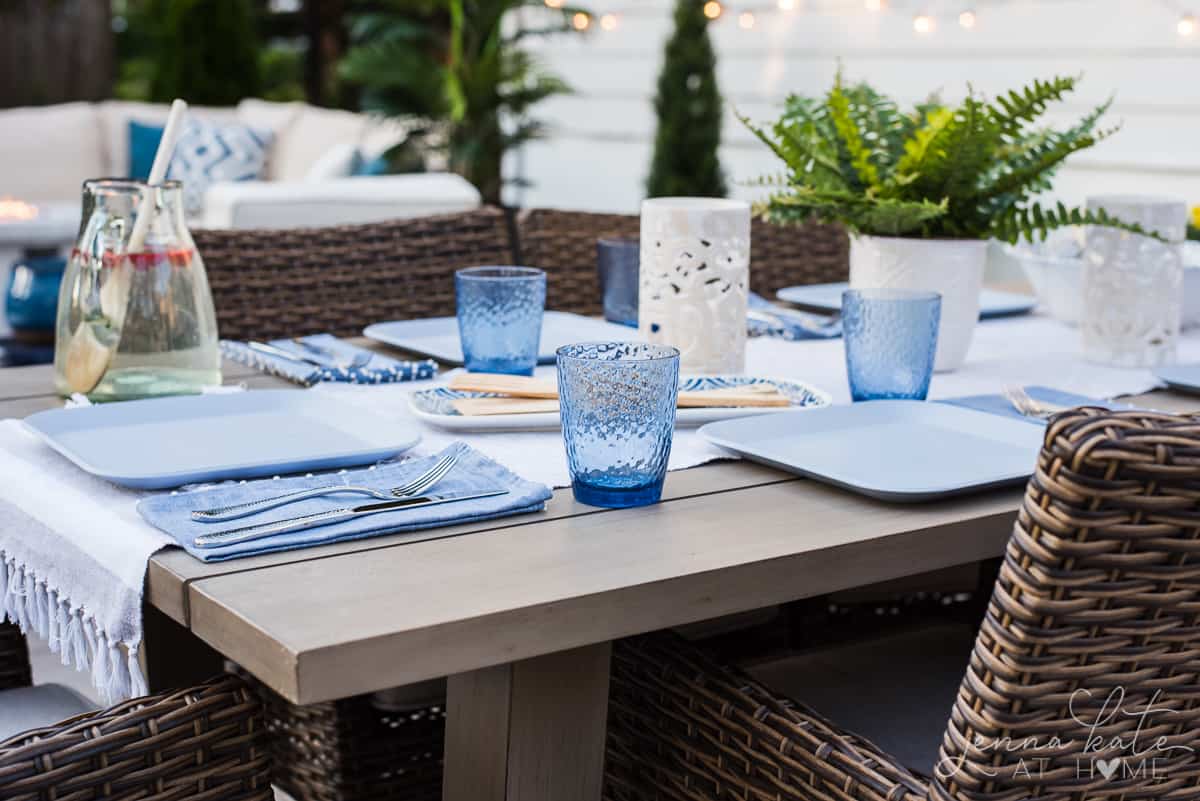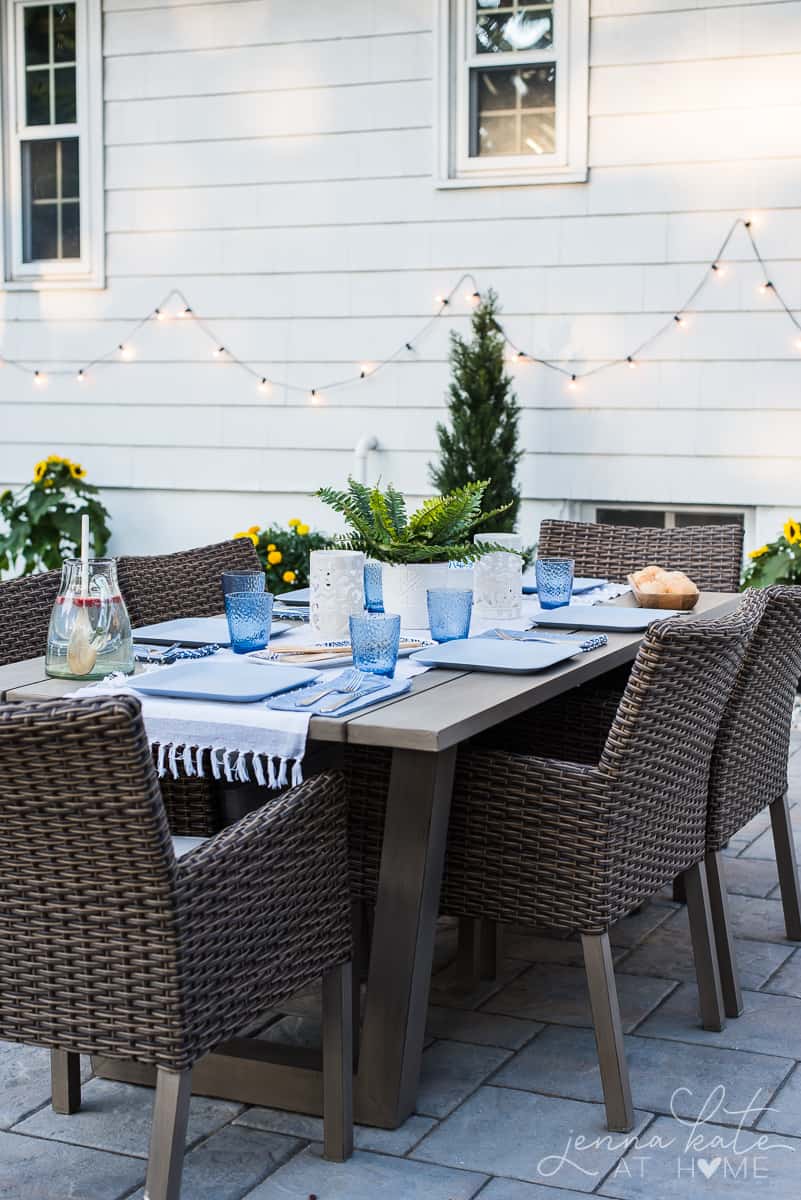 The back of our house gets the most beautiful sunsets. I'm so appreciative of the fact that we can now relax out here and enjoy them!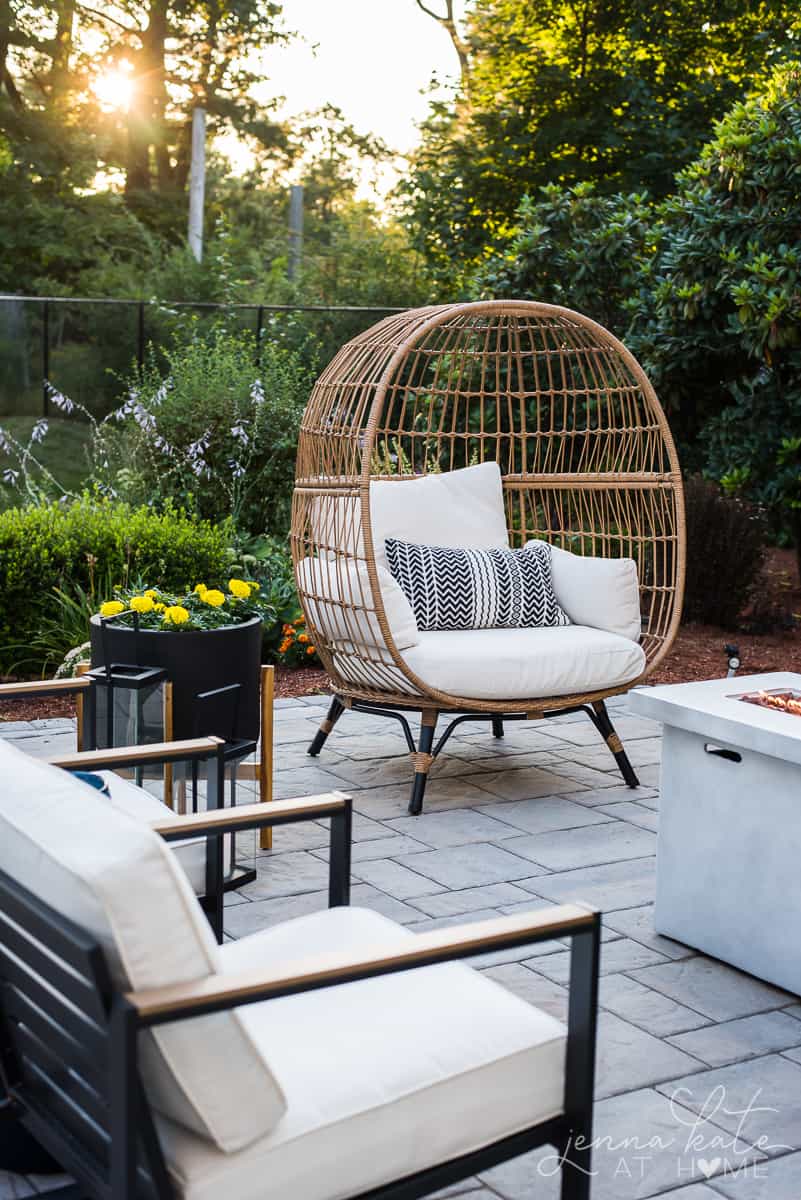 By the way, this egg chair is one of my favorite things that I purchased for the patio. My kids love to sit in it together and I love to curl up in here with a book. It's so cozy!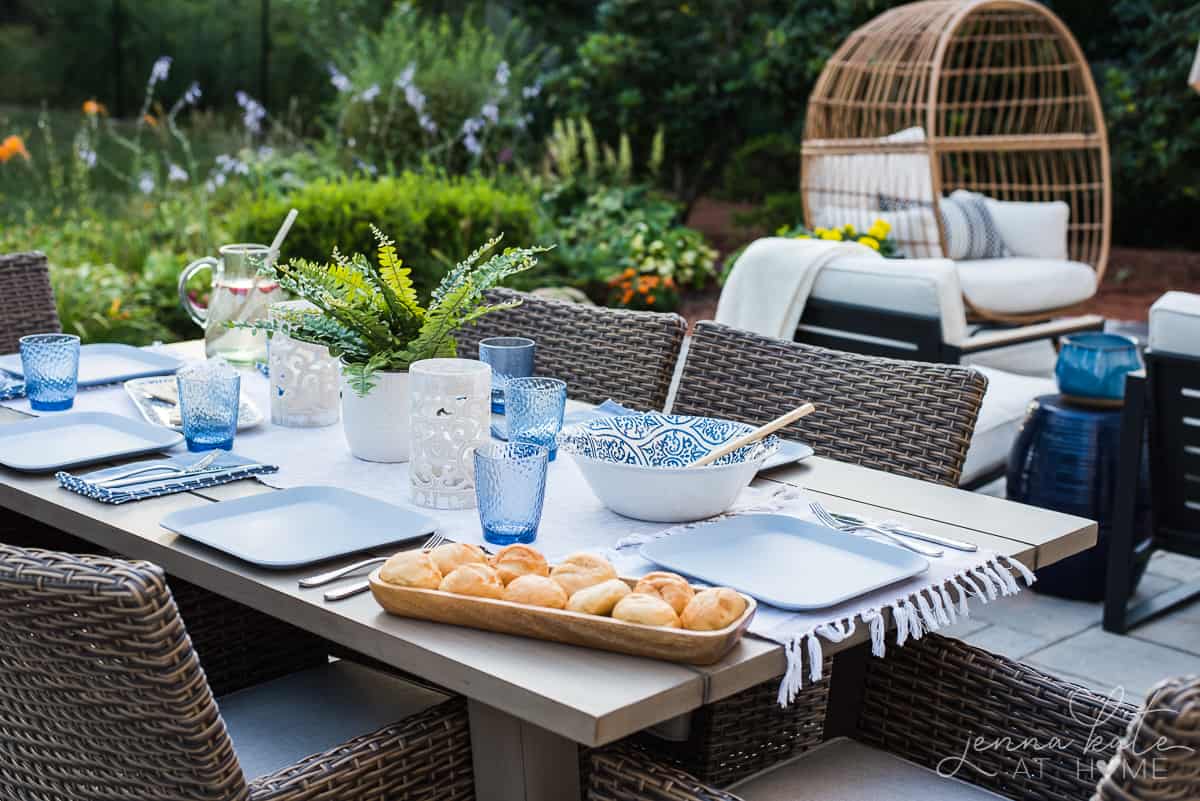 We keep it casual when eating and either use the malamine dinnerware pictured or paper plates. All the melamine you see here is from Target and has been amazing when we've wanted something a little prettier for guests. But when we're just eating pizza out here on a Friday night, it's strictly paper plates!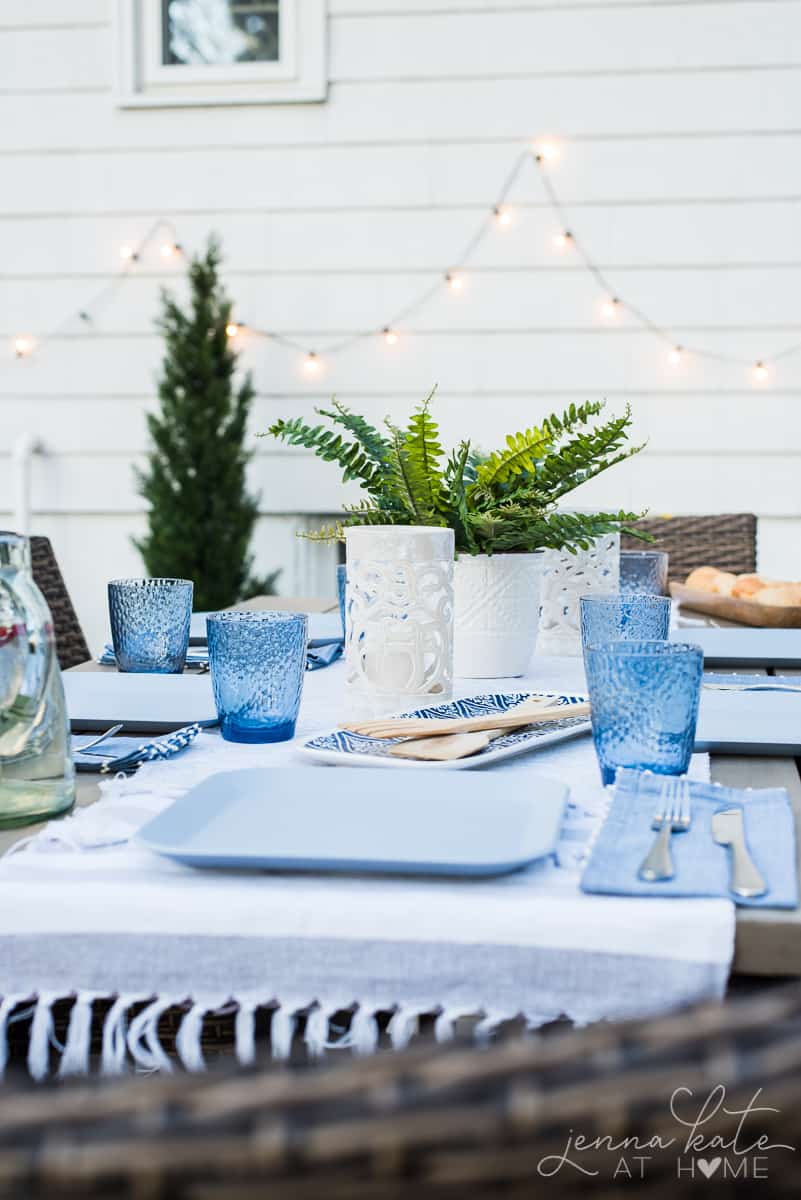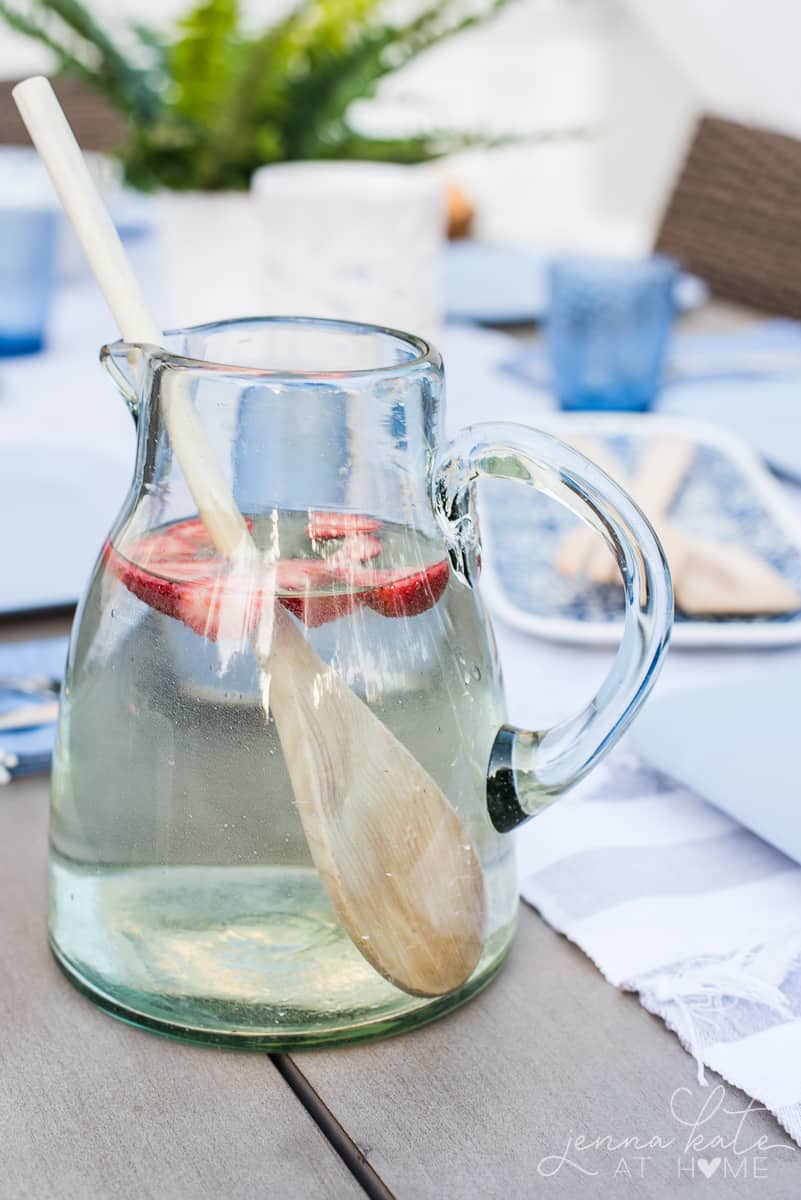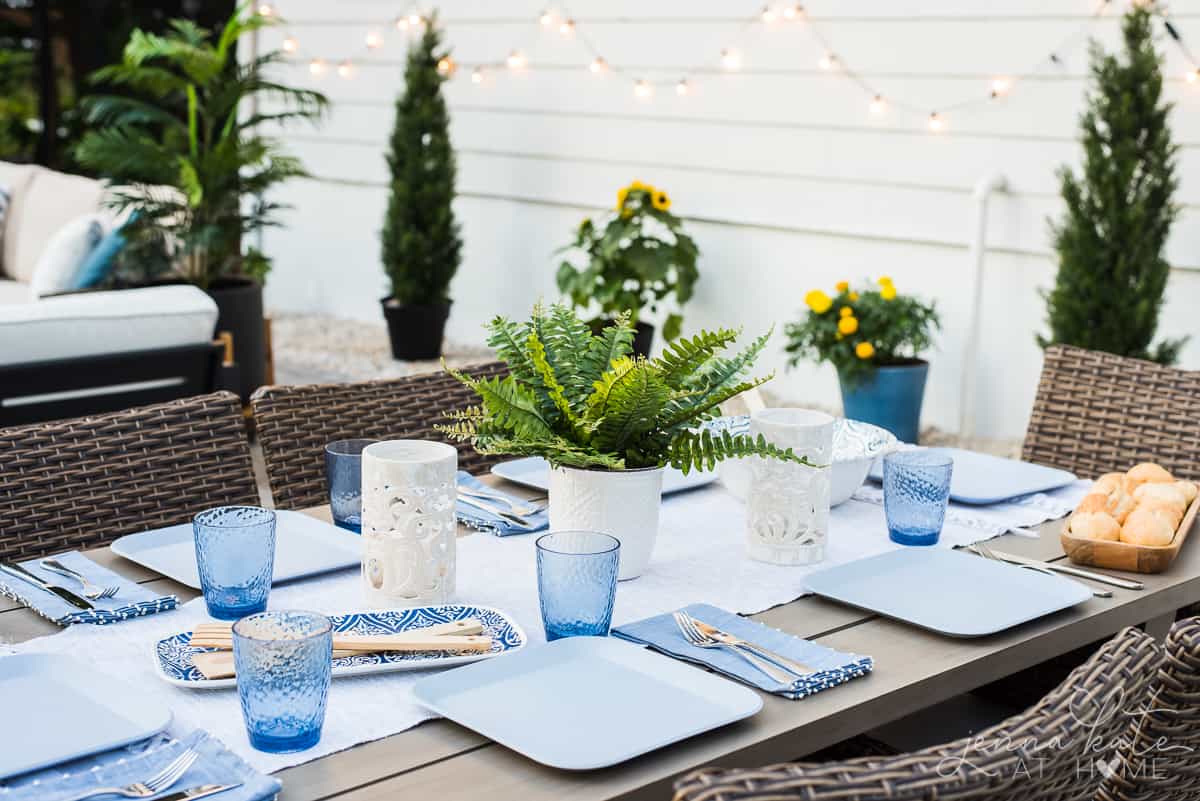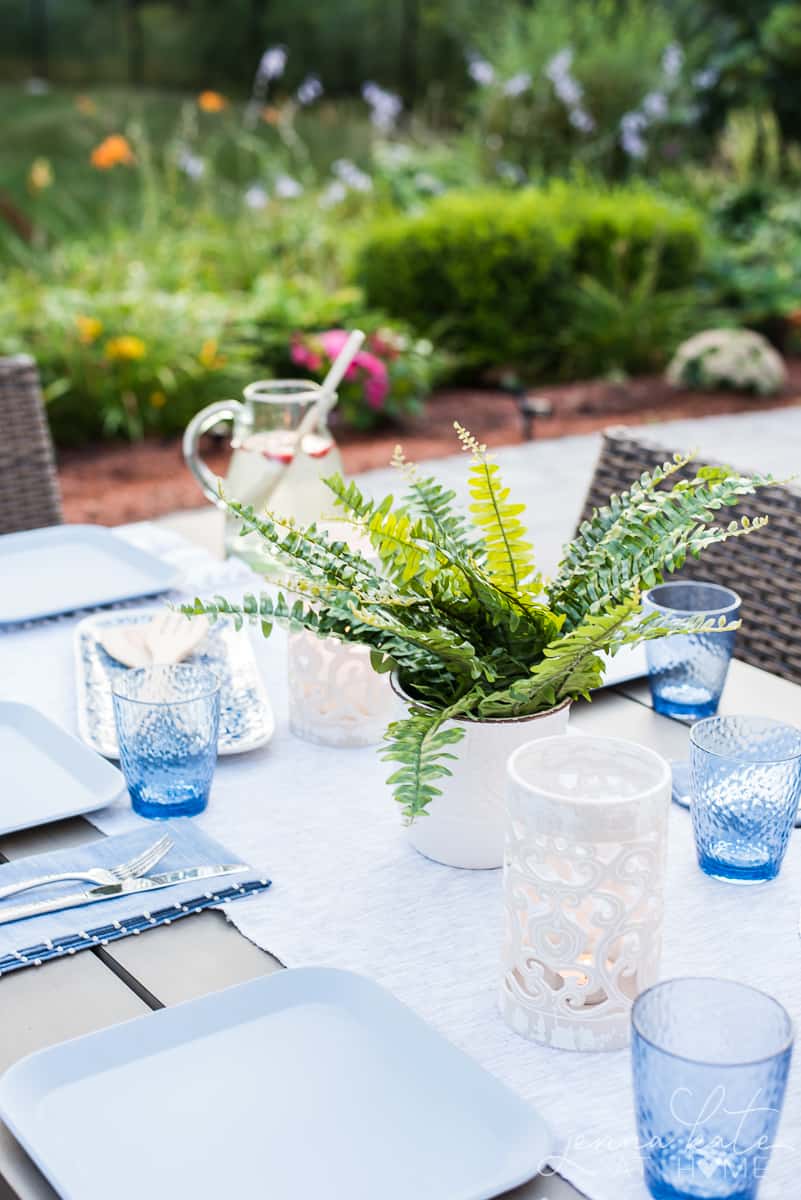 As beautiful as it is out here during the day, when the sun starts to set, the magic really happens…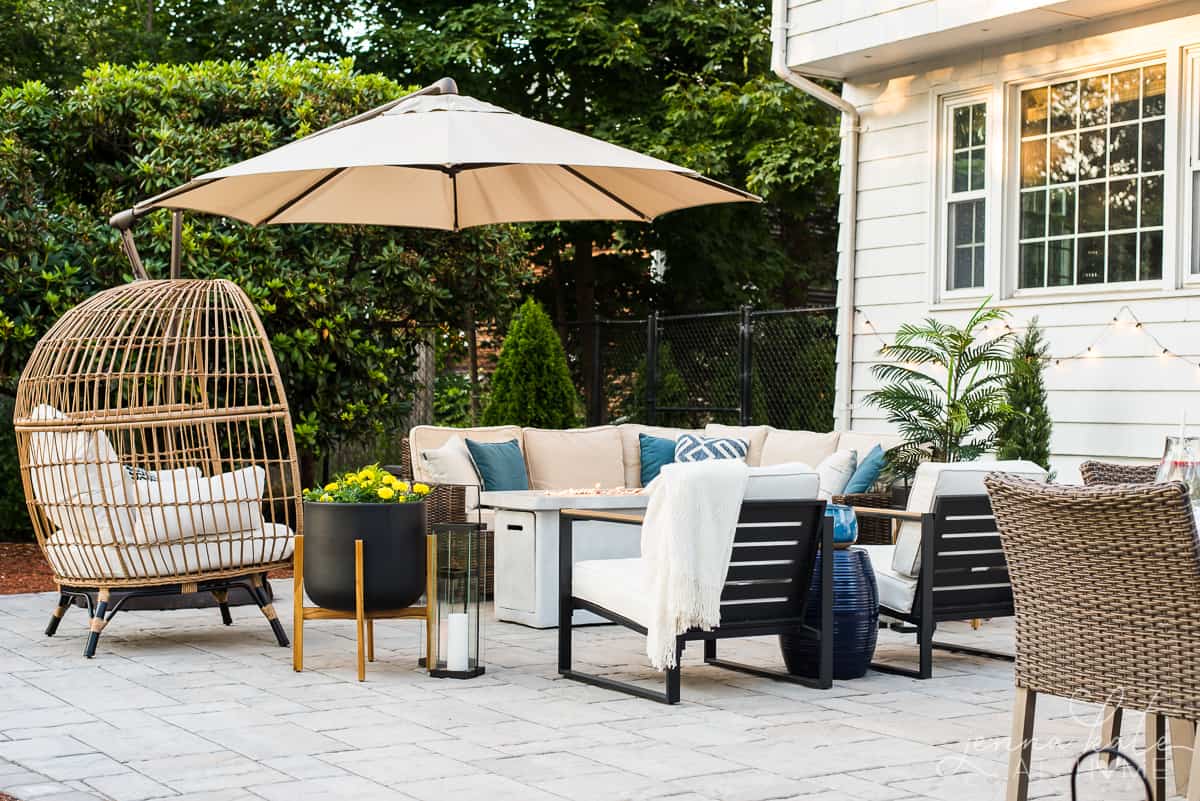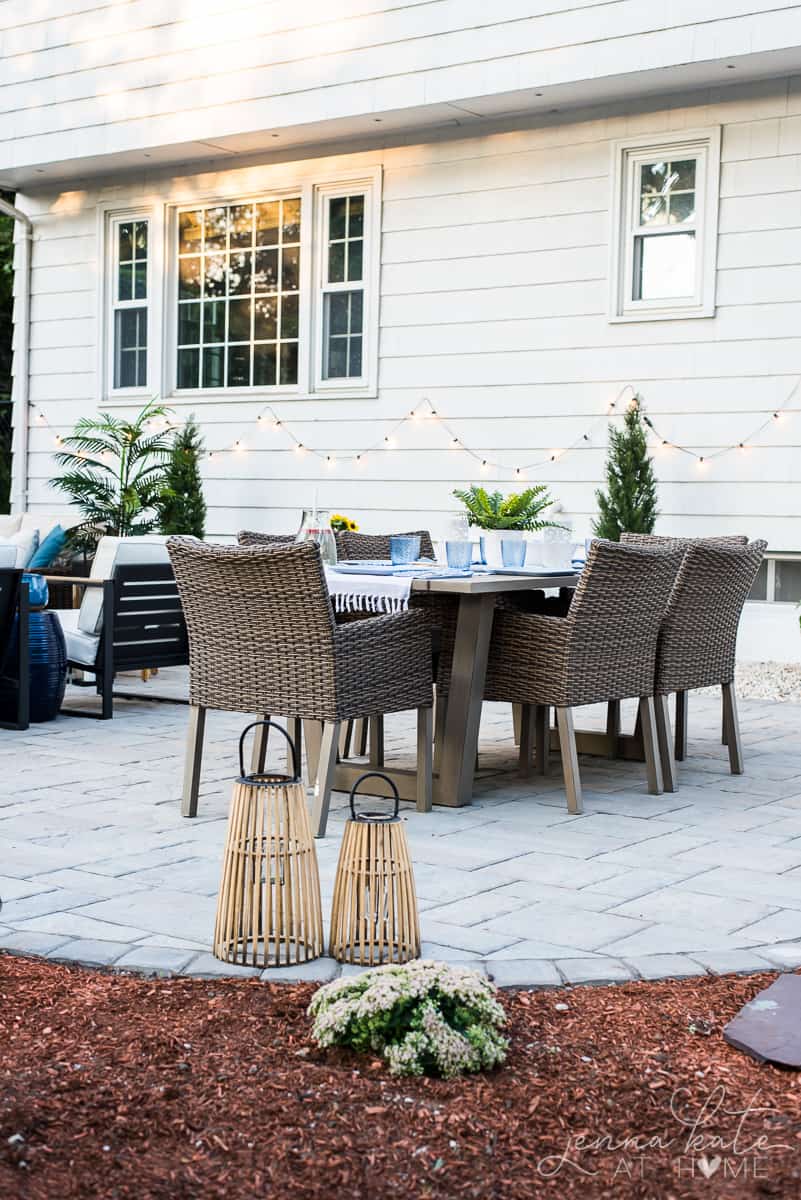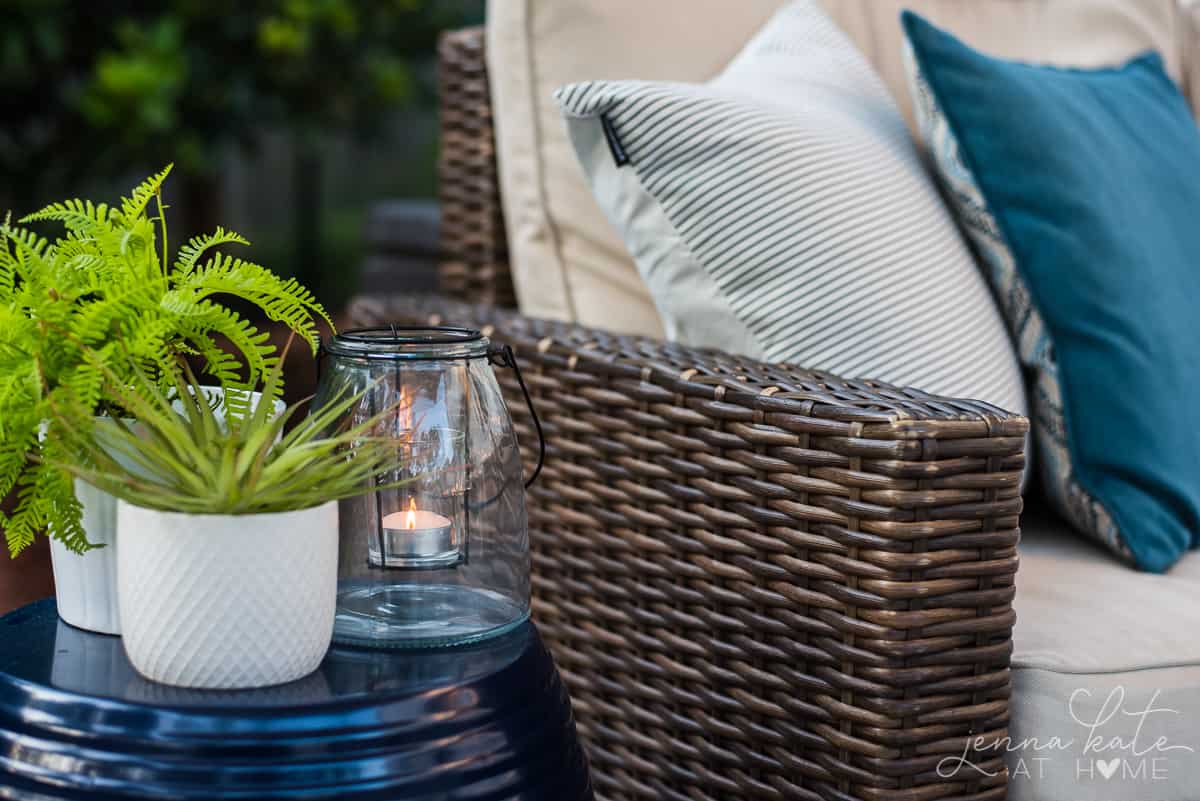 The sun sets right behind the trees, creating the most wonderful golden hue over everything.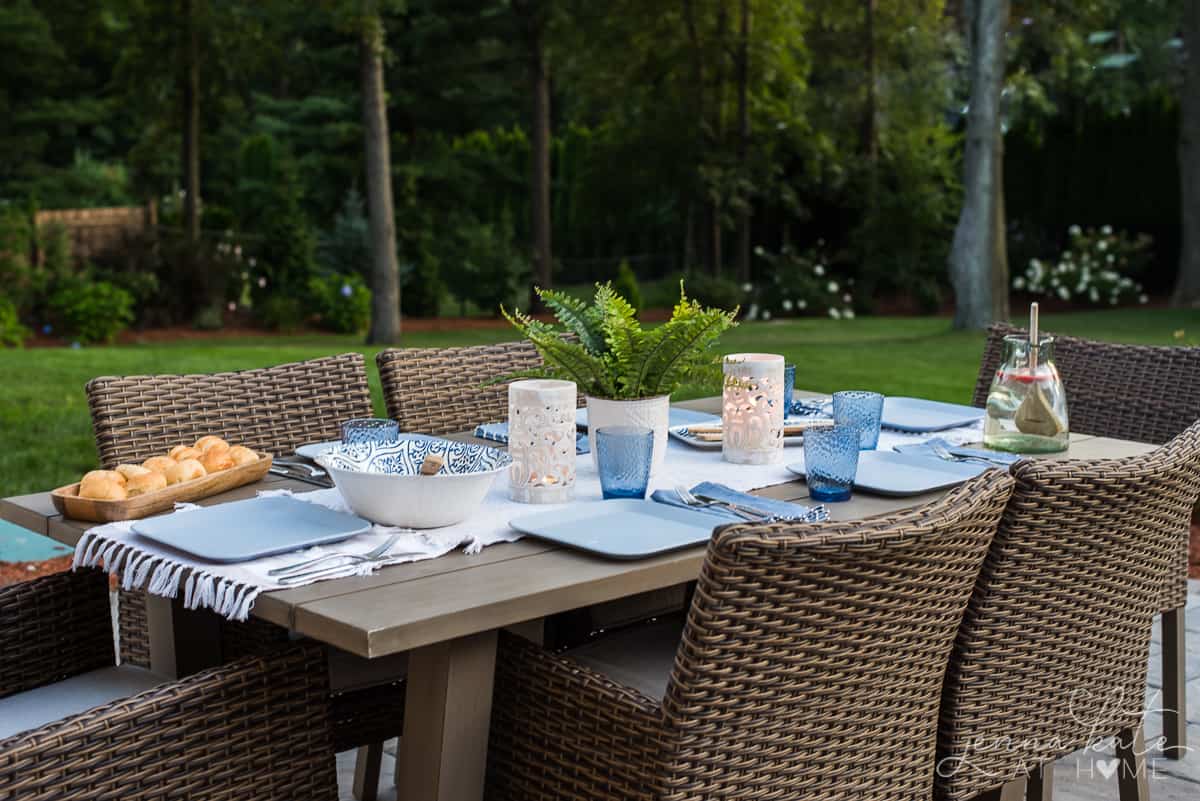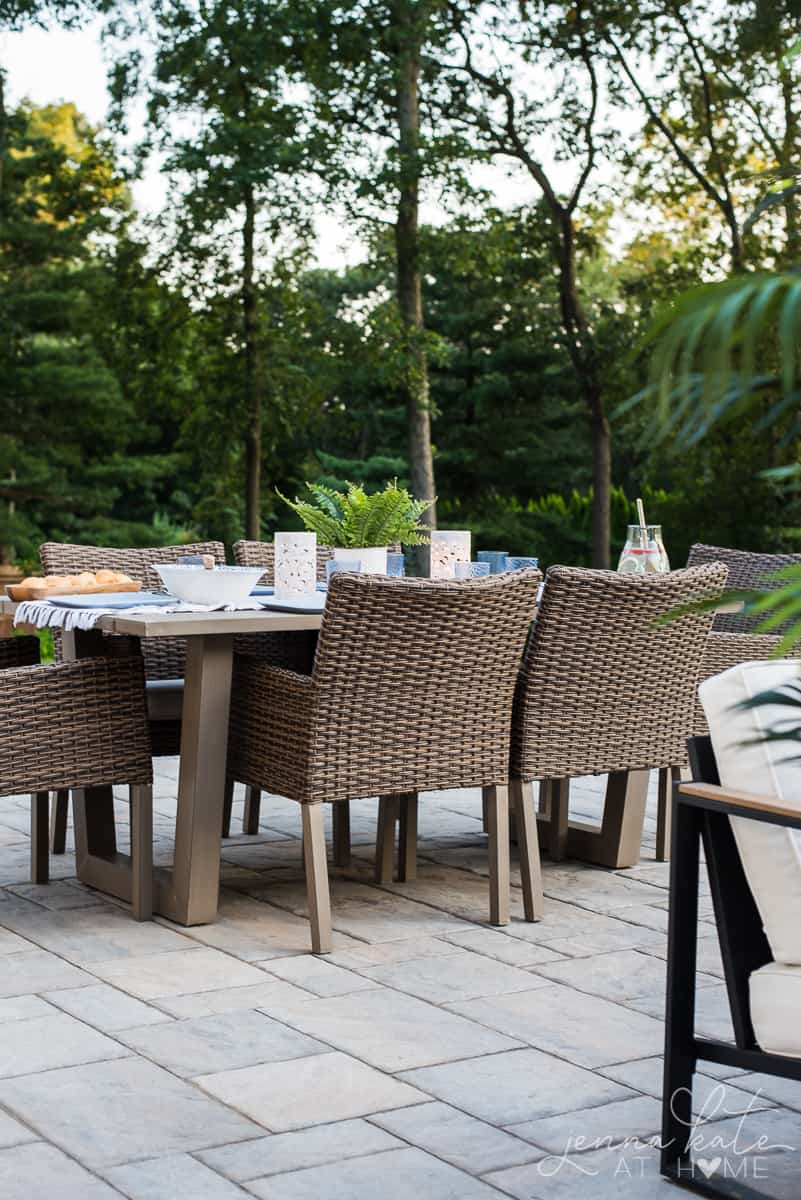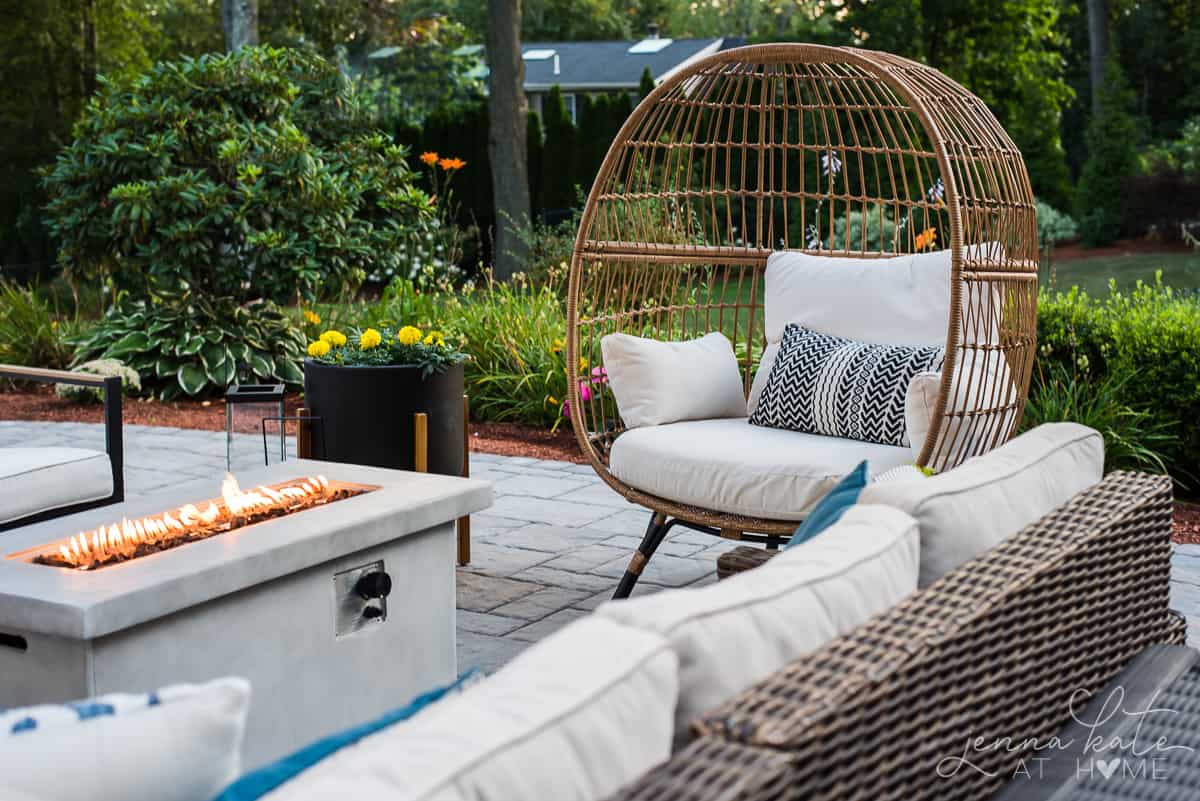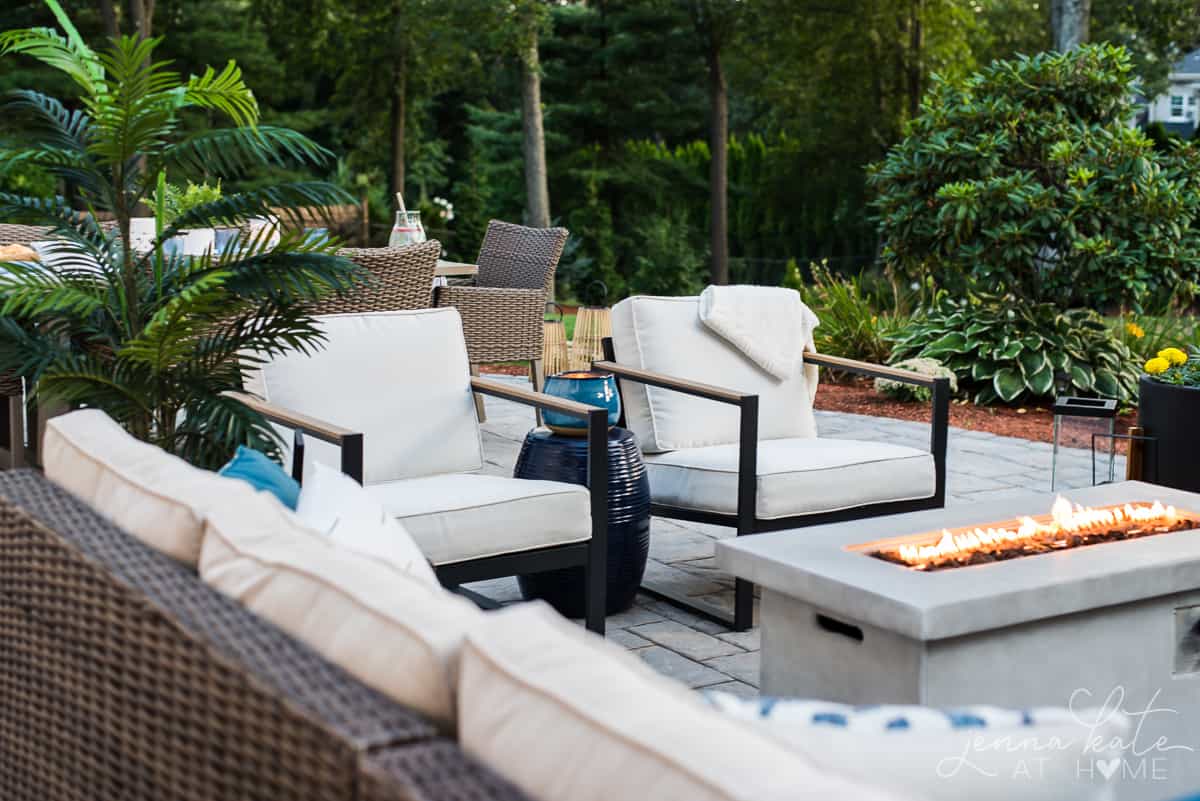 The glow of the lanterns, fire pit and string lights transform this patio is something even more special.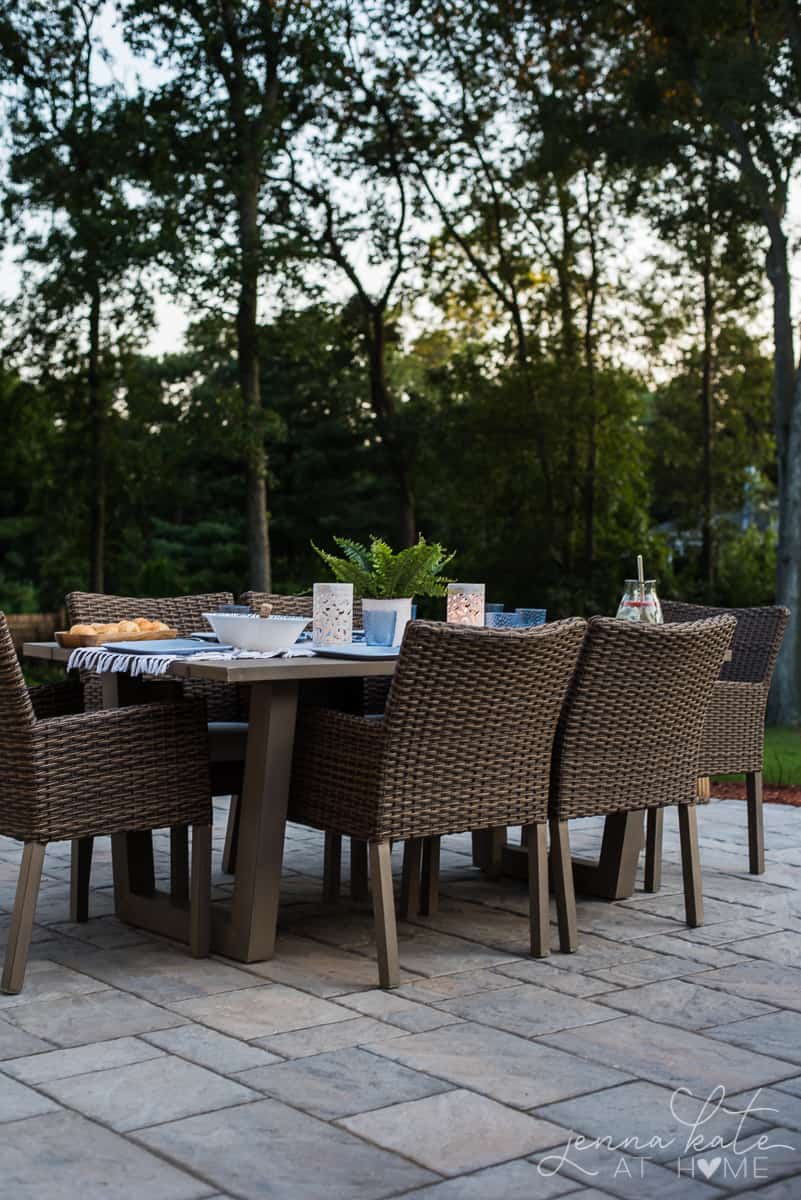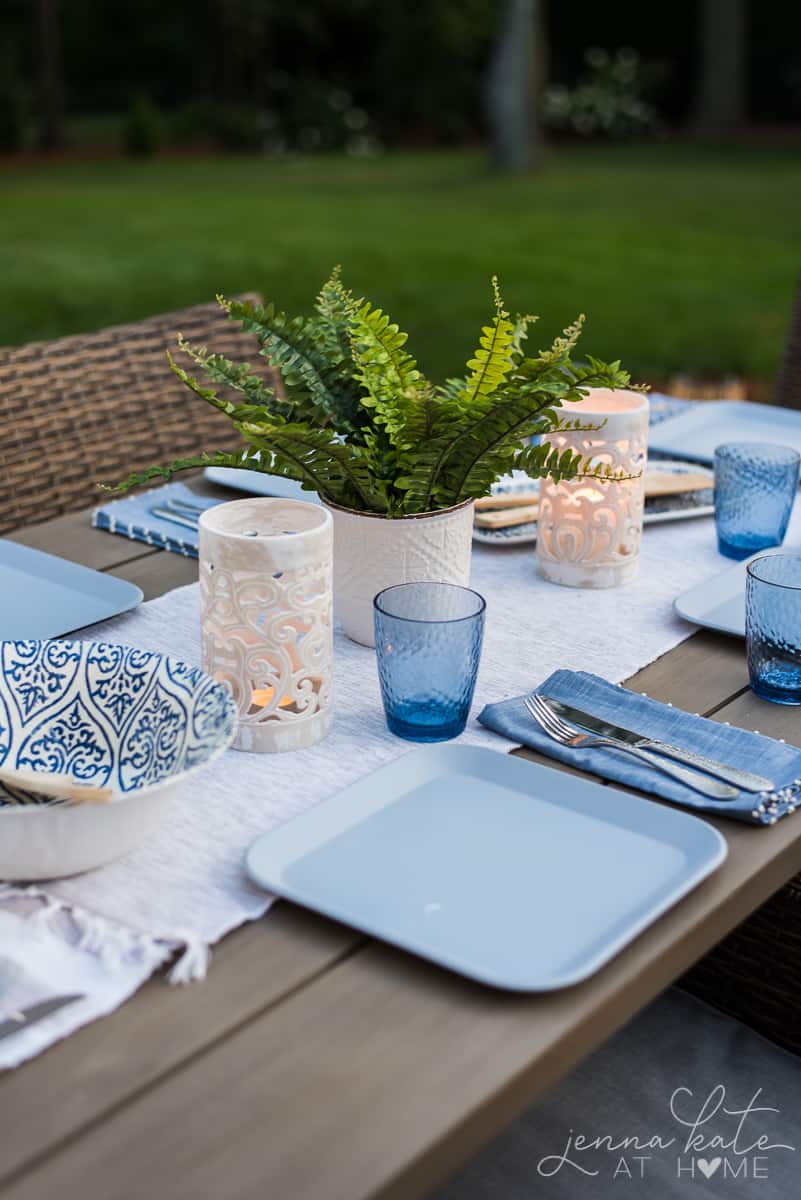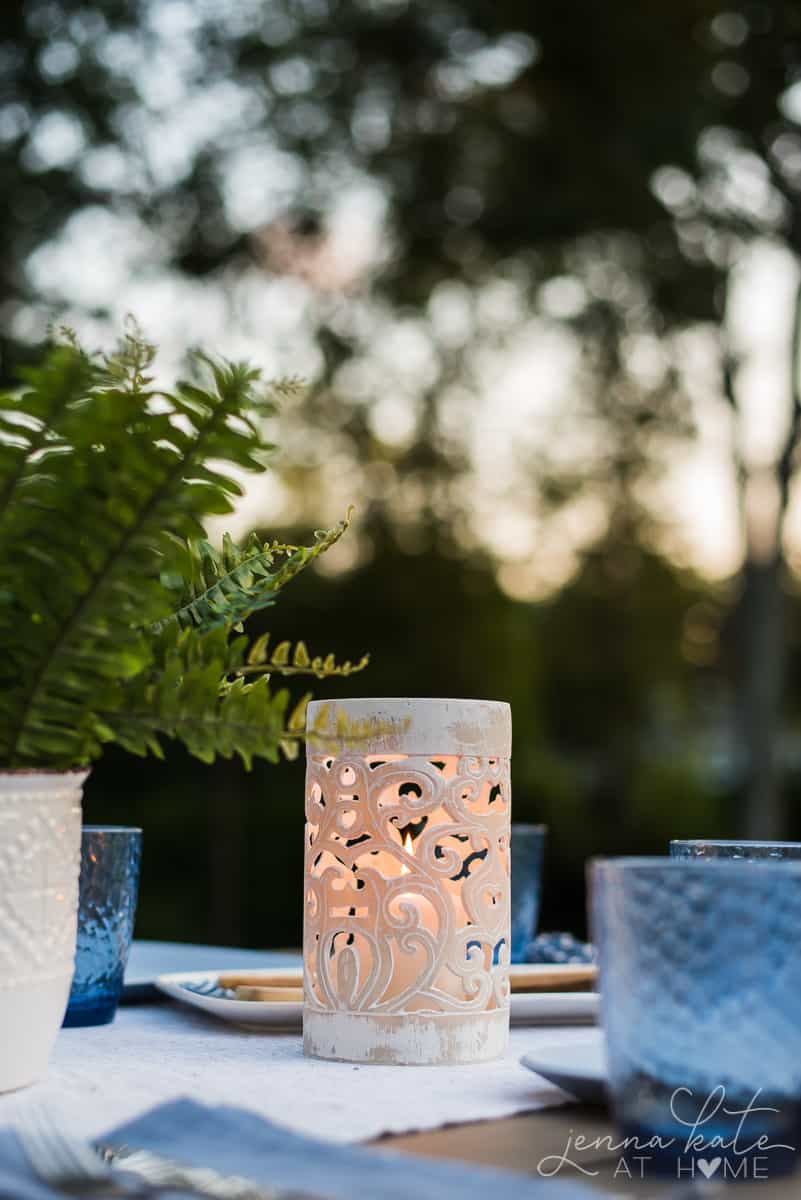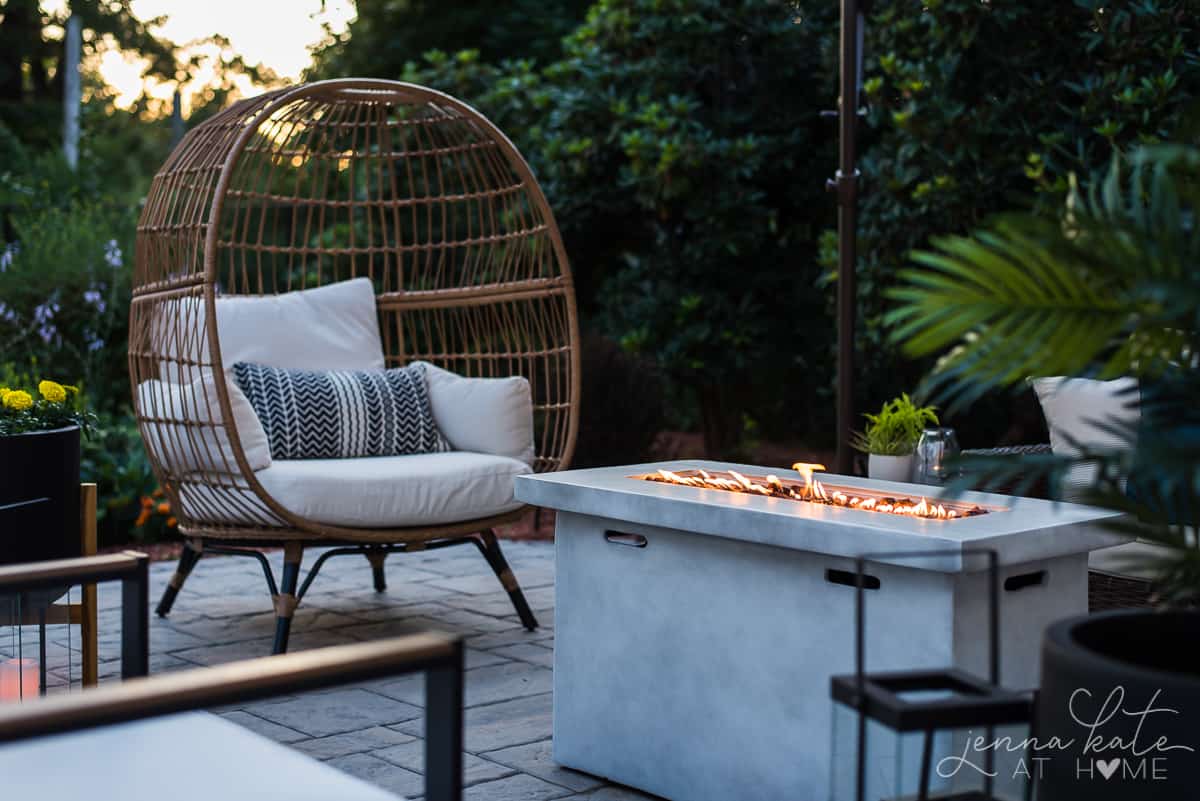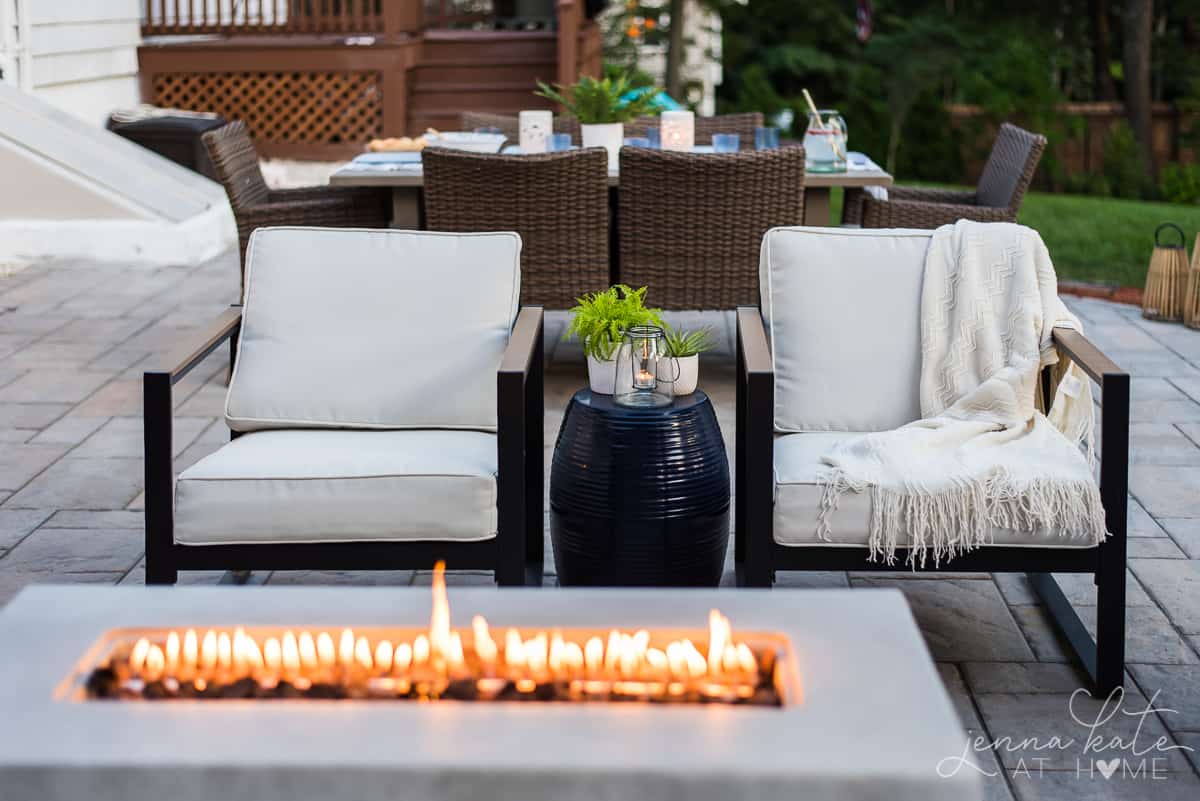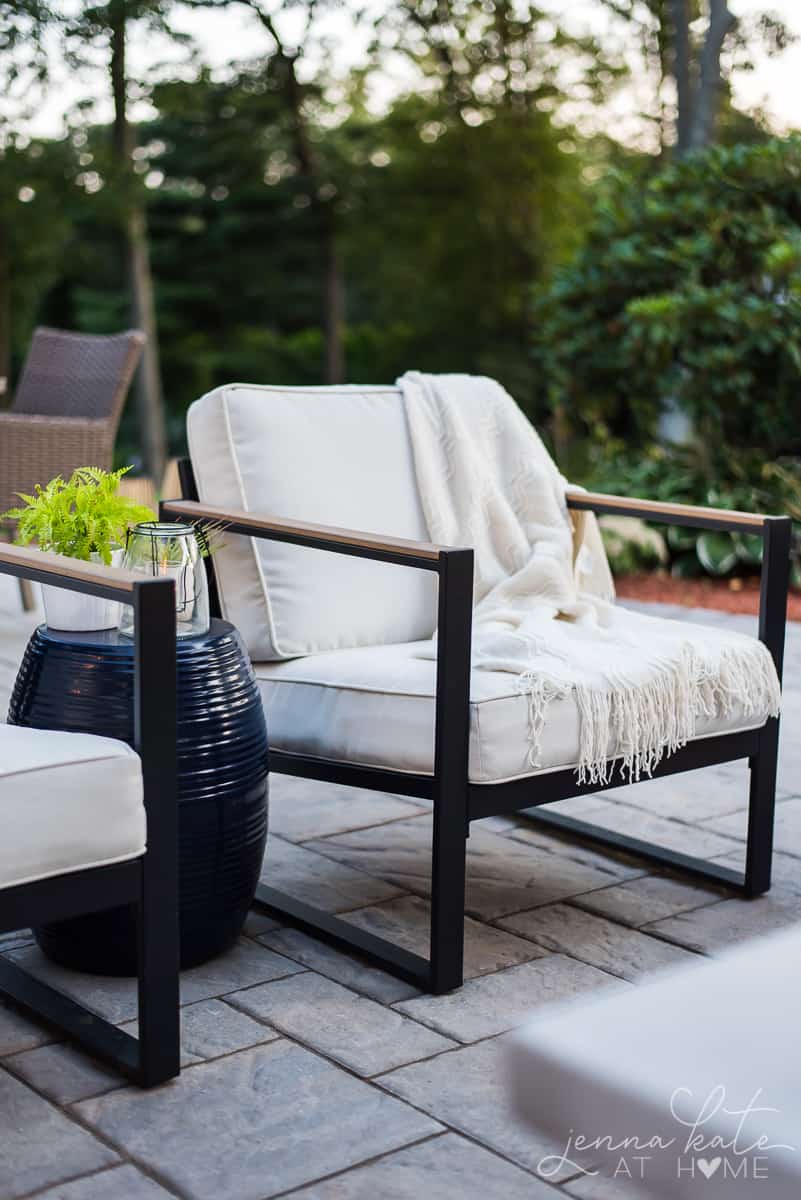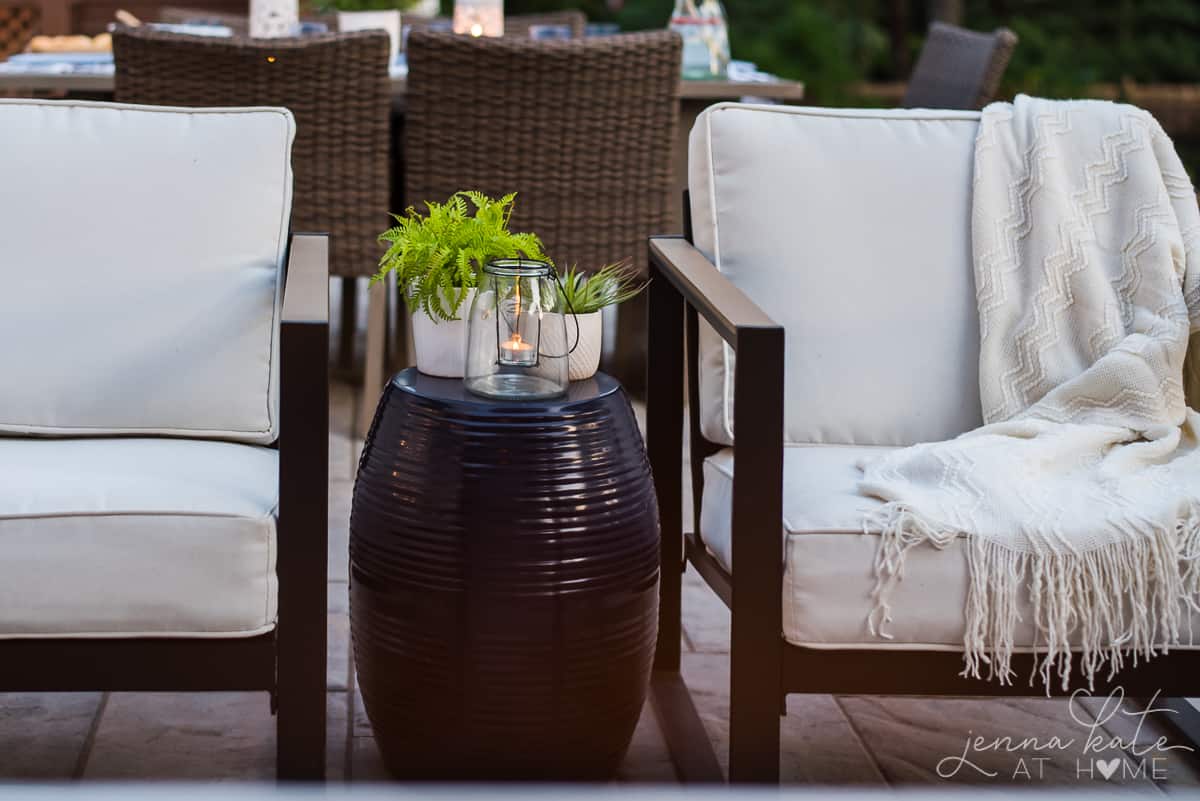 This patio makeover has been a dream come true. I feel truly blessed that this is our backyard.
Already this summer we have spent more time out here that in the past 3 summers combined. It really has been worth every single penny that we've spent on it and I can't wait to cozy up out here during the fall, too!
If you're planning on giving your patio a makeover, remember a few important things…
In order to make your patio look nice, you need to put some thought into it:
Create specific areas for lounging or dining
Bring in accessories like planters, throw pillows, an outdoor rug and even faux greenery or trees
Make it relaxing and inviting with throw blankets, lanterns or a fire pit.
I hope you've found some patio ideas and inspiration to help you decorate your own backyard space this summer. Whether your patio is big or small or you're on a tight budget, you can take away some ideas from what I've done.