I can't believe I'm back again with ANOTHER remodel for the One Room Challenge™!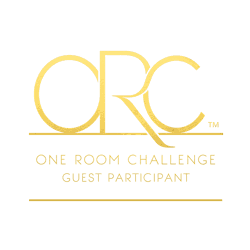 If this is your first time here, WELCOME! I'm Jenna and I live just north of Boston with my husband, Brian and our almost 2 year old son, Cian. We moved into our current home last December and have been busy working away on updating every inch of it since. You can learn more about me in the About Me section of the blog.
If you're not already familiar with it, the One Room Challenge™ is is a widely anticipated biannual event held every April and October. It's hosted by Linda at Calling it Home and she challenges bloggers to transform a room in 6 weeks.
My first go round with the ORC was last April when I renovated my Powder Room.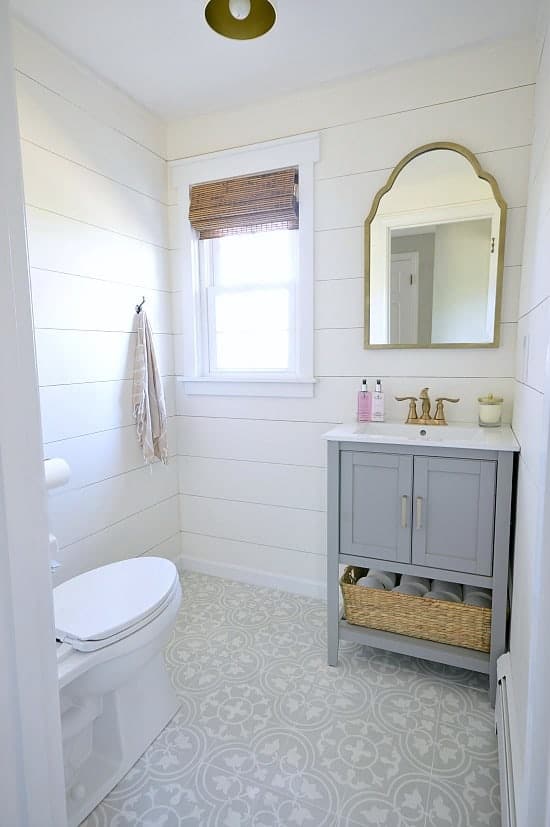 While the whole process was a little stressful, the results were so dramatic that the ORC bug really bit me and I'm back at it again! I'll be posting updates right here on the blog every Thursday, so make sure you're signed up for email updates so that you don't miss a thing!
This time around I'm tackling The Basement! This one has been on our to-do list since we moved in. While it's technically a "finished" basement I use that term loosely. We don't use it because frankly, it's gross and instantly became a dumping ground when we moved in. We desperately need another place to watch TV and where I can hide some of Cian's toys. I want to keep my main living room as clean as possible so this basement living room will be more of a "family room" with the upstairs one being more for the adults only :-)
Take a look for yourself…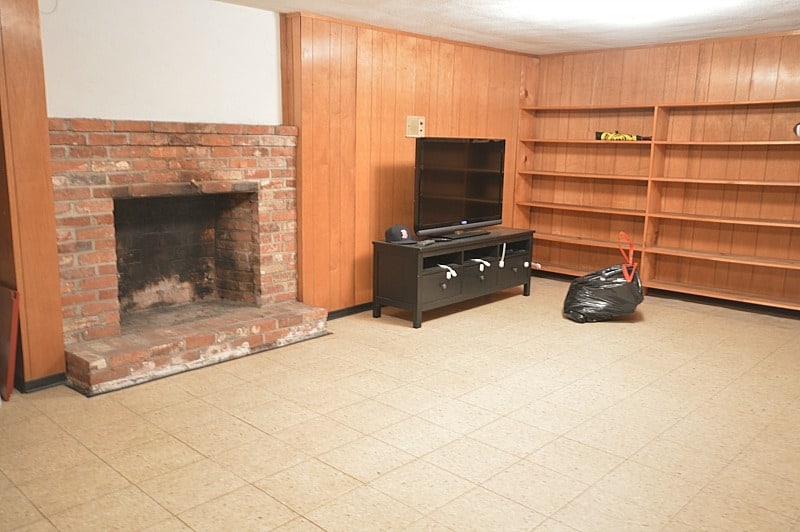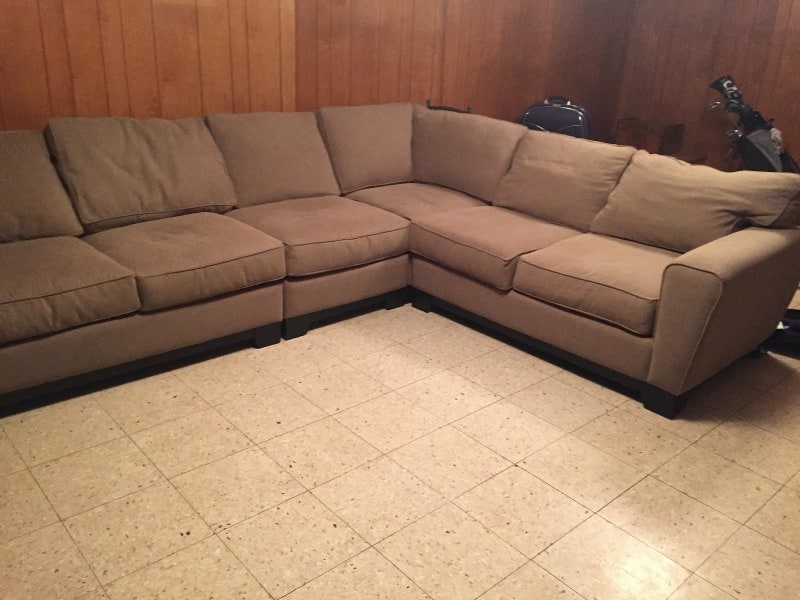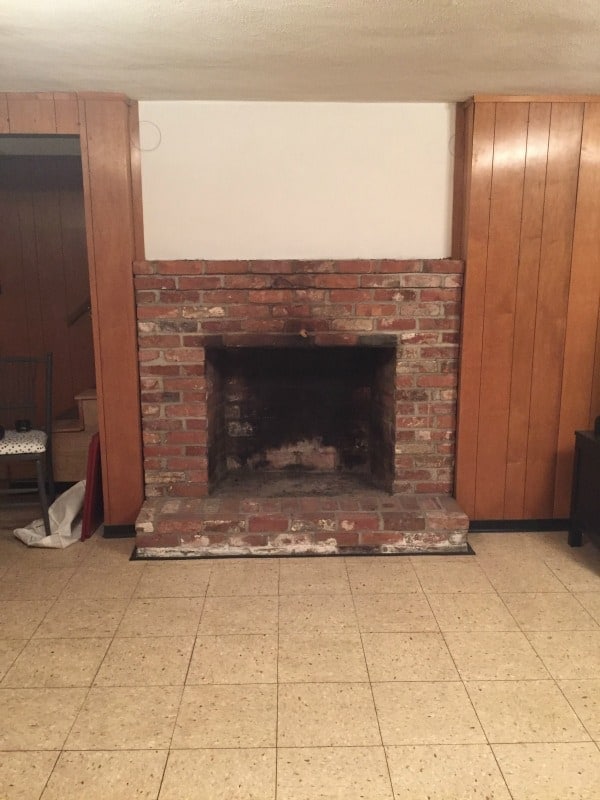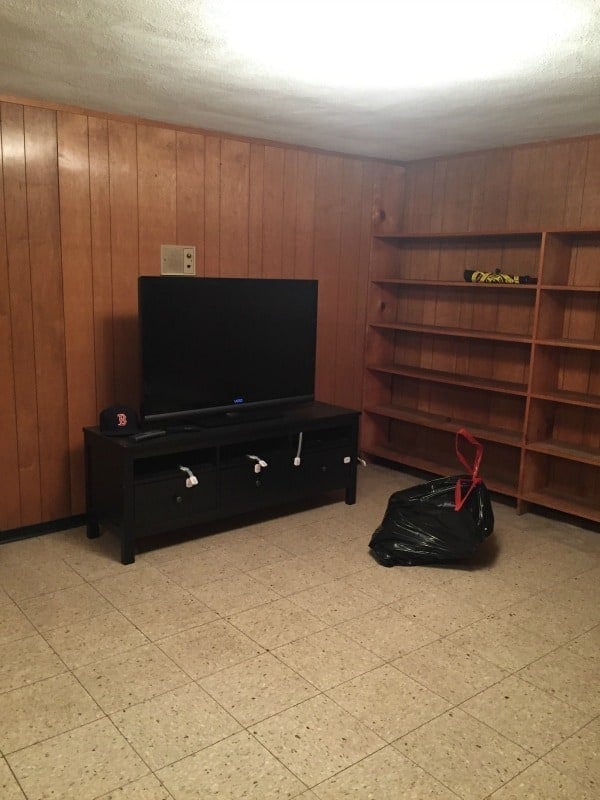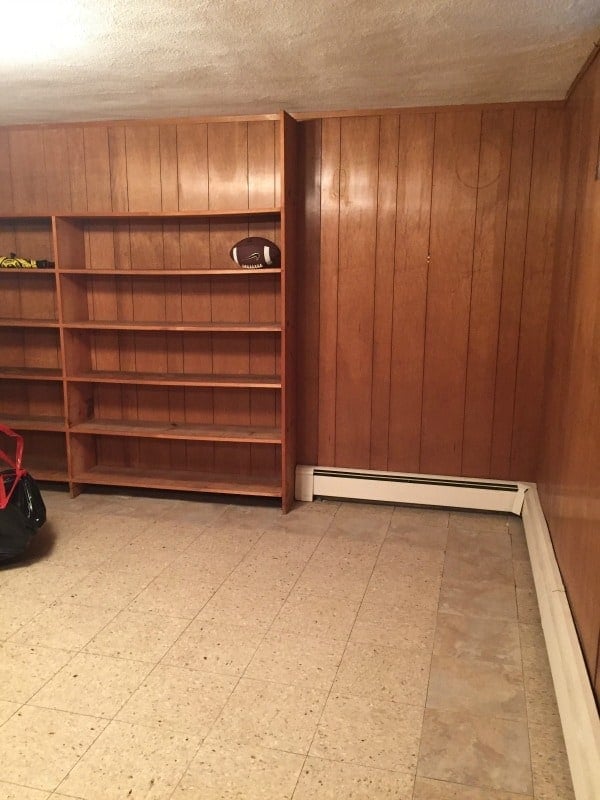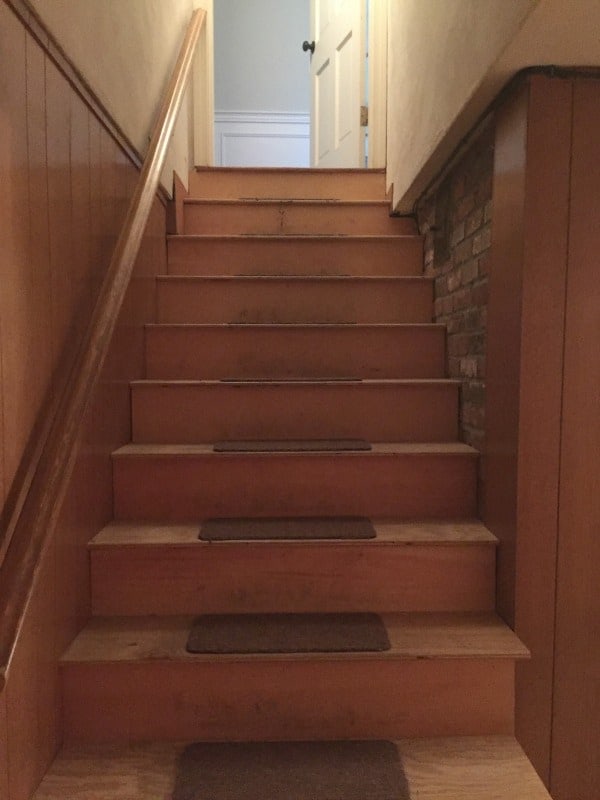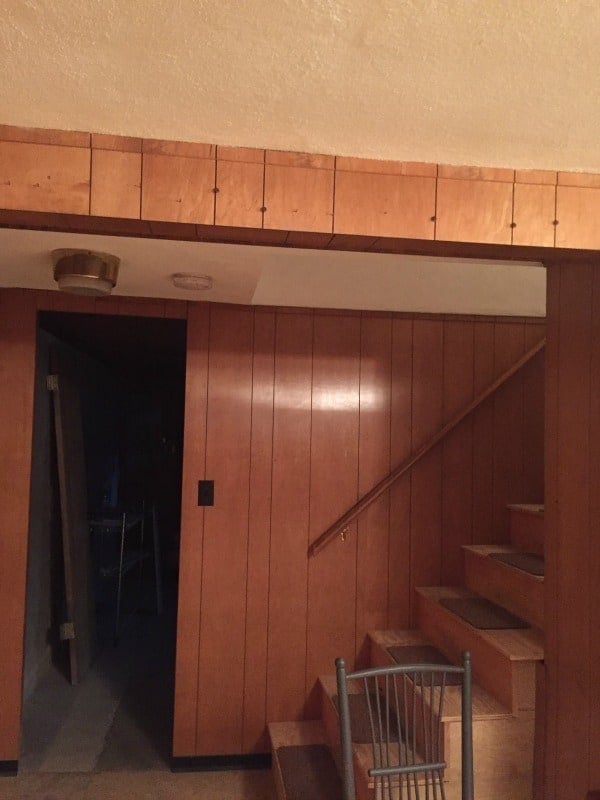 I even dug up this gem from our home inspection: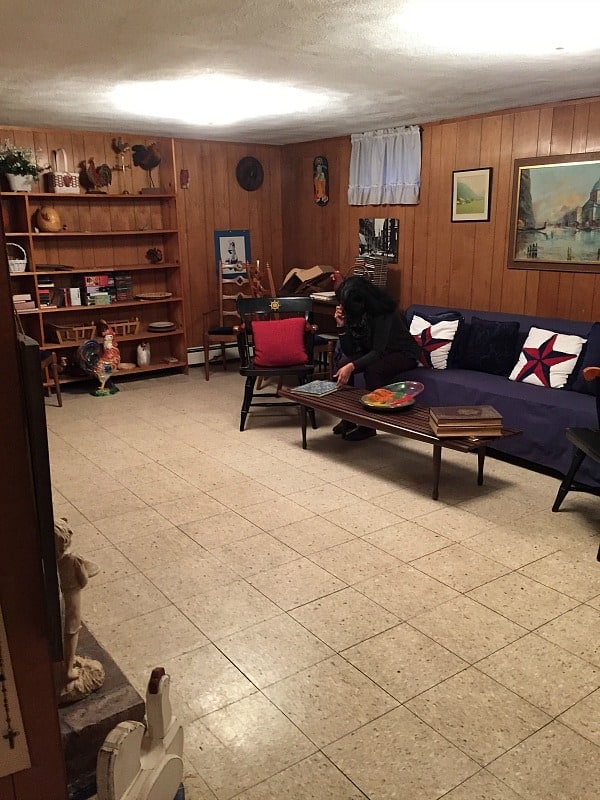 Take a quick look at the video I've made of the "before" space as it will give you a better perspective of how everything looks in real life…
Between the glued down floor tiles, wood panelling, barred windows and filthy fireplace I think we had enough reasons to NOT want to spend time down here. With currently only one functional
living room
, it's definitely time to add more living space to this house.
Soon enough this will be a fabulous new family/entertaining space. And I can't wait. Of course, Brian has big plans the host football parties down here, too!
Here's what I've got planned on the design front: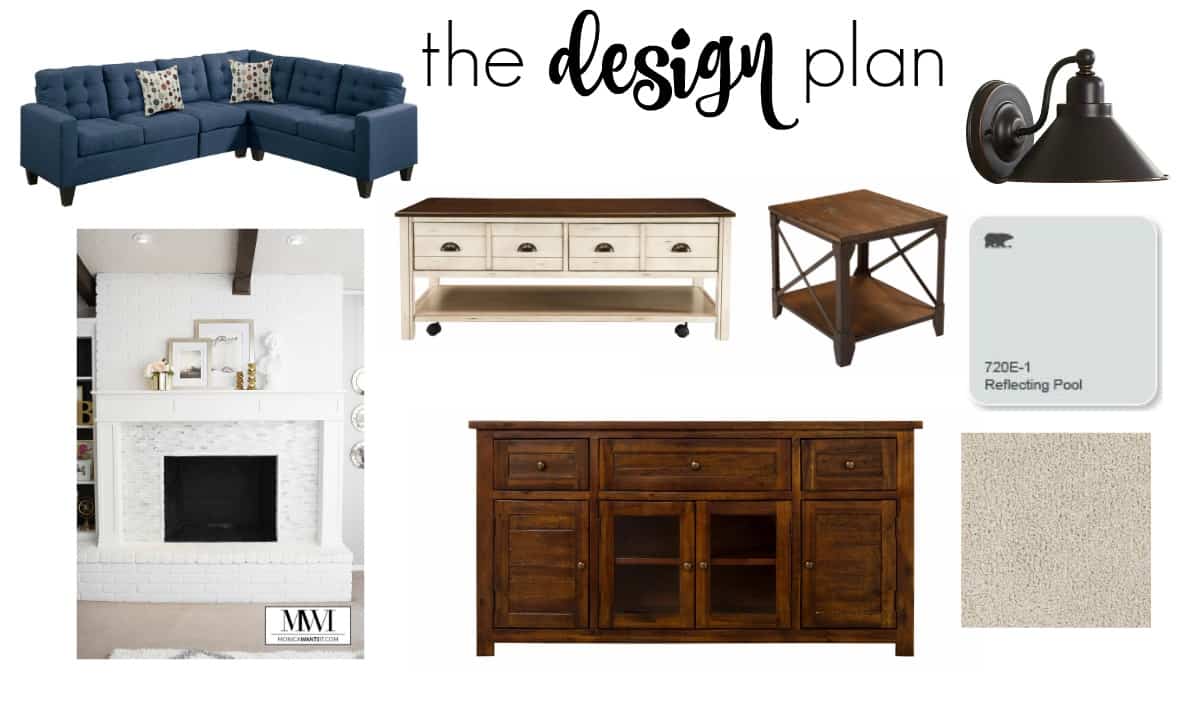 sources: 1 | 2 | 3 | 4 | 5 | 6
I would describe this design as having a transitional aesthetic – light and bright with some rustic elements thanks to the distressed wooden furniture.
I'm so excited to have partnered with Raymour & Flanigan who will be providing a lot of the furniture for this room makeover. The coffee table, side table and TV stand above are all from them. I've also already picked up a really pretty mirror from their decor section. I'm pretty sure I'll be sticking with my choices, but since they offer 3 day delivery – I'm not in a huge rush to make a final decision just yet.
I'm also really excited to incorporate a navy blue couch into the design while keeping everything else bright and airy. I'm not sure if I'll be accenting the space with touches of gold, silver or sticking with the oil rubbed bronze. Those little details will be figured out as I start to see the space come together.
We did decide to fully carpet the space (and use the thickest padding available!), since the kiddos will be using it. Obviously, the hideous wall panelling will be gone and replaced with new drywall and I'm hoping to get some recessed lights installed along with brand spanking new windows.
Did you spot the stunning fireplace inspiration? The one in the design board above was a fireplace makeover by Monica Wants It. As soon as I saw it, I was in love. I'm hoping to recreate it as best I can.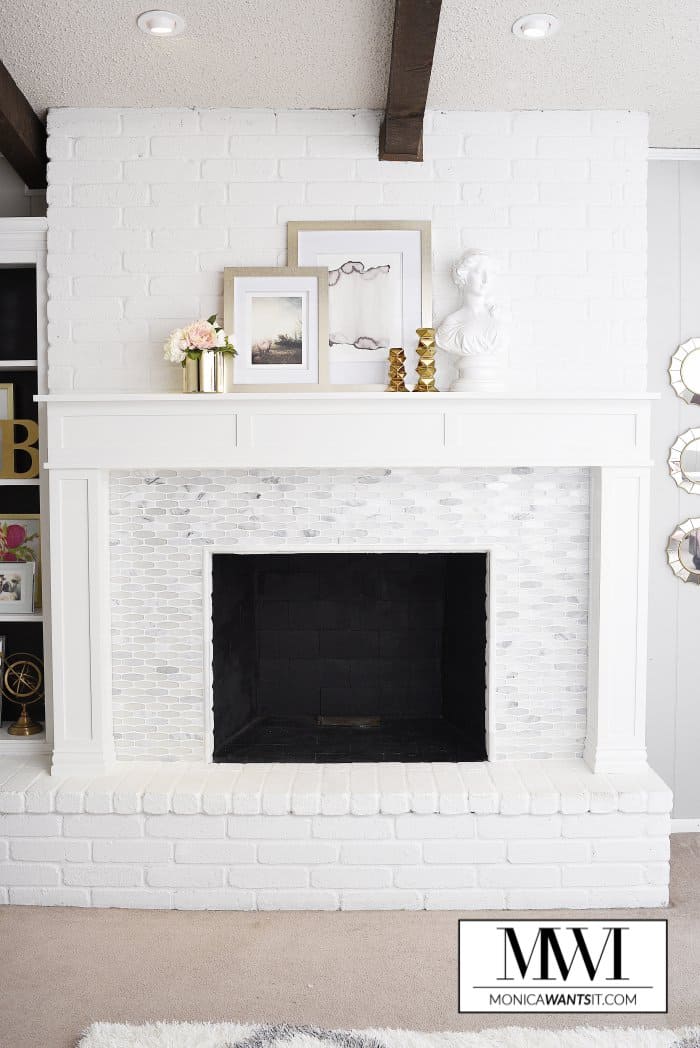 It's so beautiful!
By the way – did you notice this door next to the stairs?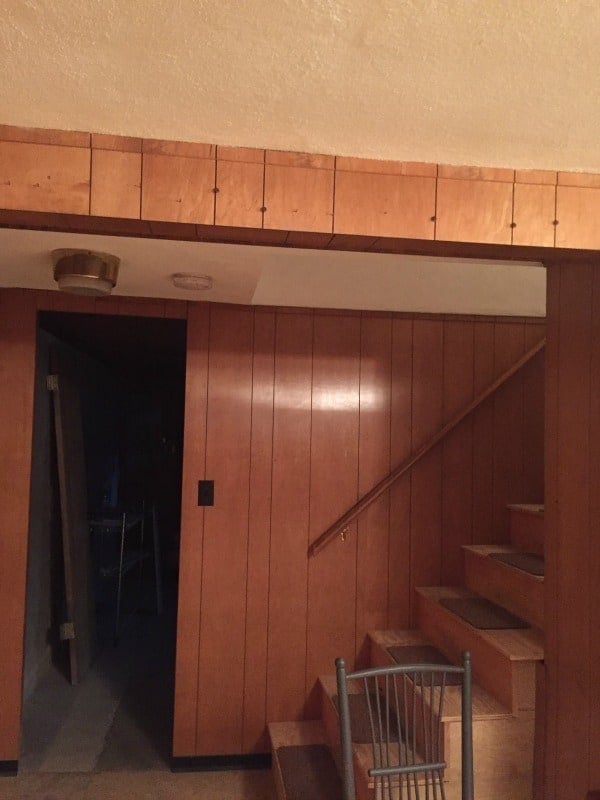 If you walk through this door, you enter the unfinished part of the basement: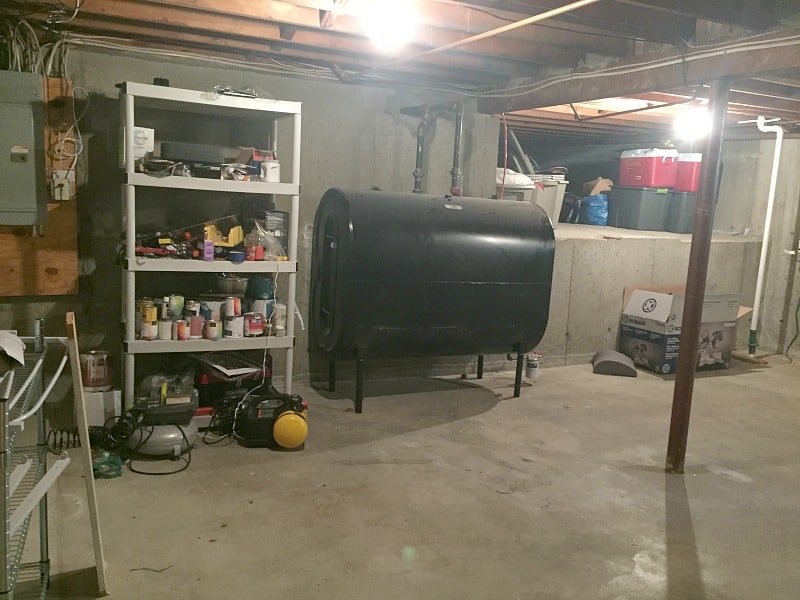 We're ALSO going to finish this section of the basement – and create a playroom for Cian. The plan is to add walls right to the lally column, that way we still have access to the electrical panel, oil tank and the large storage area that runs under the kitchen.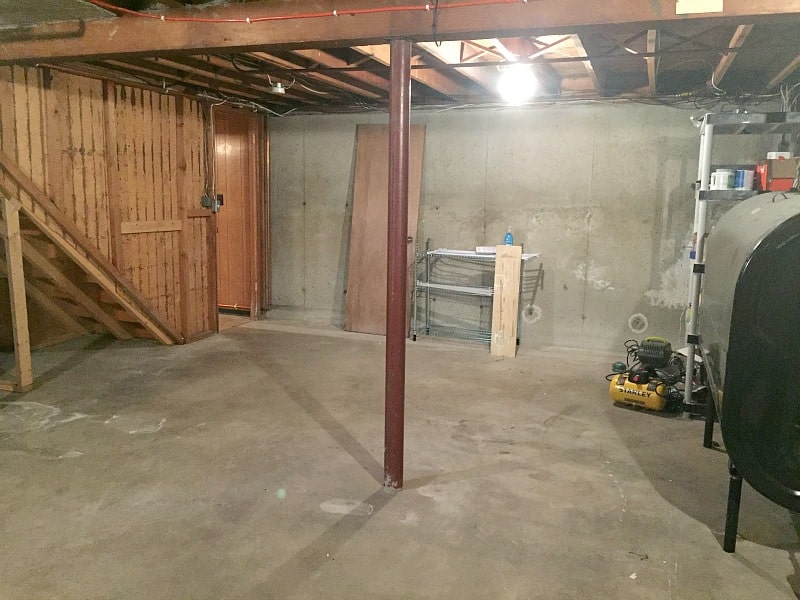 I'm a little worried that it might be too narrow of a space but I think it'll be fine for a playroom.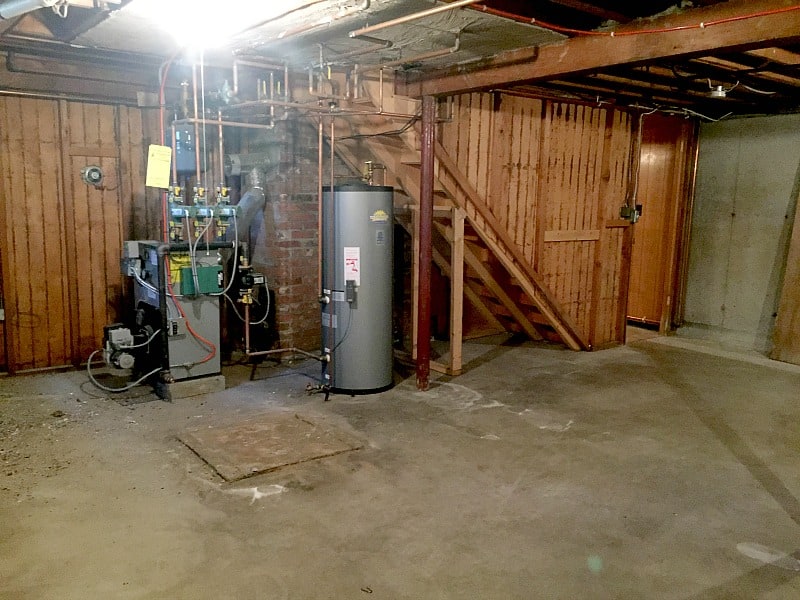 We will need to create a little room to house the boiler/water tank too.
Below, you can see just how much storage we'll still have! This alcove runs the entire length of our kitchen, which was an extension to the house at some point in the past, hence the raised floor.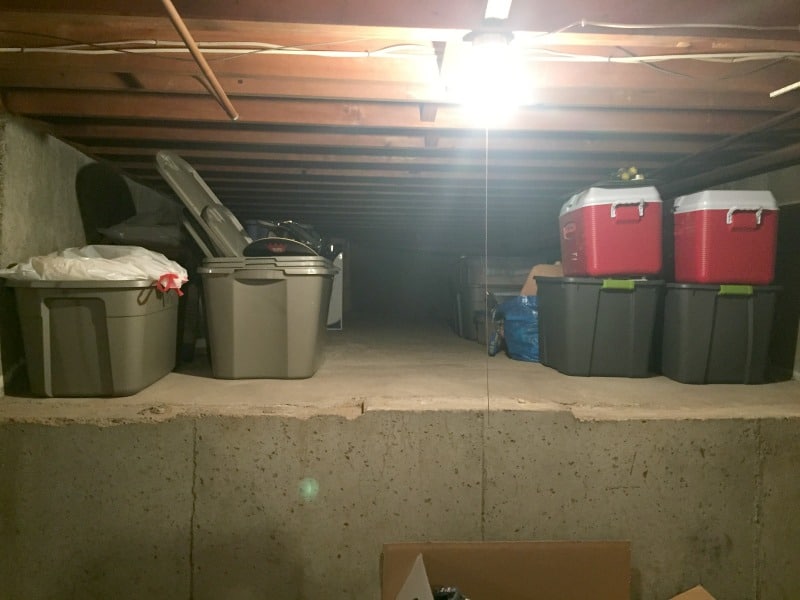 While this side of the basement WILL be "finished" it won't be within the scope of the 6 weeks to furnish and decorate it. That will have to be for another time. I will, of course, share the finished (undecorated) space with you during the reveal, though.
And an important sidenote. This time around I do have the help of my contractor and an electrician lined up. There's no chance I'm tackling drywall and there's a ton of electrical to be done so professionals are a must. There will be some DIY projects thrown in – like the aforementioned fireplace – but I'm happy to just dole out orders and be the foreman, too :-)
The work starts today. Demo day is always a blast!
Now I'm heading over to see what the other Guest Participants are planning. I can't wait to see what amazing transformations are in store for the next 5 weeks!
Until next time….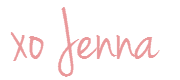 Disclosure: This post may include affiliate links. While I have not been compensated to write this post, some of the products that will be featured in the upcoming makeover have been provided to me free of charge. You can read my full disclosure policy here.