Other sites might tell you it's the BEST upholstery cleaner, but is it REALLY? Before you end up buying a piece of junk, take a look at what our research has uncovered about the supposed "best" portable upholstery cleaners for couches and other soft furnishings.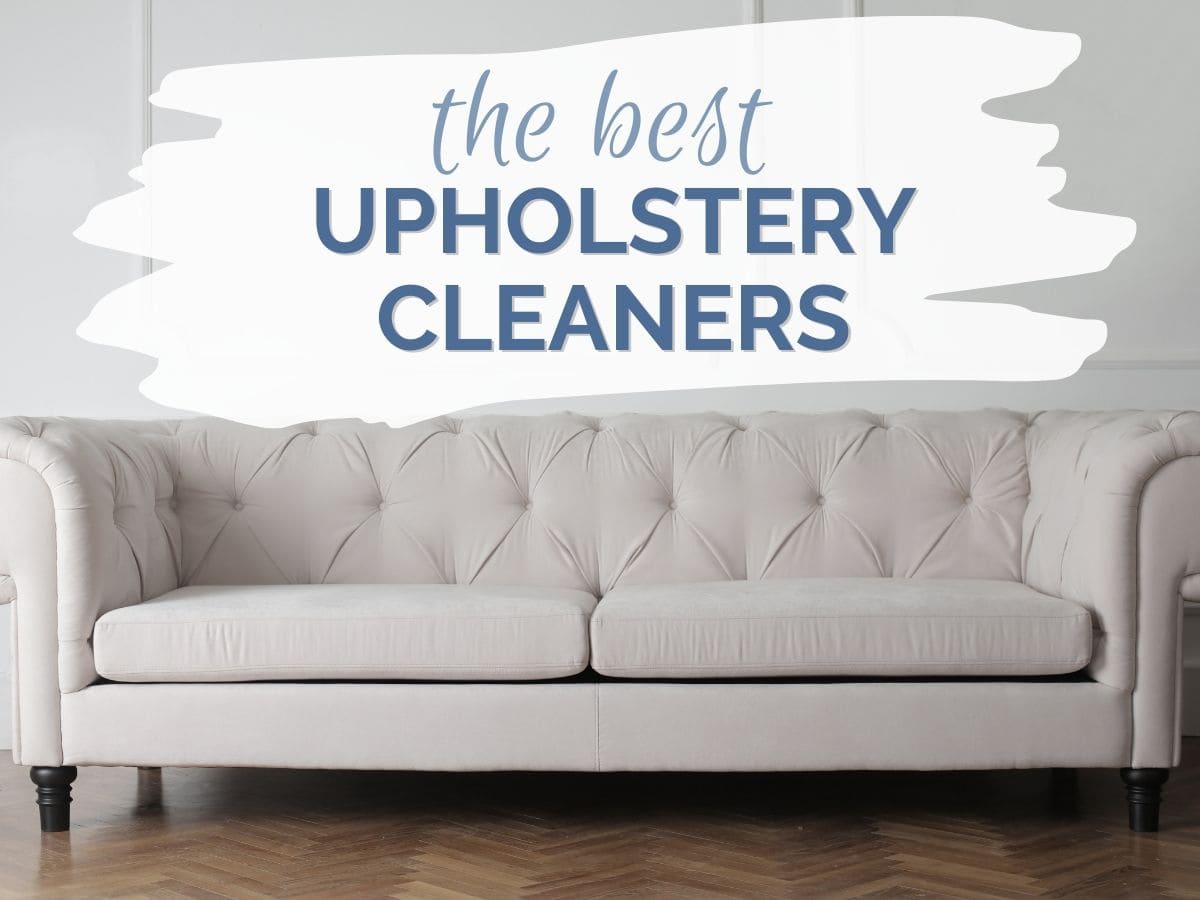 Which Upholstery Cleaner is Best?
Our Readers Have Spoken!
These are THEIR picks for the Top 10 Upholstery Cleaners for 2023
I think they made some great picks! For example, this Portable Upholstery Cleaner is their number 1 choice – and it's a good one!
On this page, you can read THEIR reviews, compare prices AND see which of the Top 10 are on sale TODAY.
Ok, let's jump in and review the best upholstery cleaners that will tackle your couch, upholstered bed, car and more …
If you're curious (or in a hurry):
It's an excellent all-round upholstery cleaner, yet you'll also find that it is competitively priced.
It's available in a few different bundles and has a ton of 5-Star reviews. If you can get it for under $200, grab it. That's one heck of a deal on a GOOD upholstery cleaner! (check current price & read reviews here).
Best Overall: Bissell Spot Clean Pro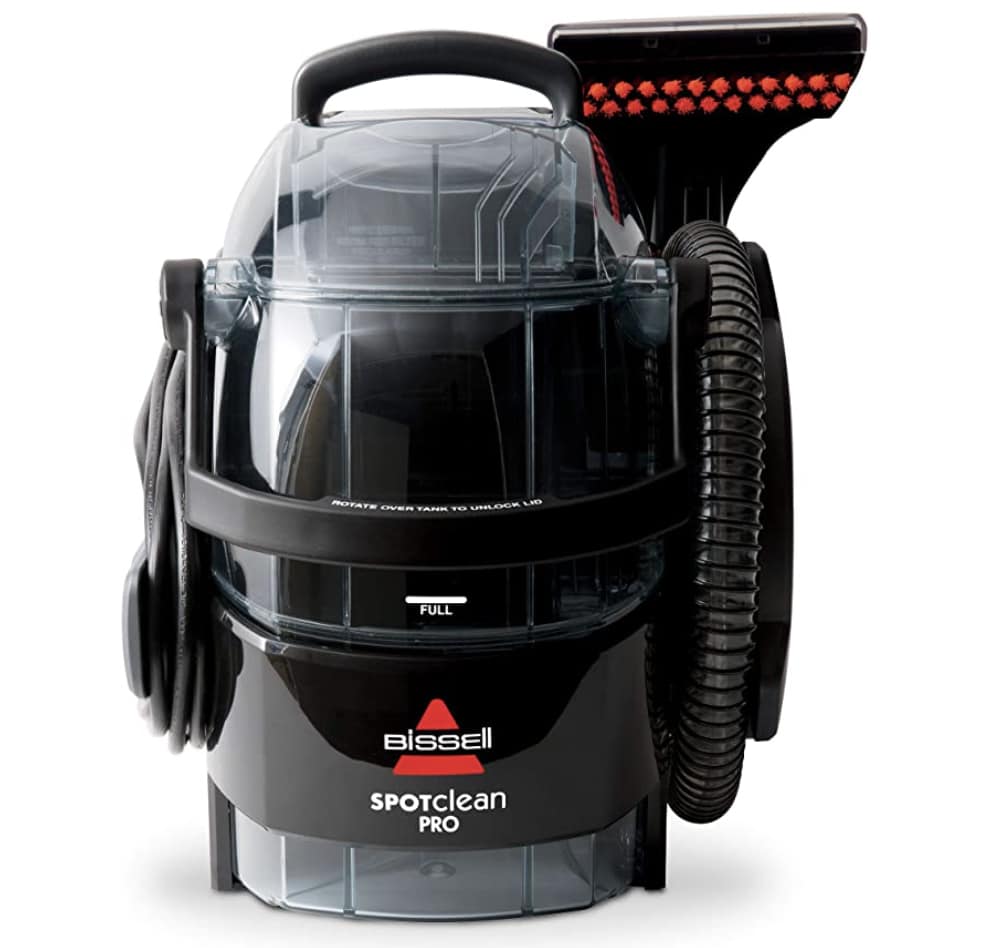 Using a combination of hot tap water, cleaning formula, and a handheld suction brush, the Bissell SpotClean Pro will loosen and remove many types of stains.
Our readers regularly use their Bisell Spot Clean Pro's to clean couches, upholstered dining room chairs, as well as spills on carpets, rugs and car seats.
I can personally attest to the power of this machine, too. I originally purchased mine in 2017 and have regularly used it in our living room on everything from puke (yes, all over the couch and rug), blue pen, mud and chocolate stains.
I also recently used to to clean and refresh my dining room chairs before selling them.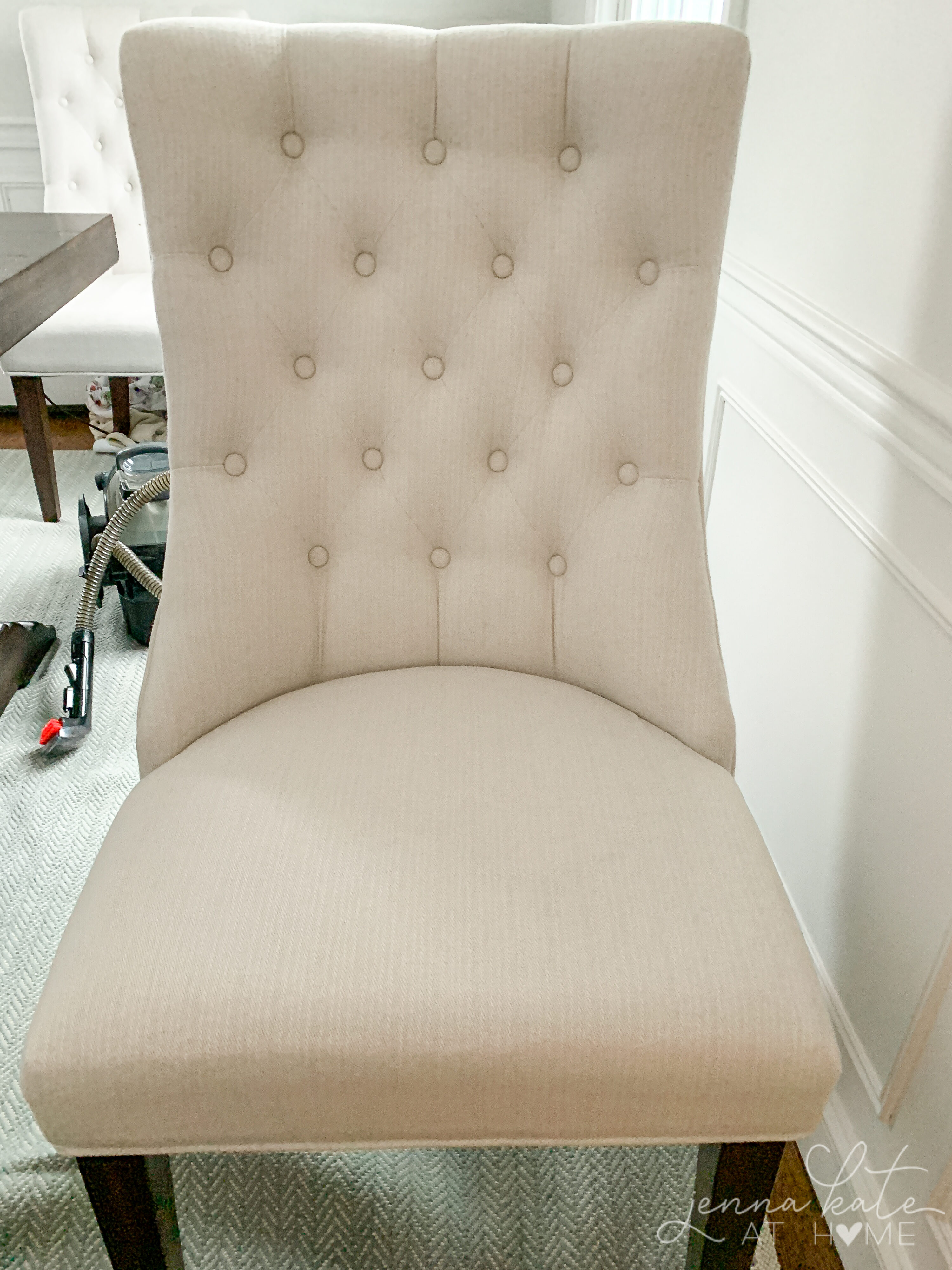 The machine is very simple to use: Fill the tank with a combination of hot water and cleaning solution, spray the solution on the affected area, work at the stain with the handheld brush, then slowly suction the solution off the couch and into the "dirty water" reservoir.
The suction does a really great job of getting out the excess water, leaving many fabrics touch dry – but you'll be surprised at how much water/solution you'll need when cleaning a full couch, so allowing the cushions to air dry for 6 – 8 hours is advisable.
The first time you clean something with your Bissell Spot Clean Pro, you will be disgusted by the amount of dirt that comes off! Disgusted, but very satisfied!
The machine is not incredibly heavy at 13lbs, but it is heavy enough that you will want to keep it on the floor when using it. It's also too big to store under the kitchen sink, you'll need a dedicated space (closet, garage etc.) for storage.
Runner Up: Bissell Little Green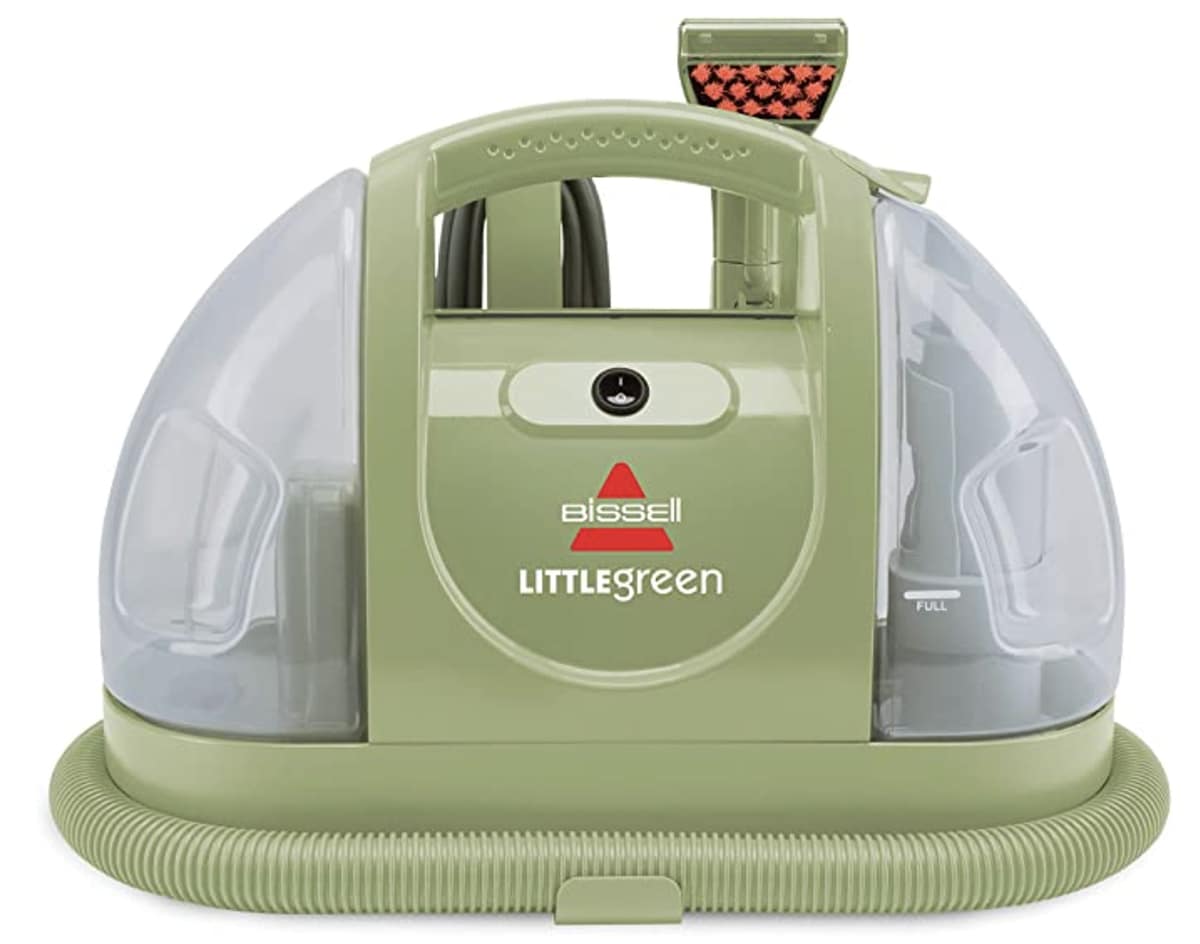 The Bisell Little Green is basically the baby brother to the Spot Clean Pro.
This is a powerful little machine that does a great job of removing stains. It is light weight and its compact size allows it to be easily stored.
As you may imagine with its smaller size and lower price point, the suction is not as good as the Bisell Spot Clean Pro. However, if you're only using it for small spills and stains, you won't miss it. A few extra, slower passes with the handheld brush (and some additional air drying time) will make up the difference.
However, our readers noted that the Little Green does not work as well as pet stains and odors as the Spot Clean Pro. If you find yourself cleaning up after your pets often, keep that in mind.
Best Spray Stain Remover: Folex

Folex Spray Stain Remover is a wonderful choice if you are looking for a quick, affordable and effective spot stain remover. This spray allows you to skip any preparation. Just use the simple spray mechanism and apply directly to the area which is stained. For best results work it in with your fingers or a soft toothbrush, blot it with a clean dry cloth and watch for the magic to happen.
Folex is what's referred to as a surfactant. It released the stain from the material and allows it to be blotted away with a clean cloth – so this step is very important!
This is a great option for use on carpets or upholstery where there has been a relatively new stain which needs to be removed, for example, red wine, grease, ink or food. That being said, Folex can be used on old stains but may require a little bit more elbow grease to bring that strain to the surface. This spray is safe to use on any material that can be dampened – curtains, rugs, carpets, sofas and even clothing.
Top Tip: Folex can in some rare cases cause a discoloration if the upholstery has been previously treatment with chemicals so make sure to do a little spot test before!
Which is Right For You?
If you're still undecided, I highly suggest comparing the 3 products and reading the reviews. This will give you a better idea of which product will be appropriate for your unique situation!
Final Thoughts on the Best Upholstery Cleaners for 2021
Investing in the right products will ensure longevity of your couch, rugs and other soft furnishings. If you take care of them, you will be enjoying them for years to come and save so much money in the long term.
Other Posts You May Like