Are you looking to add some character to your fireplace space? You should considering shelving units around an existing fireplace mantel for a custom, built-in look.
Not only do built-ins add visual balance to the side of your fireplace, but they also double as both a design element and extra storage.
Often the fireplace wall is the main focal point in your living or family room. So if you are looking to enhance the look of your space we have some fun, and creative ideas for built-ins around a fireplace.
Pop of Color
While all-white is a classic choice for living room built-ins, when we moved into our home six years ago, one of the first things I did was to paint the backs of the built-ins that flank our fireplace surround in this pretty blue-gray color.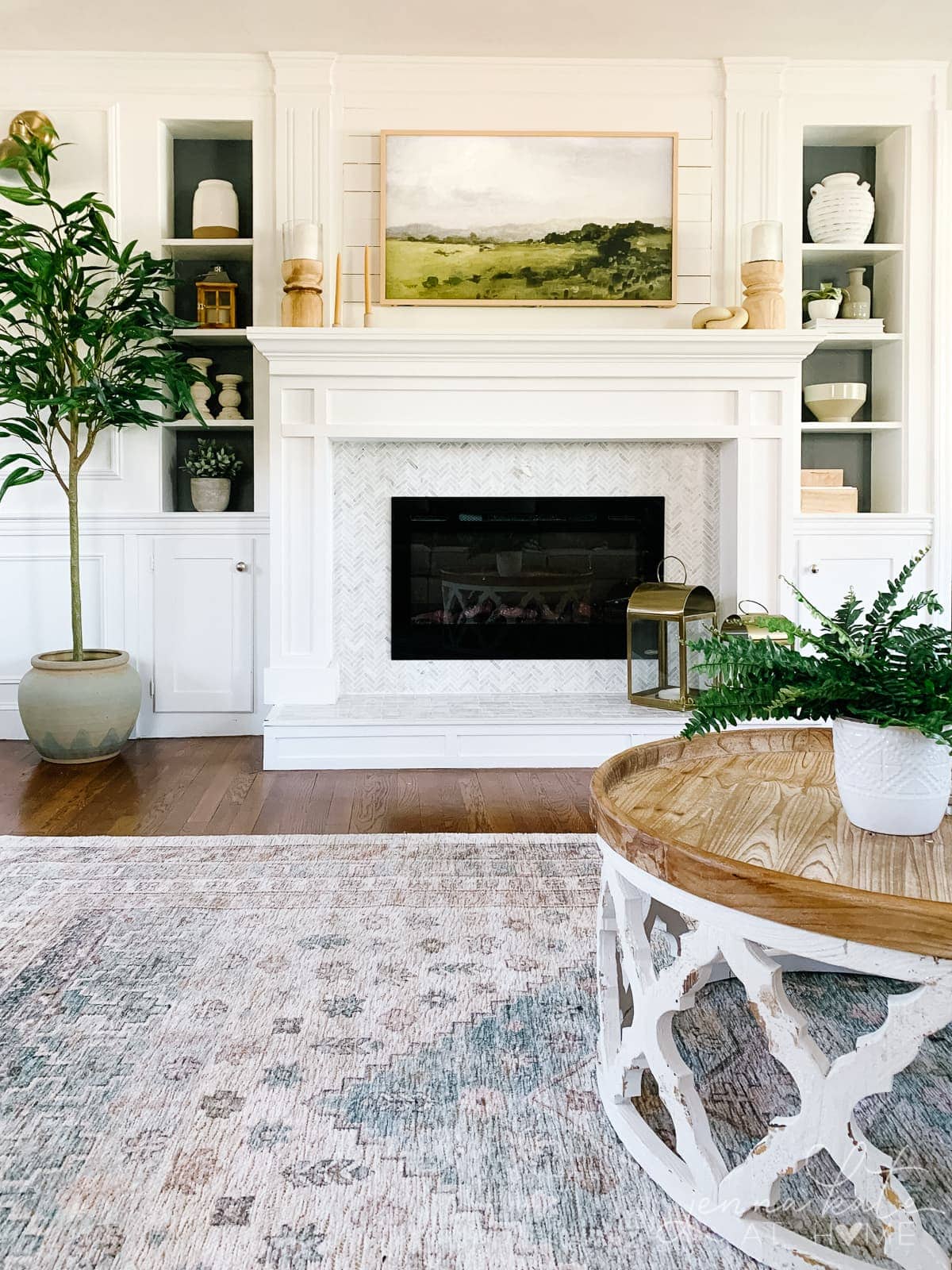 The color (SW Serious Gray) adds the right pop in a sea of white, and helps to tie in the blue colors used throughout our living room and rest of our home.
While we our built-ins are the narrow side, there's still just enough space to add some decorative items.
One consideration to make if you plan on having built-ins custom made, is whether you want the fireplace surround itself to be in line with the built-ins, recessed into the wall or for the fireplace to have more depth, like in this instance.
While our built-ins were custom made when the house was built, we actually gave our old brick fireplace a DIY makeover with some mdf, wood and crown molding. You can read all about our DIY fireplace makeover here.
White Birch
These white birch built-ins are stunning. From the brass library lights, to the quartz fireplace. Function and design meet to encompass a cozy living space.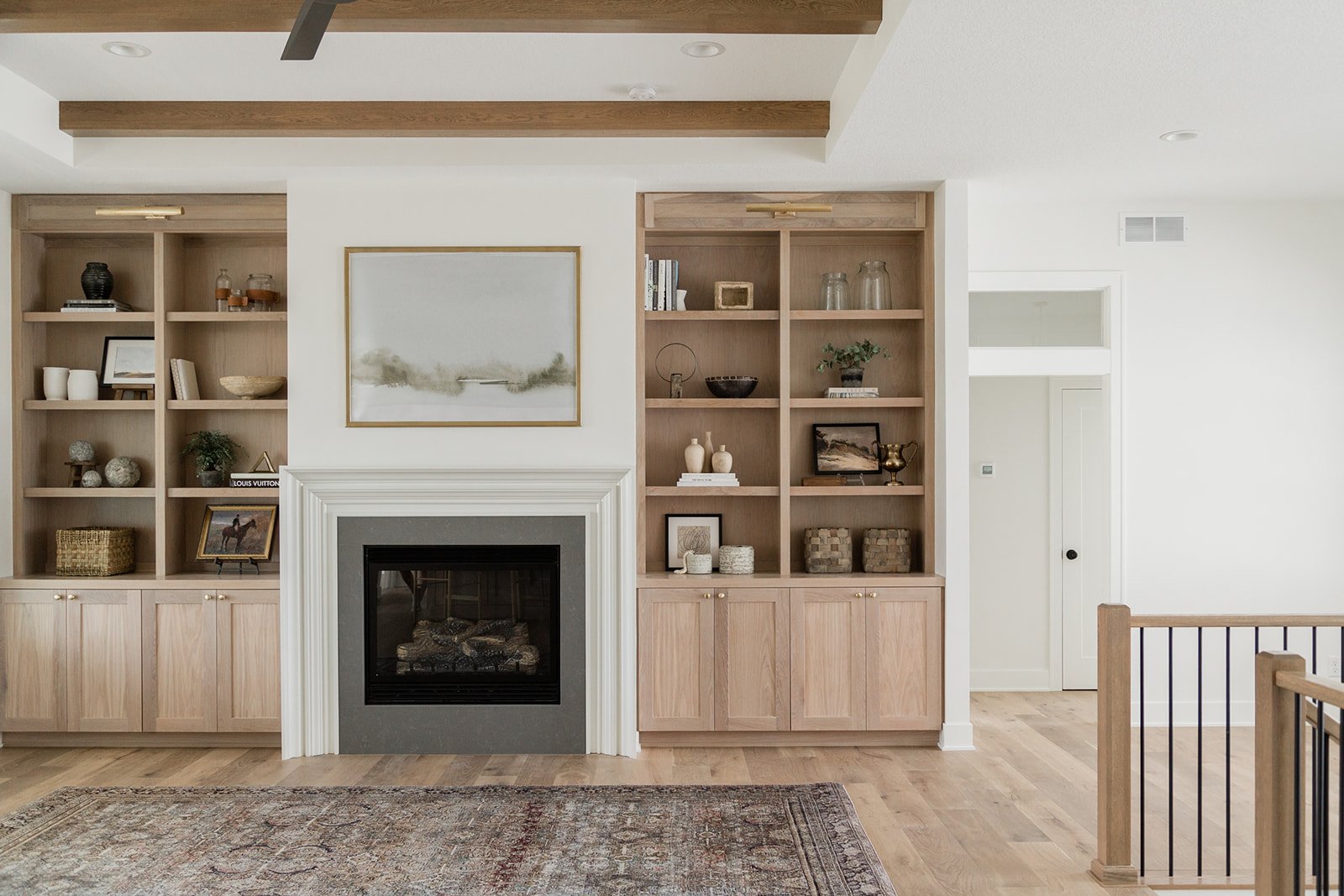 The shelving provides a great place to decorate, and the lower cabinets are a great place for storage.
Library lights add some much character to the built-ins, and add a cozy ambiance to the space when turned on.
Let's talk about this fireplace. we love how the builder layered multiple trims and moldings on the mantel, it makes a huge statement.
With this particular mantel the builder wanted to add some depth, and architectural details while keeping the backdrop simple.
The medium-toned gray quartz inlay, adds great contrast.We love how the whitewashed white oak built-ins really compliment the flooring in this space.
To finish the space perfectly the home owners mixed in some antiques, books, and pops of brass knobs to the cabinetry.
Blank Slate/White Built-Ins
From the tall ceilings, large windows, to this gorgeous fireplace, we love all the elements this builder brought to this space.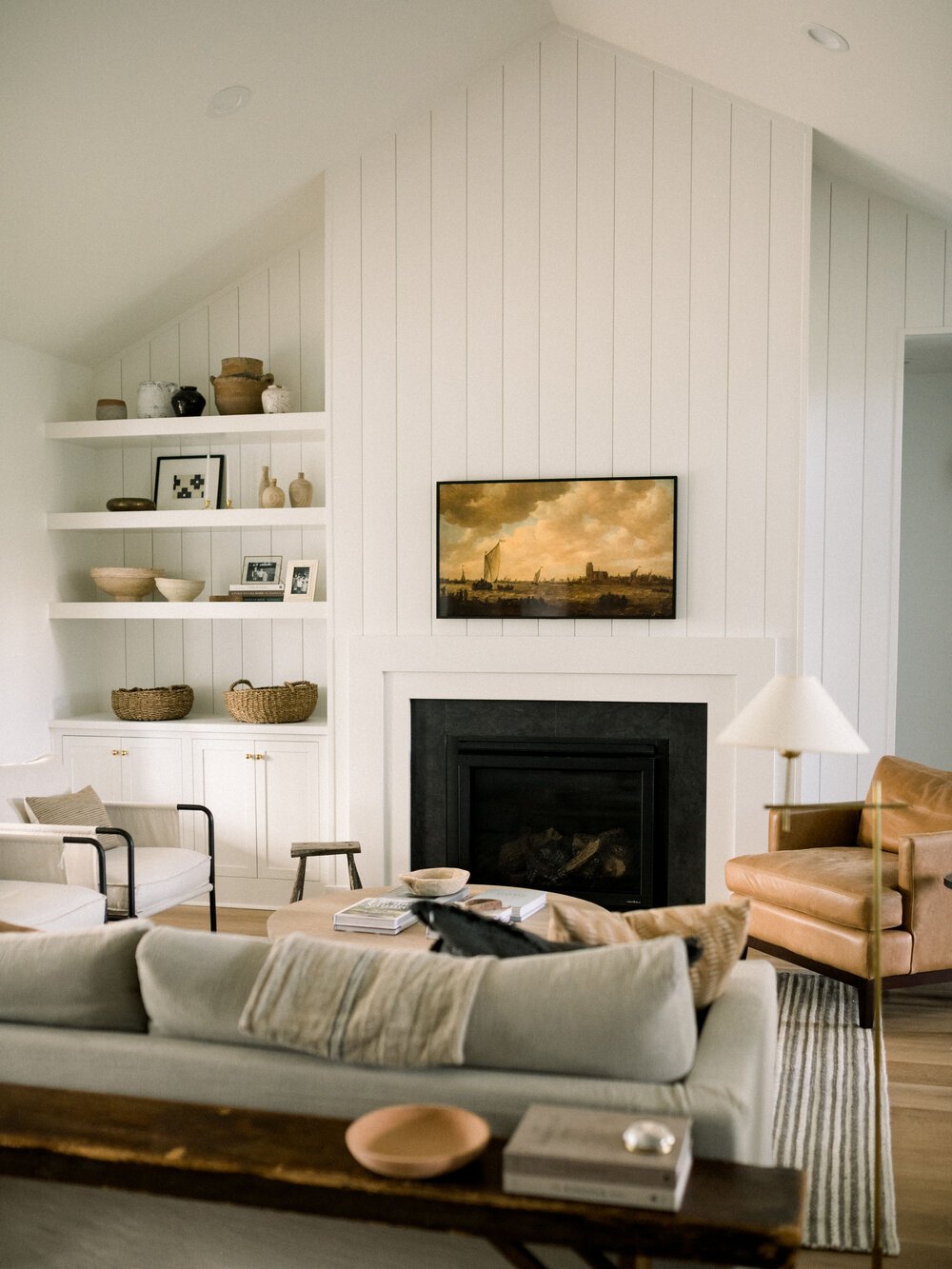 It offers just the right amount of simple, and detail.
We love the framed T.V. these have become super popular over the last few years. They are made to look like a piece of art when not in use.
The white shiplap backdrop is the perfect way to feature this minimal, yet warm aesthetic the builder was going for. Installing the planks vertically helps to draw the eye up to the ceiling, making the space appear even taller than it already is.
The earthy tones are perfectly curated on the shelves from the textured baskets to the gorgeous different styled vases.
Board and Battan Look
This homeowner took on the project of building her own cabinets around her fireplace herself. From constructing the cabinets, installing, and adding crown moulding, she did an amazing job.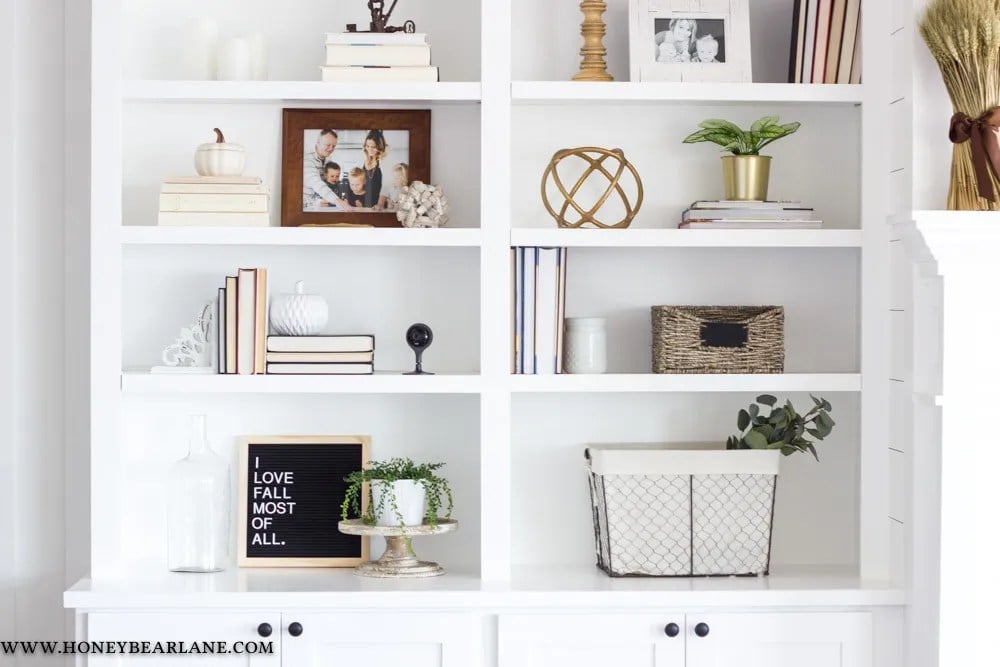 We love how she built around her mantel, then added some board and battan to break up the space in between. She used Behr Ultra White in Semi-Gloss to finish off her newly built space.
Using a mixture of decor from family photos, stacks of books, wood, brass, textured baskets, to pops of green plants to perfectly finish the space.
Simple Perfection
This built in cabinet and fireplace combination sure draws our attention. It is a classic addition, and perfect for extra storage with the larger bottom cabinets.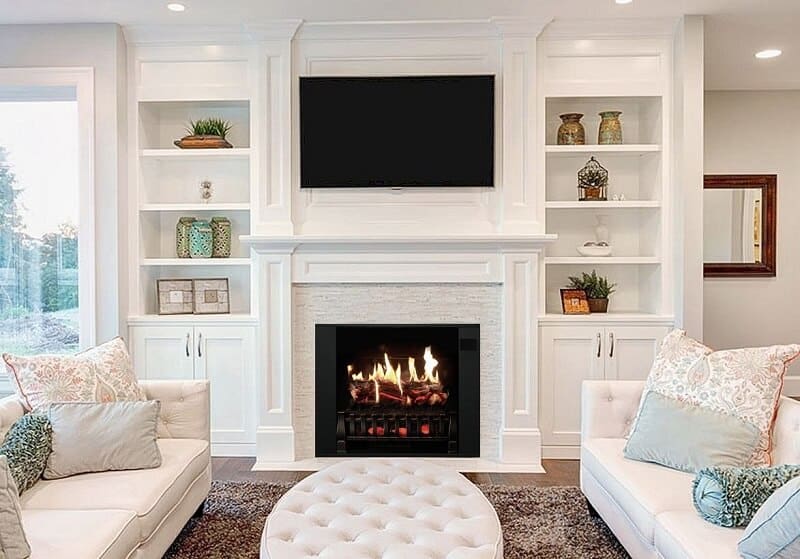 Incorporating closed storage like these cabinets is a great way to hide away clutter such as electronics (cable box, etc.) so that the design details and decorative items on the open shelving can really shine.
When designing simple built-ins like this, the right trim and crown moulding makes all the difference, and having recessed lights that shine down directly over the fireplace will help to highlight those simple but pretty details.
We love the soft color palette of earthy and blue seaside tones of the decor this builder chose.
Modern Twist
Nothing stops you in your tracks like a good black back drop. Not only is this a modern touch, it's a classic look that makes you stop to catch your breath.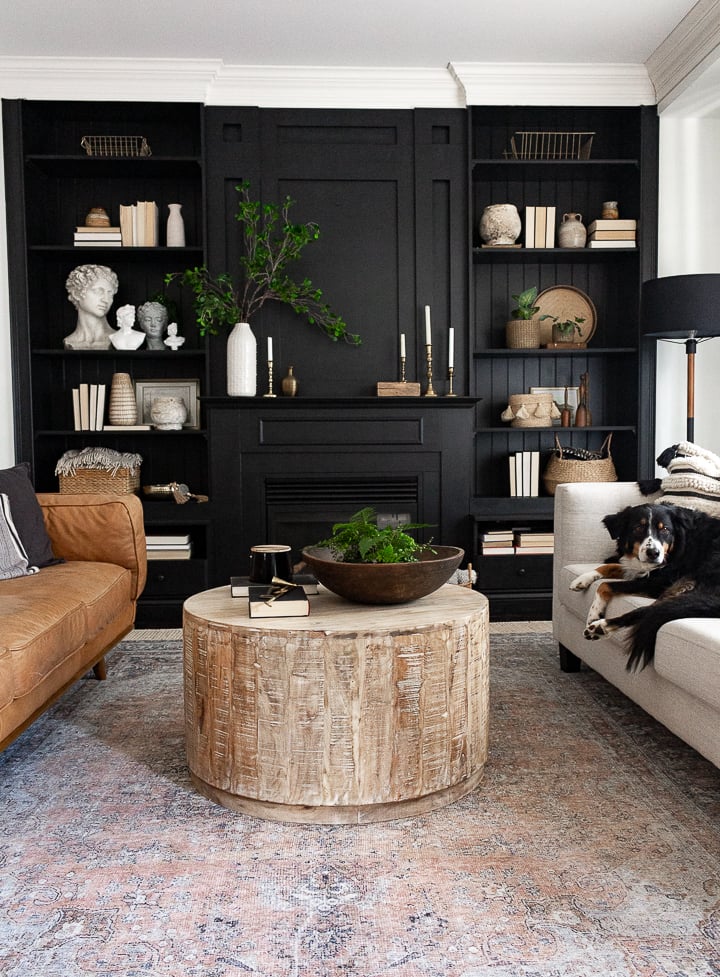 Lucy from Craftberry Bush is a pro at reinventing spaces, and changing these previously white built-ins to this dramatic shade totally transformed her space.
If black is a little too black for your taste, consider a navy blue or medium gray for similar effect.
Everything is so perfectly curated and placed, we could sit here and enjoy this view all day long, could you?
Classic Gray
Your living room can take on a whole new life when you decide to add custom built-ins or bookshelves. Thew possibilities are huge, and think of all the amazing things you can style in this blank space.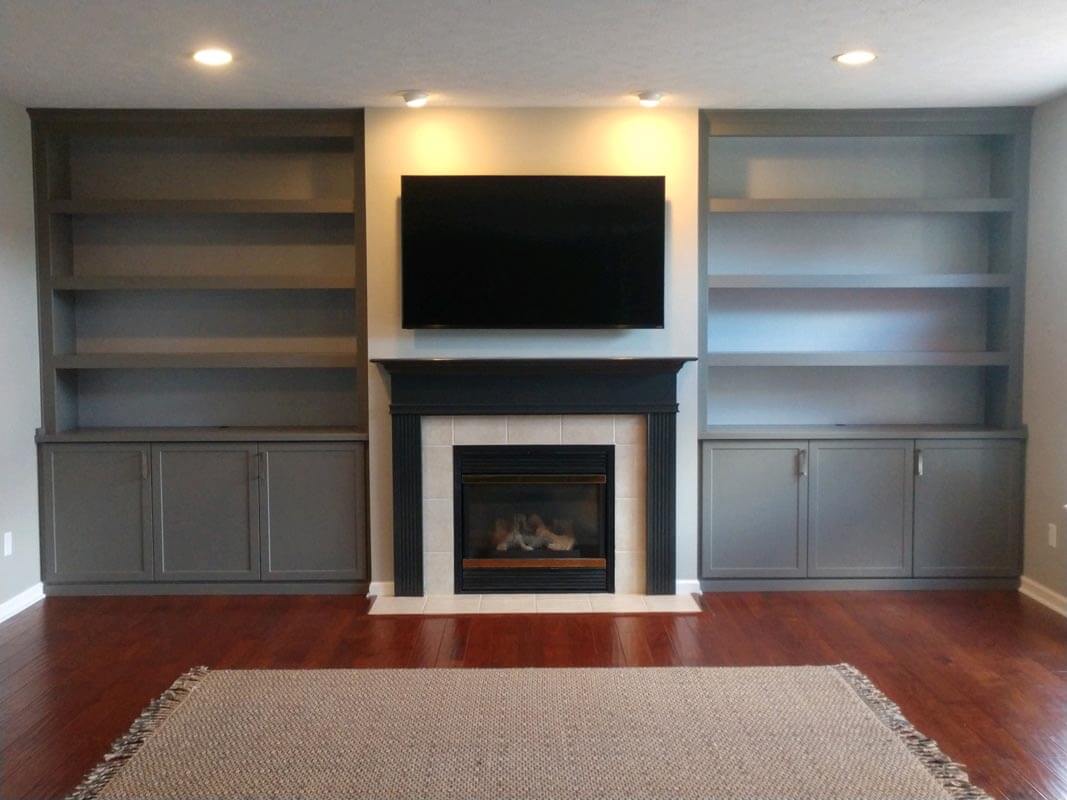 We love this hand crafted bookshelf this builder built, and the soft smoky gray color. from good looks to maximum function, you can truly elevate your space for years to come.
Creative Wood Character
Where do we start with these beauties? From the washed look of the wood, to all the custom cabinets!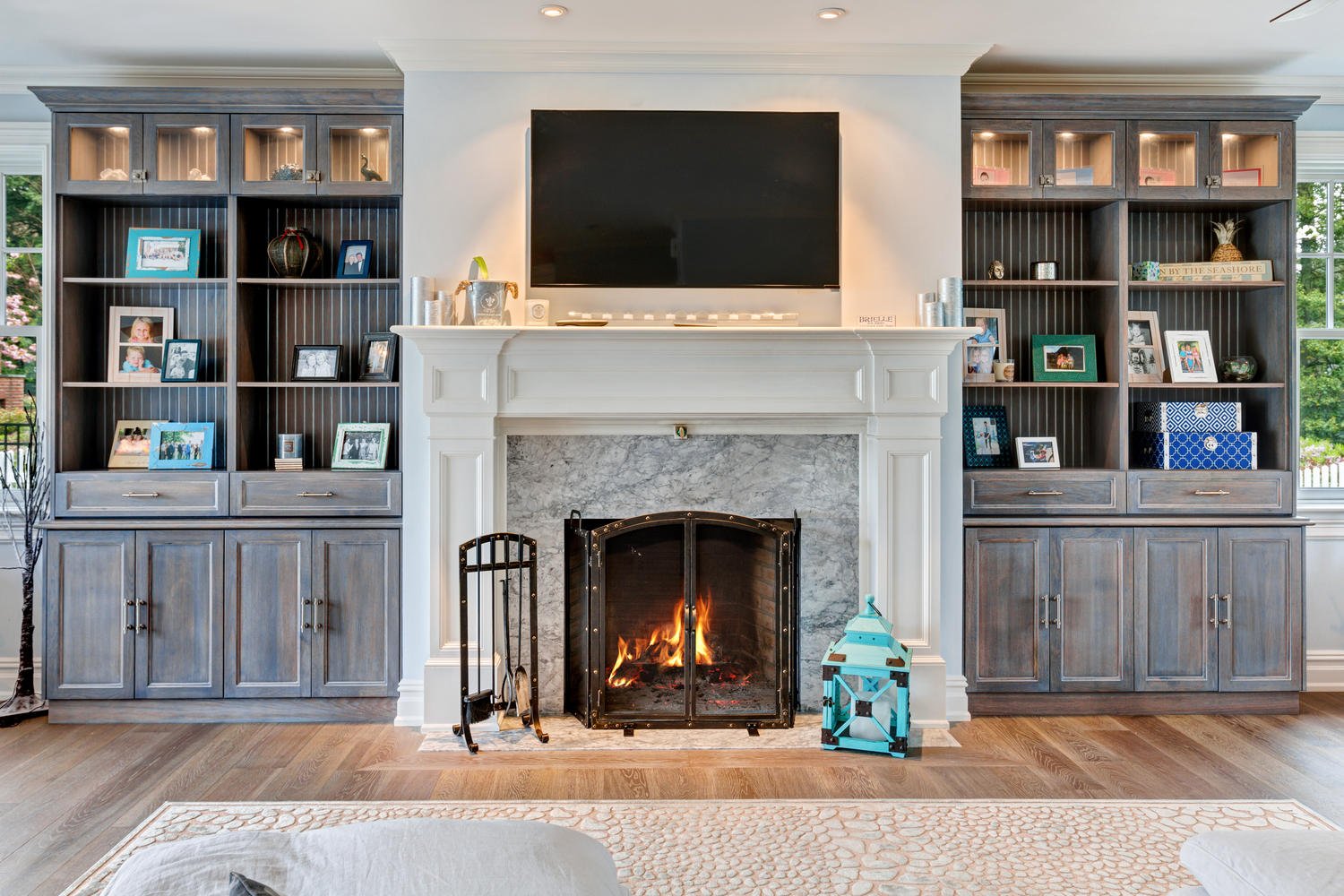 This built-in is full of character, and draws us in. Let's start with the gorgeous cubby type cabinets along the top. the added lighting makes this a great place to decorate and put items on display.
The wallpapered shelving offers a perfect backdrop for the family photos, and a few knick knacks.
So much added space with the long drawers and bottom section of larger cabinets.
With a white mantel large enough to display candles and plants, and the fireplace insert tying it all together.
Deep Wood Tones
This built-in is truly a work of art. we are in awe of this library, full of books and memorabilia. Can you imagine having a space to store your books you have collected over the years?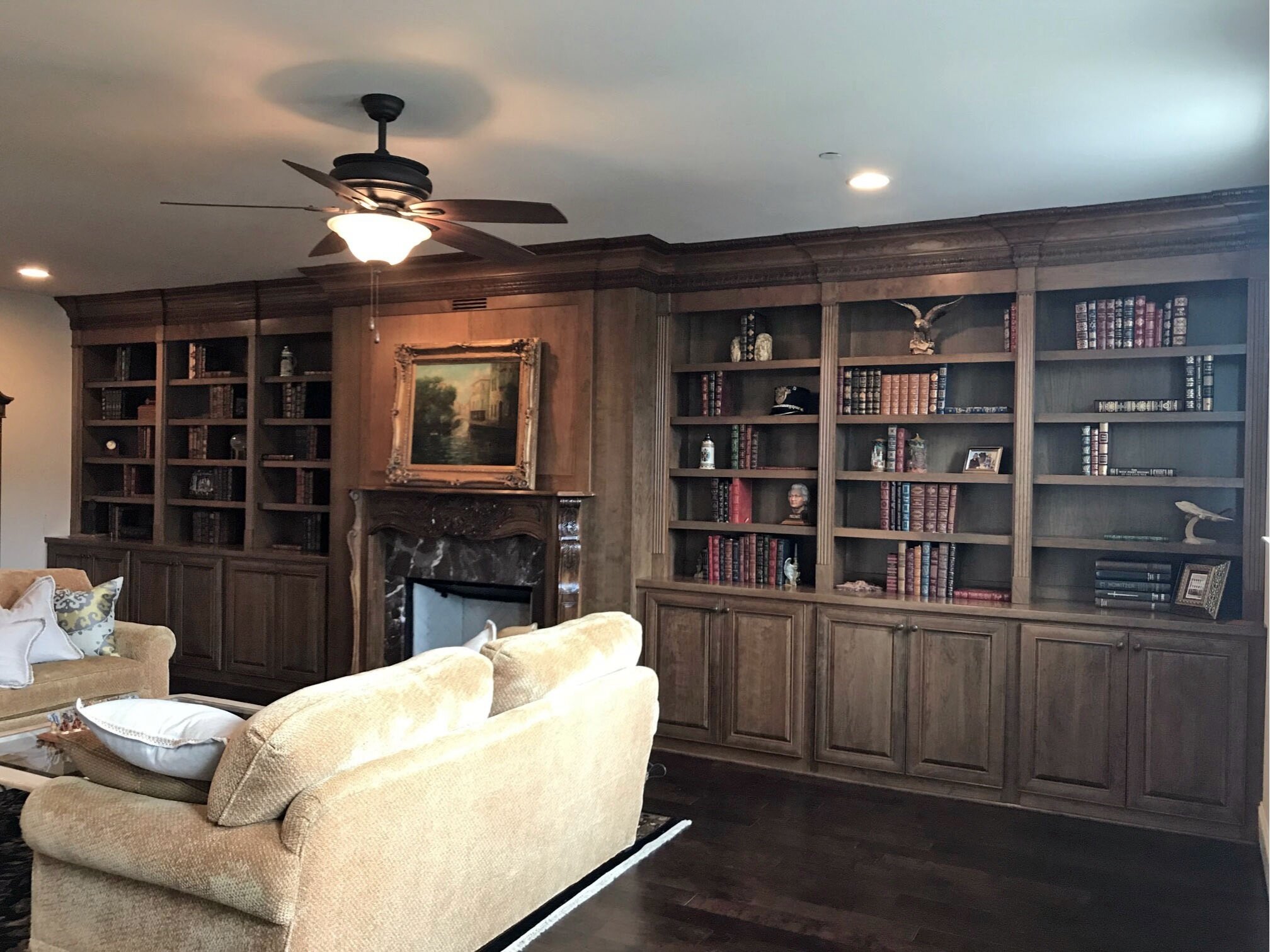 These adjustable shelves offer all the space you need to showcase, or store your keepsakes.
From the raised panel doors, fluting & column detail, to the custom crown moulding, we think this space is truly elegant.
Rich Wood
Who doesn't love a good shaker door, am I right?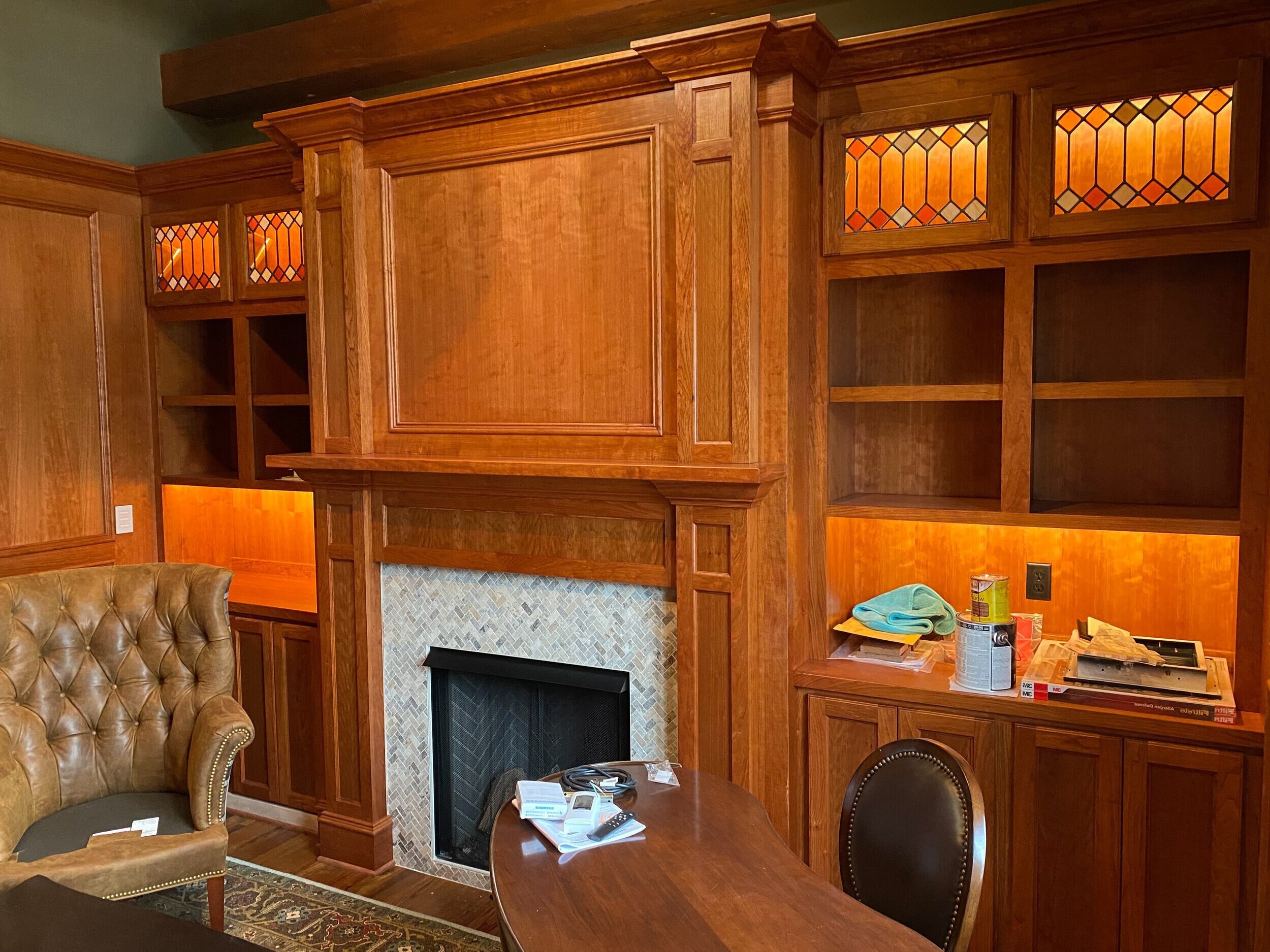 This fireplace built-ins features lead glass doors, adjustable shelving, recessed room panels, and finished off with crown moulding.
The white details around the wood really pop and offer a bit of contrast to the space.
The owner of this office will love to work intros space, I can only imagine.
Final Thoughts
If you've been thinking about adding built-ins around your fireplace, hopefully this gives you plenty of inspiration. The possibility of wood and color combinations is endless, and they are so much fun to style. Not to mention all the practice storage possibilites!
More Design & Style Posts