One of the not-so-beautiful features of our new living room was a built-in shelf smack bang in the middle of the wall over our couch. I refer to it as the knick-knack shelf. It wasn't just a regular ol' shelf hanging on the wall. Nope, this bad boy was recessed into the wall, making removal and thus, repairs a pain in the butt.
Now, I've replaced and mudded drywall once in the past. BUT, my plastering skills leave a lot to the imagination and are certainly not up to the task of repairing a patch this size where it will be blatantly obvious if I mess up.
What's a girl to do? Hire out the work! Luckily (or not so luckily) we happened to have a plasterer coming to fix some holes in our dining room ceiling where our electrician got a little carried away. So, I figured while the guy was here he could fix my living room wall too.
And fix it, he did. The guy was a perfectionist, which I love, and did excellent work. The repairs are so seamless that you would never know there was anything there.
For anyone who would like to DIY this, what he did was pretty straight-forward.
First, he removed the structure with a hammer and crowbar. Then he framed out the area so that the new drywall would have studs to attach to. He filled the recess with insulation.
Using drywall screws, the new drywall was secured to the studs. The seams were taped and mudded. Finally, he applied two thin coats of plaster to completely smooth out the new wall. (this is optional – you can tape and mud the drywall and then seal with a drywall primer. This extra step just makes for a nicer finish).
The plaster was left to dry for 4 days. You'll know it's dry when it changes from the pinkish brown to almost white. You will want to seal the wall at this point in time. I used the Zinsser Bin primer [affiliate link], which is probably the best primer out there, in my opinion. Going forward I won't ever use anything else. Two thin coats and I was good to go!

Now, the room is in the process of being painted. I can't wait for it to be finished to show you!!
Catch Up on Everything That's Happened at The White House so Far:
Planked Wall Over the Fireplace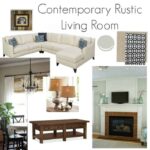 How to Caulk Like a Pro – Removing Old Icky Caulk
The Perfect Gray Paint for my Kitchen