Creamy, cheesy and full of flavor, these butternut squash bites are a favorite holiday appetizer. The filling can be made ahead of time and simply added to the mini phyllo shells and reheated before serving.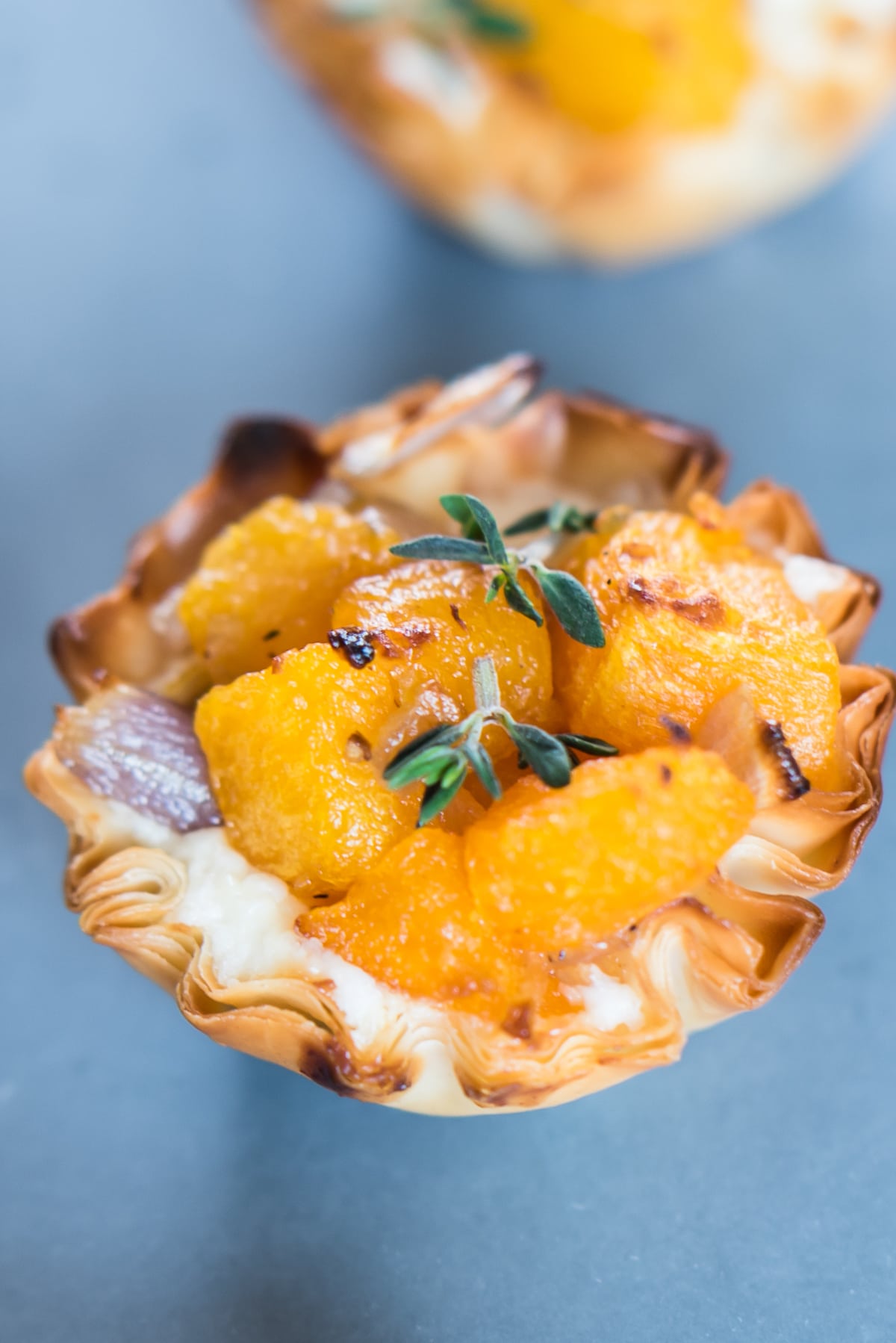 These little Butternut Squash bites are my go-to holiday appetizer. I make them every Thanksgiving and Christmas (when I'm hosting) and both kids and adults alike can't get enough of them.
I always think that 30 is enough, but given the fact that they disappear in less than 5 minutes every year, I'm thinking I might need to start doubling the recipe!
I have a confession to make about making these for this post, though. I actually burnt them and nearly had a nervous breakdown over it. I made and photographed this recipe a few days after I came home from the hospital with my third baby and clearly wasn't in the frame of mind to handle everything.
RELATED: Sundried Tomato, Mozzarella and Quinoa Salad
I forgot they were in the oven (I don't know why the timer wasn't on!) and suddenly smelled burning. I rescued them in time for them to still mostly be edible but they look pretty burnt in the photos. I was SO exhausted that day that there was just no way I was remaking the lot. So that's why there's some black edges!
But back to the recipe!
I love this recipe for a few reasons. First, it has all my favorite ingredients - butternut squash, cheese and perfectly softened shallots. I've actually made the squash mixture separately and served it with dinner on multiple occasions - it's THAT good!
Second, I can make the filling ahead of time and then pop it into the mini phyllo shells and reheat before serving.
I'm all about making my life easier when hosting for the holidays so this appetizer, along with my one-pan turkey breast dinner, cranberry sauce and "talk of the table" stuffing, are always my go-to's, since I can make the majority of them ahead of time.
If you've never had smoked cheddar before, you're in for a treat. You can find it in most grocery stores in the section with all the international cheeses and blocks of parmesan. Don't substitute it with regular cheddar - the smokiness adds so much depth of flavor to these appetizers. You're going to love it!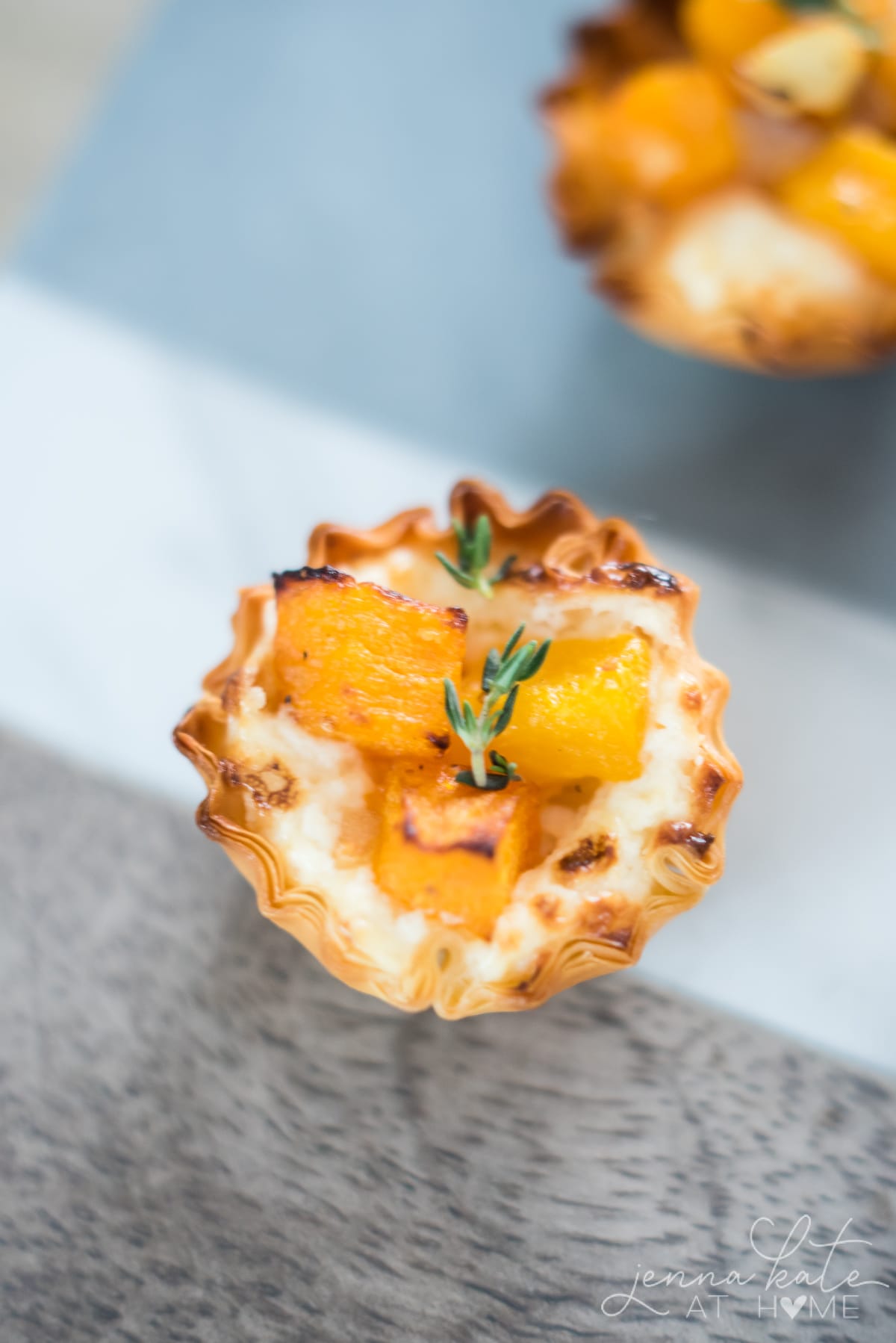 After baking, be sure to add a sprig of thyme to finish it off. It adds another layer of flavor and makes them look so pretty!
More Recipes You Will Love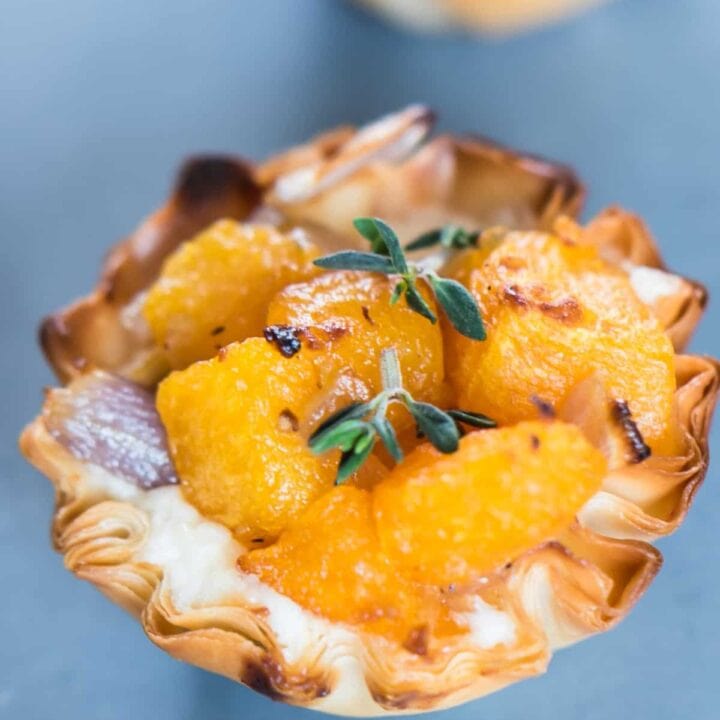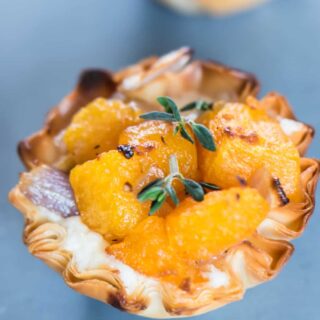 Cheesy Butternut Squash Bites
Creamy, cheesy and full of flavor, these butternut squash bites are one of my favorite holiday appetizers. The filling can be made ahead of time and simply added to the mini phyllo shells and reheated before serving.
Ingredients
2

cups

diced peeled butternut squash

(about ½ a small squash)

2

tablespoons

unsalted butter,

melted

kosher salt

freshly ground black pepper

1

shallot,

minced

30

frozen mini phyllo shells

4

ounces

cream cheese,

at room temperature

¼

cup

mayonnaise

1

cup

shredded smoked cheddar

(about 2 ½ oz)

2

teaspoons

fresh thyme
Instructions
Put a baking sheet on the middle oven rack and preheat to 375°.

Toss the squash with the melted butter, ¼ teaspoon of salt and a few grinds of pepper.

Spread in a single layer on the hot baking sheet. Roast until tender, about 15 minutes.

Stir in the shallot and roast until softened, about 5 minutes.

Let the squash cool for a few minutes on the baking sheet.

Meanwhile, place the phyllo shells on another baking sheet. Bake until crisp, about 5 minutes.

Mix the cream cheese and mayonnaise in a medium bowl.

Fill each phyllo shell with a teaspoon of the cream cheese mixture. Top with a few cubes of the squash/shallot mixture and sprinkle with smoked cheddar.

Return to the oven and bake until lightly browned, about 10 - 15 minutes.

Finish each bite with a sprinkle of thyme.
Notes
Note: The squash/shallot mixture can be made ahead of time and refrigerated. Then all you have to do is make the cream cheese mixture, fill the phyllo shells and crisp in the oven.
Nutrition
Calories:
243
kcal
Carbohydrates:
13
g
Protein:
7
g
Fat:
19
g
Saturated Fat:
8
g
Cholesterol:
41
mg
Sodium:
207
mg
Potassium:
175
mg
Fiber:
1
g
Sugar:
2
g
Vitamin A:
4198
IU
Vitamin C:
10
mg
Calcium:
138
mg
Iron:
1
mg