A thick and creamy chocolate avocado mousse with a pudding like texture. It's creamy and decadent and can easily be made vegan or paleo. It's a dessert that's not only delicious but almost healthy, too!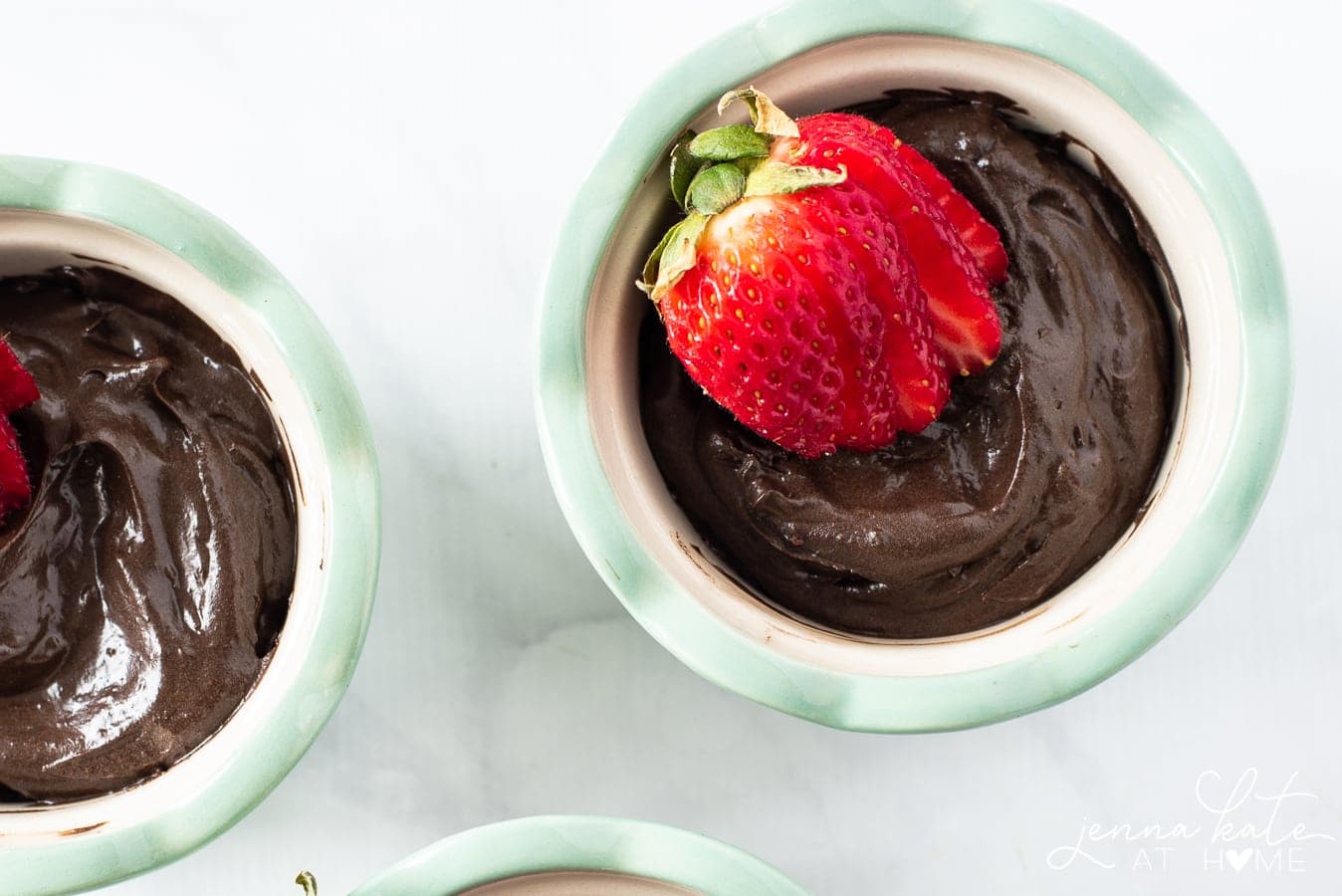 Avocado Chocolate Pudding
The chocolate cravings have been crazy over here. And when they strike, there's not a whole lot that will get rid of them besides indulging. OK – I could just eat a square of dark chocolate and probably be fine. But what fun is that!?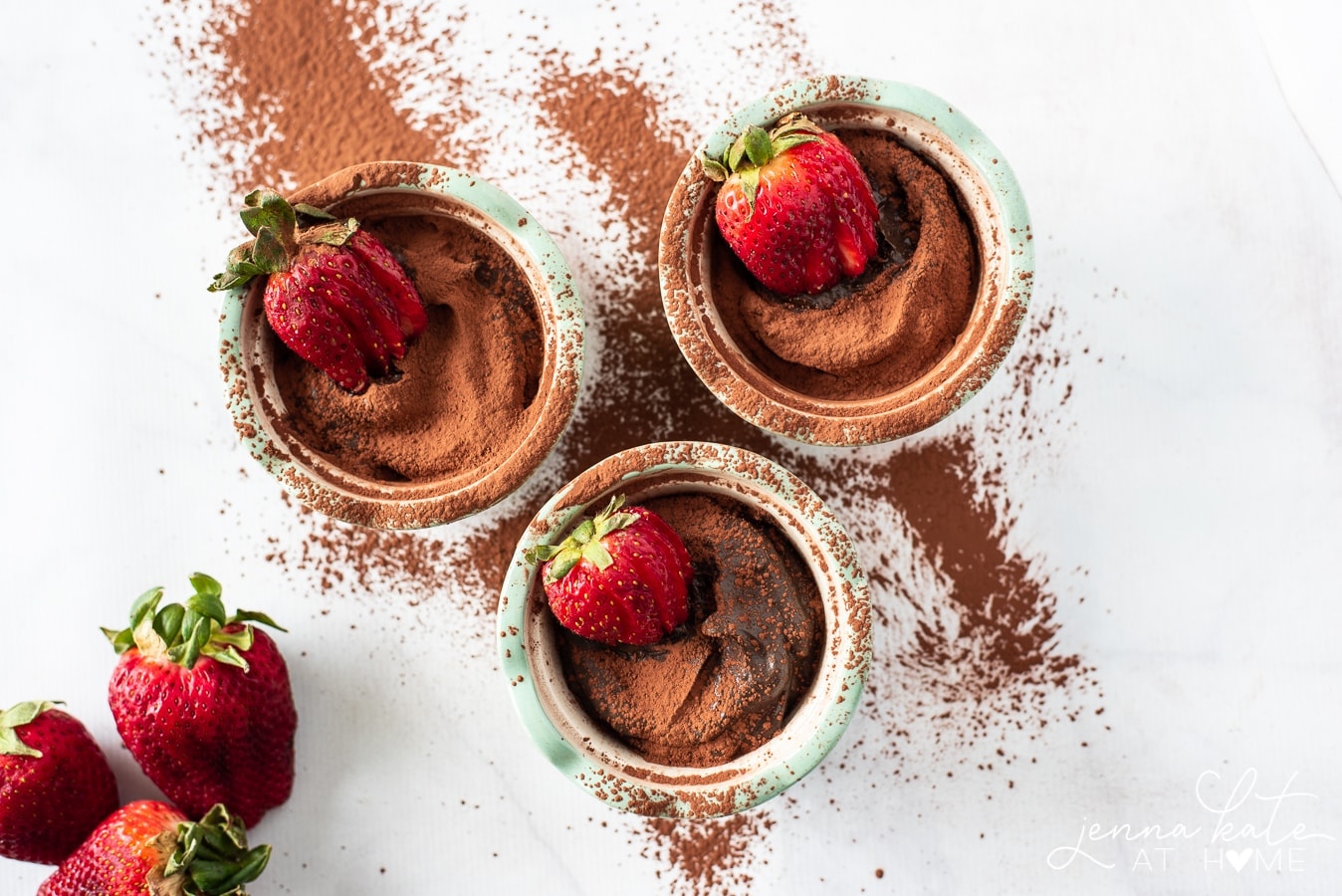 Yesterday evening after dinner, I was craving something not only with an intensely chocolate flavor, but creamy and pudding-like – something along the lines of a chocolate mousse but not as labor intensive and a little closer to the healthy side of life.
I've been meaning to try this Chocolate Avocado Mousse (or chocolate avocado pudding) recipe for some time, and seeing as I had all the ingredients on-hand, I decided to whip it up.
I love a dessert recipe that requires minimal effort and this one is no exception. Avocado, milk, cocoa powder, vanilla and sugar were simply thrown into my ninja blender and in 3 minutes I had this perfectly silky chocolate avocado mousse.
---
Other Dessert Recipes You May Like
---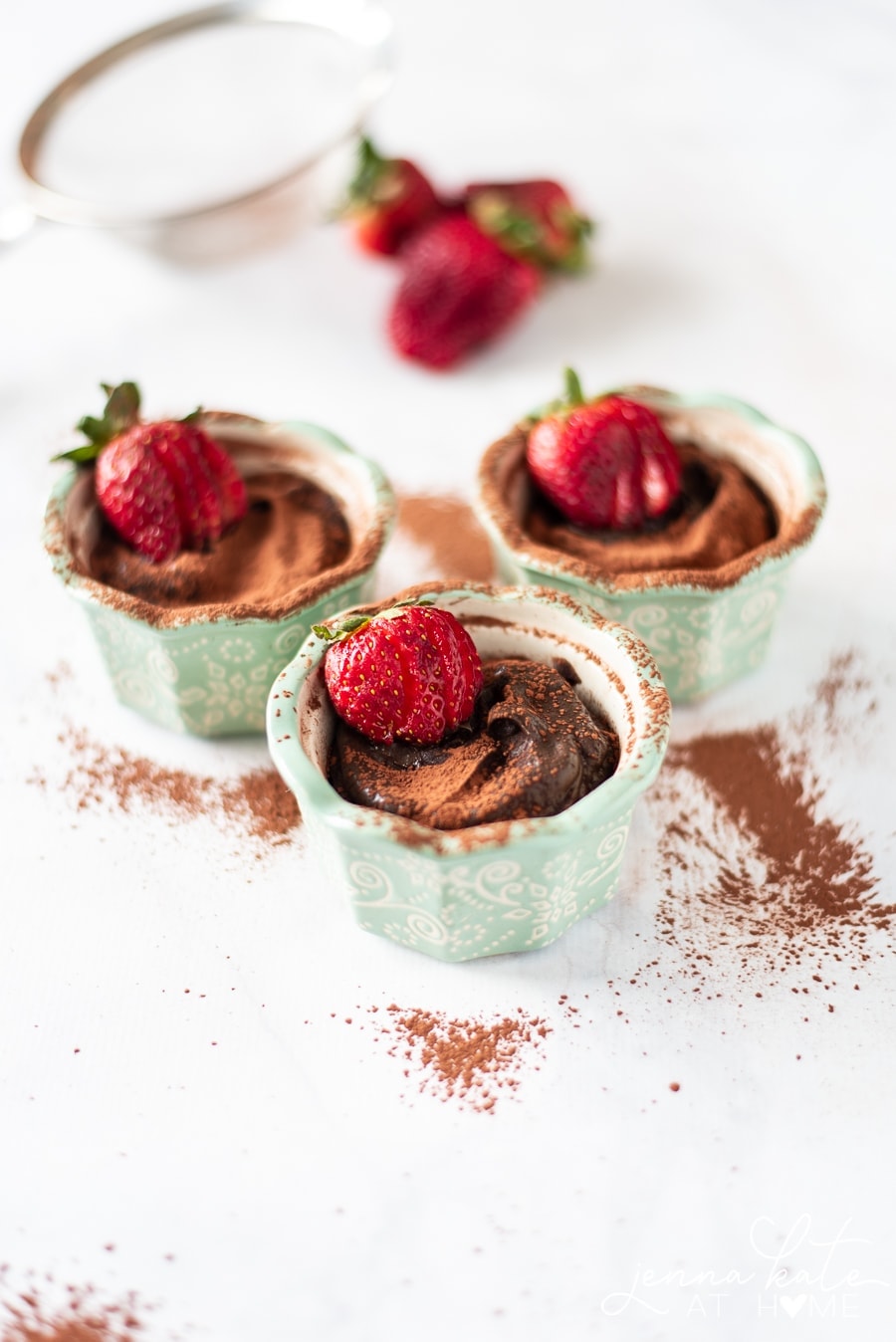 I know what you're thinking. What does chocolate avocado mousse taste like? My son had the exact same question and he turned his nose up at the avocados going into the blender. First, I love avocado. I eat them every day. They are an amazing, healthy fat that everyone should have in their diet. But honestly, this pudding tastes only of chocolate. You will never in a million years guess that there's avocado in it!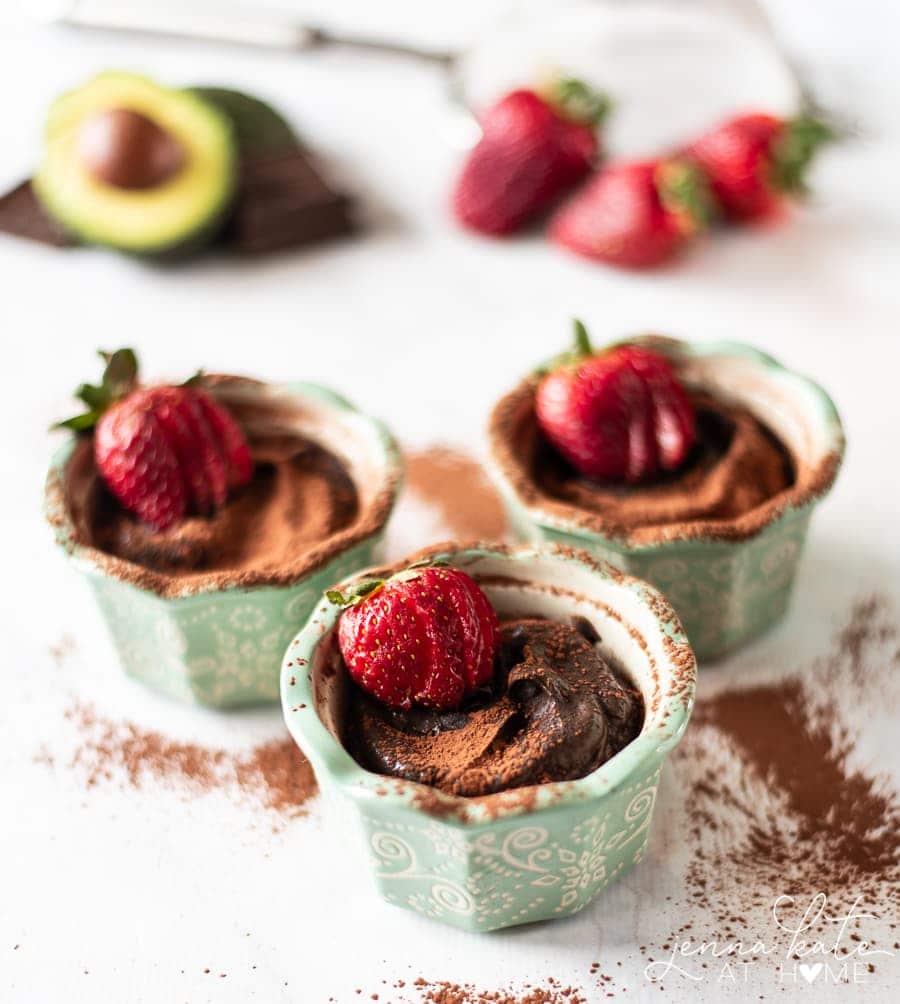 This recipe can easily be made vegan or Paleo depending on your dietary preferences, too. I used 2% milk and regular granulated sugar because that's what I had on hand. But I previously switched out the milk for almond milk or coconut milk and replaced the sugar with either coconut sugar or maple syrup and it tastes just as good. I've also made it with both semi-sweet and bittersweet chocolate and instead of using dutch process cocoa powder, I've used cacoa powder. It's so versatile!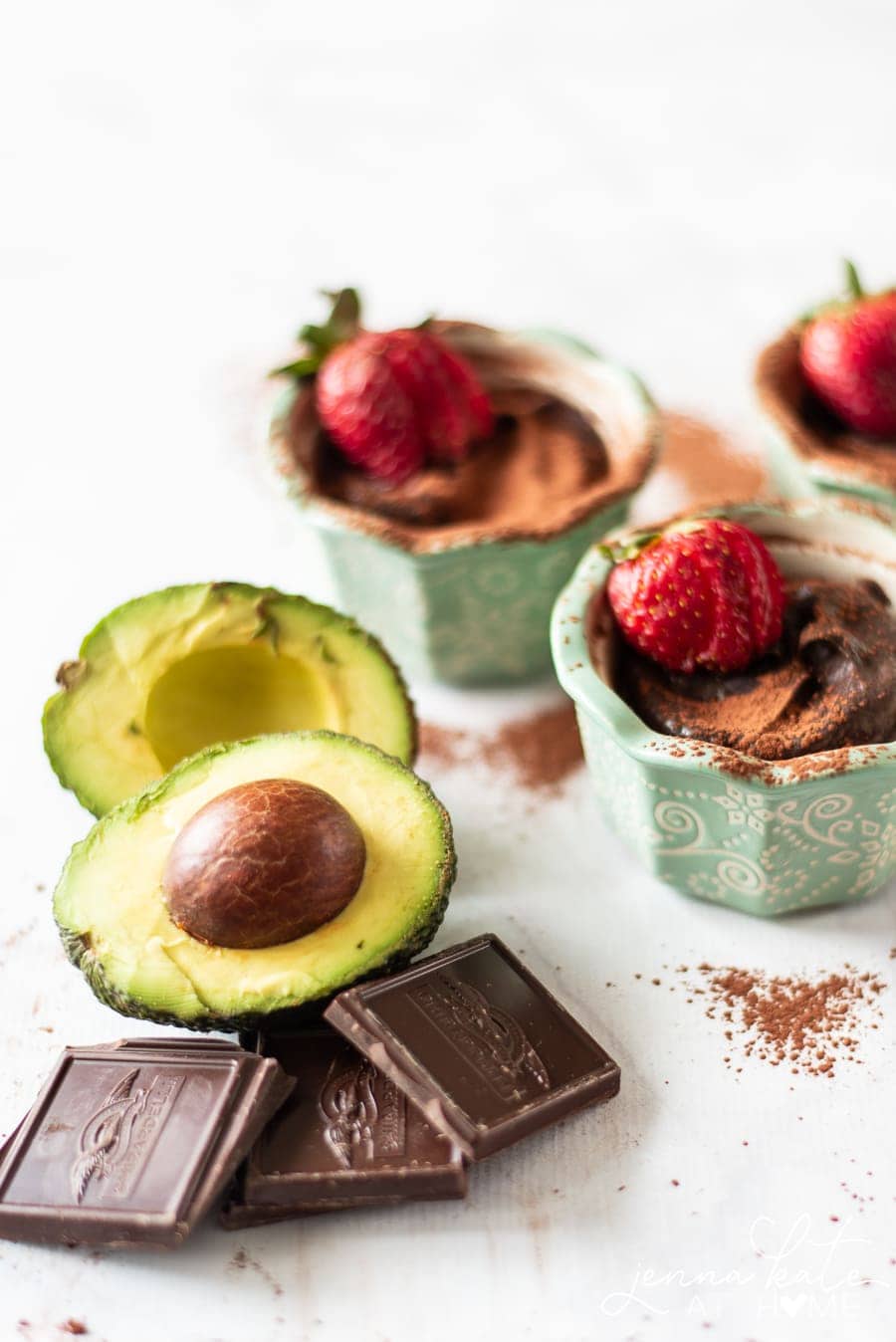 I can't wait for you to try this! Even if you're skeptical, give it a whirl! It tastes just as good as desserts I've had at high-end restaurants, is relatively healthy (depending on what sugar you use), is full of healthy fats and is easy to make. It's actually a great dessert to make if you have last-minute dinner guests. Thanks to the sugar content, chocolate avocado mousse can be left out at room temperature for several hours. You can also refrigerate if you wish, but it will result in denser, fudgier texture.
I'm a huge dessert snob, especially when it comes to chocolate so If I'm telling you that you won't be disappointed, you know it's that good!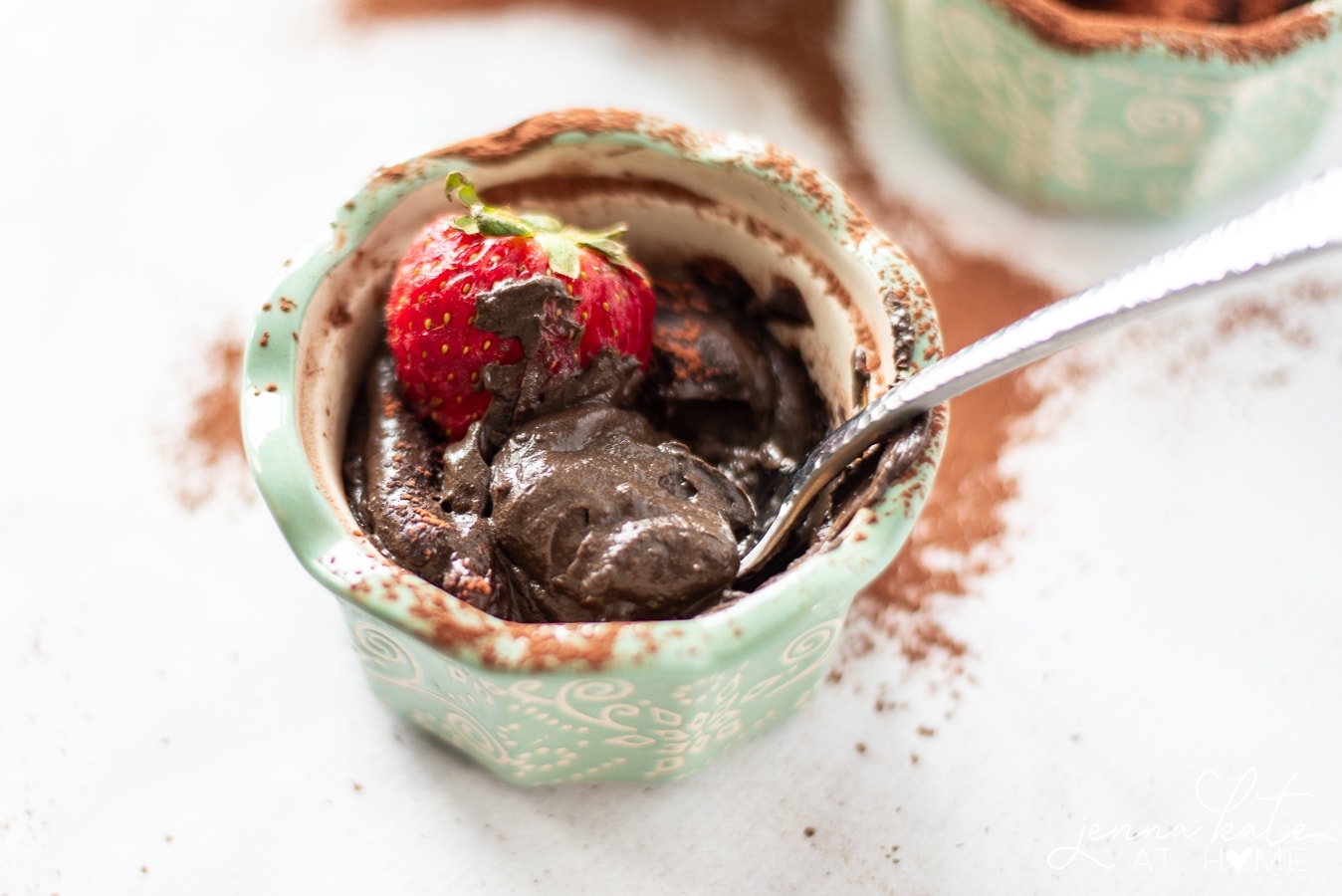 Chocolate Avocado Mousse Recipe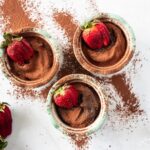 Ingredients
2 ripe

avocados

pitted and peeled

5

oz

semisweet chocolate, melted

or bittersweet

3/4

cup

Duch process cocoa powder

or cacao powder

2/3

cup

milk

or almond milk/coconut milk

1/2

cup

sugar

or maple syrup or powdered sweetener of choice

1

tbsp

vanilla

1

tsp

salt
Instructions
In a blender, combine the avocados, chocolate, cocoa powder, milk, sugar, vanilla and salt. Blend on low speed until combined.

Stop the blender and scrape down the sides, then blend on high speed until the mixture is silky smooth, about 3 minutes.

Divide the mousse among six 4–fl. oz. ramekins.

Dust with cocoa powder and top with a fresh strawberry or a few raspberries.