Staying on top of cleaning is one of my important daily tasks for keeping a clean and tidy house. For my daily upkeep, a quick speed clean does the trick. However, a speed clean won't get to every nook and cranny so your bathroom will still need a deep clean every so often.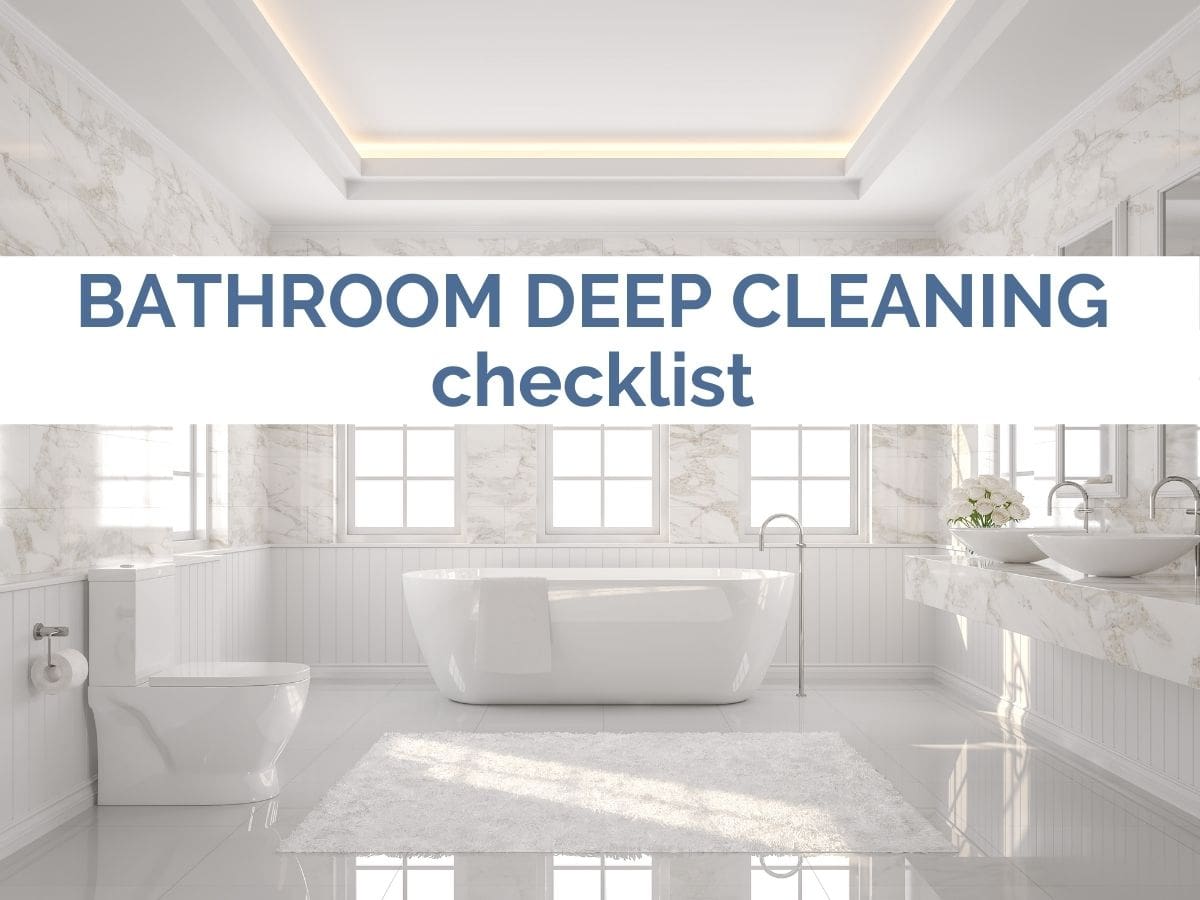 How Often Should a Bathroom Be Deep Cleaned?
This, dare I say, is kind of a loaded question. Everyone has their own level of comfort when it comes to how clean rooms in their home should be. Bathrooms, however, certainly need to be cleaned more often than other rooms such as bedrooms.
Think about all the things the bathroom is used for: baths, showers, brushing your teeth and of course, the other reasons the bathroom exists. You want to be able to do all those things in a clean environment. Not just surface clean, but truly clean.
If I'm keeping on top of my daily cleaning tasks, I will deep clean the bathroom every 10 days or so. If you just have a freestanding shower, and not a bath, you may be able to get to two weeks.
Some of the tasks no not need done every time, for example wiping down the insides of cabinets or washing shower curtains. The important tasks like removing soap scum and thoroughly cleaning the toilet should certainly be done each and every time.
Bathroom Deep Cleaning Tasks
It's important that you do the following tasks in the order listed:
Pre-Cleaning
Clear off all surfaces and place items outside the bathroom, including the trash can.
Empty the trash can and disinfect it, inside and out.
Remove towels, shower curtains and bath mats. Launder together on a cold wash with regular detergent.
Dust baseboards, doors, bathroom fixtures, light fixtures and fans.
Wipe down cabinets, inside and out.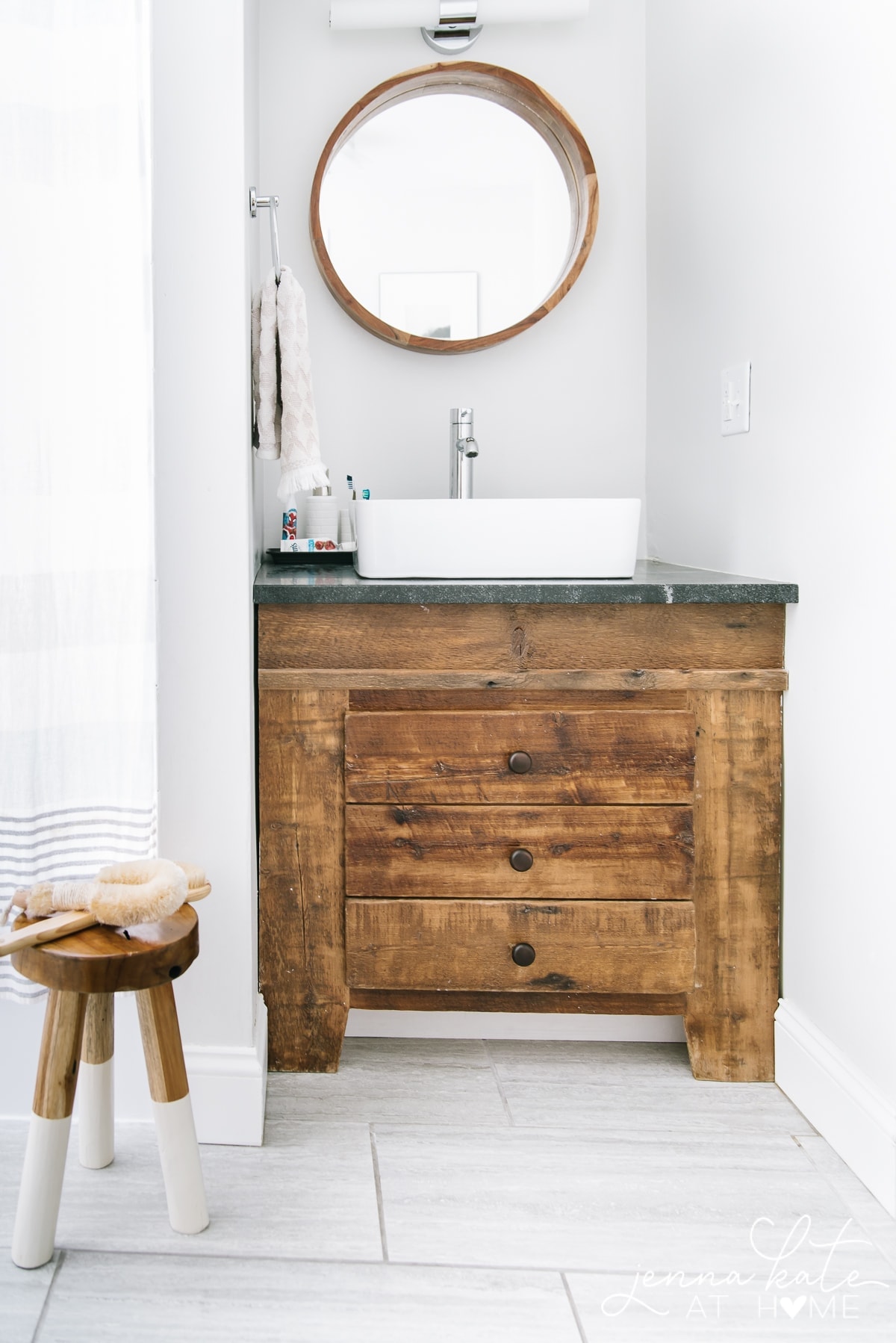 Deep Cleaning
Gather cleaning supplies: sponges, gloves, bathroom cleaner, toilet cleaner, plastic baggy, and microfiber cloth. Open up windows to ventilate the room.
Cleaning The Toilet
To clean the toilet: Pour toilet bowl cleaner in to the toilet bowl and under the rim. Using a toilet brush, scrub until clean.. Flush, then pour more cleaner into the bowl, close the lid and let it sit for 15 minutes. After that time you will flush again.
Next, wipe down the outside of the toilet with a disinfecting product. I use Force of Nature to clean and disinfect my entire house. It's made using vinegar and water, but cleans and disinfects as effectively as hospital-grade cleaners. Whether you used paper towel or a sponge, throw it out.
Cleaning The Bath and Shower
For the bath and shower, it's best to use a bathroom cleaner specifically designed to remove soap scum. I find that my Force of Nature cleaner works pretty well on soap scum, but I need to leave it sit for 10 – 15 minutes if the build up is really bad. If I'm pressed for time, I'll use whatever multi-surface bathroom cleaner I have on hand. If you have an acrylic bathtub, make sure you're using one that won't damage the finish. I like Method's Bathroom Tub Cleaner.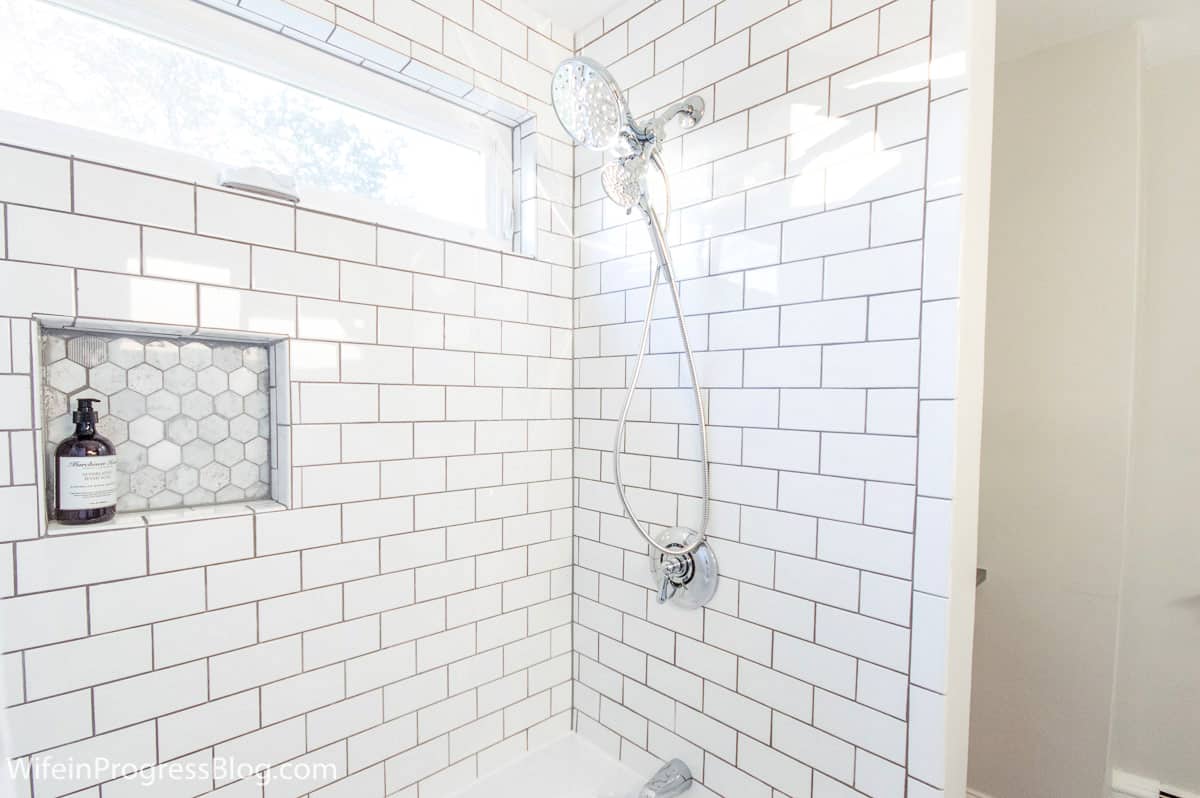 Allow the product to penetrate the soiled area. Then, using a wet sponge, wipe the tub until you can run your hand along the side and not feel the buildup.
De-scale the shower head and faucets by spraying cleaner on and allowing it to penetrate for a few seconds before wiping it off.
For heavily soiled grout, use a stiff bristled brush to scrub with cleaner. Otherwise, spray cleaner on, and wipe down with a sponge. Finally, rinse off with water.
The same multi-surface cleaner will work in a shower stall. When cleaned, rinse and buff the shower walls with a microfiber cloth. If your shower is not well ventilated, watch out for possible mold buildup on the grout. If you see any, use bleach and a stiff bristled brush to scrub it clean.
Deep Cleaning The Sink Area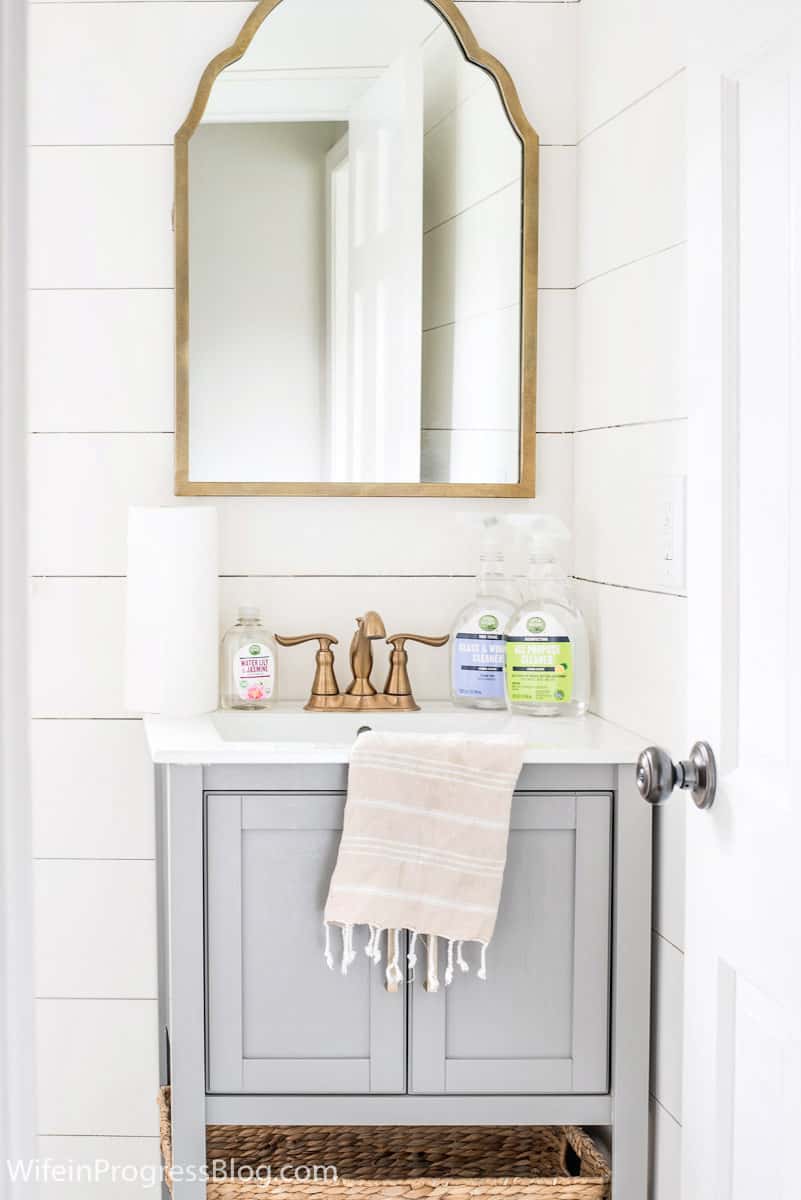 Wipe down the entire sink area including the drain hole and faucet. Ensure that the area at the base of the faucet is clean as this tends to accumulate dirt, especially at the back. The faucet can then be buffed to a shine with a microfiber cloth.
Wipe down the countertops with the same cleaner, and also clean the mirror.
If there's a backsplash behind the sink, dip an old toothbrush in bleach and scrub any discolored areas. Wipe down tile with the multi-surface cleaner.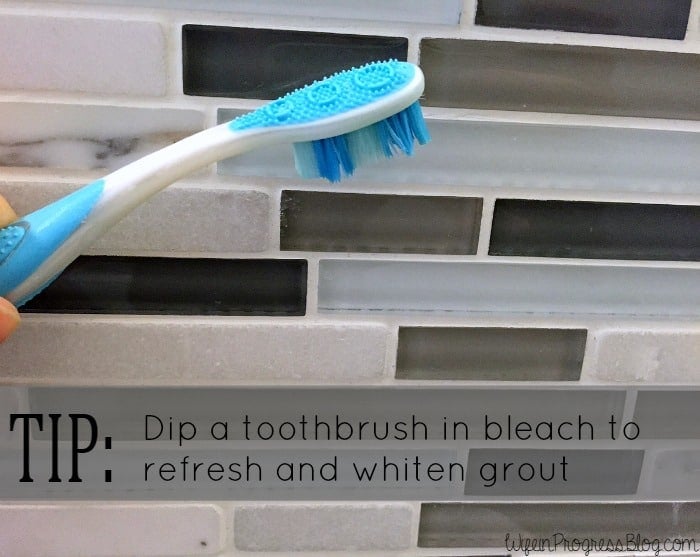 Washing the Floor
Clean the floor with a mop or steam cleaner, being sure to get around the base of the toilet and all corners and crevices. Allow to dry.
Return any items to the countertop as well as freshly laundered towels, bath mat and shower curtains.
Now that you're ready to get your bathroom looking absolutely spotless, don't forget to either pin this post or download my printable Bathroom Deep Cleaning Checklist.