If you've been watching my Instagram Stories recently, you'll know that I've started shopping for this dining room makeover already. Keep an eagle eye out for sneak peaks of my items as they arrive!
I believe I've only ever shared our dining room during last year's Christmas home tour. In the grand scheme of room's that need help, I guess it's OK. I mean, it did the trick but I it just never felt finished to me. Of all the rooms we've tackled since moving into this house in 2015, I never really gave much thought to the dining room. In my eBook and free 5 Day Decorating Course, I preach the importance of always coming up with a design plan or mood board for every room to help bring your vision to life.
While I've always had a vision of what I wanted my dining room to look and feel like, I never sat down and properly thought it out. Well, that's all about to change. The dining room is finally get some love and attention and I'm very excited about it!
Here's the current state of affairs: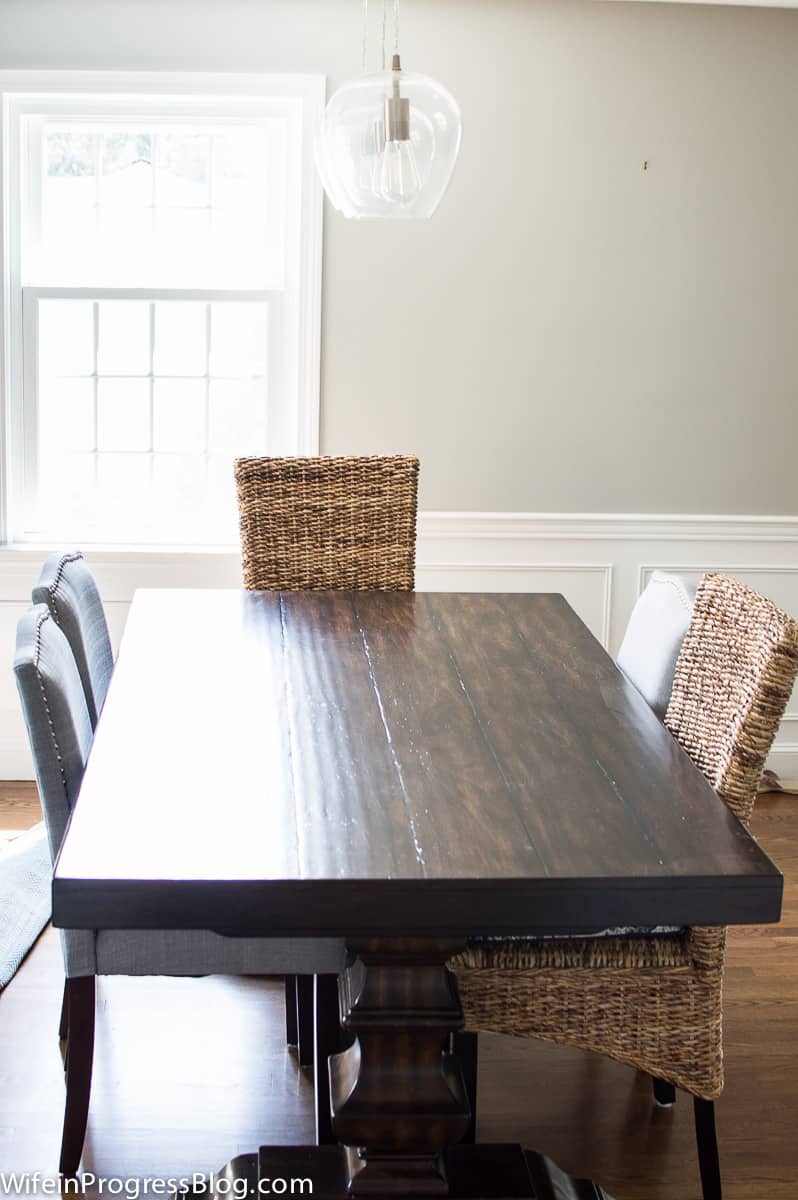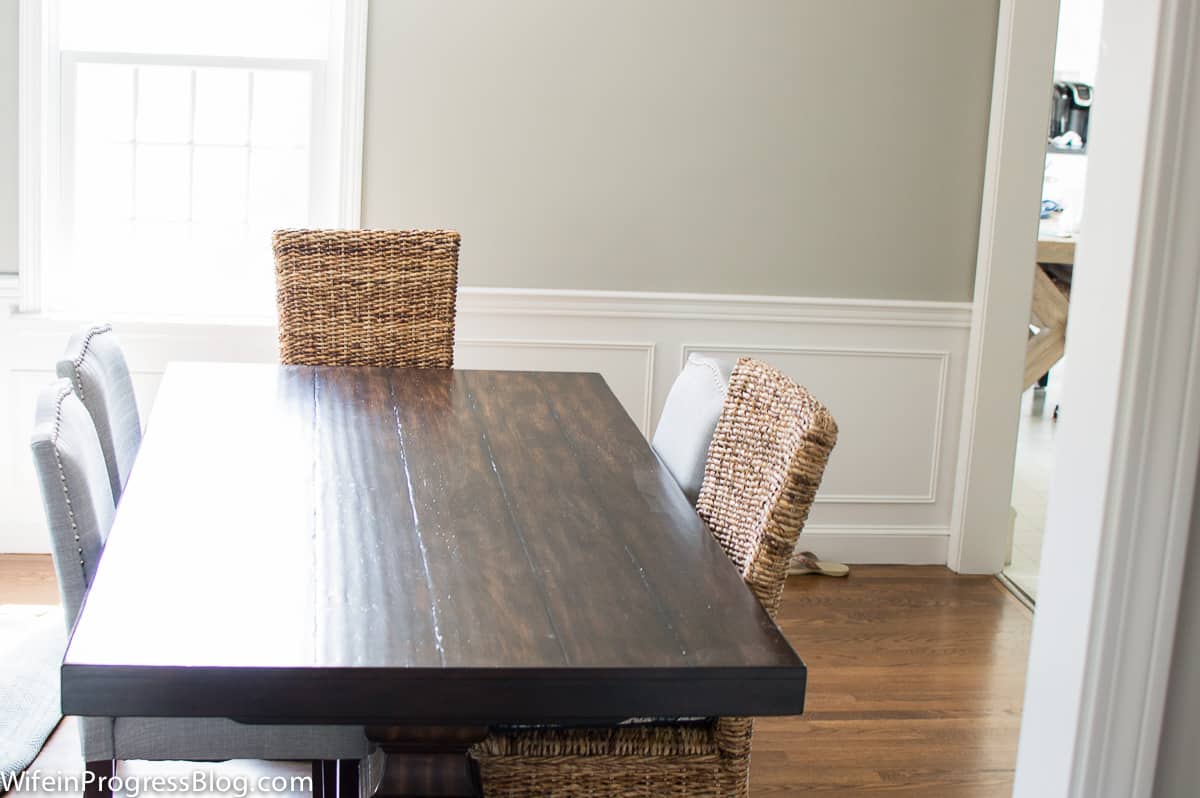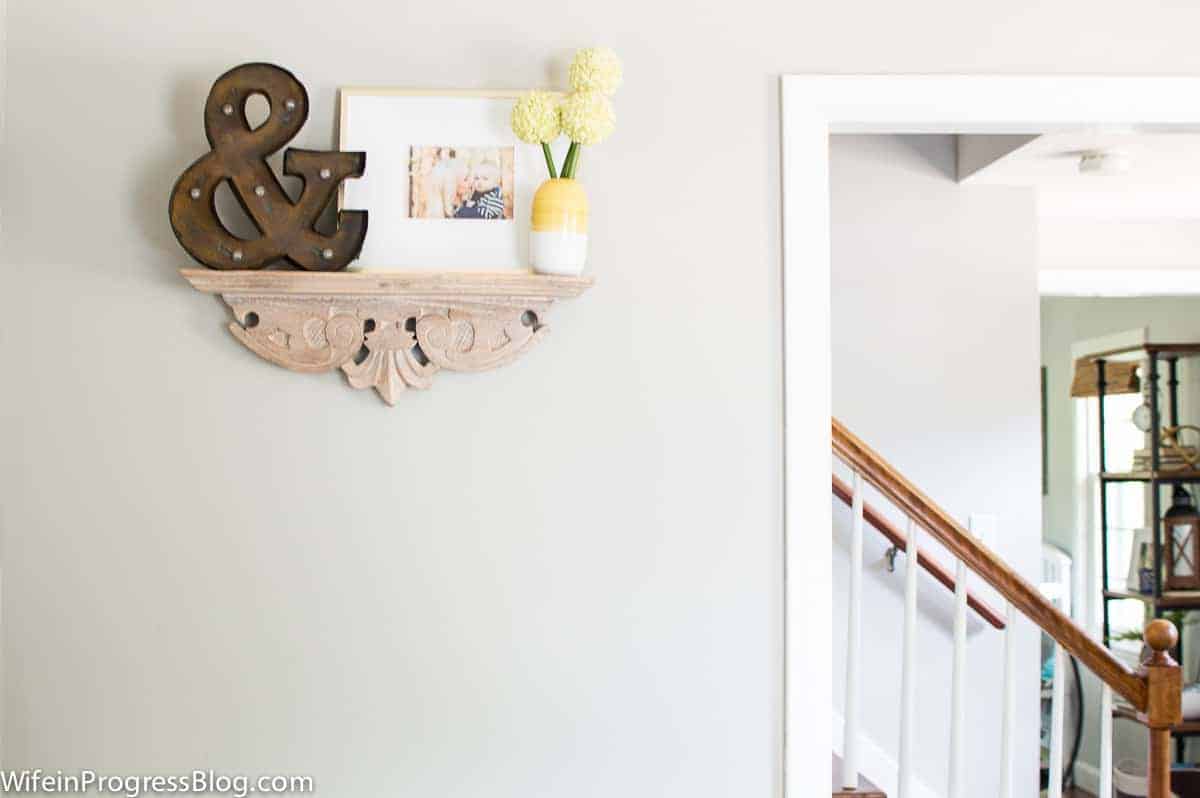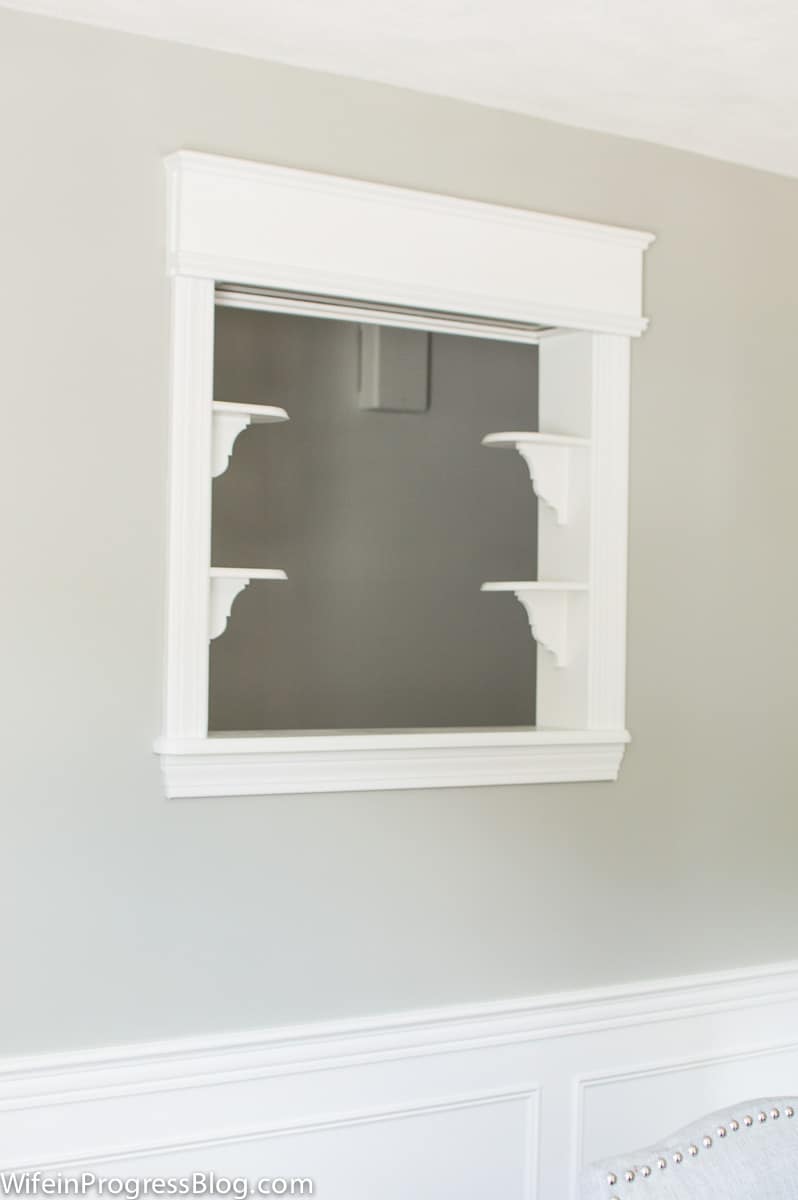 I have no idea who thought it was a good idea to put a pass through in the dining room wall. It even has some shelves and a light to highlight the little knick-knacks that I'm sure were placed there. Not my taste, needless to say. In fact tomorrow, it will be removed, drywalled and plastered.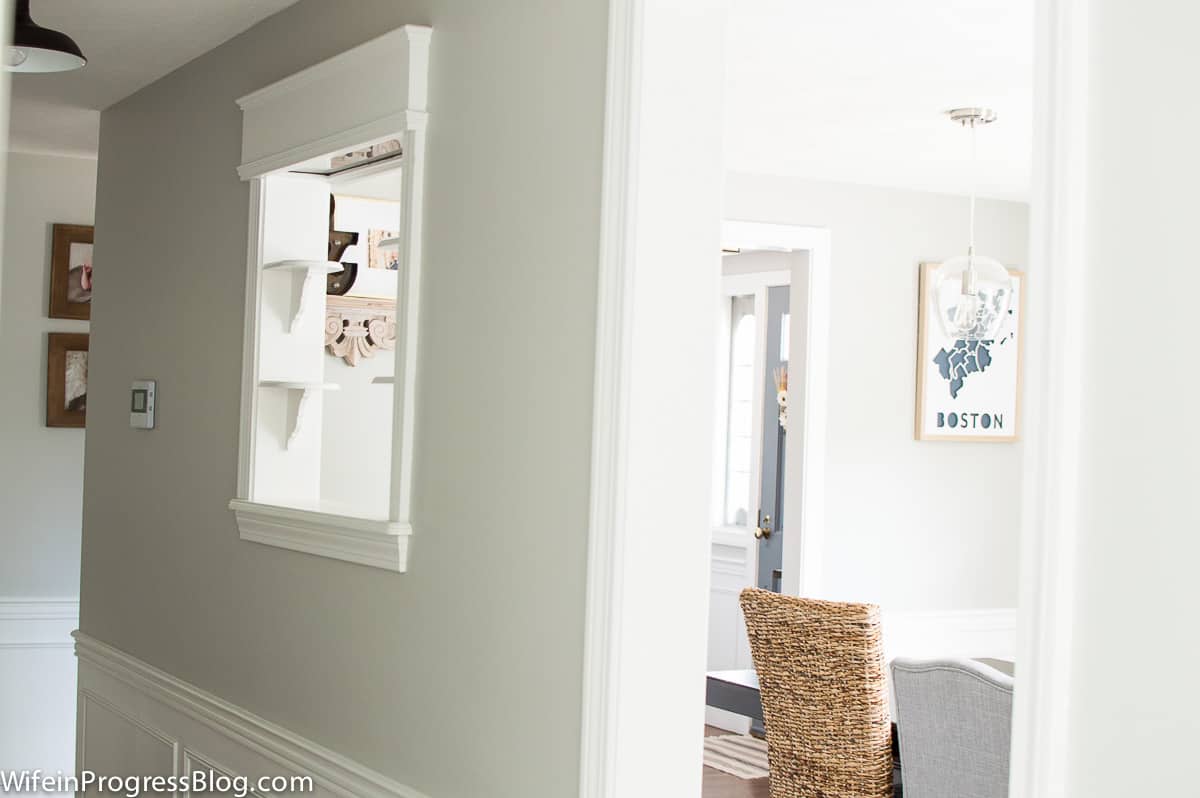 Now for the fun part – here's the look I'm going for: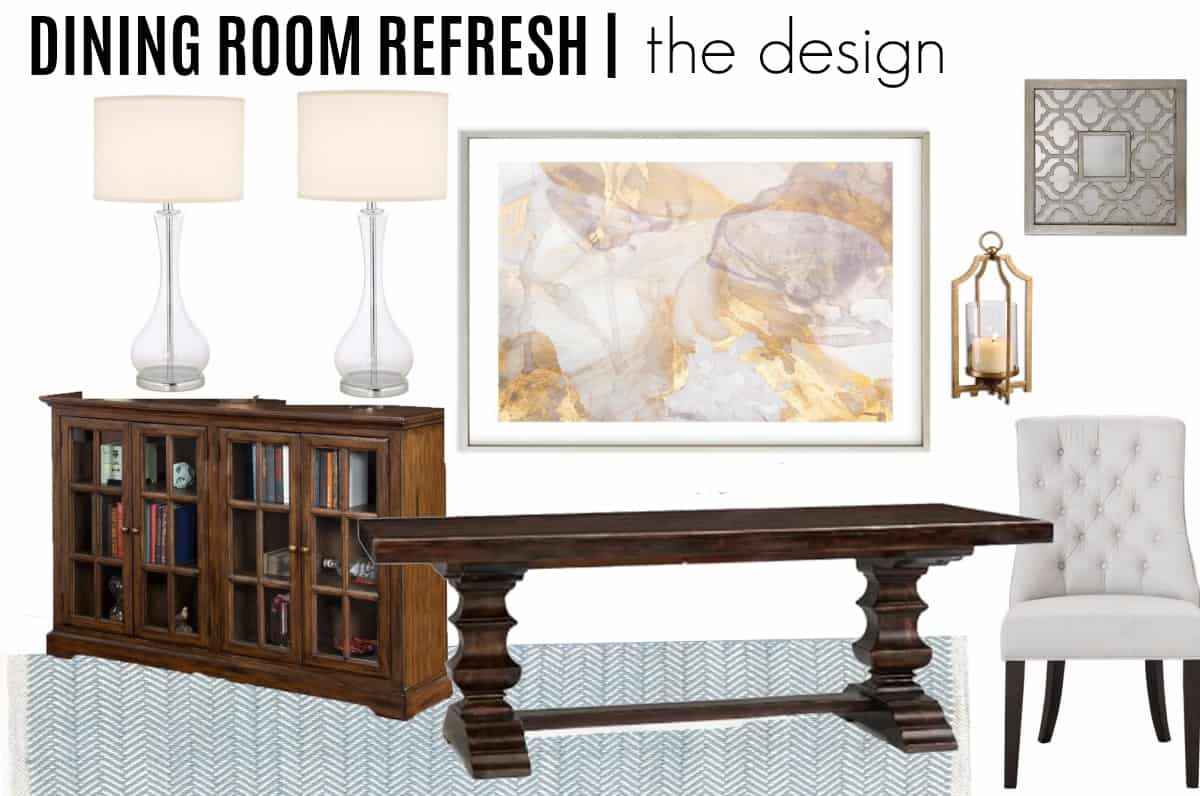 As you can see, it's a much more elegant and luxe feel that the rest of the house, which I consider a bit more rustic and casual. I want the dining room to feel "grown-up" and to have that classic, elegant vibe that I always admire in others' dining rooms.
The Pottery Barn dining table was a Christmas gift from Brian when we moved in. That's definitely staying. Currently, we don't have a full set of chairs in here since we recently moved the rattan ones into the kitchen. Since the table is so dark and this room only gets morning sun, I want to keep the new chairs on the lighter side to help boost the brightness in the room.
The current paint color – Mindful Gray by Sherwin Williams is also staying. I adore the contrast between this warm gray and the white wainscoting but some new artwork and perhaps shelves will fill up the empty wall space.
Finally, a cozy rug will help to finish off the space, along with some touches of elegant mixed metals in tones of champagne silver and gold.
I'll have an update for you over the next few weeks as items start to arrive. I can't wait for how awesome this room is going to be, so stay tuned :-)