Are you fed up with cheap, plastic planters that don't last beyond one season and look drab? This DIY concrete planter technique will have you showcasing your artistic talents and extremely durable plant pots!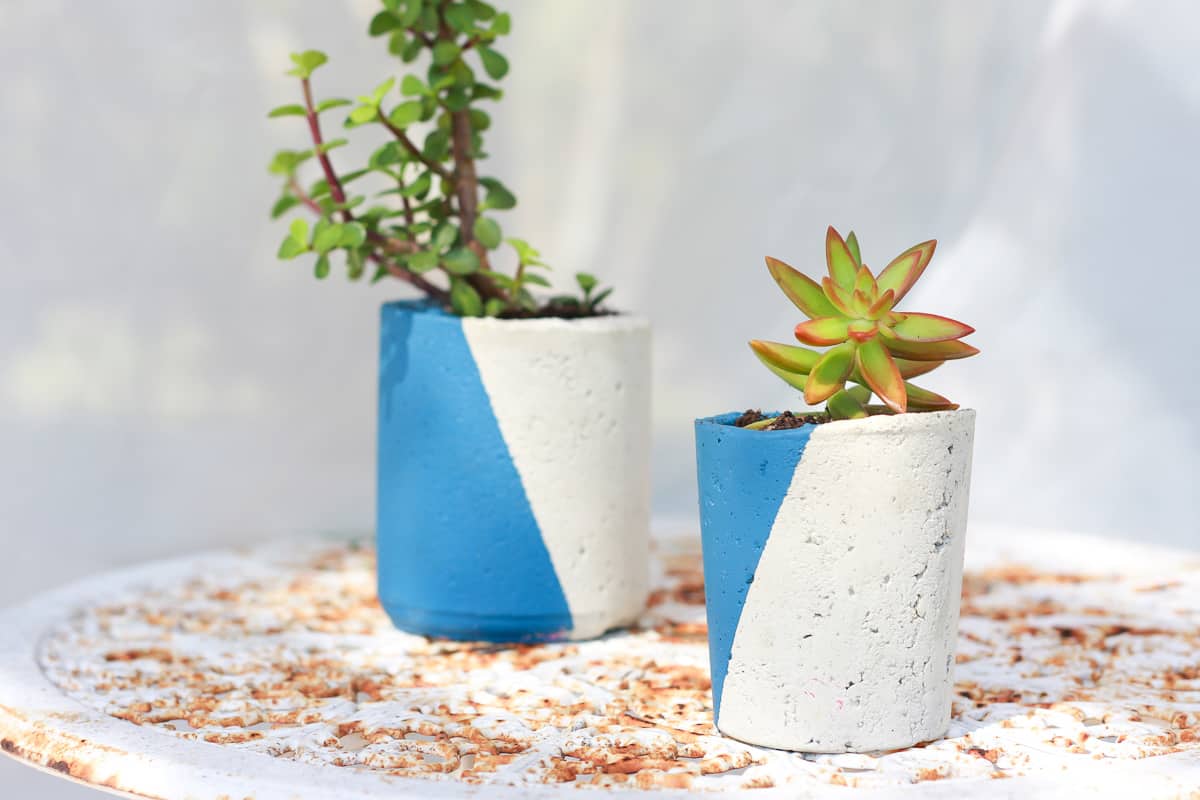 The very thought of working with concrete can send some scurrying for their heavy-duty gloves and thick hand lotion. But it doesn't have to be so intimidating!
Besides, you're not going to be repairing anything today. Instead, you'll be making a brand-new collection of one-of-a-kind cement flower pots that will add a wave of awesome to your garden!
The best part of this project is how easy these planters are to make and how cute they look – you can use any color or design you like. Plus, you can reuse empty containers from your kitchen before tossing them out.
Are you ready?! Gather your bowls and let me walk you through the steps.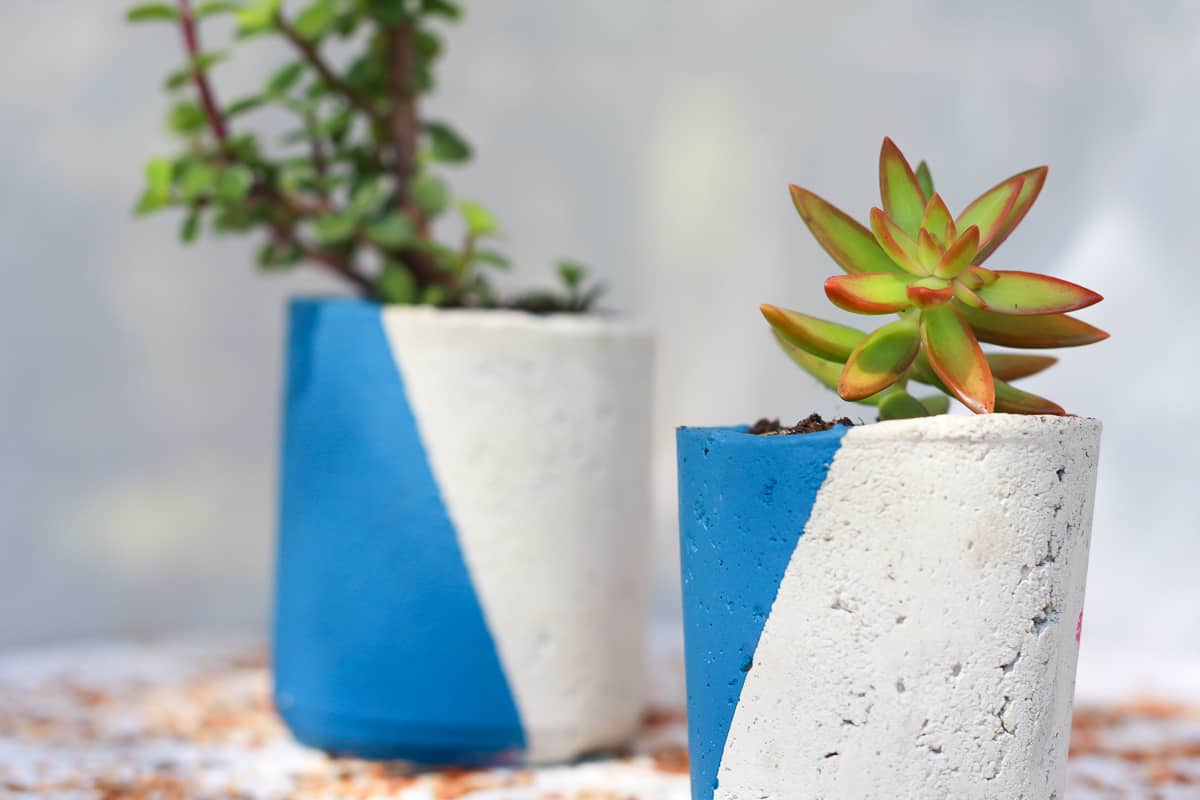 How to Make Your Own DIY Concrete Planters
Difficulty (1-5):2 Time: 1 hour + 24 hrs for cement to dry Cost: $12
What You'll Need
Cement or Mortar

Water

Plastic containers (any containers will do – I've used yogurt, milk, sour cream, among others)

Paint Brush

Paint – I used leftovers from samples of BEHR interior flat paint.

Cooking Oil

Stick (to mix cement)

Small rocks or weights
Directions for Concrete Planter Molds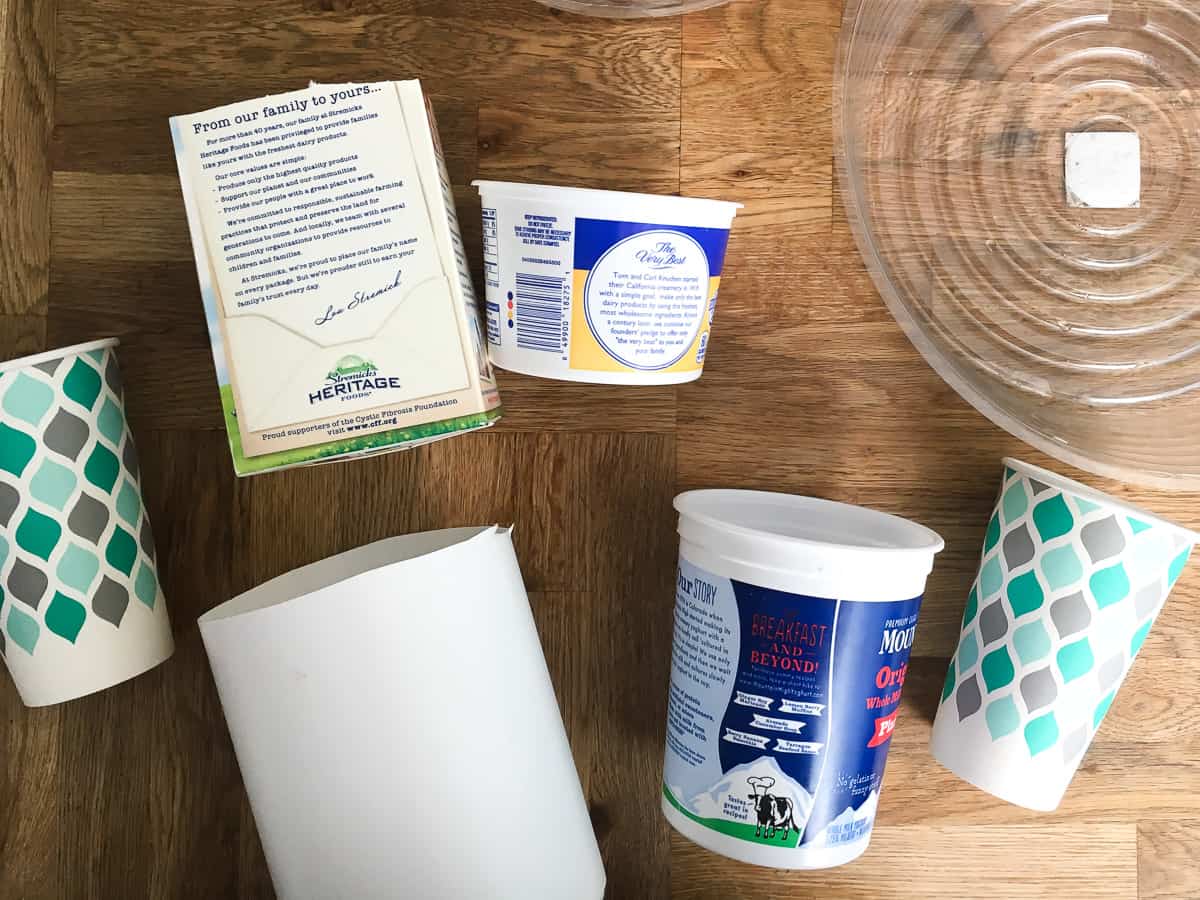 Gather Your Containers
Decide how many planters you want to make and look around your house for appropriate containers to use as molds. For each one of them, you will need an exterior container to pour the cement mix in. Then, you will need an interior container to create the inside hole to place your plants.
Make sure there is enough space between your exterior and interior container as this space will be the walls of your DIY concrete pots.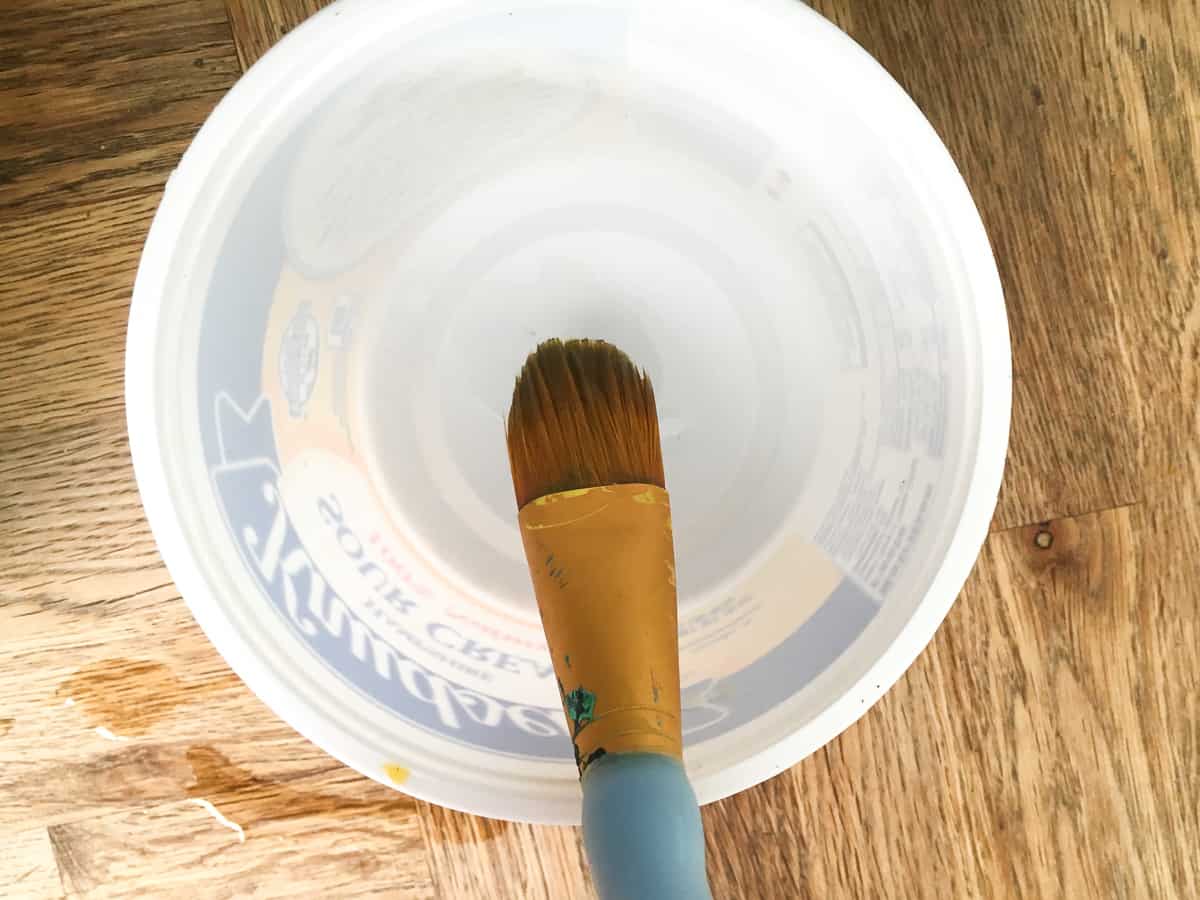 Prep the Molds
Oil the interior of outside containers and the exterior of your inside containers – wherever the concrete will touch. This will help with releasing containers after the cement dries.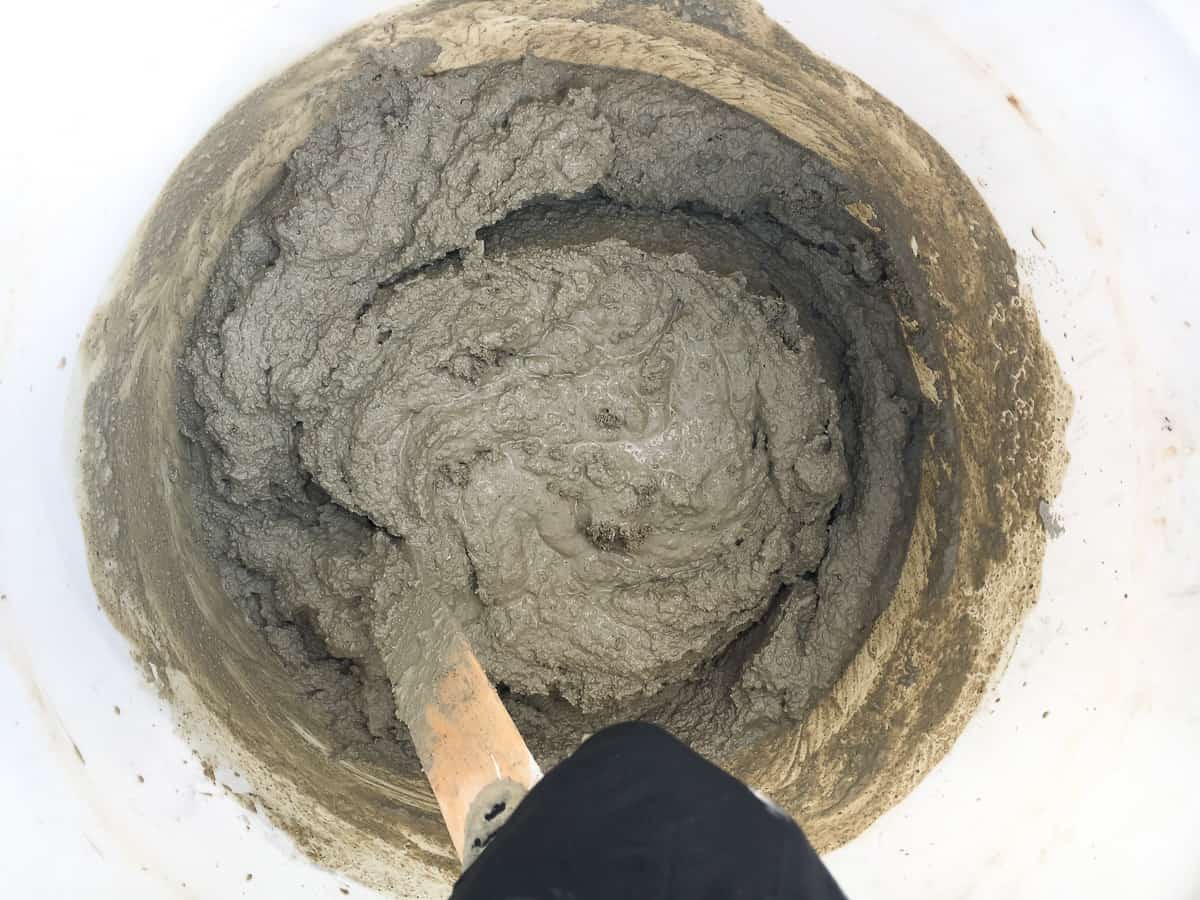 Prepare Cement Mix
For your ideal mixture, you will need about 1 measure of water per 4 measures of cement. Mix with your stick. You can also put your gloves on and mix with your hands. You need to achieve a peanut butter consistency but it's no problem if you make the cement a little bit runnier than peanut butter. This will help to create an even surface on the upper rim of the planter.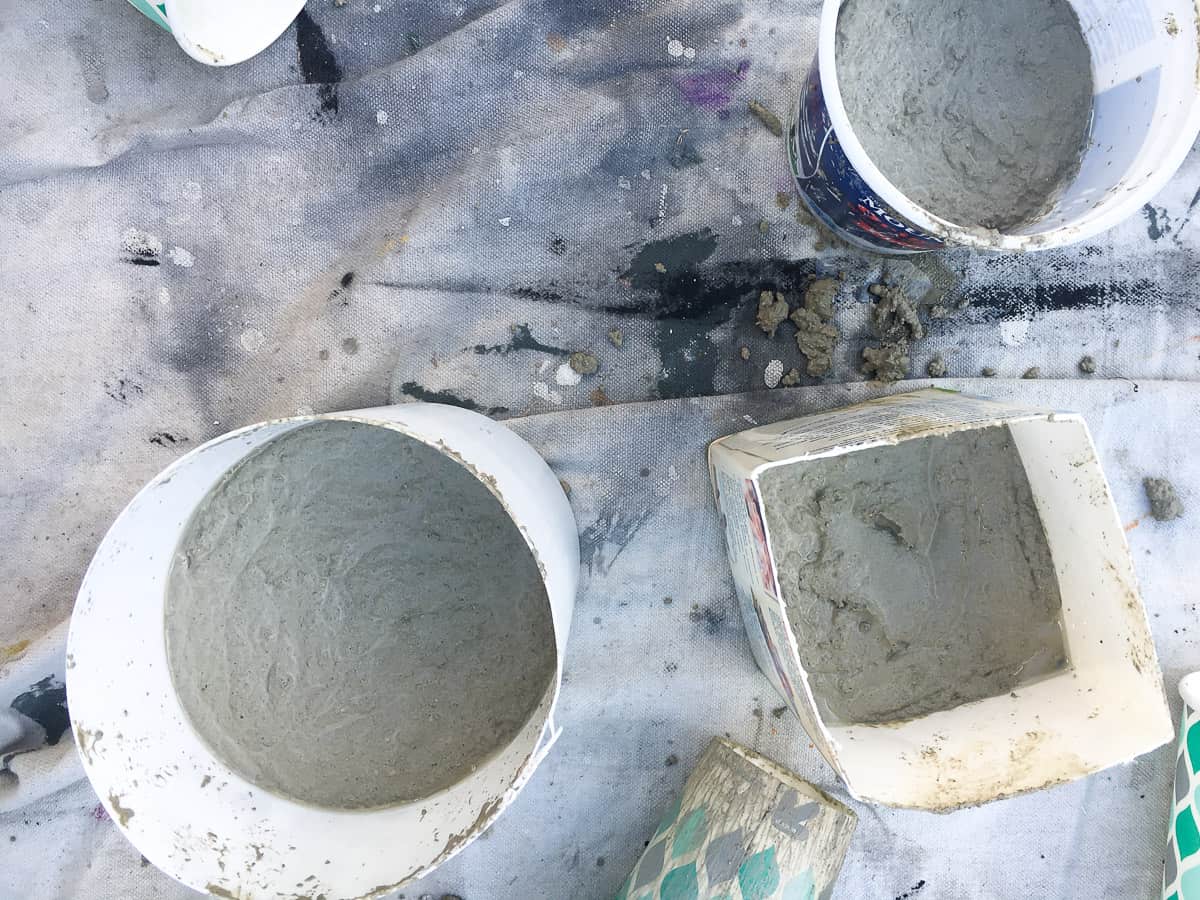 Assemble the Concrete Planter Molds
Now you're ready to pour the cement into the first and larger containers – pour just enough to establish the bottom of the concrete planters. Once you've done that, bang them down on a hard surface to settle the mix and release any air bubbles.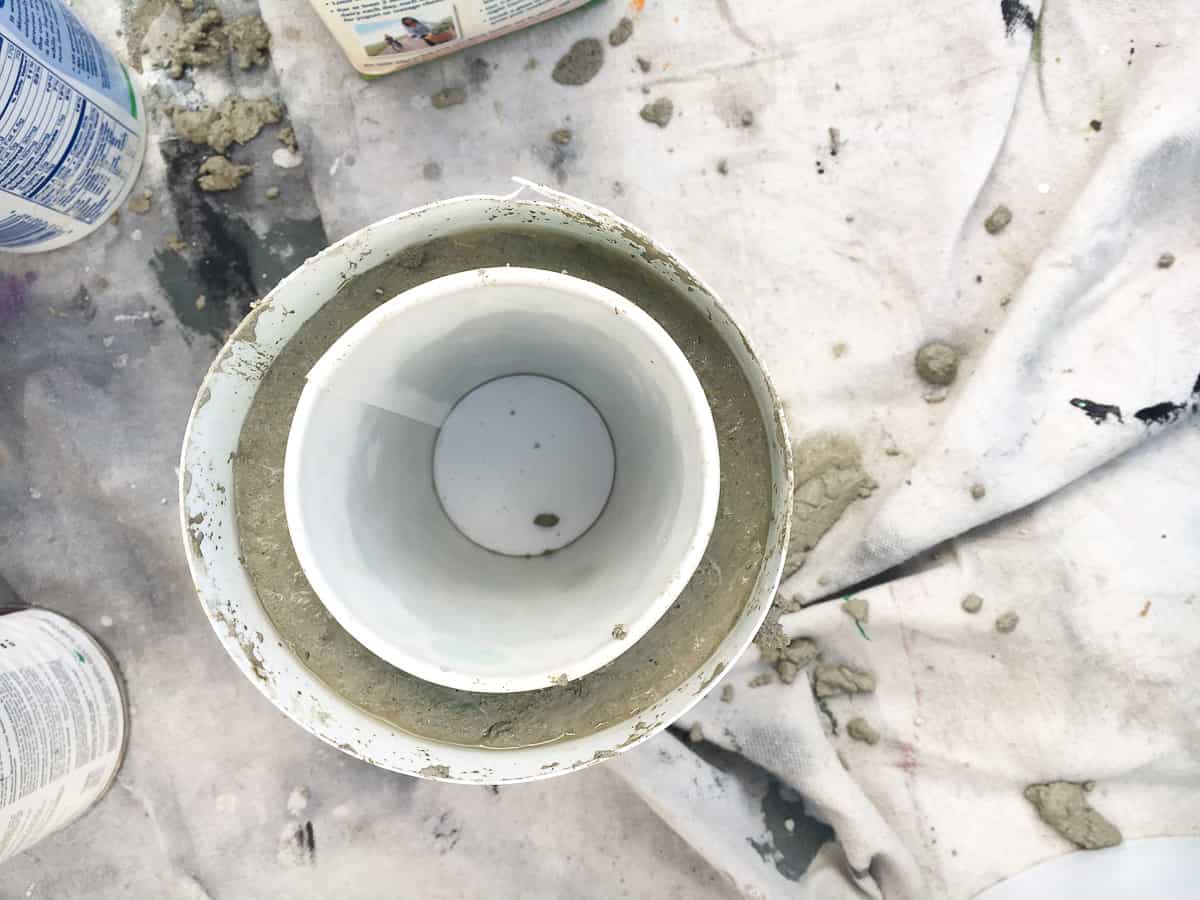 Next, firmly press the interior container into the mix to create the interior hole.
Add weights to keep interior containers down and wait 24 hrs for the cement to dry.
Painting Your Cement Flower Pots
Once the concrete has set, gently separate the mold containers from the cement forms. If you can't pull the planters out of the containers, just cut the container off. You might need tweezers to help you take out the interior containers.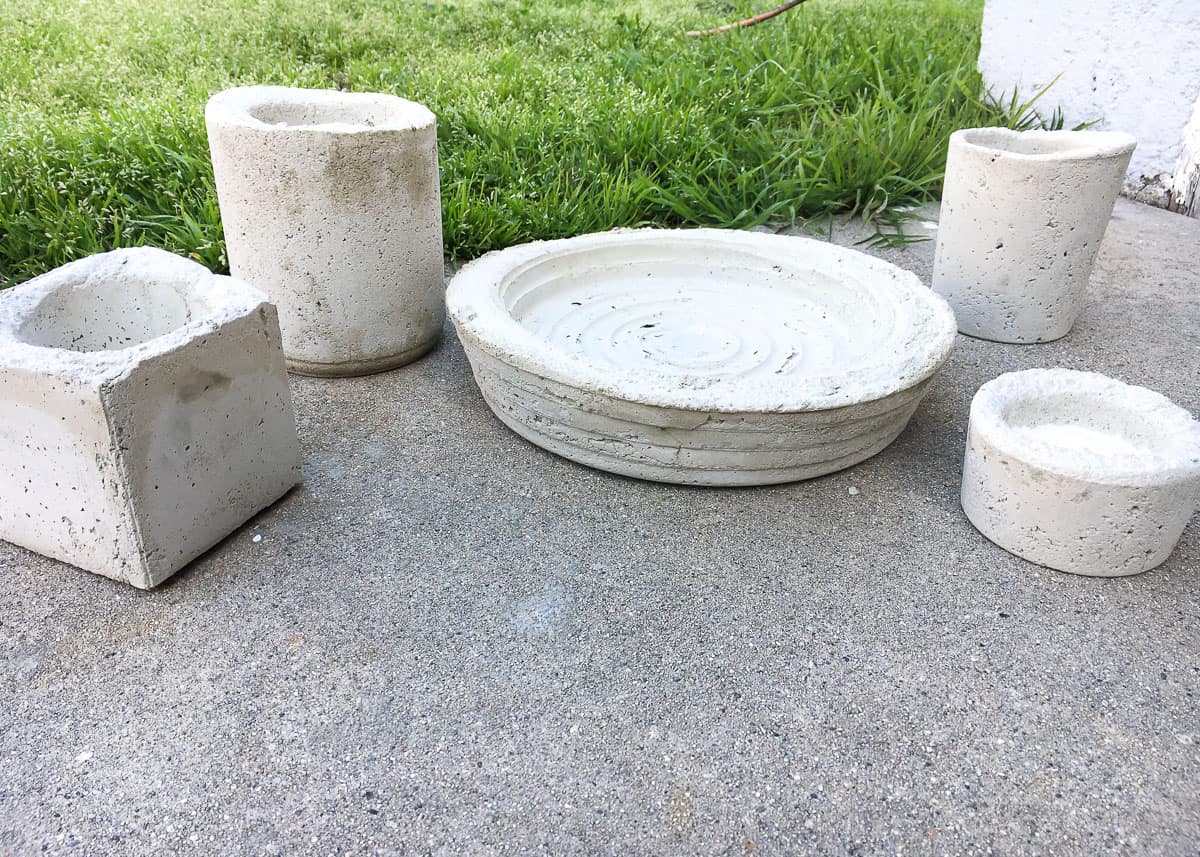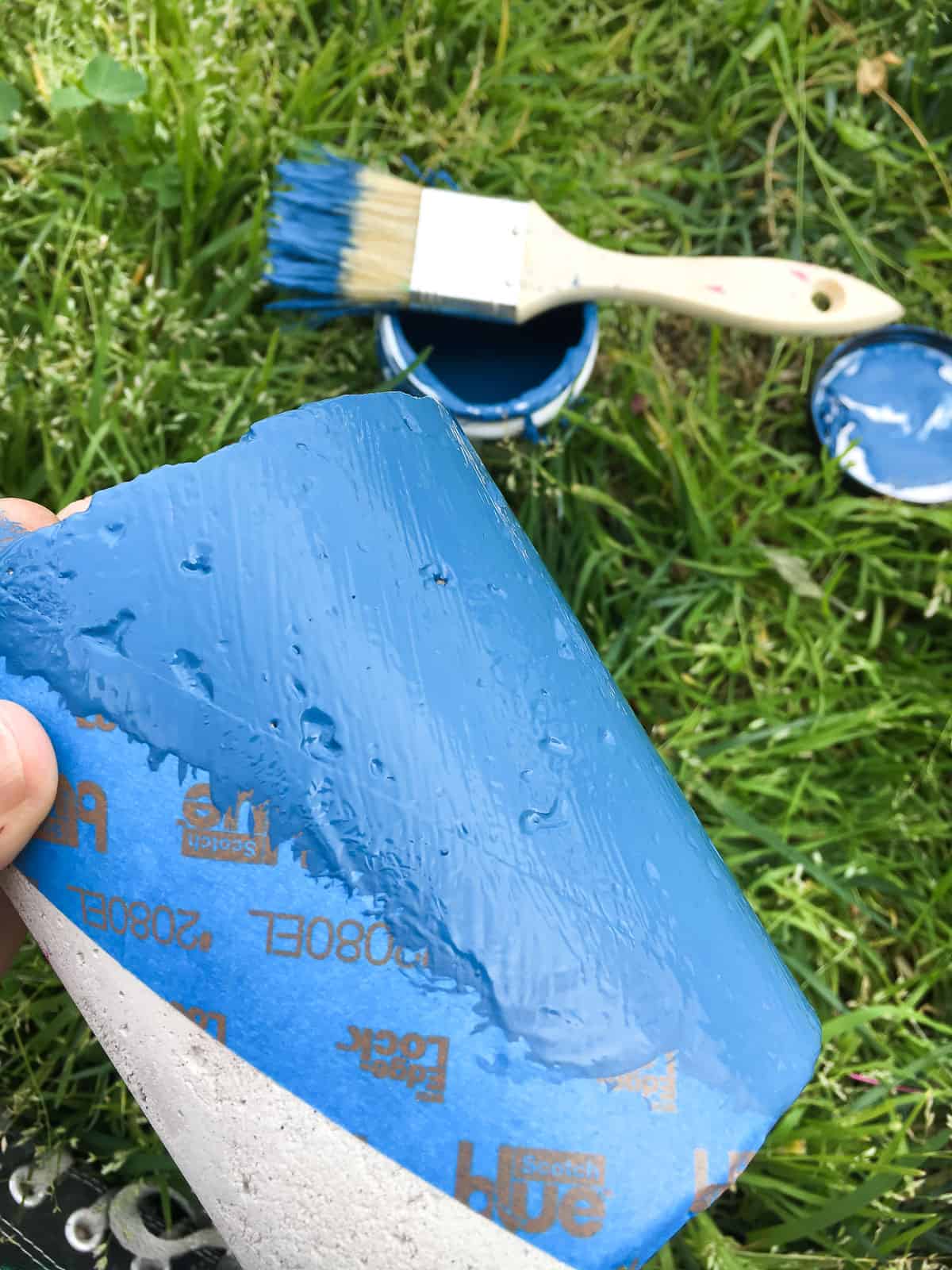 Now for the fun part of this concrete planter DIY – the paint! Choose your colors and a design and paint your new concrete planter molds. I have a lot of extra paint from previous projects so I reused that. I used samples of flat wall paint in blue. Spray paint would also work.
For these planters, I used blue tape at an angle to create a straight line and I painted inside the rim as well for a finished look.
Let's take a look at the results: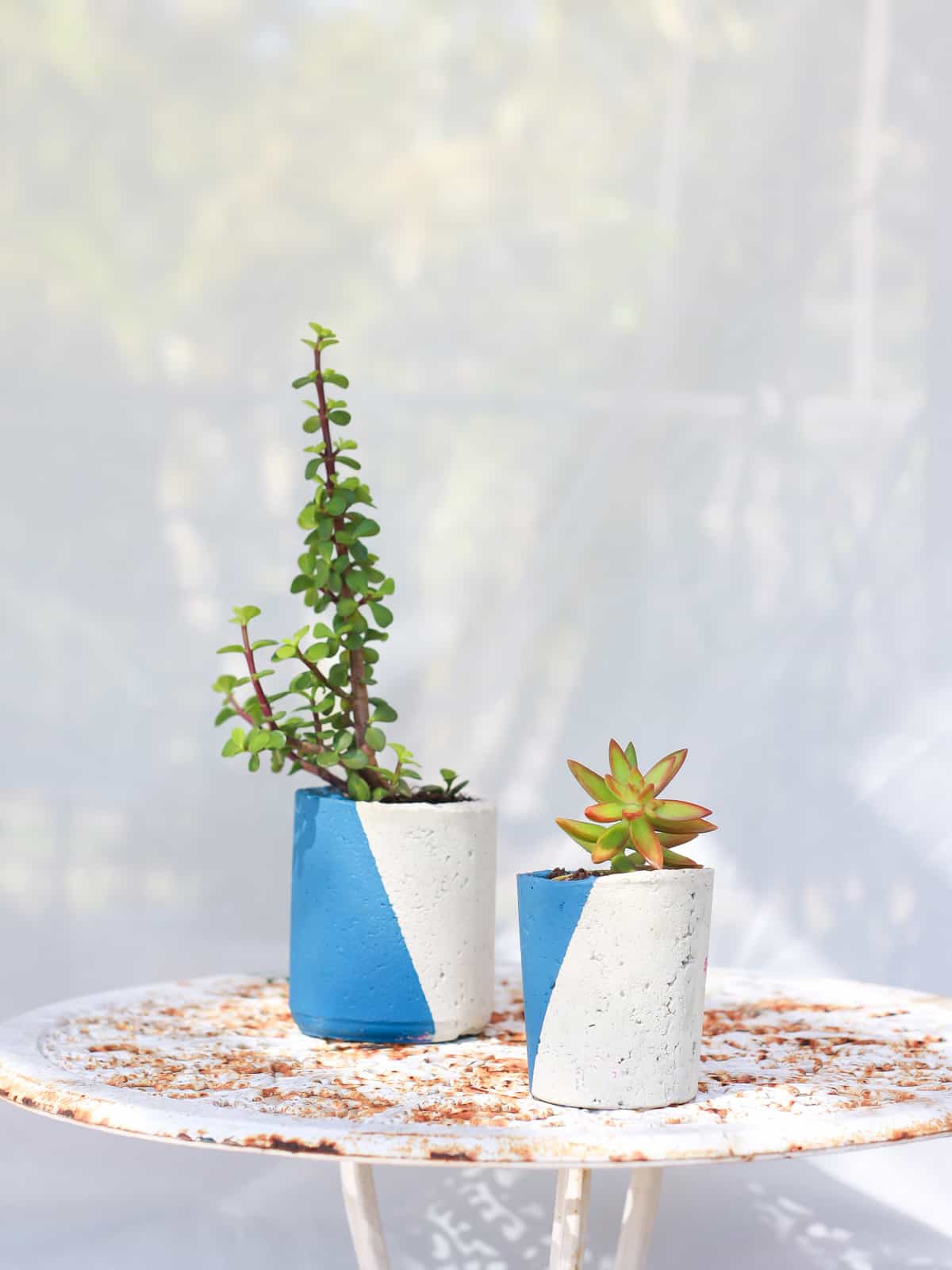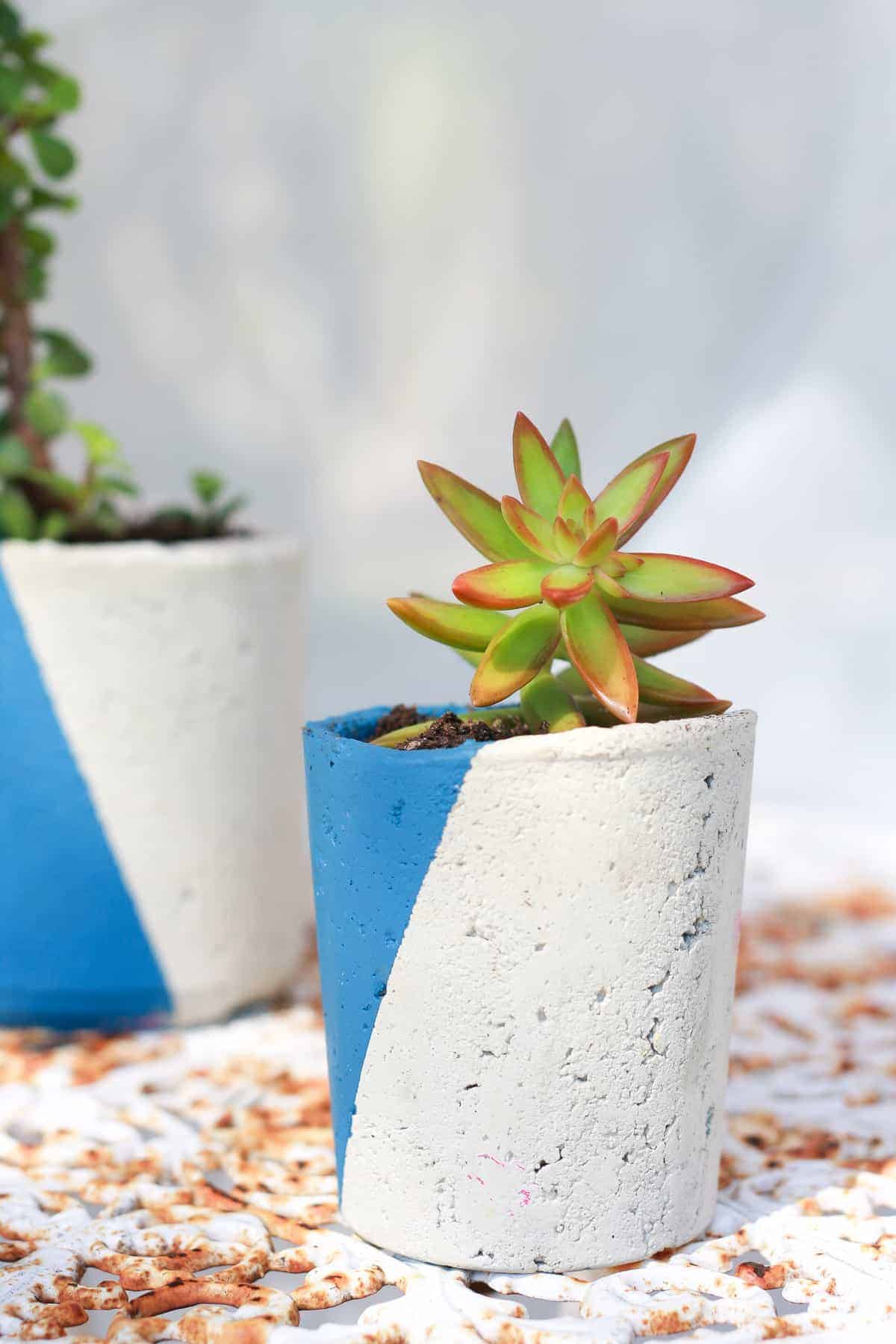 Aren't they pretty? You could have a lot of fun painting these different colors, creating patterns with the tape or even by adding dye to the concrete mix. The possibilities are endless.
And speaking of possibilities, here's a tutorial on how to use up all your leftover paint on DIY painted tile coasters!
Other DIY Projects
This post was contributed by Mila at Jest Cafe.