This post may contain affiliate links | For further details, please read our privacy policy
If you've been following me for a while now, you'll know that I'm not a huge theme decorator. I don't really decorate for any holidays besides Christmas (a little for Halloween just for the kids!). But I do like to give a little nod to whatever we're celebrating when it comes to my table settings. Nothing crazy, mind you – just a something simple.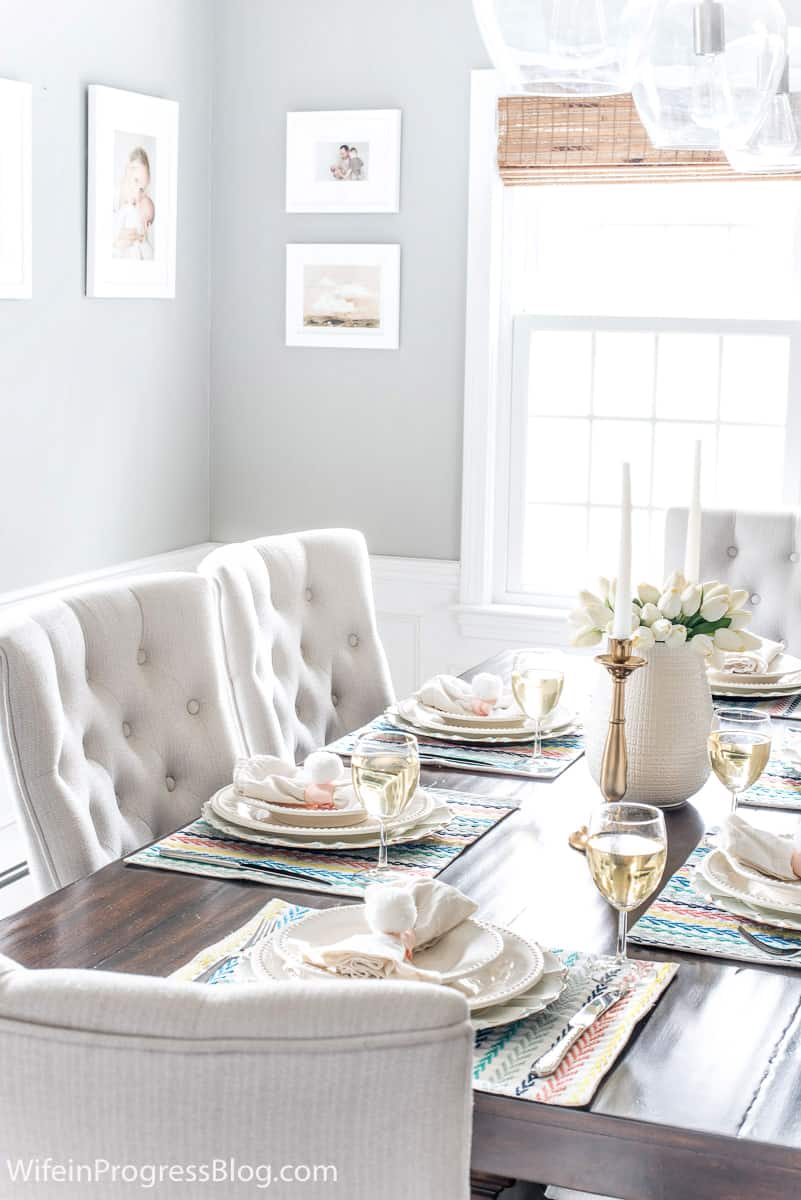 As soon as spring rolls around every year, I start to crave vibrant colors. That usually means a more saturated shade of blue and lots of flowers and greenery. For my Easter table decor, I dug out these fun placemats that I picked up at Target last year. They have just enough color to satisfy my need for color and look so pretty with all the other neutrals in my dining room.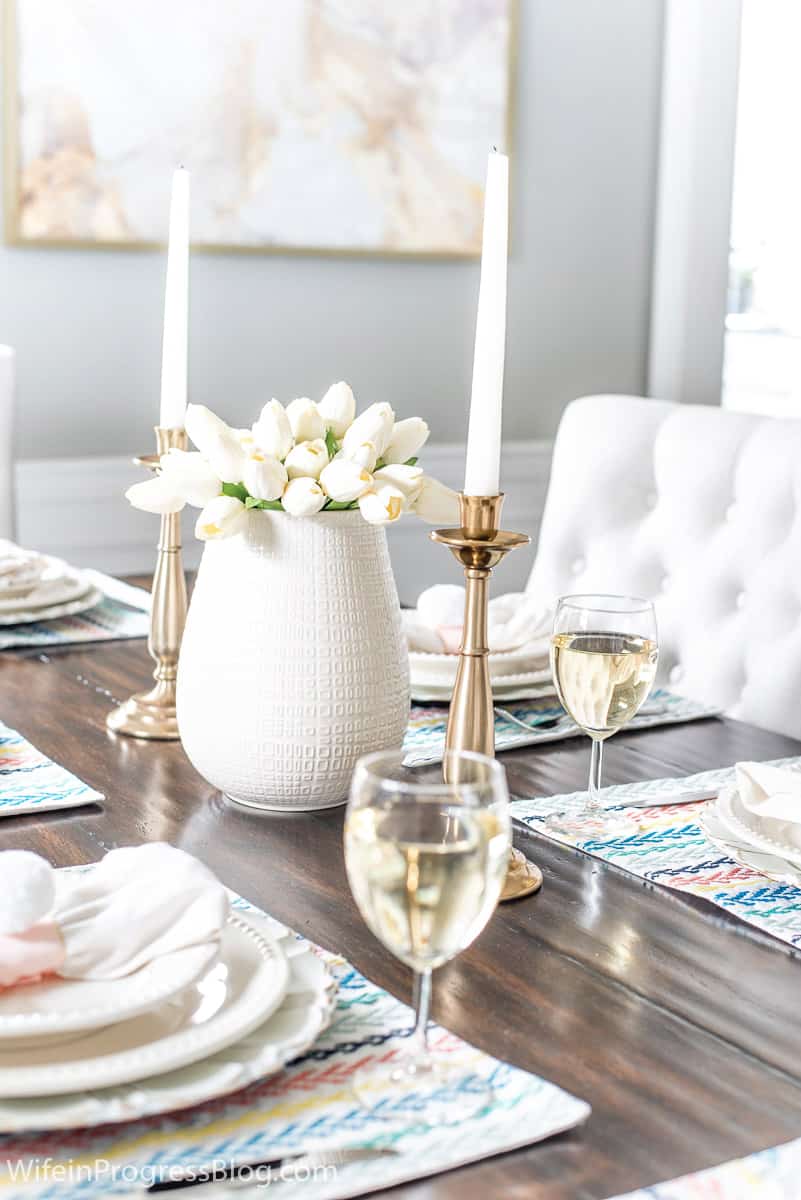 My bunny tail napkin rings are a really simple DIY. All you need is some ribbon and some white pom poms. Just wrap the napkins with the ribbon and hot glue a pom pom on for an adorable fluffy bunny tail napkin ring! Simple but effective, right? The ribbon was left over from Christmas and the pom poms were a $3 Target dollar spot find.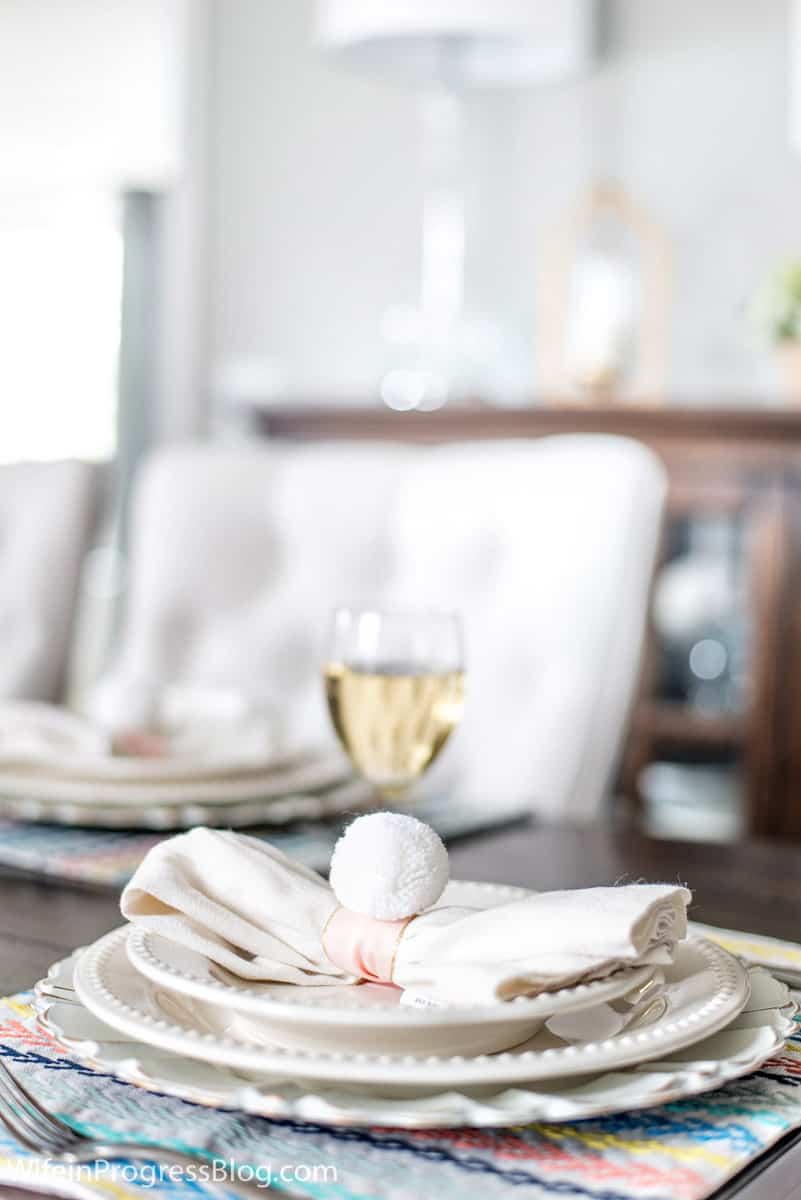 Growing up, Easter was always a special celebration in my house. I went to Catholic school until I was 18 so religious holidays have always been a major part of my life. At school, we would read through all the relevant bible stories and discuss the events leading up to Easter. But at home, we got to leave some of the seriousness at the front door and enjoy lots of delicious chocolate Easter eggs.
Easter candy traditions in Ireland are different than in the States. The Easter Bunny is not really a thing. We don't do baskets. Some people do egg-hunts but it was never really something I or any of my friends did. What we do (and do it right) is eat lots and lots of hollow chocolate eggs (like these). Large ones that sometimes sit on top of mugs. As soon as the gluttony of Christmas was over, I would start planning what Easter Eggs I wanted. Kids right?!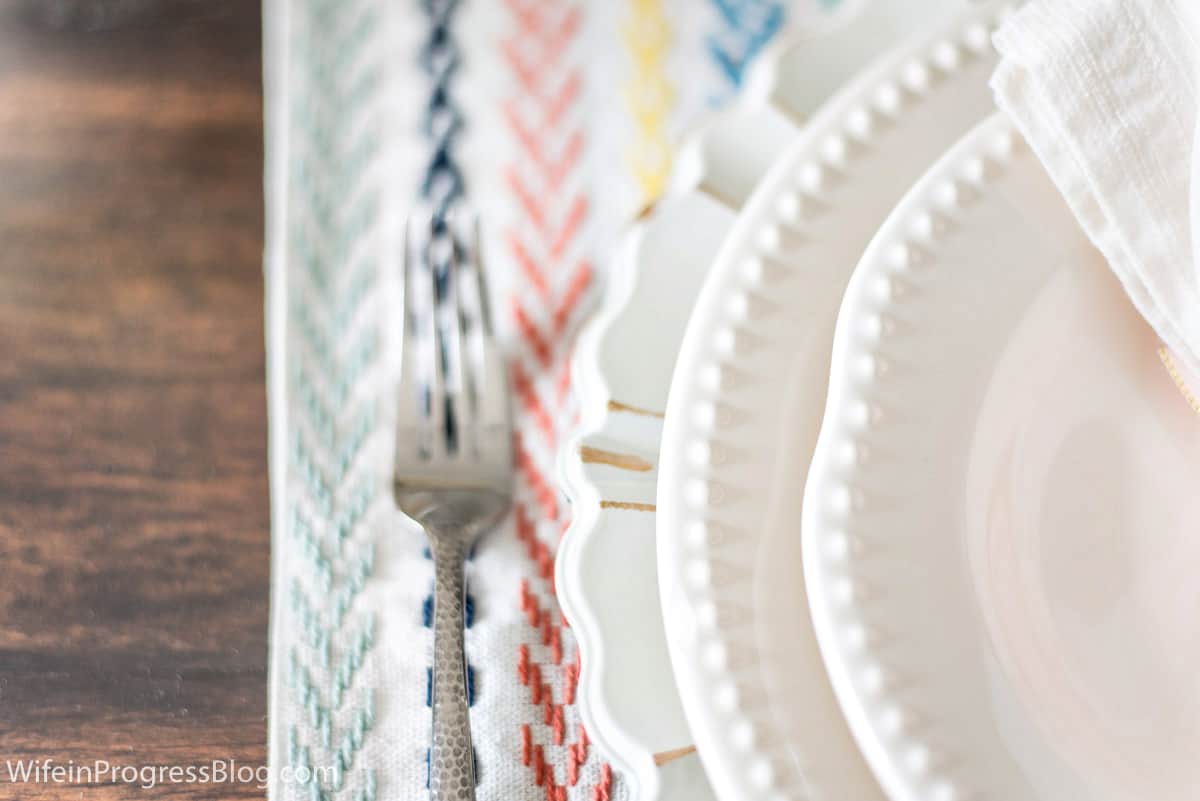 For some reason, Easter was also one of the few times of the year that I got to see my cousins in Dublin. And you know what that meant, right? More Easter eggs from Aunts and Uncles. Usually I would have accumulated enough Cadbury Easter Eggs to last me well into the summer!!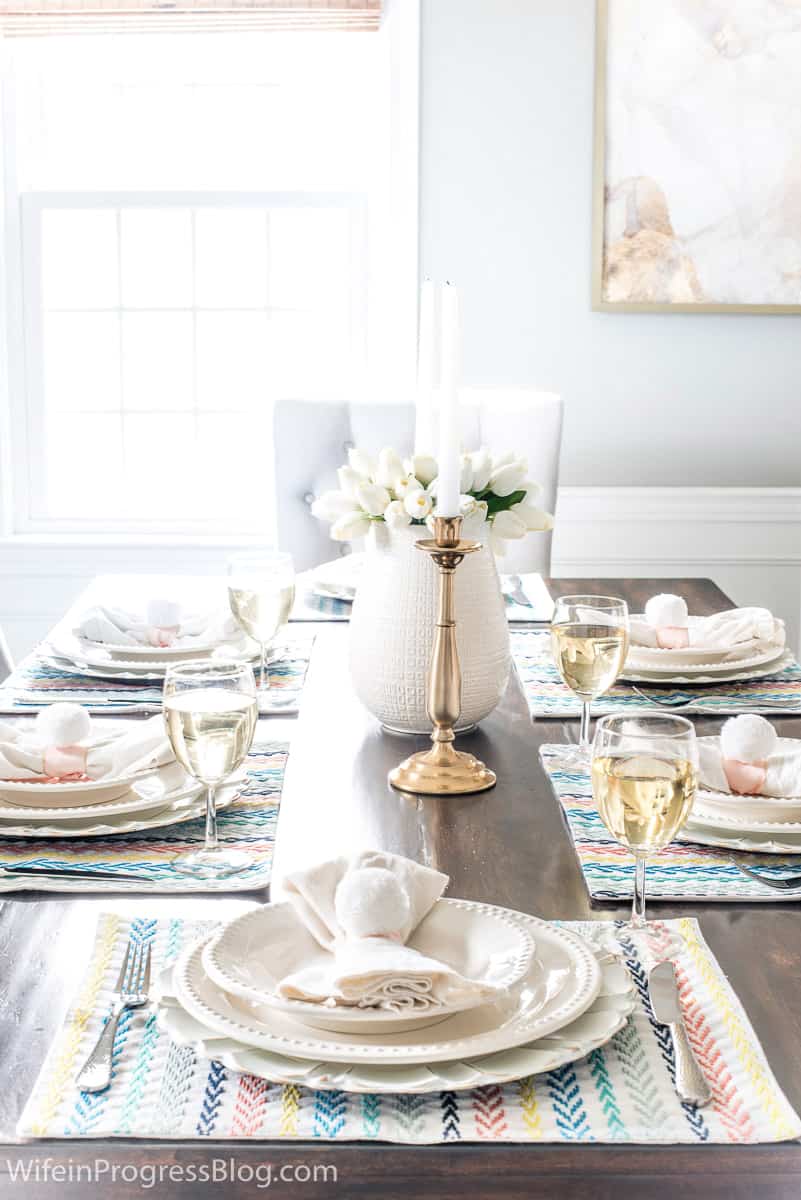 Now that I have kids of my own, I'm trying to keep my idea of Easter candy alive. Luckily, my mom shares the sentiment and ships over a couple of smaller eggs for Cian. Usually I end up eating one and giving him the other :-)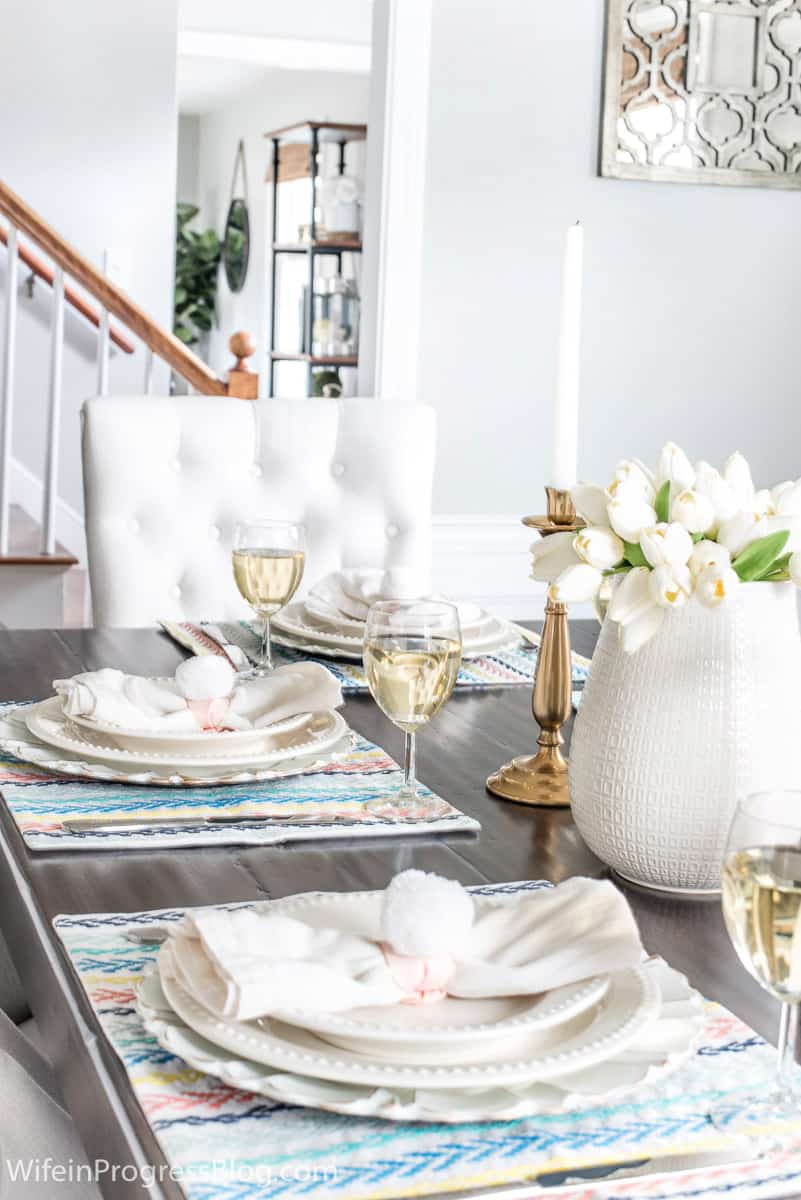 I've only used items that I already own here. Like I mentioned, the placemats are from last year. The dishes are my favorite "good" set that were a wedding gift and the chargers I purchased around Christmastime. Oh, and the beautiful brass candlesticks were a Christmas gift from Brian.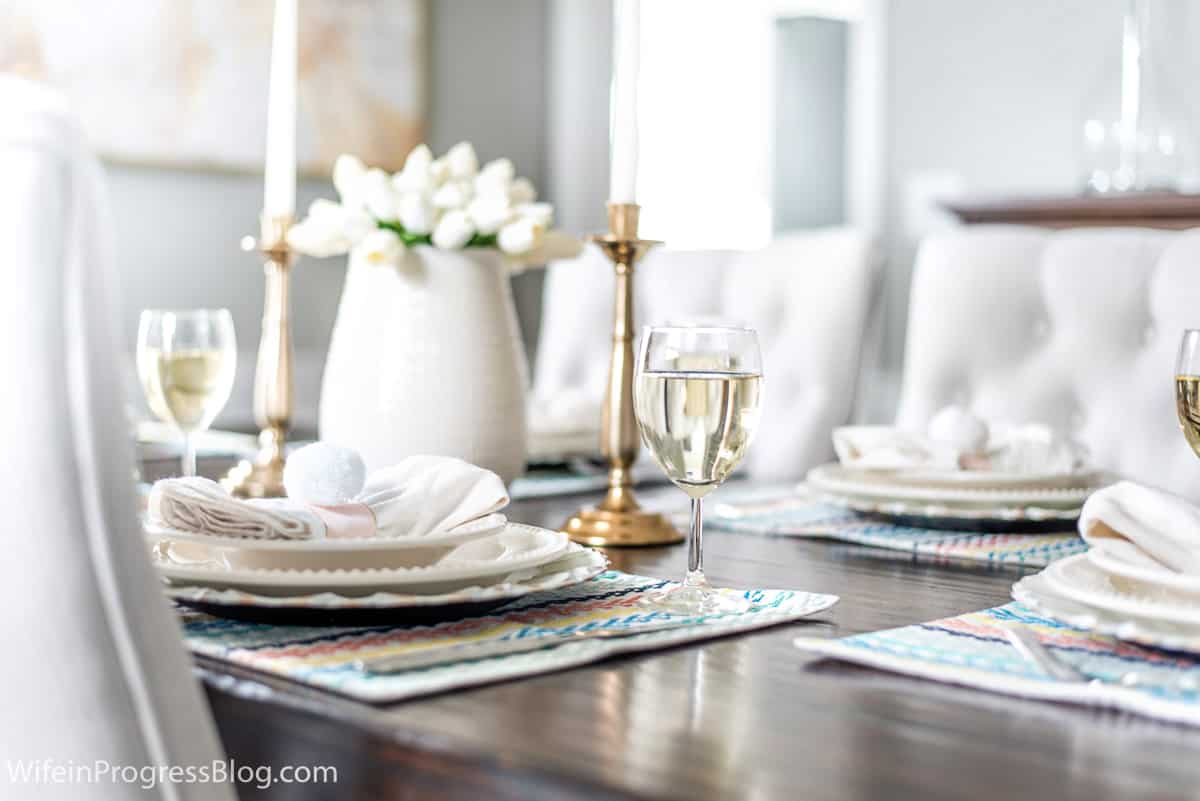 Want to get this look in your home? Shop the look by clicking on the images below!