After spending the past week on vacation with my family in Disney World, I'm back again with more Fixer Upper Style copycats – this time featuring some of the show's beautiful Farmhouse Kitchen makeovers. If you didn't catch the first part of this series, I've already shared how to copy the look of some of the show's most stunning living room transformations.
Once again, I've done all the research for you. I've picked 7 of my favorite Fixer Upper Farmhouse Kitchens and found 50+ copycat items so that you can achieve a similar look in your own home.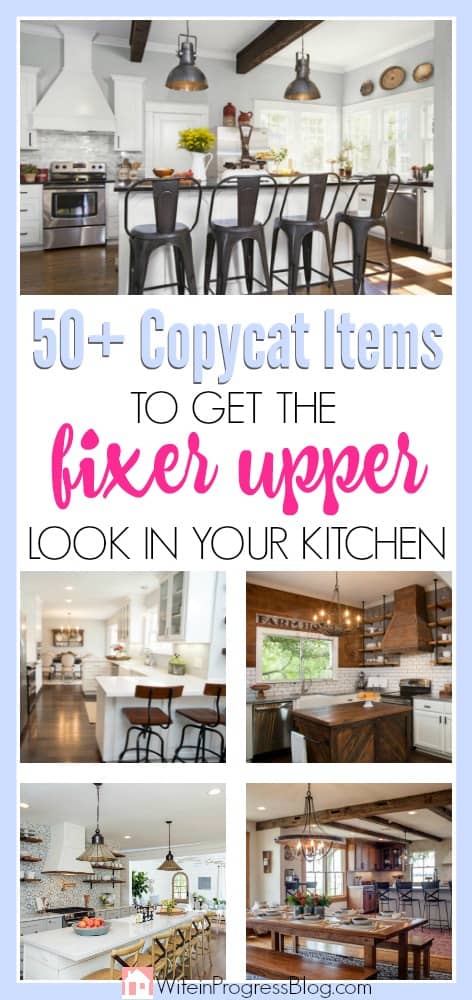 The main images are all photos from the show, with copycat items shown directly below.
All photos via HGTV
*contains affiliate links for your convenience*
There are several elements you will almost always see in a Fixer Upper Style Farmhouse Kitchen…
Beautiful Architectural Details
In this instance you can see how the corbels frame the kitchen. Simple architectural elements like this really make the kitchen look custom and very special.
Everything about this kitchen is perfect. Yes, it has farmhouse kitchen style but it's also contemporary.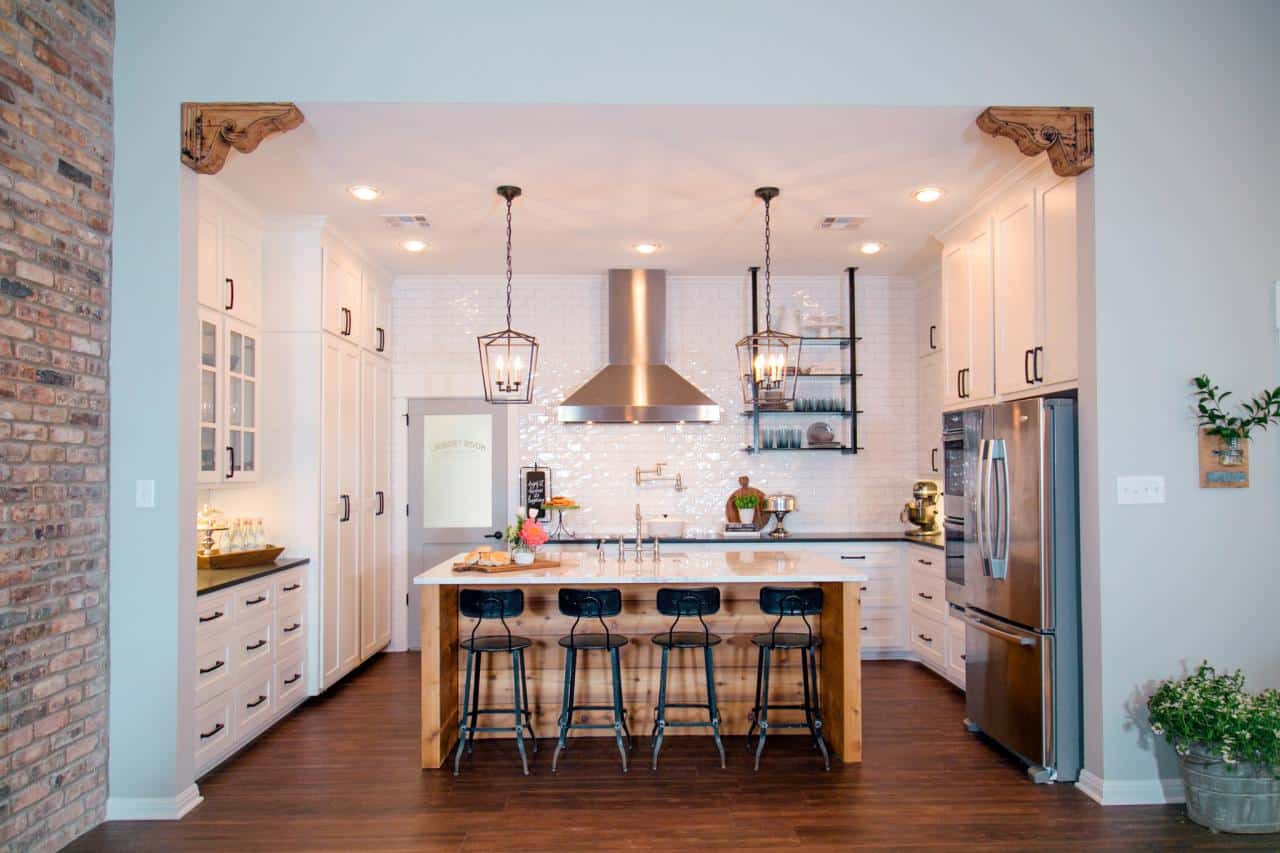 ---
Rustic Wood
This kitchen showcases Joanna's love for weathered, rustic wood. Not only is the famous shiplap treatment in full effect but both the island and vent hood are wrapped in a beautifully rustic, stained wood. The industrial style shelving and white subway tile really help to pull the look together and stop the wood from being "too much", per se.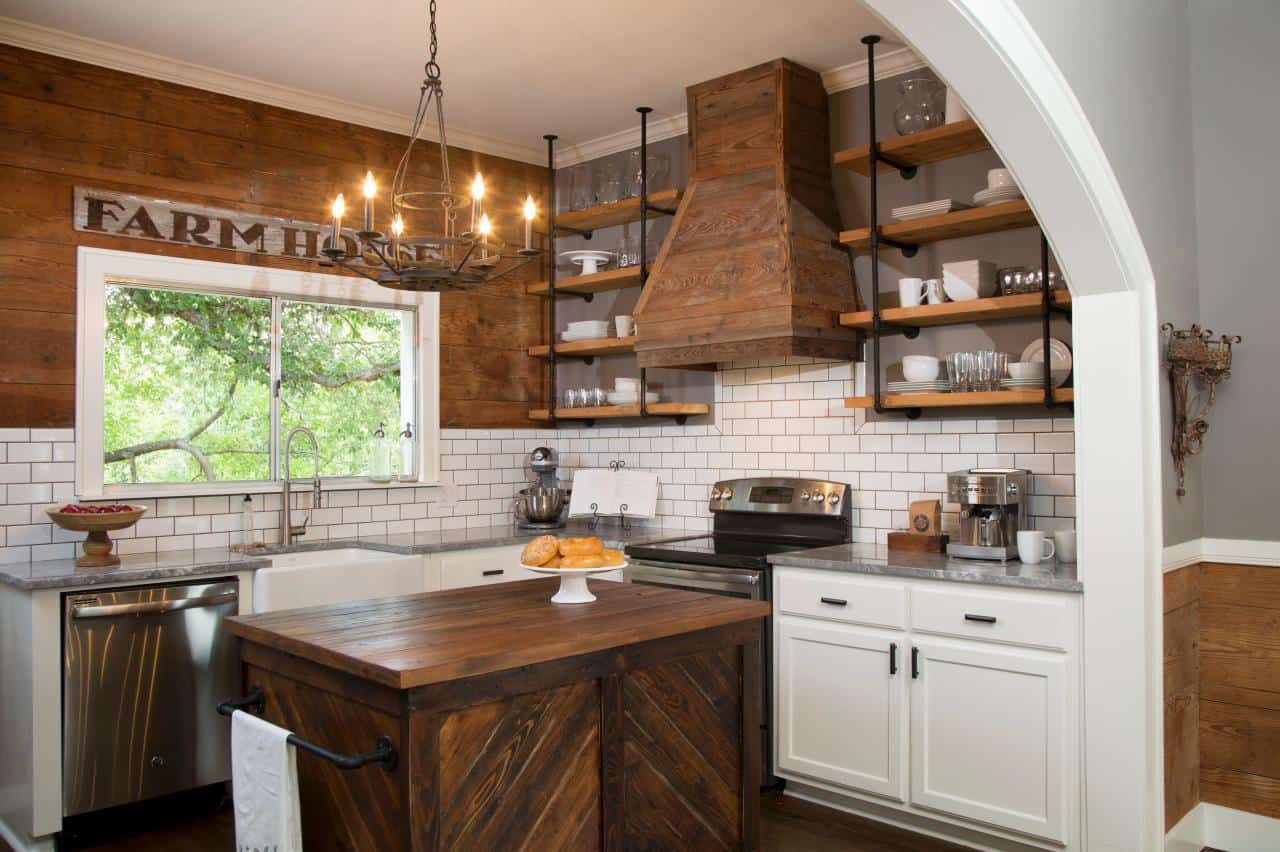 ---
A Statement Wall
More often than not, Joanna's statement wall will consist of shiplap but she's not afraid to take design risks either. Here, an entire wall is tiled with a beautiful encaustic cement tile. The busy pattern is broken up and nicely grounded by the industrial style shelving on either side of the hood. The rest of the design is clean, with straight lines to help soften the look.
Don't be afraid of a busy tile. If you keep the rest of the elements simple it will be an amazing focal point in your room – whether it's a wall or a floor (like my powder room).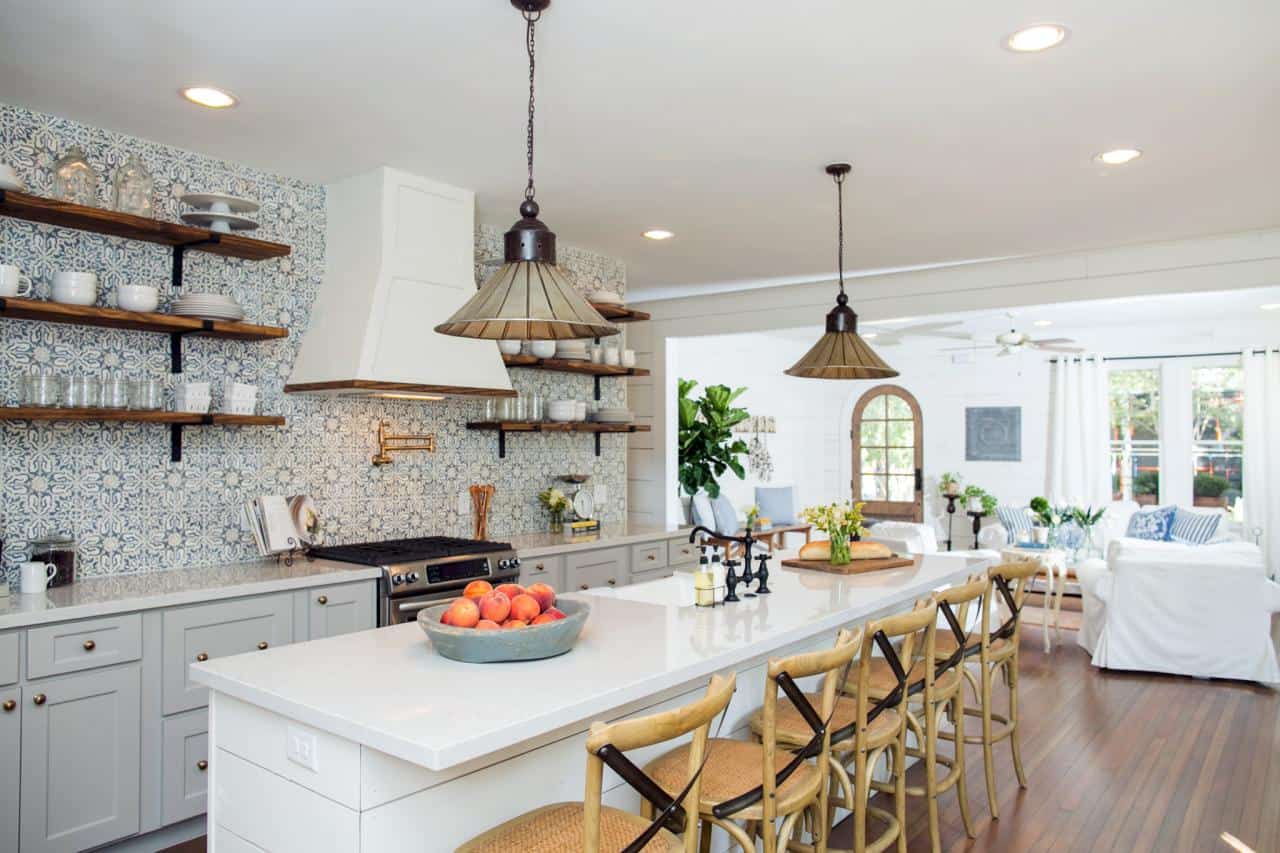 ---
White Subway Tile
Did you know that subway tile is pretty much the cheapest tile you can buy? That's great news, especially when it looks so amazing run from counter to ceiling, just like in this kitchen. The Farmhouse Kitchen look is known for a contrasting gray grout, but if you want a more contemporary look, white grout looks stunning, too.
The kitchen is great place to bring pops of color in. By adding some mugs on a cute rack or even some pitchers or vases, you can bring in colors from adjoining rooms to give a cohesive feel to your home.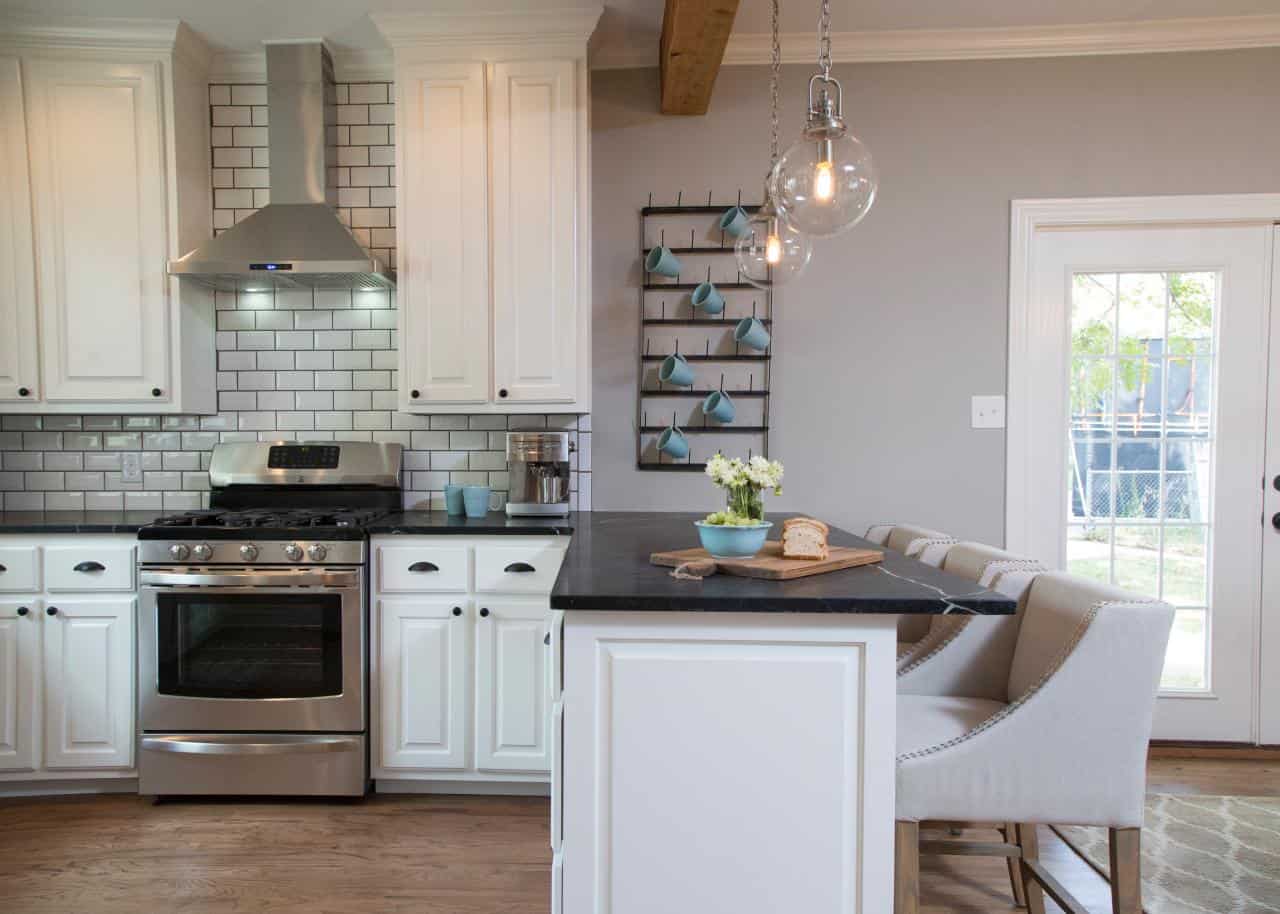 ---
Pairing Wood with Metal
Wood and metal is the cornerstone of a industrial farmhouse kitchen look. These stools are beautiful and really help to break up the all-white kitchen. Galvanized metal accents add a perfect industrial feel without being too cold.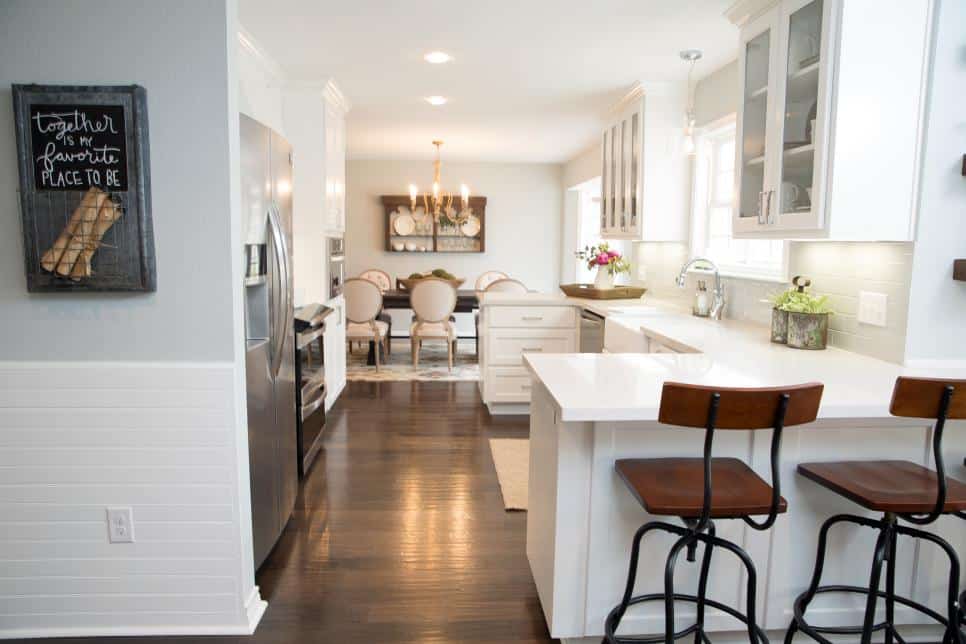 ---
Vintage Touches
The vintage kitchen scales and pitchers in this kitchen are the perfect finishing touches of decor. Don't be afraid to scour local thrift stores and yard scales and incorporate your finds into your farmhouse kitchen.
The beams in this space are also another example of special architectural details. They can easily be added as faux beams for not a lot of money (see this tutorial from Jenna Sue Design).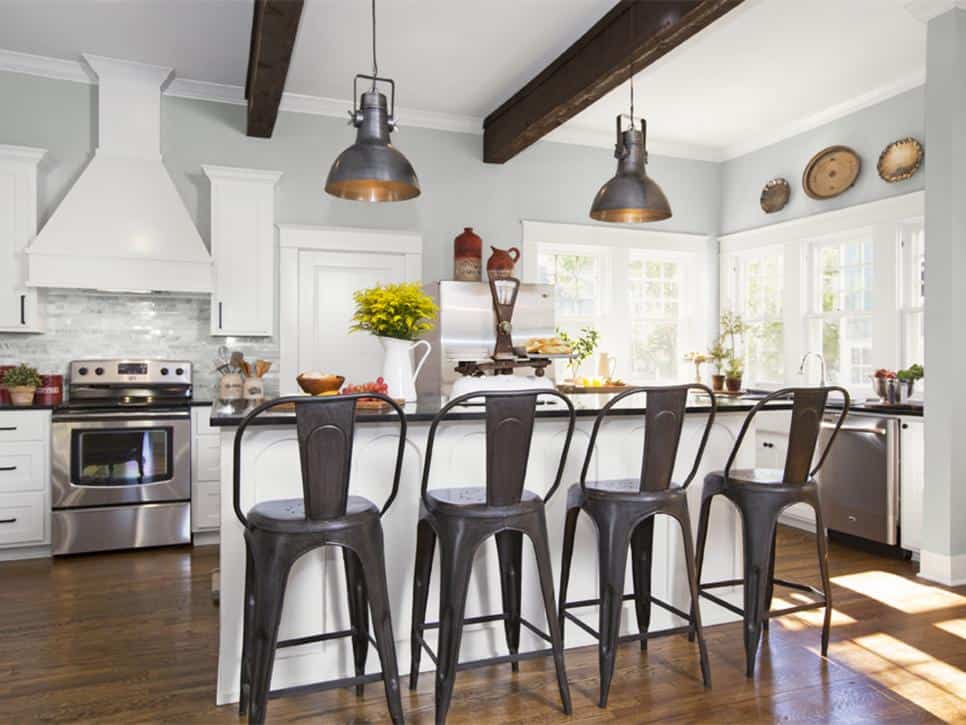 ---
A Warm Space Where Family Wants to Gather
Everyone always ends up in the kitchen, right? So make it a space where you want to be. Create a space you love!


---
I hope I've provided some design inspiration for your own Fixer Upper style farmhouse kitchen. As always, if you have any questions, please drop me a line in the comments below!