The day has finally arrived – my Master Bedroom Makeover is complete! For some reason this was the project that would never end. The room has been 90% finished for weeks, all that needed to be finished was installing/painting the closet doors and hanging the art. (P.S. check out the original design plan first)
I finally mustered the energy to get it all done (do these hot humid days make you completely useless too?!), added a few accessories and called it a day.
Before you see the money shot, how about a quick reminder of what this room once looked like?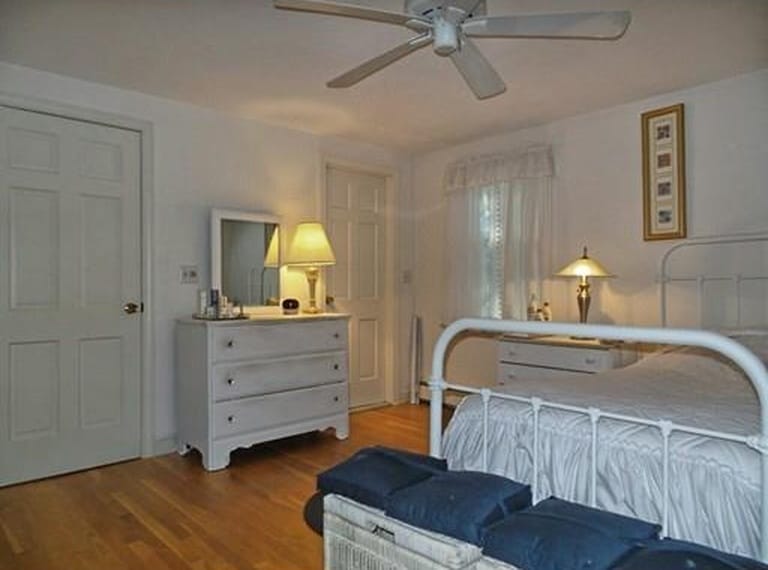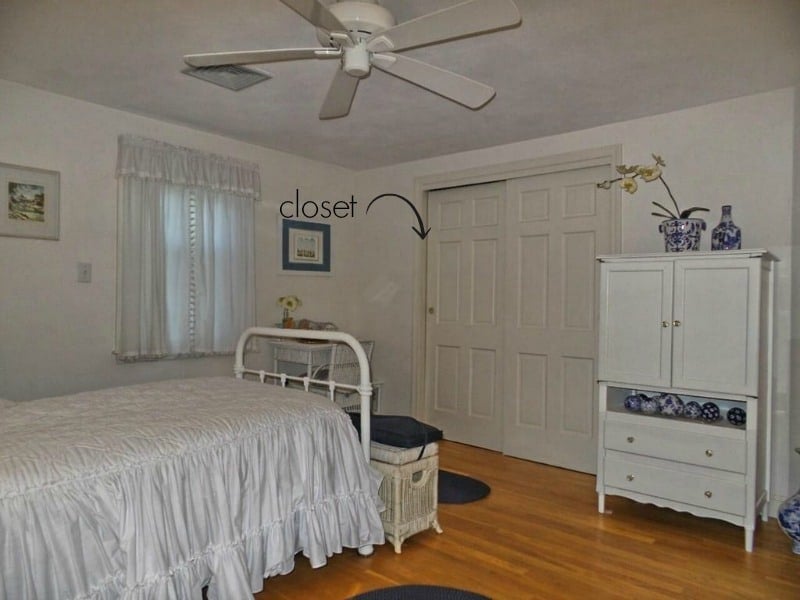 The horror! The worse the before pictures are, the better the afters appear though, right?!
And so my friends – I present to you my Serene Gray Master Bedroom: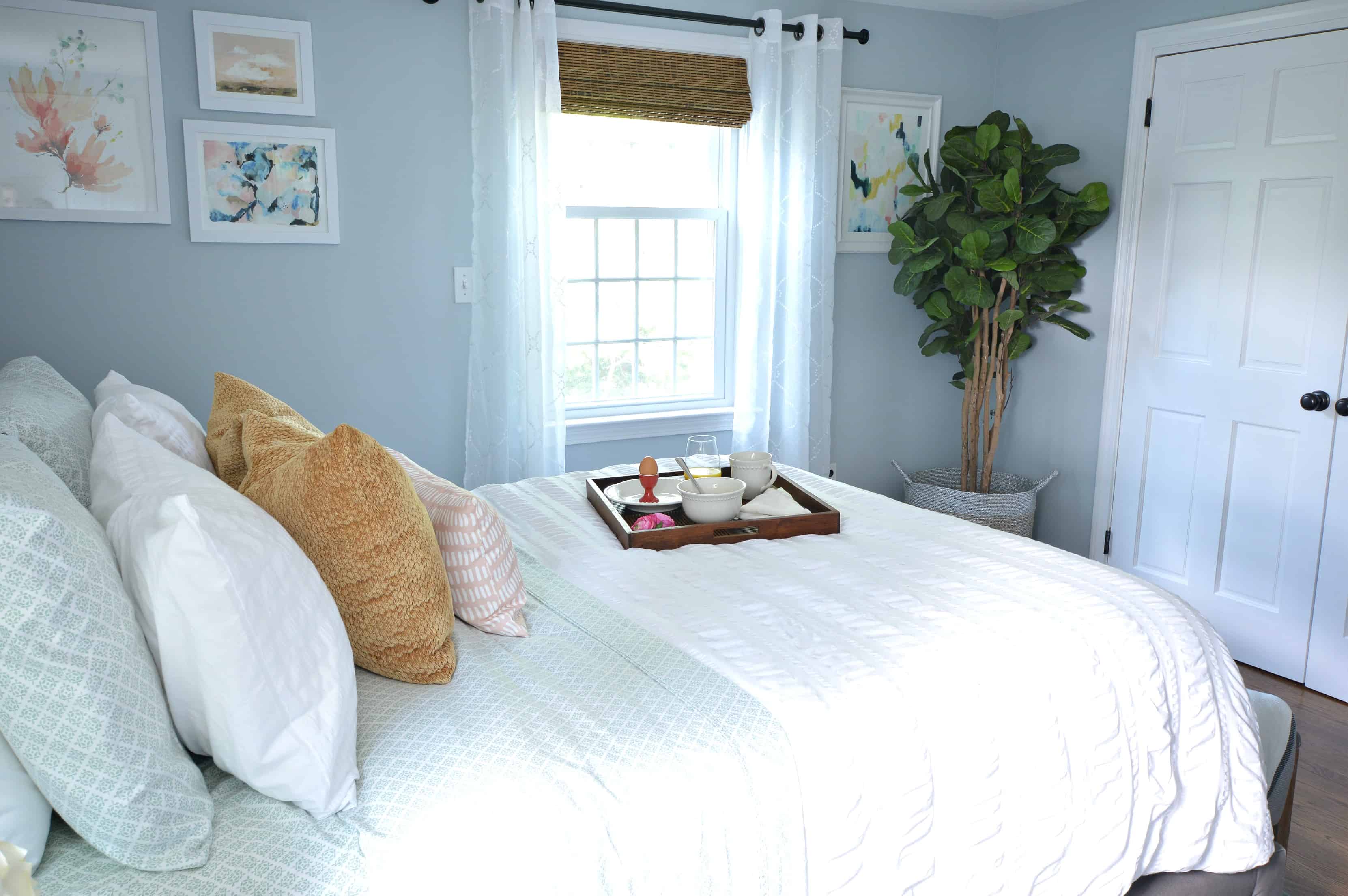 It's not the biggest bedroom in the world. But at the end of the day, pretty much all I do is sleep in here. I don't need a ginormous bedroom. I wouldn't mind a bigger master bathroom but that's a complaint for another day!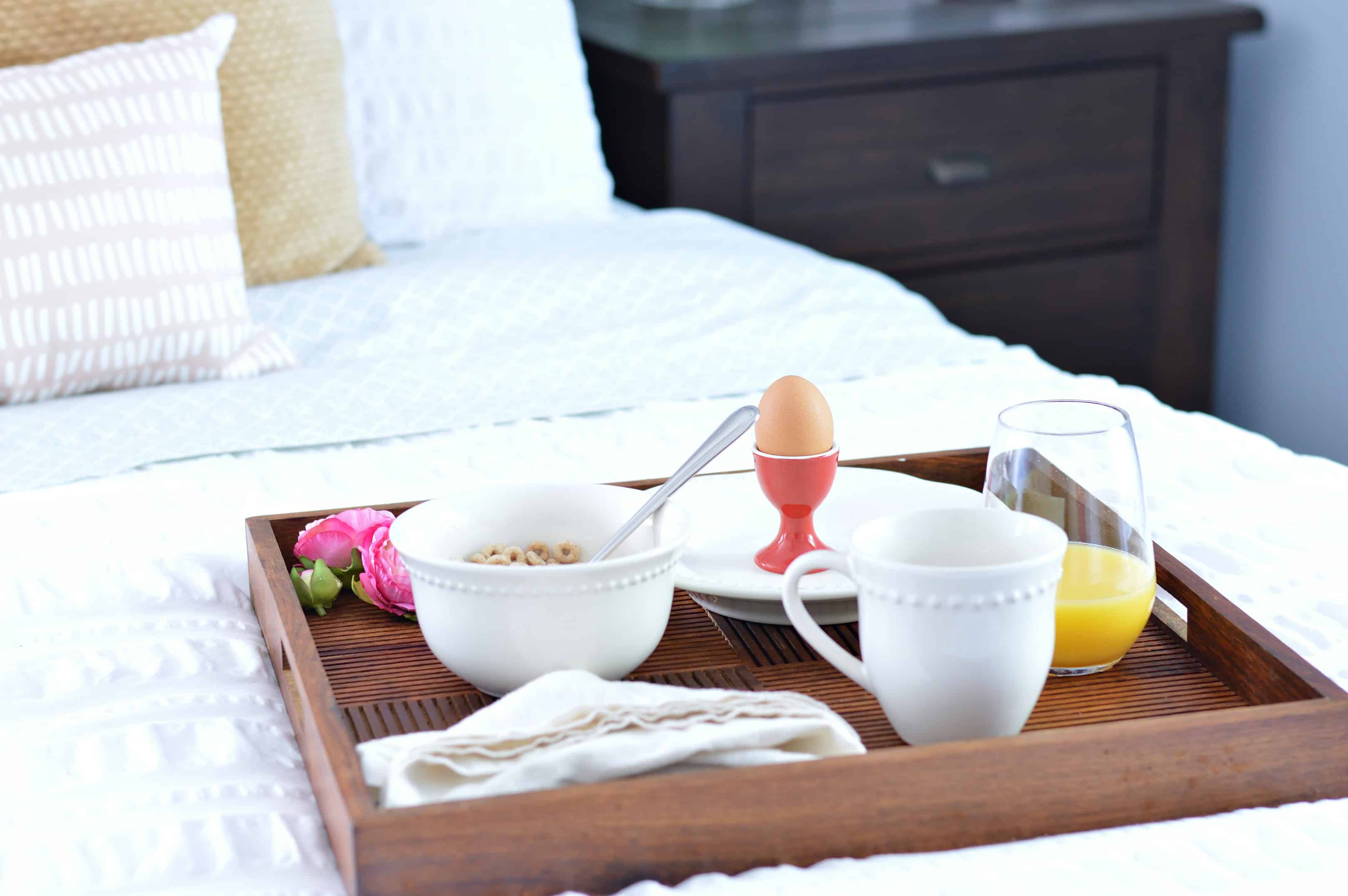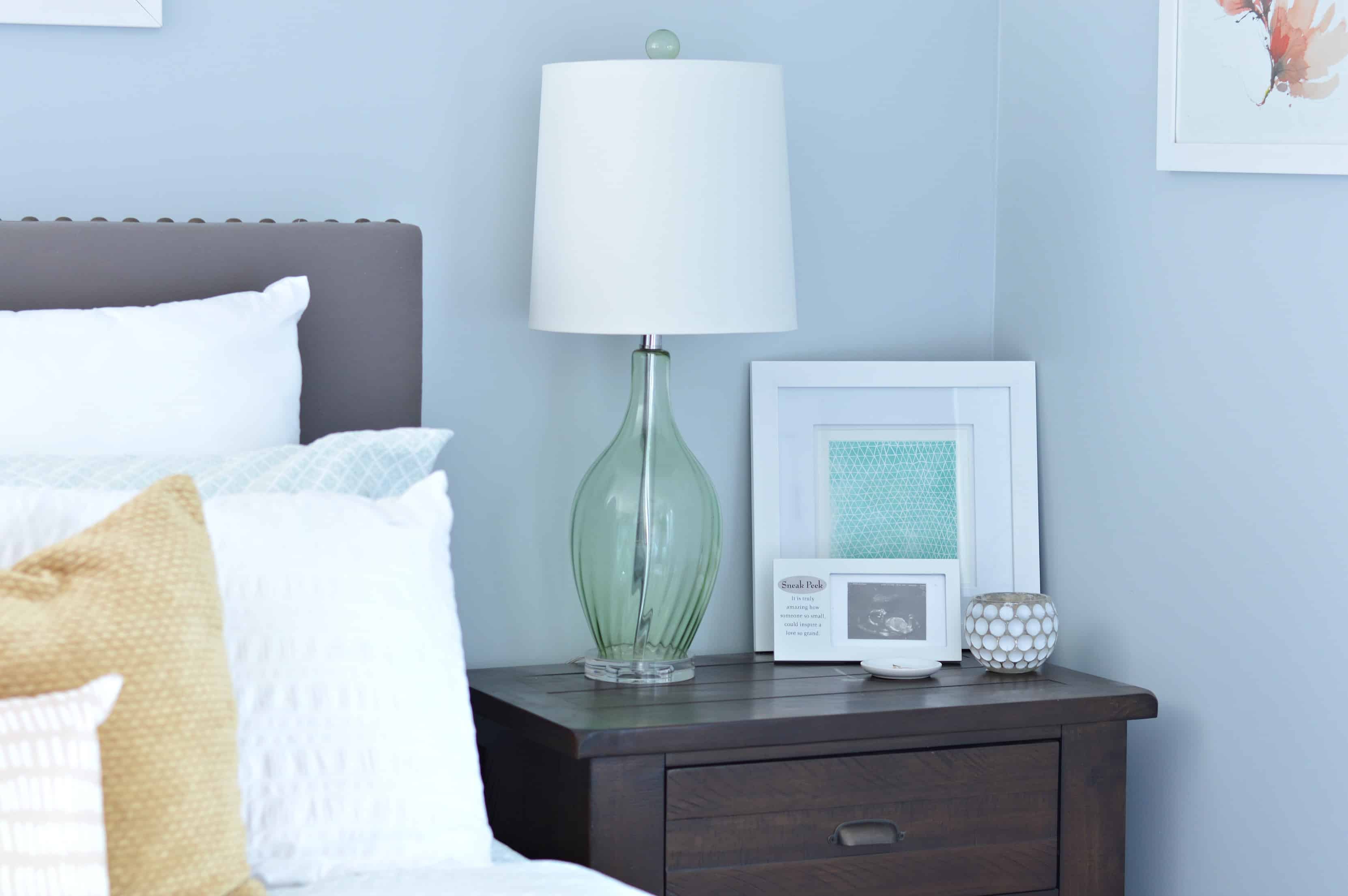 The wall color is Light French Gray by Behr and it's a beautiful blue gray. It's a really pretty, soft paint color. It looks completely different depending on the time of the day – sometimes it's the perfect blue with a hint of gray, other times it's all gray and even at other times it's almost baby blue. It's such a relaxing and calming color…I need to find somewhere else to use it!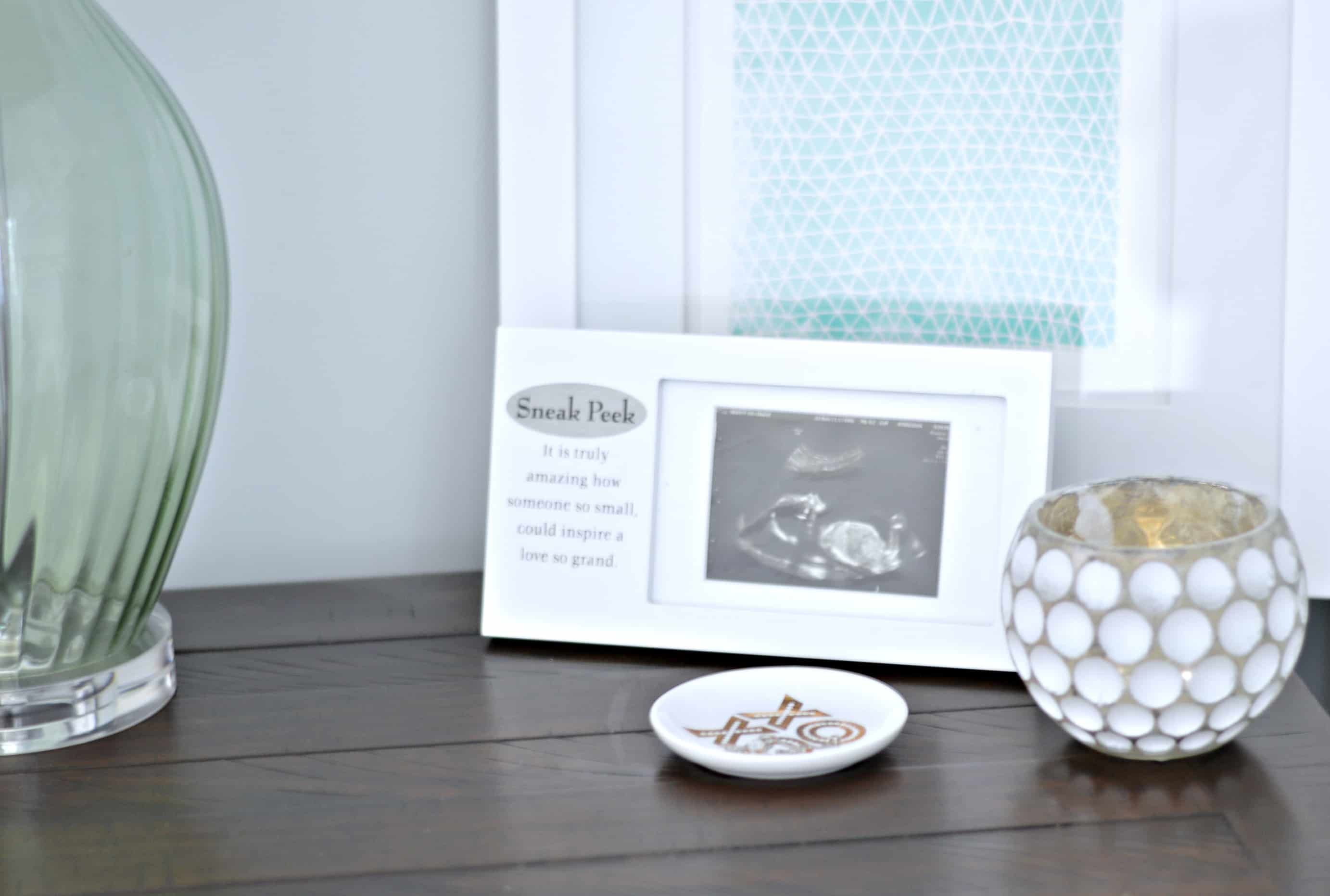 You will notice a lot of photographs and artwork in this room. Your bedroom is a space for only you so fill it with things you love. For me, that means lots of photographs and pops of color. You'll notice my favorite turquoisey/blue shade pop up in here a lot.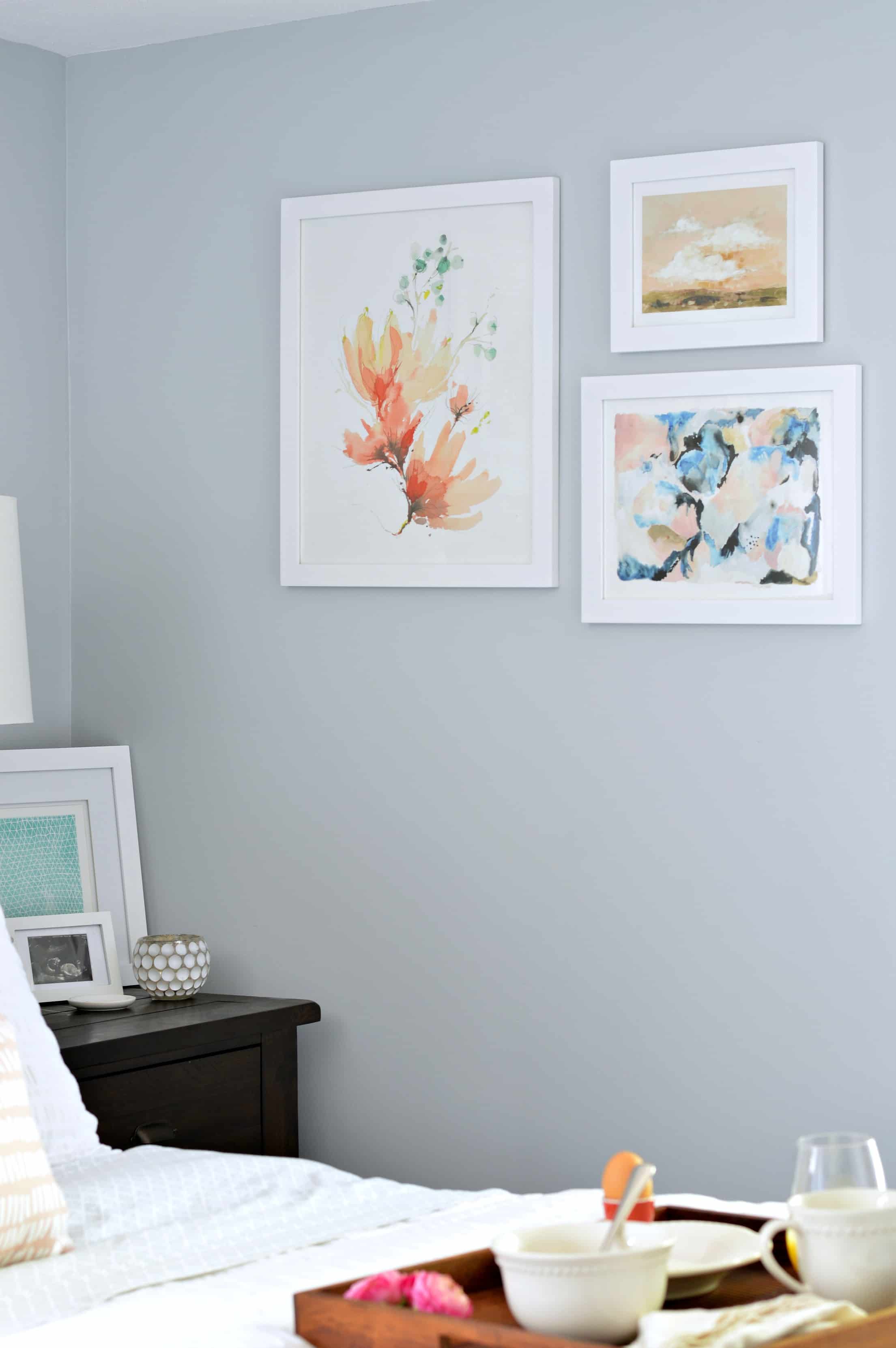 These beautiful prints were sponsored by Minted.com. I'm a huge fan of everything they sell.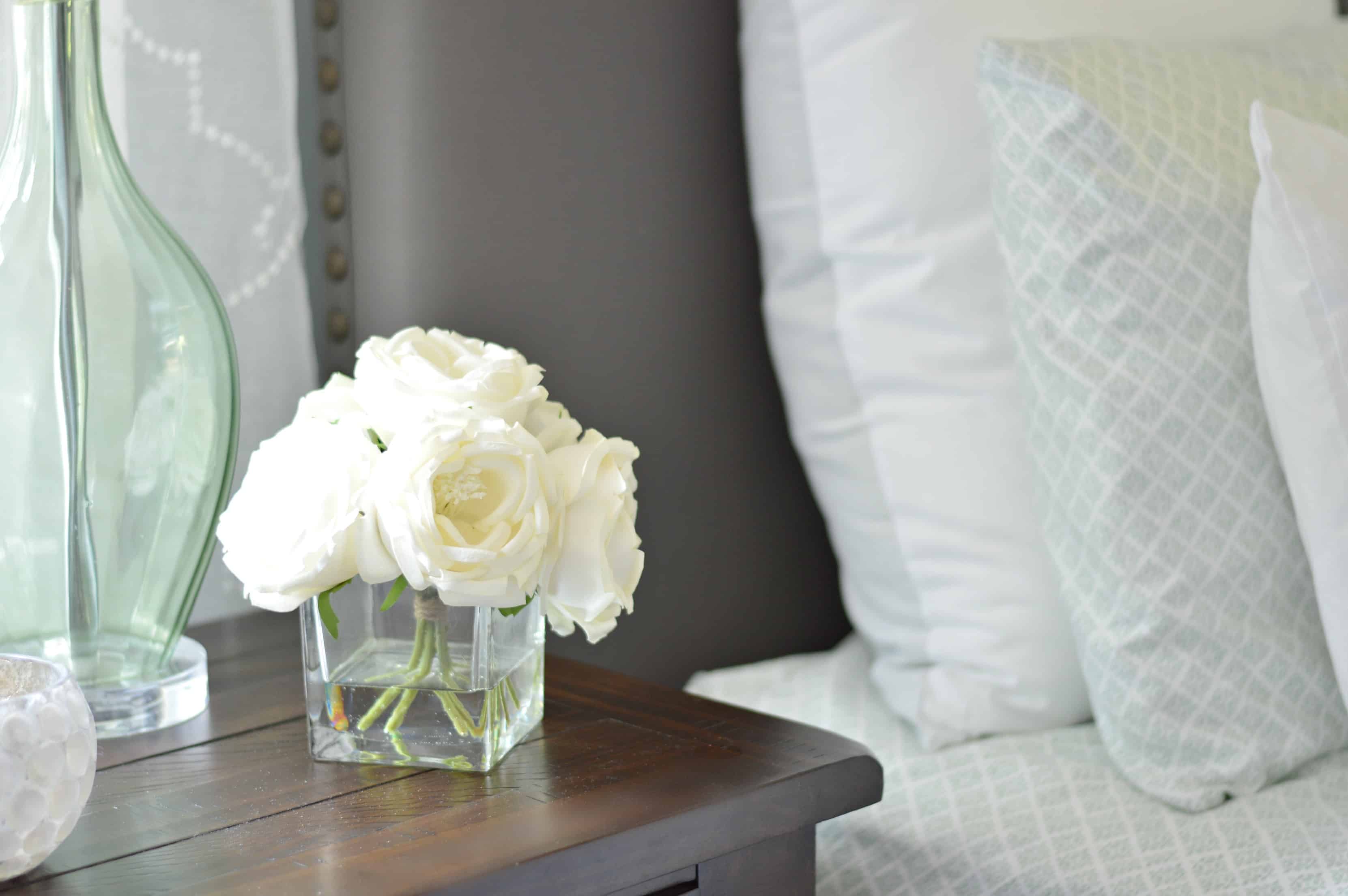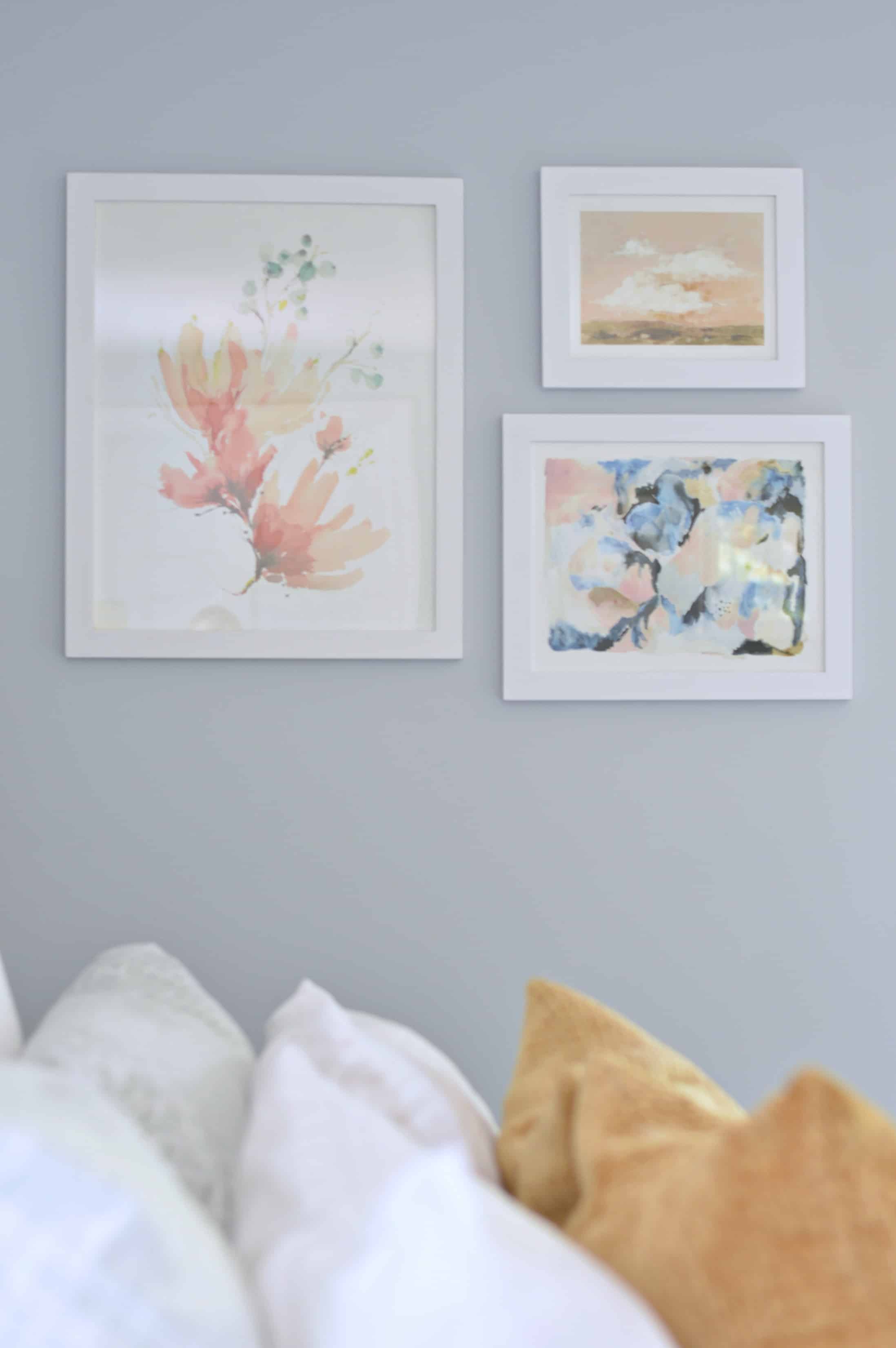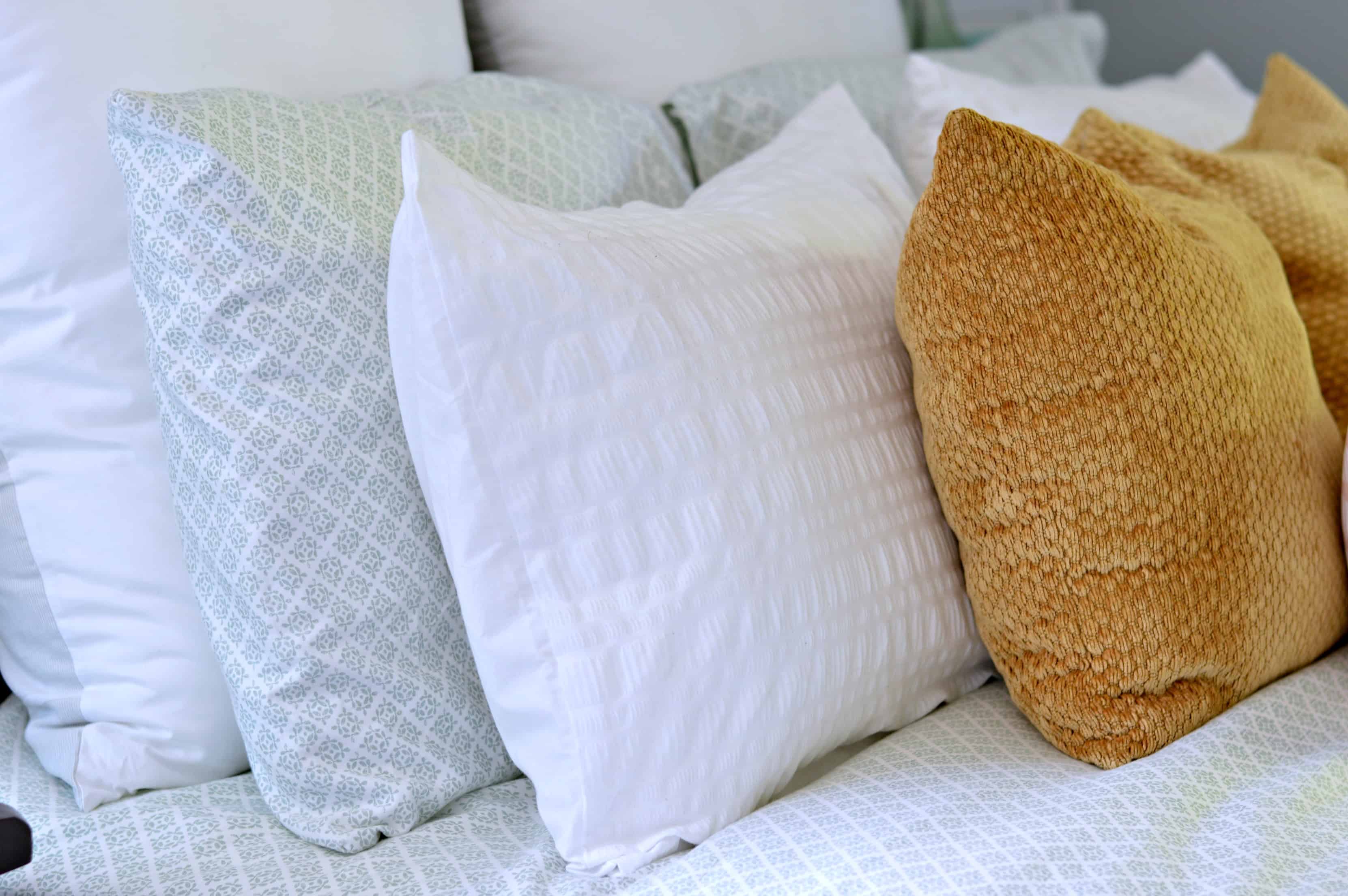 Not only do I like to layer different colors on my bed but adding different textures is important to really finish off the bed. I've had these gold chenille pillows for a few years and they are so soft and cozy. They come in a bunch of other colors, too!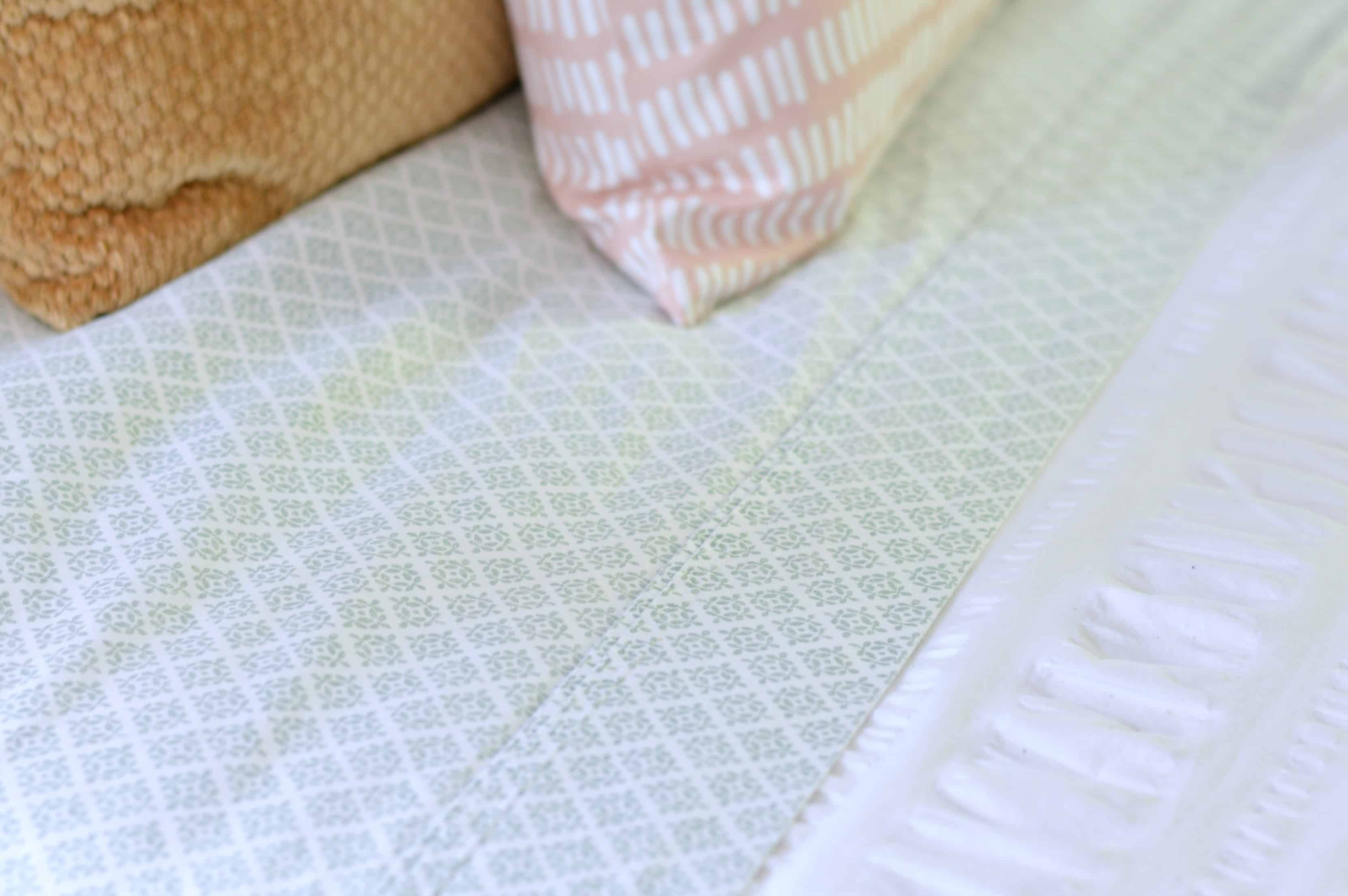 Another favorite of mine – the bedsheets. The print is perfect and they are super soft and luxurious. Love them!
Did you know that Minted does home decor too? I picked this lumbar pillow from their beautiful line of pillows and I adore it. The quality of the fabric is way beyond what you'll get at a Target or Home Goods.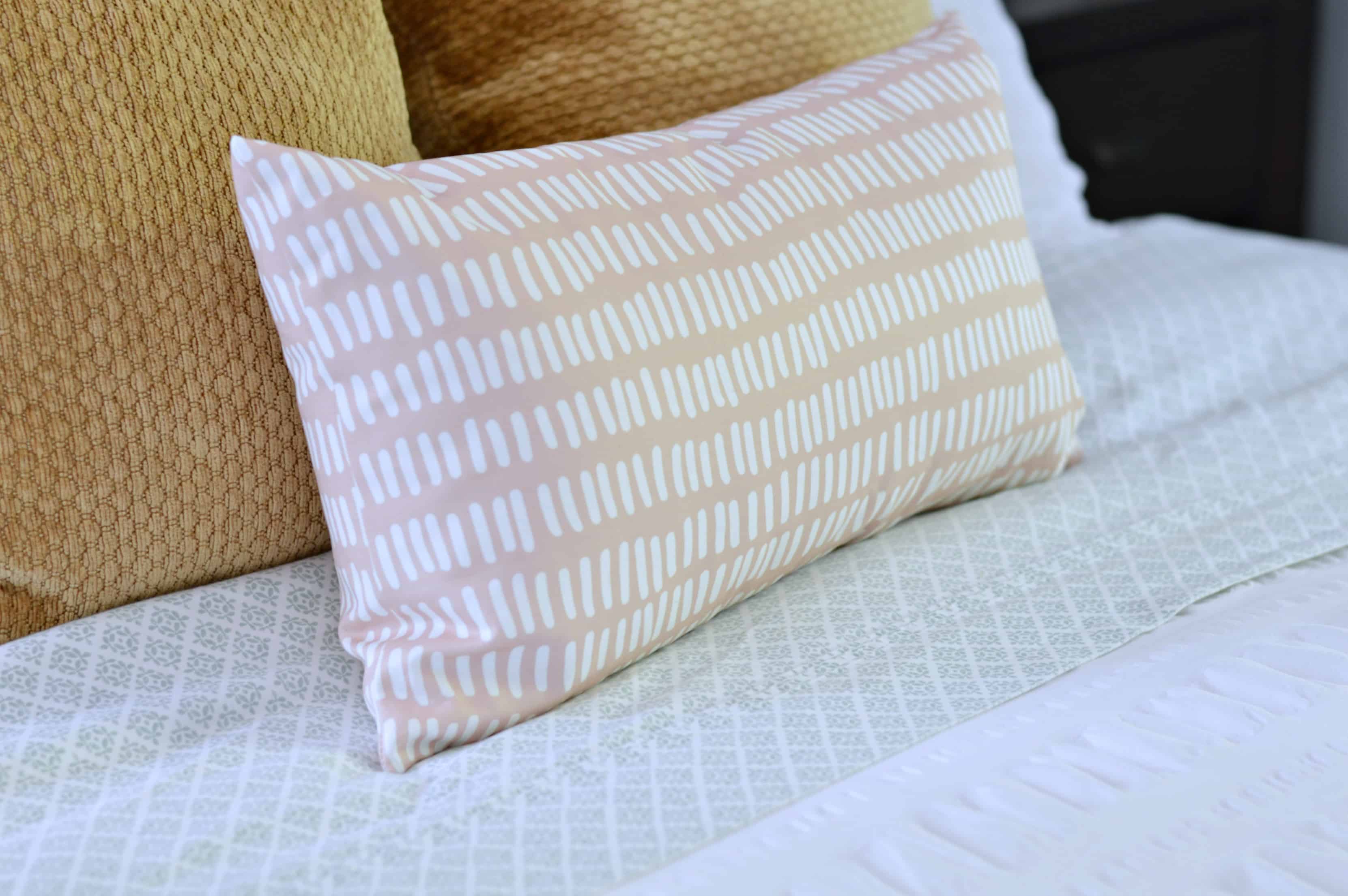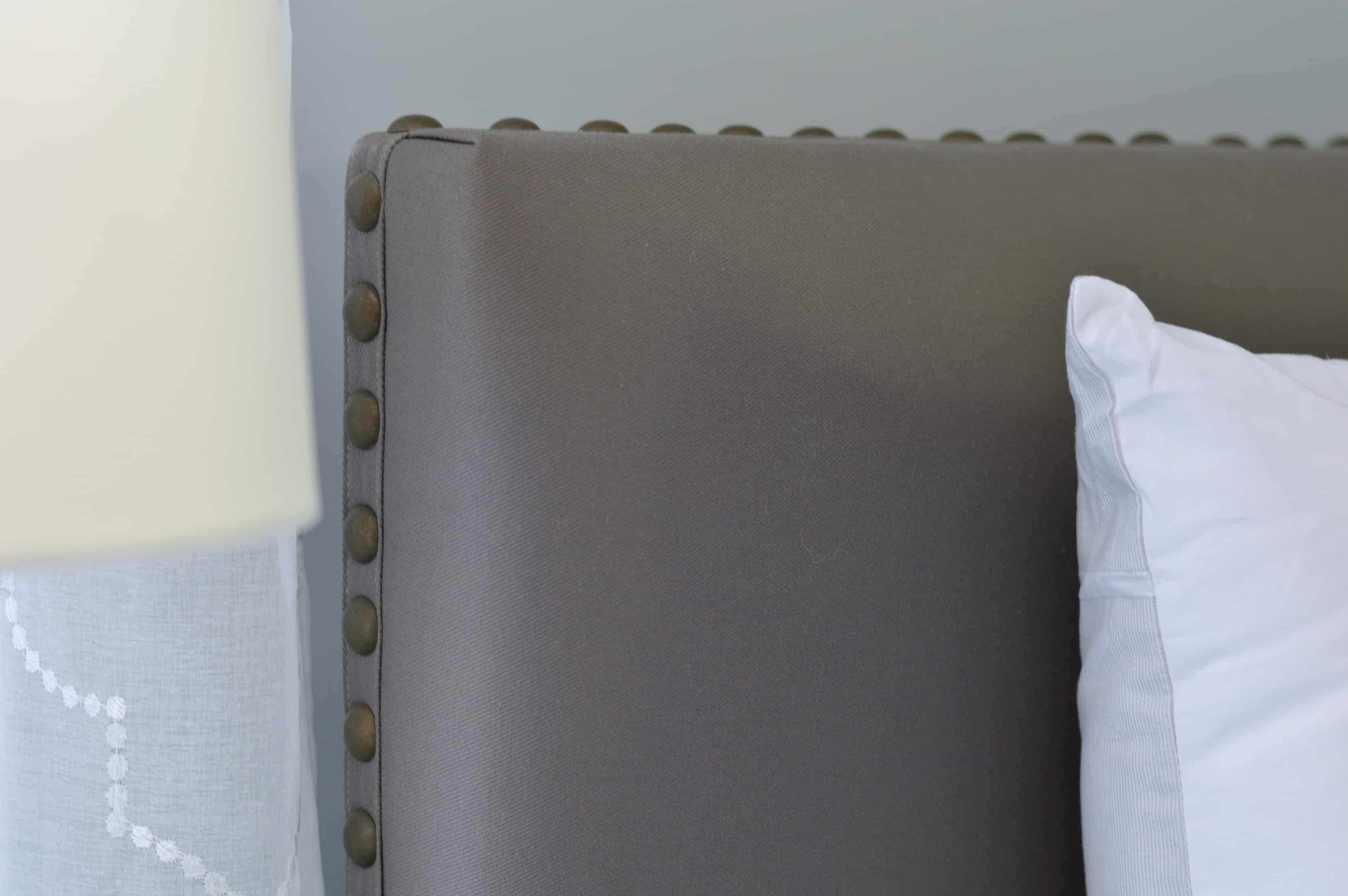 If you are looking for a new bed then I can't recommend ours enough. It was a Christmas present from my lovely husband and it's just perfect. I love the straight lines and bronze nailheads. It's classic, yet modern. It's not cheap, mind you!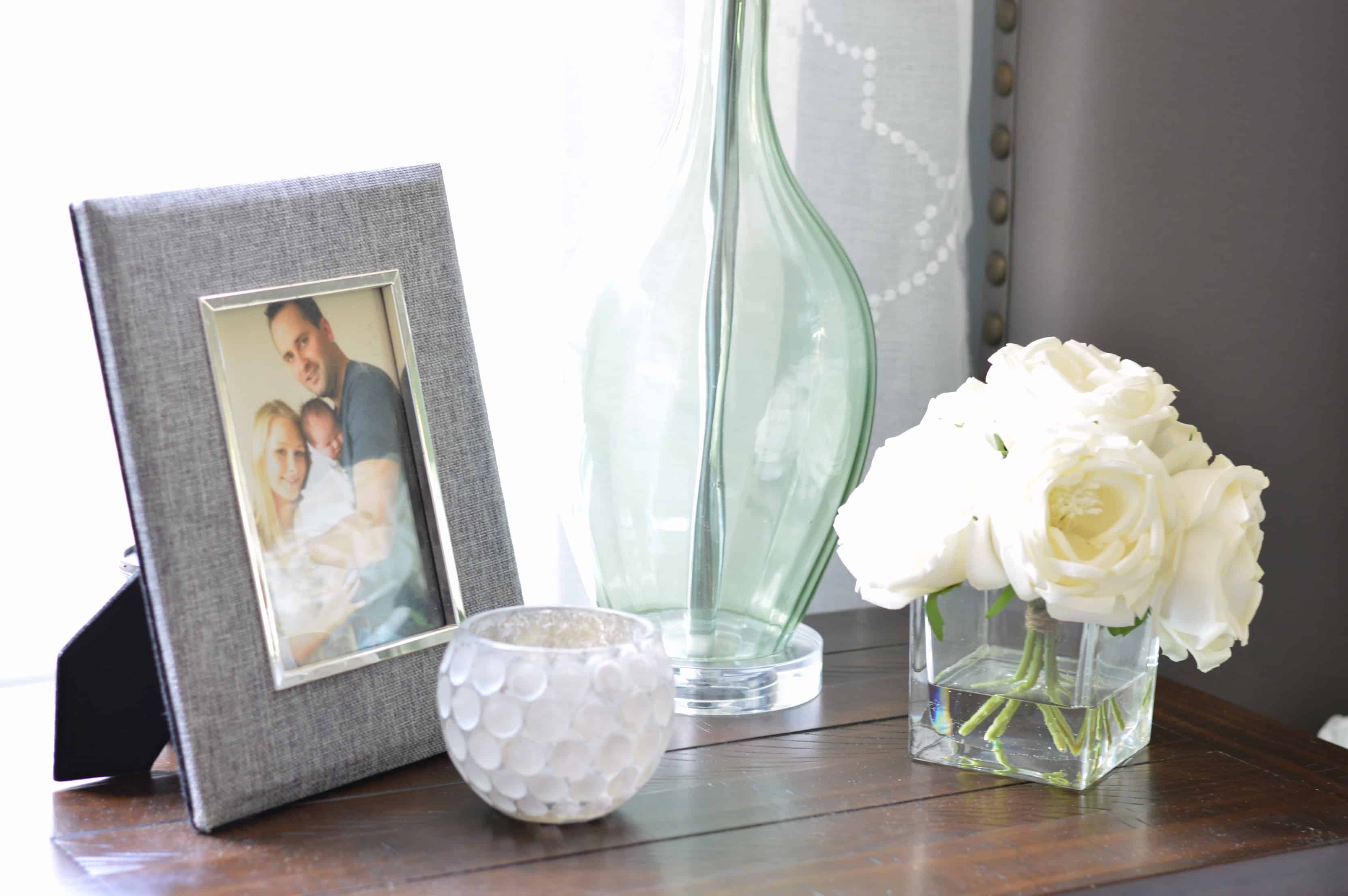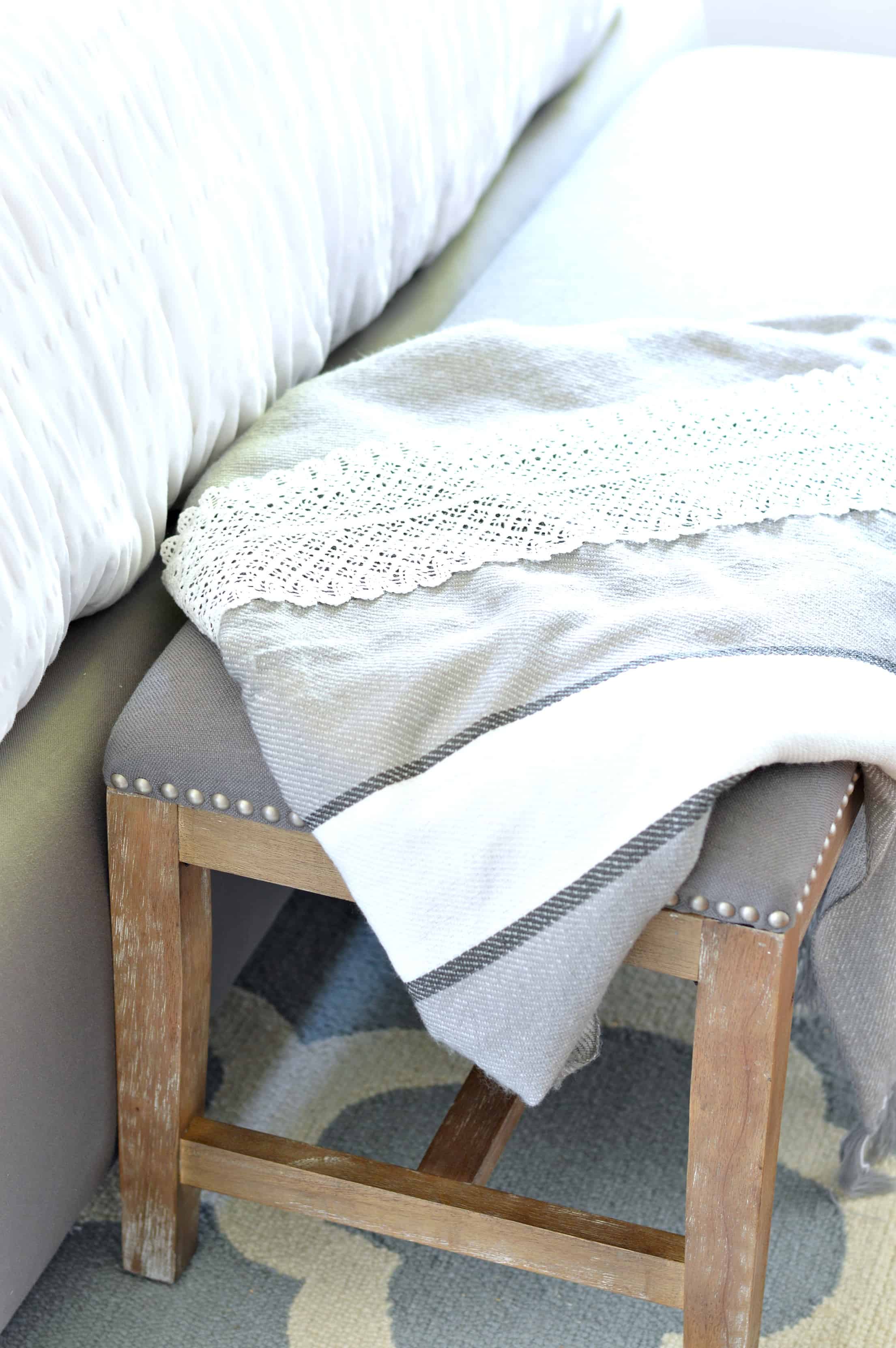 Remember when I was looking for help picking my bench? The very next day I found this gem on clearance at Home Goods! Can you believe it? It literally had all the elements I was looking for AND was only $100!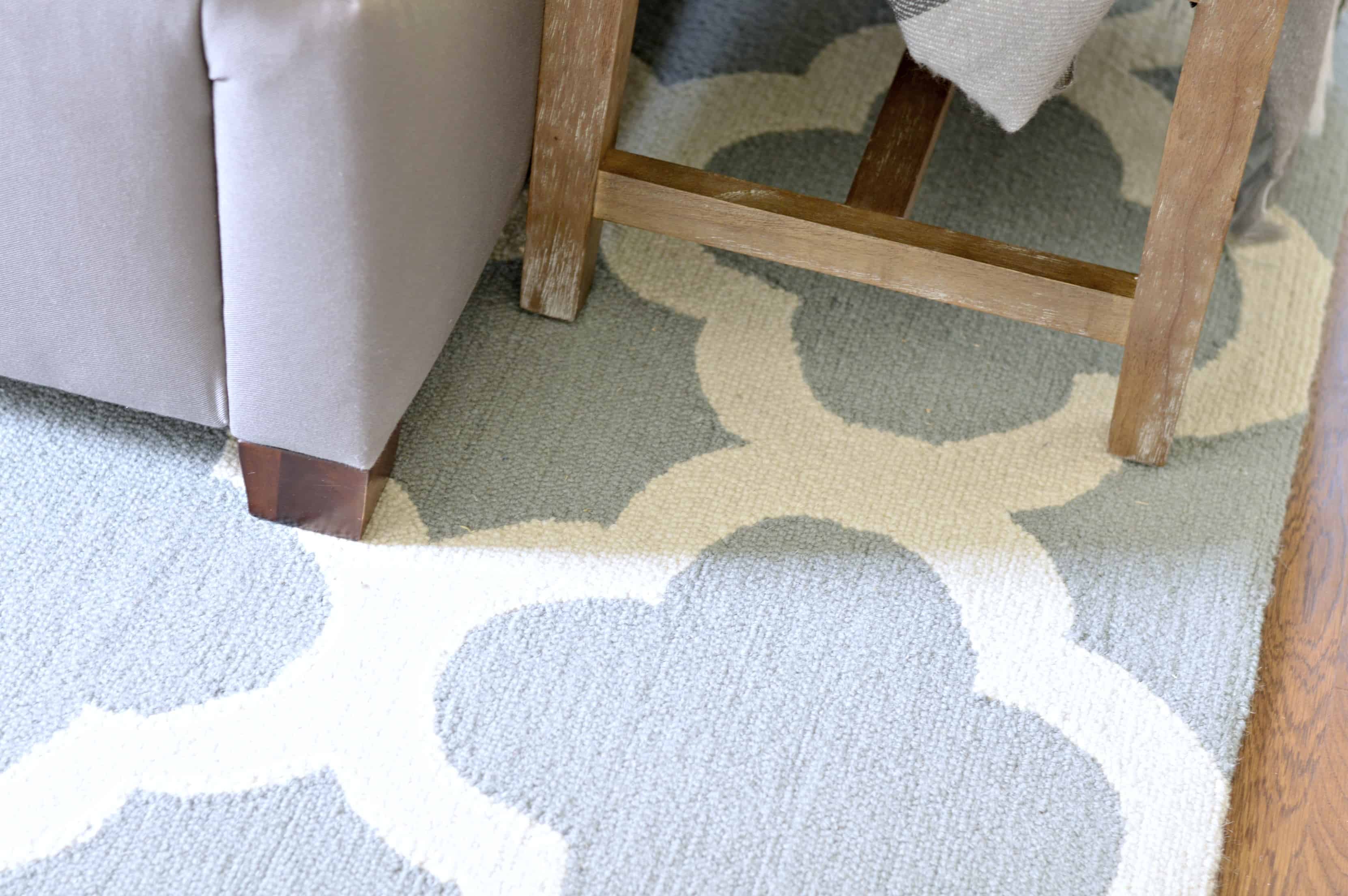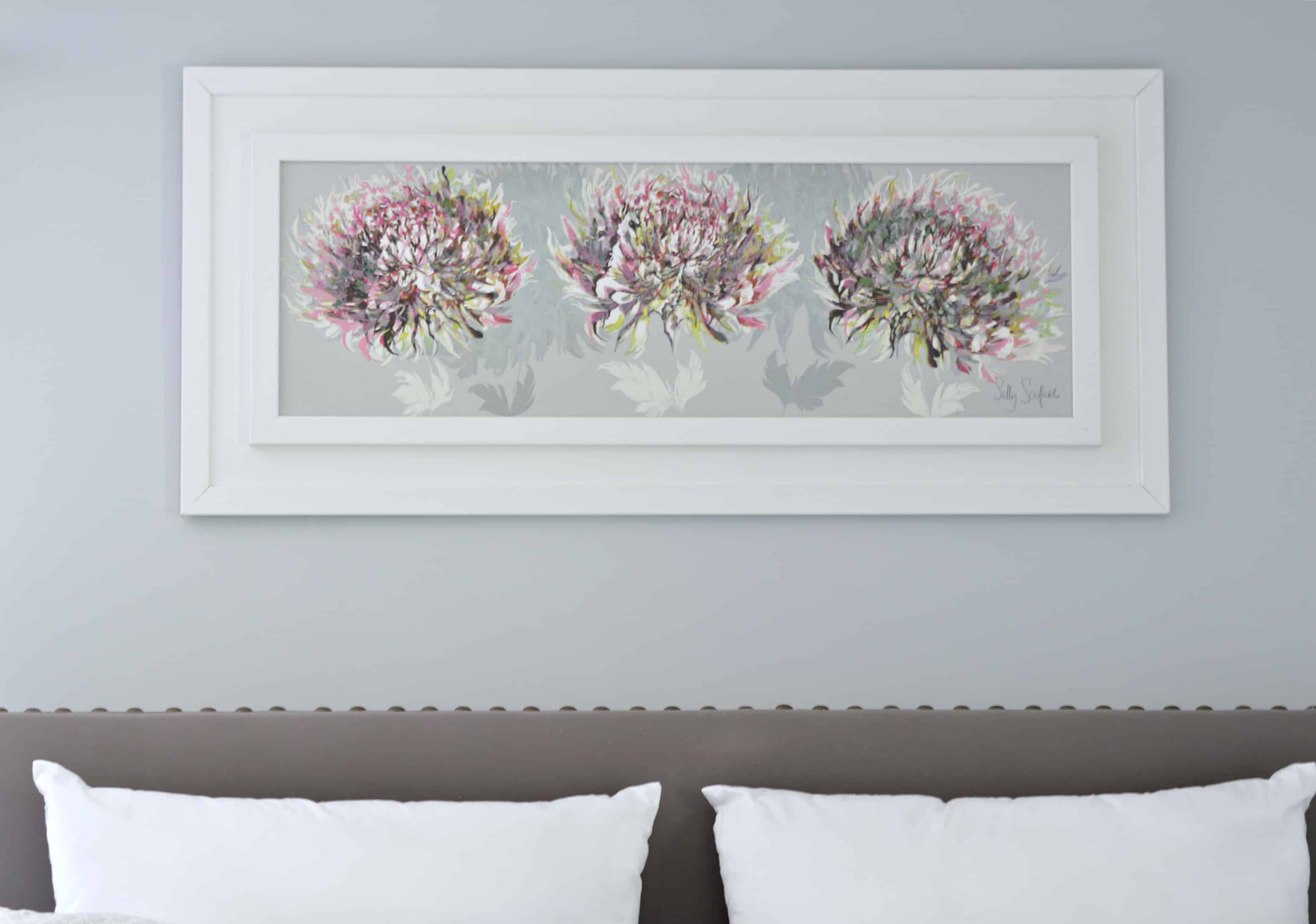 Another dilemma I had – which rug to chose. I almost picked this one but decided to go with the blue trellis one simply because I knew it would work better with my bedsheets! I'm so glad I chose it. The website description says "blue" but it's actually a bright greeny/blue and works perfectly with everything in the room.

The closet doors were replaced with swing out doors (I detest sliding doors!) and we added an IKEA closet system.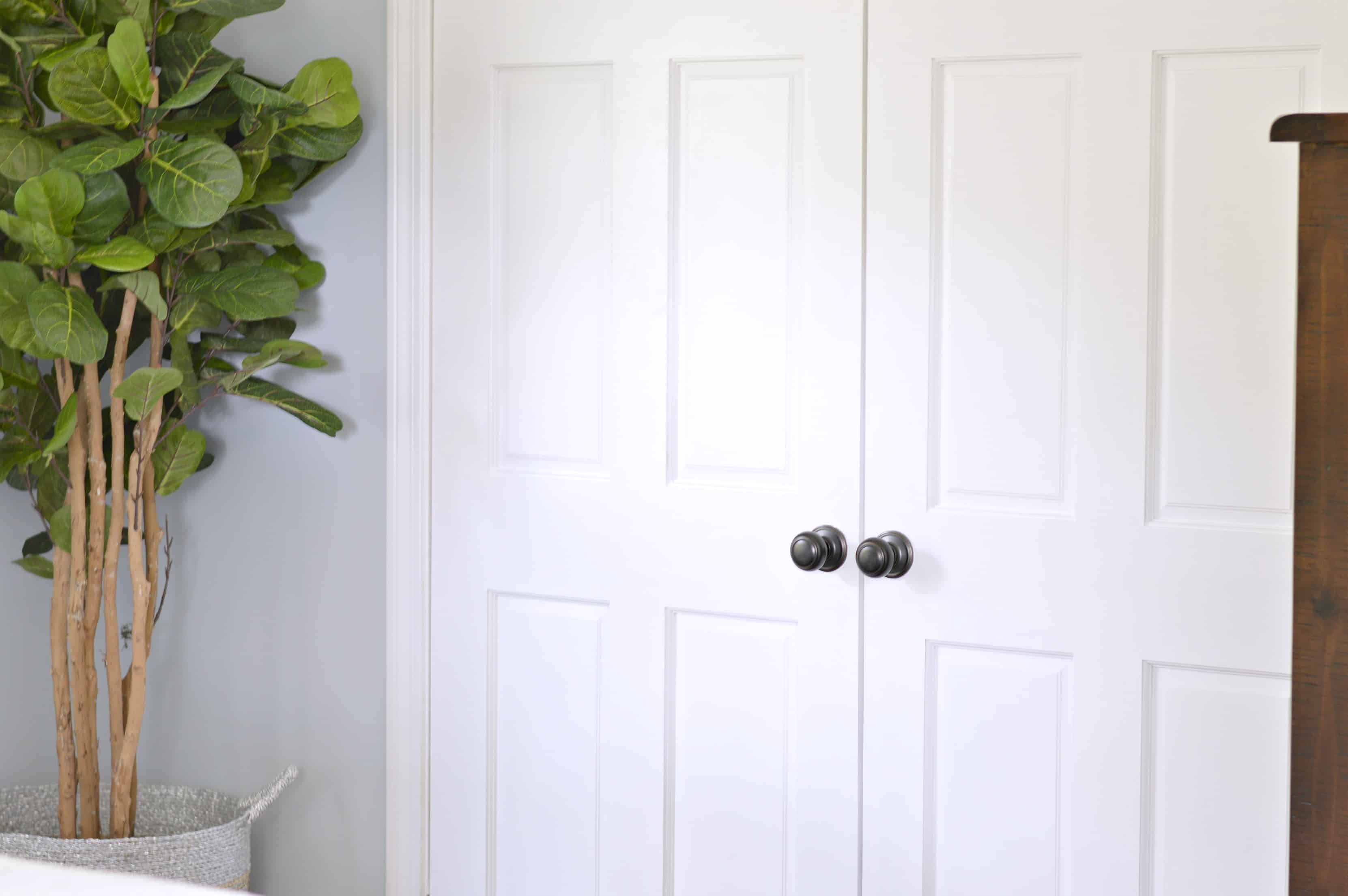 There's something about adding greenery and bamboo blinds that brings in that natural element to a room and really grounds it. This faux fiddle leaf fig adds a much needed natural element to the corner of the room and the light filtering bamboo shades match what we've goin' on in the rest of the house.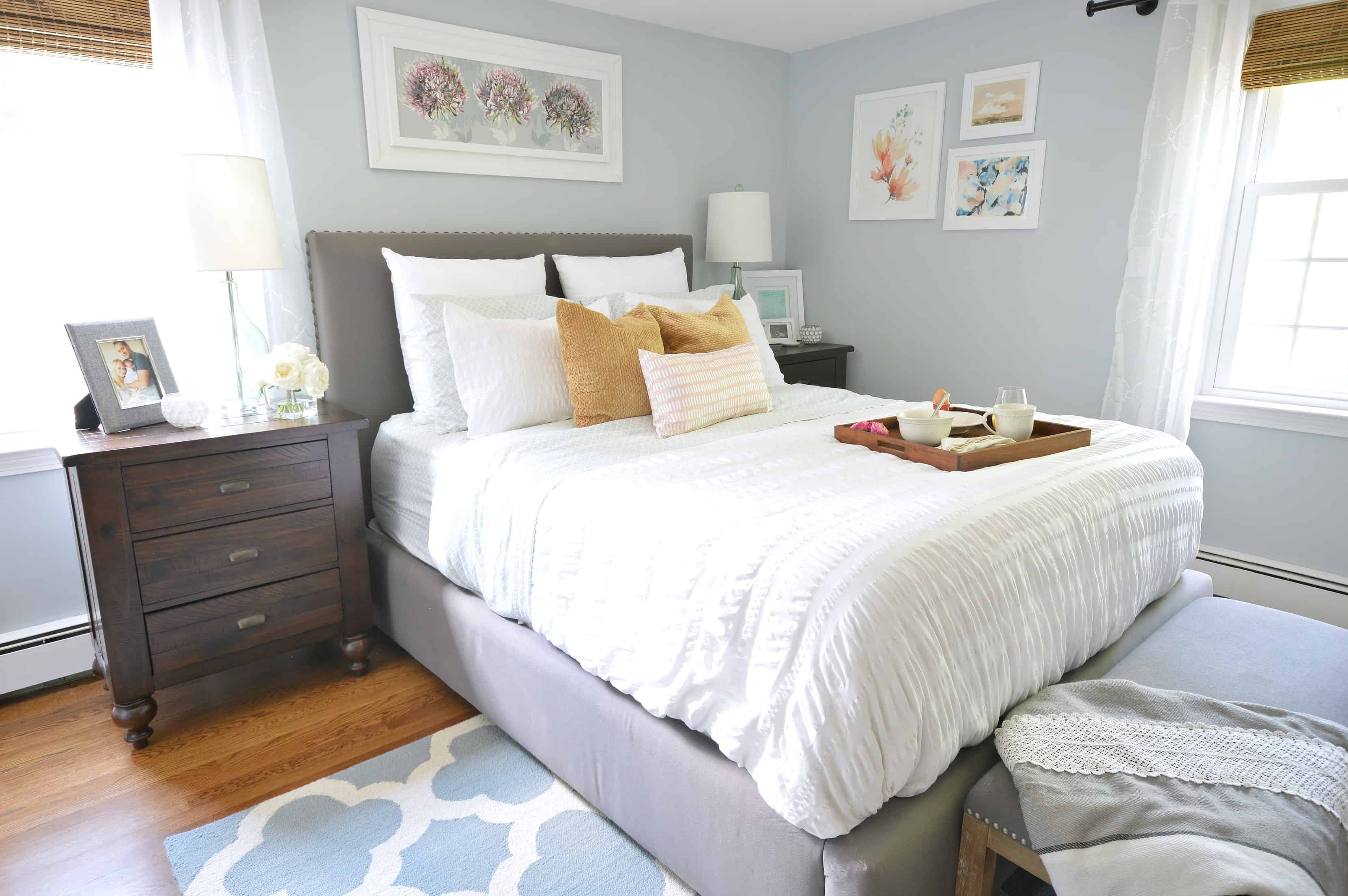 I'm very happy with how the whole room turned out. I feel like the colors are very "me", the space is cozy and I love relaxing here before I go to sleep. I didn't take any crazy design risks but I think this is a room that has a nice, traditional feel to it. Nothing crazy or majorly trendy going on here – which hopefully means that it will still look good ten years from now :-)
What are your thoughts? Would you have made any different design decisions? Did I play it too safe or is this more in line with what you would like in your own home? Let me know in the comments – and be honest – I don't get offended easily!
---
Full Source List
(Click on the link to be taken to the item. Affiliate links included for your convenience)
Wall color: Light French Gray by Behr
Trim: Decorator's White by Benjamin Moore
Bed: Pottery Barn
Nightstands: Jordan's Furniture (This is similar)
Rug: Rugs USA
Bed Sheets : Target
Duvet Cover: Target
Gold Chenille Pillows: Target
Pink Lumbar Pillow: Minted
Euro Pillows: Home Goods
Bench: Home Goods (this one's similar)
Throw: Home Goods
Lamps: Home Goods (these are similar)
Flower Artwork: Minted
Geometric Artwork: Minted
Landscape Artwork: Minted
Abstract Artwork: Minted
Large Abstract Artwork: Minted
Artwork Over Bed: Home Goods
Faux Fiddle Leaf Fig: Wayfair
Basket: Home Goods
Curtains: Home Goods (these are similar)
Bamboo Blinds: Lowe's
Tray: Crate & Barrel
Dinnerware: Pottery Barn