Have you always wondered how to paint furniture? Or do you have a piece of furniture that you want to paint but are dreading all the prep work that must be done beforehand? You know, sanding, priming, painting, sanding some more? UGH! It's enough to make you give up before you've even started!
How about if I told you that you can skip ALL of those steps and end up with beautifully painted furniture? That's right – no sanding, priming and a perfect brushstroke-free finish.
Have you heard about Velvet Finishes yet? It's a revolutionary new paint line that makes painting furniture a cinch. Like, seriously, it's completely foolproof, idiot proof….every single time!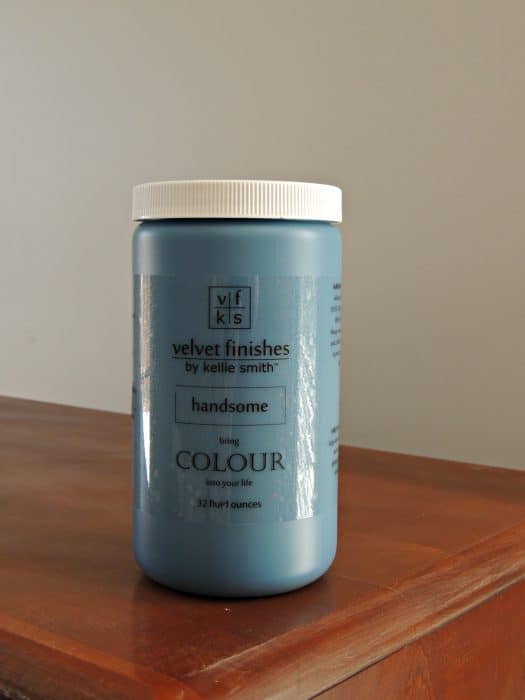 Velvet Finishes was created by interior designer Kellie Smith after not finding the finish and color palette she was seeking for a client. There are 21 amazing highly saturated colors in the line and the finish is that of a low matte sheen – like velvet!
The color I chose was handsome which is a dark blue but not quite a navy. And handsome it is. I took an old beat up dresser from this…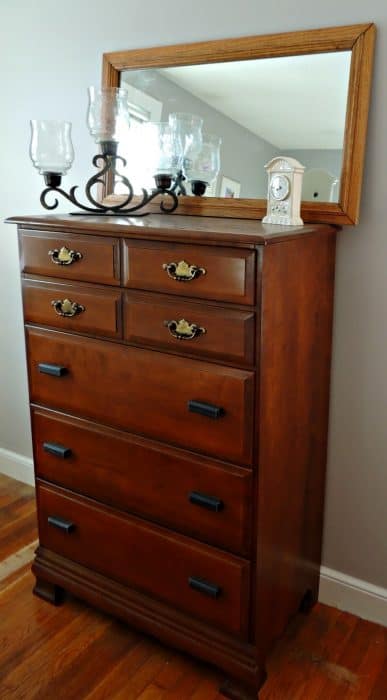 to this… in less than two hours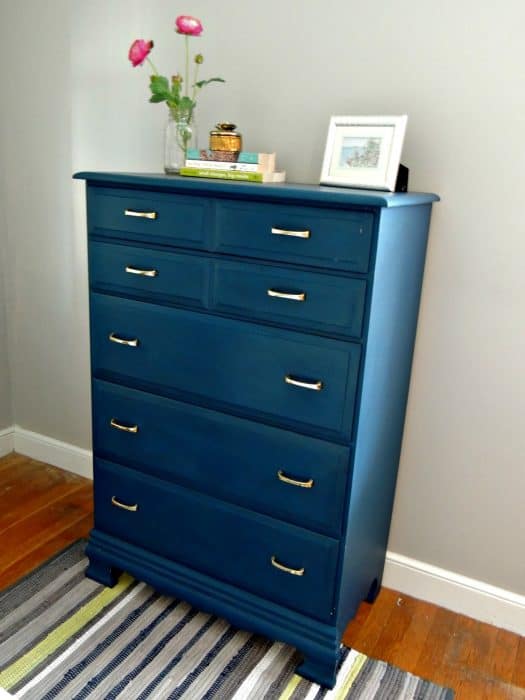 Velvet Finishes patent-pending formula is a DIYer's dream. If you want to know how to paint furniture the right way, you'll want to buy this paint!
It's super easy to use with minimal prep (that means no sanding!!!) and no waxing. I just gave it a quick wipe-down to remove any dust.
The darker colors tend to be thicker than the lighter. If you want to thin the paint simply add water. Apply thin, even coats and allow paint to dry thoroughly before applying another coat. Never apply more than 3 coats in 24 hours.
Instructions are on the website and can be downloaded for printing.
Did I mention you do not need to wax?? WooHoo!!
Kellie had told me that it would not leave any brush marks upon drying, so, despite the (wise) advice of applying thin coats I decided to really test to power of this paint and literally sloshed it on quickly thickly and probably not that evenly. Here's some video evidence to prove it:
[youtube=http://youtu.be/CNAj-3dUWzE&w=400]
(Yes, the quality is awful. I tried to paint with one hand and record with the other.
It doesn't work. But you get the idea!)
Even with such aggressive application, the final finish is, well, velvety. There is not a brush stroke in sight: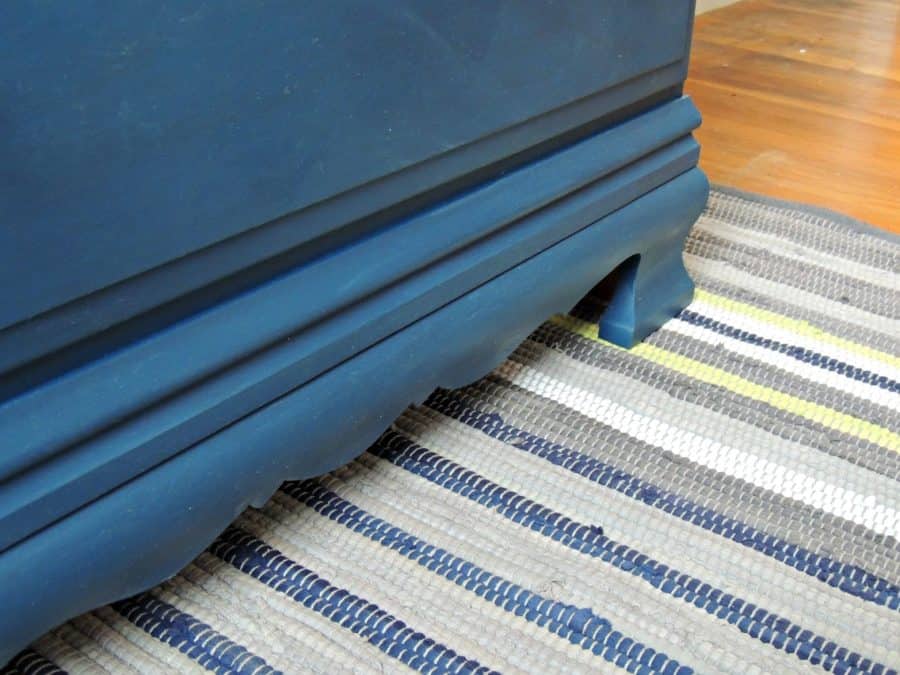 I picked up some new (and cheap) drawer handles on Ebay. I love how the brass looks against the blue. I also picked up some faux flowers at AC Moore (on sale!). Pink is another amazing color against this shade of blue.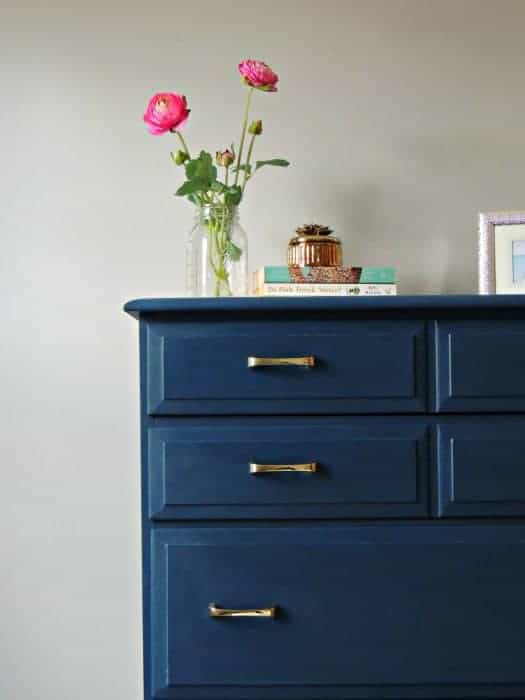 I really love this paint. If you've never painted furniture before, go this route. It's 100% foolproof and is guaranteed to provide richly-pigmented results in only a couple of coats.
Think this blue is handsome? Some of the 20 other shades are pretty fantastic too. You're going to be majorly crushing on this line up: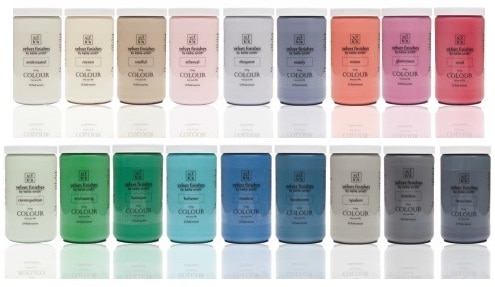 Custom colors are easily achieved with recipes available on the website!
It's so nice when a quick project can make such a huge transformation. My guest room feels much brighter and fun now!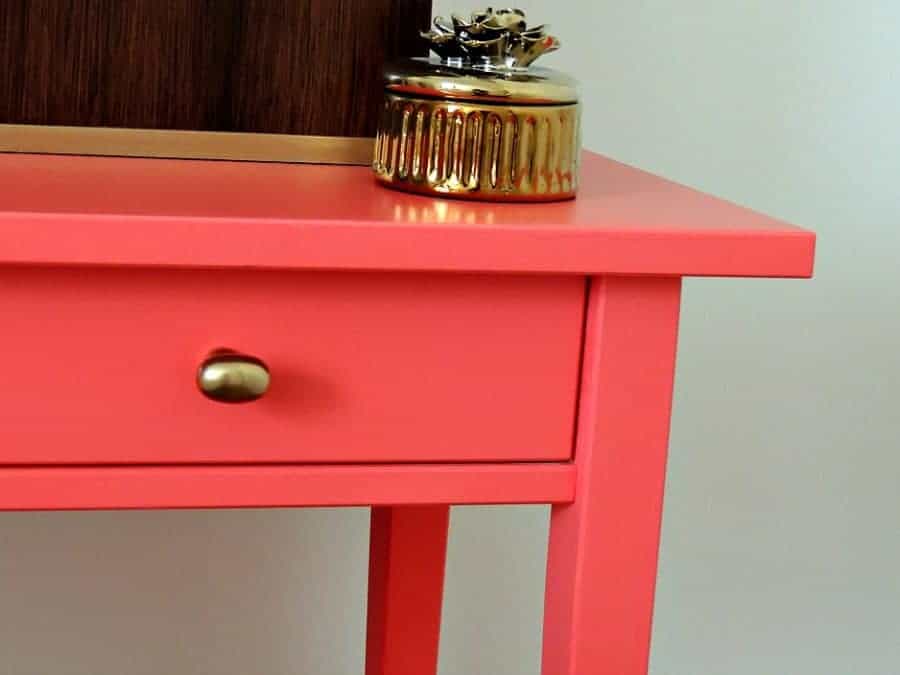 Which Velvet Finishes paint color is your favorite? What furniture item would you like to makeover in your chosen color?
Thinking of a dramatic color change? Check out my other Velvet Finishes makeover using the color Exotic which includes tips on using the PROTECT and PROTECT products!
This fun rocking chair was painted with a custom mix of Velvet Finishes paints. Check out all the details here.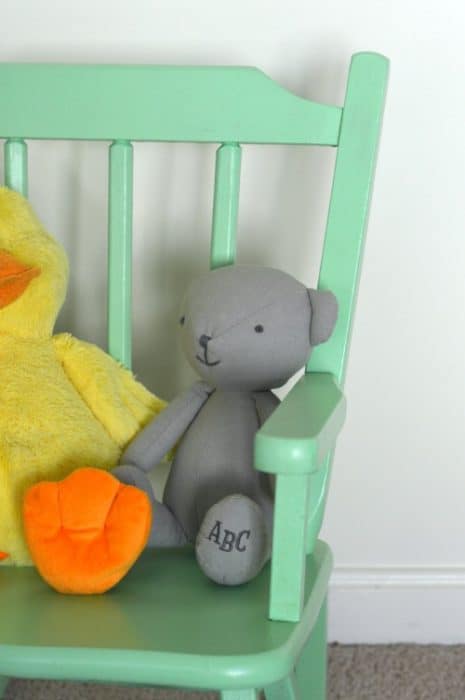 If you found this information helpful, you should download my FREE guide to perfectly painted furniture. It details all the steps I used here as well as other furniture I painted using Velvet Finishes – all in a printer friendly format!
Just enter your email address below and it will be sent right to your inbox.