Holiday OREO Cookie Balls
Oreo Cookie Balls are a simple but insanely delicious treat for the holidays! Kids love to make them and adults love to eat them!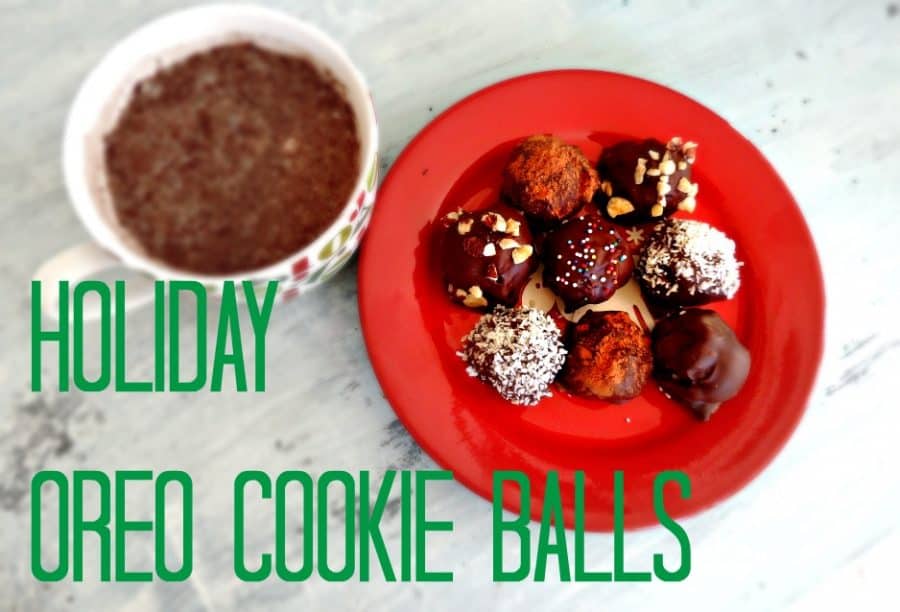 There's something about an OREO cookie that screams guilty treat. And I can't just eat one. That creamy filling and crunchy cookie demands 2, 3, 4, 5 cookies to be eaten at once!
Everytime I go home to Ireland for Christmas I make sure to arrive well-armed with several boxes of Double Stuf for my brother and sister. Usually the cookies are gone within a few days.
Last year I introduced my family to OREO cookie balls. Needless to say – instant hit! Today I'm sharing my favorite twists on the classic OREO cookie ball. Maybe these will inspire you to whip some up for the holiday season!
Oreos, cream cheese and good quality baking chocolate are the base ingredients for the cookie balls. You can be as creative as you want with added ingredients but those three are the foundation for the perfect cookie ball.
The first step is to smush up all the OREOS and mix them with the cream cheese. This part is super fun (and a good way to get out some frustration!!) If you have kids I suggest getting them involved!  We usually put the Oreos in a large zip bag and roll them with a rolling pin until they are well broken up.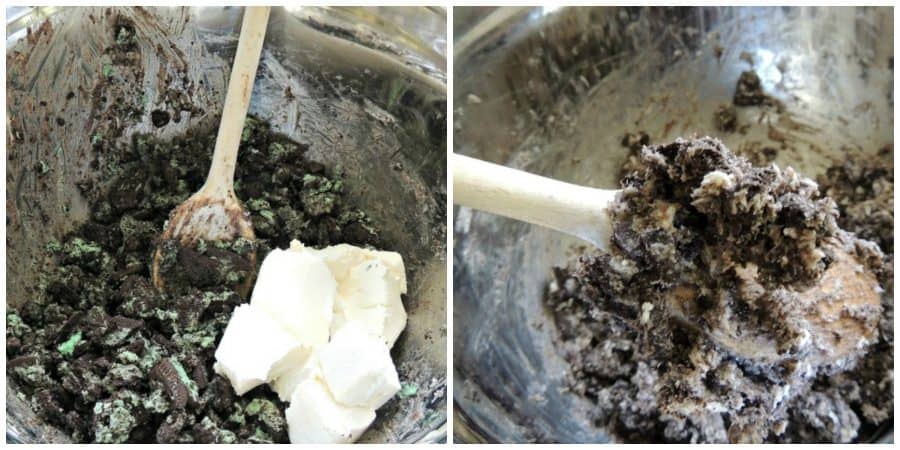 Once the cookies and cream cheese are combined, you will want to make 1 inch balls and place them on a cookie sheet lined with parchment paper. Pop them in the freezer for 10 minutes to set up a bit.
Tip: I like to use a 1 inch cookie dough scoop to form the balls. It's a lot less messy than using your hands and you get the same size ball each time.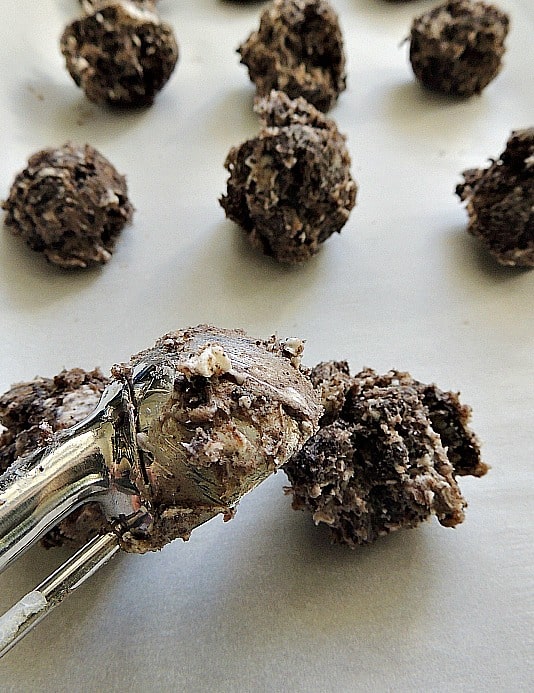 Meanwhile, melt your chocolate in a bain-marie (double burner) over a medium/low heat. If you prefer to melt it in the microwave, first put it on for 30 seconds, then do 15 second increments until the chocolate has melted.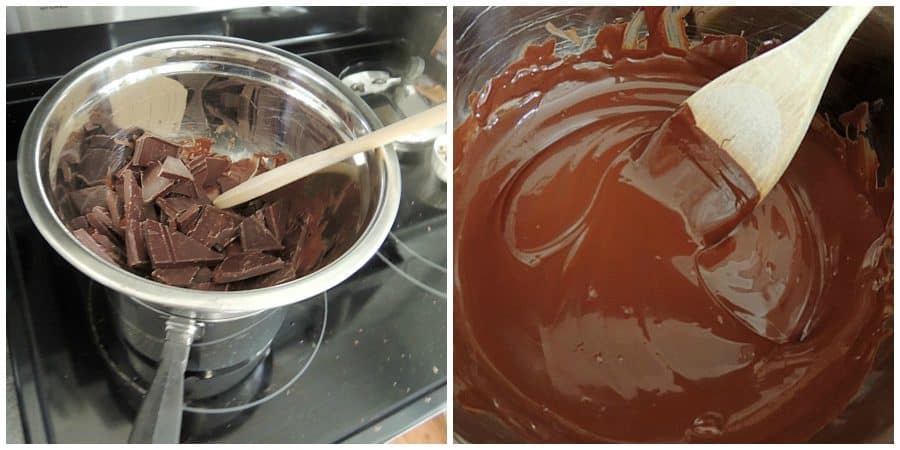 You're now ready to dip your cookie balls into the chocolate! At this point you may choose to add some flavors to your chocolate or to leave as is. For the Double Stuf OREOS that I purchased I just dipped in plain chocolate but the Mint Creme OREOS I actually added some peppermint oil to the chocolate, which really amplifies the peppermint flavor and tastes very Christmassy!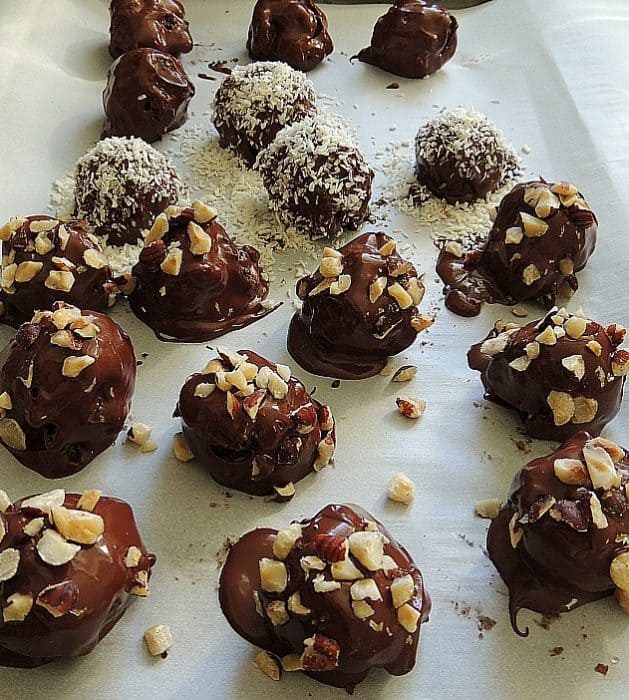 There's so many ways to make this yummy treat even better. I added chopped hazelnuts to some and coconut to others. For the Mint Creme version, in addition to the peppermint oil I decorated with either colorful sprinkles or a coating of cocoa powder.
You will then want to pop them in the fridge for a minimum of 60 minutes to completely set.
Look at that yumminess!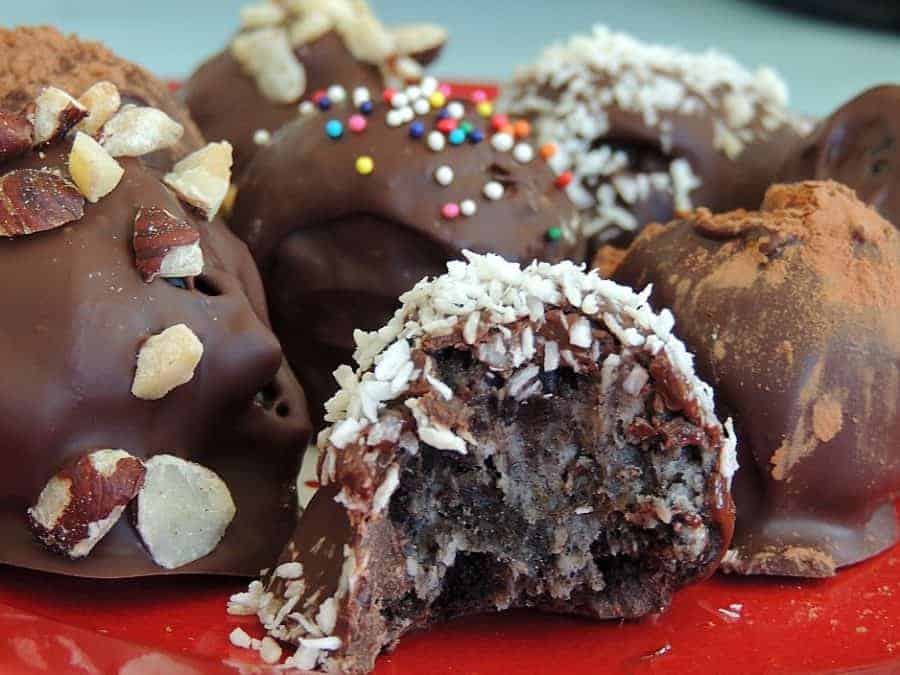 The full recipe is below. Let me know what creative twists you put on your OREO cookie balls this holiday season!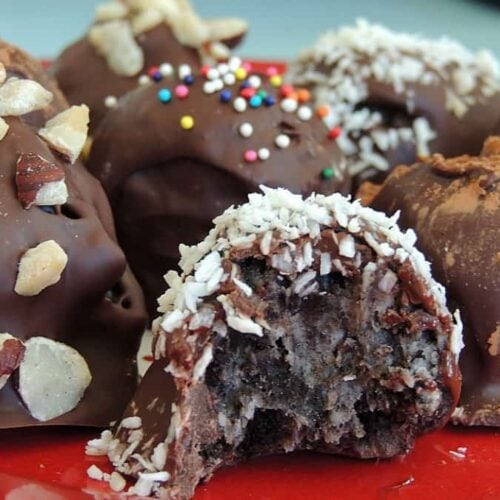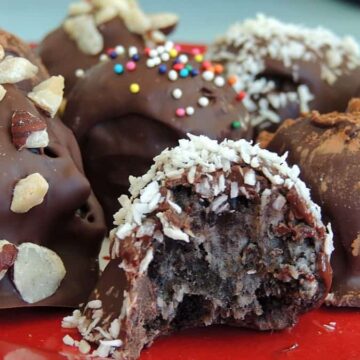 OREO Cookie Balls
A delicious take on the classic OREO Cookie Ball
Ingredients
8

ounces

cream cheese

softened

36

OREO Cookies

finely crushed (about 3 cups)

16

ounces

semi-sweet baking chocolate

(4 oz baking bars or use chocolate chips)
Instructions
Mix cream cheese and cookie crumbs until blended.

Shape into 48 (1-inch) balls.

Freeze 10 min.

Dip balls in melted chocolate – place in single layer in shallow waxed paper-lined pan.

Customize it with your own ingredient additions or edible decorative skills.

Refrigerate 1 hour or until firm.
Nutrition
Calories:
113
kcal
Carbohydrates:
12
g
Protein:
1
g
Fat:
7
g
Saturated Fat:
4
g
Polyunsaturated Fat:
1
g
Monounsaturated Fat:
2
g
Trans Fat:
1
g
Cholesterol:
6
mg
Sodium:
58
mg
Potassium:
79
mg
Fiber:
1
g
Sugar:
7
g
Vitamin A:
68
IU
Calcium:
12
mg
Iron:
1
mg