This post may contain affiliate links | For further details, please read our privacy policy
Are you familiar with Jenna Sue Design Co. Blog? Jenna's has been my favorite blog for several years. While everyone else was fawning over YHL, I was firmly in the Jenna Sue camp.
A graphic designer by trade, Jenna has an amazing online store. Actually, that's how I originally discovered her blog. I bought the cute "S" sign that hangs in our hallway and then several years later, gifted my husband with our wedding vows printed and framed.
Over a year ago, Jenna and her husband, Brad moved from Florida to a small town in the foothills of California. With the help of her realtor mother, they purchased a 2,500 sq foot home abounding with potential. I loved Jenna's old house in Florida. It was beachy – with lots of white and turquoise but since moving to California, her style has matured and evolved. She is now a master at creating spaces that simply ooze "rustic, cozy farmhouse chic".
The rustic thing was never my thing until I started to see how Jenna was transforming her home. Lets just say that I am in love with every single space that she has so far got her hands on. Am I sounding like a fangirl yet? I'm not going to lie, I have serious house envy and a serious girl crush on her styling & DIY abilities!
Are you ready to see some pictures? Grab something to wipe the drool off your face – trust me, you'll need it!!
What an adorable entryway! It's small yet perfectly functional and certainly welcoming. Notice the white planked wall treatment to the left of the picture. Jenna has done this throughout her home and it adds such a wonderfully clean, rustic touch.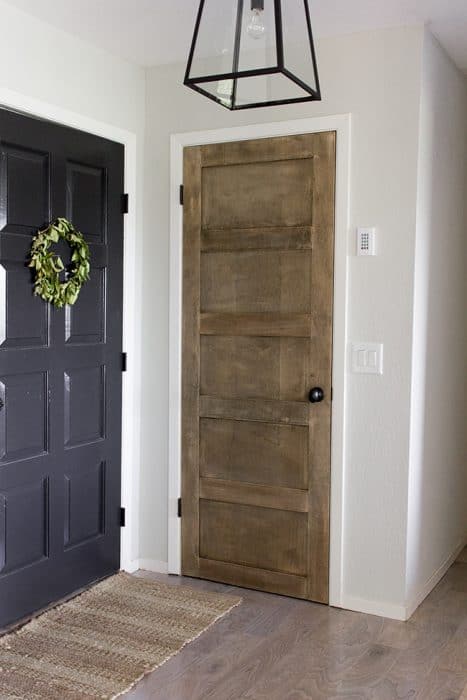 Similar to how I gave my closet doors a makeover, Jenna refreshed this formerly plain closet door with some wood and stain.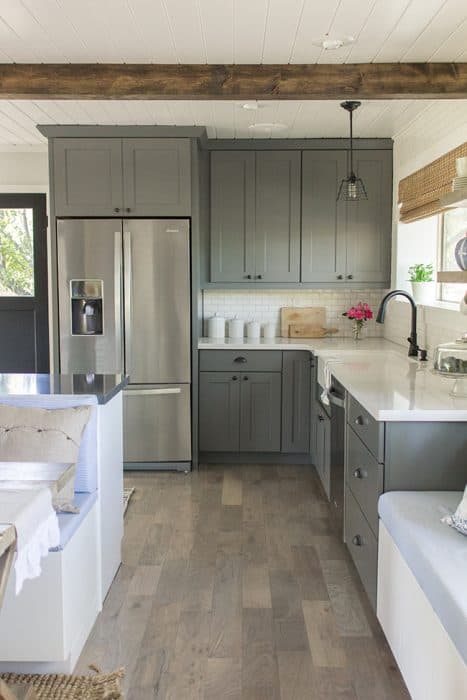 The kitchen is my favorite room in the house. There's so many things I must point out to you. Firstly, look up and notice the white planked ceiling with exposed beams. ALL DIY! Can you believe it? Those beams truly look like they are original to the space. The beadboard ceilings complement the farmhouse sink and white subway tile perfectly while the ORB hardware and faucet break up the gray and white.
Have you  noticed the hardwood floors yet? They are Armstrong Shell White Walnut Engineered Wood. Jenna said they are a bit more gray than advertised on the website but I have to say that they look amazing installed.
The cabinets are Kraftmaid brand (available at Lowes) and the color is Grayloft. Aren't they fab? I usually only like white cabinets but with the combination of the subway tile backsplash and white quartz counters, Jenna has won me over.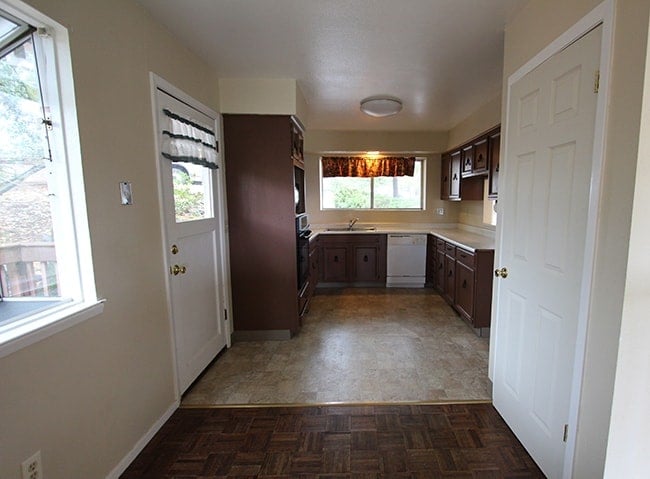 Can you believe this is what she started with? Wowza!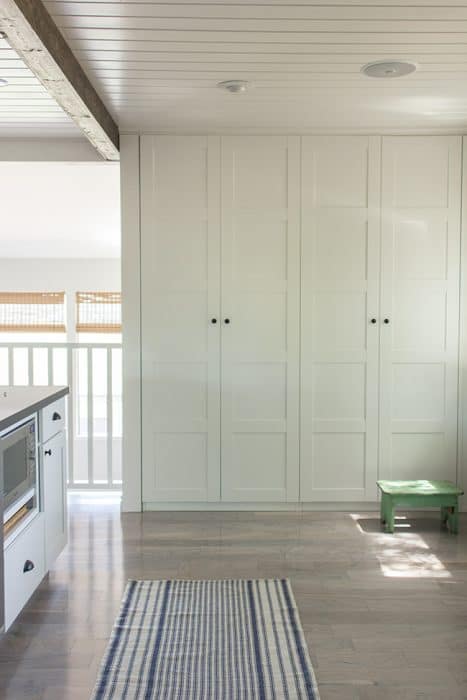 This built-in pantry is another clever DIY using IKEA pax closets.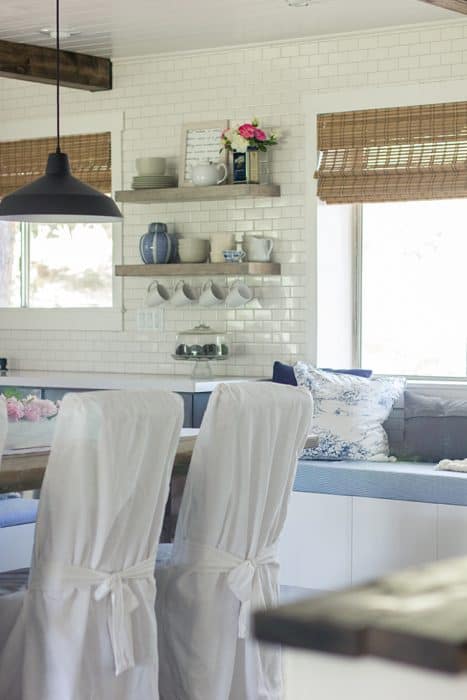 Isn't subway tile so timeless? I'm so glad that it's "fashionable" again – not that it ever really went out of style! But 30 years from (or 100 for that matter!) you won't look back and regret it.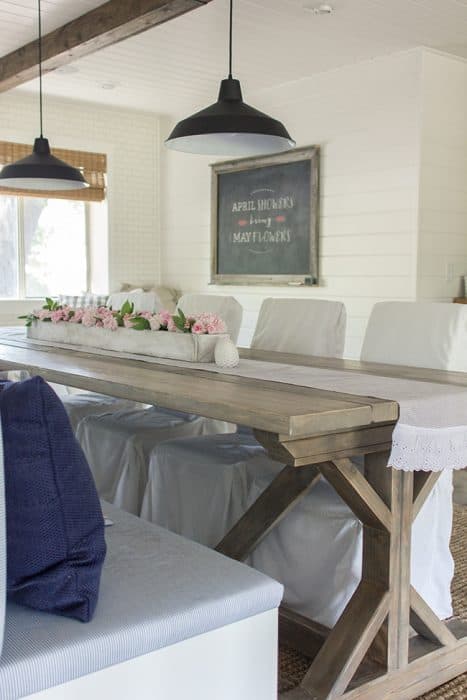 Now, let's talk about this beautiful dining table. Looks expensive right? Maybe $2,000 or so? How about some DIY action and $130 in materials??!? Cray-cray! Clearly,  Jenna inherited her carpenter father's genes.
Isn't the bar area amazing? You'll see below that the same stacked stone backsplash is used in the living room. I think repeating these types of elements is what helps make this the design in this home so cohesive. You'll see the subway tile, planked walls, beams and beadboard ceilings repeated.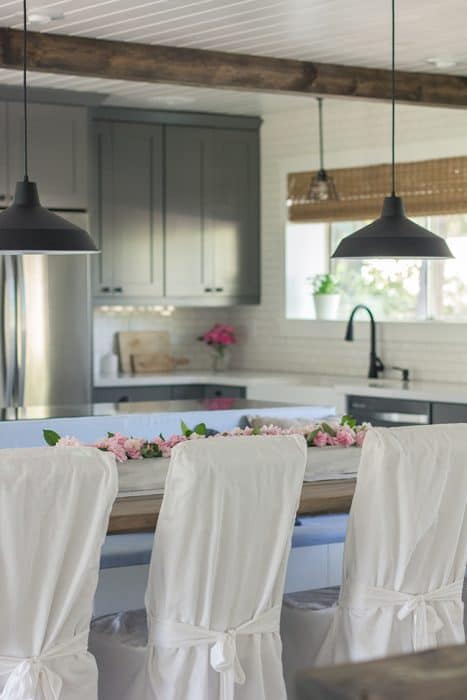 Jenna does such a beautiful job accessorizing in all areas of her home, too. Every little detail is just perfect, from the dining room table runner to the signs on the bar to the floating reclaimed wood shelves.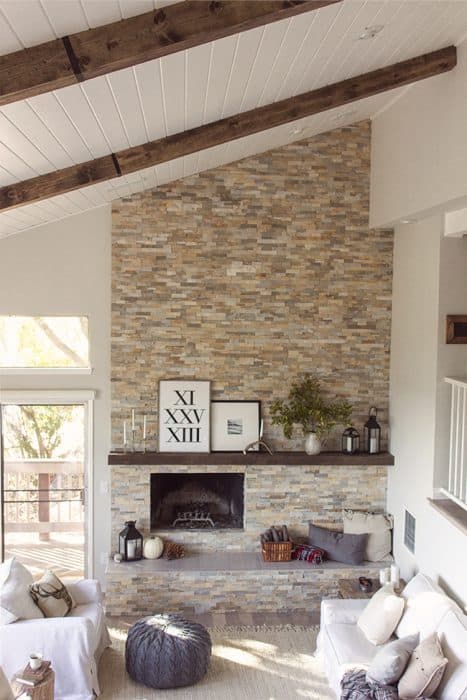 The living room is a wonderfully bright, airy space with large vaulted ceilings. The fireplace was refaced with the same stone as the bar area and a rustic mantle was added. Soft furnishings add warmth and create a very cozy and inviting space. Isn't that pouf to die for?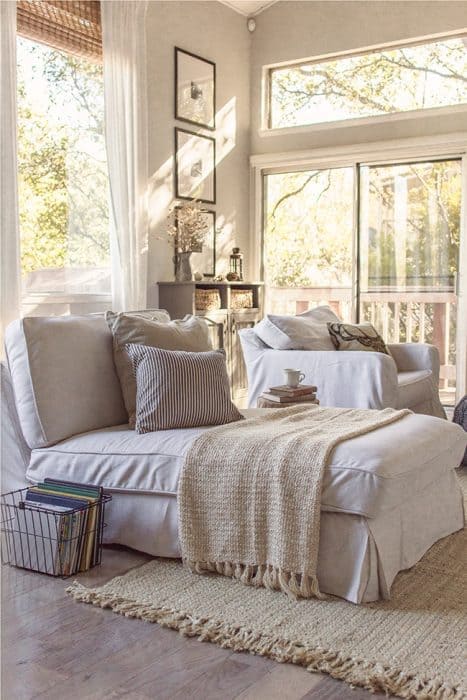 Jenna used plans from Ana White to build this gorgeous storage unit/sideboard. She changed it up by adding beadboard to the cabinet doors. The shade of gray she chose to paint is the perfect finishing touch.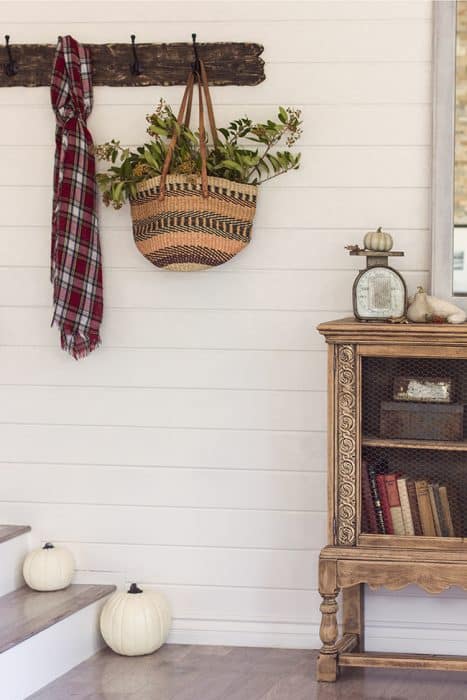 *Sigh* Is this a magazine photoshoot or what?! What a beautiful vignette!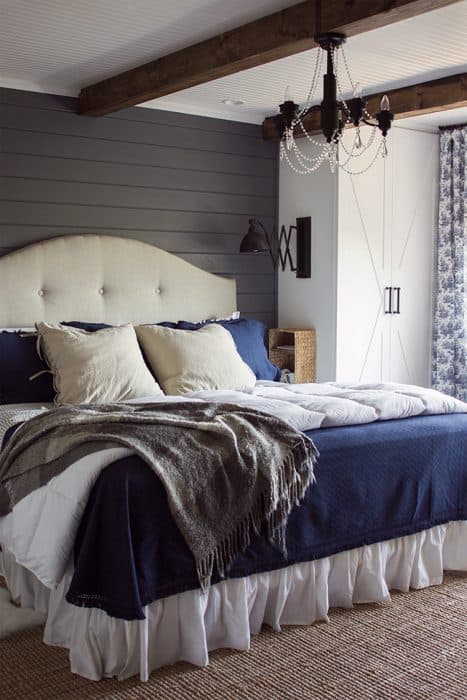 The planked walls along with a beadboard ceiling and those beautiful beams continue into the master bedroom where Jenna has chosen a darker, but equally stunning palette.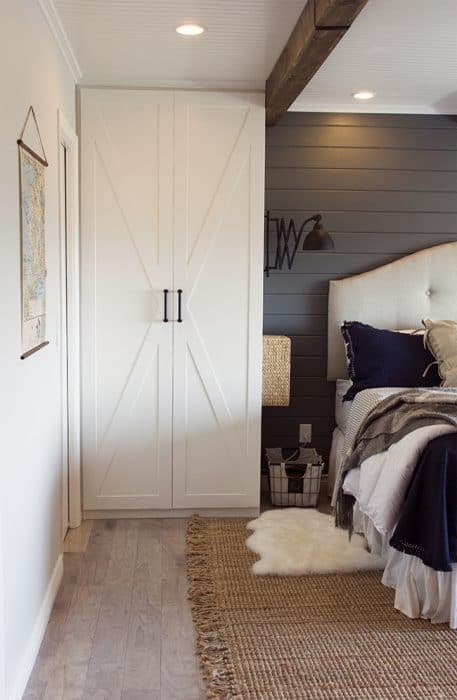 Once again, this room is full of DIY projects, from the IKEA pax closets, to the charging station next to the bed and my favorite part – the wall treatment. I've seen this wall treatment in gray in several other blogger homes too and I'm really digging it. The white ceilings, light colored floors and light streaming into the room helps from making it feel dark.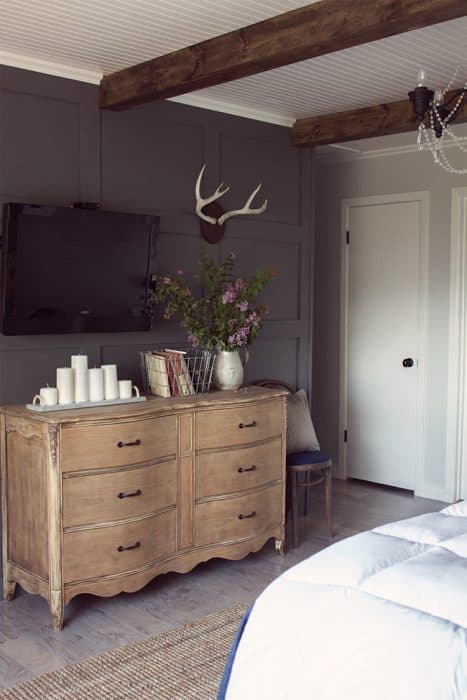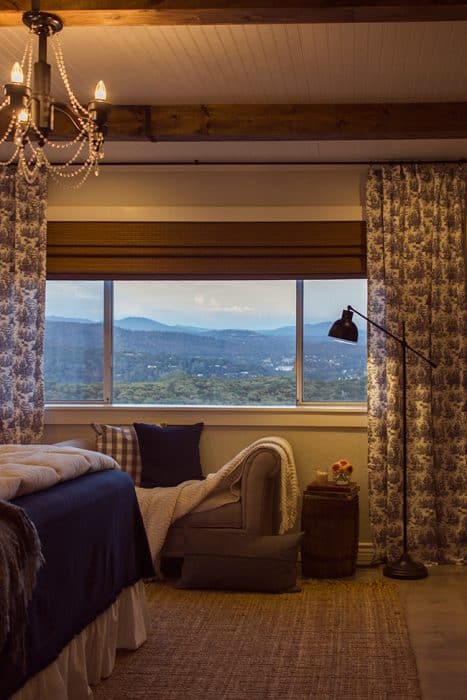 How amazing is this view? I'm jealous of anyone who gets to wake up to that every day!
Now on to the laundry room. Prepare to be amazed!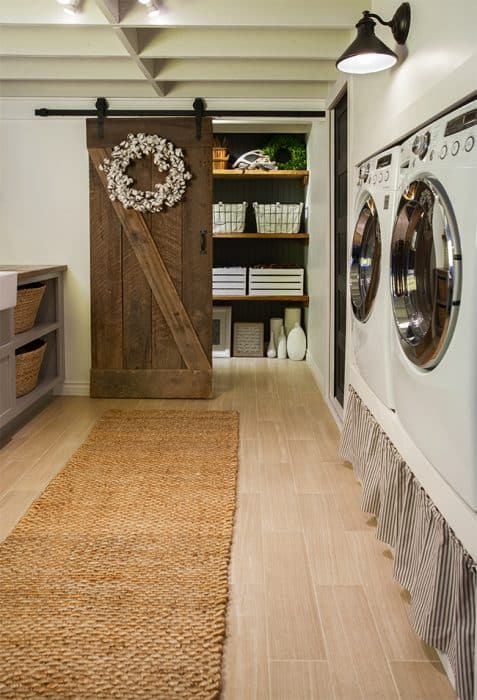 Pick up your jaw! I know, it really is THAT gorgeous! Is it weird that I want to live in here?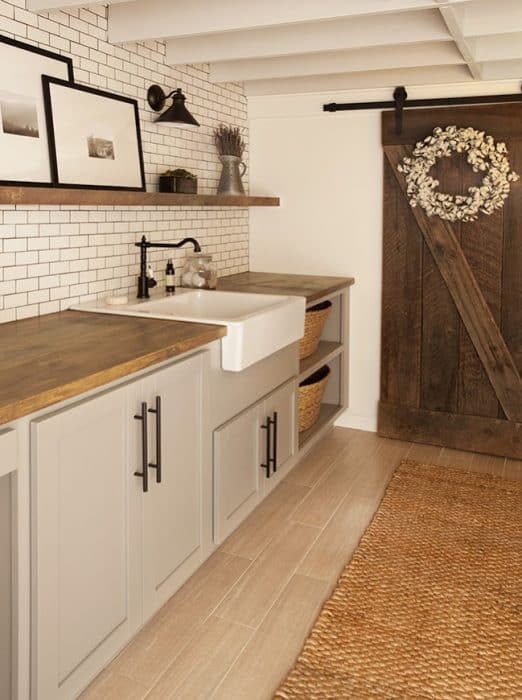 Not that I would expect any less but every last detail is perfect in this laundry room and it has even more of a rustic flair than the other rooms in the house. The DIY projects here include the barn door, installing the tile and backsplash as well as some beautiful floating shelves above the counters and in the storage room.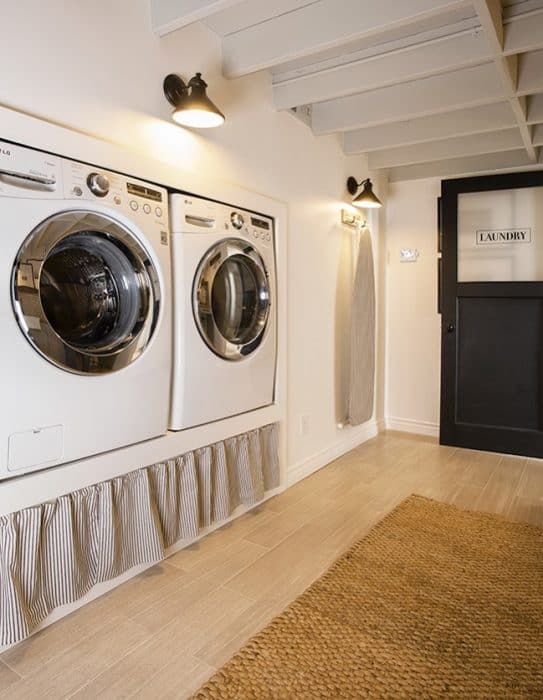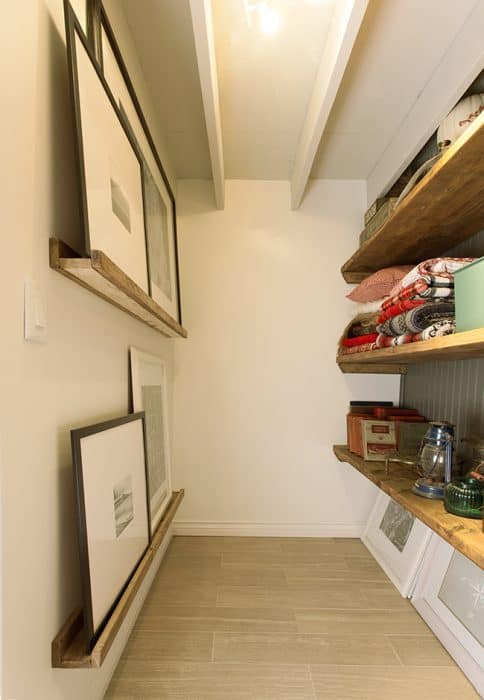 This room had a crazy makeover. A weird little storage room to begin with, it was taken back to the studs and the floors dug out to make more head room. The washing and dryer were recessed and the joists left exposed.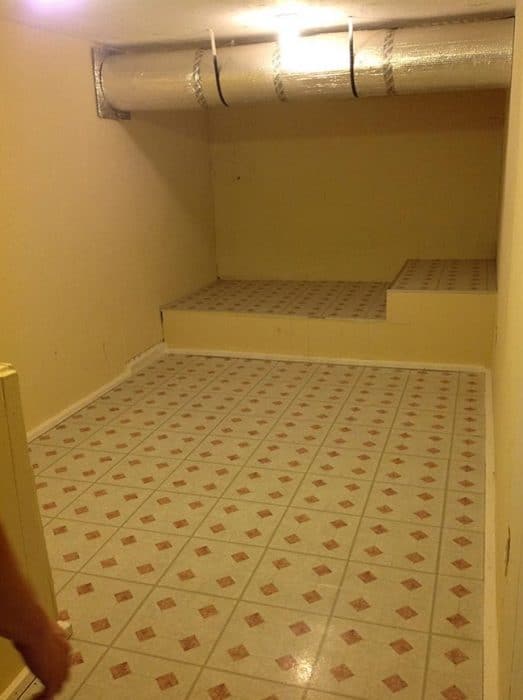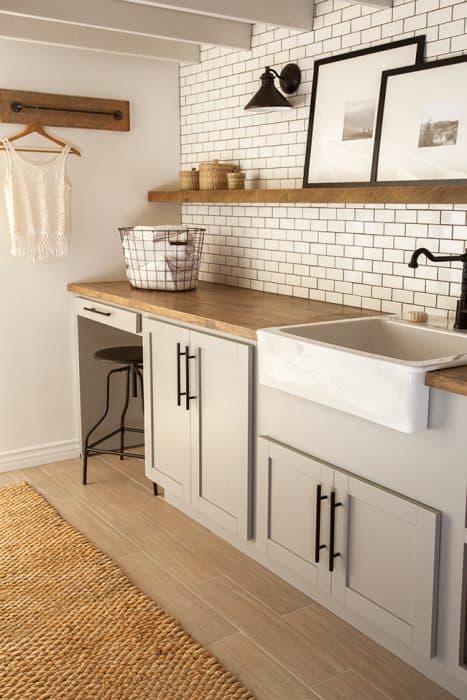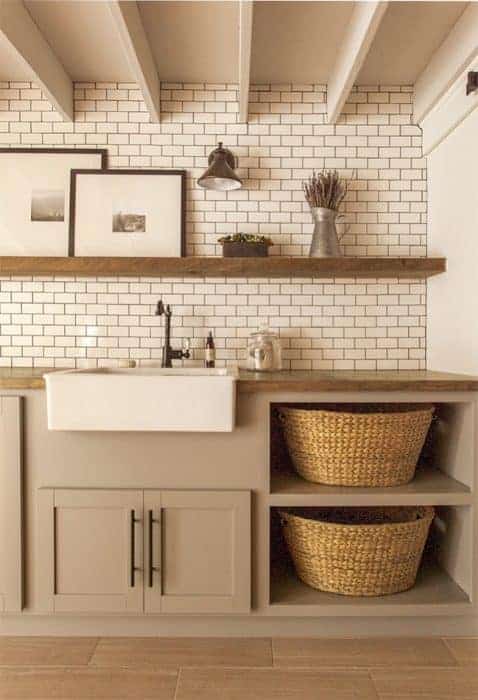 Finally, I want to leave you with some more of that breathtaking view of the foothills. Let's take a step out onto the deck…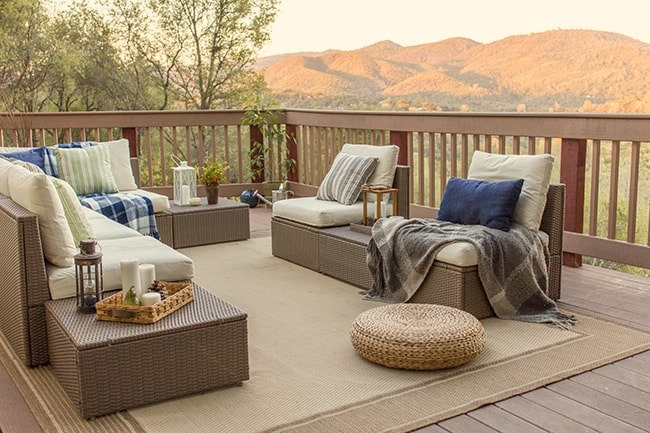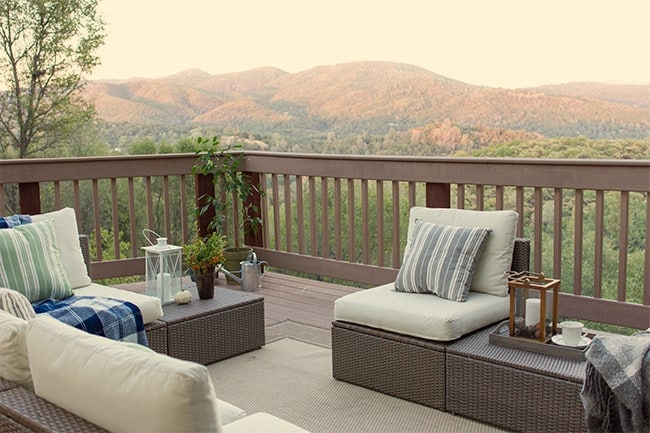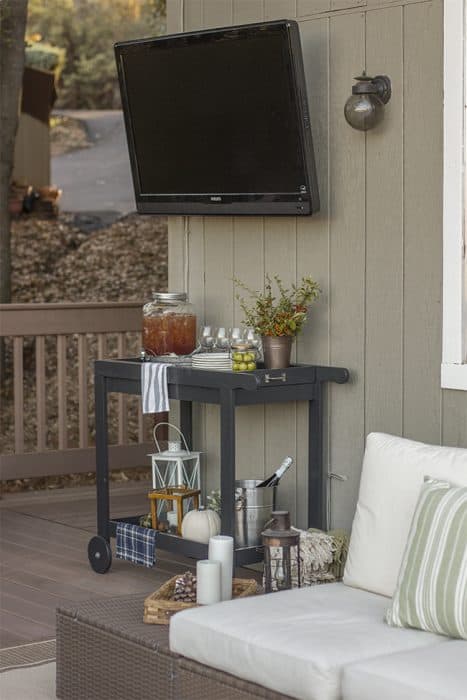 I hope you enjoyed this Home Tour! For more spaces in Jenna Sue's home including a studio and a home-theater room check out Jenna Sue Design Co. She has a full list of sources in the Home Tours section, too! I suggest you also follow her on Instagram for project sneak peaks…including her current bathroom remodel that is featuring some BEAUTIFUL cement tile!
If remodeling your entire home isn't in your future – how about adding some rustic farmhouse touches instead? I've got some great product recommendations for you below!