This post may contain affiliate links | For further details, please read our privacy policy
Learn how to hang outdoor string lights on a deck. It's a simple task with only a few materials needed.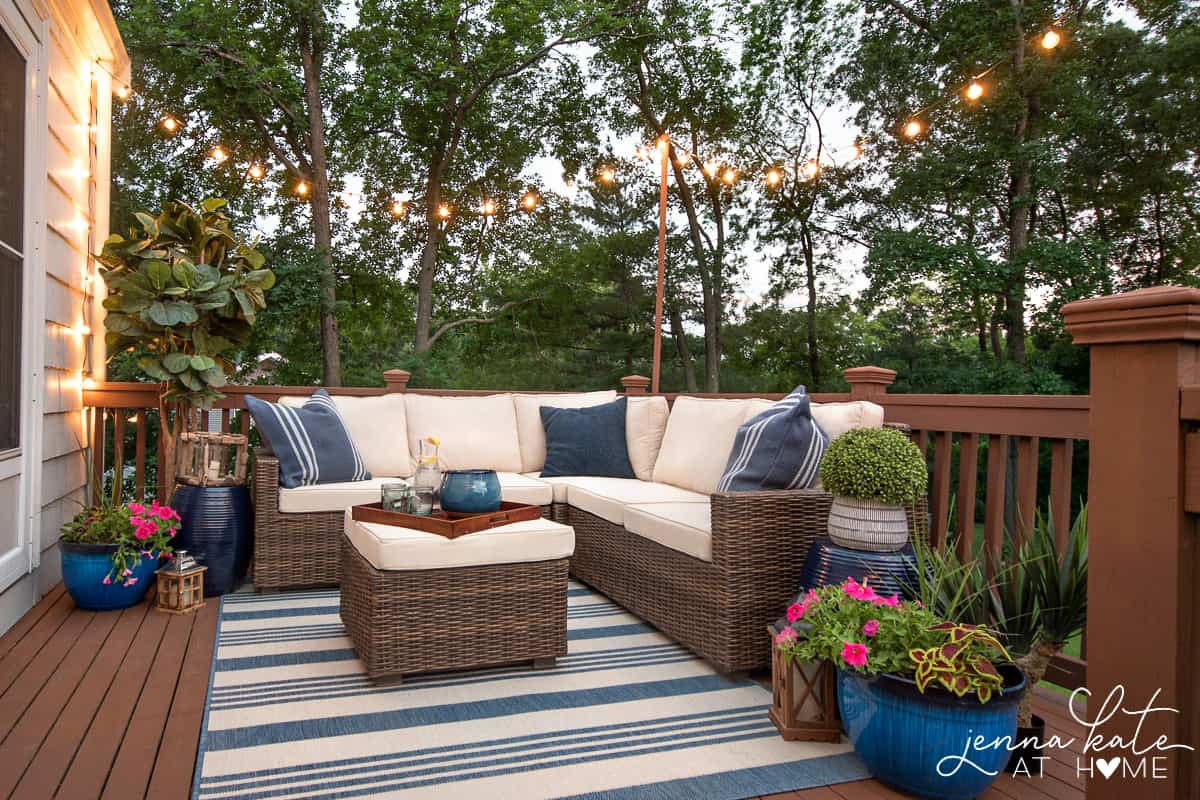 We've been using our deck space so much more this summer now that we can spend our evenings out here, even when the sun sets and it gets dark. Thanks to this pretty string lights overhead, we've created a really beautiful ambience and glow on our deck that keeps up out here until late every night.
Can you see the wooden stake on the top right hand side of our deck? That's a string light pole and it's all you need to hang deck string lights! If like us, you don't have a sort of overhead structure like a gazebo to hang lights from, then this easy DIY will be something you'll love.
In only 30 minutes, you'll have those pretty string lights draped over your deck or patio and you can start to enjoy them!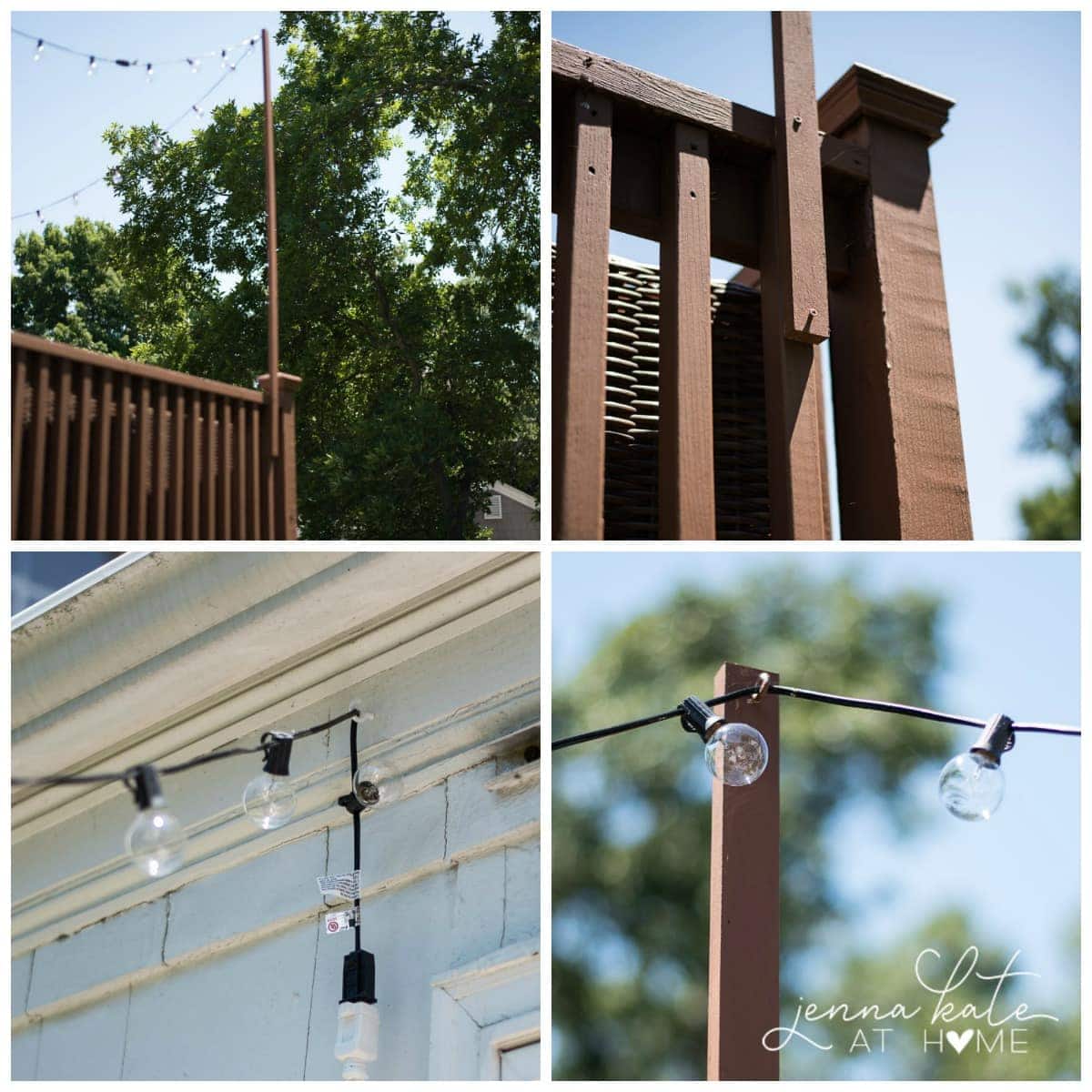 How To Build a String Light Pole on a Deck
Time needed: 1 hour
Simple tutorial to attach a string light pole to a raised deck
Determine how many poles you will need

We used two – one on each of the farthest corners of the deck. This way we could attach hooks to the house and to the poles and swag the lights back and forth.

Paint or stain the wood poles to match the deck

Allow to dry. (read about what we painted our deck with here)

Attach poles to the deck

Using wood screws, attach each pole to the back of the deck. We used two screws for each post to ensure they were stable. Make sure you check for level as you are screwing them in.

Add Hooks

Screw a hook on to the top of each pole as well as to the side of the house where the string lights will start and end.

Attach String Lights

Simply hang the beginning of the light set from the first hook and drape across to the next hook, then the next hook and so on. We had a few feet of lights left when we reached the last hook and just let it trail down the side of the house.

Note: Depending on where your nearest electric outlet is you may need to get a little creative with plugging in your lights.

Ours is way over next to our bulkhead, which is about 15 feet away from the deck. We plugged an extension cord in, tacked it under the siding and ran it all the way over the deck and up side to meet the lights.

You can see the white extension cord (in the photo grid above) where it meets the black string of lights.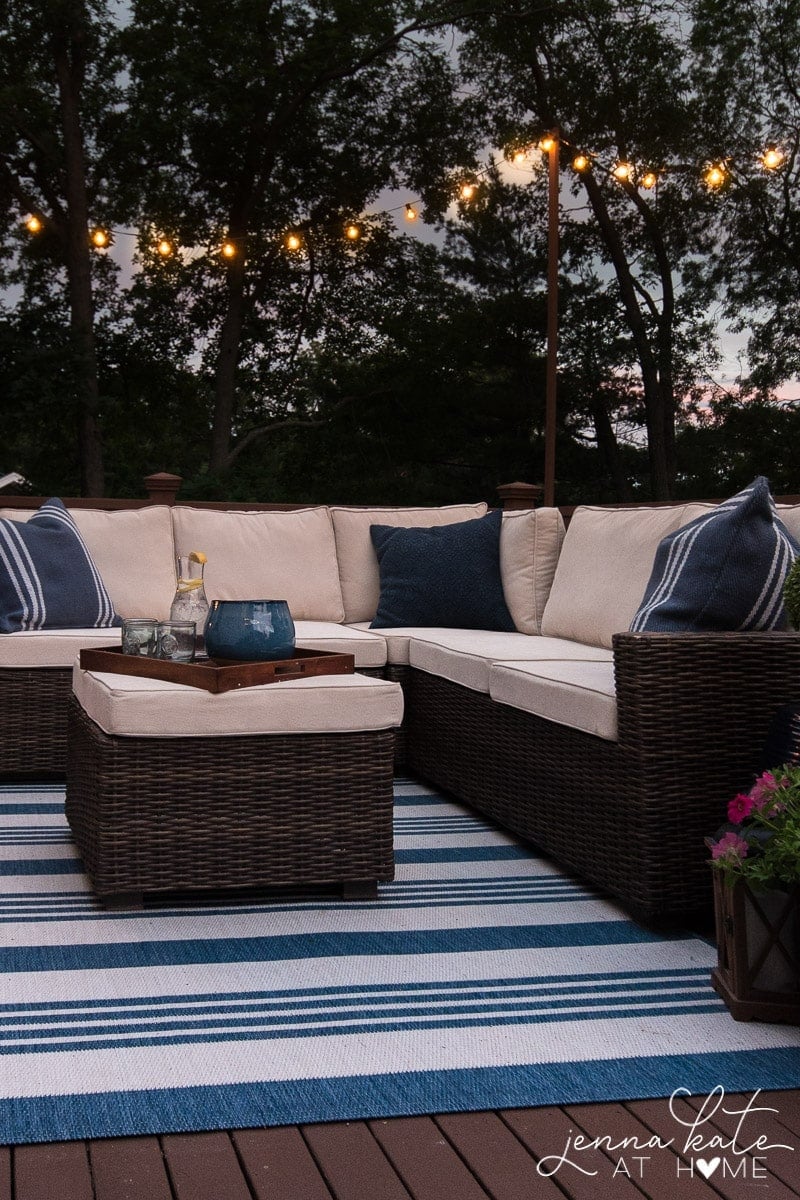 ---
RELATED: How To Clean Patio Cushions
---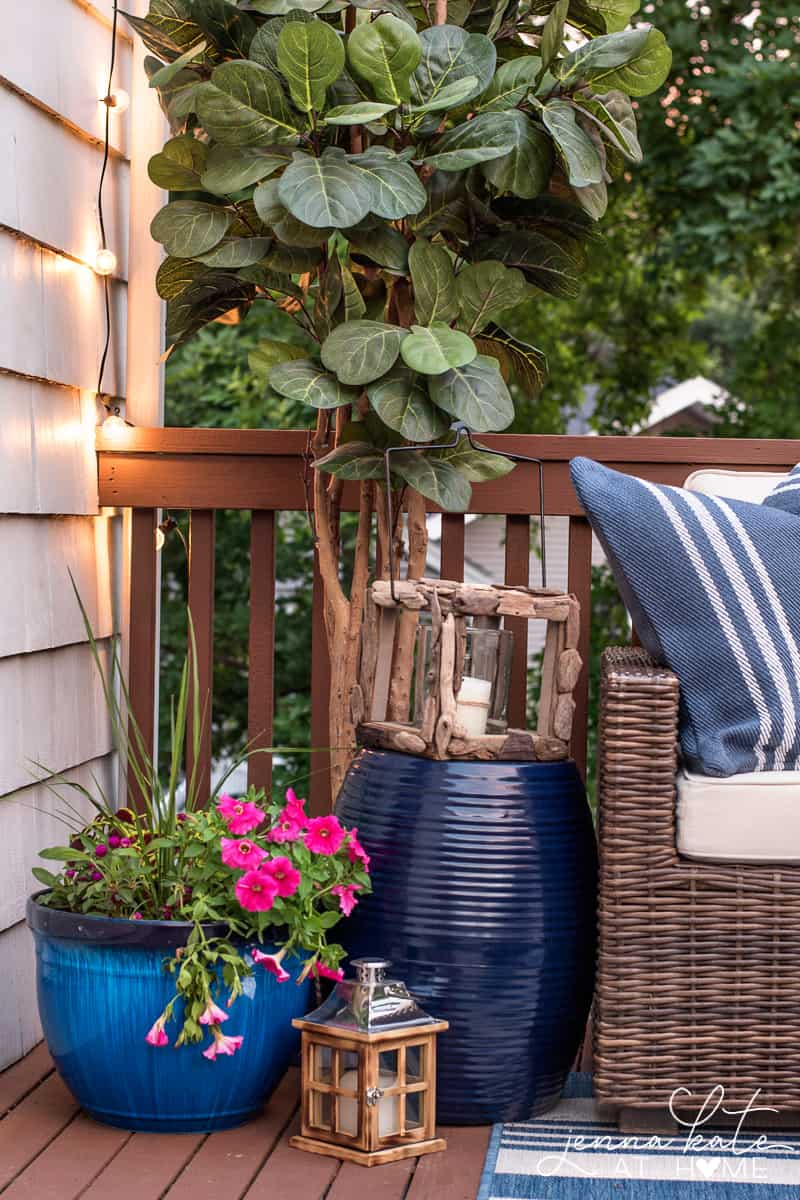 Our deck is not huge, so instead of swagging the lights back and forth, we chose to simple create a perimeter of lights around the deck.
If you wanted to get the swag effect, simply attach more hooks to the house and a center pole (or more) attached to the deck.
Here's a quick video from my phone so you can get a better idea of how pretty and glowy the string lights are when it's completely dark out (this was taken at 10pm!).
How To Hang String Lights if You Only Have a Patio
The same ideas will apply! Instead of attaching the wood poles to a deck, I would suggest putting them into a planter and perhaps filling it with a small amount of cement (maybe 1/4 of the way) to really weigh it down. Then fill the rest of the planter with some soil and succulents to make it pretty.
You can also use command hooks to simple drape them across the side of your house, like we did!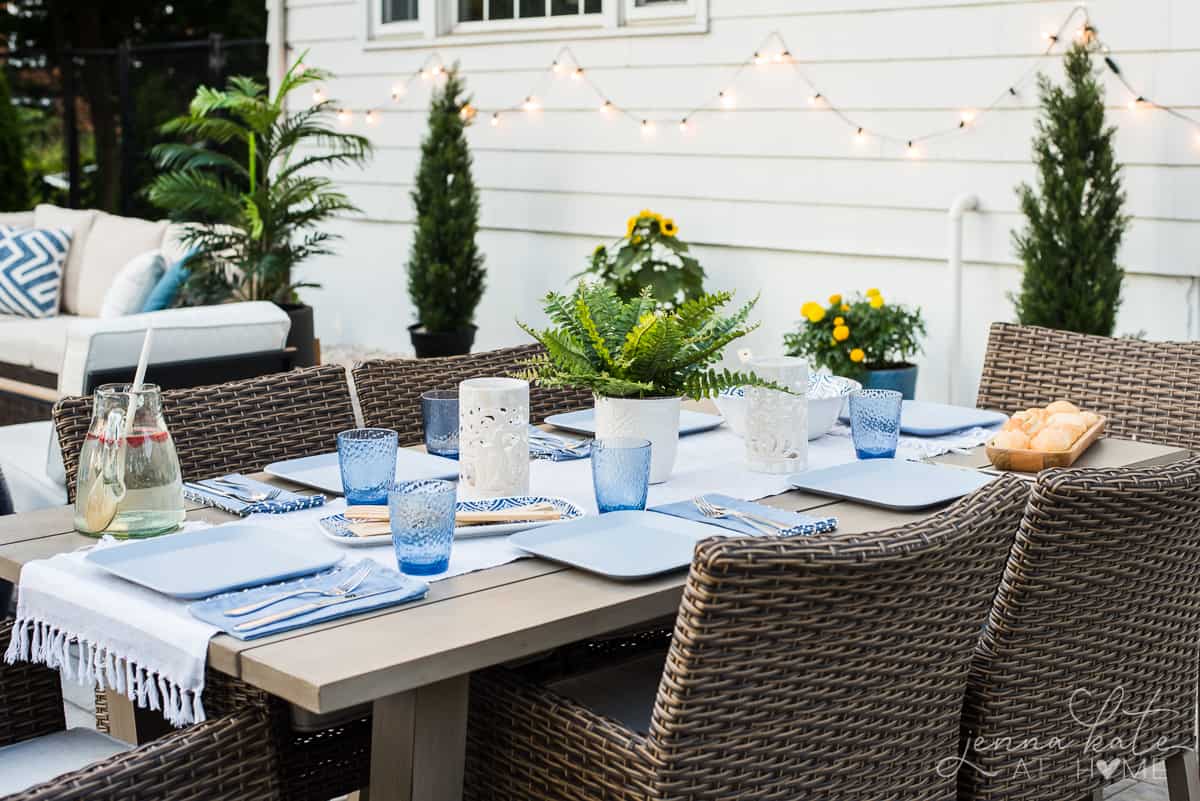 See how easy it is to hang string lights on a deck? We really love the effect these string lights have created on our deck and we've been spending so much more time outside enjoying our deck while the weather is still nice!
P.S. Don't forget to check out the full summer deck reveal!