This post may contain affiliate links | For further details, please read our privacy policy
Make your own chalk paint from regular latex paint! Plus, check out these furniture makeovers using chalk paint. I'll walk you through my step-by-step process of transforming these beauties with homemade chalk paint!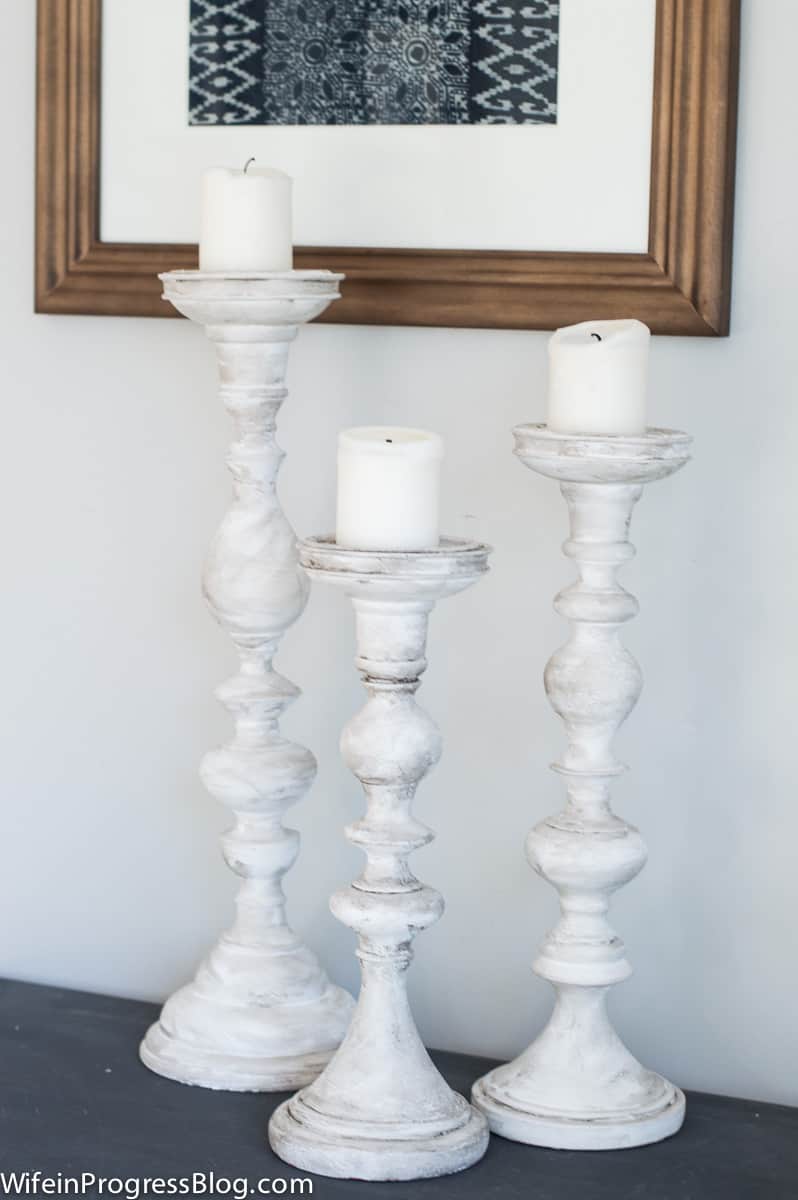 Once in a while, you're in the thrift store and you come across a piece of furniture or decor accessory that speaks to you. It's begging you to take it home and make it into a great project that everyone will love.
So, when I stared at these flamboyant, statuesque candlesticks, there was no way I was ignoring them. They were heavy and had good bones but I didn't like the shiny coral color.
And I knew the exact transformation I wanted for them – a softer, more matte finish that only chalk paint can achieve. Chalk paint is a unique type of finish that's easy to apply and oozes charm and rustic farmhouse appeal.
Today I'm showing you how to make your own DIY chalk paint. Plus, how I used it to modernize these candlesticks and night stand.
What is Chalk Paint?
I was going with a French countryside, beachy-look for these pieces, and chalk paint is the perfect way to accomplish this.
Now, I'm not talking about black chalkboard paint (that's a whole different look). I mean the milky, whitewashed chalk paint that dries to a matte finish.
Chalk paint was invented in the 1990s by a woman named Annie Sloan. An original DIY-er, Annie couldn't find quick-drying matte-finish paint that would give her that distressed Provincial look she wanted. So, she rolled up her sleeves and got to work mixing up her version of "chalk paint." Eventually, she branded it and sold a line of high-end paint in stores. The finish of this paint has a soft, chalky appearance and is often available in whites and pastel tones.
Easy DIY Chalk Paint Recipe
I decided to make my own DIY chalk paint to update my furniture pieces. Did you know that some of the best chalk paints are homemade? There are several methods and "add-ins" you can try, but one of the best ways is to find a high-quality chalk paint product.
I'm convinced, this is the best homemade chalk paint recipe! It's the easiest way to transform your ordinary paint into a version that is totally drool worthy.
The secret ingredient to this easy recipe? This BB Frosch Chalk Paint Powder, which is basically a fine powder that you mix with whatever latex or acrylic paint you want to transfigure into chalk paint. You can find it at most home improvement stores, your local craft store, or of course, Amazon.
You're welcome to explore different brands as I've heard of several well performing others, but I have the most experience with the BB Frosch paint transformer powder aforementioned and have used it several times with no complaints.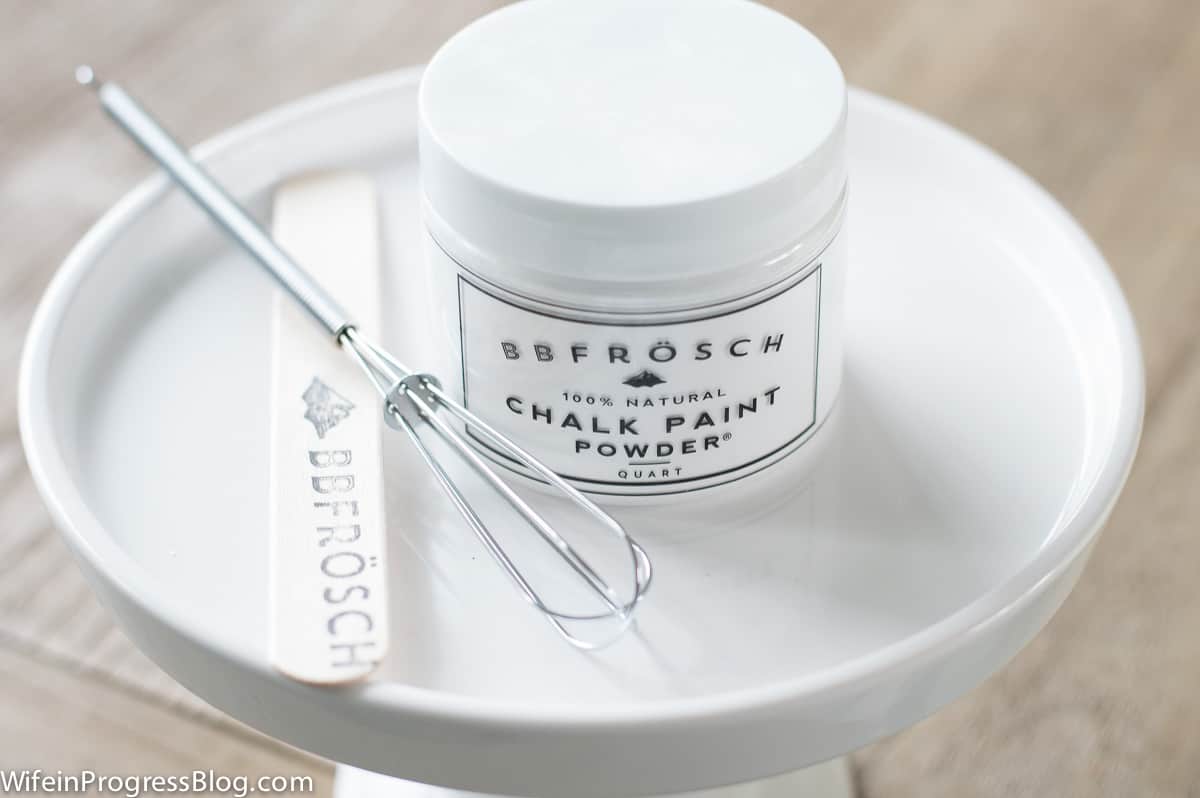 Whipping up the DIY chalk paint is so easy! I planned to paint both the nightstand and the candleholders white, so I grabbed some white latex paint that I already had on hand. Next, you just mix ingredients according to the directions of the chalk paint powder. It's truly the easiest recipe!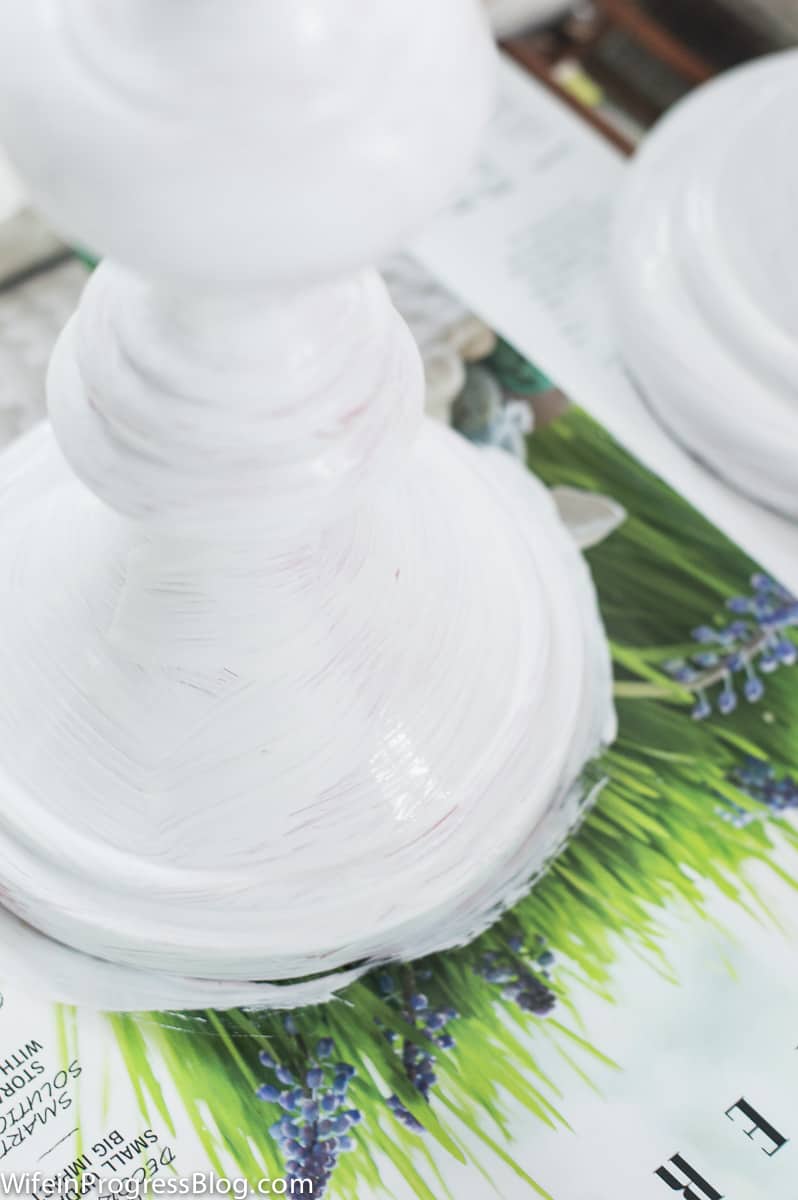 The best part is that you can just make the amount you need for one project. I ended up making two cups of paint for this small project, which was plenty for these items. I poured my chalk paint mix into plastic disposable cups to avoid having lots of extra paint leftover.
Furniture Makeover Tutorial
Once I mixed up the DIY chalk paint, the actual painting process was straightforward. The best part about chalk-style paints? There's no need to sand, prime, or worry about a base coat! The "chalk paint effect" comes from a slightly uneven application.
1. Apply Two Coats of Chalk Paint to Furniture Pieces
First, I started with the candleholders. Here's what my candlesticks looked like originally. Pretty bold and off brand for me. Luckily, I was able to completely revamp them into something that looks stunning in my home.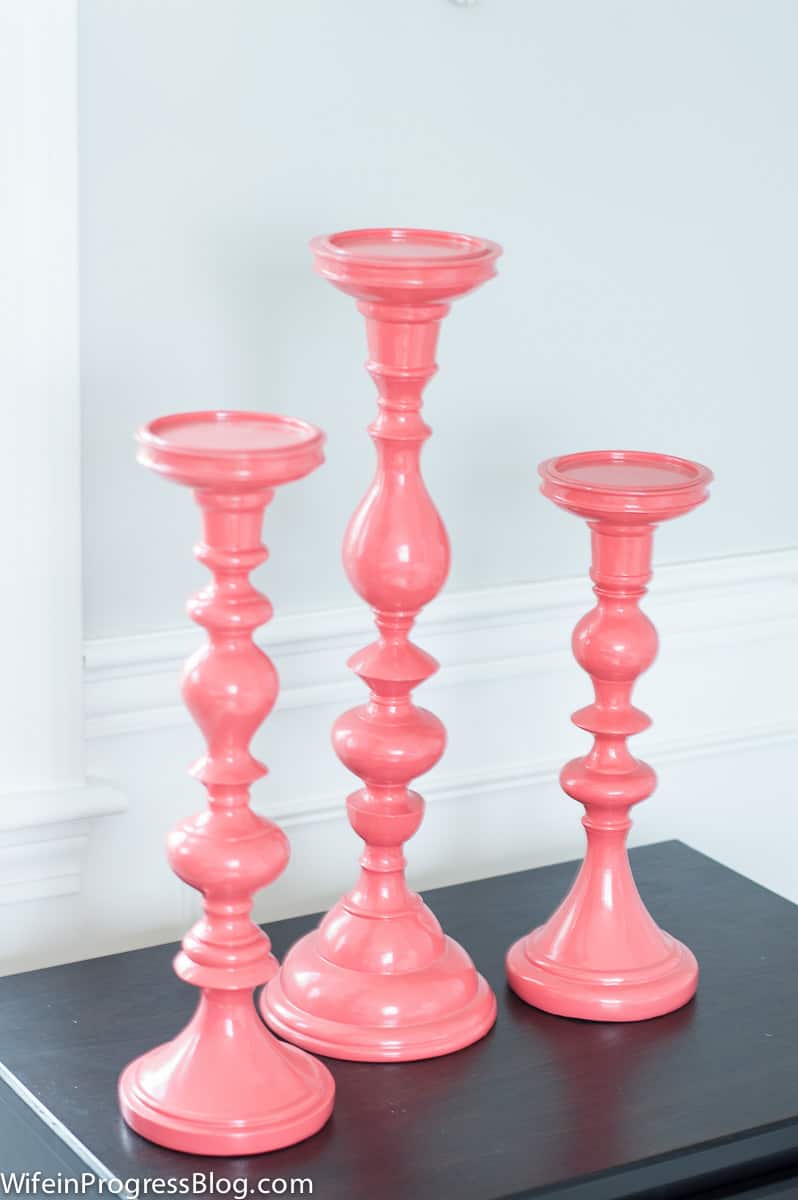 These candleholders already have such a great shape. They look like beautifully turned wood…except that they're not! I believe they're some type of resin. But I was going for the look of artisan, handmade candleholders, so I knew that coral color had to go.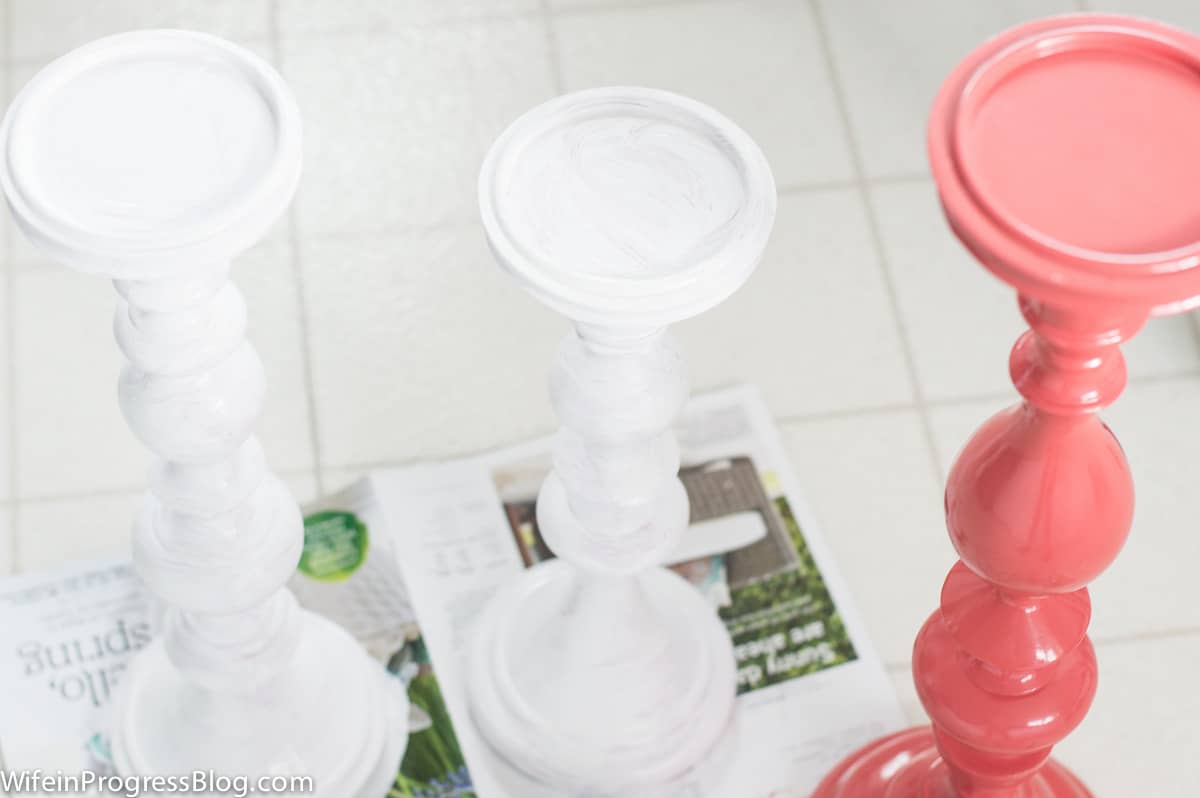 As soon as I put on the first coat of chalk paint, the matte look was so much better than the shiny finish they previously had.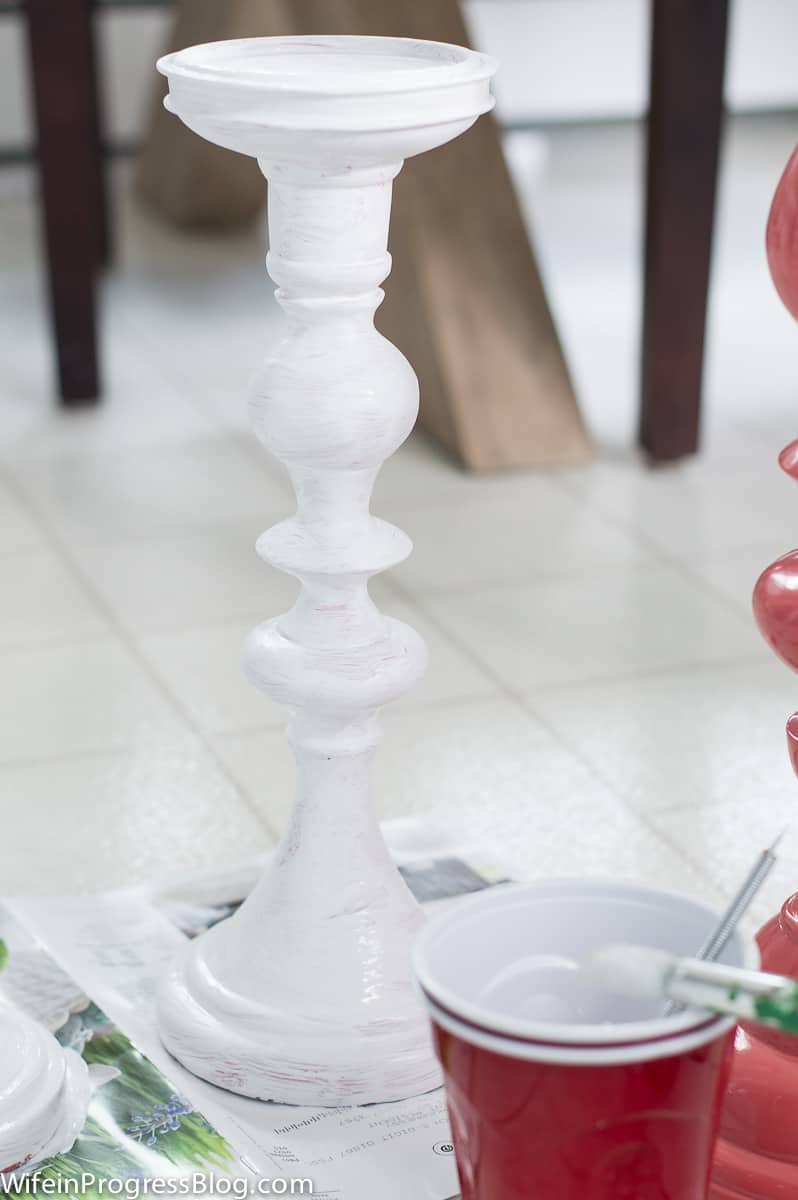 While the candleholders dried, I moved on to the nightstand. Each surface needed a second coat of chalk paint, but again, I didn't worry about putting the top coat on thick or getting an extremely smooth surface. The brush lines add character and give the pieces a casual, country feel.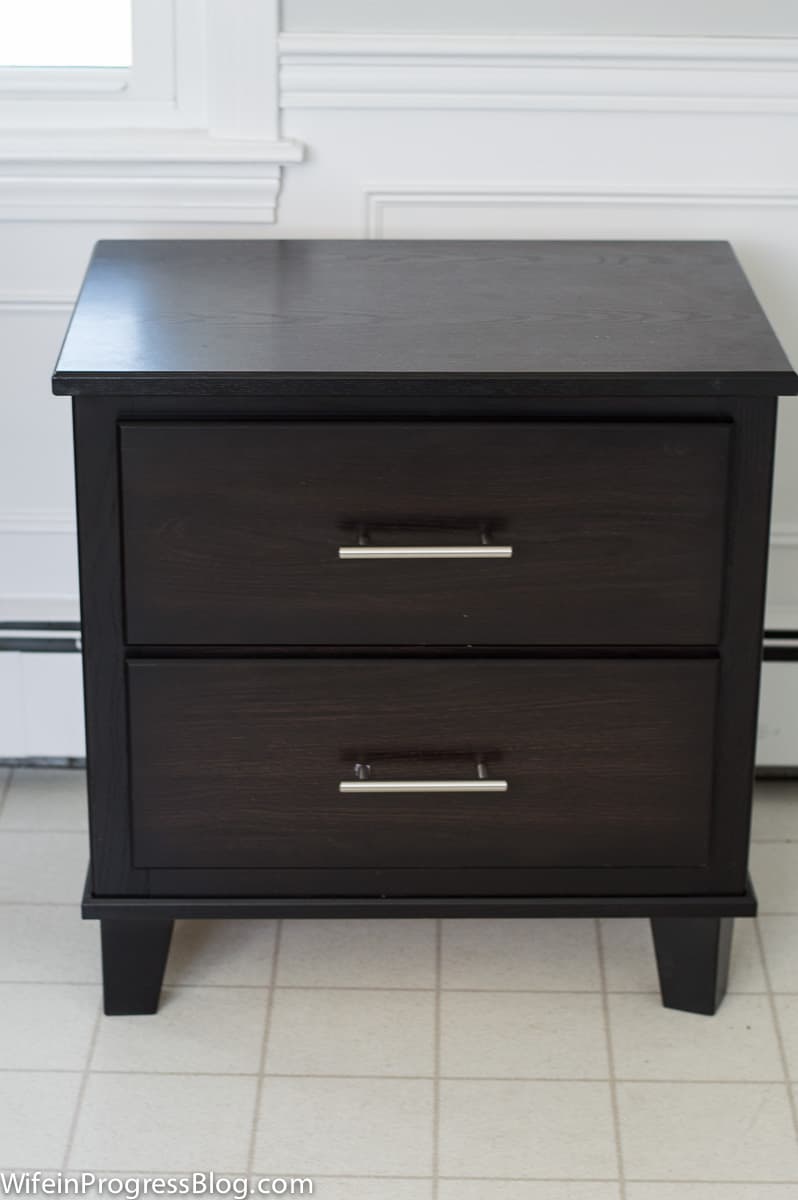 I didn't particularly care for the bland look of the veneer in it's original form. It's a solid piece of furniture with a nice shape to it, so I knew I could add more personality with a little of my own DIY chalk paint recipe.
Chalk paint works well over dark colored pieces (as you'll see below). This nightstand couldn't have been better for this particular furniture makeover project.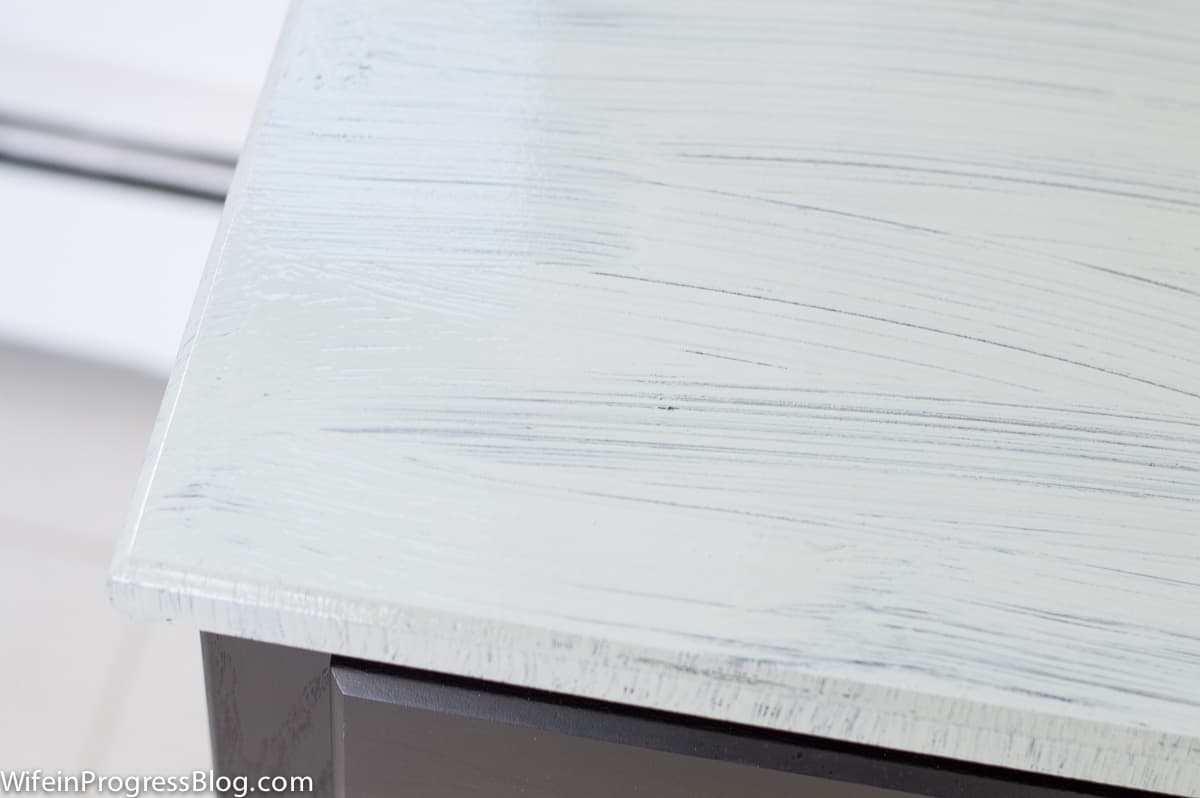 I painted the top of the nightstand first and then worked my way down the sides and legs. I used a small brush, so I could be sure to get into all the nooks and crannies. It was a simple framework, but I wanted to be sure that I had good paint coverage.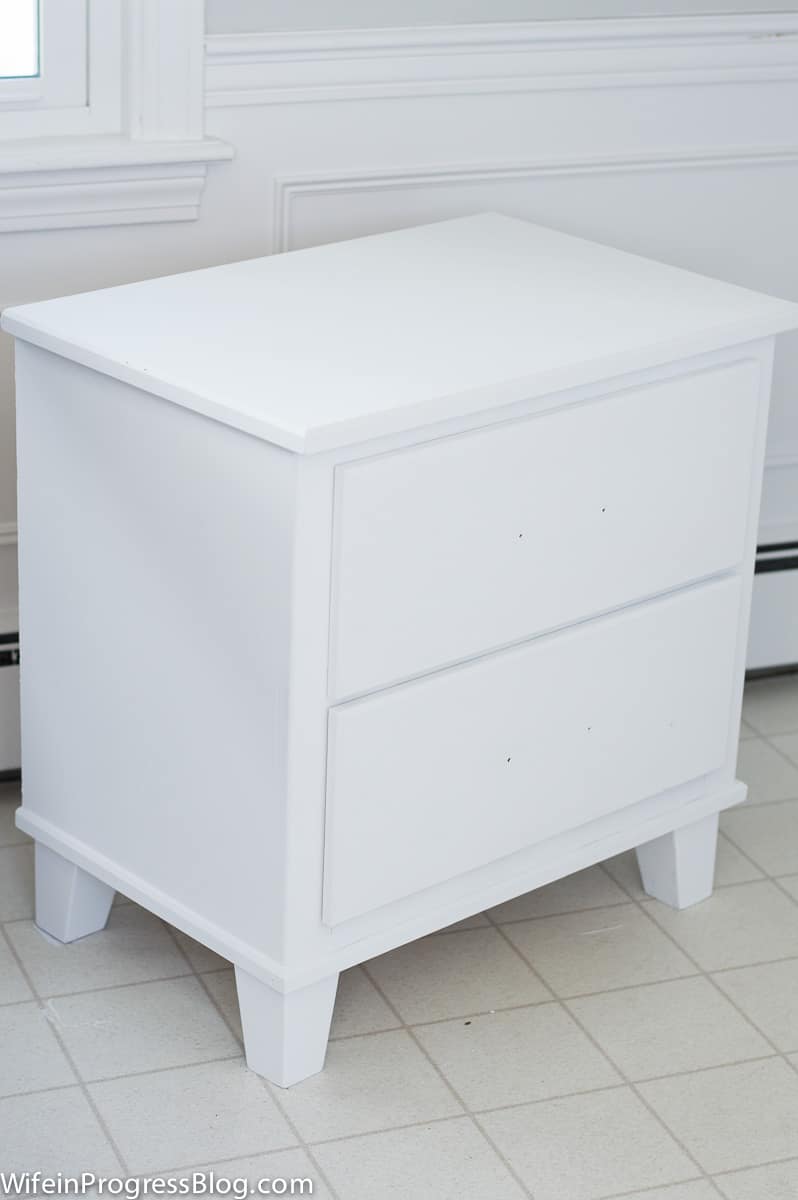 Once the nightstand was painted white with the chalk paint, it was a HUGE difference. I mean, look at this thing – it's a beauty! The matte look was a much needed upgrade. It just got lost under all that black, don't you think?
2. Apply an Antique Finish
Now that my pieces were covered and the paint was dry, I wanted to add some finishing touches to give them a distressed but professional, high-end look.
For the candleholders, I wanted a farmhouse look to compliment the chalky finish—almost giving them a whitewashed feel. So, I applied a tiny bit of my favorite dark antiquing wax and buffed it all over each of the candle holders.
And just like that, they were transformed!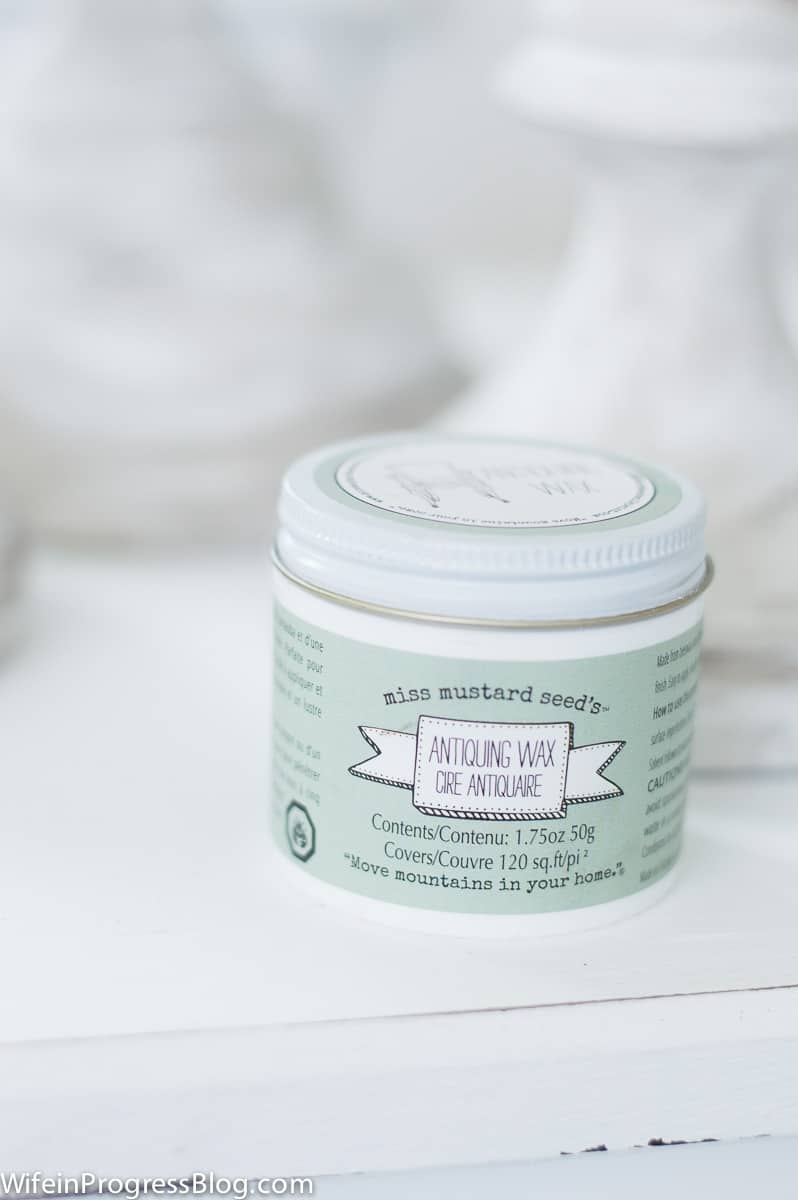 Don't they look like wood now? The antiquing wax gives them that perfectly weathered look and highlights the curves and beautiful shapes of each of these candle holders.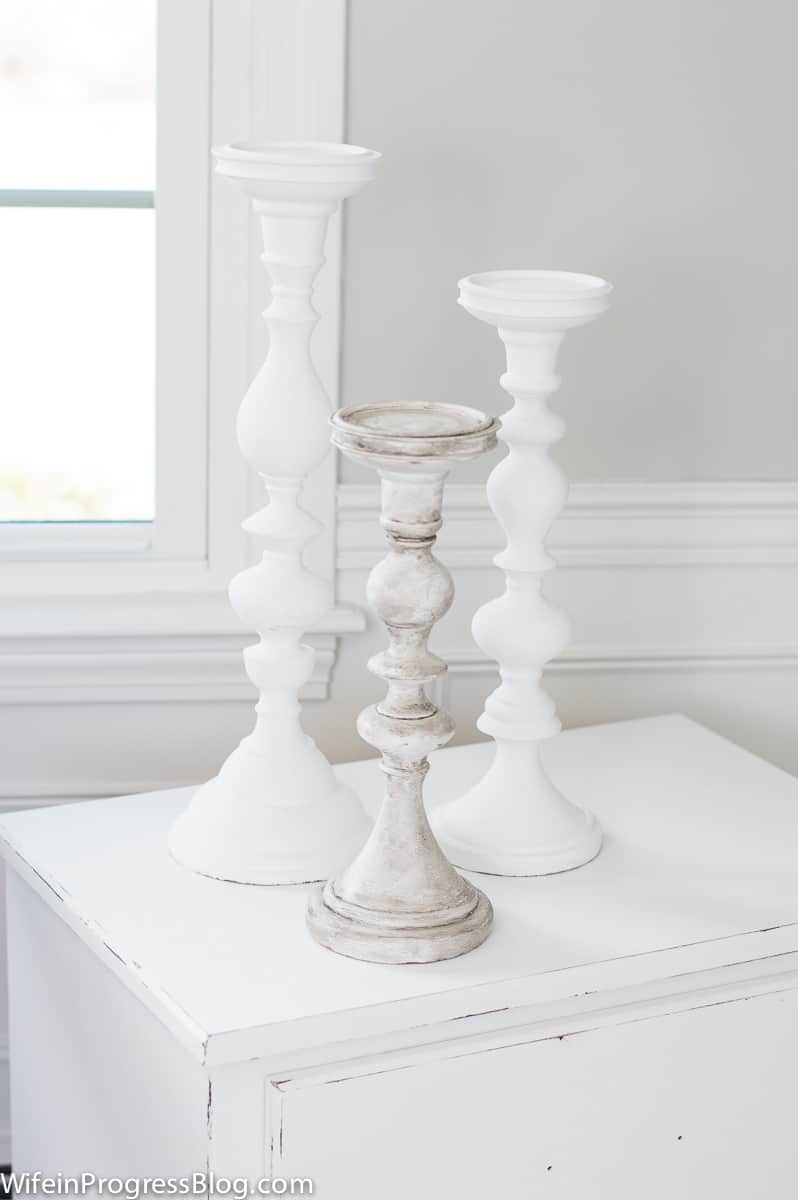 You can see the contrast of the antiqued holder, versus the two I had yet to finish.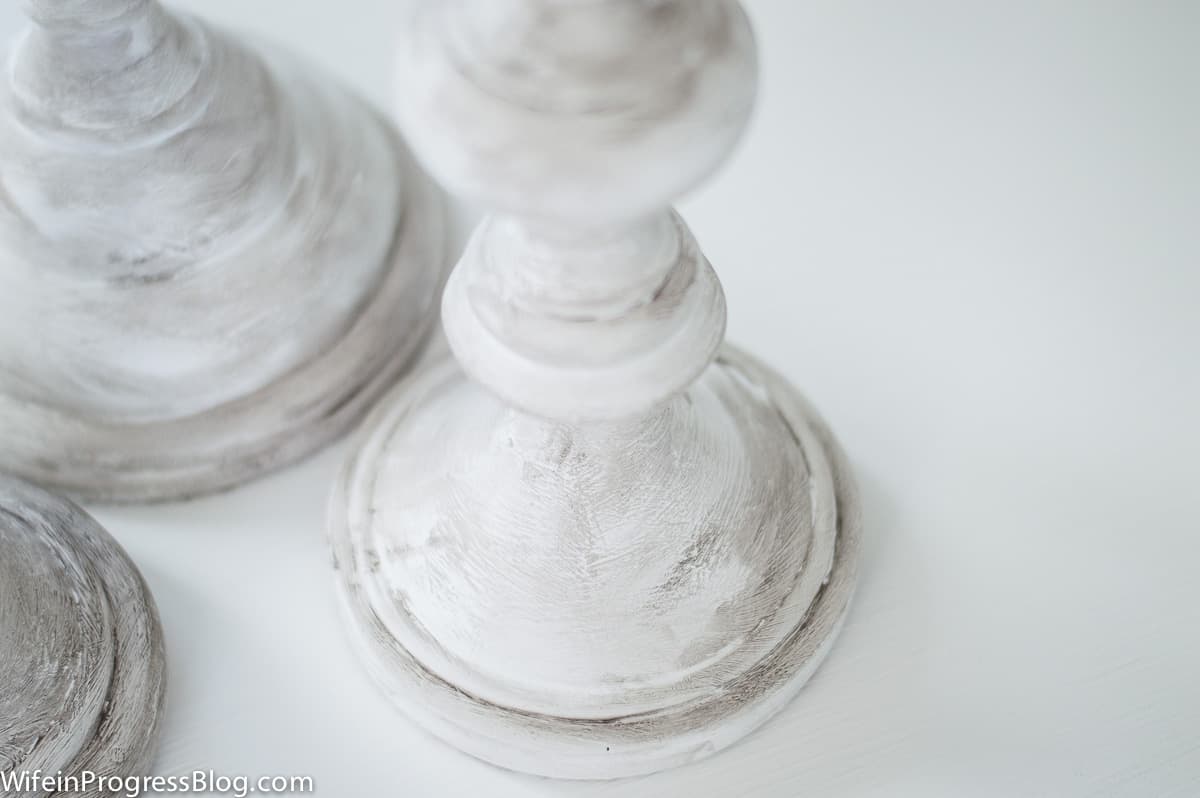 Neither the paint nor the wax requires a lot of drying time. For best results, let dry for about a day, and you'll be able to use these pieces without any fear (probably a lot sooner, just be careful!). I was happy with how my candlesticks looked after this, so was ready to display them.
3. Add a Distressed Look
For the newly painted nightstand, I gave it a date with some sandpaper to add a little character and a better result. I wanted a distressed look so that the piece would fit in with the rest of my guest room décor.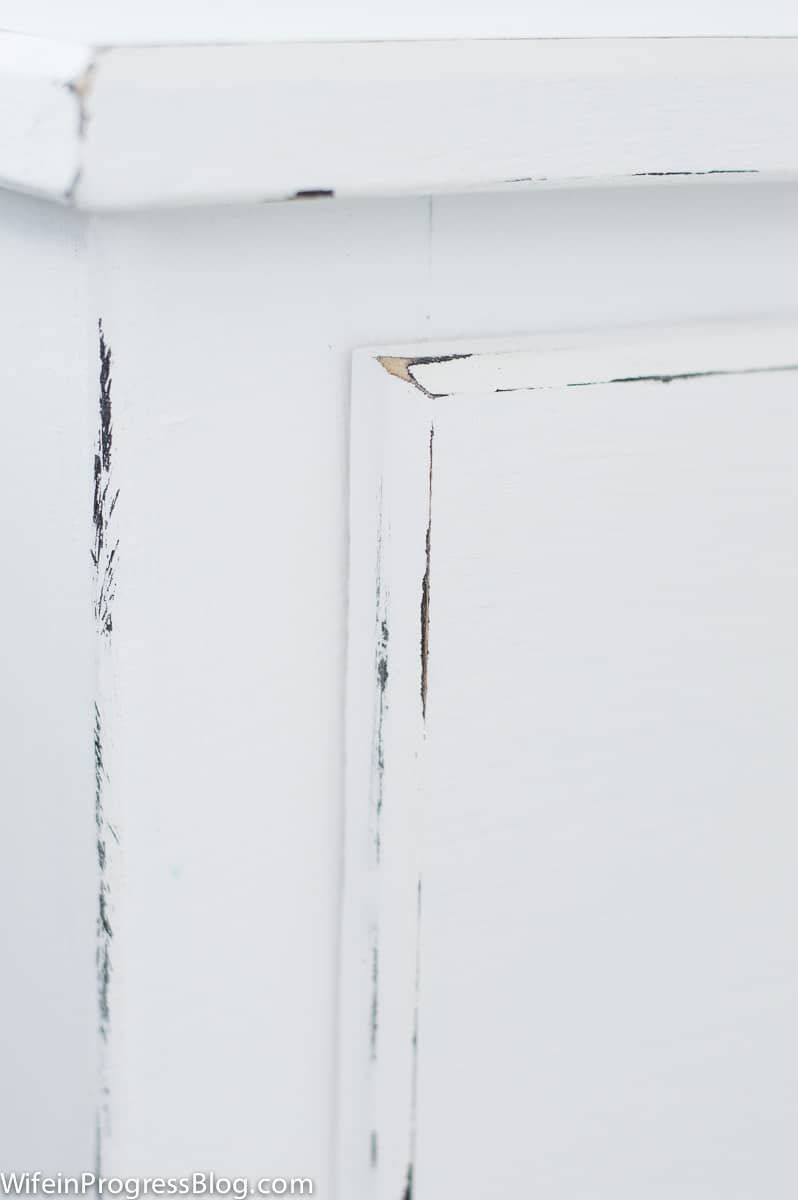 This method of furniture distressing is really easy. I used 120 grit sandpaper and literally just sanded away a small area of some of the painted finish around the corners and edges to expose the wood (or veneer) underneath. Go in a variety of directions and different ways. That dark veneer really worked with this easy DIY project!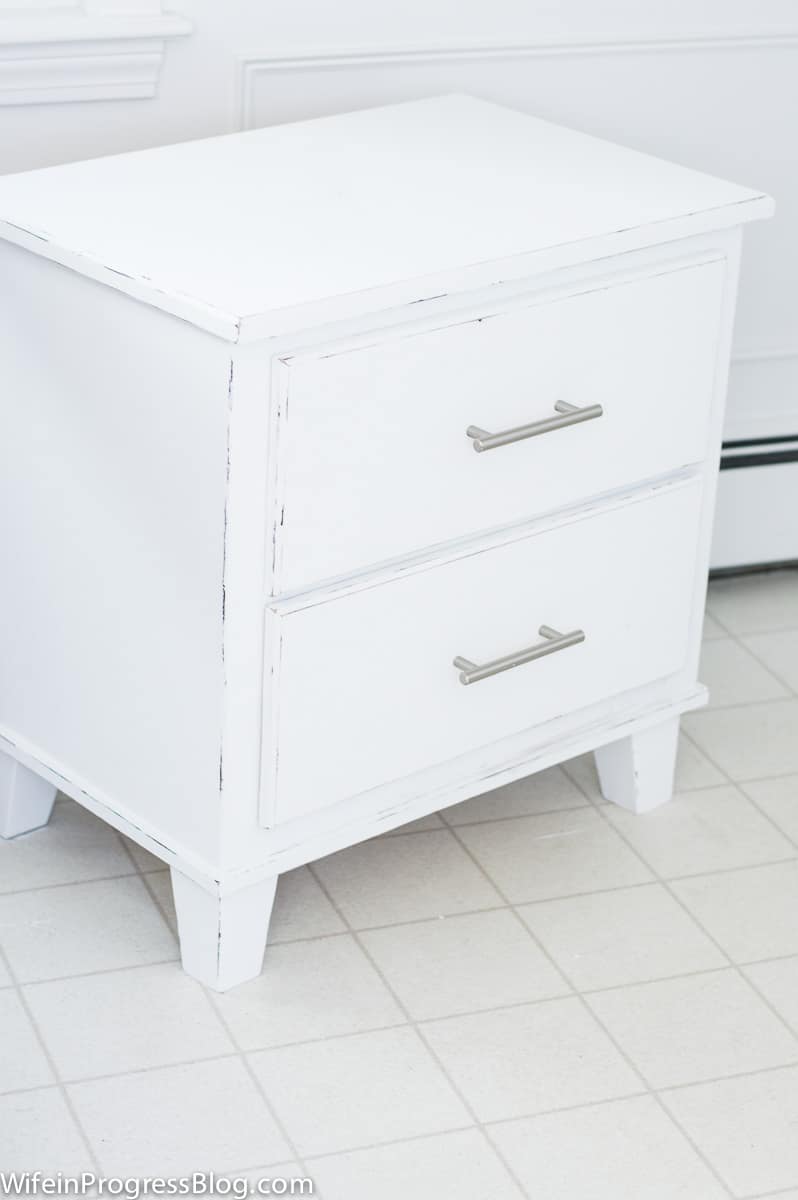 With some DIY chalk paint and sandpaper, I was able to transform a boring piece of furniture into a star! These should last me a long time and only cost a little bit. What a win!
And let's not forget the gorgeous chalk painted candleholders! These are my new fave décor pieces! They look so chic.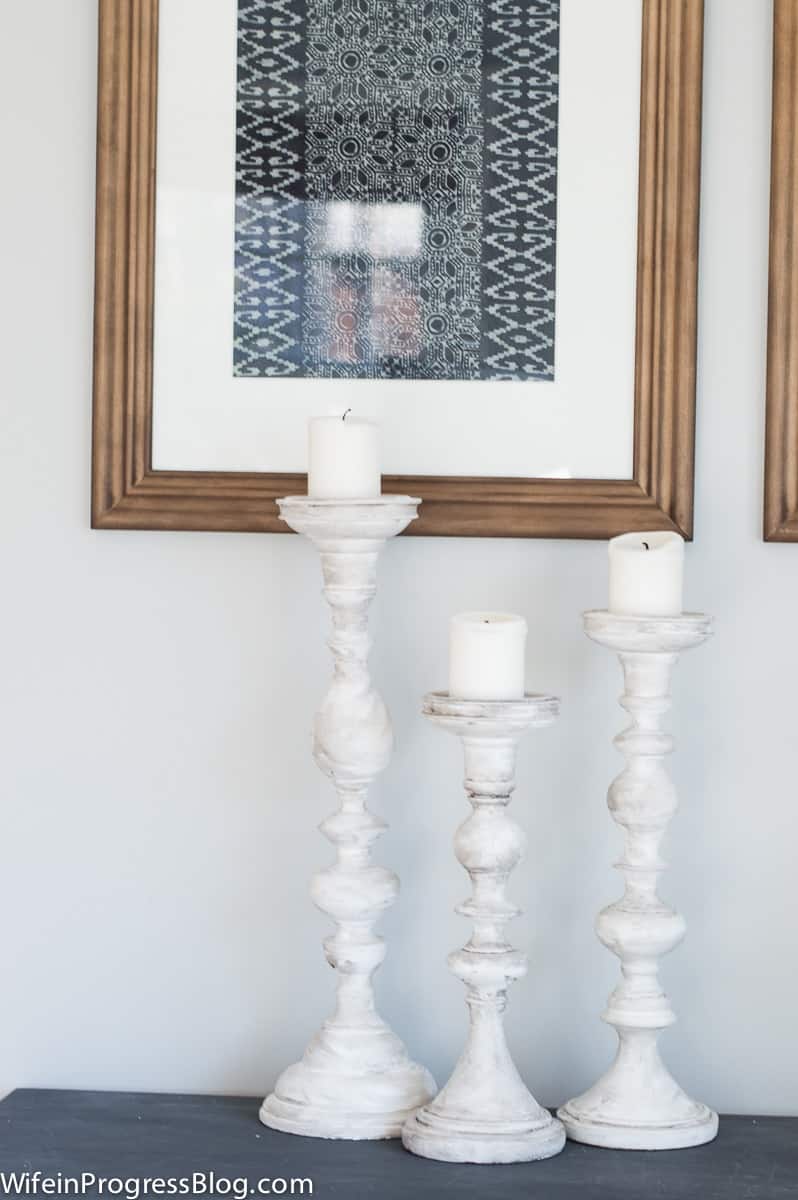 As you can see, chalk paint is a great way to transform inexpensive furniture and update decorative items easily.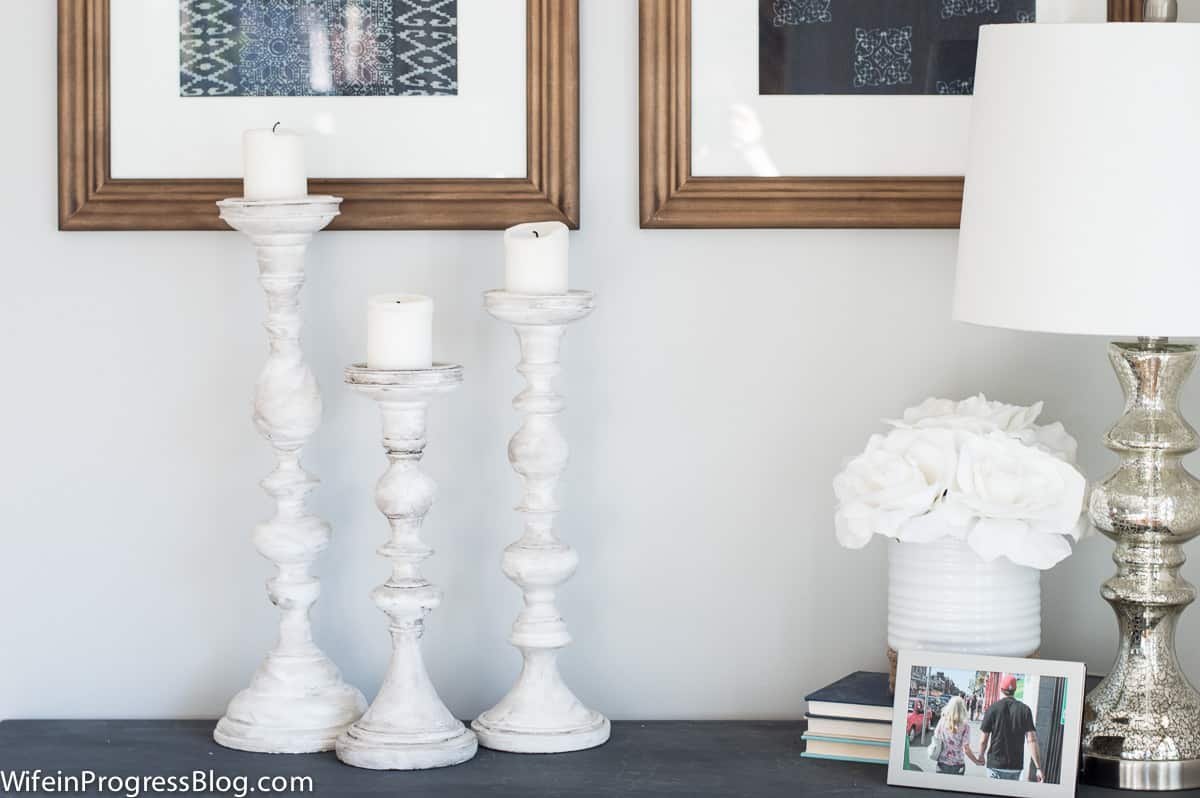 You could use the paint on picture frames, pots, planters, shelves, and any other room decorations that need a facelift. It goes on smoothly and looks fantastic. Let me know in the comments if you try this easy to whip up paint and adorable furniture makeover tutorial!