This traditional Irish shepherd's pie recipe is a perfect midweek dinner or St.Patrick's Day dish. It's healthy, hearty and the perfect meal for kids and adults alike on a cold winter's day!
One recipe that I make on the weekly during the colder months is my mom's Shepherd's Pie recipe. It's hearty, healthy and usually makes for two nights of dinners!
Shepherd's Pie is traditionally made using ground lamb but most folks in Ireland use ground beef (which technically makes the dish "Cottage Pie" not Shepherds Pie).
One dish I almost always use lamb in is my Irish Stew. But I can say that I've honestly never used ground lamb for my shepherds pie.
You can of course use ground lamb, but it's not as easy to come by and tends to be a bit greasier. If you do use it, be sure to drain it before continuing with the rest of the recipe.
Unfortunately, I'm doing the whole dairy free elimination diet right now thanks to my baby boy's milk protein allergy, so this version of my Shepherd's Pie recipe doesn't have the thick layer of grated cheddar cheese that I usually like to bake on top.
The cheese is of course optional. But really it's not. Trust me, you need it.
More Traditional Irish Recipes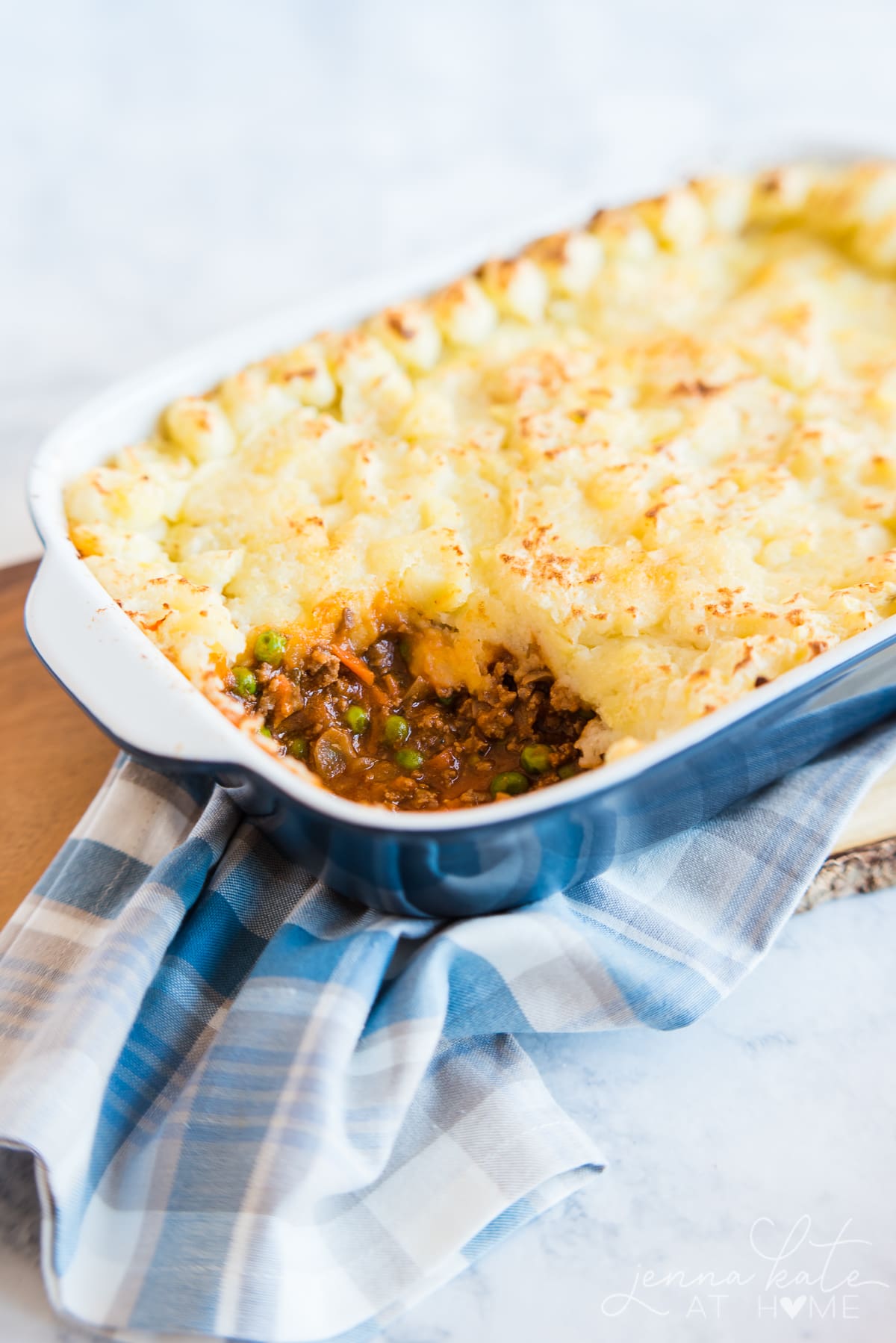 This is not the quickest of recipes in terms of overall time but it is a very simple recipe. I like to make the mashed potatoes a few hours ahead of time and then make the meat and sauce right before baking. Plus, cooled potatoes don't sink into the mixture like hot ones sometimes do, so that's another bonus!
With the creamy (cheesy) mashed potatoes on top and deliciously savory yet sweet filling, this is really one of my favorite midweek dinners AND comfort foods. My kids love it and the fact that we can get two night's worth of dinners out of it is a bonus.
Feel free to mix up the vegetables you use , too. I grew up with just carrots and peas in mine, but I've also seen versions with corn and even mushrooms in it. I usually grate in a fresh carrot and just chuck in some frozen peas but a bag of mixed carrots and peas is a great time saver.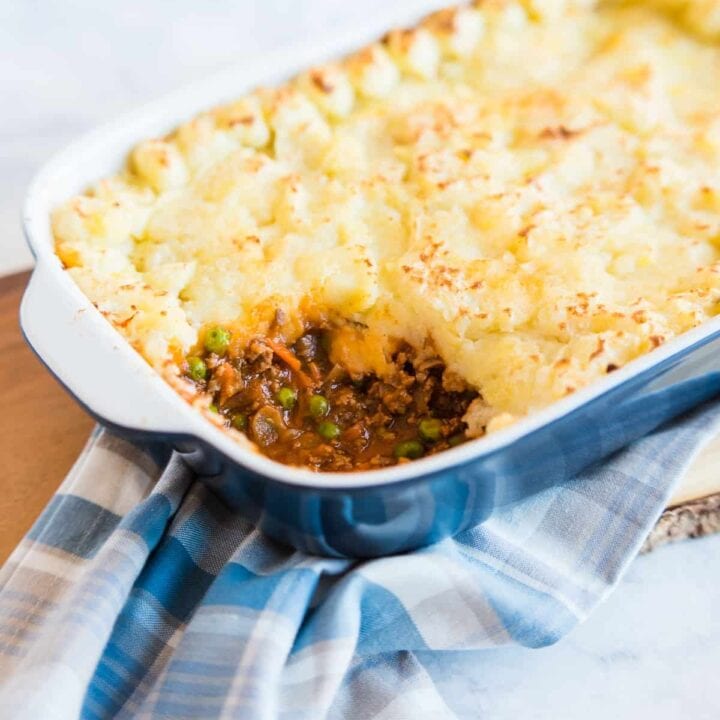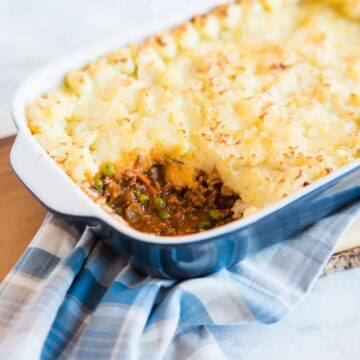 Shepherd's Pie
An authentic Irish shepherd's pie recipe perfect for a hearty winter's meal or a special St.Patrick's Day dinner
Ingredients
Mashed Potatoes
4

large potatoes,

washed, peeled and quartered

2

tablespoons

milk

3

cups

shredded cheddar cheese

to sprinkle on top
Meat Filling
2

teaspoons

olive oil

1

large

yellow onion, chopped

1

lb

ground beef

(or lamb)

2

teaspoon

dried parsley

1

teaspoon

dried thyme

1

teaspoon

dried rosemary

½

teaspoon

salt

½

teaspoon

black pepper

1

tablespoon

Worcestershire sauce

2

garlic cloves, minced

2

tablespoon

all purpose flour

2

tablespoon

tomato paste

1

cup

beef stock

1

cup

frozen peas

1

medium

carrot, grated
Instructions
Place the potatoes in a pot of water. Fill the pot with enough water to just cover the potatoes.

Place on the stove on a high heat and bring to a boil. Once boiled, reduce to a simmer and allow to cook until soft.

Remove from heat. Drain water and allow to cool.

When ready to top the Shepherd's Pie, add the milk to the potatoes and mash until no lumps remain.
For The Meat Filling
Heat oil in a pan over medium heat. Once hot, add the onion. Cook until soft, about 3 minutes.

Add the ground beef. Break into crumbly pieces using a wooden spoon or spatula. Cook until no pink remains.

Add the dried parsley, rosemary and thyme as well as the salt and pepper.

Then add the Worcestershire sauce and garlic. Stir to combine.

Add the tomato paste and flour and mix until no lumps of flour remain.

Add the beef stock, turn the stove to high and bring to a boil.

Add the grated carrot and frozen peas and reduce heat to low for 5 minutes, until the mixture has thickened.

Transfer to a casserole dish.

Spoon the mashed potatoes over the top in about 6 dollops. Using the back of a spoon, spread the potatoes out over the meat filling. Sprinkle with grated cheddar cheese.

Bake for 25 - 30 minutes or until the cheese is melted and you can see the filling bubbling underneath the potato.
Nutrition
Calories:
373
kcal
Carbohydrates:
36
g
Protein:
19
g
Fat:
17
g
Saturated Fat:
6
g
Cholesterol:
54
mg
Sodium:
414
mg
Potassium:
1087
mg
Fiber:
5
g
Sugar:
5
g
Vitamin A:
1965
IU
Vitamin C:
42
mg
Calcium:
65
mg
Iron:
4
mg