Over the past week I didn't accomplish nearly as much as I had planned to, which has left me a bit behind as we go into the final 2 weeks of the Jeffrey Court Renovation Challenge.
If you didn't catch the big news on Instagram, I announced my pregnancy! While I've been super lucky to not have any nausea at all this time around, I've been plagued with constant exhaustion for the past few weeks. Needless to say, this has made getting anything done challenging, especially paired with accomplishing all the other daily tasks that also need to be done.
---
Don't Forget To Catch Up On The Previous Weeks!
---
It's not all negative, though! The existing backsplash has been removed and the wall patched with joint compound where any dents, dips or holes appeared.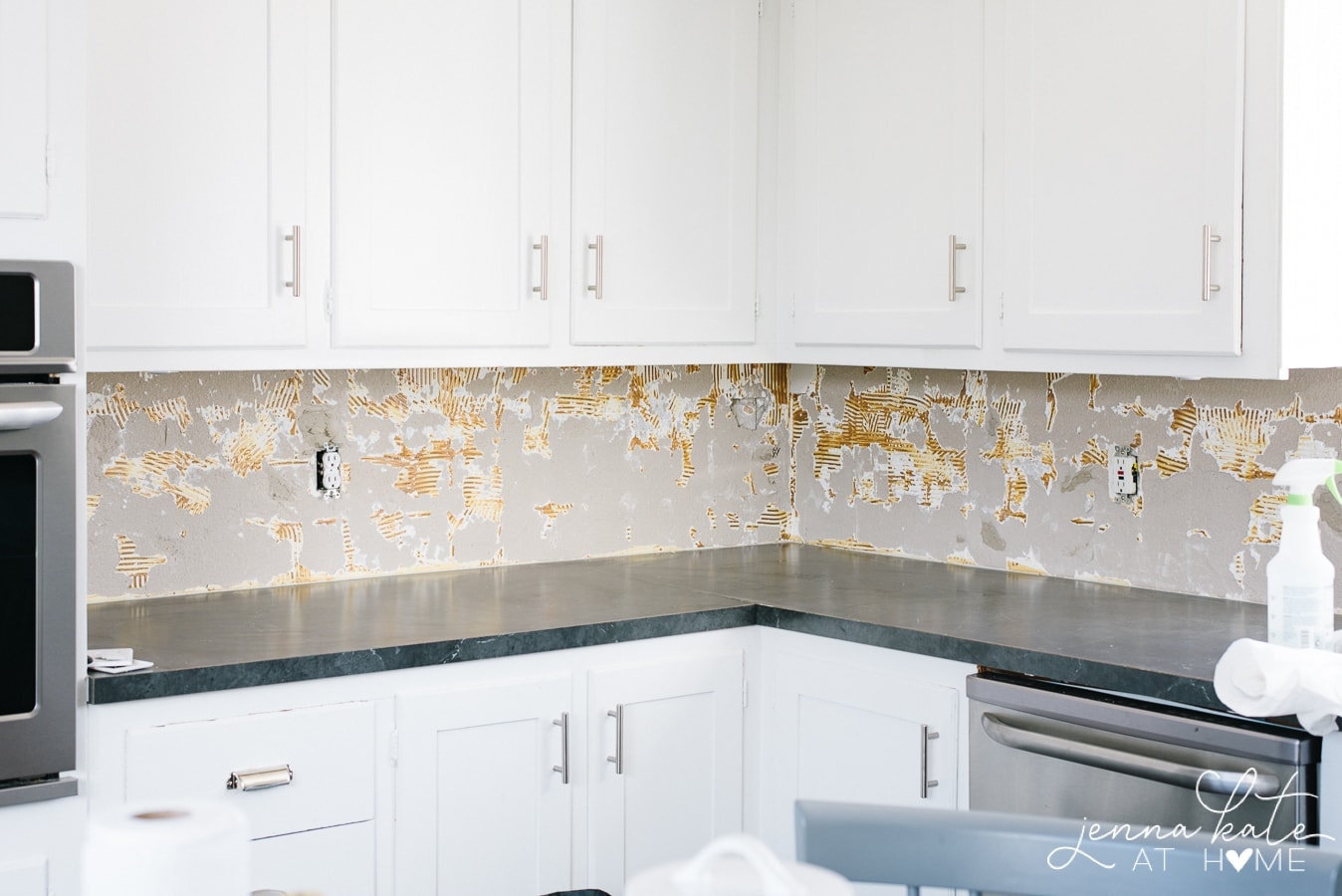 On the right hand side of the kitchen, the tile came off really clean which makes it much easier on me. But on the left of the sink, a lot of tile adhesive remains and the tile definitely damaged the walls in a few places.
By the way – I shared how I removed the tile on Instagram. Be sure to check out my stories if you're planning on doing similar sometime soon!
There's really nothing to removing the tile. You find an edge with a mini pry bar or flat head screwdriver and tap away at with a hammer until you get under the tile and it falls off. It's not difficult and not even really time consuming, but it's definitely messy and dusty!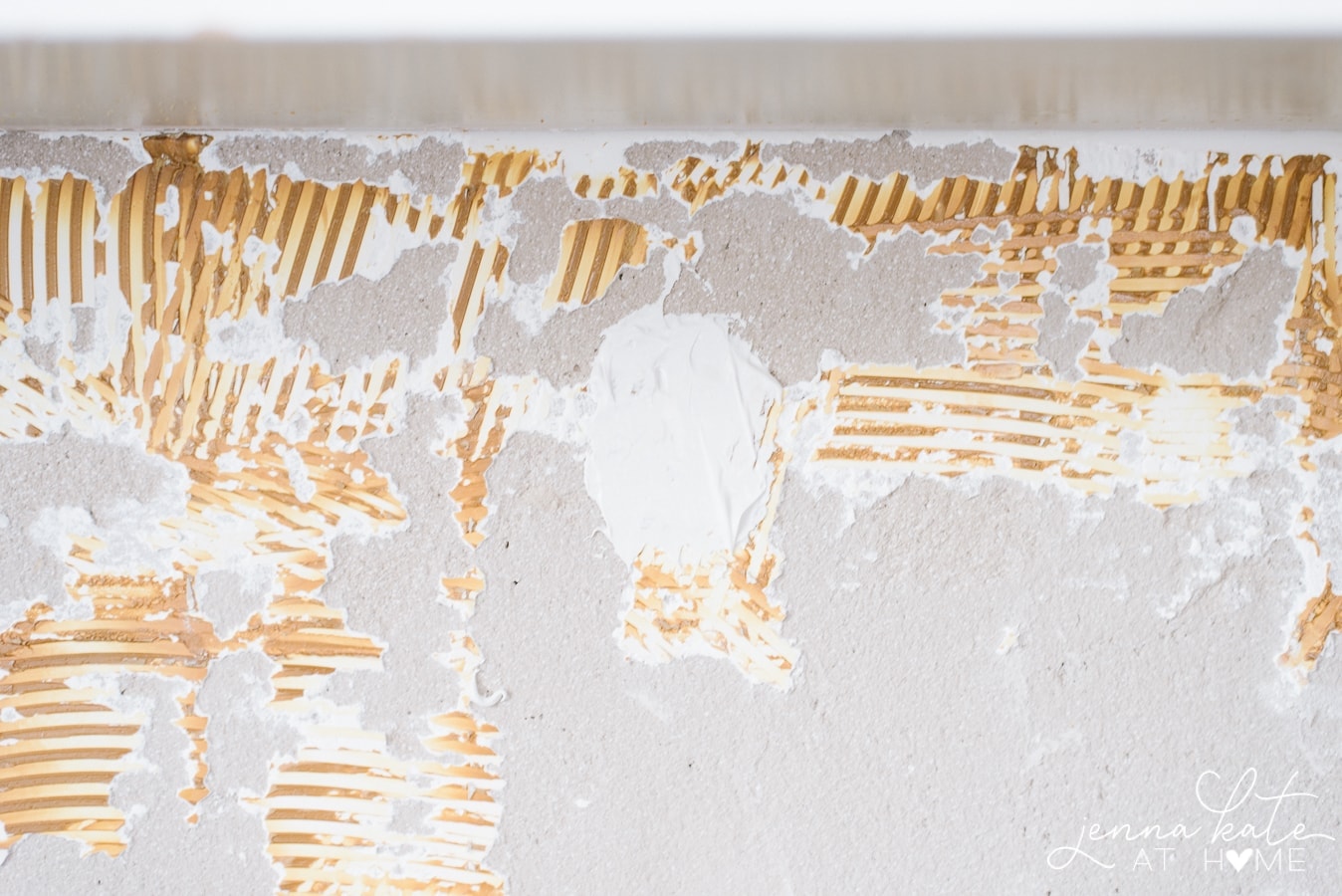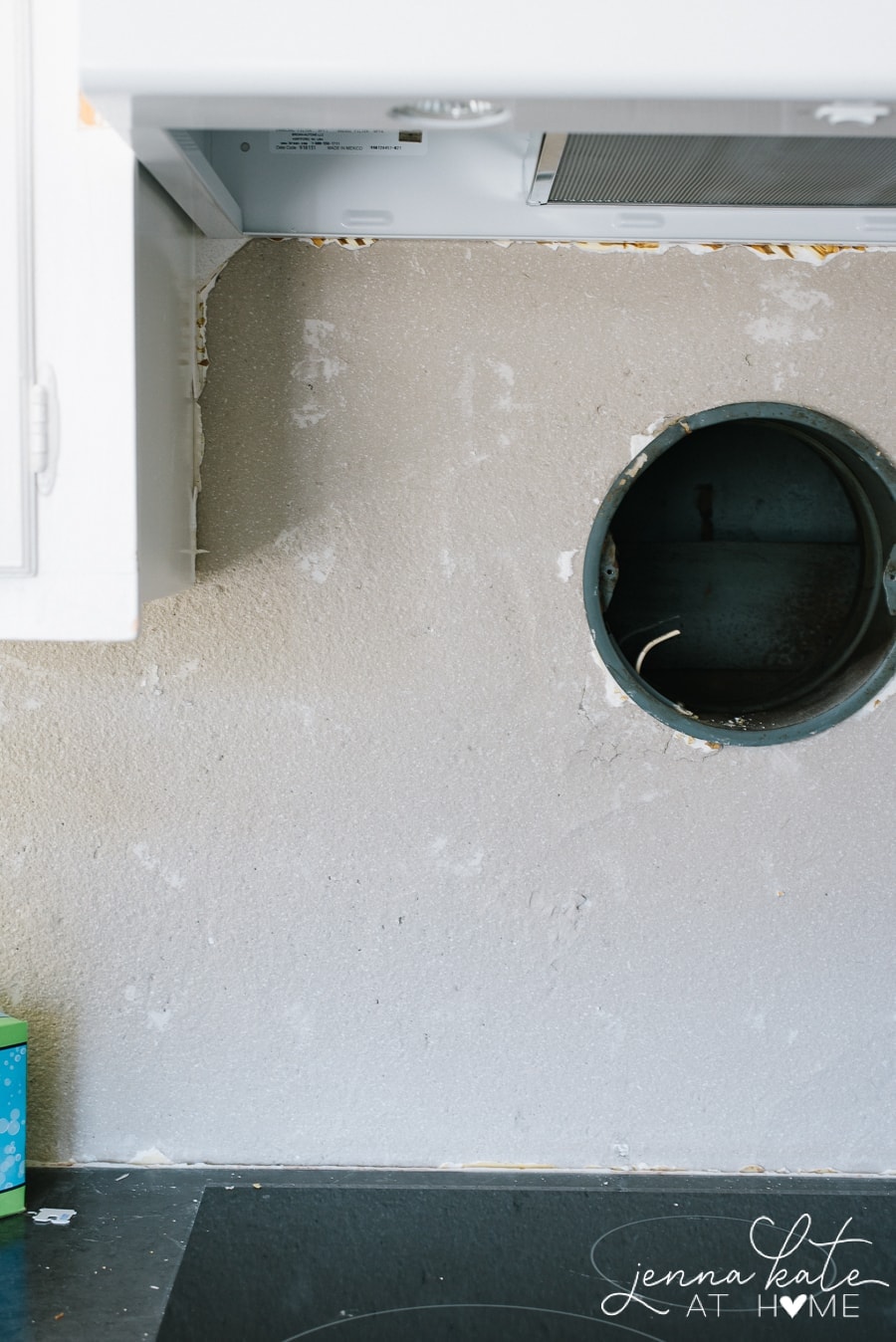 I scraped down the high spots as much as I could and patched the holes. The wall doesn't have to be totally perfect. On a backsplash application like this, it's easy enough to use the mastic to help level things out if need be. If I was dealing with a floor, I would want it completely perfect before starting.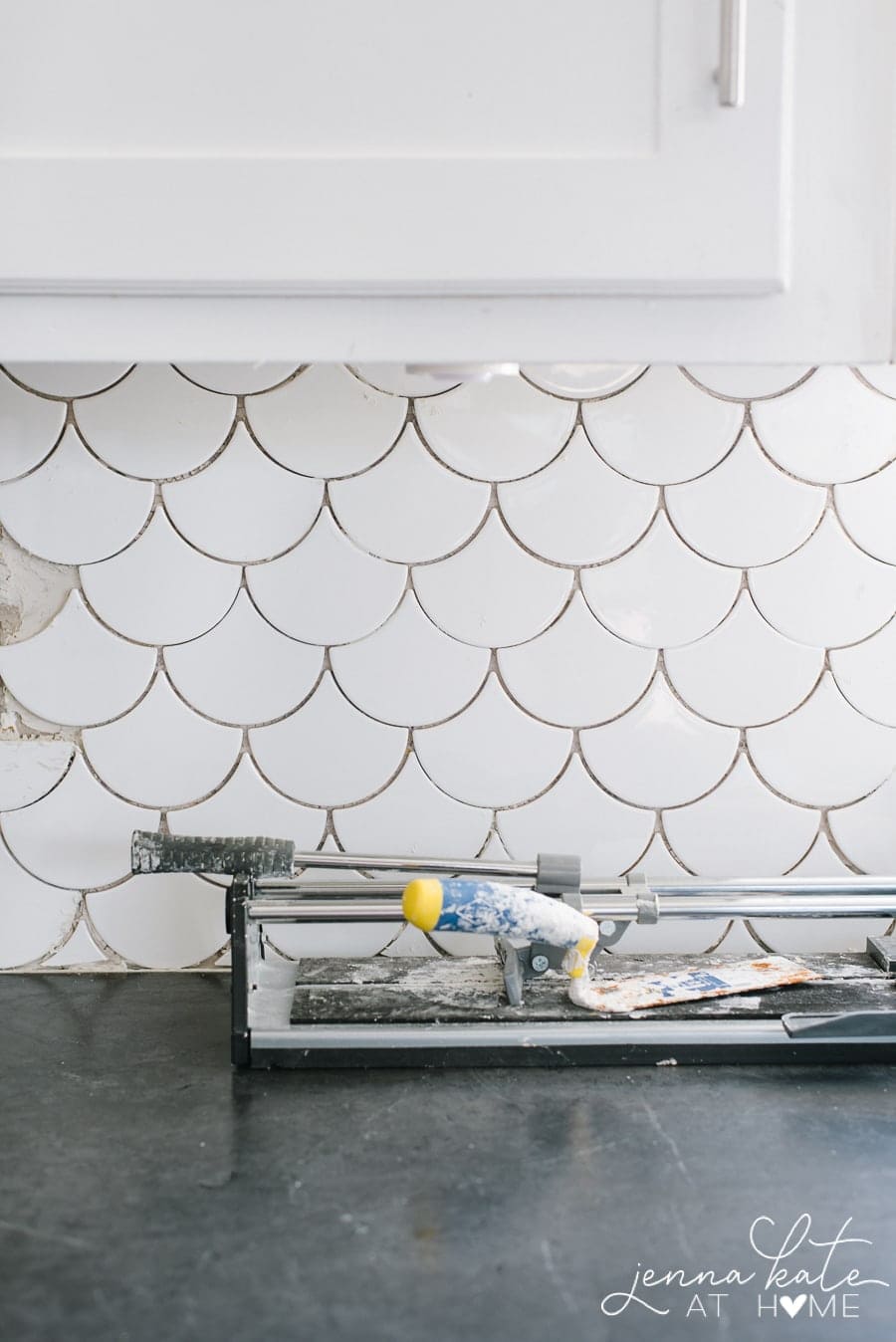 I actually managed to start one little corner of tile and hope to have it finished by the end of the week. It's so exciting finally seeing it on the wall and I can't wait to get it all grouted!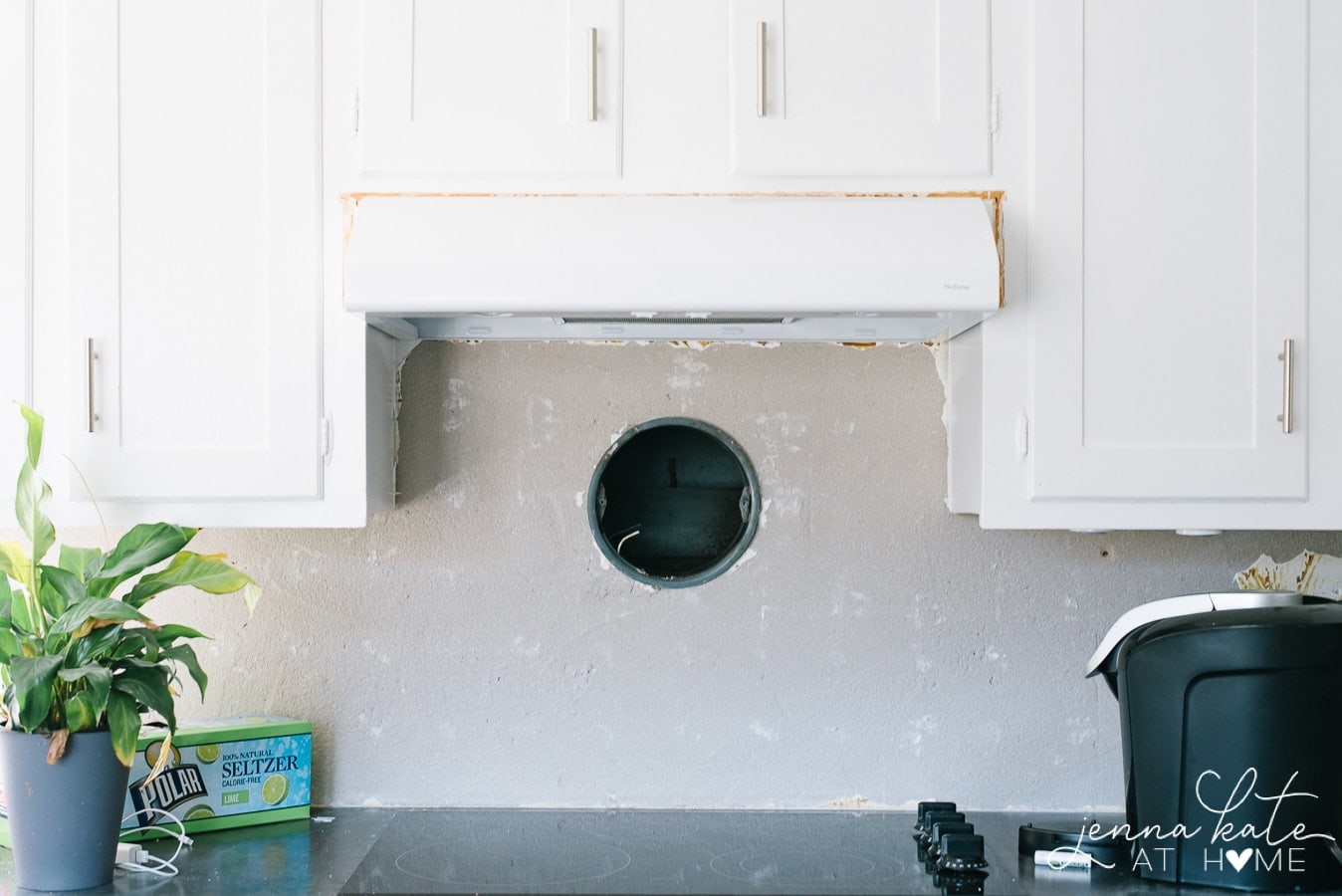 You might also have noticed that the electrician did indeed come as planned and removed the old wall vent and wired up and installed the new ductless vent hood.
For now, the big metal thing that's left in the middle of the wall is going to be pushed into the wall and covered with some drywall before tiling it. If we were to completely remove it, there would be a massive hole to the exterior that would need to be repaired. Since that's not in budget right now, this is the fix. PLUS, since we know that this kitchen will eventually be completed gutted (probably 5 years from now) that can be rectified at a later date. All the electrical is completely disconnected by the way, so there's no safety issue with burying it.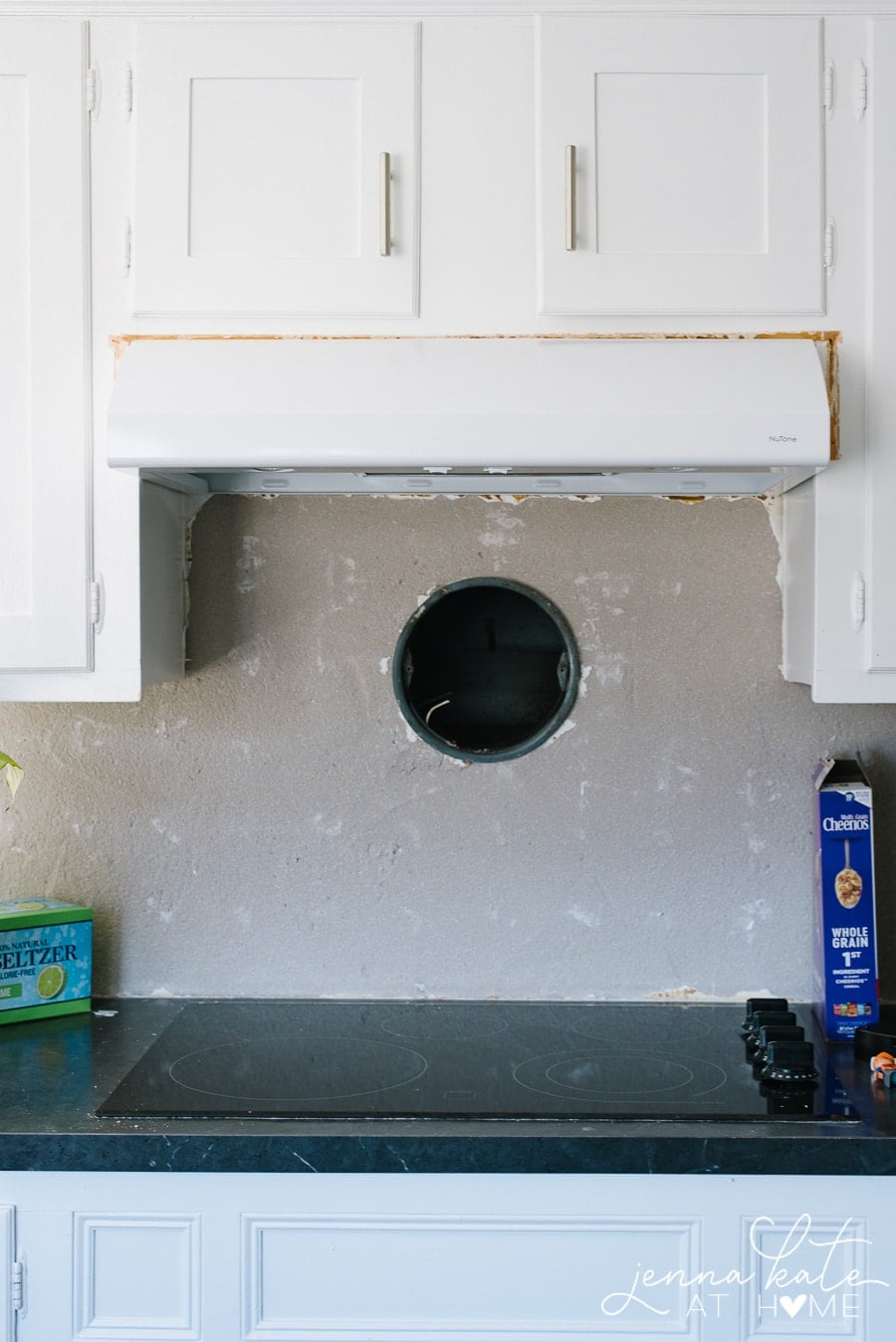 The vent hood by the way has all the buttons underneath so that when we make the custom hood those are all accessible. It's also convertible to a ducted installation should we want to do that at a later time.
OK, so here's what needs to be done in the next week:
Finish repairing drywall
Install backsplash tile, grout and seal
Start work on DIY vent hood
Prep cabinets for paint and new hardware
Shop for accessories for the big reveal (the fun part!!)
Based on how little I managed to accomplish this past week, these tasks seem a little daunting but I'm hoping that I start to get some energy back over the next few days!
Update: Read Week 5 – DIY Kitchen Vent Tutorial