This living room reveal features a neutral palette with rustic and organic elements. It's truly a space I'm proud of.
I'd like to start with a quick note on last Thursday's Reveal – from the bottom of my heart I want to extend a HUGE thank you for all the amazing feedback I'm continuing to receive. It's already the most liked/pinned/commented/shared space I've done! It's so rewarding and gratifying to see something that I worked so hard on appreciated by others. Hopefully it will also inspire you to tackle your own bathroom!
Getting back to the topic on hand: My Neutral & Rustic Living Room Reveal!
You've already seen most of this room through the several posts I've done on projects but I always get a nice sense of closure and a feeling of being "done" when I do a reveal post. There's something very cathartic about it!
How about we revisit what this space looked like before? This will help you see just how far this space has come!
This is how it looked during our initial viewing of the property (still occupied by previous homeowner):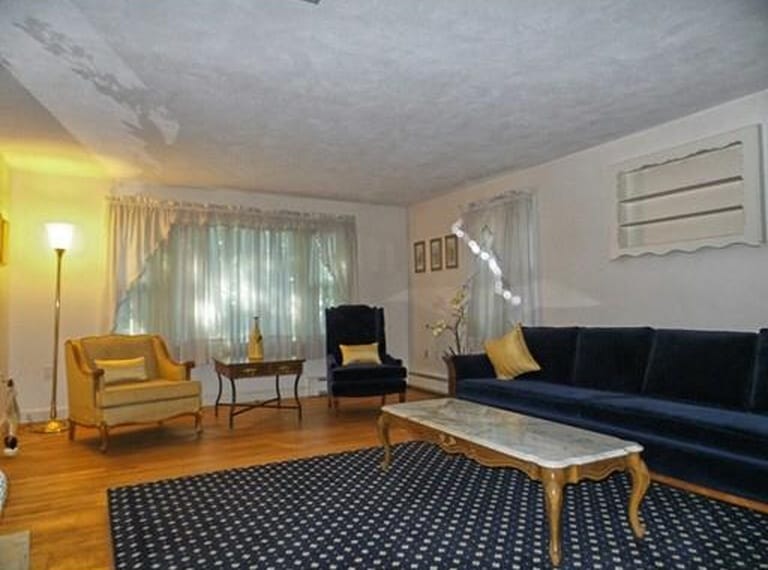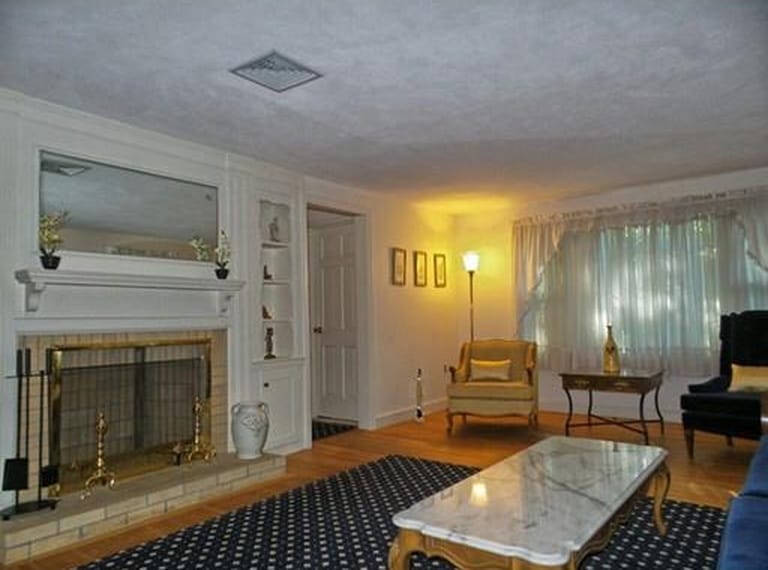 And this is how it looked the day we got the keys: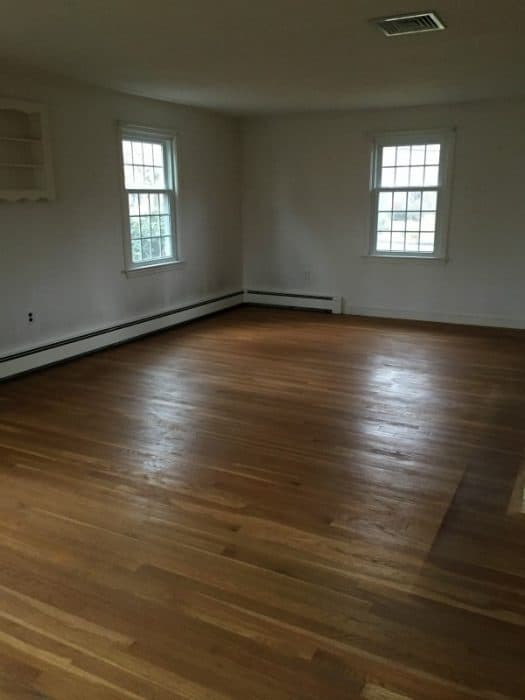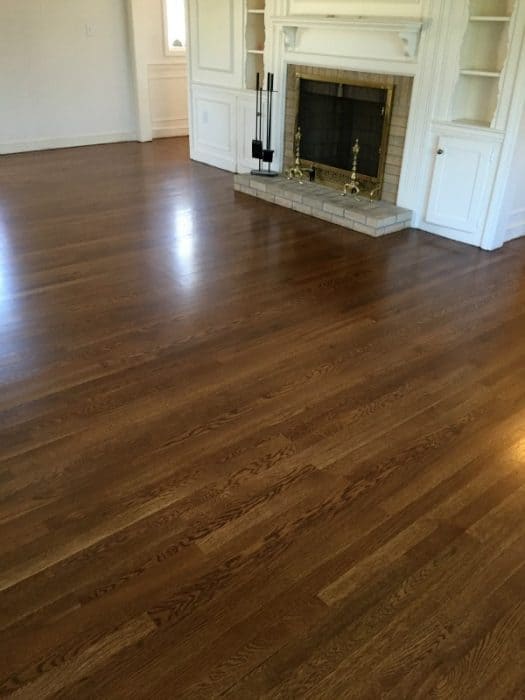 Nothing neutral OR rustic about that!
Here's what it looks like now: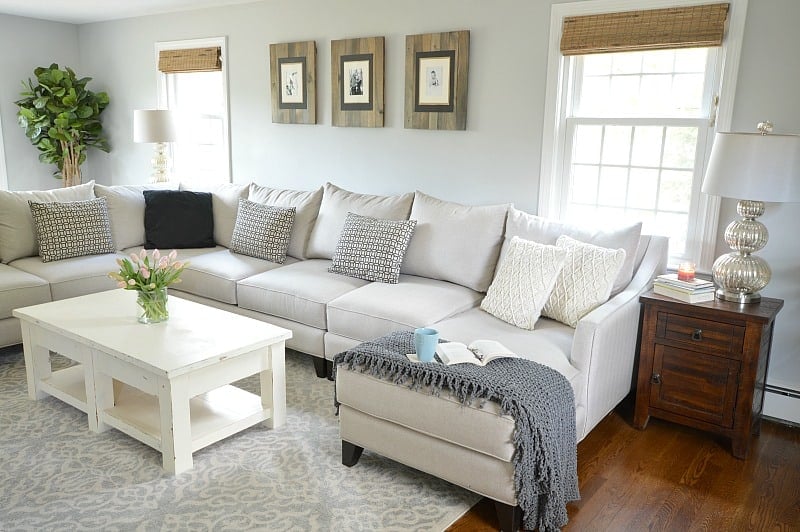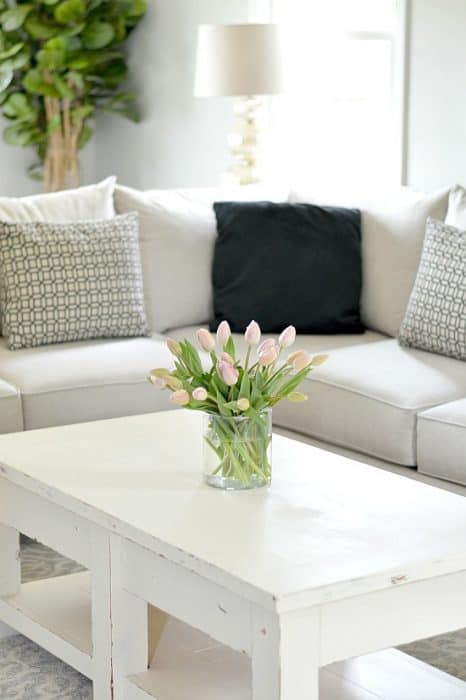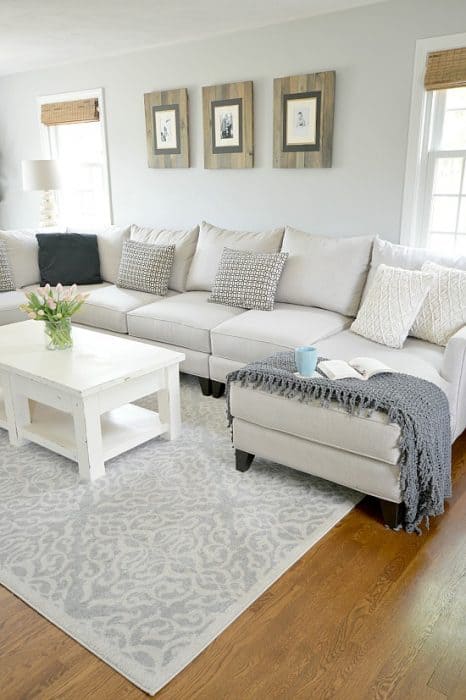 You might remember that the Rustic Picture Frames over the couch were a cheap DIY that I did earlier on in the year. And they are by far my favorite part of this room!
The chaise is everyone's favorite spot. Brian and I fight over it nightly!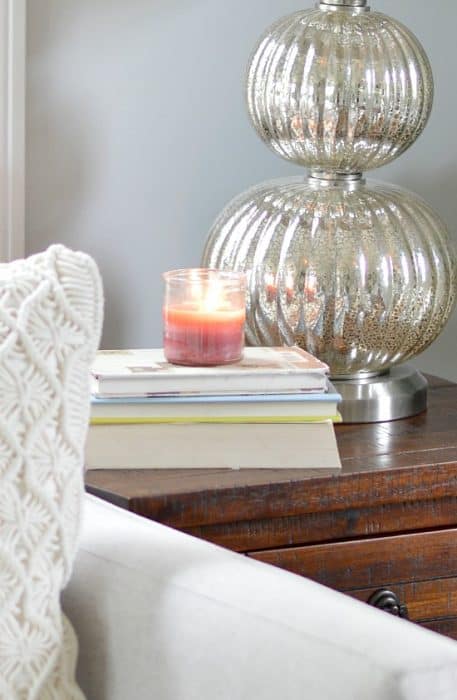 This living room is currently the only room with a couch and TV. We are hoping to remodel the basement in the fall and add a den off the kitchen at some point in the future. But for now, this is it. Living room. Family Room. Play Room (behind the couch is the designated play area!).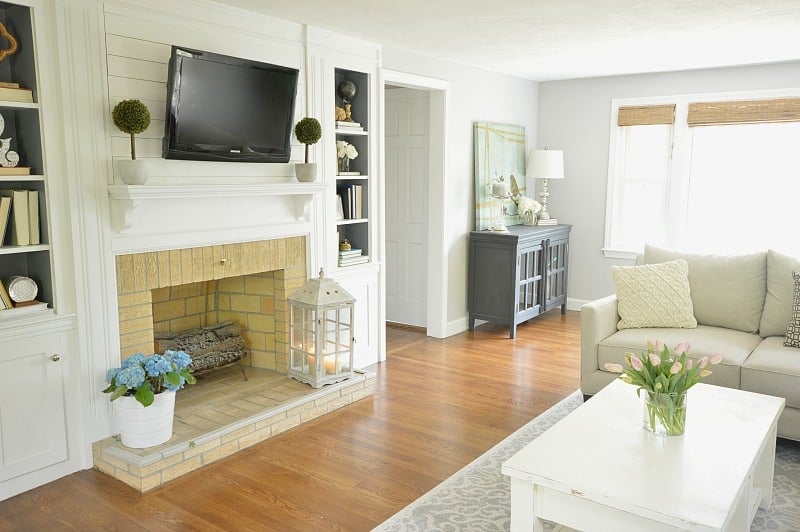 We painted the walls Stonington Gray and accented with crisp white trim. The backs of the built-ins are accentuated with a dark gray paint, similar in color to the recently painted gray sideboard.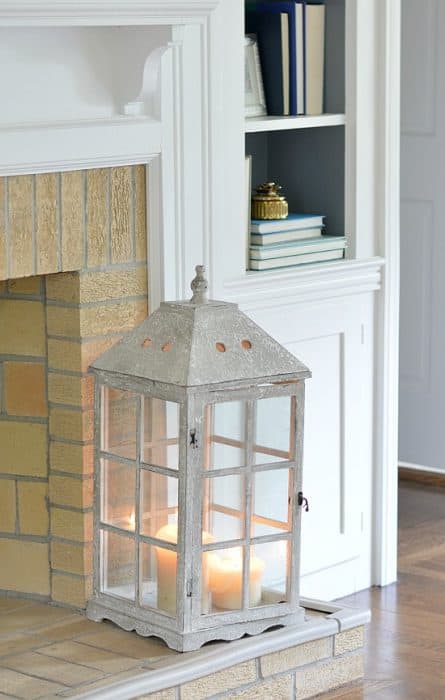 This lantern was the card holder at our wedding. I love that it is now a piece of sentimental decor.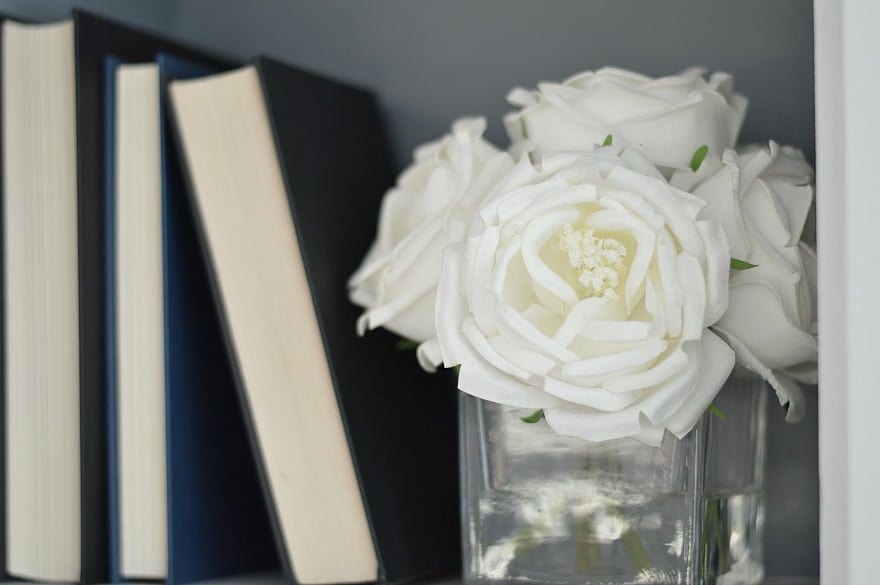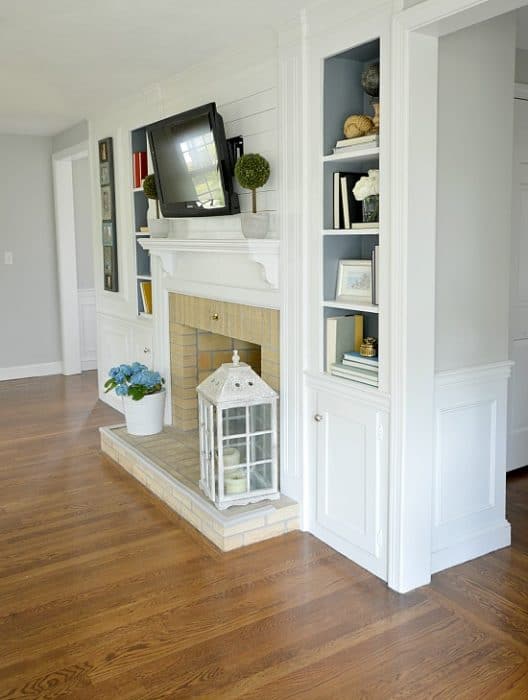 I'm so glad we decided to refinish our floors before we moved in. This stain color (Bona Provincial) was the perfect choice. It's a wonderful medium toned brown that doesn't bring out the blackness to the grain that dark walnut does.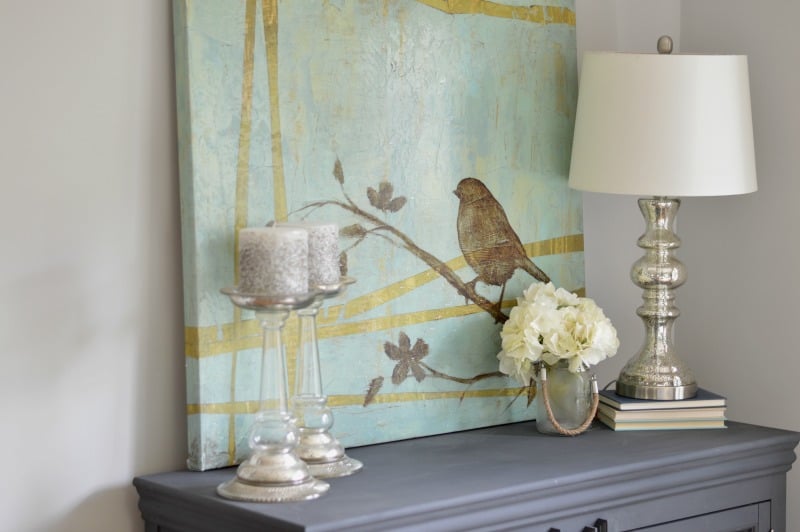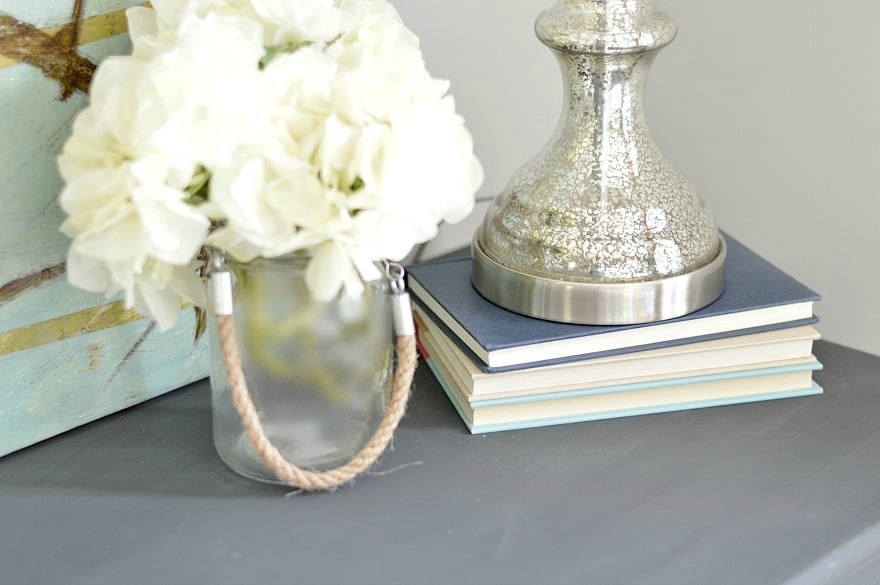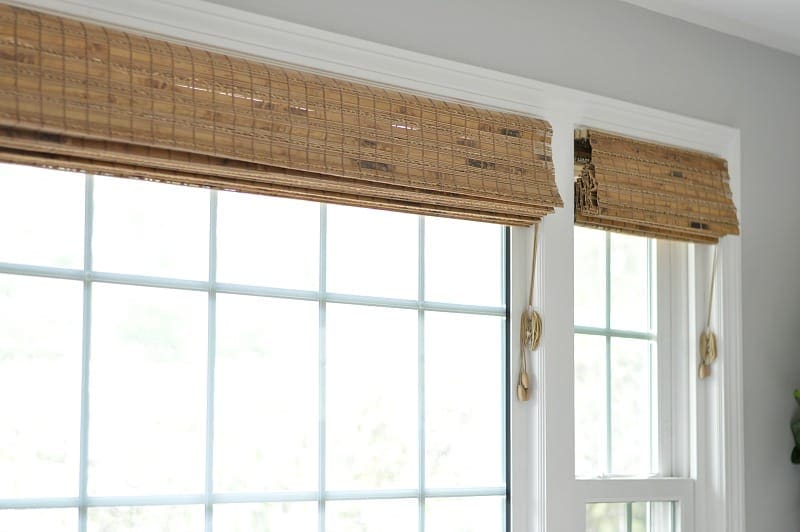 These woven wood shades (also known as matchstick blinds or natural woven blinds) are the perfect natural touch to the room. They add warmth, color and shield my eyes from the harsh afternoon sun. A big thank you to Blinds.com for sponsoring these in part!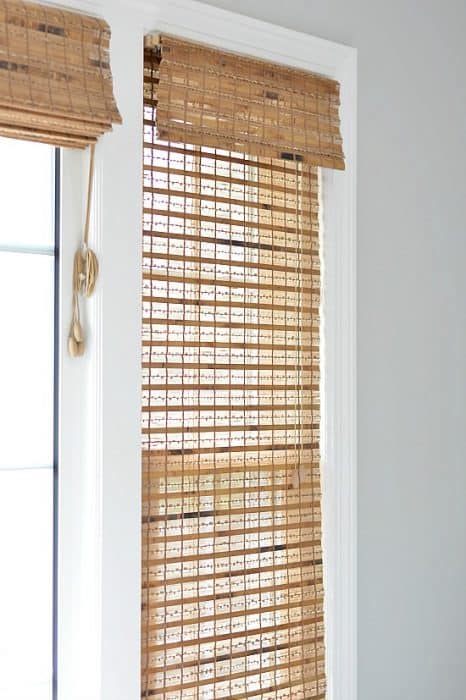 Everything about this room is me. It's bright, elegant and comfortable – the living room trifecta!


---
Source List
Wall paint: Stonington Gray by Benjamin Moore (Aura line, eggshell finish)
Trim: Decorator's White by Benjamin Moore (satin)
Bookcase inserts: Serious Gray by Sherwin Williams (satin)
Window Blinds: Blinds.com Economy Woven Wood Shades in Sarasota Camel
Couch: No longer available (this one is similar).
Coffee table: Custom made, DIY painted
Lamps: Home Goods
Sideboard: Big Lots (originally red, painted gray)
Candlesticks + candles: Pottery Barn
End table: Home Goods
Throw blanket: (similar)
Rustic picture frames: DIY
Rug: Rugs USA