This year's Pantone Color of the Year is Marsala – a rich, warm burgundy. Why Marsala you might ask? Well according to Pantone,
Much like the fortified wine that gives Marsala its name, this tasteful hue embodies the satisfying richness of a fulfilling meal while its grounding red-brown roots emanate a sophisticated, natural earthiness. This hearty, yet stylish tone is universally appealing and translates easily to fashion, beauty, industrial design, home furnishings and interiors.
I have to admit that personally I was a bit disappointed with their choice. I'm much more of a fan of Sherwin William's choice of Coral Reef (which incidentally I'm seeing a lot more of in stores than Marsala). A rich color like Marsala might work well during the winter months but it's not necessarily a color that I'd be drawn to in the warmer months of spring or summer.
While Radiant Orchid, the captivating 2014 color of the year, encouraged creativity and innovation, Marsala enriches our mind, body and soul, exuding confidence and stability.–Leatrice Eiseman, Executive Director of the Pantone Color Institute
However, many of you LOVE Marsala so I'm to show you several ways to incorporate it into your home.
Add accents throughout your living spaces. I personally think Marsala is a wonderful winter color, but I'm not sure that I'll still be digging it in the spring. By accessorizing, it's easy to swap out if you get tired of it.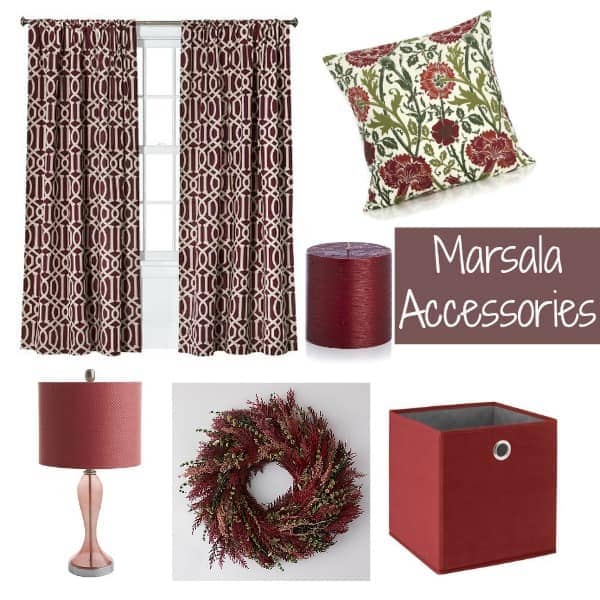 Threshold Farrah Lattice Curtain – Target ($19.99 – $24.99) | Marsala Pillow Cover – Etsy ($12+)
Red Flicker Candle – Crate and Barrel ($7.97 | Marine Glass Lamp – Pier 1 ($50)
Burgundy Meadow Wreath – Terrain ($88) | Room Essentals Fabric Cube – Target ($6.99)
Love this deep burgundy shade so much that you really want to commit to it? How about some accent pieces of furniture or a statement wall?
Now that I've shown you several ways to incorporate Marsala into your home, what are your thoughts? Do you like it as a color? Are you planning on using it in your home or are you perhaps more inclined to incorporate it into your fashion choices?