An elegant dining room makeover with predominantly neutral tones, accented with pops of gold and pink.
I'm pretty ecstatic to share my new and improved dining room with you today. This space has bugged me since we moved in. Despite new paint and a new dining table, it always felt dull and unfinished.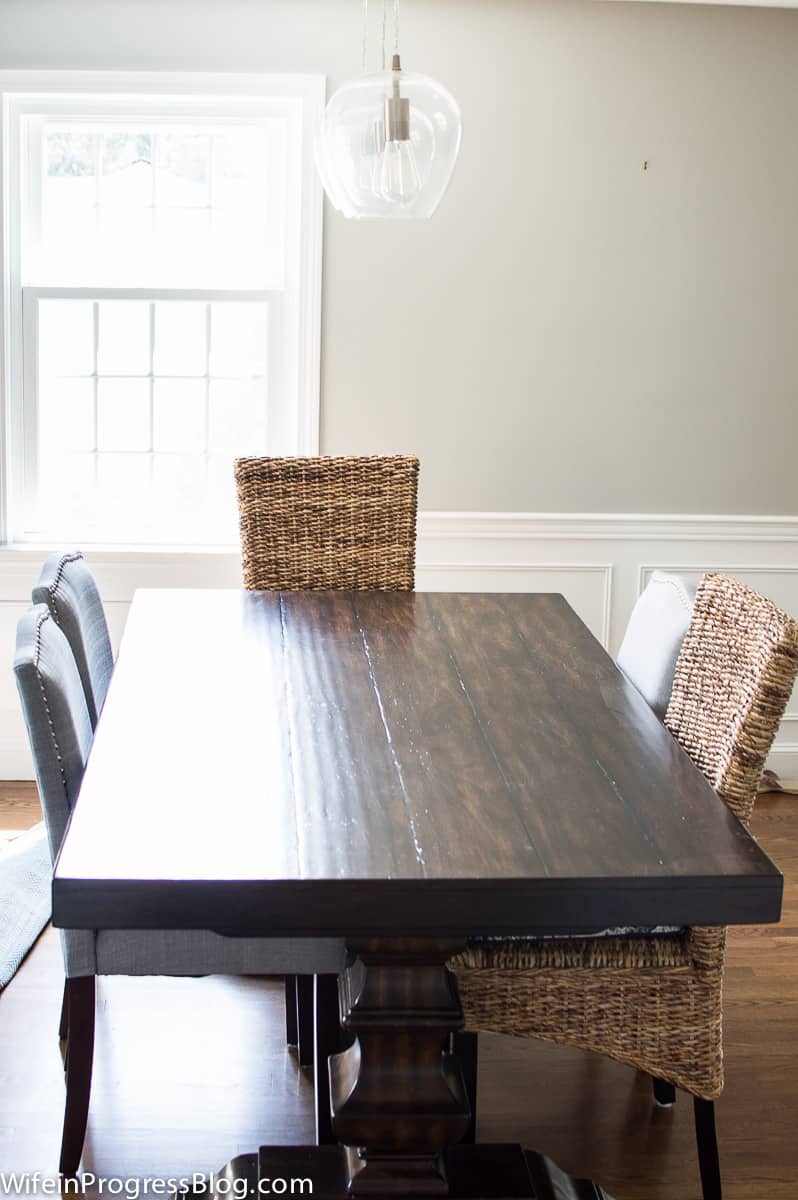 I thought it was my choice of paint but I realized there were just too many dark colors weighing the space down – dark table, dark rattan chairs, dark sideboard. Something lighter needed to take center stage to visually contrast with the dark wood and gray walls (By the way, you can see the design plan is this post).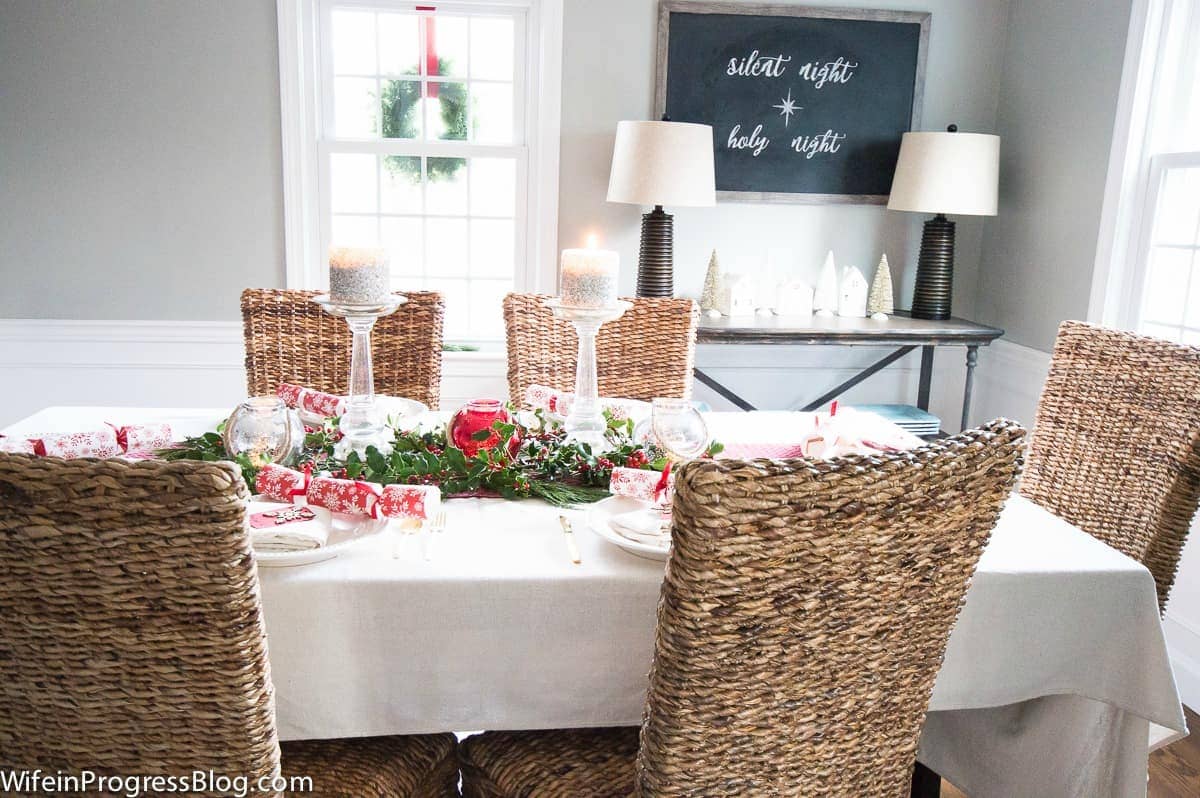 This shot of the previous dining room setup is from last Christmas. While the space was perfectly functional, it was not at all the bright room that I knew it could be.
When we purchased a new farmhouse stye kitchen table several months ago, the rattan chairs from the dining room were moved into the kitchen because they worked well with that style. But that meant we were left with an odd grouping of mismatched chairs for the dining room. That was the starting point for this makeover.
I'm so incredibly lucky to have had the opportunity to work with Raymour & Flanigan again on this makeover. I have loved working with the sales associates over my past few makeovers, and know them all by name now! I've also had the same delivery guys every time who have been amazing – they made sure their shoes were clean, covered the floors when it was raining, were very sweet and polite – and just did a phenomenal job all round.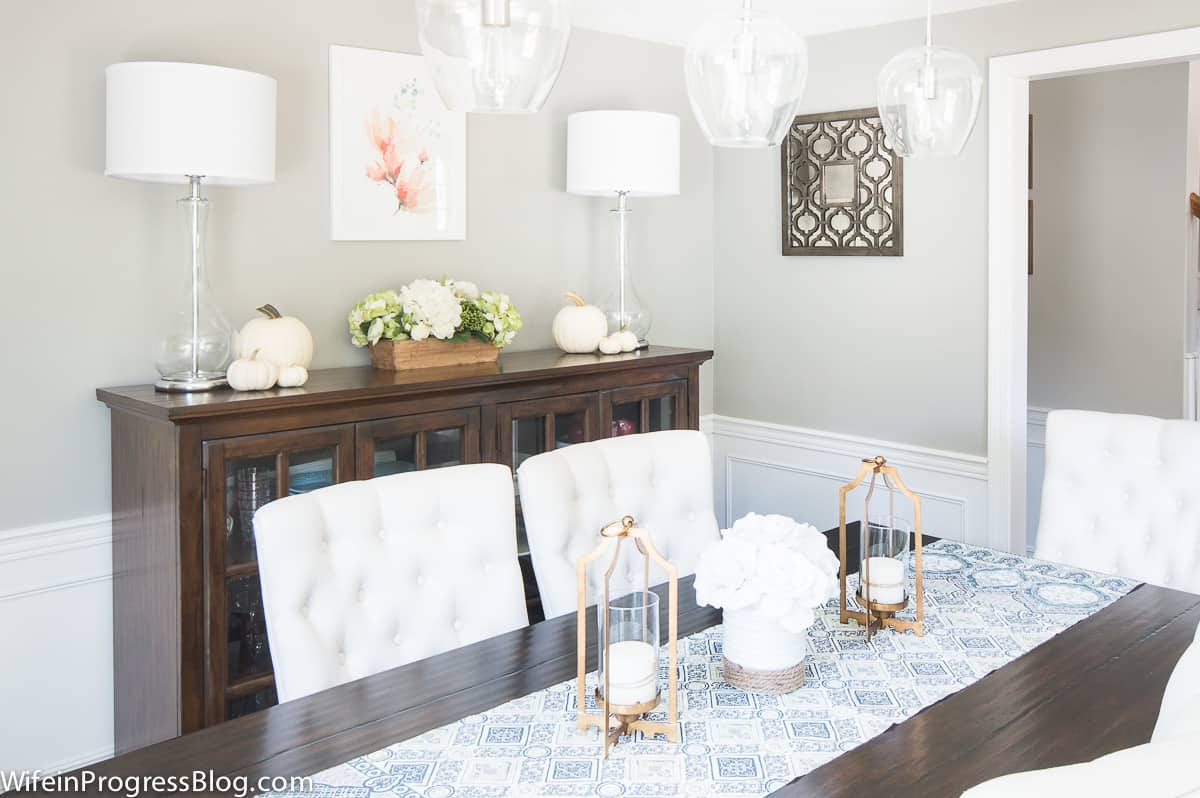 Since we already owned my dream dining table (it was a Christmas gift from Brian the year we moved in) I knew that I needed to brighten the space by adding in lighter colored chairs. I spotted these tufted beauties the minute I hit up the dining section of my local R&F store and it was love at first sight. Not only are they stunning (look at those curves!!) but they are crazy comfortable. Like, so comfortable that I probably should get another one for my desk…they have great back support!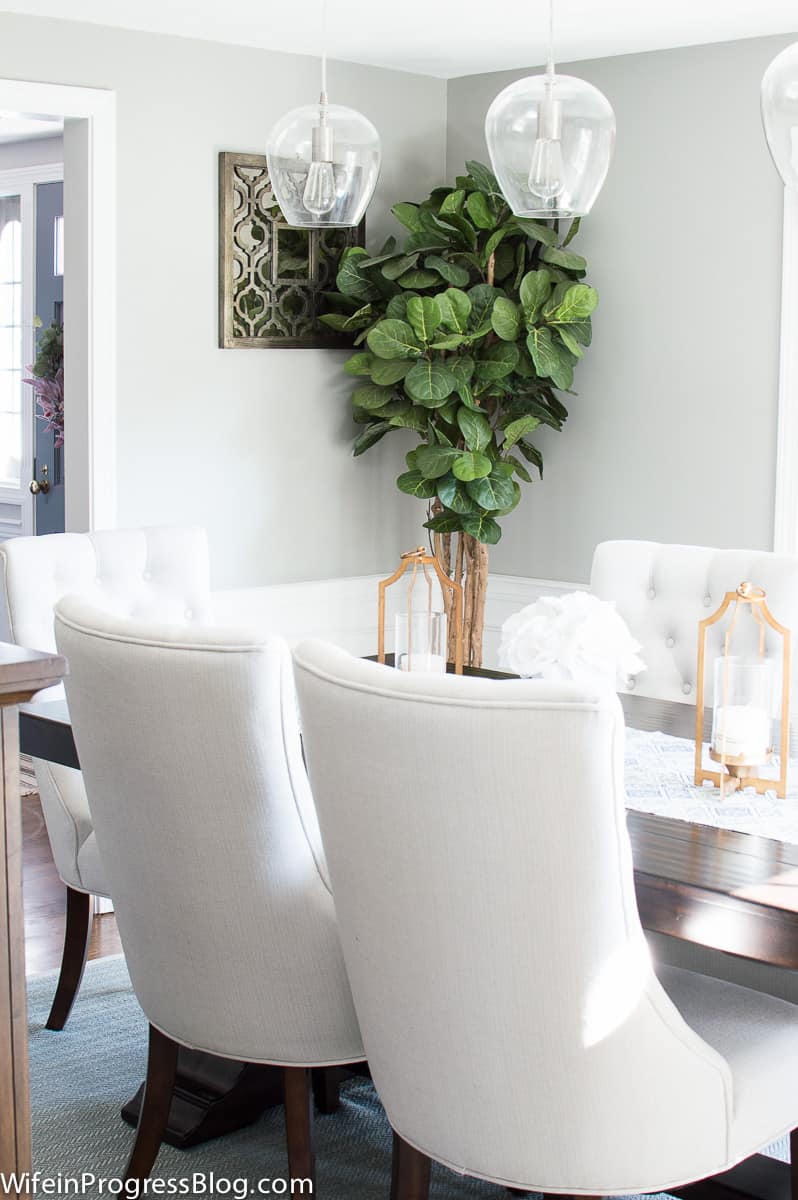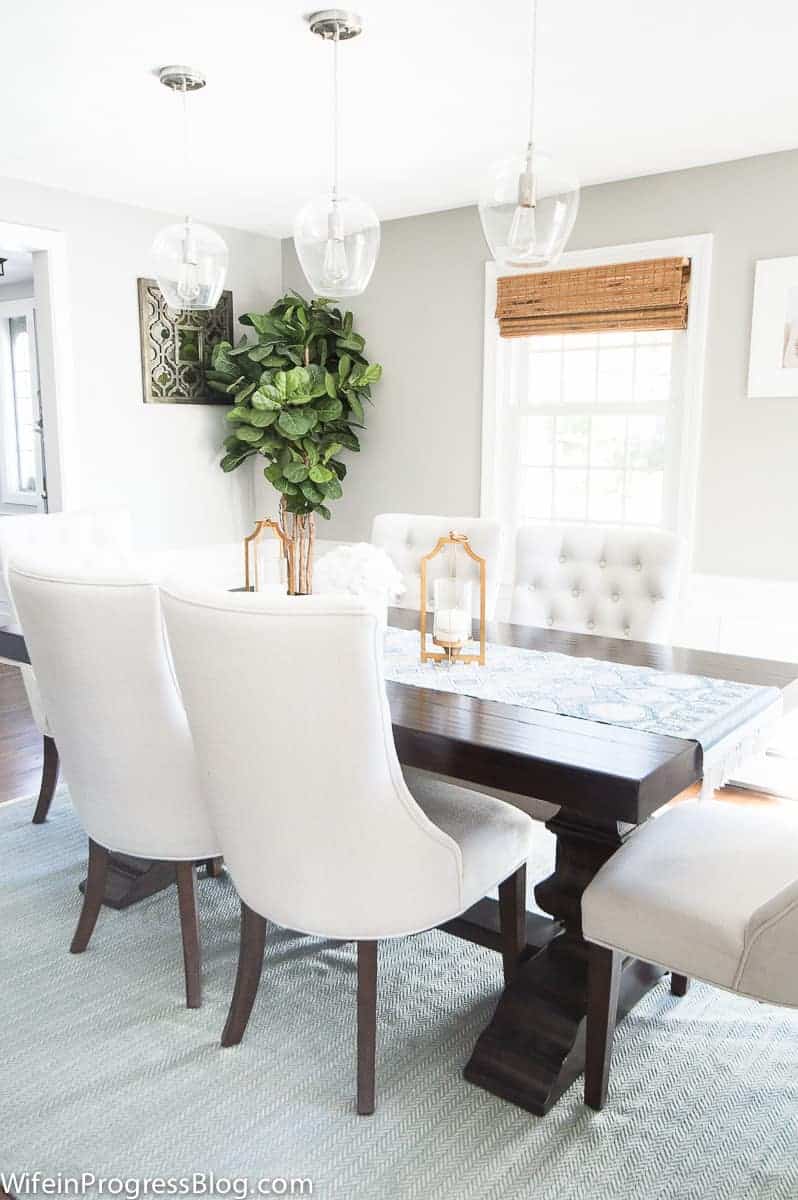 Once the chairs were in place, the room was immediately transformed. It was quite amazing. Suddenly, the paint on the walls contrasted with the wainscoting and chairs exactly how I had envisioned it would. I couldn't believe how bright and fresh the room felt!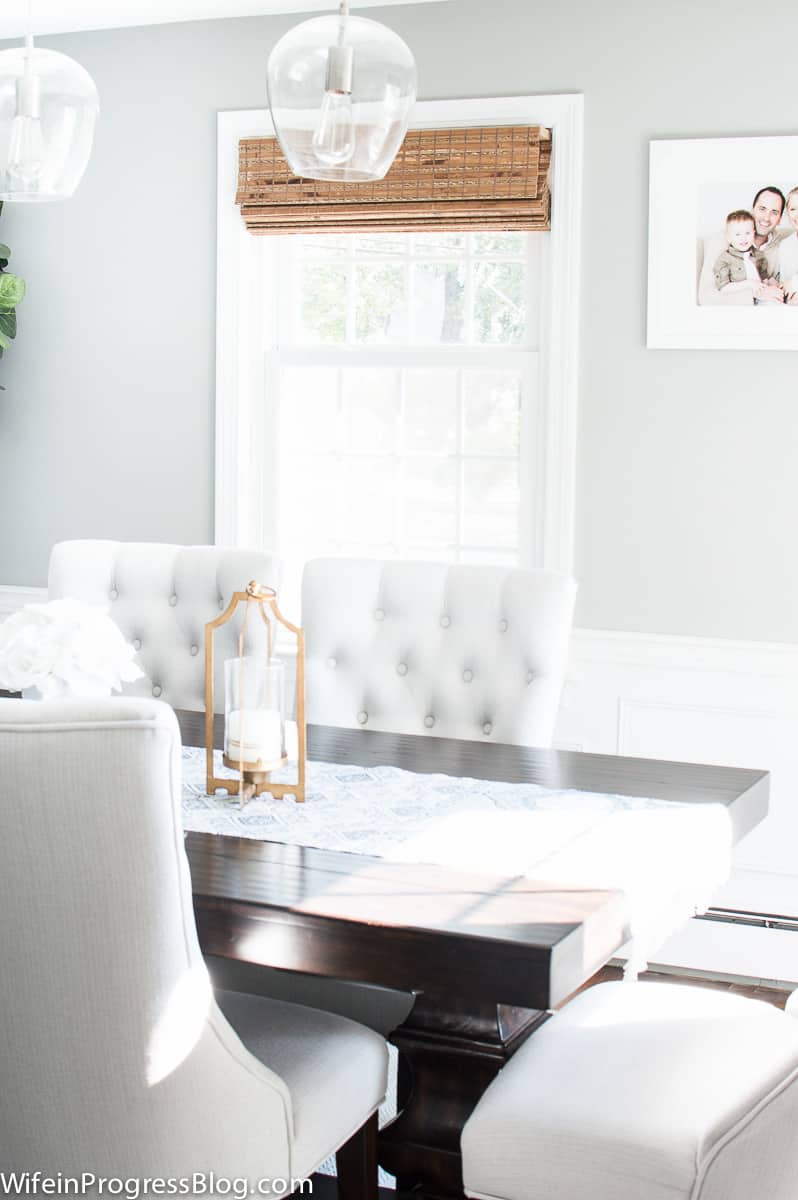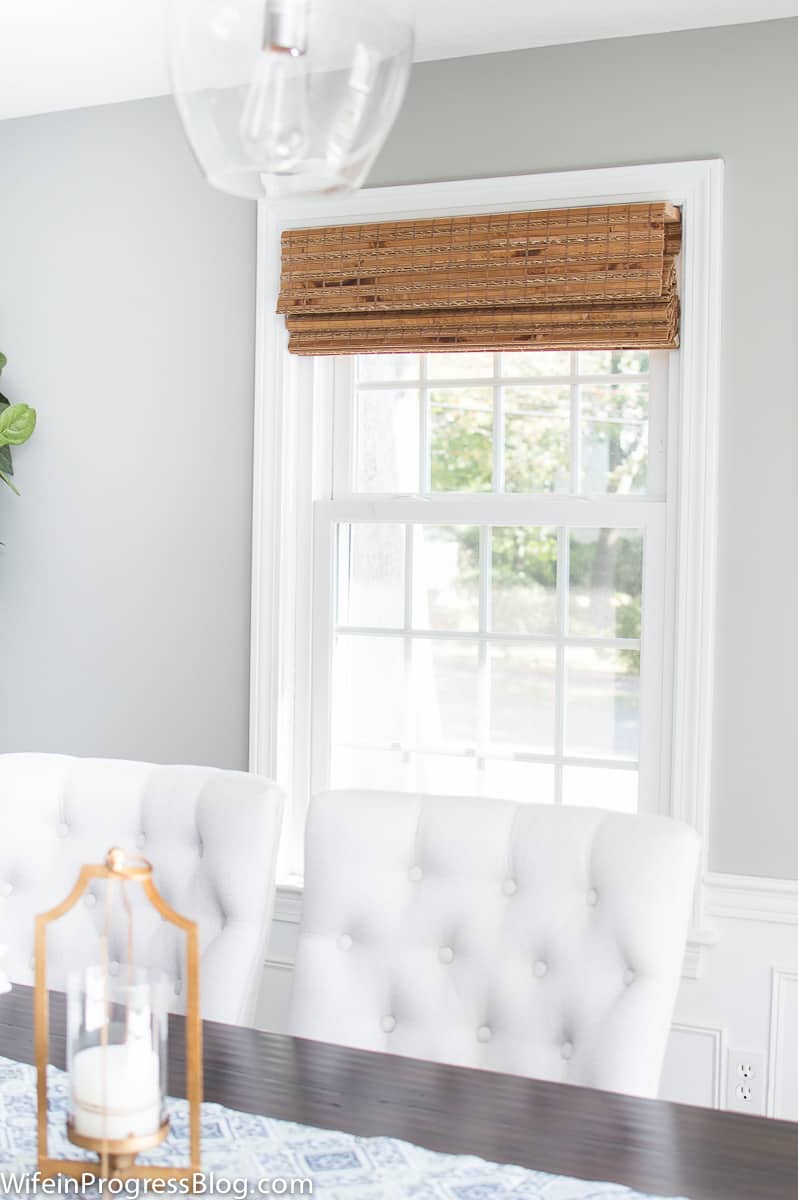 I knew I wanted to maintain that feeling as much as possible so I decided to keep everything else very simple – the same bamboo blinds that we have in the living room and simple clear glass table lamps with white shades to complement the glass pendants already in the space. To complement the neutral colors, I wanted to add in some very subtle pink alongside some gold, to warm up the cooler tones.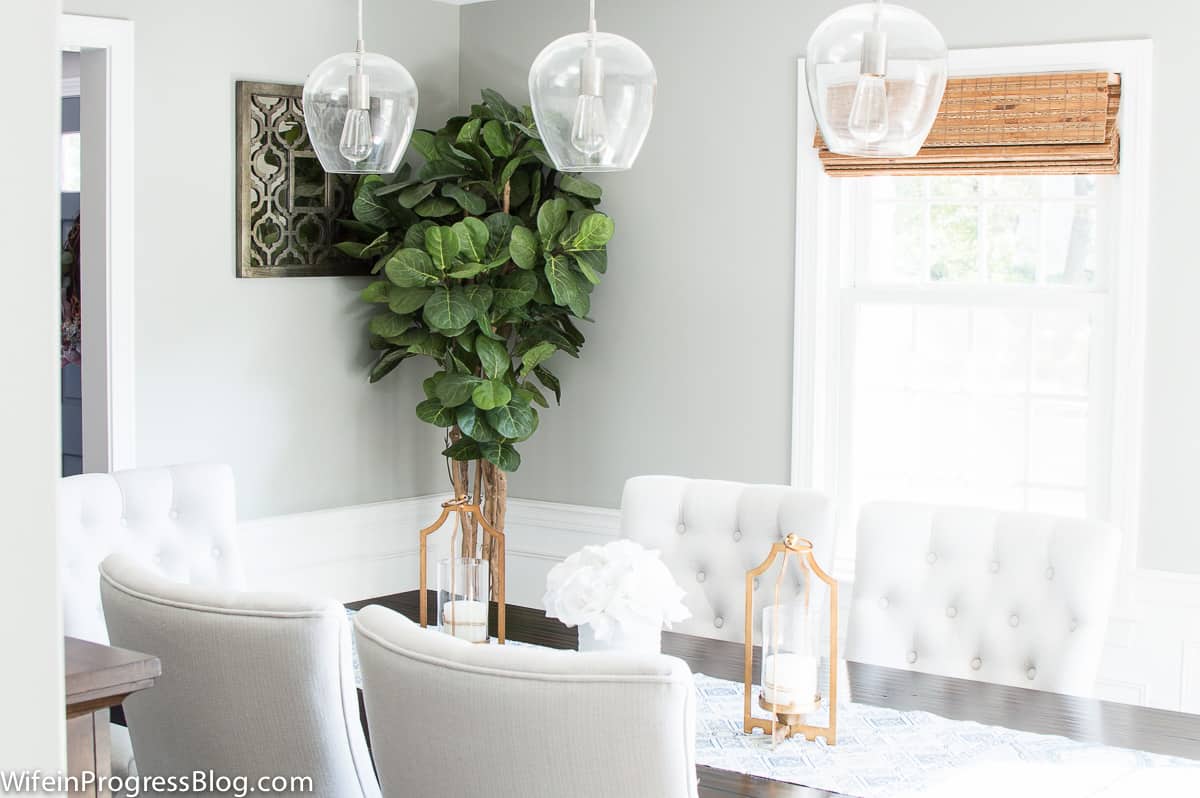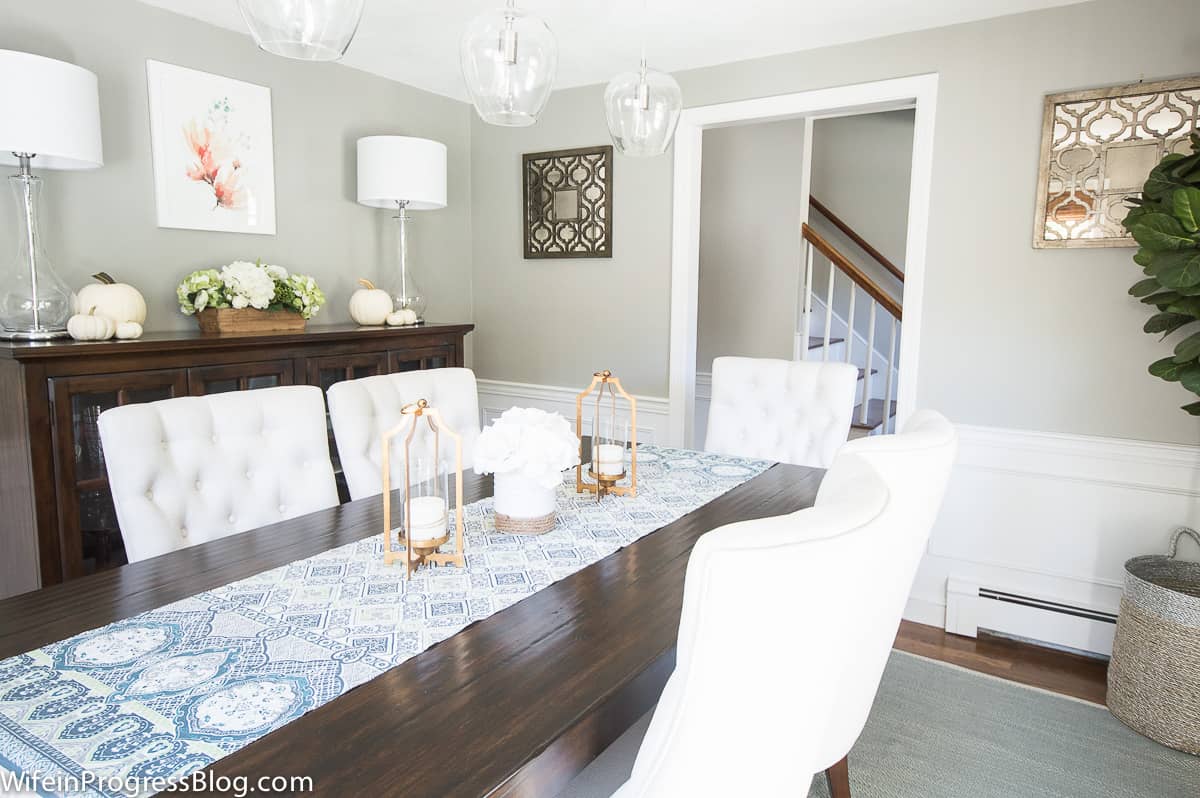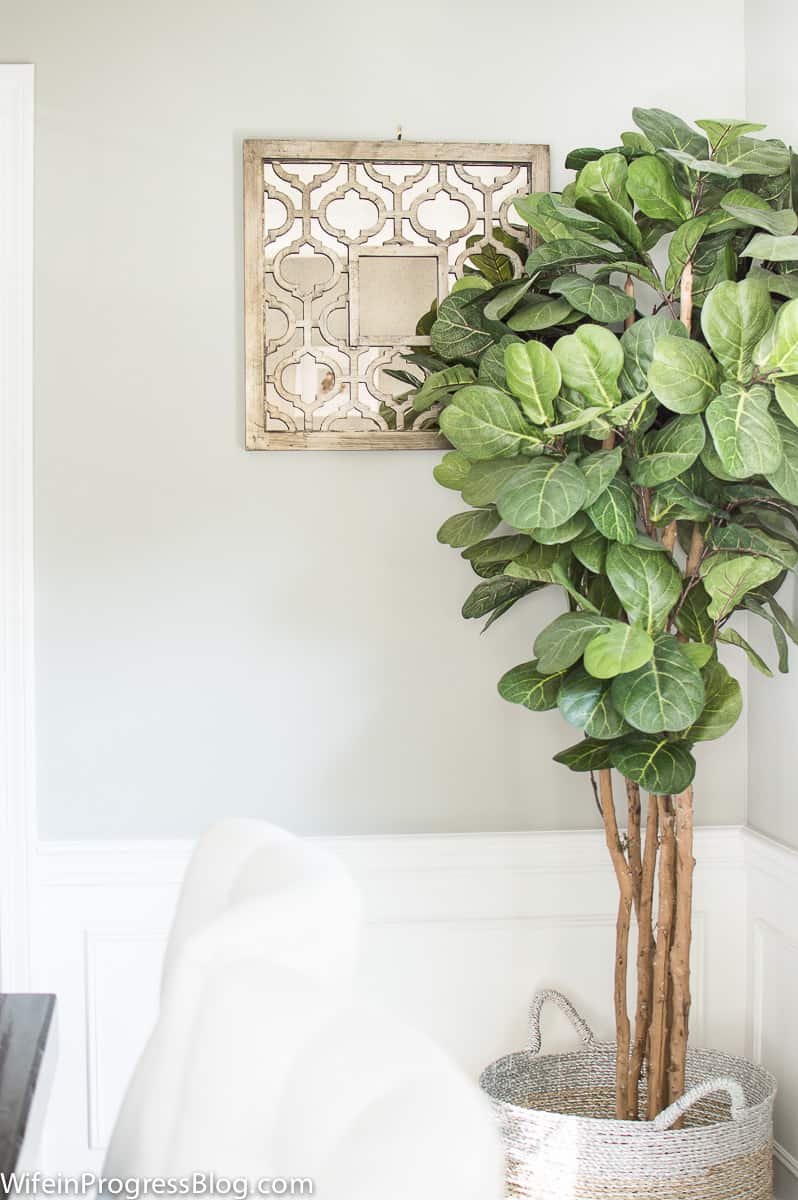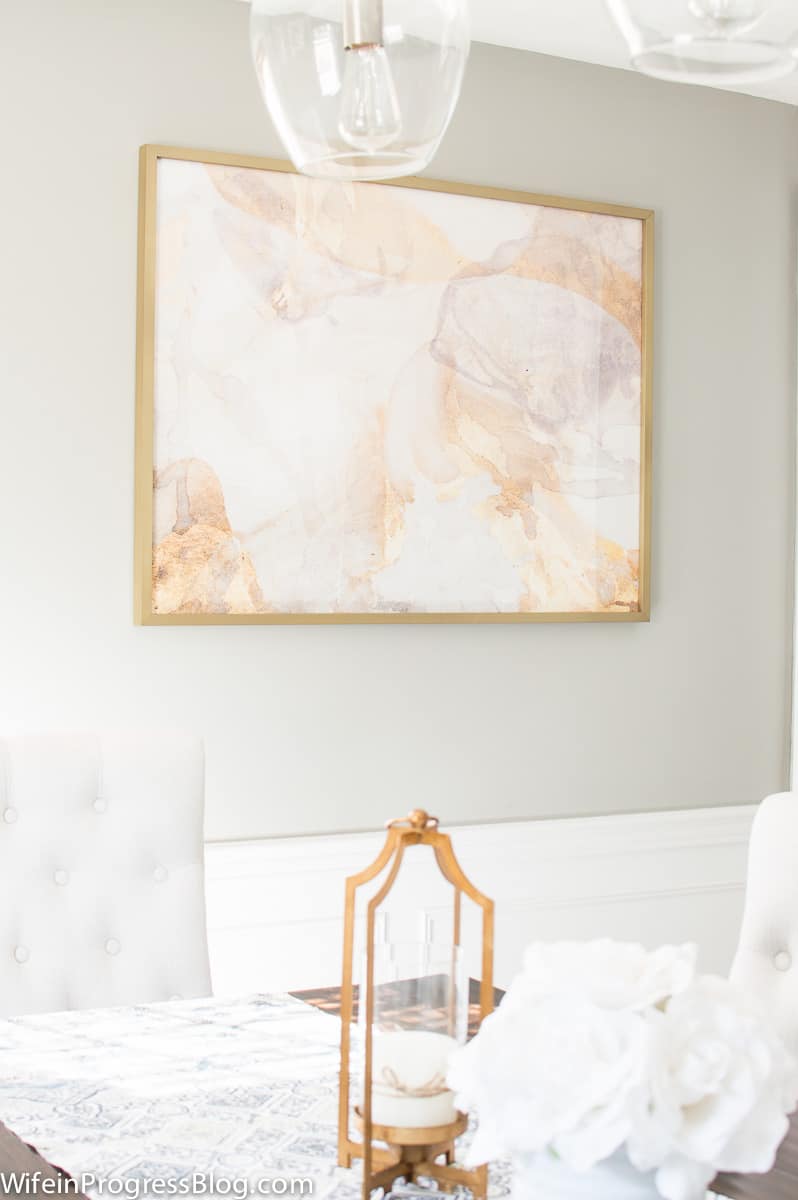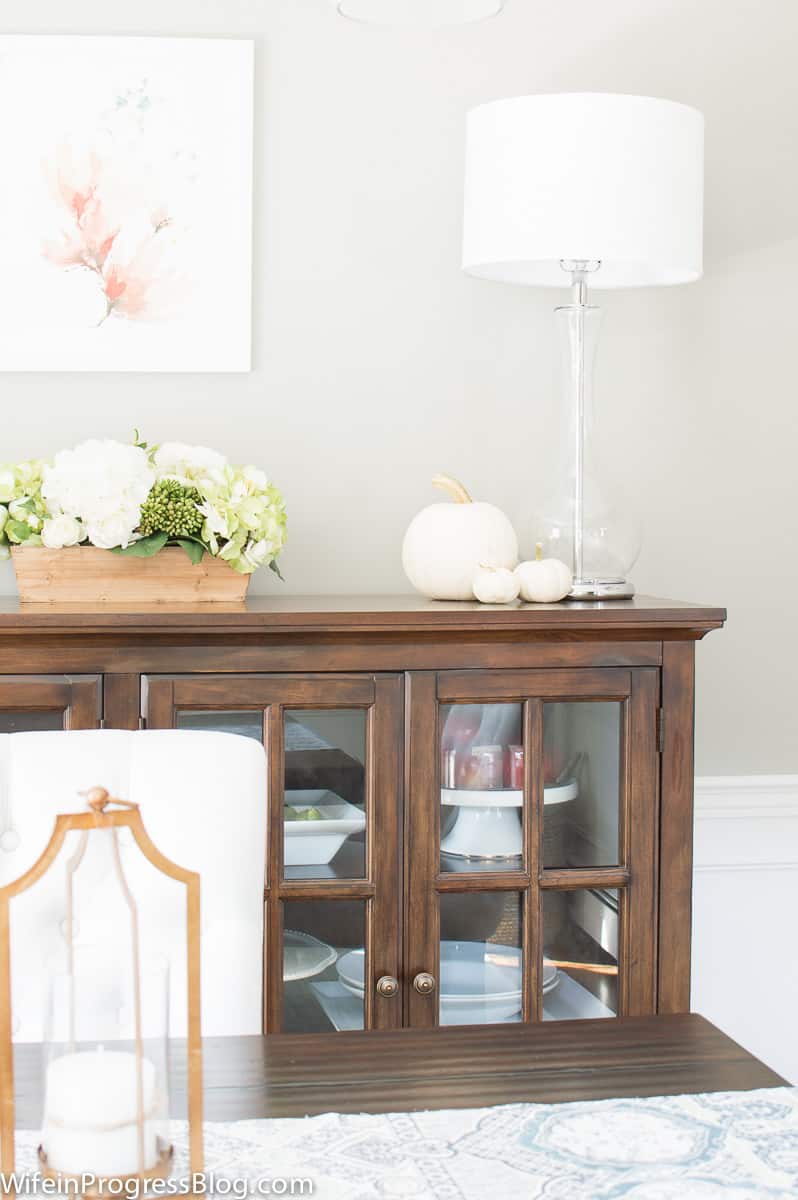 To add some storage to the room (because I own way too many dishes/glassware/serveware!) I special ordered this beautiful glass fronted server online from Raymour & Flanigan. It has so much storage that I was able to empty two whole kitchen cabinets of stuff into it, alongside the items that were already being stored in this room!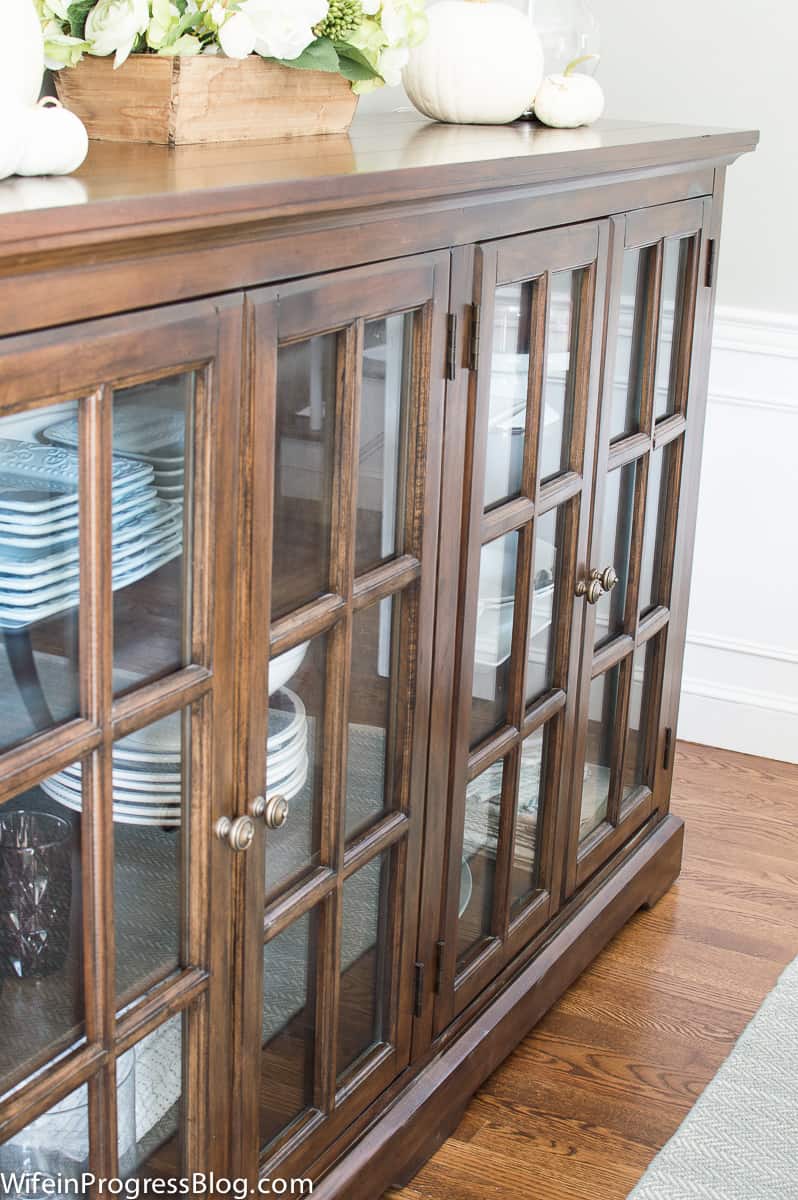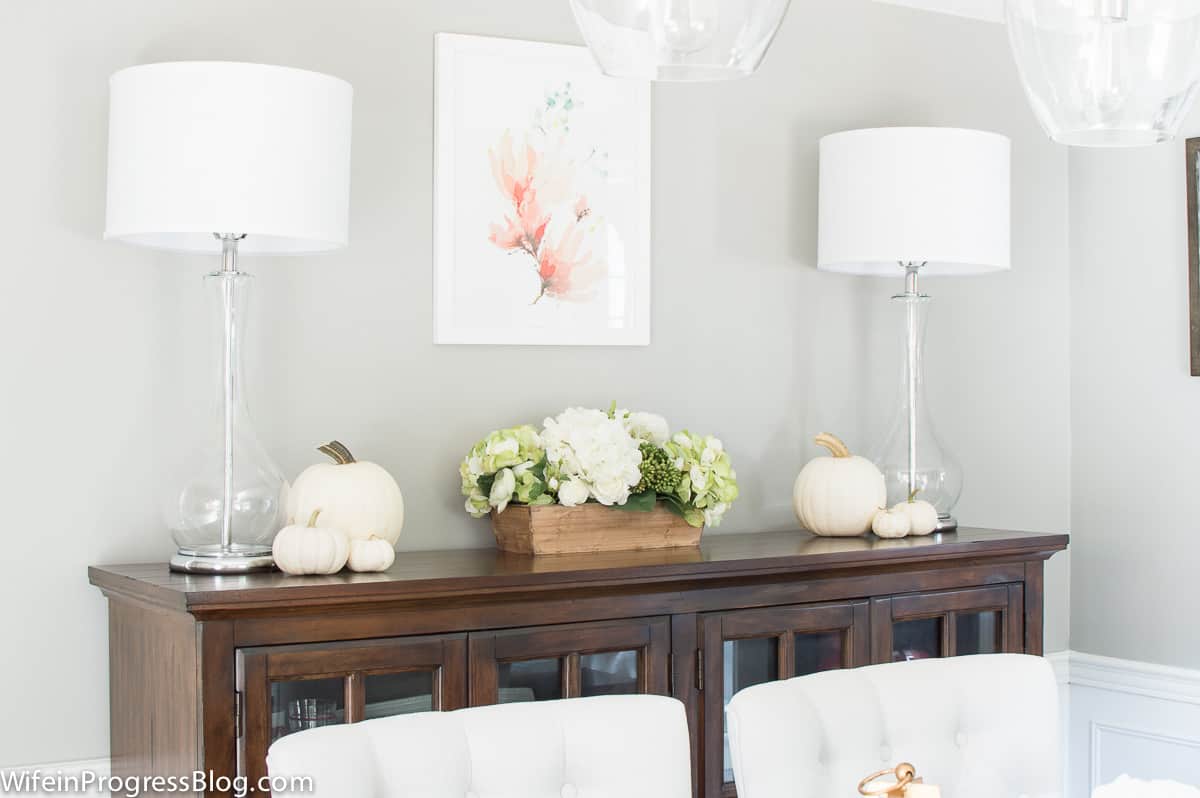 Are those glass lamps so elegant? Alongside the faux hydrangea arrangement and a few simple white pumpkins, my bright and fresh vision is complete!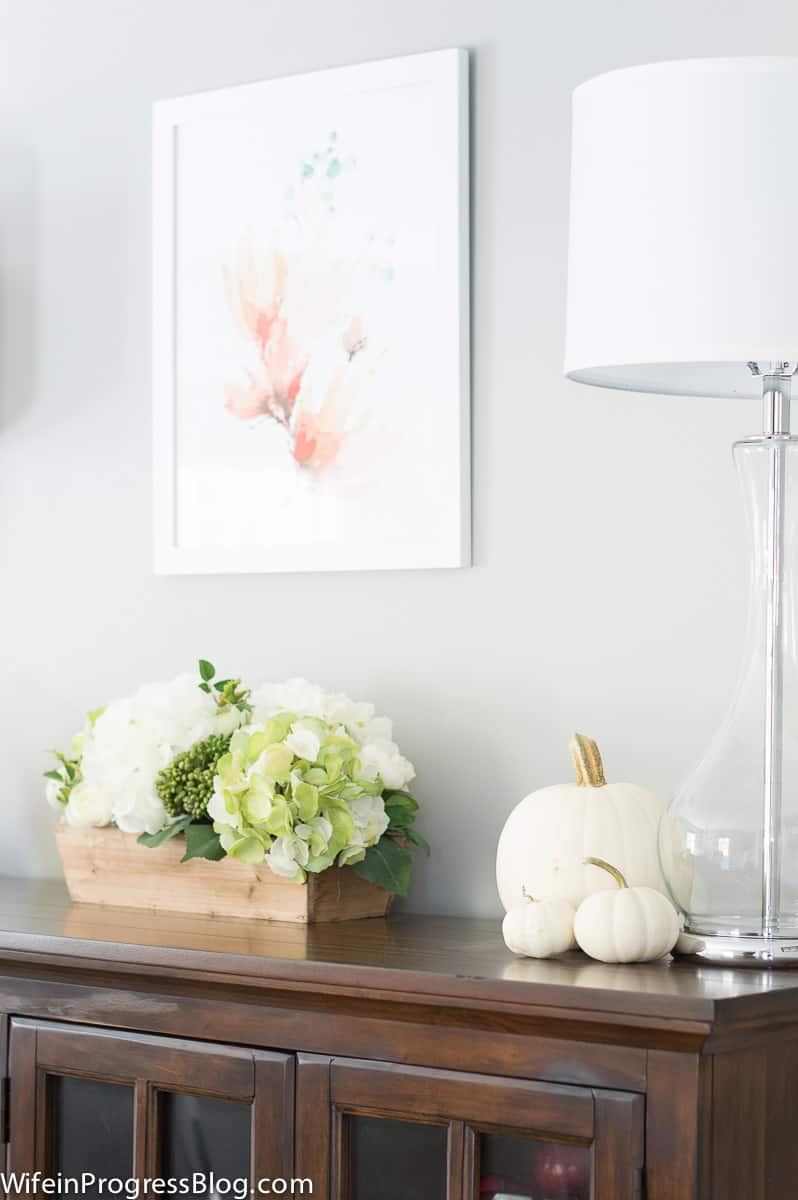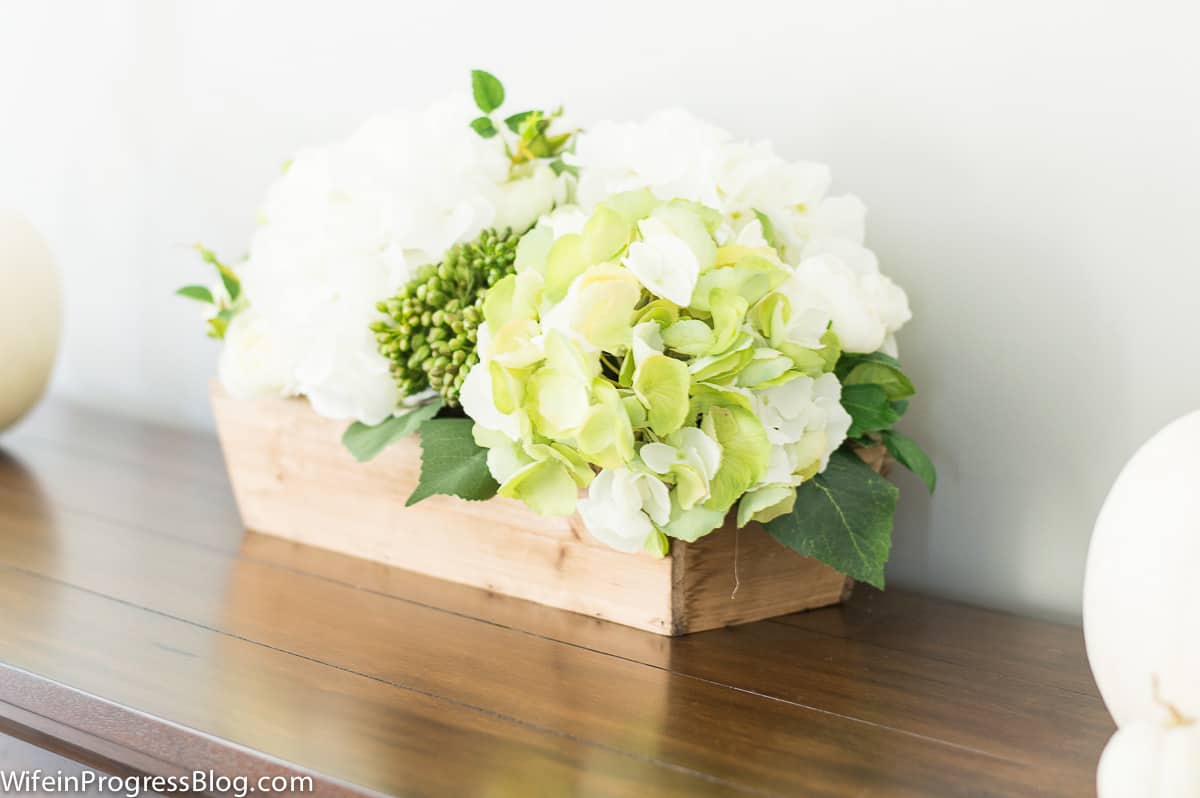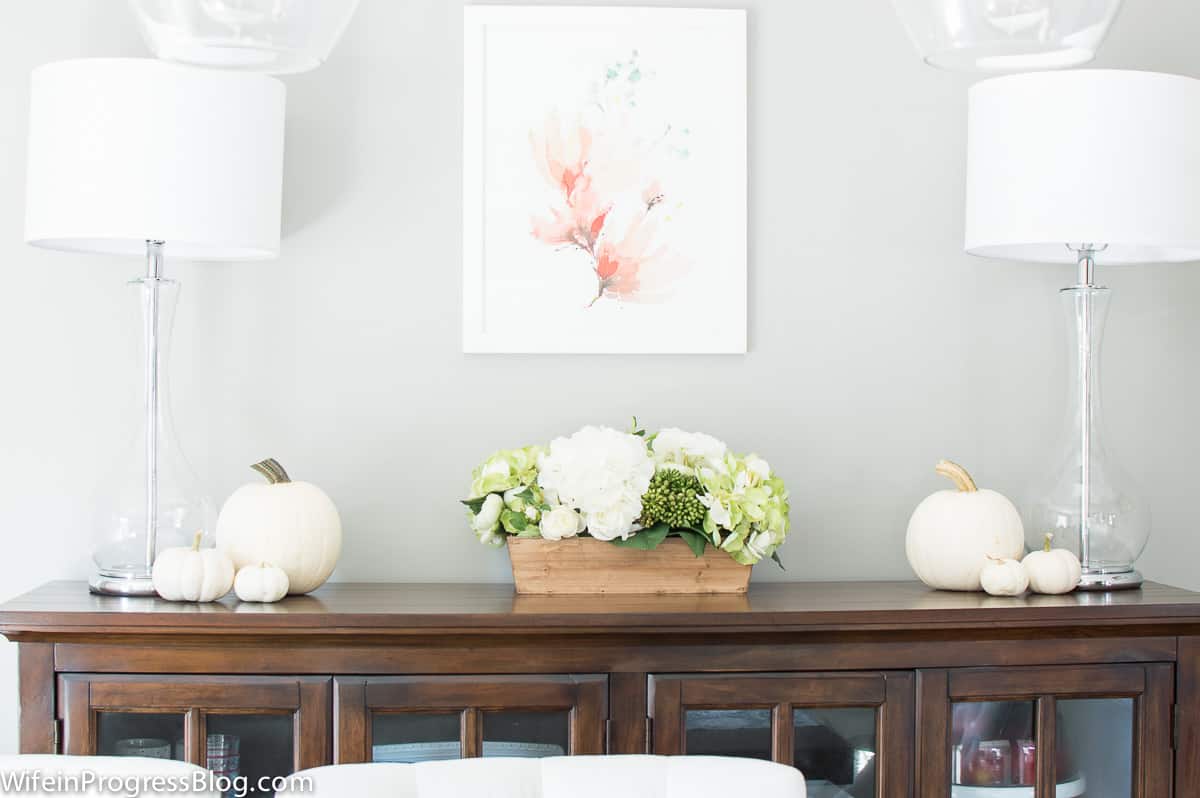 Removing the passthrough and framing in the wall is one of the best decisions we could have made. For the sake of a few hundred dollars, it has completely modernized the space.
The antique gold mirrors are also another R&F find and they help to pull together all my other gold touches – the large framed print and candle holders – perfectly.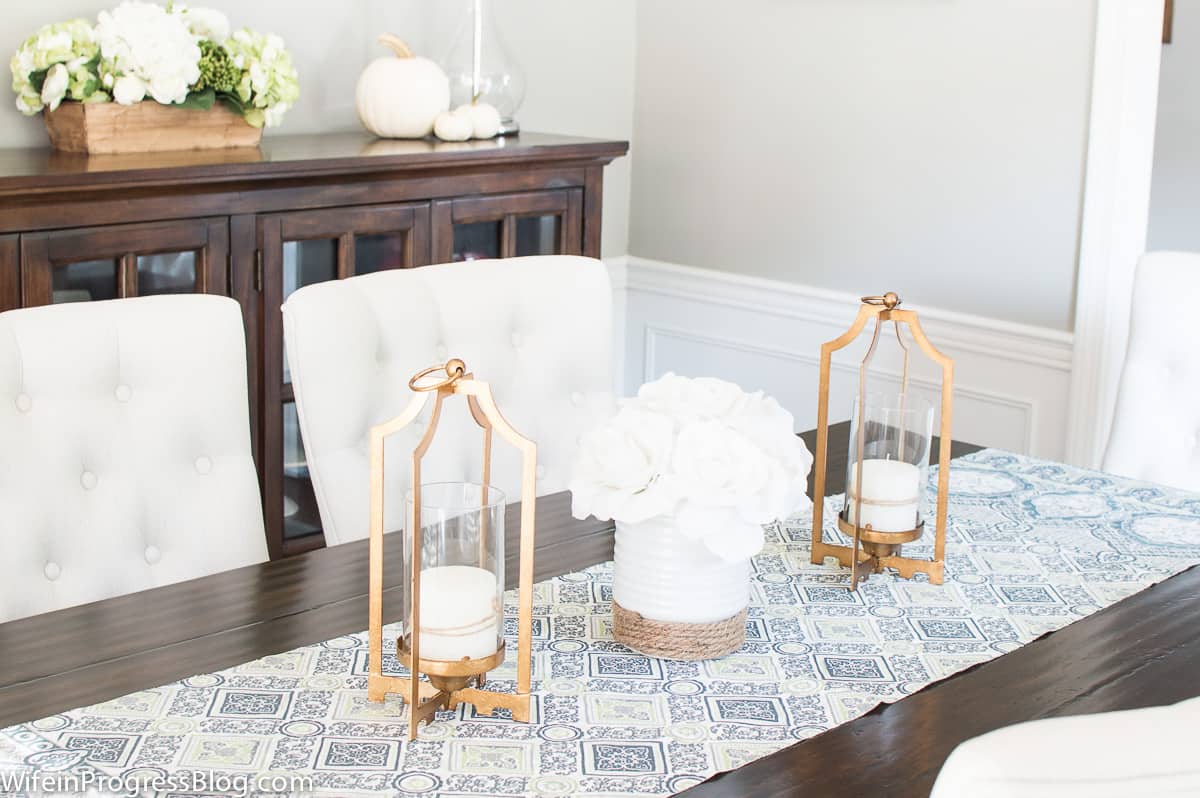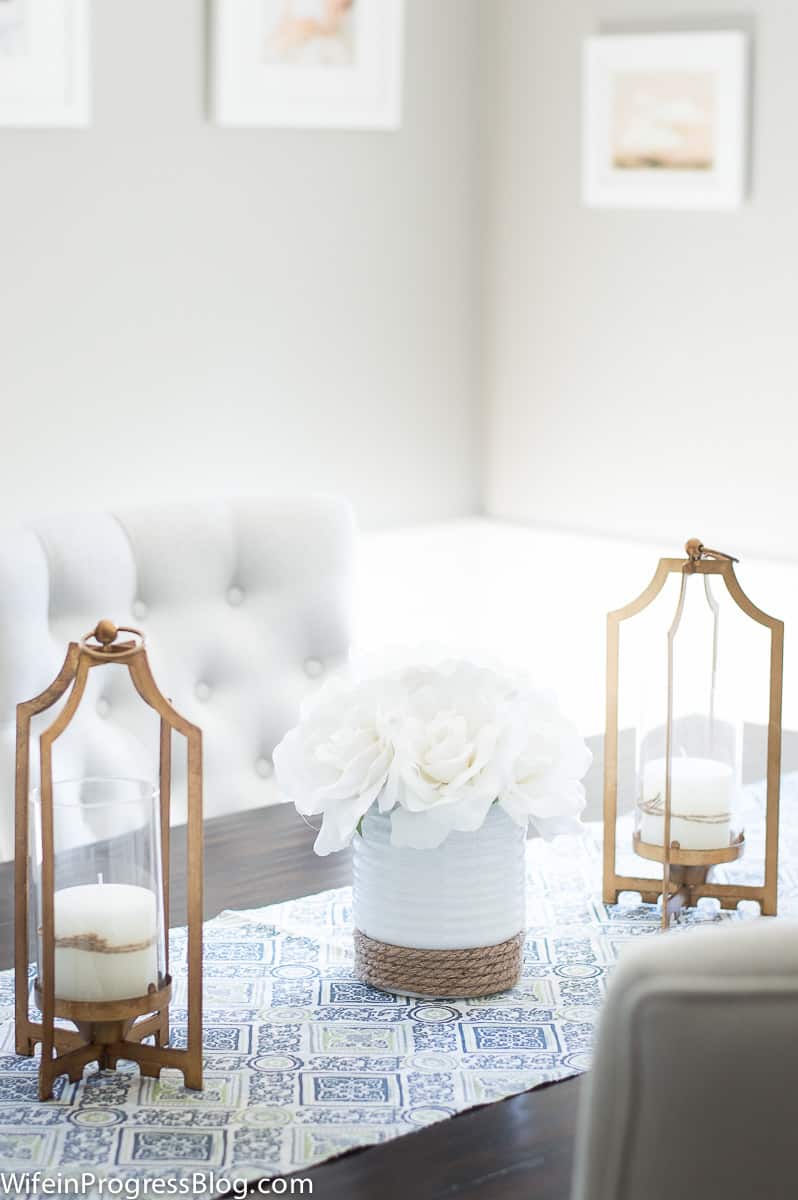 By the way – that table runner is a simple piece of fabric frayed at the ends and knotted! It was a $5 piece of scrap fabric but it makes such a beautiful addition to my table!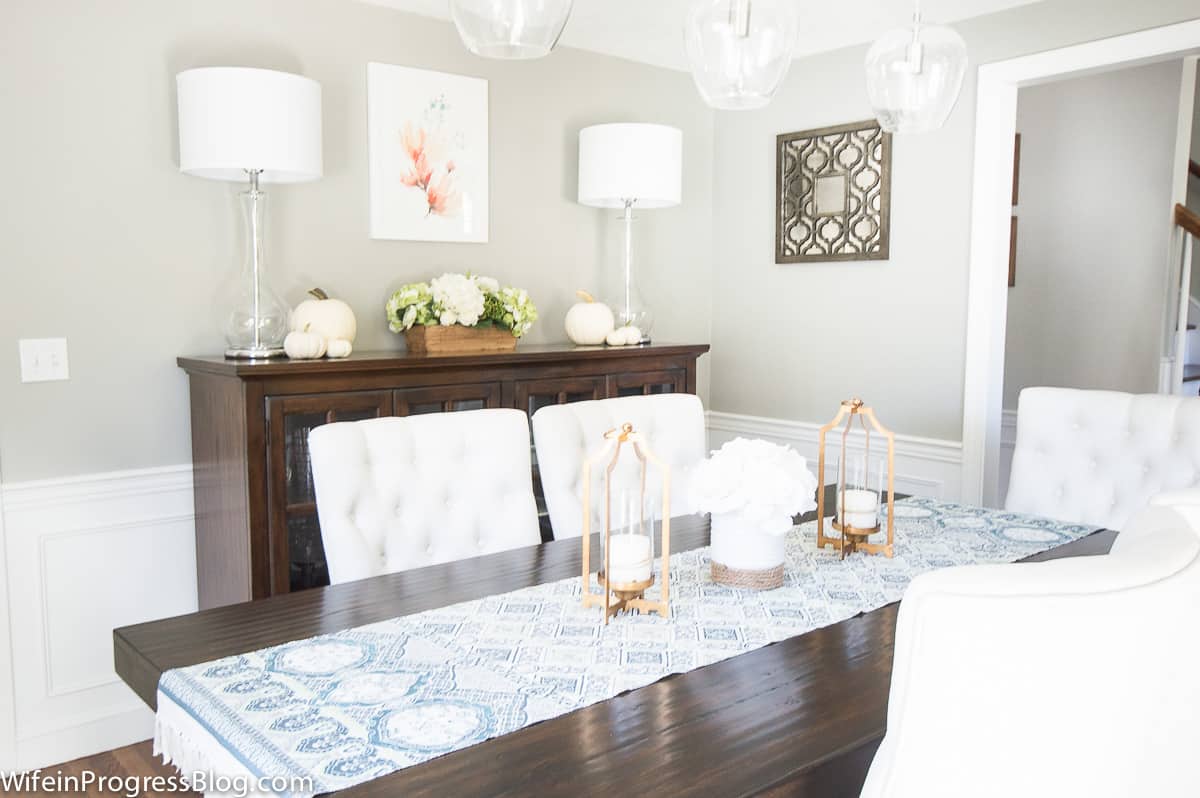 Finally, I scored my beautiful new rug during the Nordstrom Anniversary sale. It's the first time I've purchased a high quality rug and boy, it did not disappoint! I always find that once you add a rug to a space it feels finished. Don't you agree? There's just something about how it defines the area and adds a sense of warmth.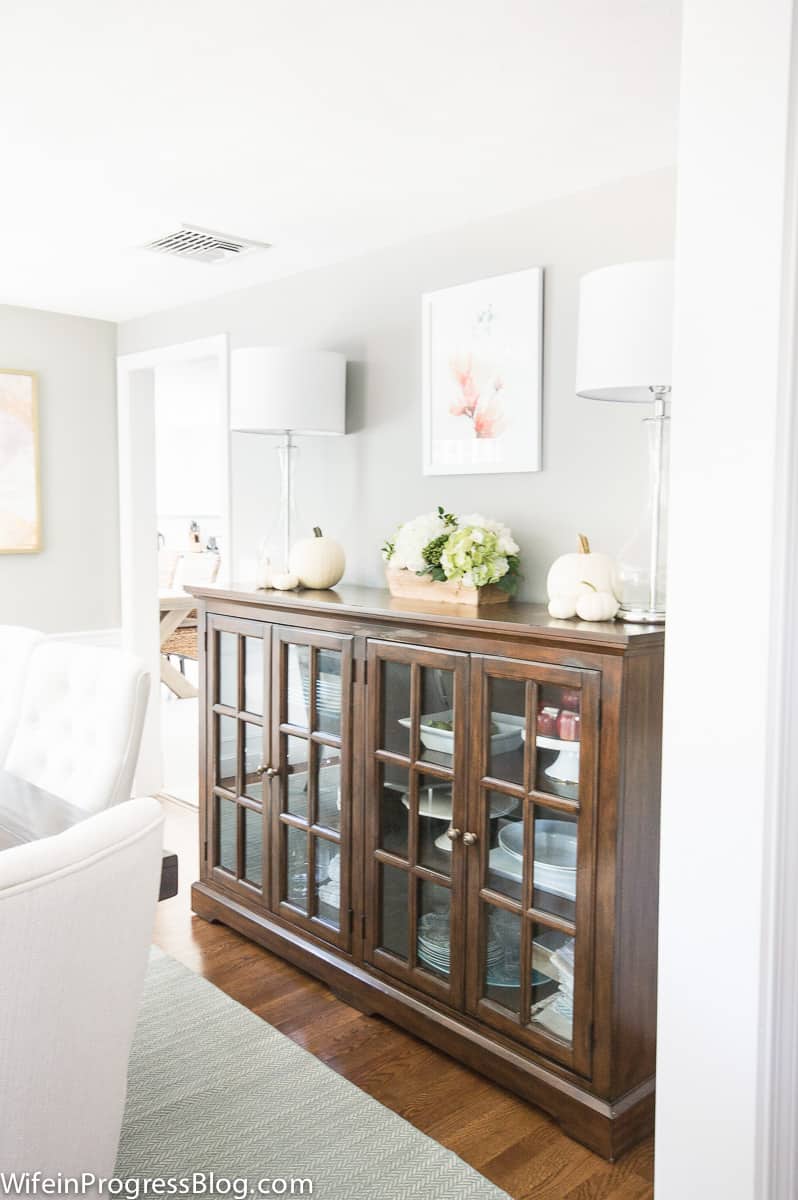 With the holiday season fast approaching (and the fact that I'm hosting BOTH Thanksgiving and Christmas this year) it's great to have this space finished and ready to entertain my guests.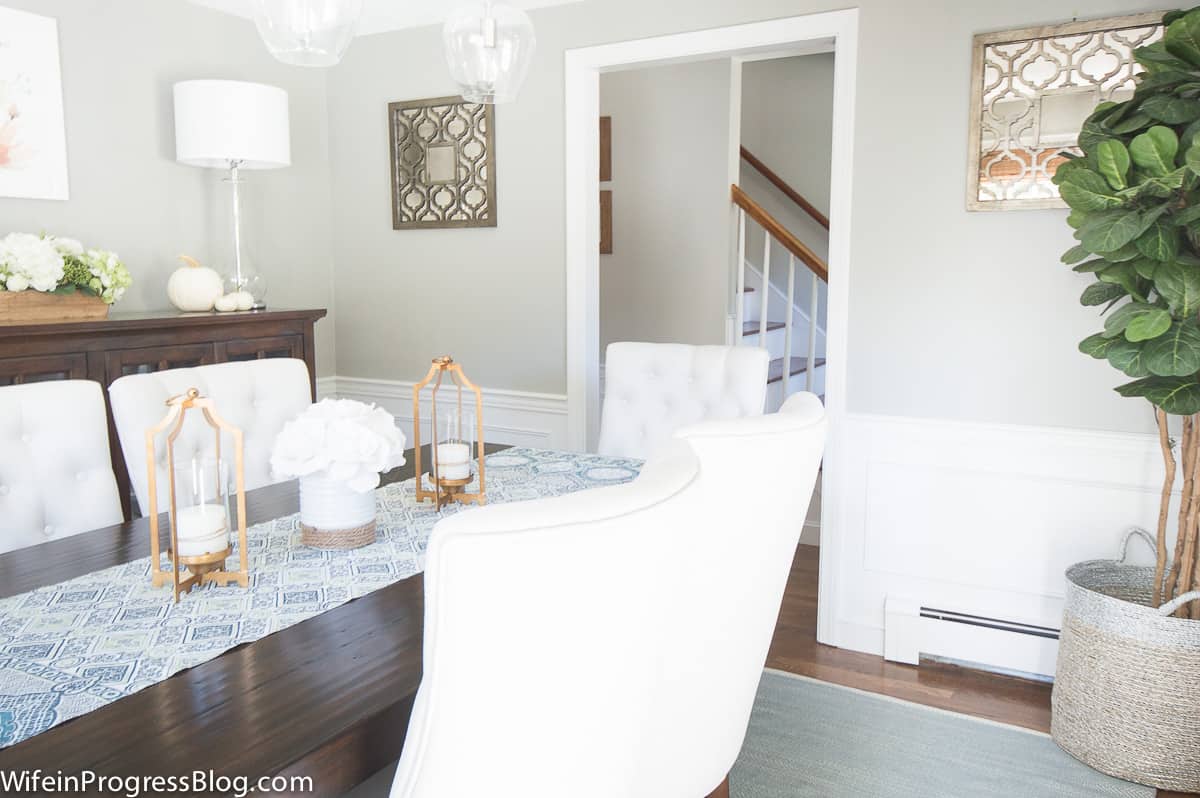 Thank you for stopping by today to check out my newly refreshed dining room. I'd love to hear what you like/dislike or any comments or feedback you have. Just drop me a line in the comments below and I'll be sure to respond!
Sources
Wall Color: Mindful Gray, Sherwin Williams Trim Color: Decorator's White, Benjamin Moore Chairs Server Table Lamps Gold Mirrors Gold Candle Holders Faux Hydrangea Arrangement
Large Gold Framed Art
(matte brass frame)
Bamboo Blinds
(in the color sarasota camel)
Pendant Lights