**This is a sponsored product review. The products were
provided to me free of charge by National Builder Supply**



Feel free to skip to the bottom of the post to get




to a giveaway courtesy of National Builder Supply
I love my new kitchen. Yes, it's still small, but for the first time ever it's perfectly functional and has tons of storage space. There's pretty much nothing wrong with it…EXCEPT the lack of lighting. SO, when National Builder Supply contacted me about reviewing one of their products, I absolutely jumped at the chance. I knew that installing some pendant lights over the breakfast bar would be both functional and make the space look even better than before.
If you've never been to the National Builder Supply website before, you're in for a treat and you may spend hours browsing their fixtures just like I did. After several hours I initially narrowed my search down to three lights that I liked the best:
They all had a cool industrial vibe about them that I thought would be a nice contrast to the bead-board cabinets in the kitchen. It was a tough decision, but I eventually decided to go with the second option, the Kichler 2664pn Mini Pendant.
I thought this would be a quick and easy addition to the kitchen. Well…it took the electrician 3.5 hours and countless holes in my walls to get them installed. Luckily for him, I'm head over heels for them.
Here's a quick before shot: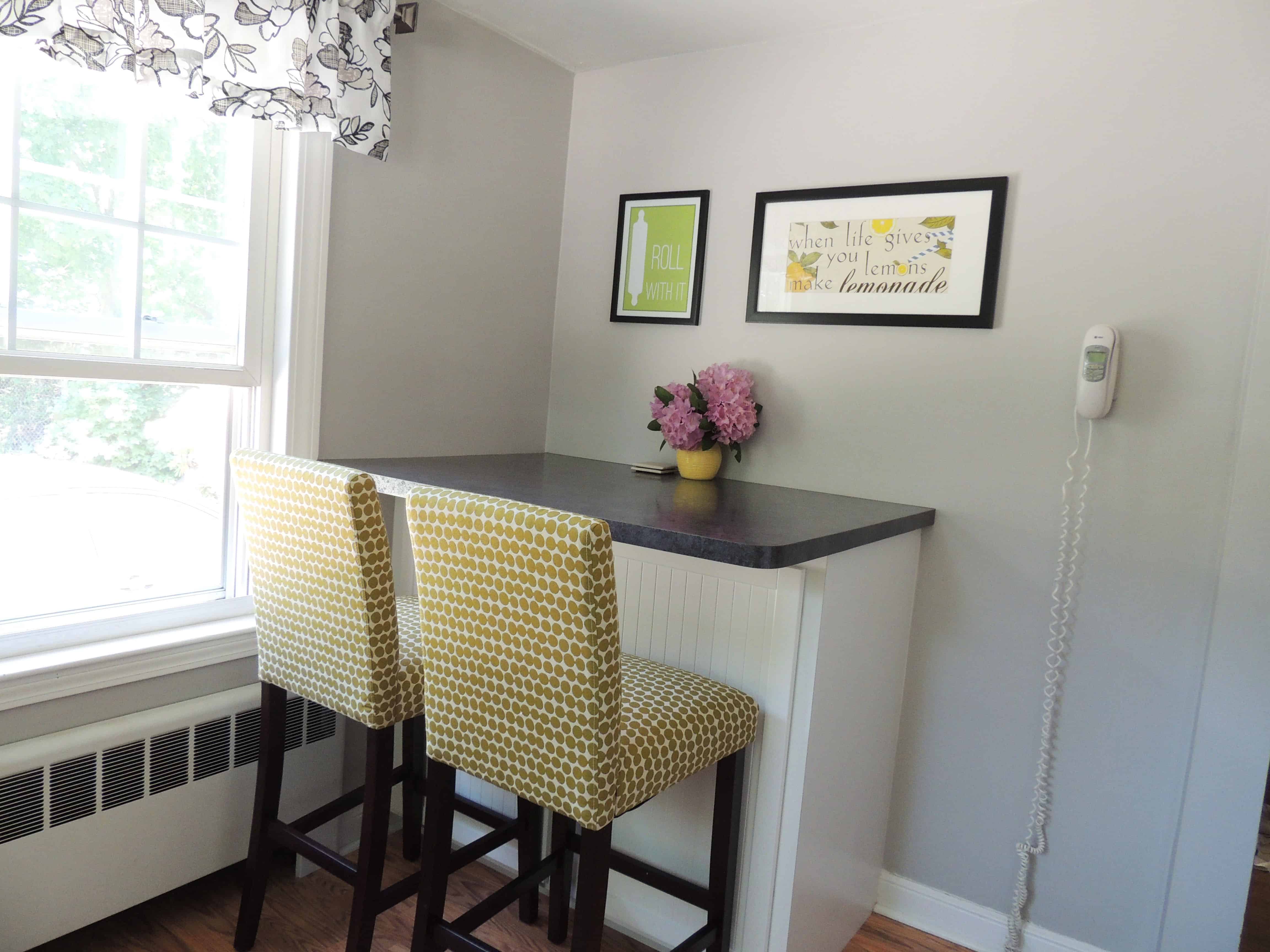 And after:
My little corner of heaven! I've even relocated my desk to the breakfast bar for now so that I have another excuse to sit and admire my new lights! They look kind of retro diner-esque and really provide great light on the work space beneath.
The industrial vibe that I was looking for is provided by the both the polished nickel finish and the hardware on the pendants themselves:
Here's another angle. I'm still swooning over them…can you tell?!
The photos are deliberately cropped so that you can't tell where I need to fix holes, spackle, sand and paint! ha!
I know you're all jealous of my new kitchen bling now, right? Well, the lovely people at National Builder Supply want you to stop ogling my beautiful lights and have a chance of buying some bling for yourselves! Yes, sirree, those fine folks are offering one lucky Wife in Progress reader a $100 credit towards any product in their online store!
Enter below! I'm off to repair all the holes in my kitchen wall…
The Rules
1. Head over to National Builder Supply's product page. Drool over all the goodies. Pick what you would buy with the $100 credit and report back here in the comments section.
2. Use all the other options to earn yourself some extra entries.
3. This giveaway is only open to residents of the United States and Canada. The giveaway runs from 8/6/13 to 8/16/13.
a Rafflecopter giveaway
Linking up at Savvy Southern Style and Rain on a Tin Roof