I'm so excited and a little more than slightly nervous to announce that I'm participating in my first ever One Room Challenge!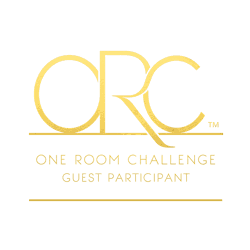 For those of you who are unfamiliar, the One Room Challenge is is a widely anticipated biannual event held every April and October that challenges bloggers to transform a room in 6 weeks. Sounds easy? Not so much!
This round I'm joining in with the craziness as a Guest Participant. While I'm not one of the 20 official bloggers, I will be participating – and accepting the challenge – to renovate a room from start to finish. I'll be posting updates right here on the blog every Thursday, so make sure you're signed up for email updates (below!) so that you don't miss a thing!
By the way, if this is your first time here, WELCOME! My name is Jenna and I live just north of Boston with my husband, Brian and our 16 month old son, Cian. We moved into our current home this past December and have been busy working away on updating every inch of it since. You can learn more about me in the About Me section of the blog.
If you follow me on Pinterest, you'll have noticed same MAJOR powder room pinning. You guessed it – I'm redoing our awful 1960's brown powder room!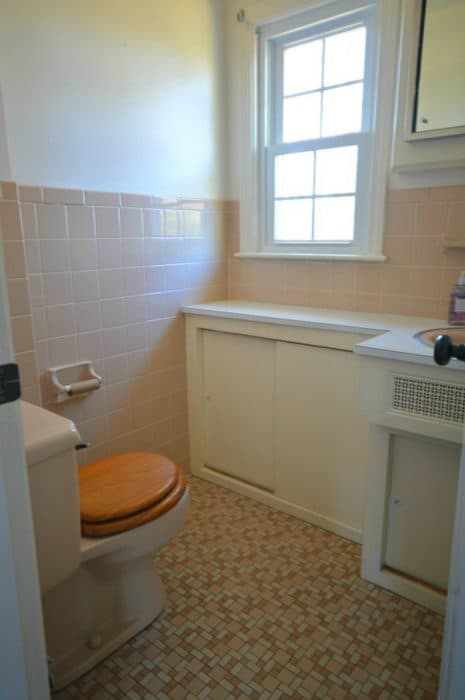 Since it's on the first floor, adjacent to the living room, this is the bathroom that anyone coming to our house uses.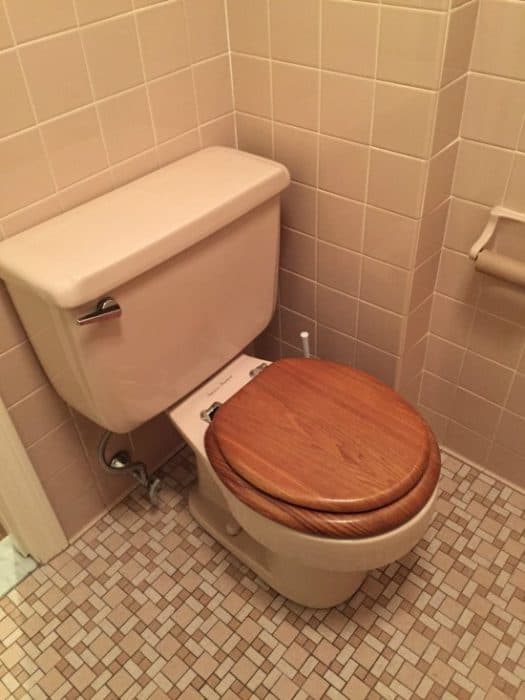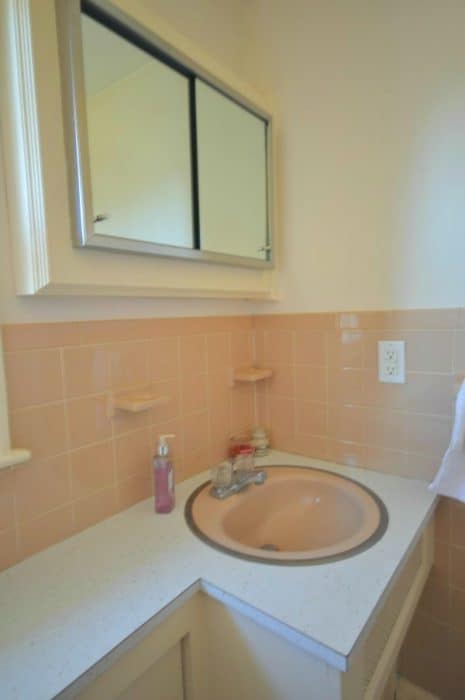 And it's pretty ugly to say the least. While the rest of the house is light, bright and airy, this bathroom is dark with brown everything – toilet (with a wooden seat no less), mosaic floor tile, ceramic wall tile and built in vanity and sink. Oh, and does your powder room have an attached toothbrush holder?!

Minus the bathrooms, the rest of our house is neutral tones of gray and blue with lots of bright white. I'm sure our guests have probably been hoping we'd do this room soon rather than later!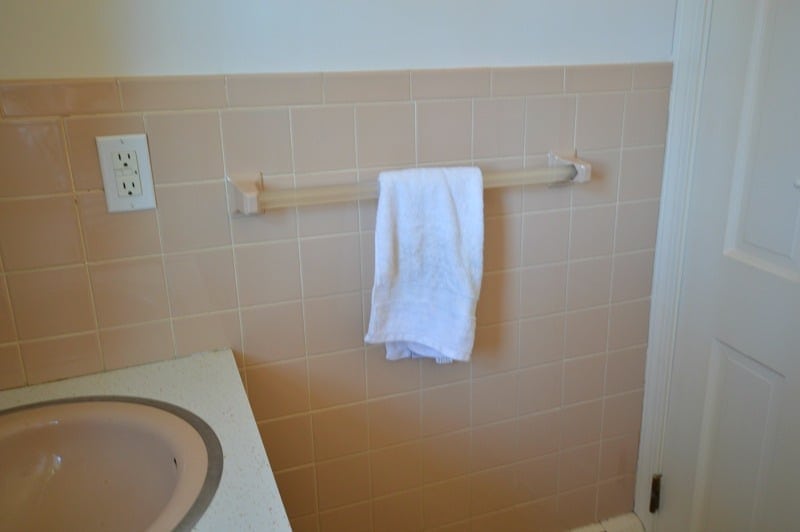 OK, enough ugly images. Let's get down to the fun stuff! The majority of my inspiration for this makeover has come from Pinterest. Here's the direction I'm going in: (click image for source)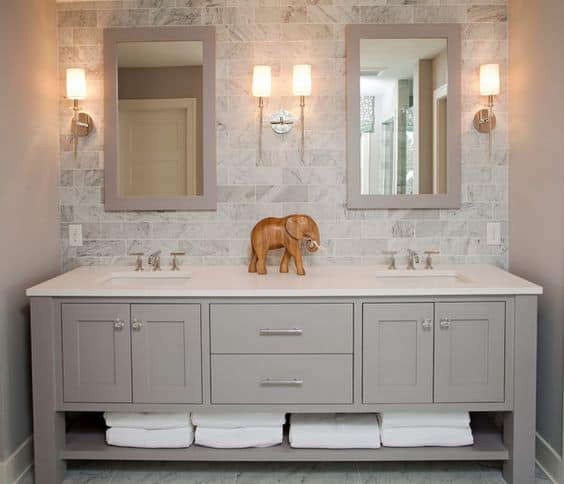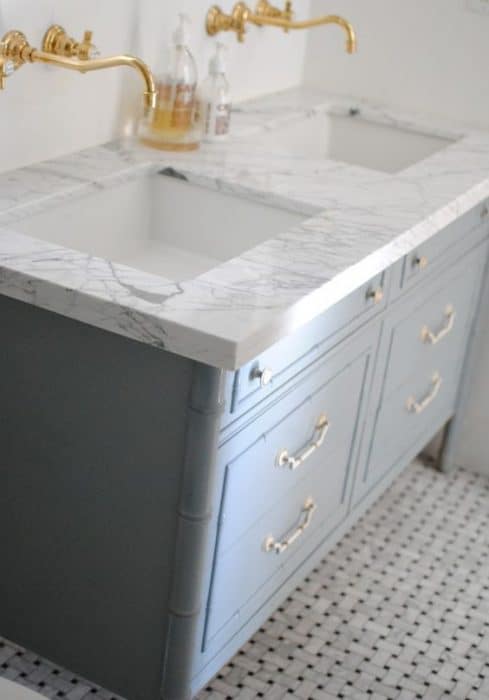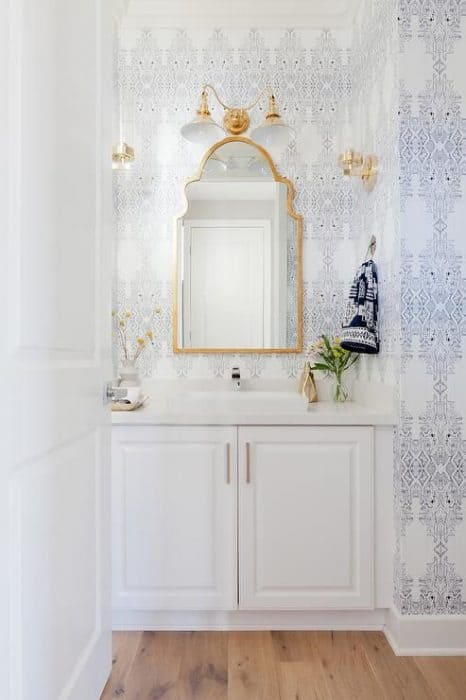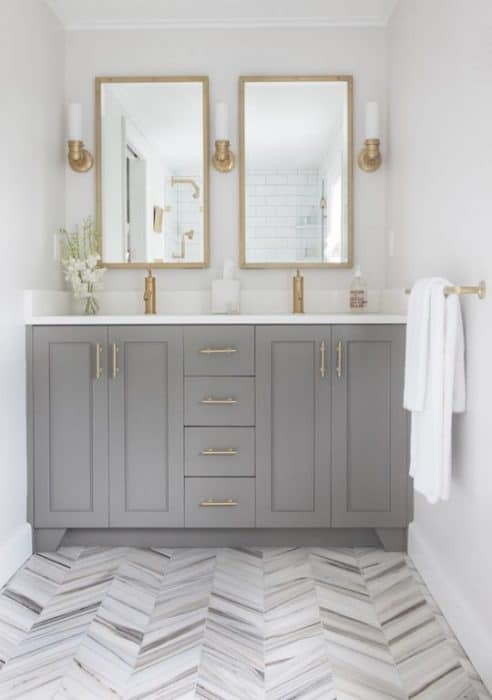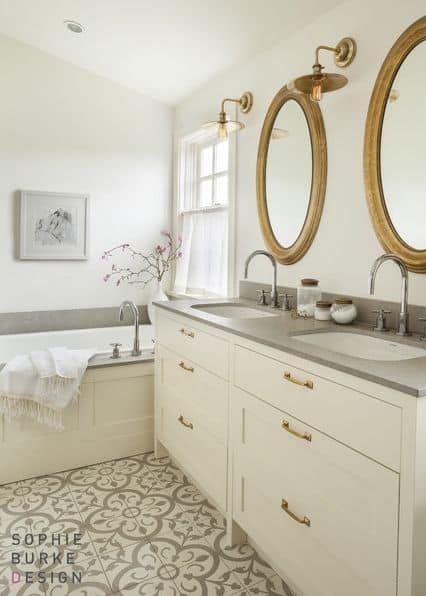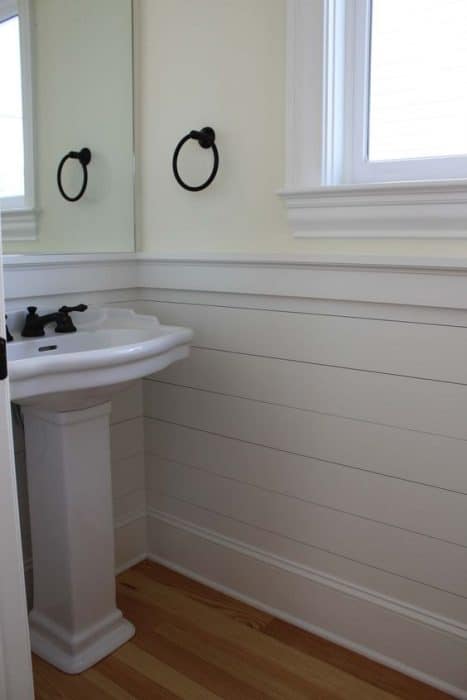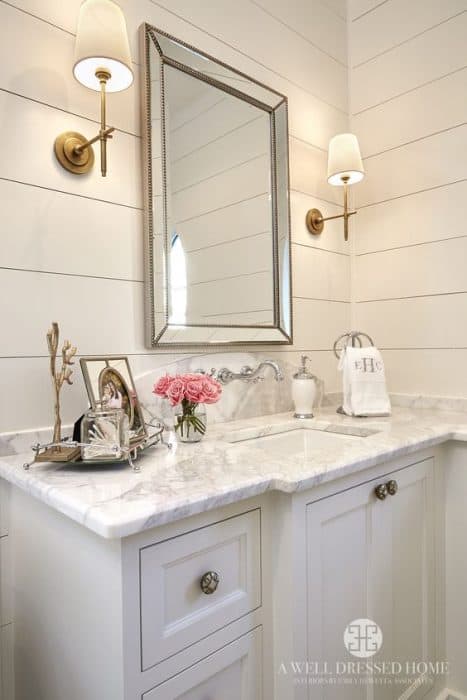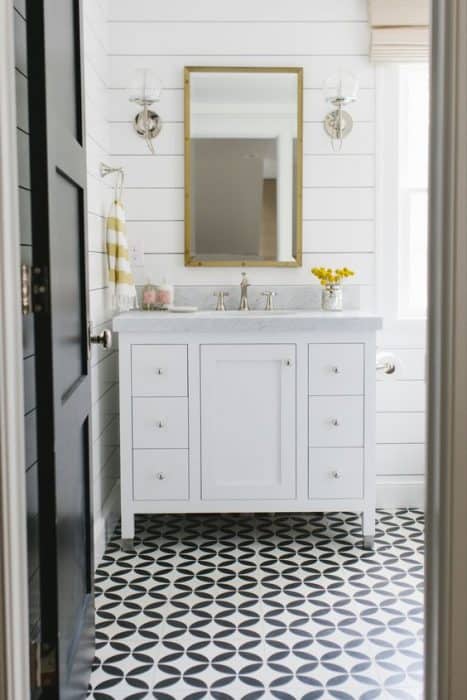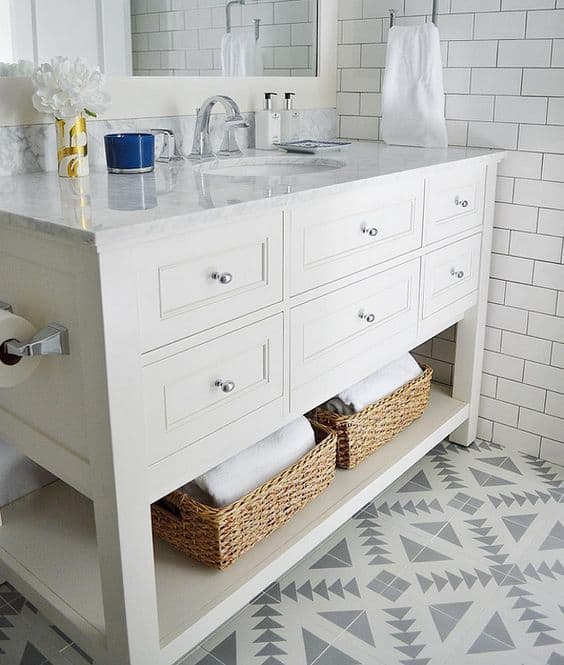 Do you notice some trends in what I pinned? When I analysed everything, it was obvious that I wanted a gray vanity, a wall treatment and patterned cement tile. I also want this room to be FUN and unlike anything else I've ever done before.
So, this is what I've come up with so far: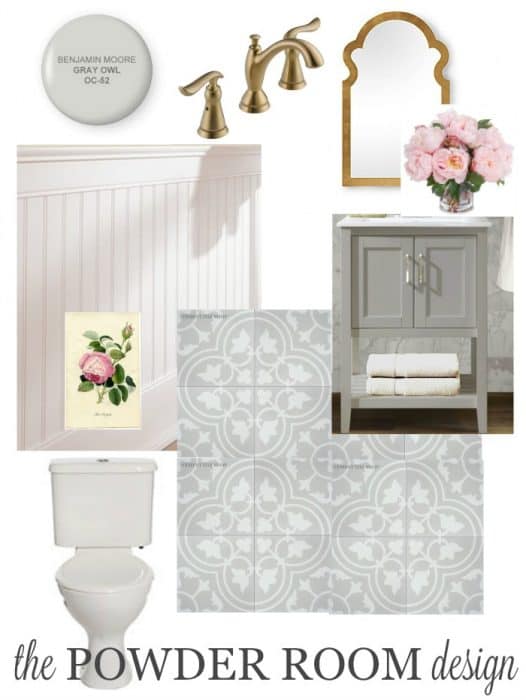 I'm still undecided about a few elements – namely the specific wall treatment, faucet color and paint. I want a horizontally oriented ship lap wall, but Brian wants vertical beadboard. I want champagne bronze faucet & hardware, Brian wants chrome.
And I probably won't pick the paint color until I see how everything else works together.
So that's it! The next 6 weeks are going to be hectic but hopefully worthwhile. First things first, we've got to begin the dirty task of demo! With floor tile that's embedded in 2 inch thick concrete, things might get interesting!
I'll be posting sneak peaks to Instagram as the weeks progress, so make sure you're following along. You can also sign up for email updates below so that you don't miss any of the action!
You can see what the other Guest Participants are up to for week 1 here. Now…Let the games begin!!
---
See all the Powder Room Posts!
Week 1: The Design | Week 2: Demo | Week 3: Floor Tile
Week 4: Shiplap | Week 5: Vanity, Trim & Paint | Week 6: The Big Reveal