Woohoo! It's Week 2 of the One Room Challenge – where I've taken on the challenge of renovating my powder room in 6 short weeks.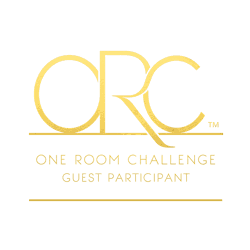 Last week I shared my inspiration and plans for this little half bathroom of ours. Over the past week we were busy with demo and installing the cement tile floors.
Before we could install new floor tile, the entire room need to be demo'd. First, all that nasty tan wall tile was removed. Luckily, it came off really easy AND without damaging the walls too badly.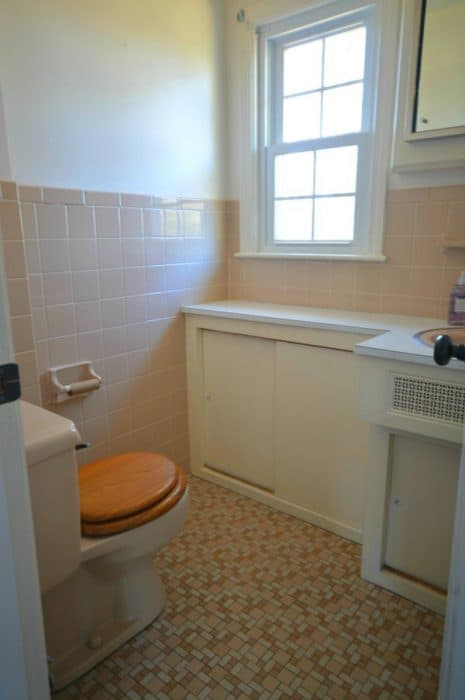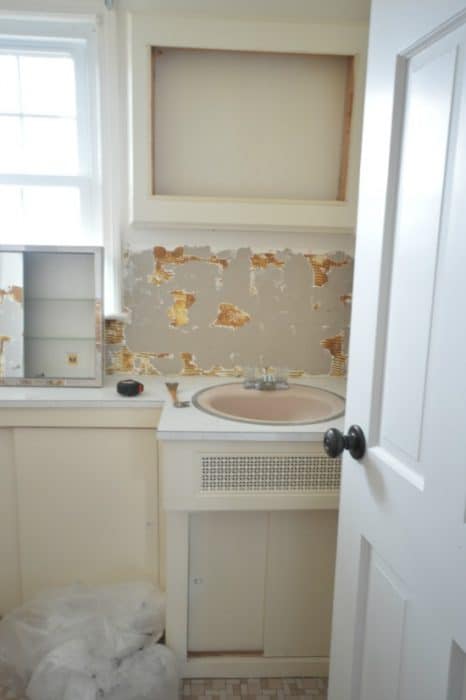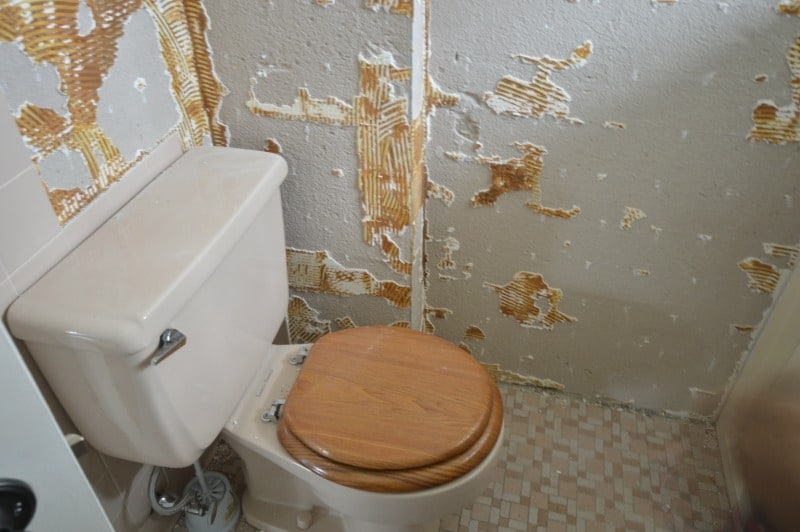 Then the medicine cabinet, vanity, toilet and sink came out. I was so glad to see those go!
Finally, it was time to demo the floor tile…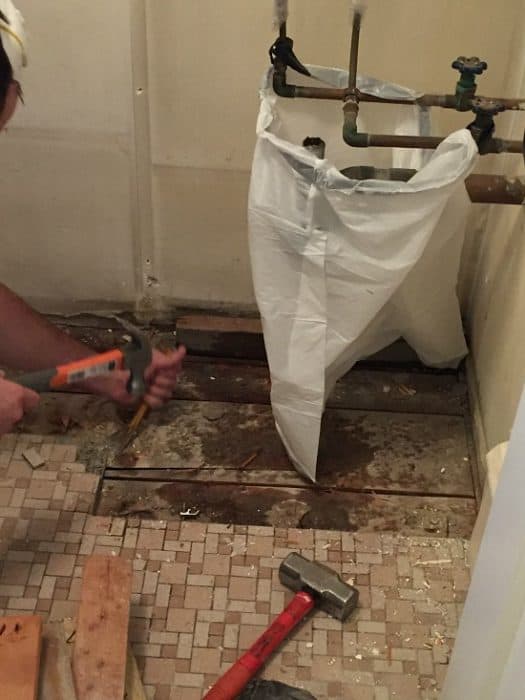 When we did our home inspection, the inspector had warned us that we may possibly never be able to get the bathroom floor tile up because it was clearly set into an inch of concrete.
Luckily for us, the tile only went up against the vanity. So once the vanity was gone, we had an edge to start on.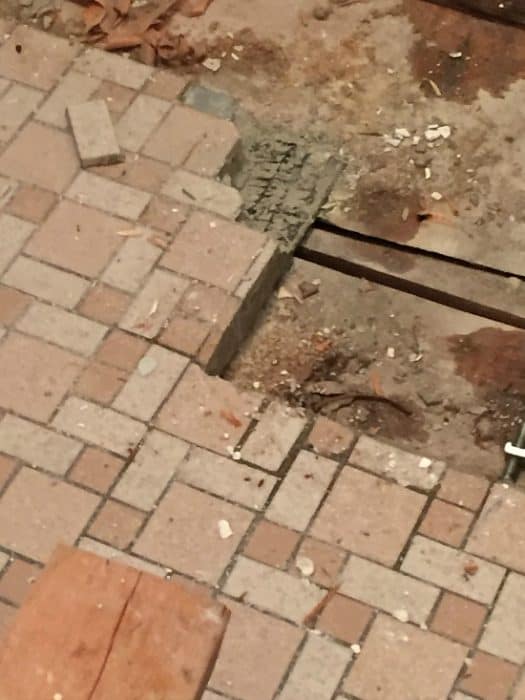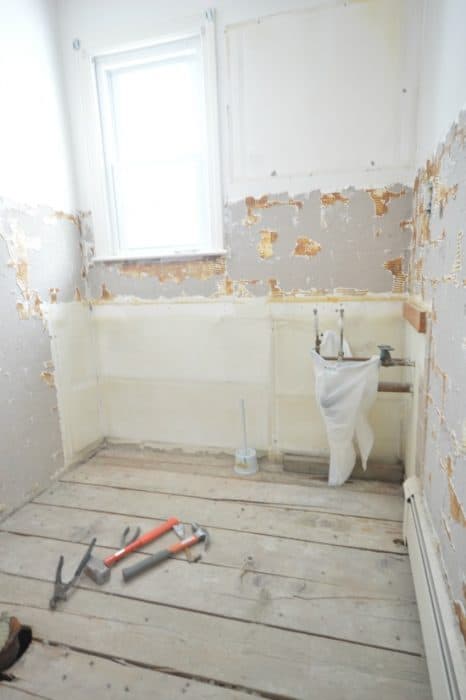 Brian was able to smash it out pretty quickly – in about 2 hours or so. The concrete was laid over a bed of wire mesh, which meant the it wasn't adhered directly to the floor.
Have you ever smashed out tile? The dust gets everywhere! Because this space is so small, we couldn't seal it off because Brian wouldn't have been able to move. Needless to say, we will rethink that plan in the future. I'm STILL finding dust in random places a week later.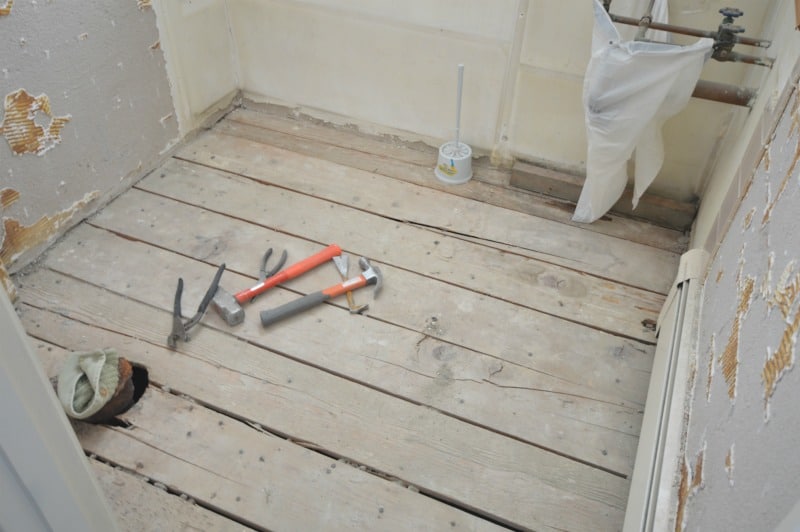 I was worried that we didn't have a correct subfloor and that we would need to have plywood installed. However, my contractor assured me that these wide floor boards are in fact our subfloor and are very durable. With cement board over them, we would have a stable surface to install the tile.
Now, Now how about looking at something a little prettier? My tile samples from the Cement Tile Shop arrived late last week and I shared this image on Instagram: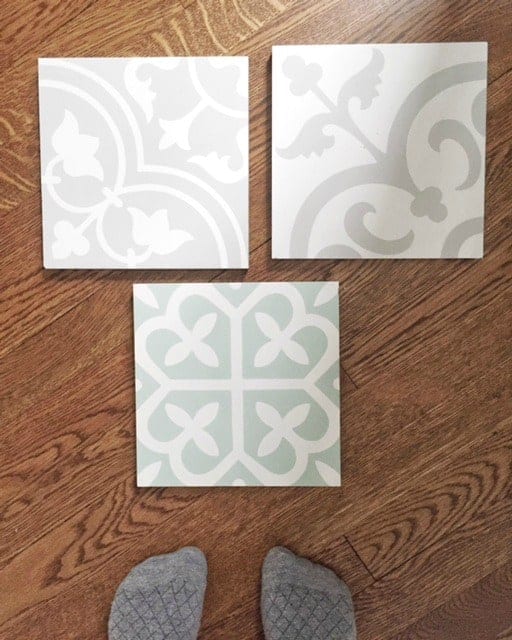 Can you guess which tile I ultimately decided on? While, the bottom one (Mahlia) is definitely my favorite, it didn't work as well with the gray vanity that I just purchased.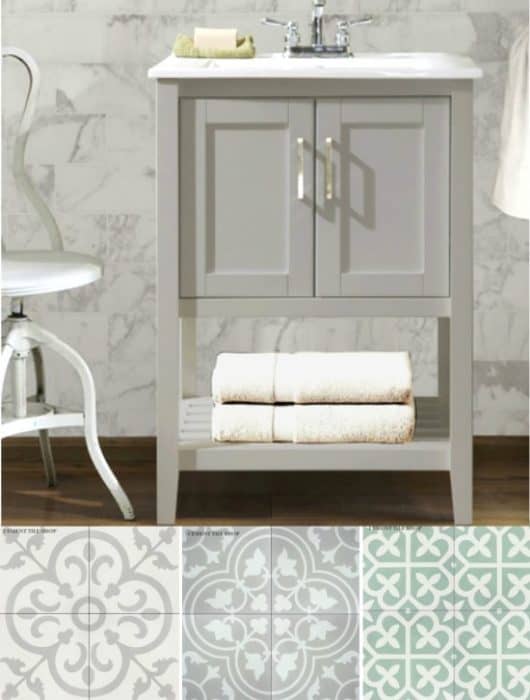 In the end, we went with Bouquet II, which the middle tile in the picture above (top left in my Instagram pic). The whites in the tiles are much whiter than the stock pictures. Oh, and in case the white one is your fave, it's called Cannes III.
And here it is just after it was installed: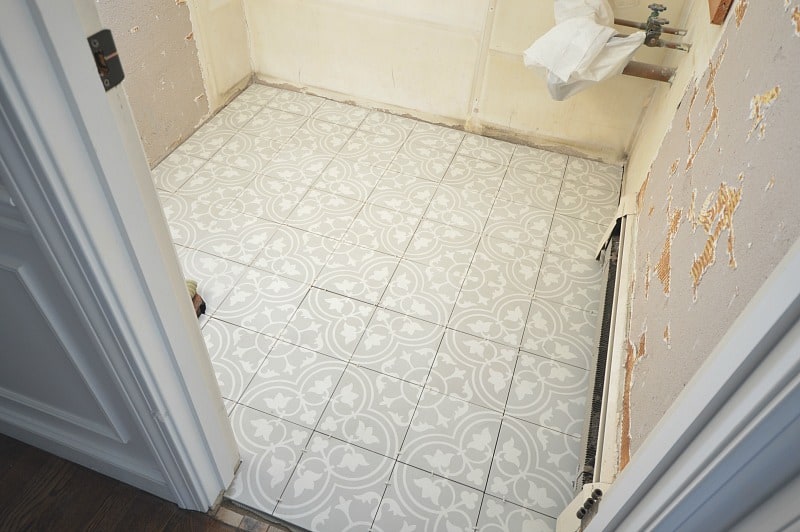 Isn't it beautiful?
We went with tight spacing, 1/16 inch to be precise which will be filled with unsanded white grout.
There's still quite the process left. It has to be sealed multiple times before we can grout it. And then it needs to be sealed again. All the details will up be posted next week.
We're hoping that we can start our wall treatment by Monday and I've finally got Brian on board with the horizontal planked wall (i.e. the "shiplap" effect)! Major win for me!
I'll be sharing sneak peaks over the next week on Instagram, so make sure you're following me. If you don't miss to miss any of my One Room Challenge posts, you should also sign up for email updates below (plus you'll get a freebie!)
---
See all the Powder Room Posts!
Week 1: The Design | Week 2: Demo | Week 3: Floor Tile
Week 4: Shiplap | Week 5: Vanity, Trim & Paint | Week 6: The Big Reveal