Week 1: The Design | Week 2: Demo | Week 3: Floor Tile
Week 4: Shiplap | Week 5: Vanity, Trim & Paint | Week 6: The Big Reveal
---
We're in the home stretch, folks! It's Week 5 of the One Room Challenge so you know what that means? I better shift my behind into fifth gear!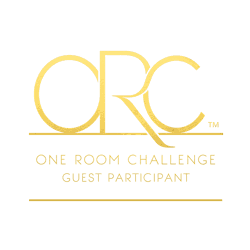 What's the One Room Challenge you ask? It's a 6 week challenge hosted by Linda of Calling it Home where designers  &  bloggers attempt to makeover a room. 6 Weeks might seem like a long time but trust me, it's not!
If this is your first time visiting – WELCOME! You'll probably want to check out Week 1 (the design), Week 2 (demo), Week 3 (tile) and Week 4 (plank wall) and then come back here!
This week was all about installing trim, window casing and getting the plumbing connected.
If you've been following along on Instagram you might have caught all the drama about my vanity. Last week I mentioned that I was worried that the plumbing would not work as it hit the vanity right at the bottom of the cabinet. And indeed, the plumber initially said we would have to either move the plumbing up or down in order to make it work. I had already installed plank walls so I was adamant no plumbing was getting moved. I searched and searched and searched and could not find another nice/affordable vanity that would fit into our space. It needed to be only 17 inches deep because of the baseboard heating inside the door and most vanities are 18+. UGH!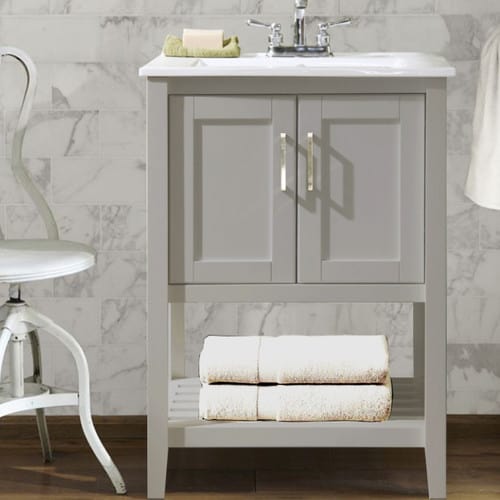 In the end I refused to part with my beloved gray vanity because it is integral to the design of this room. So, I agreed to move the plumbing. But here comes the kicker. The plumbing didn't have to be moved in the end!! WOOHOO!! (picture me doing the most ridiculous happy dance you can imagine)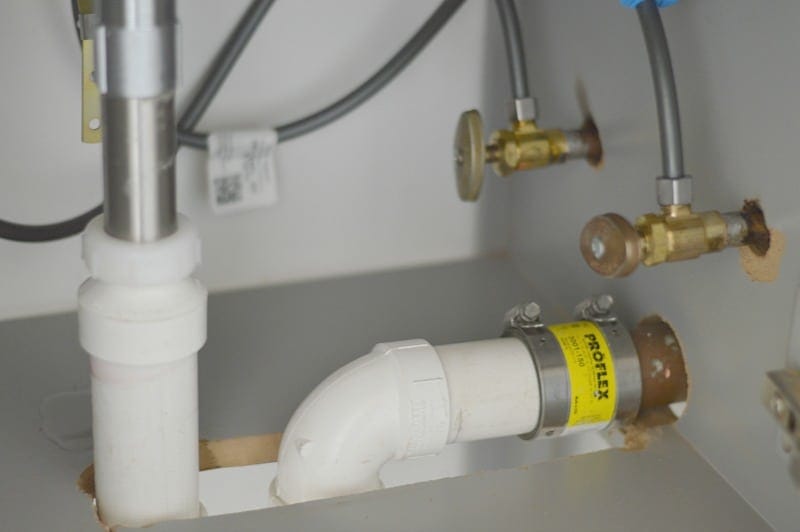 The plumber figured out a way to kind of tunnel through the side of the vanity and make it work. Yes, there's holes inside the cabinet. Do I care? No! It's a powder room and the unit is still perfectly functional!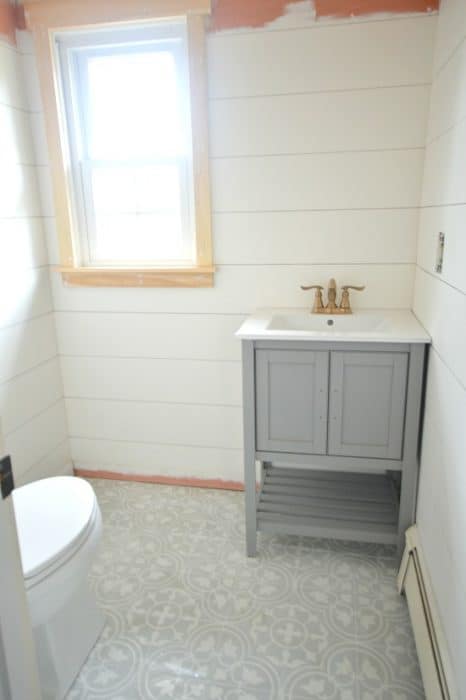 Apparently we also should have had the flange on our toilet replaced BEFORE we installed the tile. Luckily, that all worked out too but I was certainly very worried for a moment in time.
The window trim was by far the easiest project we tackled this week. I decided a craftsman style would fit the room better than the standard mitered angled. My thought being that the straight angles would complement the plank walls nicely.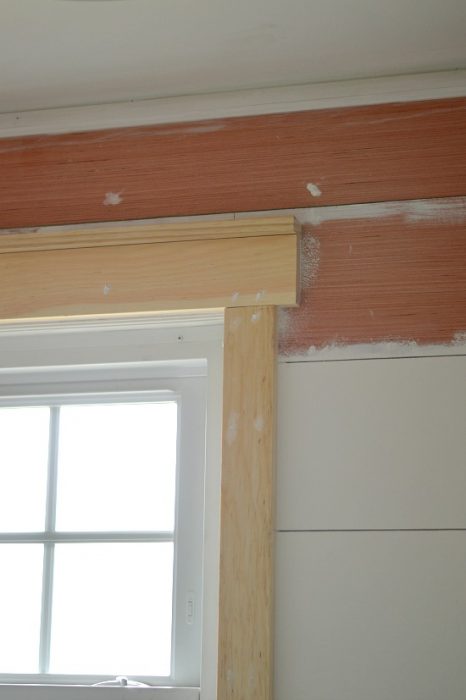 If you want to achieve the same look yourself, I've labeled the size of wood we used in the picture below. You will of course want to measure the length of each piece according to the dimensions of your window.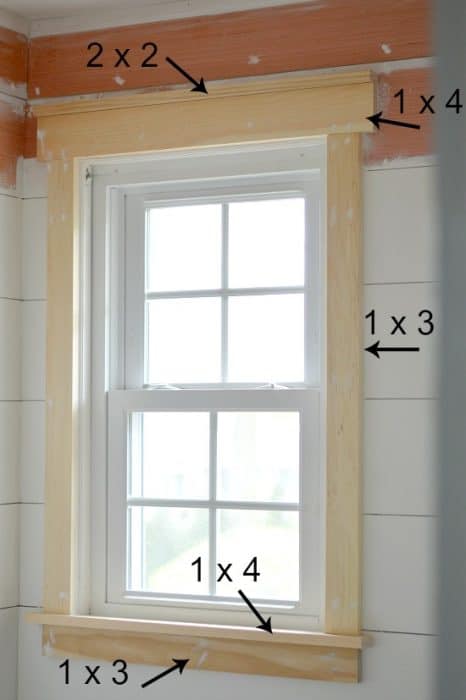 And in case you're wondering why the top planks are not painted –  I have to finish spackling and caulking the top trim piece first. Plus, I can't easily reach them LOL :-)
I'm not sure I ever shared the "UFO-like" light fixture that we currently have. Needless to say, that's on the list, too!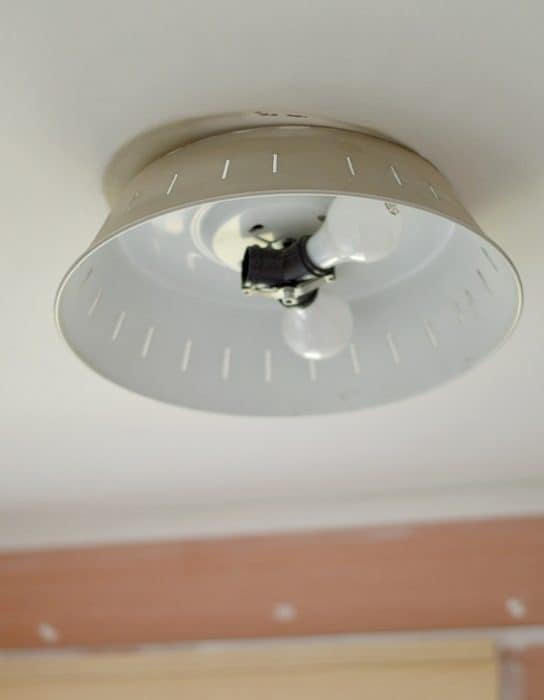 We have one last piece of baseboard left to install and then lots more holes to fill and seams to caulk. I think we are in pretty good shape for next week's reveal, but there's still a TON left to do including:
hanging the mirror
finding a window treatment
finding & hanging artwork
painting all the trim (and the door!)
deciding on – and installing – towel  ring and toilet paper holder
purchase and install new light
and of course accessorizing!
I'm so excited to be done and to share our powder room reveal next week! Make sure you are following along on Instagram for sneak peaks and subscribe to email updates below to get the big reveal direct to your inbox!