Wow! We got so much accomplished since last week. We pretty much have a functional basement space now!! I haven't had a chance to take my camera down here and shoot some nicer pics, so for now you're going to have to deal with my grainy iPhone pics for a little longer.
If you haven't already, be sure to Check out Week 1, Week 2 and Week 3. 
First up – the fireplace is finished! The mantel was installed Monday and all the most of the painting was finished last week. What a transformation from the before, right?!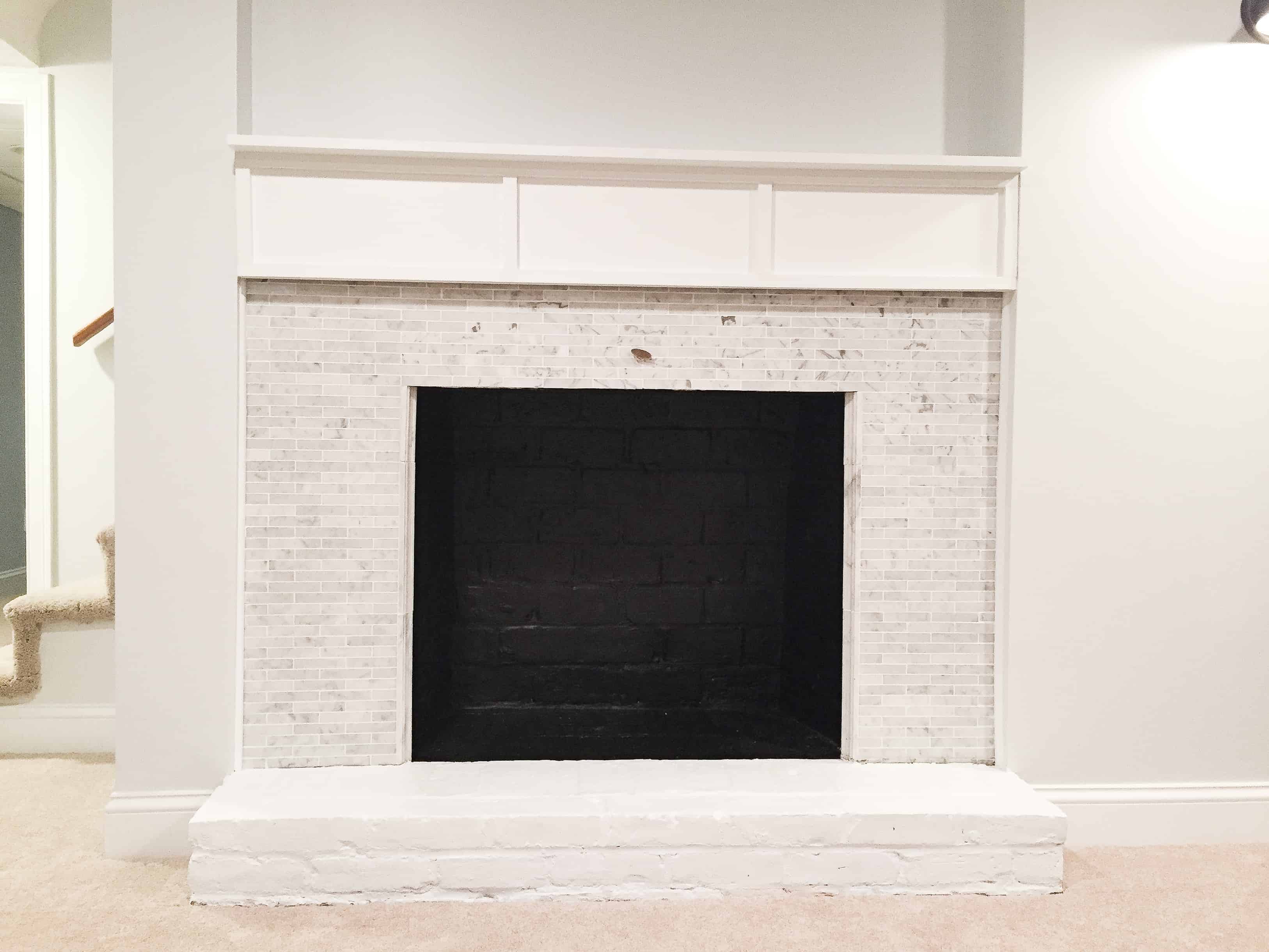 BEFORE…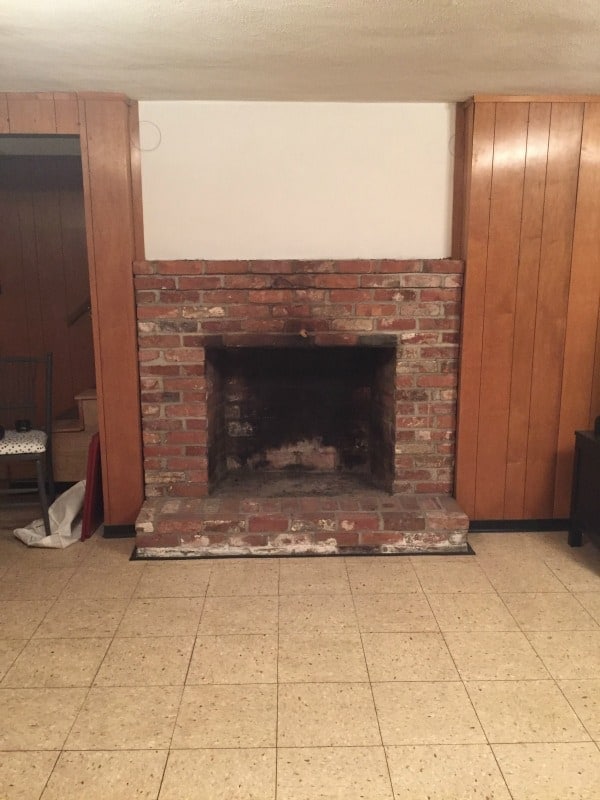 The walls have been painted, recessed lighting installed, CARPET installed and the drop-ceiling in the playroom was finished.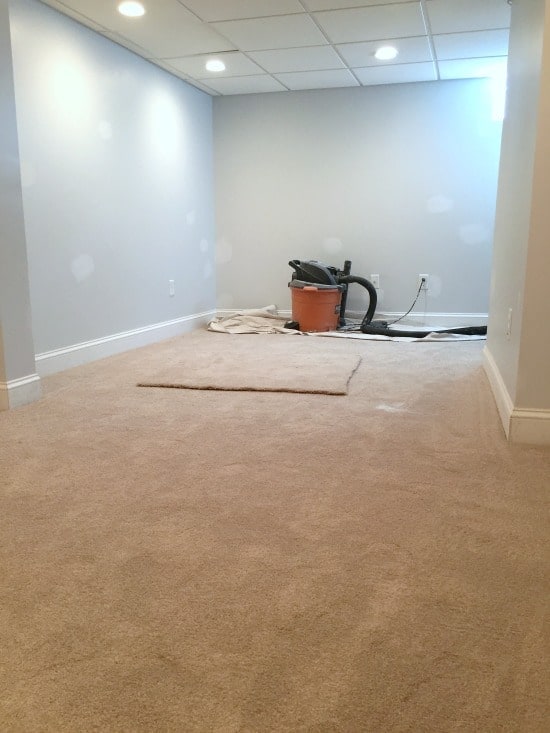 The trim has been installed but along with many other areas, still needs to be caulked and a coat of white trim paint needs to be applied.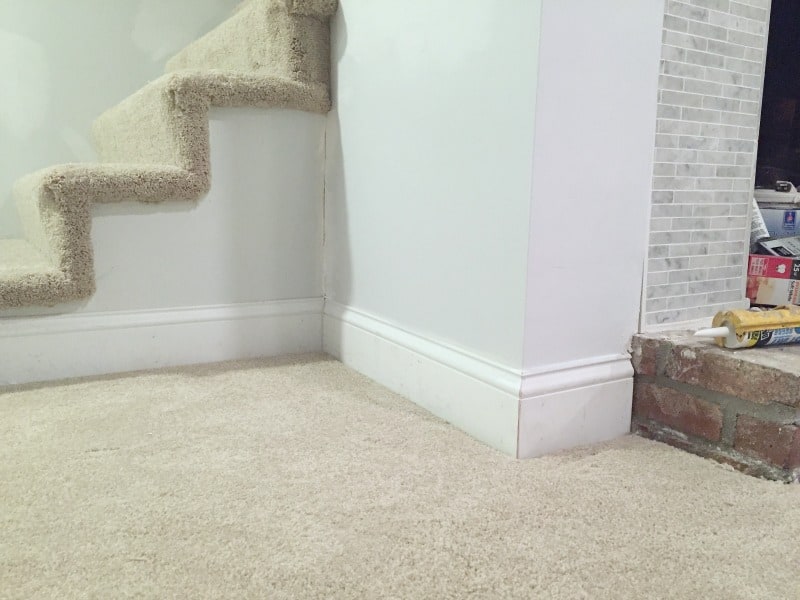 Any imperfections in the drywall need to be fixed and repainted, too.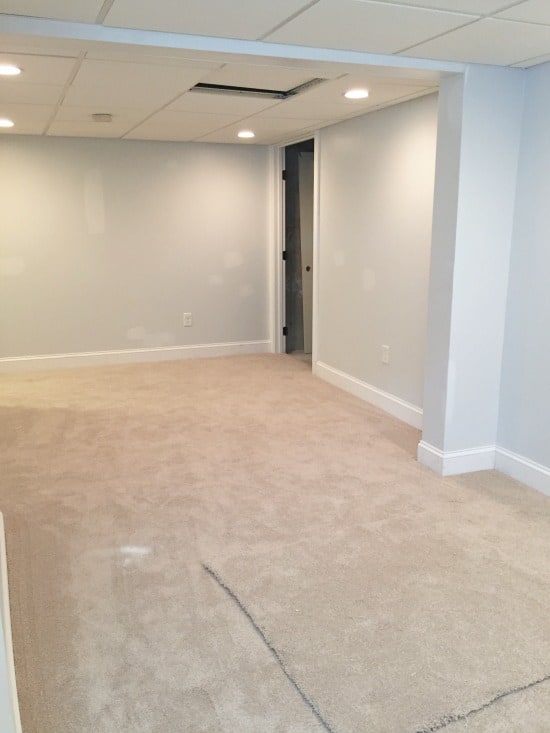 My sconces were installed last week and I am so in love with them! (They were only $30 a piece by the way – what a bargain. Grab them while you can!)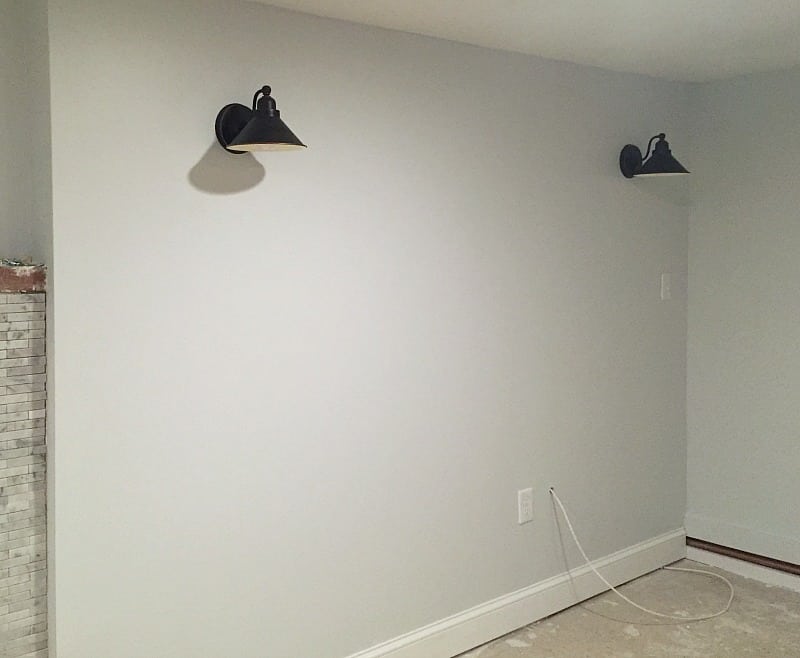 The electrician needs to come back and tidy up a few things as well as install a dimmer on the recessed lighting. The exposed copper pipes are also in the process of being covered up.
Most of my furniture (minus the couch and a large credenza) have arrived! You guys, the quality of the furniture from Raymour & Flanigan is amazing. AND you can buy online. This stuff is sturdy, all solid wood type furniture.It can be nerve wracking buying furniture online (I've have MANY bad experiences when it comes to quality) but you can trust that their furniture is top notch quality. They also have a GREAT decor section and I picked up an amazing mirror that I'll share with you next week.
It is also REALLY HEAVY! The delivery guys had a hard time getting it all in the house and down the stairs!
Again, apologies for crappy iPhone pictures. The furniture is STUNNING in person and I can't wait for you guys to see everything set up and styled. Oh, and I also bought a new rug and some pretty decor items from Target!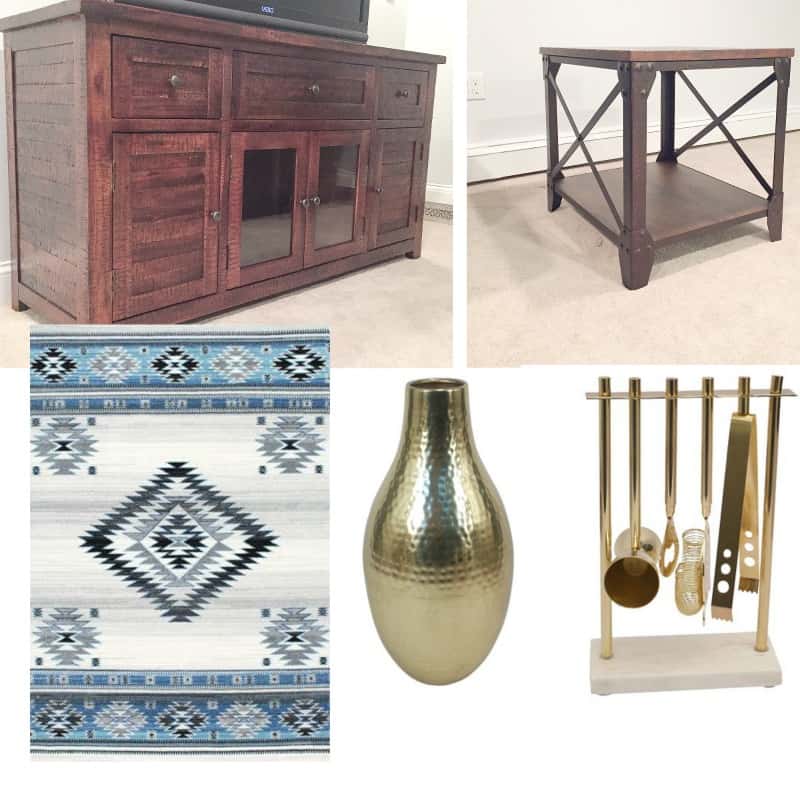 TV Stand / Side Table / Rug / Gold Vase / Barware Set
You also might have seen on Instagram that I some artwork arrived via Minted. How stunning are these pieces? They came framed and ready to hang which means one less thing I have to buy. Thank you for sponsoring them, Minted!
While the room(s) look like they are ready to be furnished and styled, there's still some work to do. Like I previously mentioned there's plenty of touch-ups – caulking, spackling, painting. The vents have to be installed over the copper pipes, the electrician has a few random things to fix. Of course, I'm still waiting on more furniture items, decor pieces. AND I still have tons of decorative items to purchase in order to adequately stage the space!
I can't wait to share more next week! In the meantime, follow me on Instagram and Facebook for updates and make sure you're subscribed via email to get updates direct to your inbox!
[embed_popupally_pro popup_id="5″]
I have partnered with the following sponsors as part of the One Room Challenge. All opinions expressed are 100% my own.
Raymour & Flanigan (furniture)
Minted (artwork)
TileBar (fireplace tile)
Rugs USA (discounted rug)