This post may contain affiliate links | For further details, please read our privacy policy
Drawer organization – or lack thereof – getting you down? These simple tips and tricks will teach you exactly what you need to do to keep your drawers organized from now on!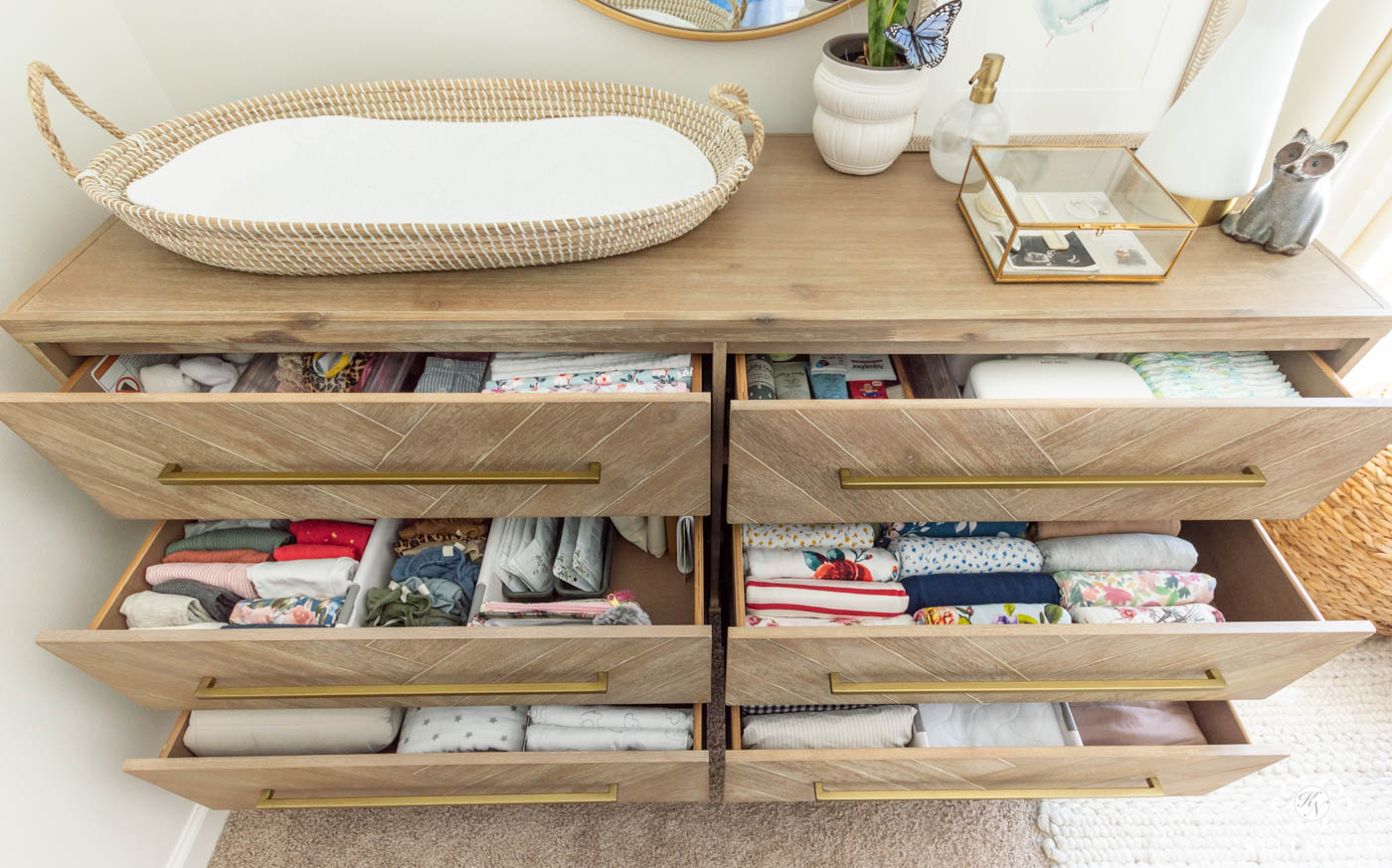 If you're anything like me, you've got spaces in your home that look pretty organized from the outside and then you open the draw and BAM! You're hit with all the drama that is disorganized drawers.
Tell me I'm not alone here, right?
I've been working on ways to organize every drawer in the house and I'm doing my best to help you with the tips and tricks that I've learned along the way!
Benefits of Organized Drawers
Before we jump into it, it's essential to understand the importance of organizing drawers to improve your home. After all, it's going to take just a bit of time and effort. So, we want it to be worth it! I promise you will be very pleased that you prioritized maintaining a tidy space.
A few of the main benefits for me include:
Saving Time: When your drawers are organized, you can easily find what you need without spending excess time searching through clutter. This can be especially helpful in the morning when you're rushing to get the kids ready for school or yourself off to work.
Reducing Stress: Clutter can be stressful, and an organized drawer can help you feel more in control of your environment. Plus, knowing where everything is can reduce the anxiety of not being able to find something when you need it.
Saving Money: When you know what you have, you're less likely to buy duplicates of items you already own only to come home and later find it in a junk drawer. This can save you money in the long run for sure.
Realizing the benefits of organization and the impact it can have on your daily life can be motivation to tackle the task of organizing every drawer in the house.
Organize Bedroom Drawers
The bedroom is your sanctuary, and having organized dresser drawers can help you create a peaceful and relaxing environment.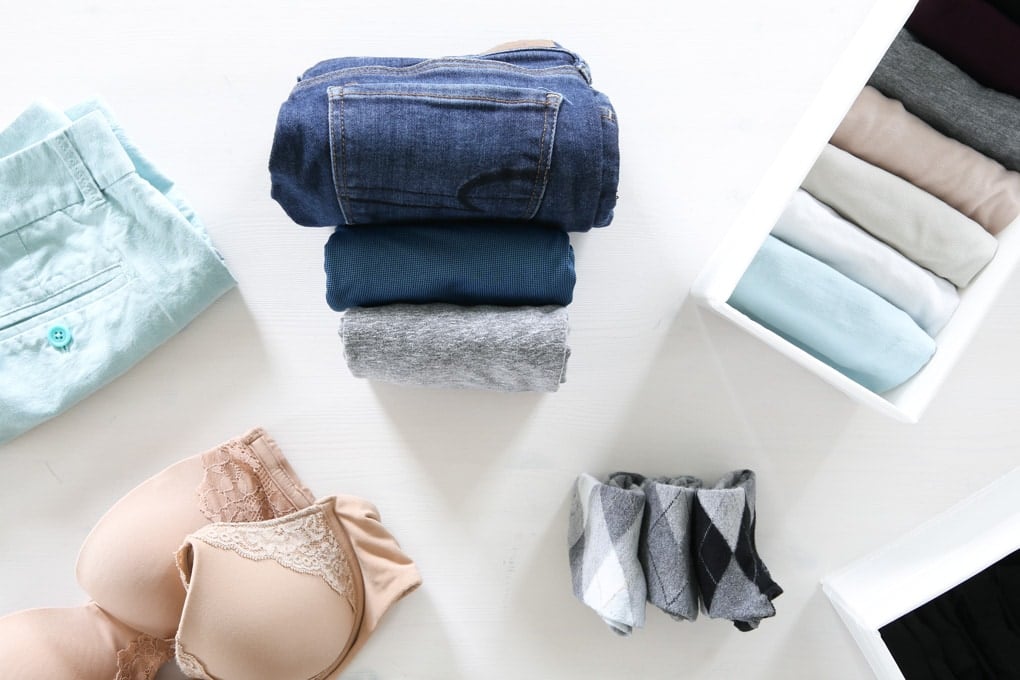 First you will want to empty out all of your drawers and sort through your clothes. Donate or throw away anything that no longer fits or that you haven't worn in a while. You'll feel great to purge and create a more minimalist life.
Now, it's time to organize! Unless you've been hiding under a rock, I'm sure that you've heard of the Konmari folding method. In case you haven't, let me give a little bit of an explanation.
The Konmari folding method is a way of folding your clothes for maximum room in your deep drawers. She has a way for folding quite literally every piece of clothing in your dressers – shirts, pants, shorts, and even your undergarments.
Who knew you could fold bras?!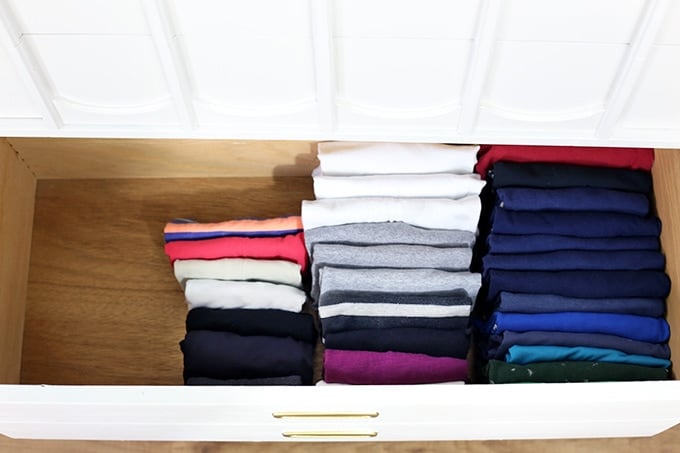 The most used version of her method is the vertical filing that works great for tops and sweaters. It can be a little tricky to figure out at first (especially with sweaters) but once you have the hang of it, it's a truly remarkable system.
Not only does this system ensure that you can see every item in your drawer but it quickly shows you items you never wear, making it easier to know what to purge and declutter in the future.
Drawer dividers (I like these ones) work hand-in-hand with the Konmari method to streamline those dresser drawers.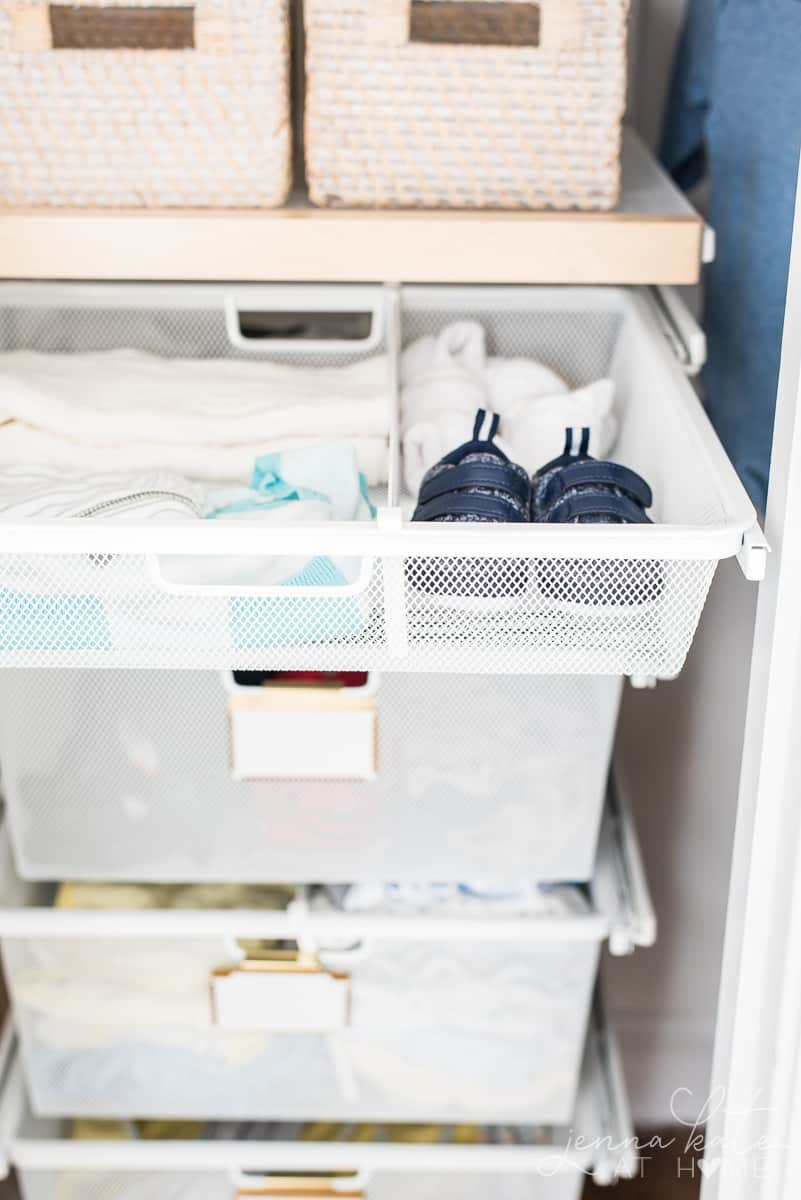 For smaller items like underwear, belts and bras, fabric drawer bins are perfect to create custom spaces within your drawers for easy access.
Once you nail this drawer organization in your bedroom, you will feel more confident in your ability to get ready efficiently every morning.
Organize Bathroom Drawers
Bathroom drawers and cabinets can get out of hand quickly, so it's important to keep them organized. My bathroom cabinets are deep and narrow and have the room to contain a lot of items that could get messy quickly.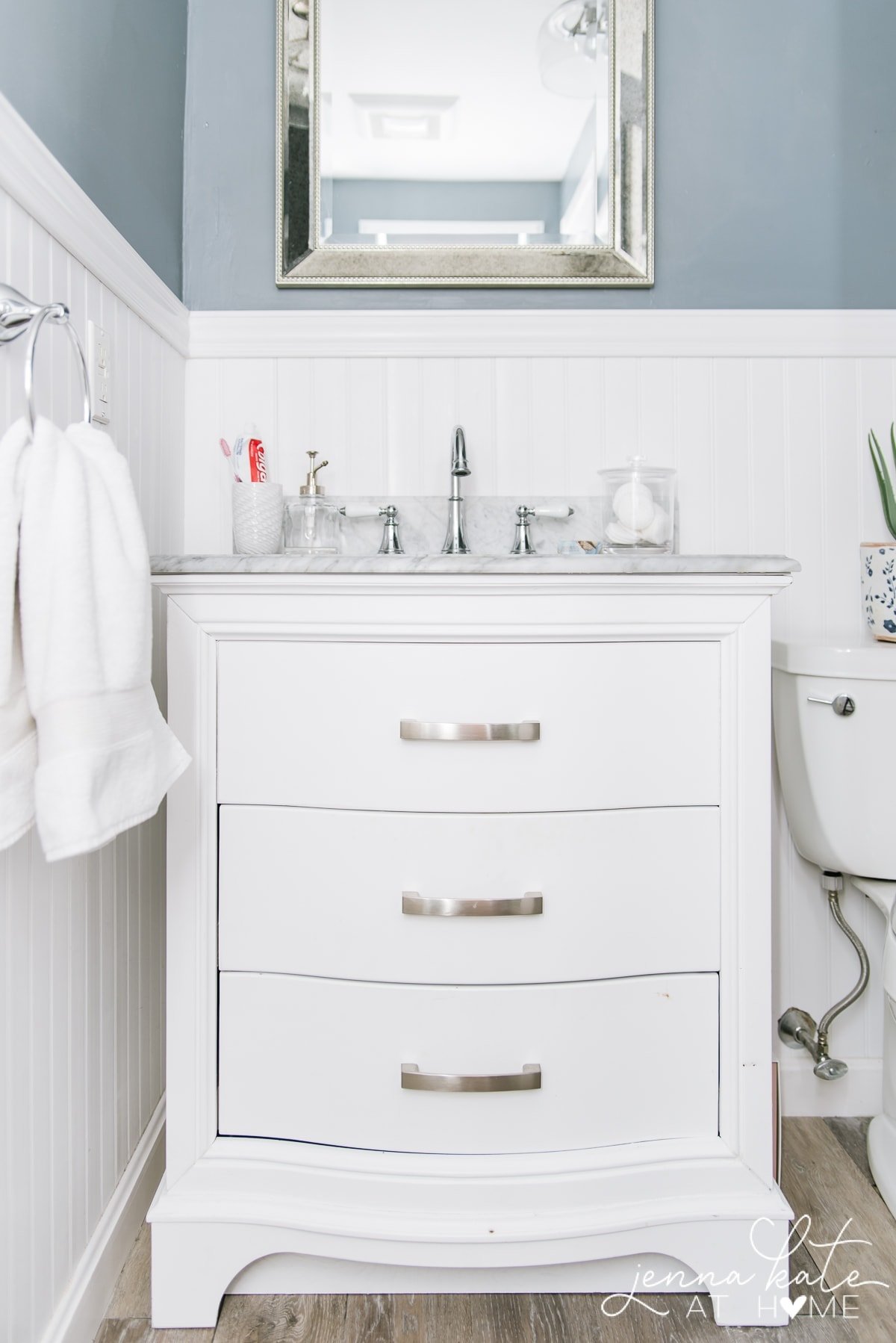 Just like in the bedroom, starting with a blank slate can be a great way to avoid becoming overwhelmed. Start by emptying out all of your bathroom drawers and sorting through your toiletries. Throw away anything that is expired or that you no longer use.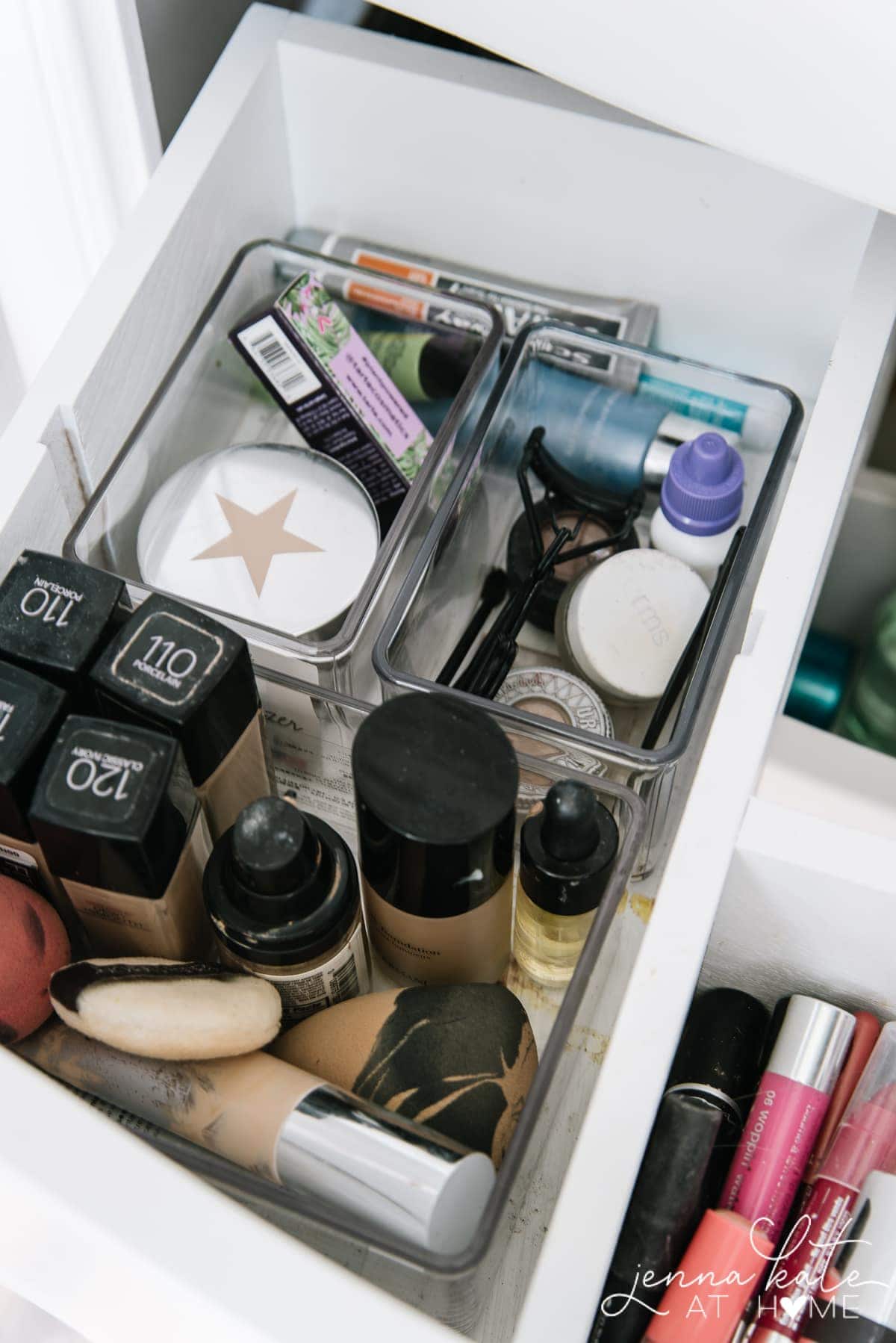 My favorite solution to this is mix and match acrylic bins! If you wanted to go the extra mile, you could even label your bins so that you know exactly what goes inside of each.
Another option would be to use drawer dividers in your bathroom to separate your toiletries by category (hair products, skincare, etc.). This will make it easier to find what you need and keep your drawers organized.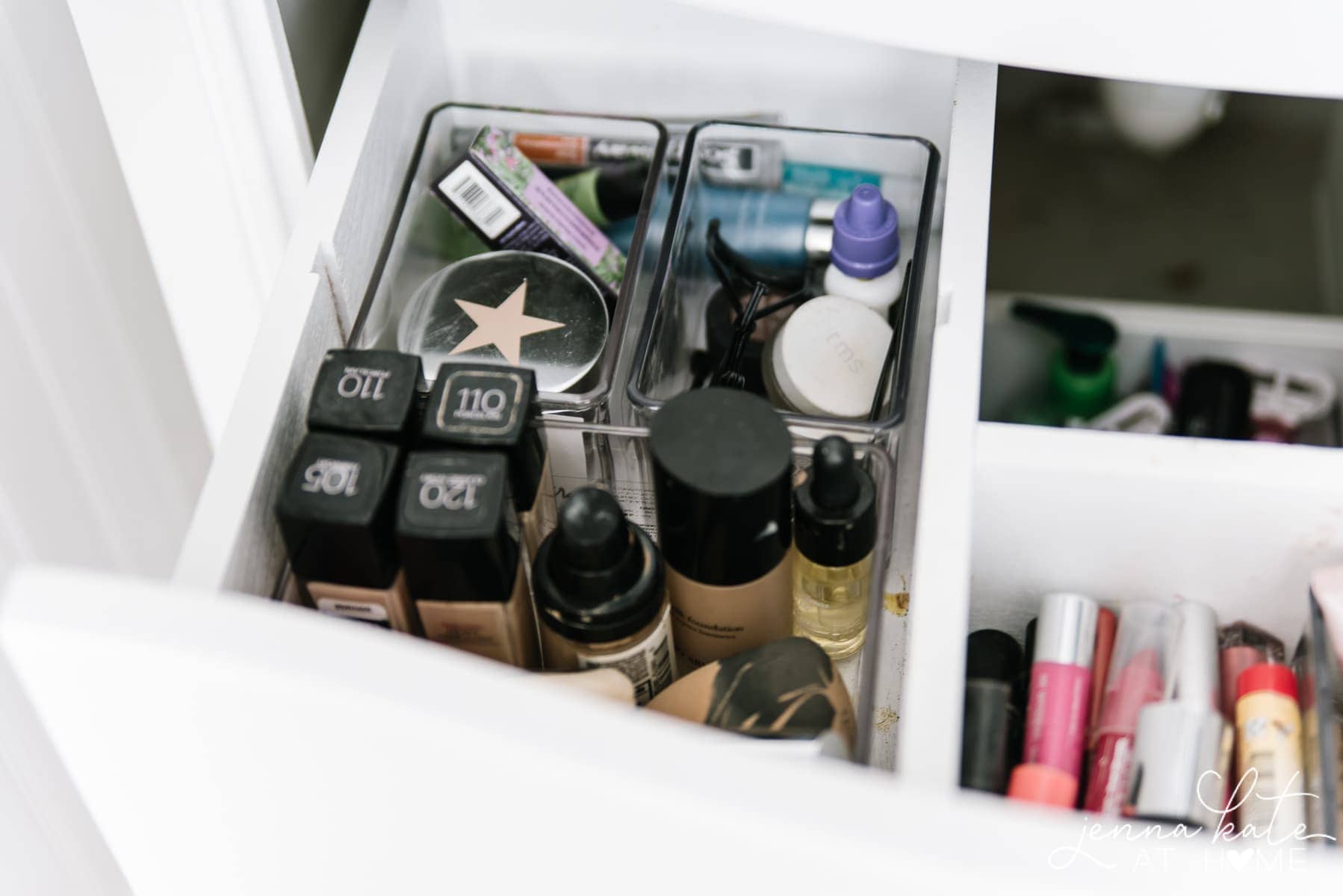 Drawer liners are a good idea because you never know what toothpaste is going to squirt out, makeup spill, or hair products might bust right inside of your beautiful drawer.
Liners also cut down on cleaning time because you easily remove them to scrub off all of that residue from the beauty products.
Organize Kitchen Drawers
When we remodeled our kitchen, we opted for almost all drawers for the base cabinets. I quickly learned however, that without a kitchen organization system in place, just throwing things into the drawers willy nilly would become a disaster.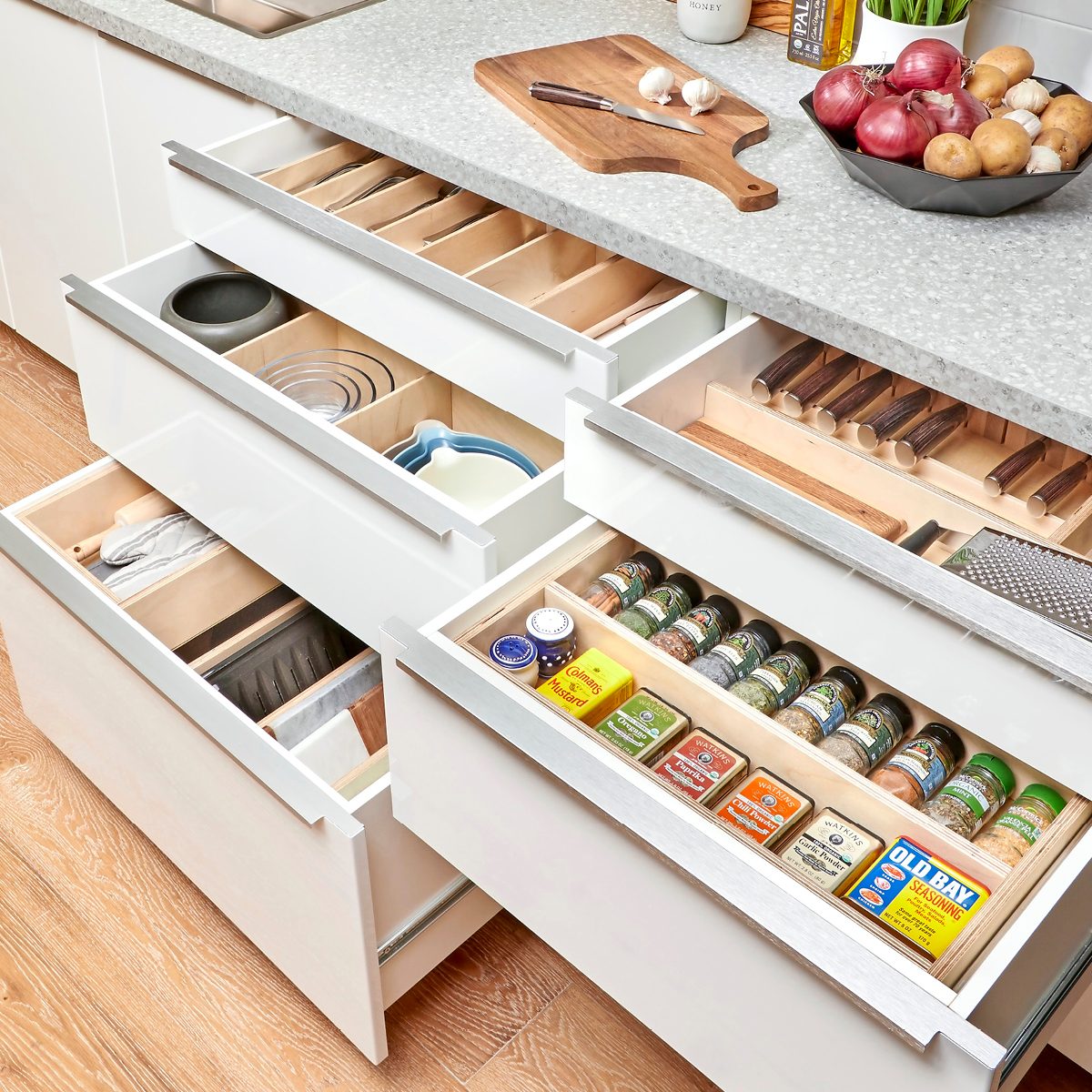 Now, this will really depend on how many kitchen drawers are available and how much space you have, but these tips have helped me in both of the homes we have owned.
Drawer liners are essential in the kitchen! They make it easy to organize individual items and help keep the bottom of your drawers from getting all yuck and full of crumbs.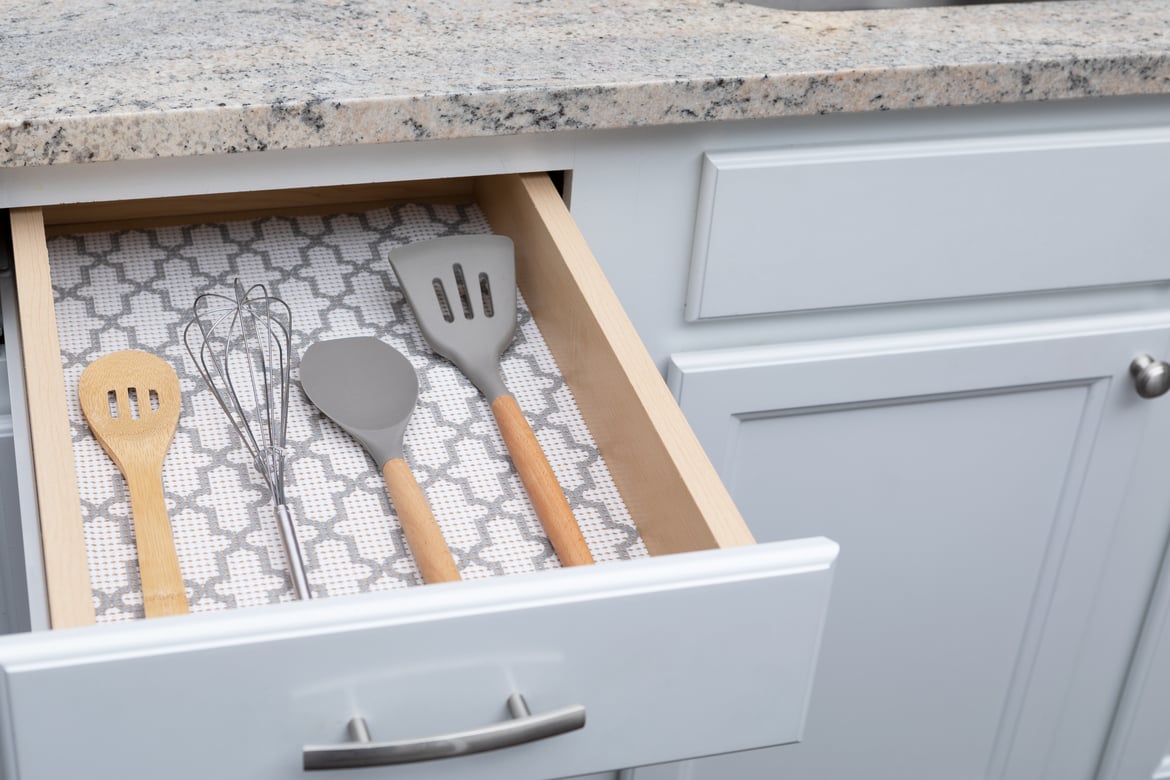 For a utensil drawer like this, it makes the world of difference. Not to mention, you can find them in pretty patterns and calming colors.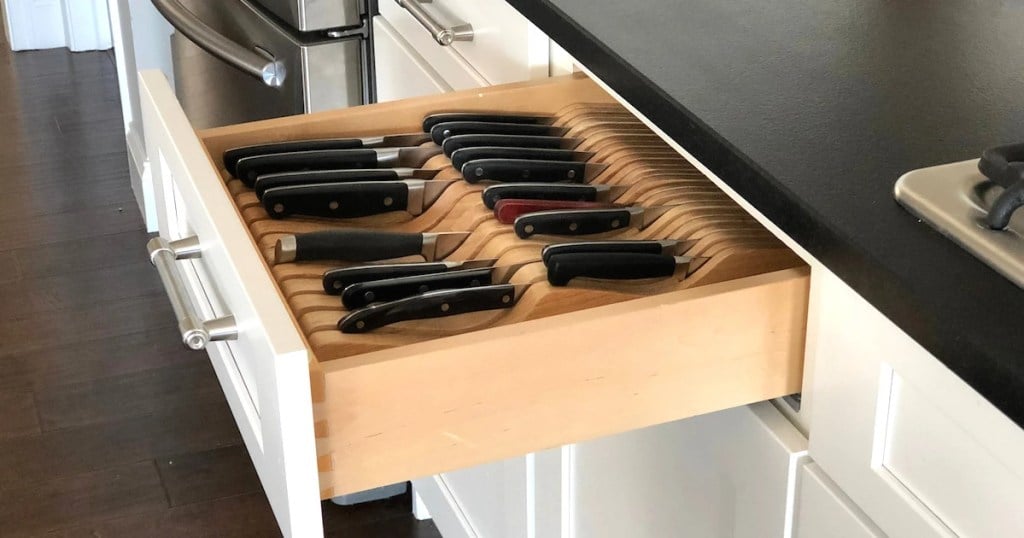 Having a knife block in a drawer is a helpful solution to getting your knives off the counter. This will allow you more open space on the counter and is the perfect tip if you don't have enough room.
The only caveat here is if you have little kids, it might be safer to actually keep them on the counter. Just make sure they aren't an easy reach.
Your other option is to put them in a draw, but add a safety lock on it that your kids can't break in to!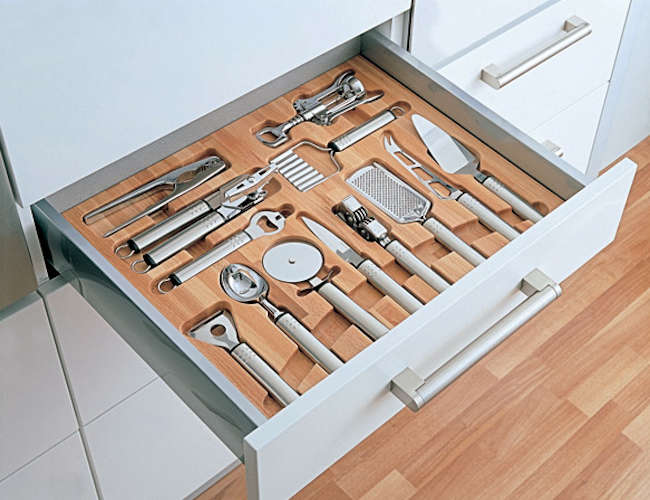 Perfect for dish towels and cloths, adding drawer dividers can help keep your stuff separated. For tea towels in the kitchen, the Marie Kondo method of folding once again works great. These little towels fold very quickly and this method allows more to fit into the drawers, too!
Even in messy drawers, I have found that by adding these separators, you can create organization even in your disorganization.
Plus, it forces you to clean out your junk drawer when you take all the things out to add the separator in there in the first place – win win! ;)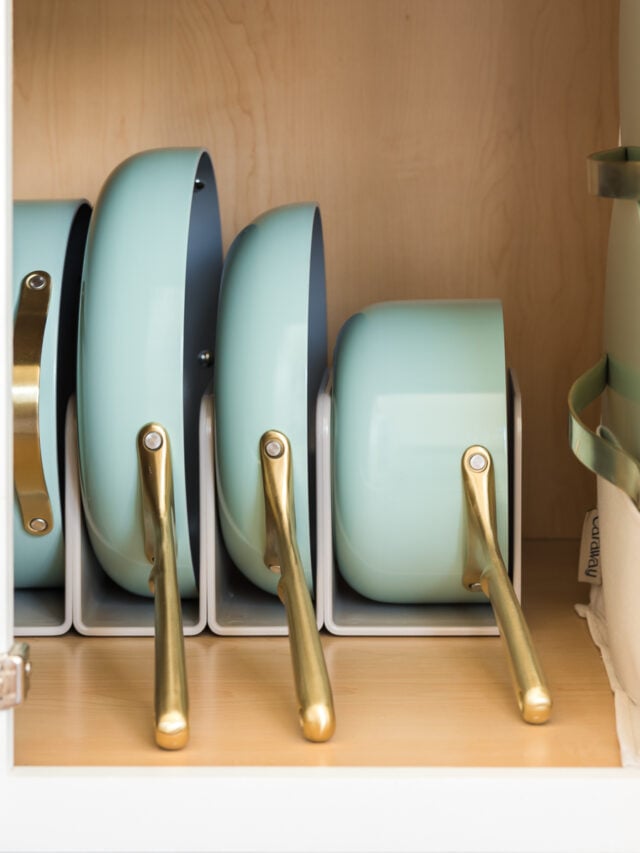 Show your kitchen cabinets a bit of TLC with a sturdy pots and pans organizer. You can also find organizers for cookie sheets, cutting boards, and serving trays.
Not only does this greatly improve the visual appeal but it makes finding the pan you need so much easier.
Organize Living Room Drawers
The biggest cause for clutter in the living room is often DVD's, books, video games, or remote controls. Organize any drawers included in your TV stand, coffee table, and if you have a chest or console.
(swap this photo out for something more up to date)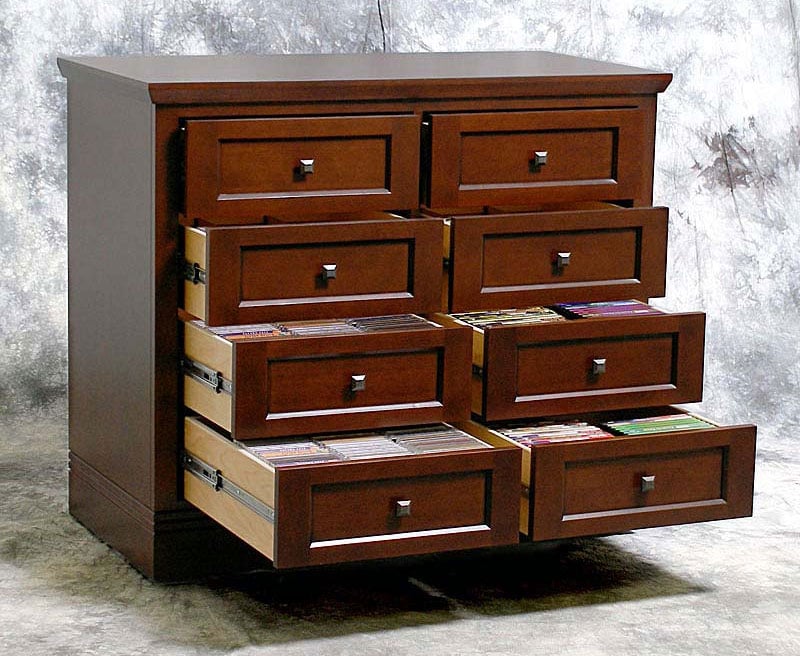 Amazon sells great options for organizing CDs and video games but I personally think that there's a very simple ways for organizing all these items that works really well, and is free.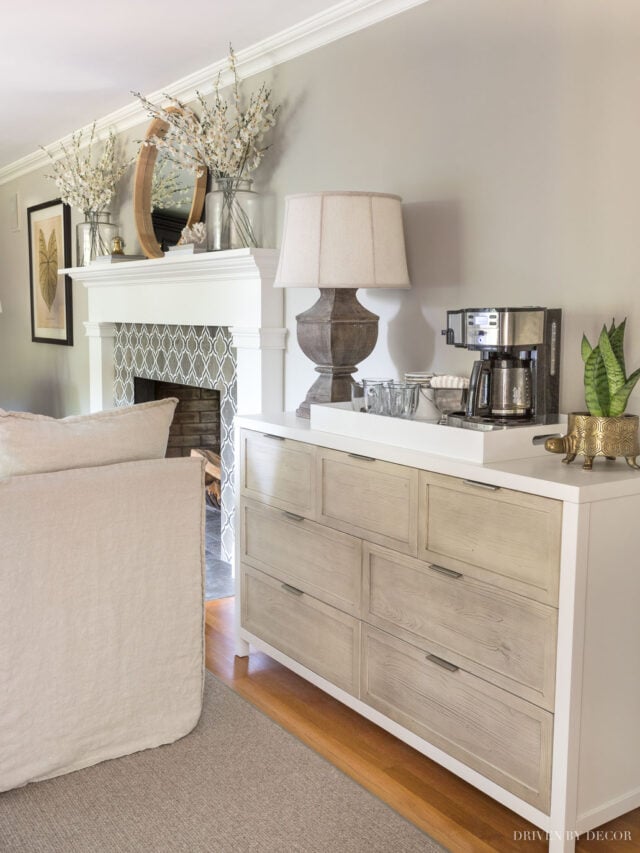 I still have all my DVDs from when I was a kid that my own kids now love to watch. The simplest and honestly best way to organize them in a drawer is just to stack them with the titles facing up.
It's kind of like a take on the Kon Marie method. It's easy to see the titles and they fit wonderfully!
Organize Office Drawers
If you have a home office, having organized desk drawers can help you be way more productive. Especially if you work from home, you'll reap the benefits of spending some time getting the space working functionally.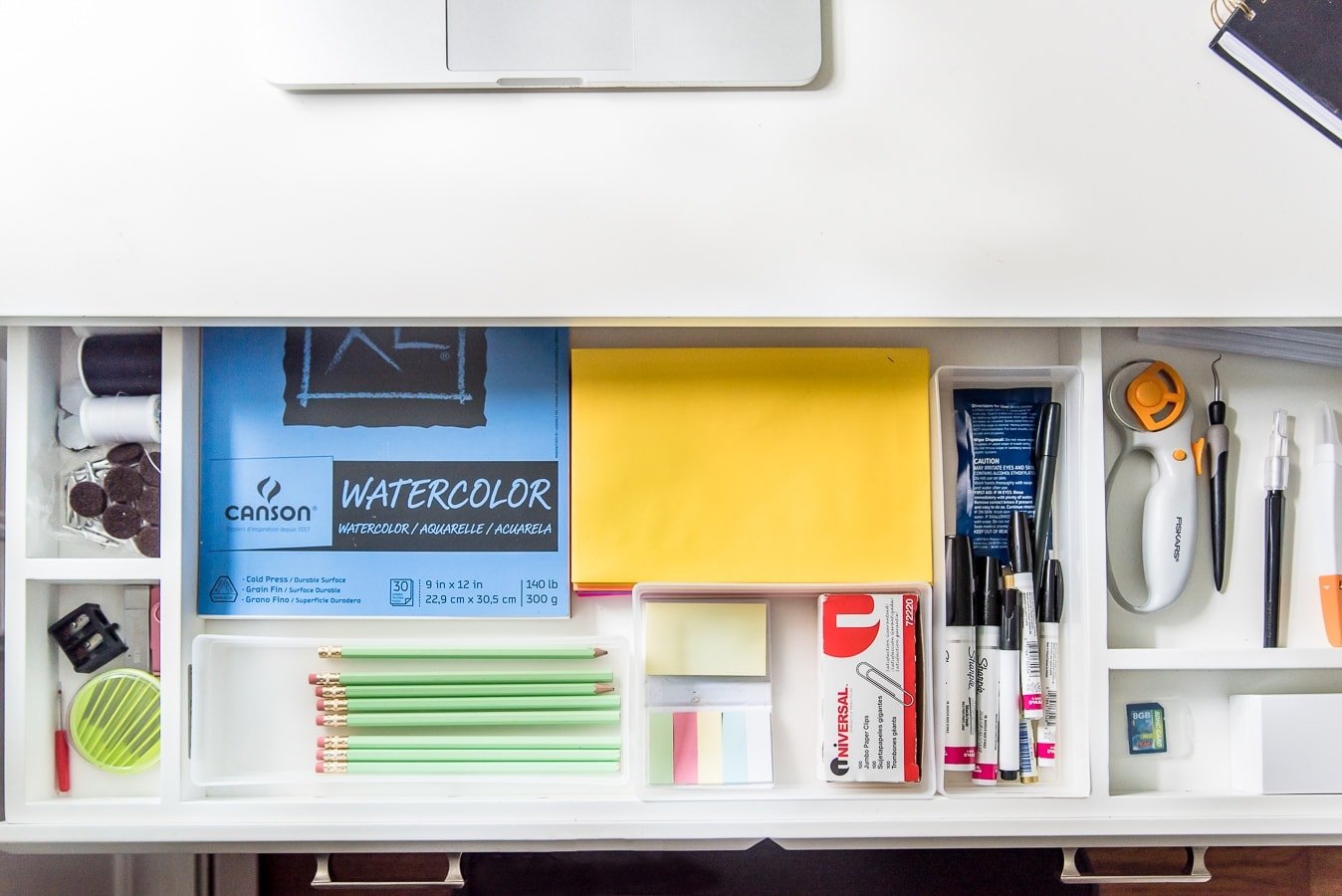 Office supplies usually are either super small (think paper clips, staples, things like that) or really big (paper). Having those organized in the same drawer can be a challenge, but it can be done!
If you have a desk with several drawers, it's probably best that you put bigger items in a separate drawer from your smaller ones. Use drawer organizers for the small items like paper clips or thumbtacks.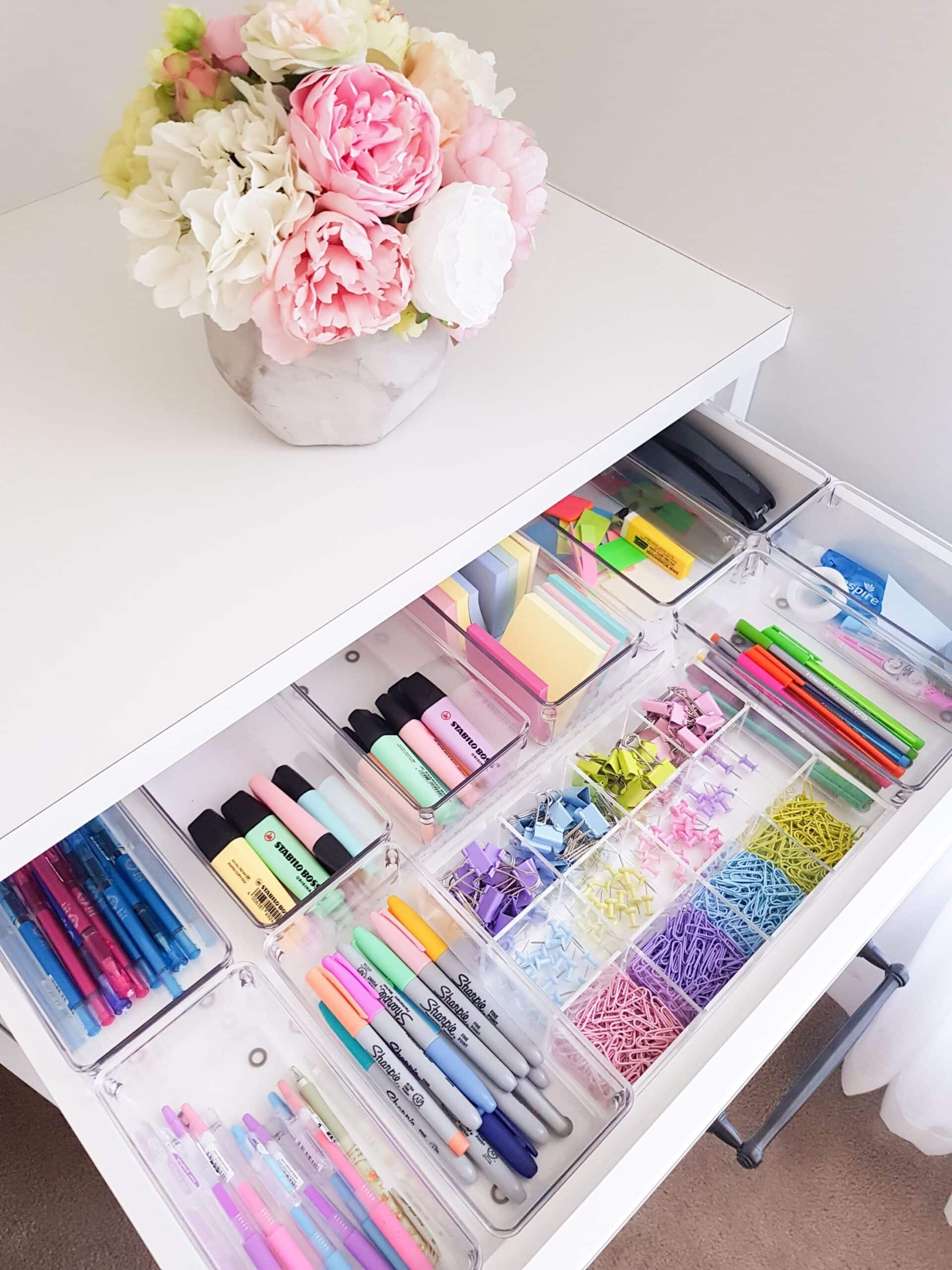 Acrylic bins help create defined sections, like above, which helps keep items corralled in their own little space, and not rolling all around the drawer every time you open or close it.
Organize Craft Room Drawers
Whether you craft 24/7 or you only do a few crafts a year, you're likely to have some craft supplies laying around. Especially if you have little ones.
We have so many different types of crafting items that if I didn't keep them organized, we would never find anything and my office (where I store everything) would be an absolute disaster, and certainly not a space conducive to work.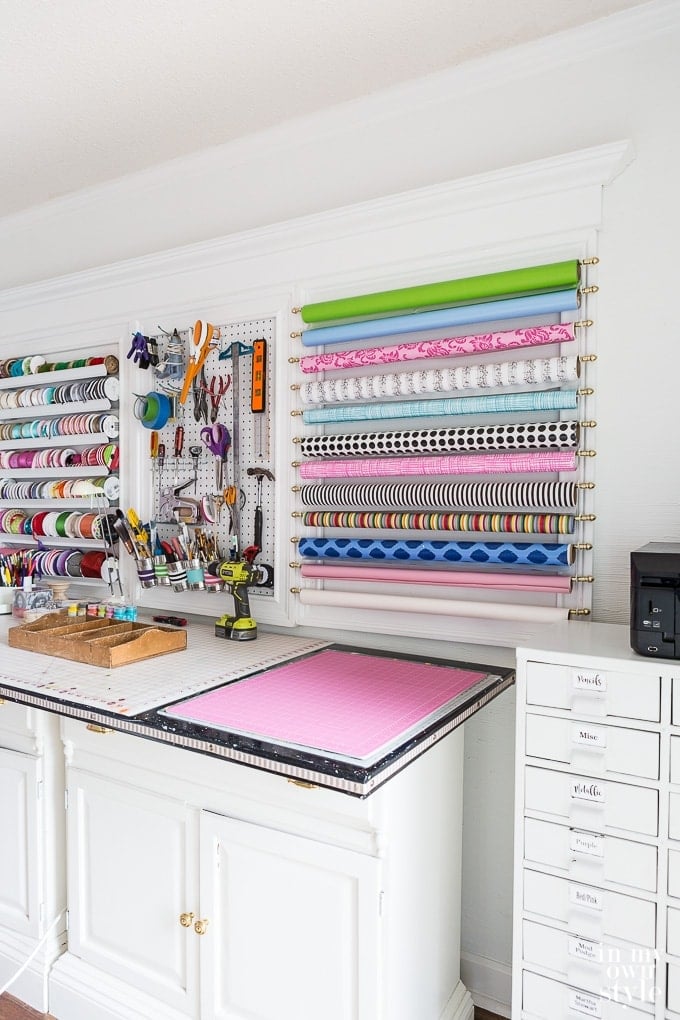 Just like all the drawers mentioned before this, the principle is the same: organize like items together, use acrylic organizers or dividers to divy up sections of the drawers. And always remember to put things back in their correct spot.
Organize Your Junk Drawer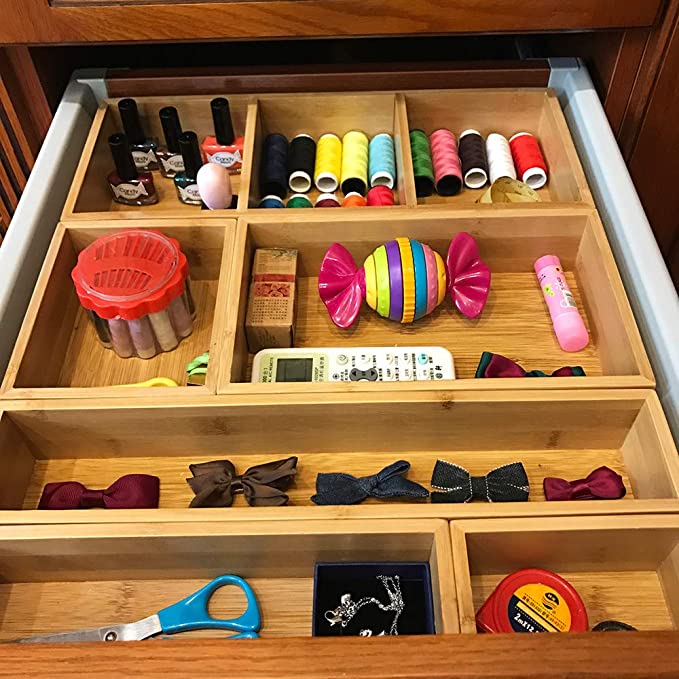 Where is your junk drawer? Ours is in our kitchen and contains various items such as pens, batteries, mini screwdrivers (the type for toys) and a few office supplies that get used frequently, such as tape and scissors.
Regardless of what your junk drawer holds, you can use drawer organizers (I love these bamboo ones) or acrylic bins like we have in our bathroom drawers for quick organization.
Final Thoughts
Are you ready to get those drawers organized?
By implementing these simple ideas and systems, it will make it so much easier to find things and put things back.
And you know what that means? Everyone life runs smoother and more efficiently!
While this isn't a fully exhaustive list of every drawer you could possibly have in your house, hopefully it's enough to help you get started and figure out what works for you.
Then once you figure out what works, you can duplicate it. Like all organizing – the general principle is a place for everything and everything in its place.
It's a simple mantra to live by but boy, does it work!