I can't even believe that this week marks the 1 year mark since we moved into our new home. I guess I can't call it new anymore, right?
We absolutely love this house and plan to stay here for a very long time – hopefully forever! Our neighbors and neighborhood are amazing. Think quiet, tree lined streets and minimal traffic. We're close to conveniences while still living in a quiet setting.
The reason we were able to afford this house is because it did not show well at all. The price was dropped significantly because of lack of interest but I knew it had amazing potential. At the end of the day, I always said I would prefer a house that I could make my own instead of paying for someone else's design choices. With that being said, I went back to a post that I published last January to see what we were hoping to achieve in a year. Let's see how far we got!
In no particular order:
Paint trim & wainscoting white
Paint all walls (see all our paint colors here)
Dining room (paint, add rug, decorate)
Install closet organizers in master bedroom closet (See the details)
Decorate Master Bedroom (see the reveal)
Paint walls/refresh grout in master bathroom. Replace vanity, toilet. Hang new mirror. (See the details)
Living room (paint, add rug, new couch, add recessed lighting) (see the reveal)
Add plank wall above fireplace in living room (see the details)
Gut & remodel main bathroom
Gut & remodel first floor powder room (see the reveal)
Add counters and tile to laundry room
Remove wood paneling from basement, add drywall, paint and carpet. (see the reveal)
Nursery (paint, decorate)
We've accomplished a lot in the past year and our home certainly looks nothing like it did this time last year! While the laundry room and pink bathroom upstairs hasn't been touched (save for a new toilet) we did undergo an extensive remodel of the basement which was was more than the cosmetic touches we had planned and included expanding the space to add a playroom (which I still must finish decorating!)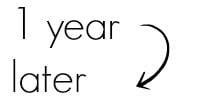 Basement / Powder Room / Kitchen / Master Bedroom / Living Room
We also had 11 trees from our backyard removed (which was a very significant cost) and we are currently looking to have new counters installed in our kitchen.
The entire interior of the house, including all the wainscoting and trim, have been painted. There's no rooms that have been completely untouched but neither the guest room nor the downstairs office have much going on. Our son's bedroom is partially decorated but that's on the agenda for 2017 along with a complete makeover of the fourth bedroom (more on that very soon!).
On tap for 2017 is new floors in the kitchen and master bathroom (probably luxury vinyl) and hopefully a start to the landscaping.
All in all, we're super happy with how much we've done in a year. Our house feels like a home and we are thankful to be living and raising our son here every single day.
Now, tell me – what's your favorite thing that we've done to our house so far? I'm dying to know!