These pumpkin whoopie pies with cream cheese frosting are my all-time favorite fall treat. They don't require a lot of ingredients, are simple to make and taste absolutely delicious. I bet they'll soon be your favorite, too!
Happy Wednesday, everyone! Man, it's been a tough few days with the bathroom reno over the past few days but you'll hear all about that tomorrow. Today, I'm indulging in my favorite fall treat – Pumpkin Whoopie Pies and I'm here to share the recipe with you.
I make several batches of these throughout the autumn season. Brian always requests them when we have people over and I'm happy to oblige. I'd much rather have people to share them with because otherwise I'd end up devouring the entire batch myself :-/
You probably have most of the fall ingredients in your pantry already, so why not whip up a batch this afternoon? I promise you won't be disappointed. Full of delicious fall spices – cinnamon, cloves and ginger, these pumpkin whoopie pies are a sensory delight.
Not only that but they are so moist thanks to the addition of both the pumpkin and oil. Your home will smell like fall heaven once the aroma starts drifting out of your oven!
Once all the ingredients have been mixed together, I like to pipe concentric circles to form my whoopie pies. I just pop a nozzle into a ziploc bag and hey-presto, instant piping bag!
Once they're baked, let them cool on a wire rack while you whip up some cream cheese frosting.
Slather the frosting on on half of whoopie pies and try not the eat too much while you're at it!
You can stick with a regular cream cheese frosting or add a dash of cinnamon or even maple syrup.
Add another whoopie pie to the top of each and you've got yourself a delicious pumpkin whoopie pie to take a big bite out of.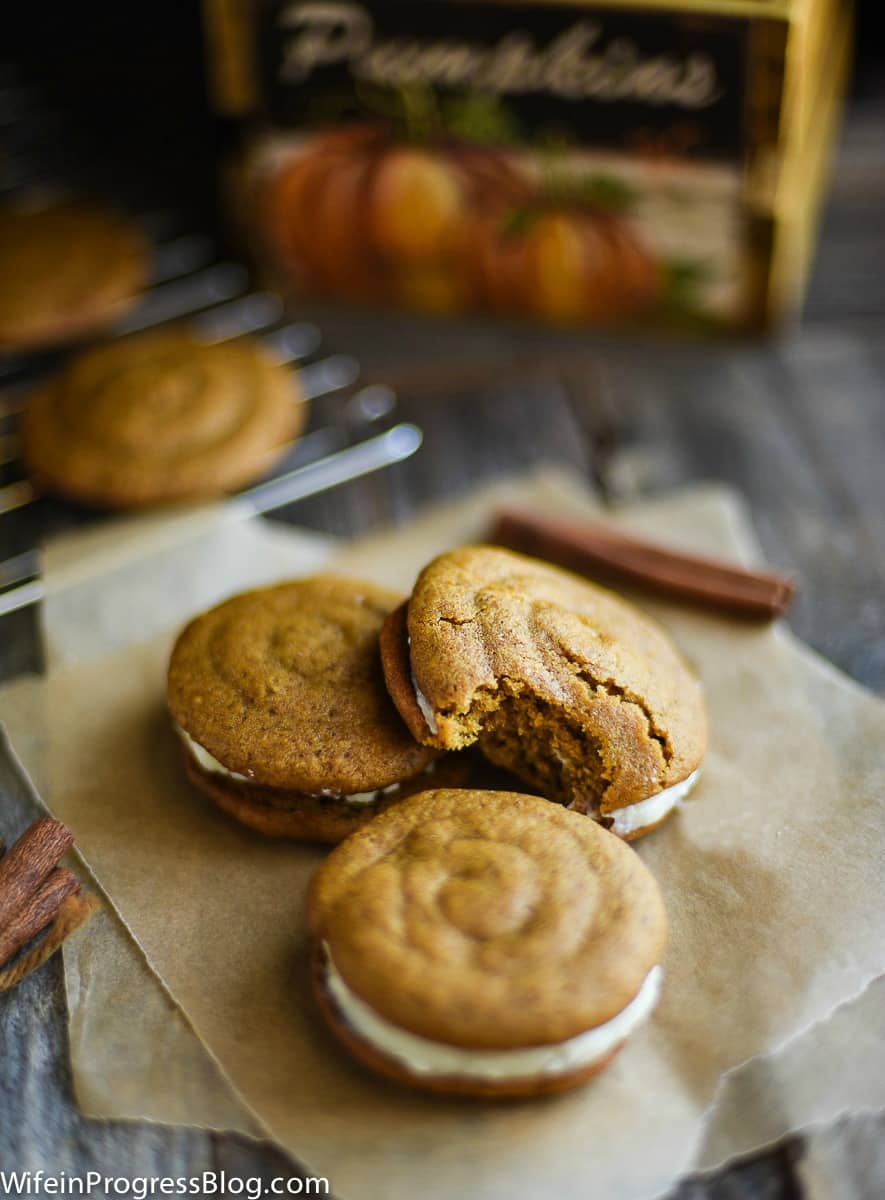 Excuse me while I eat another!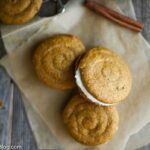 Pumpkin Whoopie Pies
Ingredients
For the Whoopie Pies
3

cups

all purpose flour

1

cup

granulated sugar

2

large

eggs

1

cup

vegetable oil

1

15oz can

pumpkin

not pumpkin pie filling!

1

tsp

baking powder

1

tsp

baking soda

1

tbsp

cinnamon

ground

1

tsp

cloves

ground

1

tsp

ginger

ground

1/2 TSP

tsp

nutmeg

ground

1

tsp

vanilla extract
For the Cream Cheese Frosting
1

stick

butter

unsalted

1

8oz package

cream cheese

softened

16oz

powdered sugar

1

tsp

vanilla extract
Instructions
Whoopie Pies
Preheat oven to 350 degrees.

Beat together brown sugar, sugar, oil and pumpkin.

Add eggs one at time, mixing well after each addition, followed by the vanilla.

In a separate bowl, sift together the dry ingredients.

Slowly incorporate the dry ingredients into the wet until just combined.

Using a pastry bag with a round tip, or a big zip top plastic bag with one corner snipped, squeeze out concentric circles of batter, starting from the middle and working outward until the circles are about 2 inches in diameter.

Bake for 11 minutes and cool on a rack
Filling
Beat together cream cheese and butter. Add powdered sugar, vanilla. Frost flat side of half the pies and top with another piece.