This is a sponsored post written by me on behalf of Key by Amazon. All opinions are 100% mine.
Have you started your Christmas shopping? Are you an in-store shopper or a buy-everything-from-Amazon shopper like me?
If you're like me and pretty much do your entire Christmas shopping online, then you may also, like me, get worried about all those packages that get left on your front steps. While it's the season of giving – it's also prime season for packages to mysteriously go missing.
And how about those soggy packages you come home to after a long day of work? Yuck! Right? Or you have a particularly high-cost item being delivered and you decide to stay home all day waiting for it. Only for it to arrive at 7pm? Yeah – we've all been there!
Well, I've got a solution that you're going to love. It's called Key by Amazon In-Garage Delivery. You may have heard about it on the news last year when they were advertising packages that could be delivered inside your home.
Amazon's in-garage delivery service immediately piqued my interest. And it's a total game changer!
Last week, I installed Key for Garage Smart Garage Hub to allow my Amazon Prime deliveries to be safely dropped inside my garage door. Once you have it set up, the service is free for Prime members!
The Hub allows my garage door system to integrate with the Key App. Our garage door is pretty old and it still was so quick for me to set the entire thing up. The directions are very straight-forward and I had the whole system working in about 20 minutes.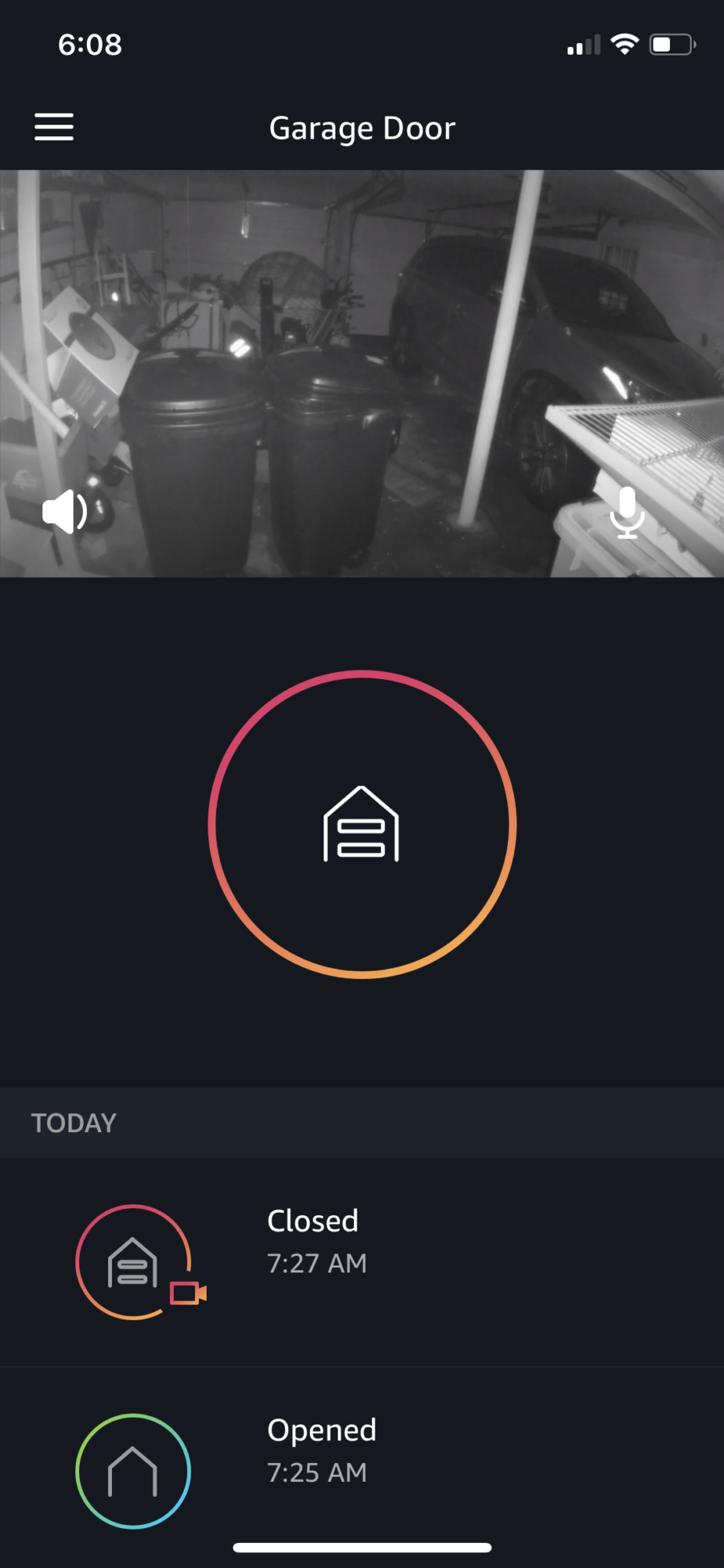 And I'm really loving the system so far! Even my super OCD husband loves it since he is notified every time the garage door opens or closes!
Let me explain how it works:
First, you need to confirm your garage door eligibility. You should be fine – mine is from the mid nineties and worked!
Then you download the myQApp, create an account and then follow the in-app instructions to sync it with your garage door opener.
Finally, you install the optional Amazon Cloud Cam and using the Key by Amazon app and sync it to your Amazon account.
Basically, there's a little hub that you sync to the garage door opener that allows it to be opened via the app on your smartphone. This also then syncs with the Key by Amazon App and Cloud Cam so that any time the garage door opens, you are notified and can see everything via the camera.
For deliveries, the drivers use their scanner to get one-time access to your garage door. With the camera, you can see the delivery in real time and it also records the footage for later viewing.
And you don't have to use it for every delivery, it's an option you can select at checkout. You can also block access should you wish to.
I've already trialed it twice and it worked like a dream! I felt a little creepy spying on the Amazon driver as he was dropping the package off, but I really did have peace of mind that my packages were in a safe spot AND that I could watch him enter and leave.
I designated a different spot each time – first right inside the garage door and the second time on the steps inside the garage and both were delivered to the correct spot.
So whether you're buying Christmas decor, gifts or stocking stuffers, I highly recommend installing this simple system.
Because no one wants to be left without their gifts on Christmas day, right?
Ready to get started? See if your garage is compatible with Key In-Garage Here and if the service is available in your area.