When I initially started designing Finn's nursery, I centered the design around 2 items – the Hillsborough Rug and Nursery Dream Bundle in the color Priano/Sky, both from Serena & Lily.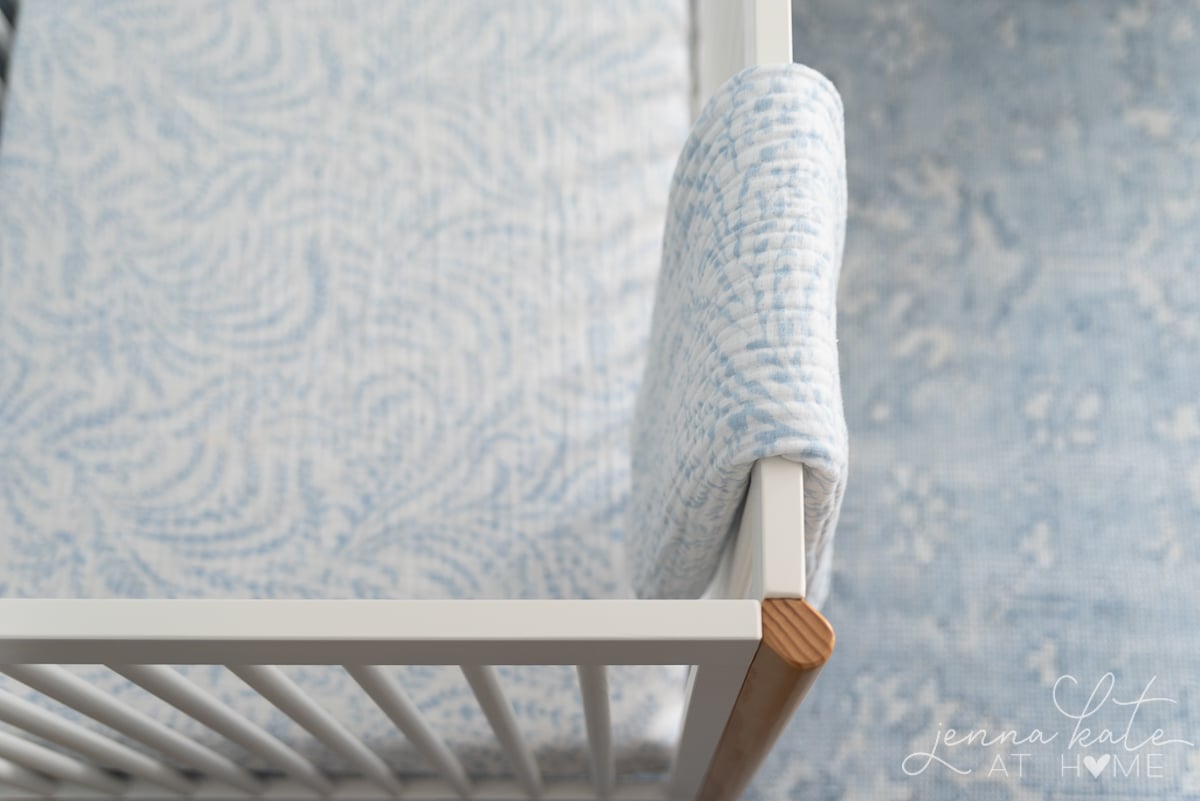 Both items are a beautiful soft shade of blue that's perfect for a baby boy nursery, especially one in the coastal style that I was going for. Luckily for me, the kind folks at Serena & Lily gifted me the items for the nursery.
I talked about my love for the Hillsborough Rug in the nursery reveal, but today, after using it for 3 months, I'm going to talk about the Nursery Bundle – how we've used it and how it has held up.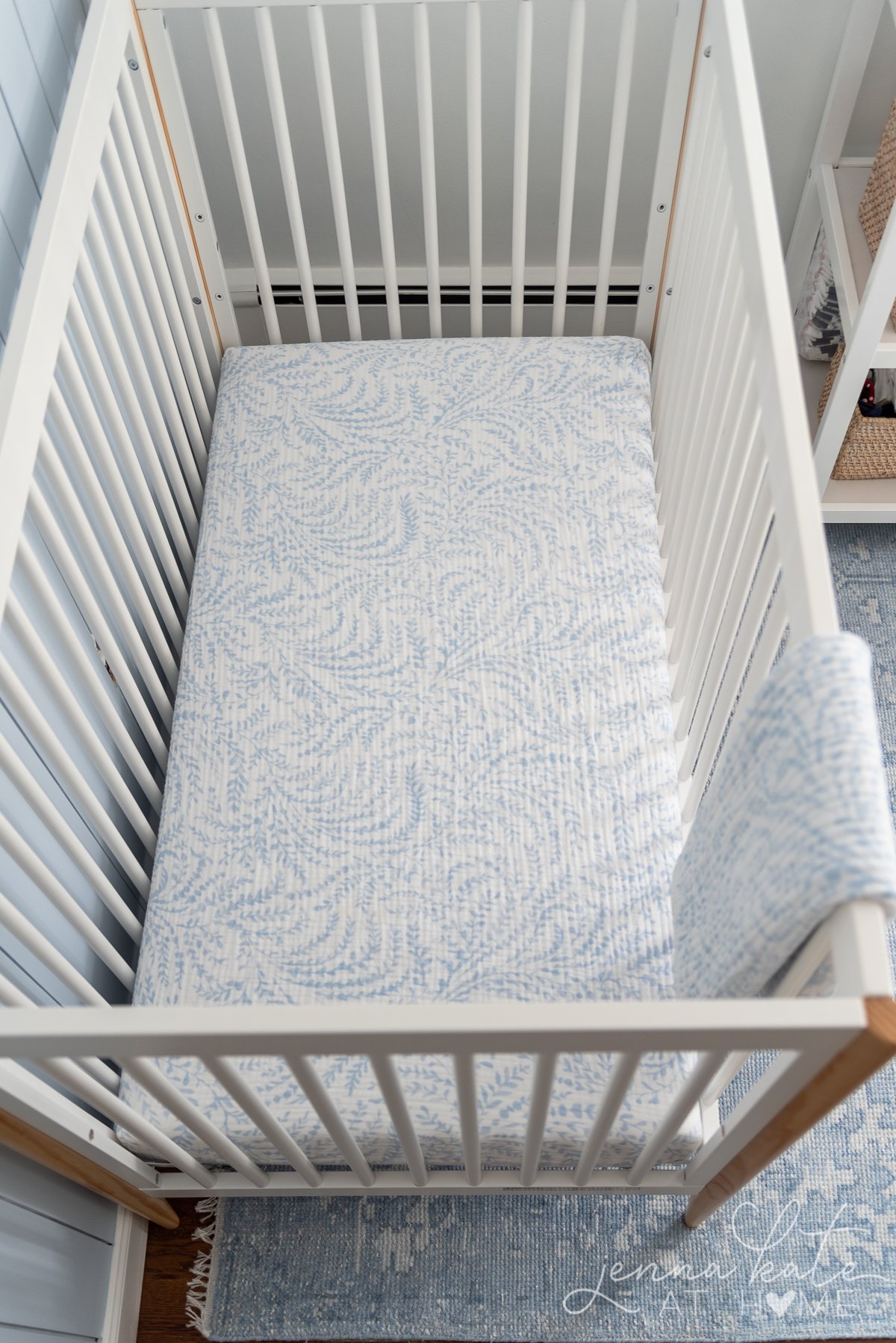 What I Like About The Nursery Dream Bundle
First off, you can see how beautiful it is. It's the perfect shade of baby boy blue, but could also equally be used in a feminine baby girl nursery (it also comes in several other colors, though). The Nursery Dream Bundle comes with a fitted crib sheet, blanket and mini quilt. All the items are 100% cotton muslin.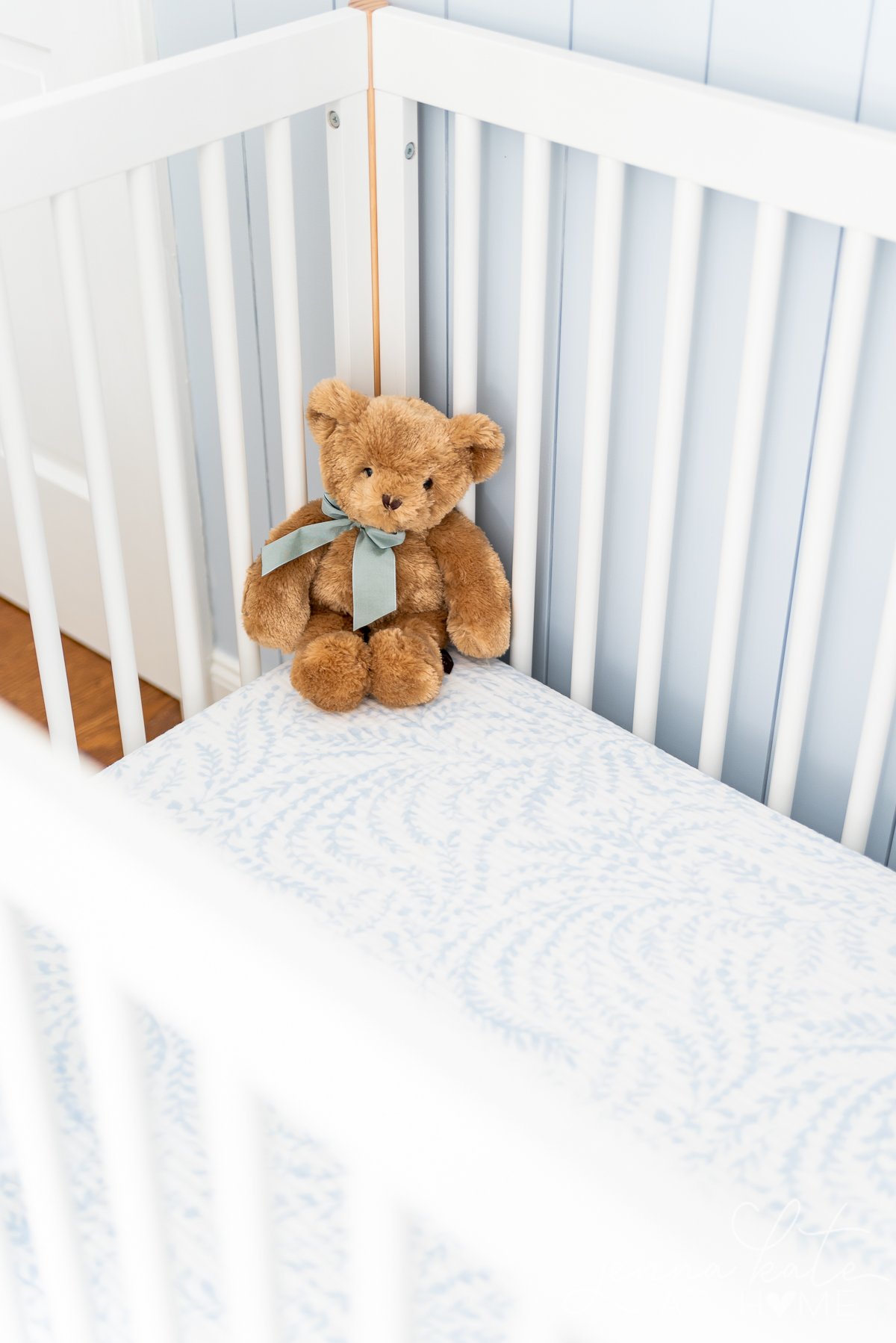 Obviously, the fitted crib sheet went on his crib (which he's not sleeping in yet as he's still in the bassinet in our bedroom) but it washed perfectly and fits our Naturepedic mattress nice and snug.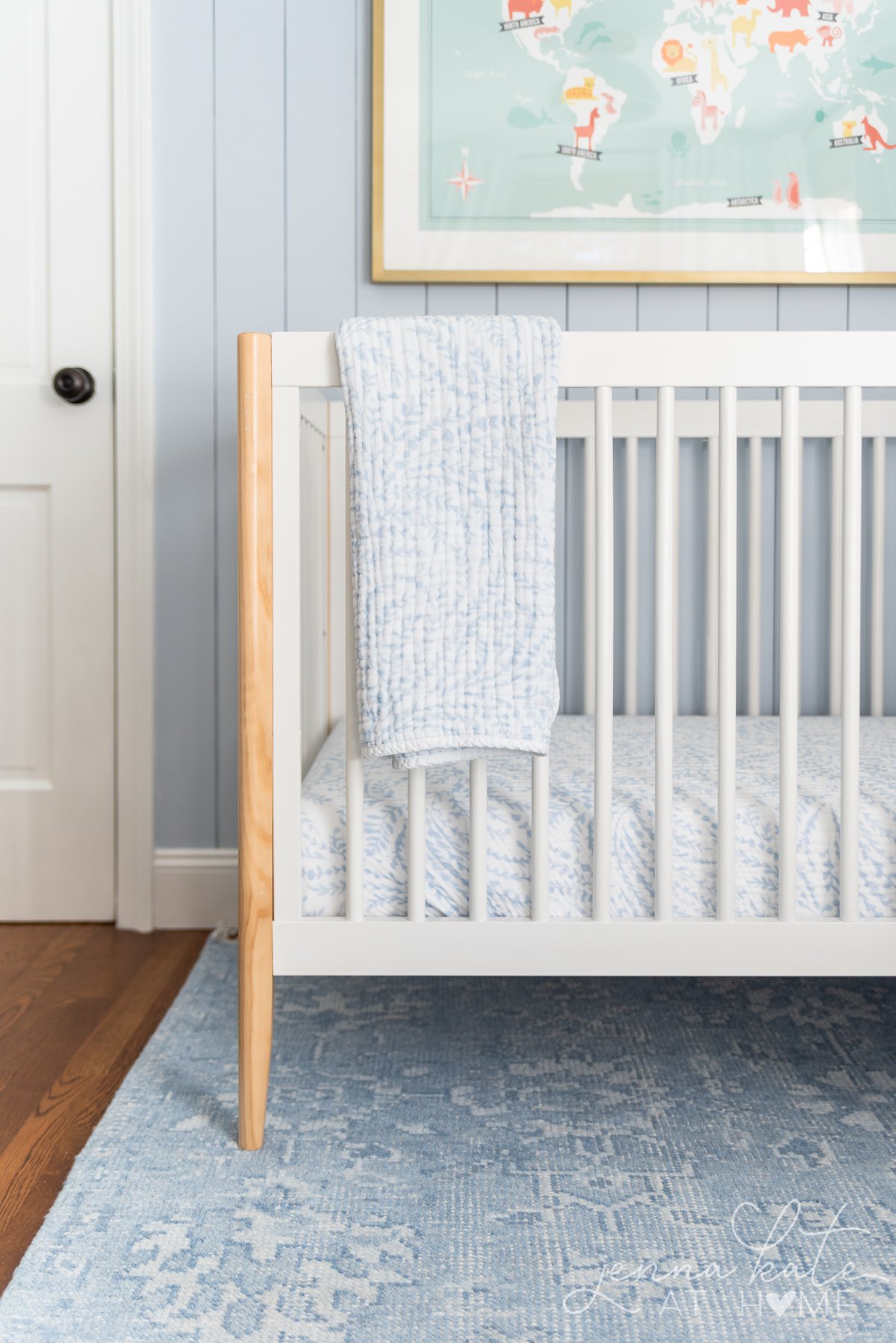 The beautiful muslin blanket has seen the most use, and has been washed a handful of times and still looks perfect. It's much heavier than the thin muslin blankets you may be used to, which actually makes it more useful!
How We've Been Using The Items Included in The Nursery Dream Bundle
Finn slept with the blanket in his rocking bassinet in our kitchen for the first few weeks, we used it as his blanket coming home from the hospital and any time I need to bring him out to the car or it's just a little chilly in the house he gets wrapped up in it.
The mini quilt has become my personal favorite to keep me warm during middle of the night feeds. I've also used it on the floor for doing tummy time!
Looking back on our photos from our three months with our little guy, the blanket and quilt have been firm fixtures! From snuggles on the couch, to school drop-offs on a chilly morning to playing on the ground, that pretty Priano print and soft muslin fabric has gotten a lot of use already!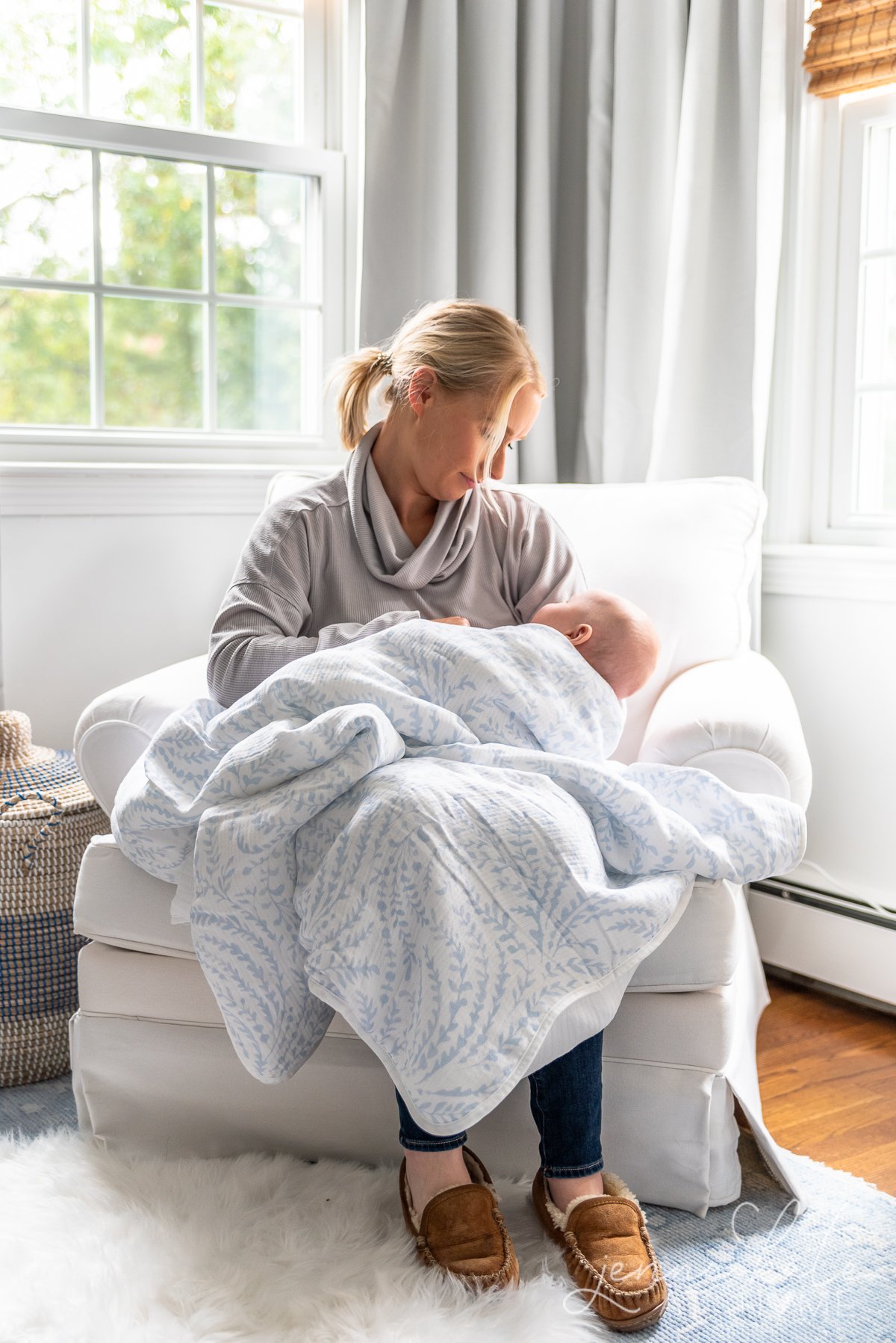 Product Care
All the items in the Nursery Dream Bundle can be washed on warm and dried on a low setting. I have not noticed any shrinkage and they've all been washed multiple times without any issues.
In fact, the muslin fabric gets softer after each wash, which is a huge plus! If it seems a bit scratchy when you first get it, just wash and dry it and you'll immediately notice a difference in the texture.
Bottom Line – Would I Recommend It?
Yes! Serena & Lily products are know for their high quality and attention to detail and the Nursery Dream Bundle is no different. Not only is it a stunning visual addition to our baby boy's nursery, but the quality and thickness of the muslin fabric far exceeds any other muslin products we've ever owned.
I think these will in fact be some of the few items that I keep to pass down to my grandchildren one day.
Other Posts You'll Like