This post has been sponsored by Wayfair.com. All words and opinions are my own. #WayfairCraftSwap
As part of Wayfair's Homemakers Blogger program I was recently lucky enough to have an opportunity to participate in The Great Craft Swap.
The idea was simple. Each blogger would get an item (a frame, a tablecloth, bar towel set or bamboo cutting boards) with which they could do whatever they pleased. Each blogger was also given a name and address to which to send the finished craft.
I was assigned Amanda from Prim & Propah (a fellow Boston blogger!) and the picture frame. For my craft, I decided that instead of focusing on the frame, I wanted to focus on what was being framed.
Now, I of course had to do a little research on Amanda to get a sense of her style. She's amazingly talented, is a total fashionista as well as a dab-hand at sewing. I knew that she would appreciate something that I've been meaning to make for a while…a framed piece of Shibori.
What is Shibori you ask? It's basically Japanese tie-dye and it's been gaining popularity over the past year. Traditionally, Shibori is an indigo blue. It's so simple to do and yields beautiful results. Now that I've tried my hand at it, I'm imaging Shibori throw pillows, duvet covers, dish towels and maybe even REALLY large scaled framed art!
Let's get to the Shibori tutorial:
First you'll need a few supplies:
Indigo (or dark blue) dye. I used the Rit brand in the color Royal Blue.
Fabric – 100% cotton, silk, rayon, linen or wool work best. Since I was just planning on framing my piece, I purchased a yard of 100% cotton.
Rubber bands
A bucket
Wooden spoon or something else to stir with
A frame (if you're planning on framing the fabric)
Technique:
Grab your material and rubber bands. By twisting, folding, wrapping and bunching along with tying rubber bands on the fabric, you will create the patterns. I decided to have four differently dyed sections on my fabric so I used four different techniques.
There's no right or wrong way to do this. That's why it's so much fun! The tighter the fabric is bunched, folded and twisted or the tighter the rubber bands are tied, the less dye that will get at that area.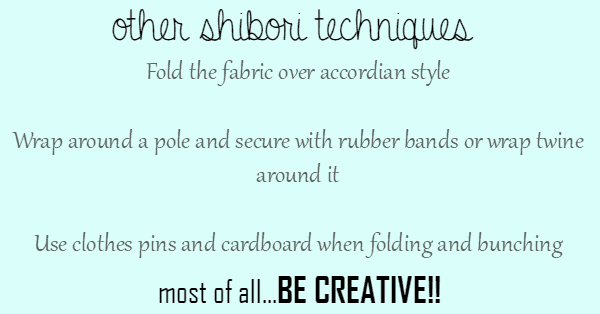 Mix dye based on packet instructions. Don't forget to add salt! Do this part outside if you can.
Submerge your fabric in the dye and leave for a minimum of 1 hour. I left mine for about 90 minutes.
I love how all the different patterns turned out!
I selected my favorite piece, cut it and framed it for Amanda:
Doesn't it look like a feather? So pretty!!
I also added a little bit of white paint to brighten the frame up and to provide more contrast to the print.
Here's the finished piece in Amanda's home:
I LOVE the how the blue Shibori print pops against the yellow and green! Nice styling, Amanda!
Now, as fun as it was for me the make a craft, I was SUPER excited to receive one made for me, too. And you'll never guess who it was….AMANDA! How fun is that!
Amanda's crafting item was a damask tablecloth which she transformed into this beautiful tote bag. I'm still learning to use my sewing machine so I am totally in awe of her mad seamstress skills. Didn't she do an amazing job? You can check out her full tutorial here if you want to make your own!
This was such a fun opportunity for me and I would love to do it again.
Have you ever participated in a craft swap or anything similar? Share with me in the comments!