With spring firmly in sight, it's time to start thinking about spring decor for your home!
What better time to freshen up your home than spring, the season of new beginnings?
This is my favorite time of year for changing things up inside and adding some touches to my home to reflect some of the upcoming trends of the year really helps to achieve a fresh look!
I have chosen some of my favorite items which are both versatile, high quality and aim to get you a little of 2021 trending decor without too much commitment, and without breaking the bank!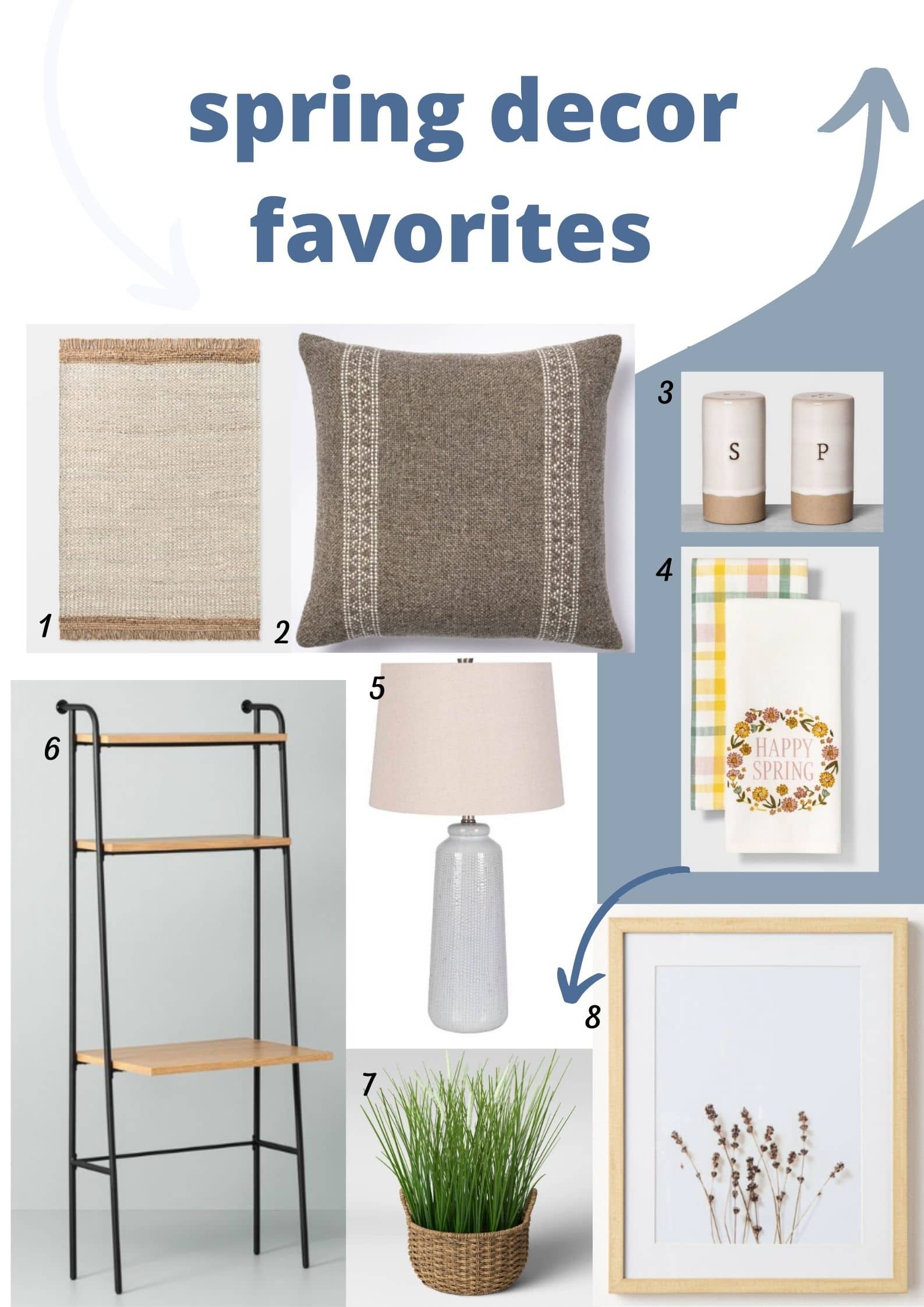 One of the most popular trends of 2021 is bringing the natural world from the outside in. We have been cooped up inside for so long therefore it's understandable that are all aching to be surrounded by nature.
A beautiful
jute rug
(1) will really reflect that natural aesthetic and provide your home with a sense of warm comfort and luxury. Couple this with a new
throw pillows
(2) in various earth tones and you have yourself a new living room!
I love adding small, simple touches to my kitchen to reinvigorate it for spring. These
salt and pepper shakers
(3) are gorgeous and work beautifully with some
spring themed dish towels
(4). I especially love the pop of yellow in those tea towels - it makes me think of Easter and fluffy spring chicks!
I have my eye on this stunning
white ceramic lamp
(5) which would pretty much suit any style or room. I especially think it would look amazing in a bedroom with some fresh white bedding.
If you are looking to add some greenery into your home there are so many ways you can do this. I especially love the idea of using
wall art
to mimic this idea (6), however if you are looking for some faux plant inspiration I would check out this beautiful
grass basket
(7). If faux is not your thing, consider adding some
easy care plants
to your living room.
Finally, we are all using our homes more so than ever as home-come- office but not every has the space or wants to transform a whole room. There are some wonderful, versatile and multi-functional methods of doing this on a budget, like this
bookshelf with des
k (8) so if that is something you have been on the search for - search no more!
I hope my favorite spring home decor finds will offer you some inspiration and you go about brightening up your home for the coming months. As always, if you have any questions feel free to drop a comment below and I'll do my best to get back to you!