This traditional Irish soda bread recipe is the one I grew up eating in Ireland. It's simple to make with a few basic ingredients and tastes delicious served warm with butter or jam.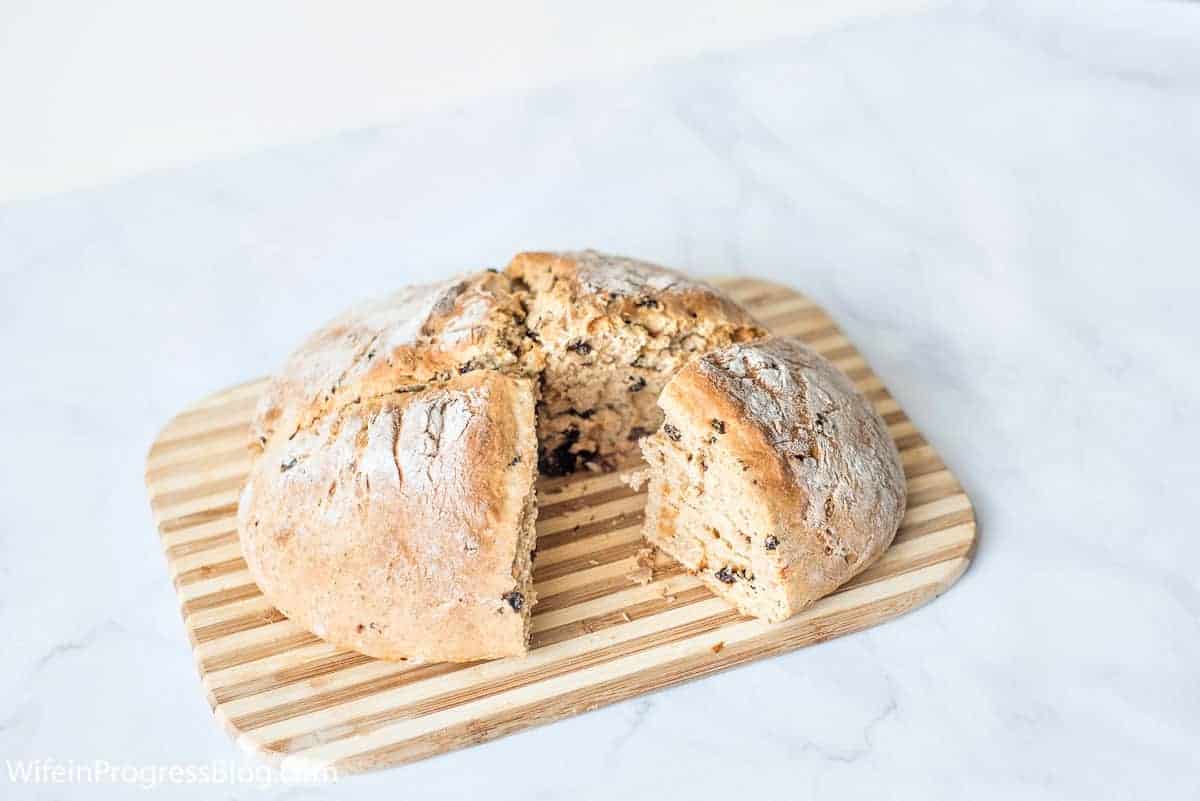 My recent trip home to Ireland was a great excuse to indulge in some of my favorite Irish foods: a full Irish breakfast (sausages, black pudding, brown bread and fried eggs), a hearty stew, some fresh farmhouse vegetable soup and my mom's delicious soda bread.
Oh the soda bread. It's one of my favorite snacks, breakfasts and lunches. Slathered with butter (Kerrygold is best!) or jam and accompanied by a hot cup of Barry's Irish tea. You can't beat it. I regularly make this quick bread for my own family, but it's always nice when my Mom makes it for me, too.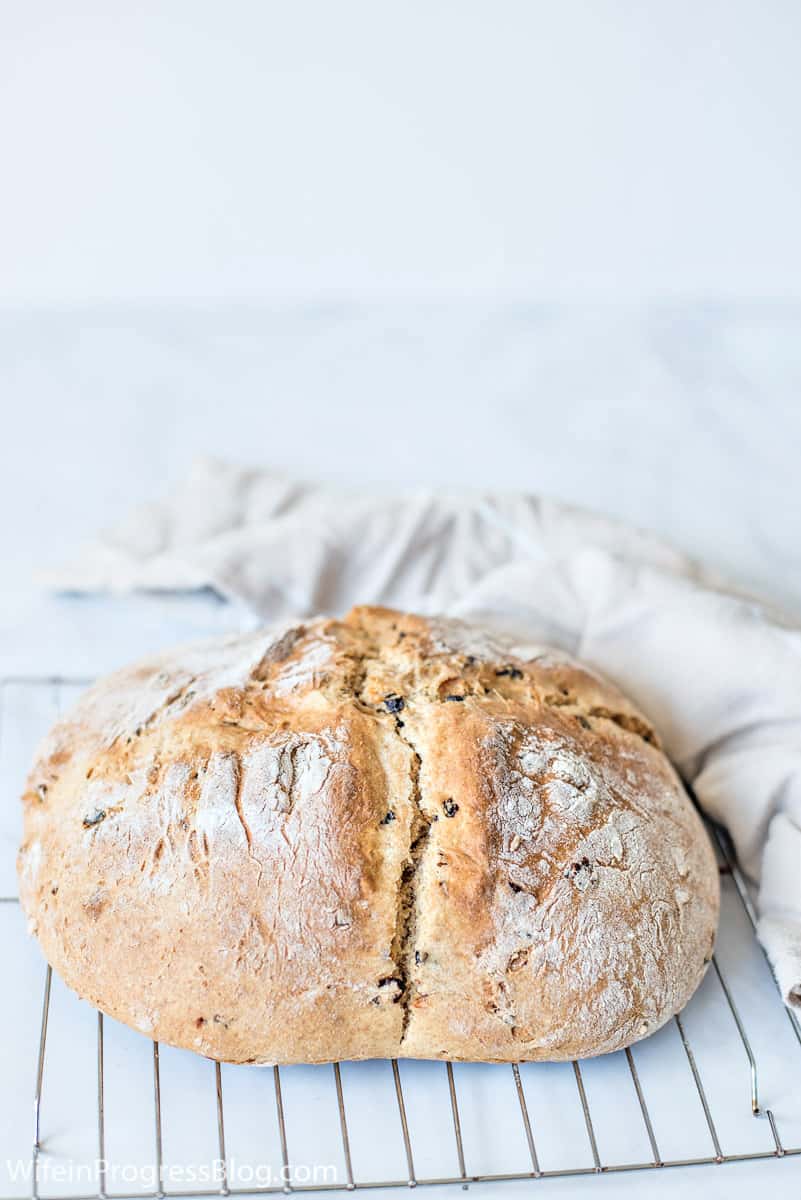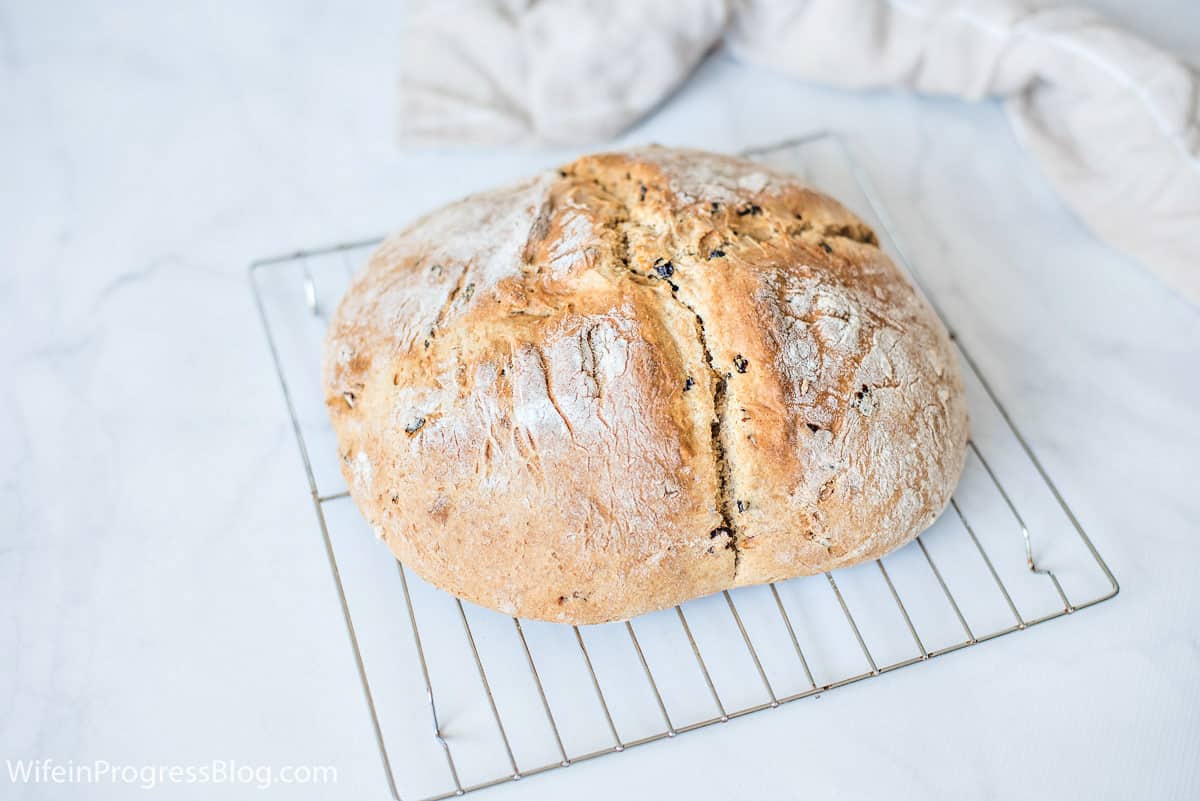 With St. Patrick's Day only a few short weeks away, I thought it would be fun to bake up another loaf to share with you. Irish soda bread requires only a few ingredients and comes together quickly. Because it's a "quick bread", it doesn't have yeast or require any time to rise. Just mix all the ingredients together and bake.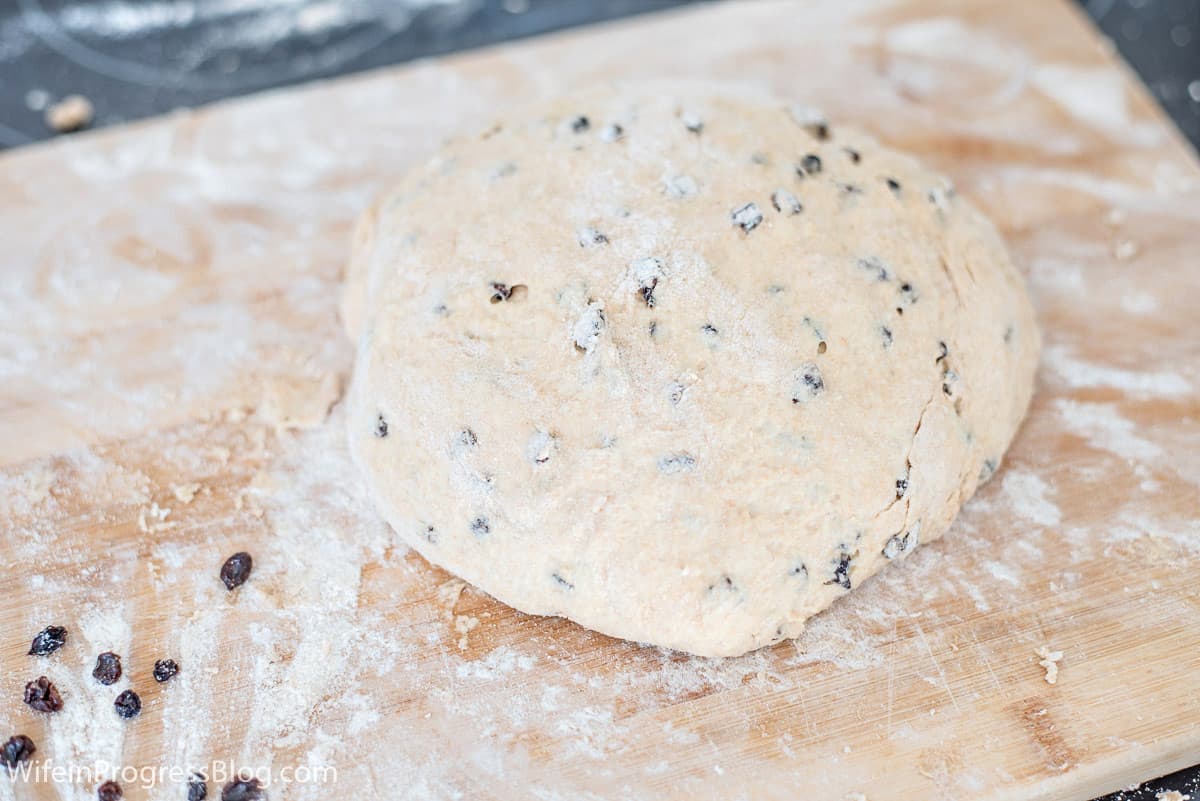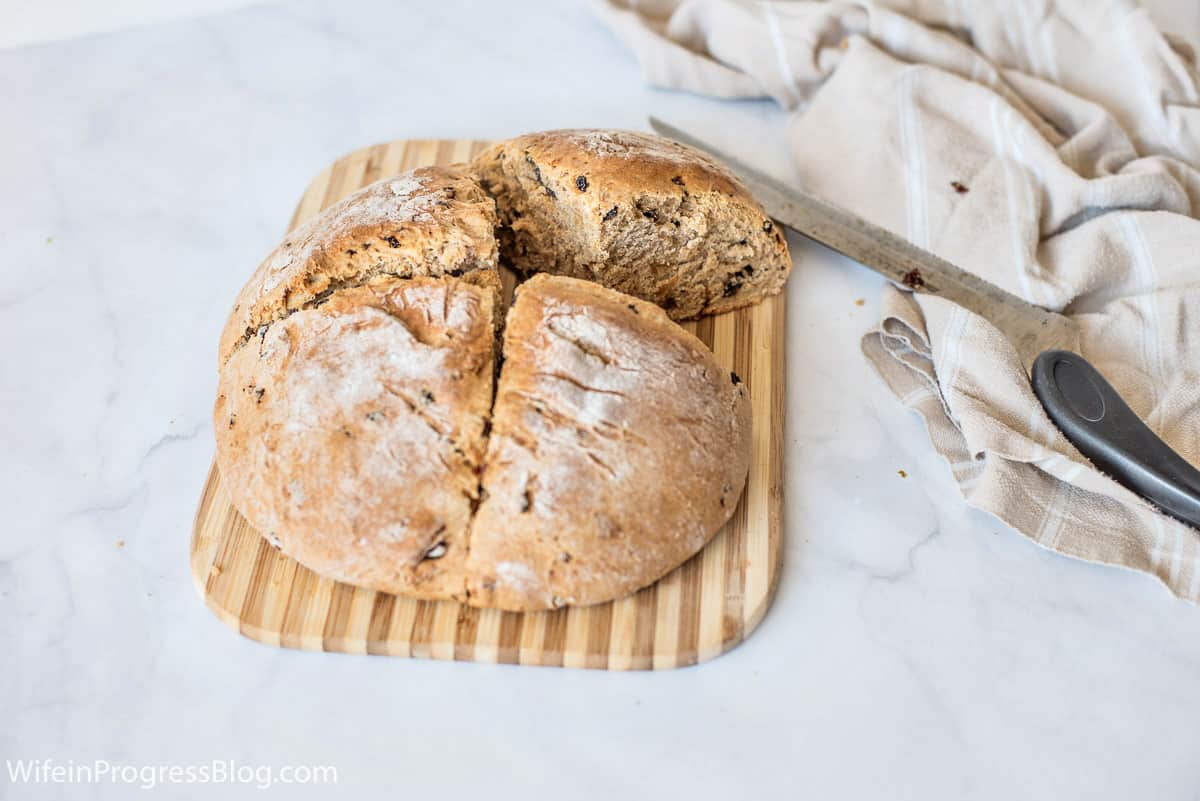 You can either add or omit the currants (or if you can't find them, substitute with raisins). I like it equally both ways, and both ways are just as traditional. American tastes tend to favor a sweeter soda bread than what is traditional in Ireland, so feel free to modify the recipe by adding 2 tbsps of sugar if you'd prefer.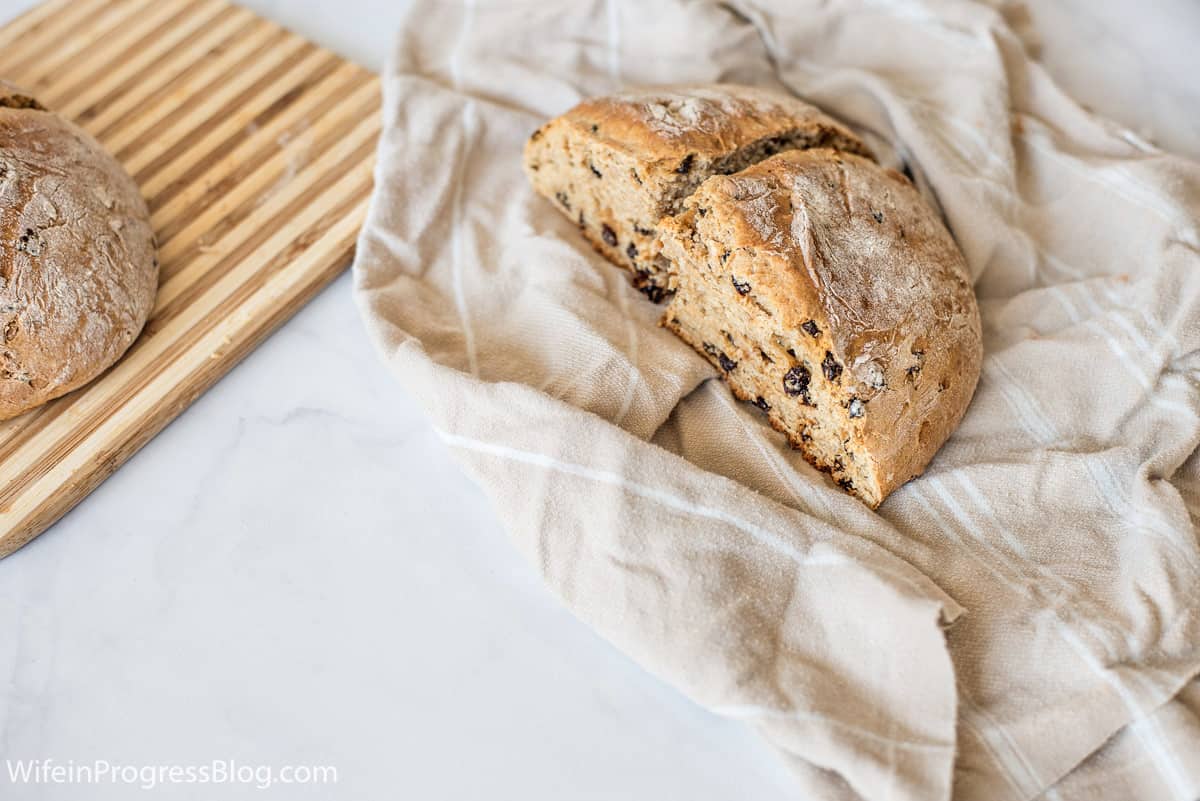 I also sometimes switch out the last cup of flour for whole wheat, which I did this time since I ran out of white flour (by the way - this wheat one is my favorite). You could also use all wheat flour for a brown soda bread.
You don't have to use buttermilk (you can use whole milk or make your own buttermilk), but it really is a must for the true taste of Ireland.
Make sure you eat a warm slice of this soda bread before you start handing it out, though. Because if my household is anything to go by, it'll be gone in a flash!
I do hope you'll enjoy my Traditional Irish Soda Bread Recipe. I personally think it's the best Irish soda bread recipe :-)
If you're not a traditionalist, feel free to switch out the currants for any fruit you prefer - orange zest or dried cranberries would probably be pretty yummy! And if you decide to make it, I'd love to know what you think!
Looking for More Traditional Irish Recipes?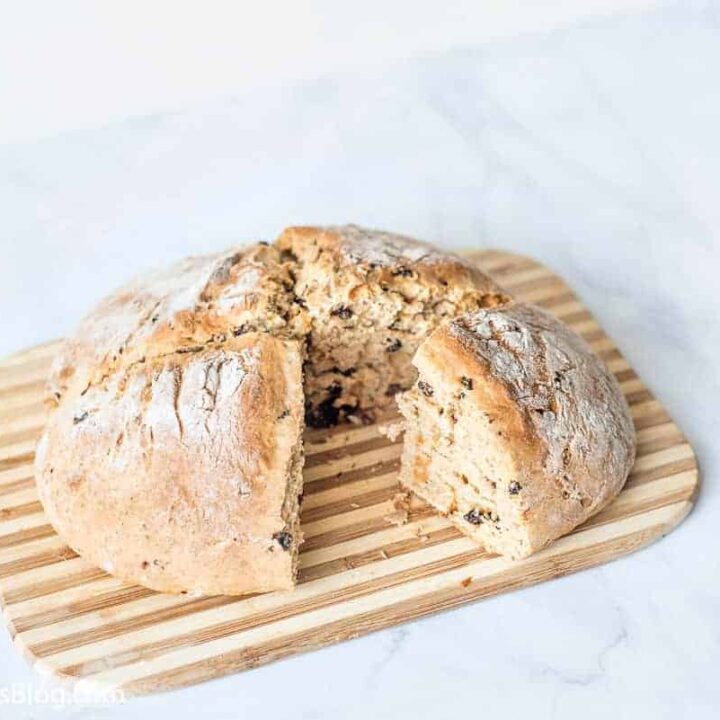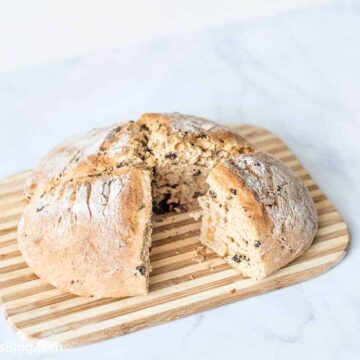 Traditional Irish Soda Bread Recipe
This traditional Irish soda bread recipe is the one I grew up eating in Ireland. It's simple to make with a few basic ingredients and tastes delicious served warm with butter or jam.
Ingredients
4

cups

all purpose flour

plus extra to dust currants

1 ½

teaspoons

salt

1

teaspoon

baking soda

4

tablespoons

butter

cut into small cubes

1 ½

cups

buttermilk

1

large

egg

beaten

1

cup

currants

(optional)
Instructions
Preheat the oven to 375°F. Line a sheet pan with parchment paper.

Combine the flour, baking soda, and salt in the bowl of an electric mixer fitted with the paddle attachment. Add the butter and mix on low speed until the butter is mixed into the flour.

In a small bowl, lightly beat the buttermilk and egg together using a fork or hand whisk. With the mixer on low speed, slowly add the buttermilk mixture to the flour mixture. Combine the currants with 1 tablespoon of flour and mix into the dough. The dough will be sticky but shouldn't be wet. If it's too wet to handle, add more flour, 1 tablespoon at a time.

Dump the dough onto a well-floured surface. Making sure your hands are clean, knead lightly a few times into a round loaf. Don't be afraid to add more flour as needed. The dough should not be wet or really sticky at this point.

Place the loaf on the prepared sheet pan and cut a deep cross into the top with a sharp knife.

Bake for to 50 - 60 minutes or until the top is golden and when tapping underneath it has a hollow sound.

Cool on a baking rack. Serve warm or at room temperature with lots of butter!
Notes
Traditionally, I was taught to make the dough by creating a well with the dry ingredients and then pouring the wet ingredients in and mixing with bare hands. I like to avoid the mess these days so I use my mixer and it tastes just as good.
If you choose to omit the currants, you may want to add 1 tablespoon of sugar instead.
Nutrition
Calories:
160
kcal
Carbohydrates:
32
g
Protein:
5
g
Fat:
1
g
Saturated Fat:
1
g
Cholesterol:
15
mg
Sodium:
320
mg
Potassium:
153
mg
Fiber:
1
g
Sugar:
7
g
Vitamin A:
67
IU
Vitamin C:
1
mg
Calcium:
44
mg
Iron:
2
mg