Every year I like to bake a cake for my wonderful husband's birthday. I love a good excuse to bake! And guess what?! It's that time of year again! Yup, the love of my life is turning another year older so today I'm busy baking up a storm!
There's so many things I could bake him. I always suggest something different – my favorite chocolate birthday cake? Nope. How about those delightful mini lemon cheesecakes? Nope. OK, how about something entirely different, like a pie!? Nope.
He asks for the same cake every single year and his choice is not complicated. It's nothing elaborate. There's NO chocolate (which in my book in birthday cake sin!).
In fact, it's a very simple cake with simple ingredients. It's also a traditional British/Irish cake – the Victoria Sponge Cake (also know as a Victoria Sandwich Cake).
Don't worry if you've never heard of it – he hadn't either until he met me!
What is Victoria Sponge Cake?
Since the majority of you reading this are in the U.S, you may not have heard of this cake. There's nothing fancy or complicated about it. It might not be what comes to mind when you think of the best birthday cake ever (my husband's words!).
So simple. But really so delicious.
The Victoria Sponge Cake is said to have been a favorite of Queen Victoria. And I cannot fault her taste in cakes! Moist sponge cake layered between raspberry (or strawberry) jam and thick freshly whipped cream makes this cake a winner every time.
Paired with a cup of tea (or coffee) it also makes a perfect afternoon treat!
How to Make The Cake
The great thing about this cake is that you can make it using the all-in-one method. That means putting everything into a bowl at once and mixing until smooth.
It couldn't be easier!
This means it's also a pretty foolproof cake for a baking novice. Now put down the box mix, grab some real ingredients and try your hand at it. It doesn't disappoint!
If I do happen to have extra time to spare, I'll cream the butter and sugar first, then add the eggs and vanilla, and finally fold in the dry ingredients.
The resulting cake is a little lighter than the all-in-one method, but both methods work great for this recipe.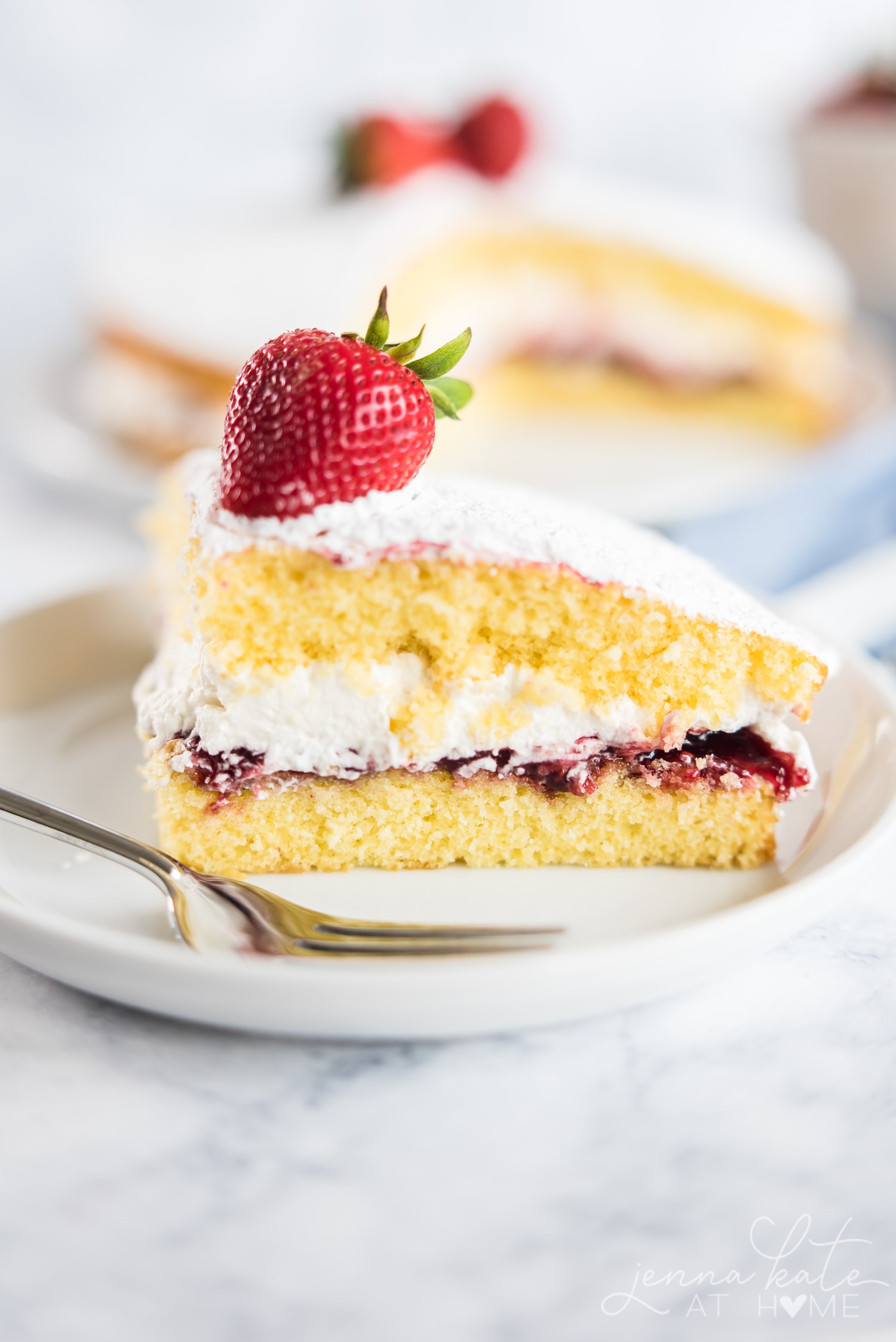 The batter is very buttery and does have a tendency to stick to even the best greased cake pans, so I always recommend cutting out some parchment paper and lining the already greased pan.
That way, once the cake has baked, you can pop it out of the cake pan, allow it to cool on a wire rack for 10 minutes and then peel off the parchment paper.
Every time I've forgotten the extra parchment paper step, I have left a considerably chunk of cake in the pans. So you've been warned!
Even if you take the time to mix the wet and dry ingredients separately, you'll have this cake in the oven within 10 minutes. Don't you love quick baking? All the taste without any effort!
For the filling, all you need is a good quality jam – I like the Hero brand – and some heavy cream.
To whip the cream, add it to a cold bowl along with a teaspoon of vanilla. Set the mixer to high, and mix until stiff peaks form. Normally, I would also add sugar before whipping cream, but since the jam is already really sweet, you're not going to want the extra sugar.
Once the cakes have completely cooled, spread some jam on the bottom sponge, then spread the whipped cream on top, and finally sandwich the second sponge right on top of the cream.
I like to decorate with some powdered sugar and either fresh strawberries or raspberries, depending on what jam I've used in the filling.
And while my husband loves this cake for his birthday, it's really the perfect sweet treat to whip up for any special occasion.
Tried this recipe? Please vote for it on the recipe card so that everyone else know how much you enjoyed it!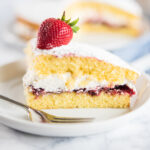 Print Recipe
Traditional Victoria Sponge Cake
This light sponge cake is filled with sweet raspberry jam and light whipped cream. It's perfectly paired with a cup of coffee or tea!
Ingredients
Cake Batter
8

oz

All Purpose Flour

8

oz

Butter

at room temperature

8

oz

Extra Fine Sugar

Put granulated sugar in a food processor/blender and just make it finer

1 ½

Baking Powder

4

Eggs

beaten

2

tablespoons

Milk
Filling
Half Pint Whipping Cream

1

tsp

Vanilla Essence

Jar of good quality Raspberry Jam

(or strawberryy)

Confectioners Sugar for dusting;
Instructions
For the cake
Preheat oven to 350°F. Grease two 8 inch cake pans and line with parchment paper.

In a large bowl, cream the butter and sugar together.

Slowly add the eggs and milk.

Gently fold in the dry ingredients until you form a smooth soft batter.

Divide the mixture between the prepared pans and smooth the top with back of spoon.

Bake for about 20 minutes until golden brown and the cake springs back when pressed.

Turn onto a cooling rack and allow to cool completely.;
Filling
In the chilled bowl, beat the cream and a drop of vanilla until soft peaks form.

Spread the jam over the base of both sponges. Smooth whipped cream over the jam. Sandwich the two cakes together.

Dust with confectioners sugar before serving.
Notes
If you don't own two cake pans, bake the mixture in one pan. You will need to adjust to cooking time close to 30 mins. Once the cake has cooled, slice it in two using a knife.
You Might Like These Sweet and Fruity Dessert Recipes: