Today I'm going to get a bit sentimental (read: you're in for a wordy post!).
When Taylor from Porch.com contacted me about participating in their #LoveYourHome series I was intrigued. The idea was to share anywhere that is special or that's my "happy place" in my home. Thinking about it, I realized that everything about my home makes me happy. And today, I want to share with you the many reasons for this.
If you've been reading this blog for a while you might know parts of this story. You may know that I moved here from Ireland. You may also know that Brian and I purchased our home from my in-laws. Here's the rest of the story:
In 2010 I moved to the Boston area from Ireland to be with my (then) boyfriend, Brian. I was returning to school to get my Master's in Education and working in an elementary school full-time – as an unpaid intern. We didn't have much money; I had school loans that needed to be repaid and after getting engaged in December of that year, we had a wedding to save for.
Graciously, Brian's parents let us live rent free in their home during that year. We helped pay for bills and (mostly) bought our own groceries. Although I did have dinner on the table for me every evening when I came home! It was during this time that the opportunity to purchase their home arose as they were planning to retire to Maine in the coming months. It certainly was something that we just couldn't not pass up.
With their help we were able to forego a large down payment and get a mortgage on the house. Brian's parents continued to live with us for several months after this.
This being the house that Brian grew up in makes it a special place to him. It took me a while to realize that. Initially I was so excited to make the house "my own" that I neglected others' feelings and didn't take into account the memories that I might be stepping on in so hastily "making over" the house. I now wish I had waited until it was just Brian and I in the house before starting that process. I didn't see the forest for the trees, so to speak. Hindsight is a great thing, don't ya think?
Anyway, the point in me telling you my back story is that this house has always been a home to Brian. I wanted it to feel like home to me too. I wanted to make it OUR home.
4 years later it certainly is our home. In writing this piece I thought I would pick one corner of my home or one particular space that makes me the happiest. In truth, it is the sum of all the parts that make this a happy home.
I love to have my favorite memories visible. From our wedding vows and wedding invitation hanging in the hallway, wedding pictures and Cian's newborn pictures in the living room and dining room and several maternity shots of my extremely large belly in the bedroom – my home is filled with pictures and mementos that bring a smile to my face and love to my heart.
Brian and I have put so much hard work into updating this home and that's one of the many reasons we love it so much. WE removed all the wallpaper (I will NEVER do that again!) and painted the walls. WE painted all the doors and trim. WE designed our kitchen and bathroom when it was time to renovate them. WE carefully chose furniture and accents for the entire house. We put our blood, sweat and tears into it and we love it more so for that reason.
Currently, my favorite space is my Baby Boy's nursery. It is here that Brian put the crib together while I was 30+ weeks pregnant. It was here that I neatly folded baby clothes in the dresser that we refinished. It was here that I hung the crib mobile that I made for our son. It is here that we are making some amazing new memories.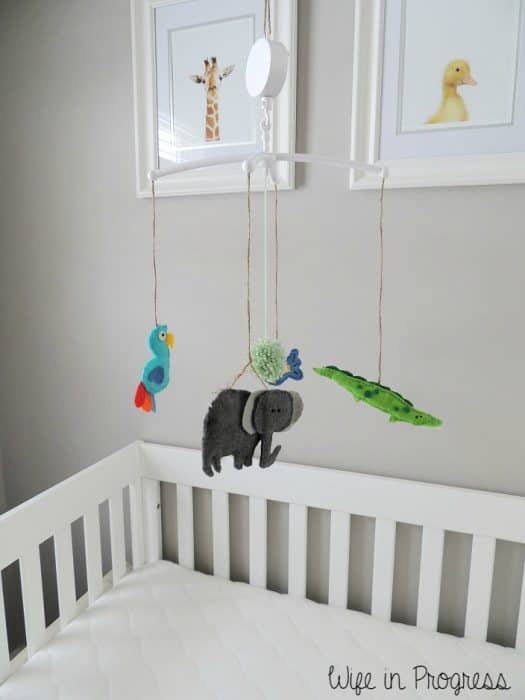 It might not be the biggest or grandest house you will ever see and I know that at some point in the future we will outgrow this house that has become our home. We will find another house and make it our home. But this one will forever be my first home with the family that Brian and I made. It will forever hold many memories and a very special place in my heart and will be eternally grateful to Brian's parents for helping us get on the property ladder.
Porch.com allows you to get connected to BBB accredited professionals. Additionally, you can browse over 130 million projects on Porch or find lots of advice and inspiration for all things home improvement and DIY. Did I mention it's all for FREE? So head over and check it out!