If you're looking for the best veggie dip, then look no further. This sour cream based dip is packed with flavor and is sure to become your new favorite for both veggies and chips alike. Parties and tailgates will never be the same again!
This post has been sponsored by Ibotta.
The Best Homemade Veggie Dip
With fall comes kids back in school and more regular routines. One of the reasons I love living in New England is the fall. Beautiful weather, stunning foliage, the tastes of pumpkin and spices, hayrides, apple picking, pumpkin patches…and FOOTBALL!!
Coming from Ireland, the majority of what I just listed were not things we did. Yes, we have autumn and the leaves turn brown. Dark red if you're lucky. But not the all the fun foods and activities that come with living this side of the pond. And since American Football is well, an American sport, we certainly did not get to experience all of the fun that comes with football season.
Let me preface this by saying that I by no means love watching football. I barely understand what's going on but what I do love is hanging out with people and eating good food. I mean, that's the best part, right!? So whether it's The Big Game or just a regular season Sunday afternoon game, you gotta get your snack on.
No TV tailgate is complete without a good veggie dip and this my friends is a pretty delicious veggie dip recipe. In fact, it rivals even the best dips you've bought at the store. Dare I say – I think it's better than any dip I've bought at the store.
Speaking of the grocery store, I ran into my local Wholefoods this past weekend to grab all the veggies and sour cream for this recipe and used my Ibotta app to earn cash back on my purchases. It's so easy to use. If you haven't already downloaded it, you can get it here for free. All you have to do is add offers, go to the store (or shop online) and purchase the items, then redeem the offers to get cash! I love that not only can you get offers for the vast majority of grocery stores but also through online apps like Amazon.
Since I started using the Ibotta app, I'm earning on average $20 a month. It feels great to be rewarded for purchasing all the groceries, household essentials, clothing and baby items that I buy every month!
During this grocery particular grocery store trip, I earned $1.50 back on chips, $0.50 back on the sour cream, $0.25 back on the carrots and $3.00 back on the must-have for every tailgate – beer! HA!
All offers were valid as of publish date. Don't forget to check your app for details as offers change frequently and may not be available in all areas.
Kick-off fall with cash back from Ibotta. From your closet to your tailgate, they've got you
covered. Download the app and start earning today.
Veggie Dip Recipe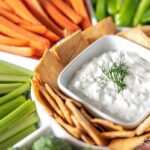 Print Recipe
The Best Veggie Dip
If you're looking for the best homemade veggie dip, then look no further. This recipe is packed with flavor and will quickly become your new go to for veggies and chips alike.
Ingredients
16

oz

sour cream

2

tbsp

dried minced onion

1

tbsp

dill weed

(fresh dill also works!)

2

tsp

dried parsley

1

tsp

garlic salt
Instructions
Add the dry ingredients to the sour cream and combine.

Refrigerate for an hour. Serve with veggie sticks and chips.