Welcome! This is a tour of our first home, which we just recently sold (September 2015). This house is super special to us – my husband lived here since he was 3 years old and this is the house we brought our son home from the hospital to, and where he lived for the first 9 months of his life. It is bittersweet to sell but we are excited for what's to come!
With that being said…welcome to my home! It's full to the brim with DIY projects and budget finds. If you have any questions, please drop me a comment or an email and I'll be sure to get back to you.
A fresh coat of paint on the siding and bright white trim makes the navy blue shutters and front door really pop! On a small house like this it's a completely do-able DIY, too!
Exterior paint color: Steely Gray by Sherwin Williams. Door and Shutters: Naval by Sherwin Williams
Entry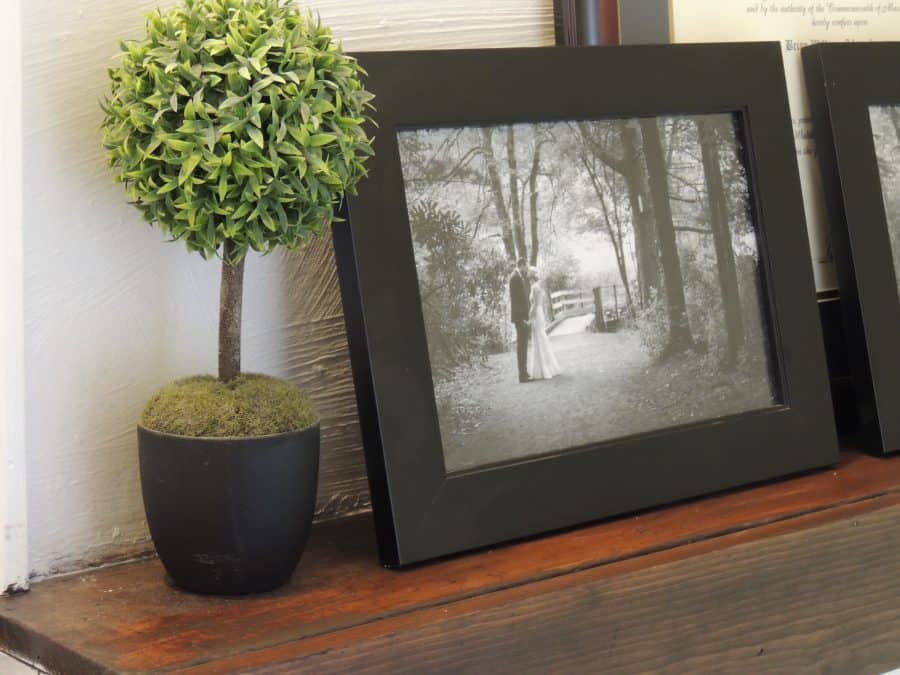 I would love to figure out how to make this space have a real function, but it's just so narrow that I don't think I can do a whole lot with it. Mind you, covering up that wonderful orange peel texture on the walls might be a project I should consider!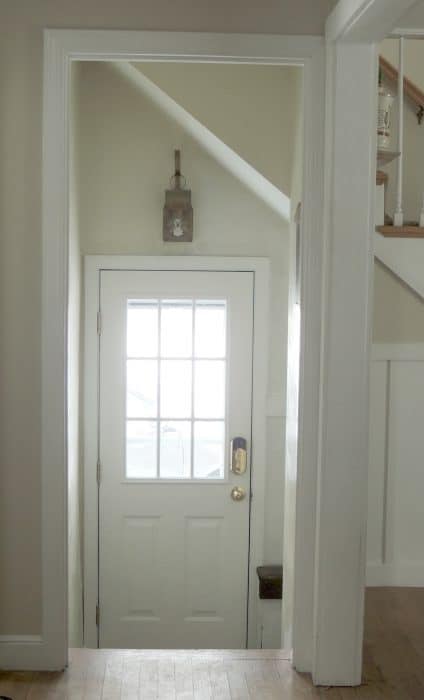 The huge brass contraption on the door is part of the security system we had installed. Not the most attractive, but provides peace of mind for me when my husband is traveling for work or we're away on vacation.
Kitchen
>>> Before <<<
This is the kitchen that was original the house. It wasn't the most functional, as some of the bottom cabinet doors didn't even open. Plus, I couldn't reach some of the higher ones! Yes, I'm incredibly short. With little storage and no style, we definitely needed an upgrade.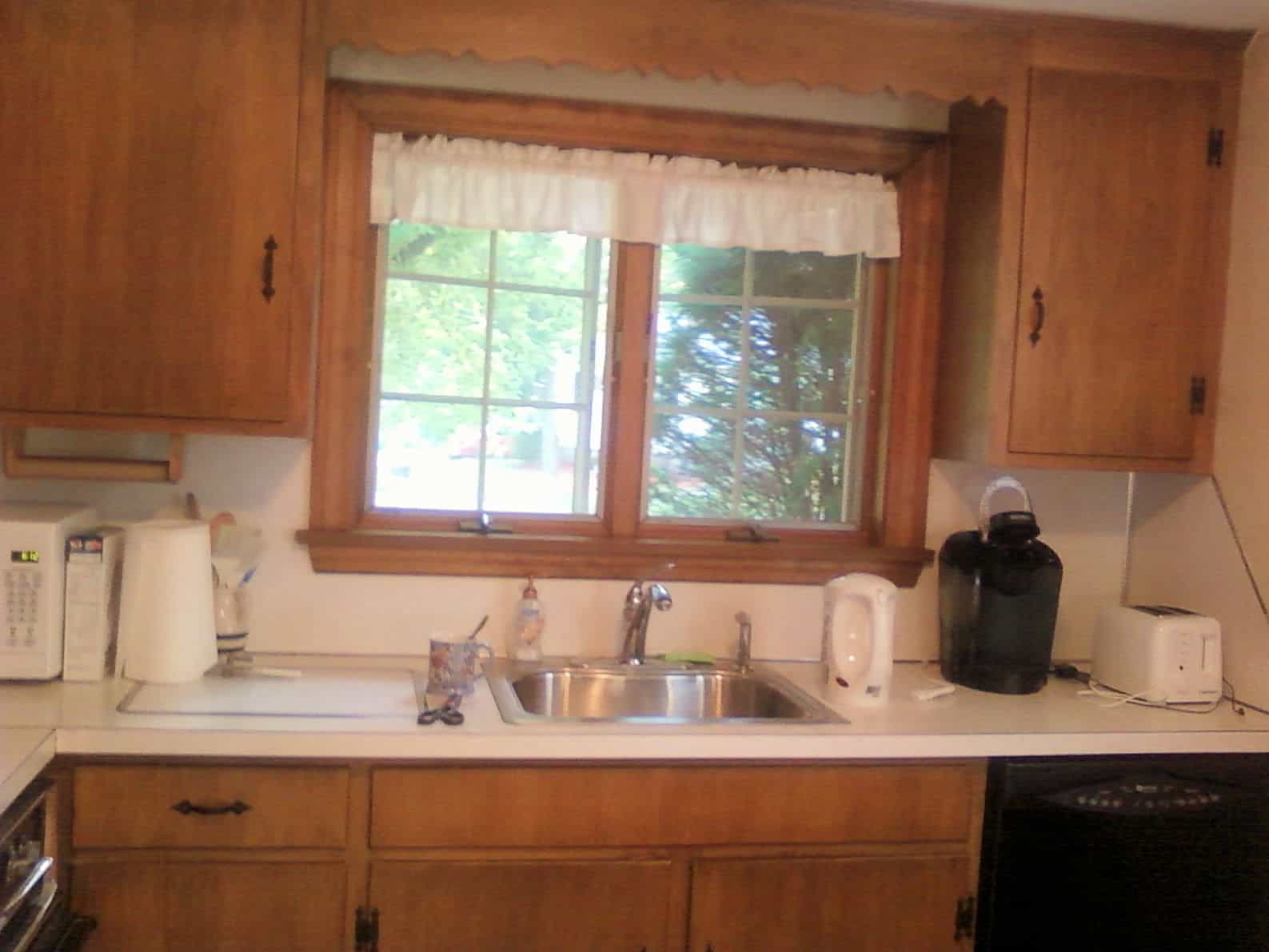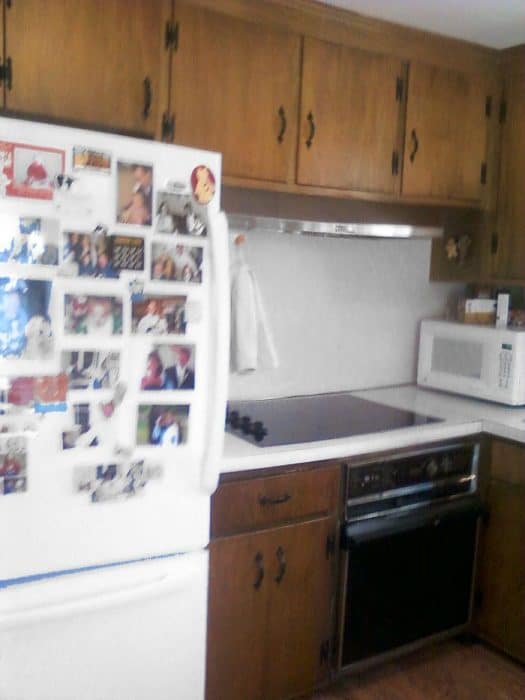 >>> Initial Makeover <<<
We painted the cabinets and removed the wallpaper for an instant upgrade. Aesthetically this room was slightly more pleasing, but the functionality still wasn't there. Click here to read about how painted our cabinets.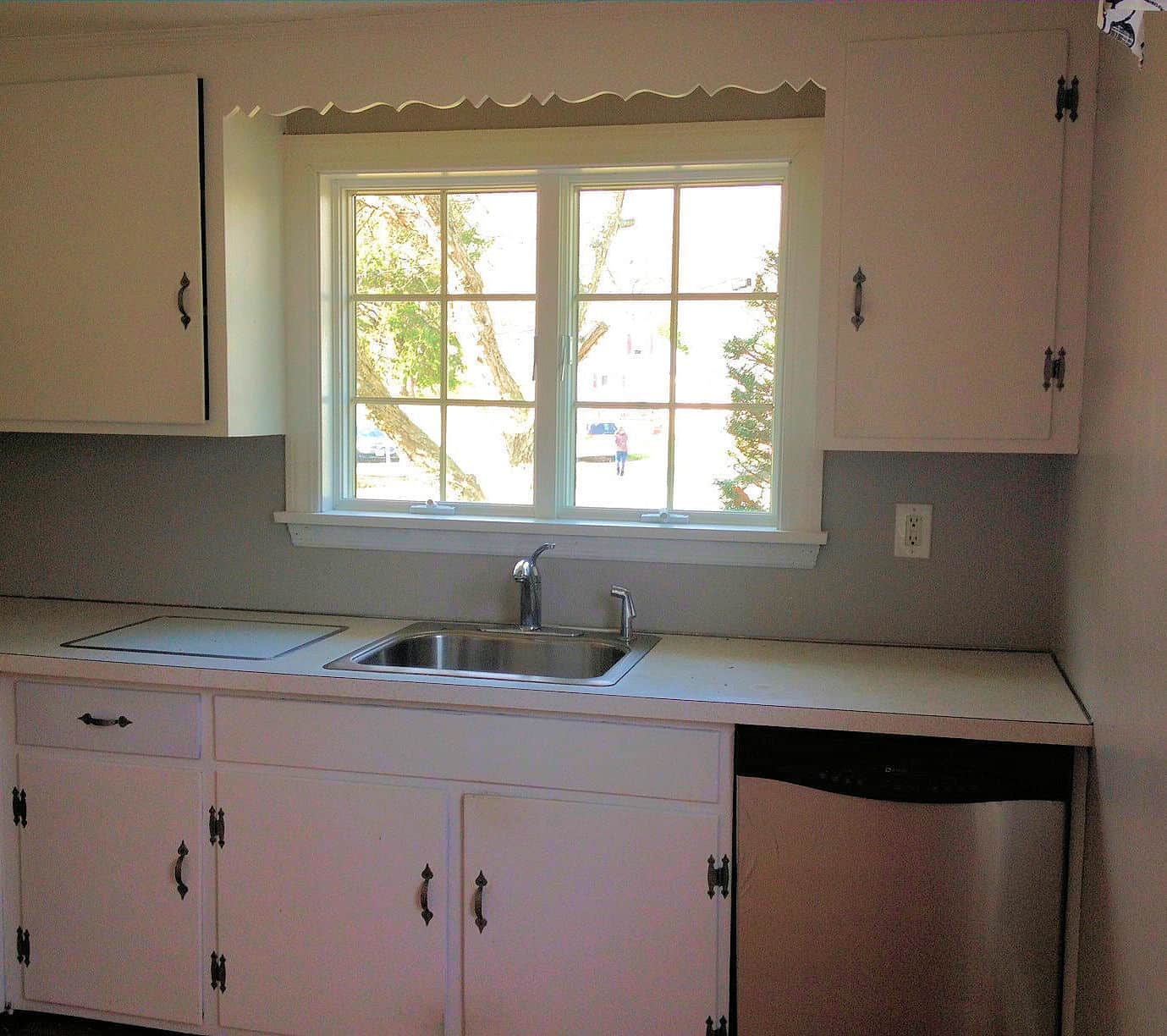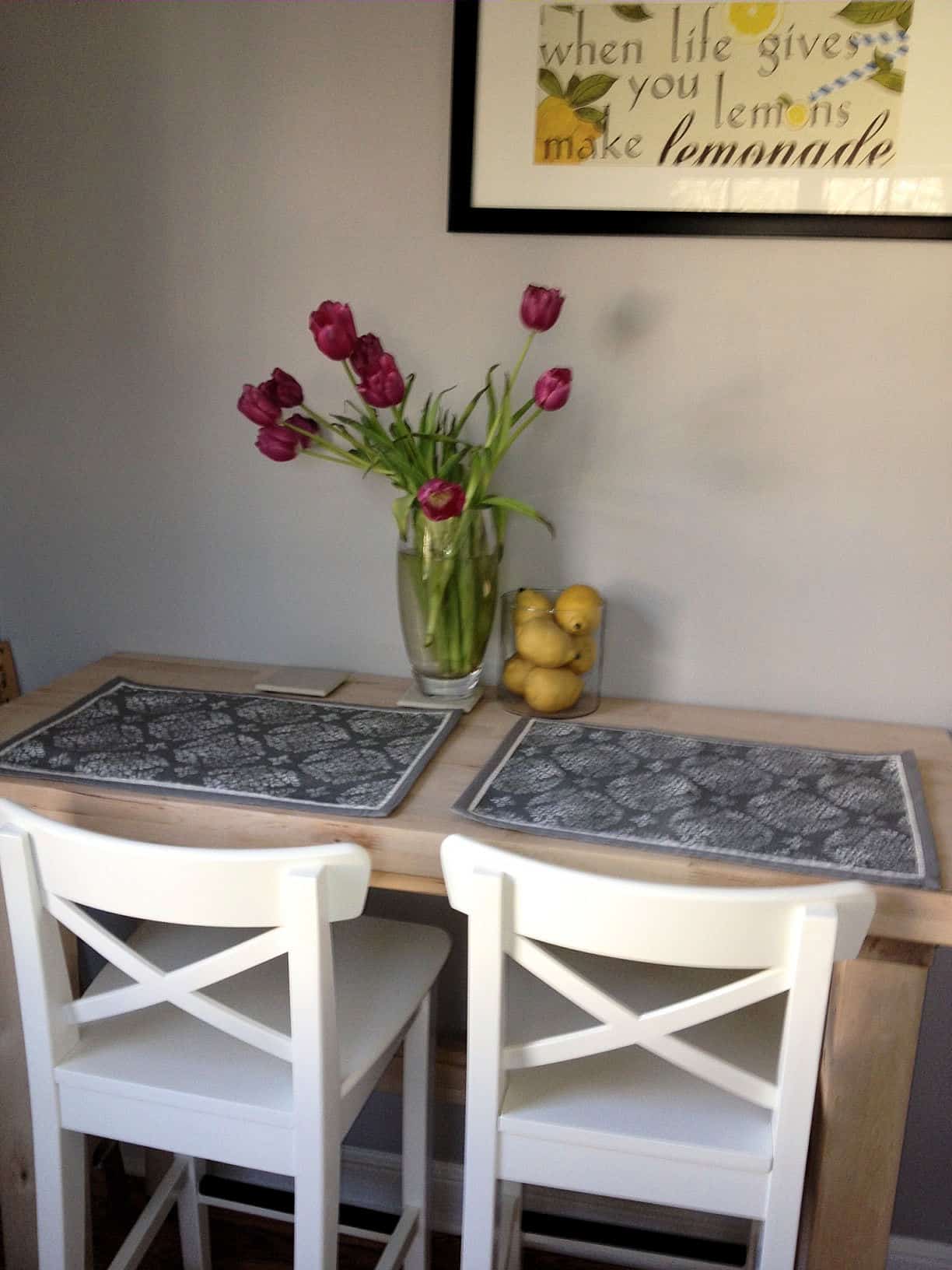 >>> After <<<
We took the plunge and renovated our kitchen! (read: we were persuaded to accept a free consultation. Dang-it, that salesman was good…we signed on the dotted line almost immediately. Suckers you say? Yup!)
To keep the kitchen remodel affordable, we had most of the cabinets refaced, with some new ones custom-built to increase storage and functionality. Learn more about the whole process of kitchen cabinet refacing and our complete kitchen makeover here.
Wall color: Natural Gray by Behr Trim: Off-the-shelf Semi Gloss White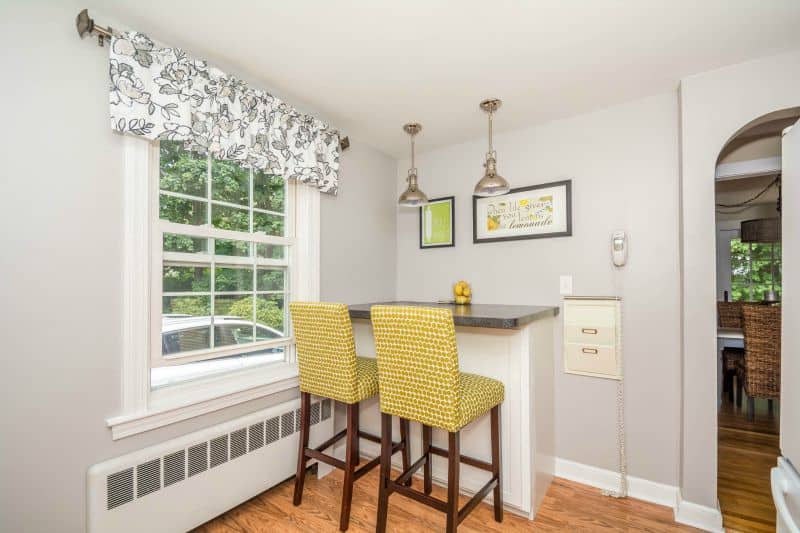 Barstools: Target (no longer available but these are very similar)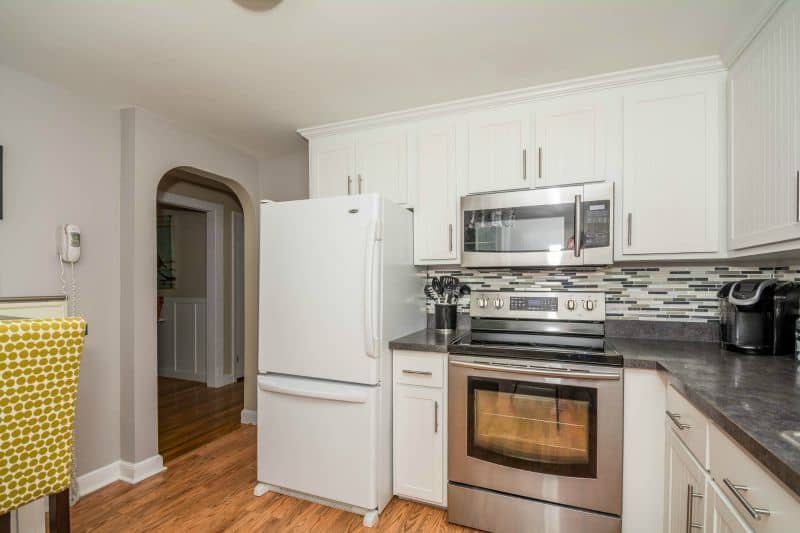 New Kitchen Lights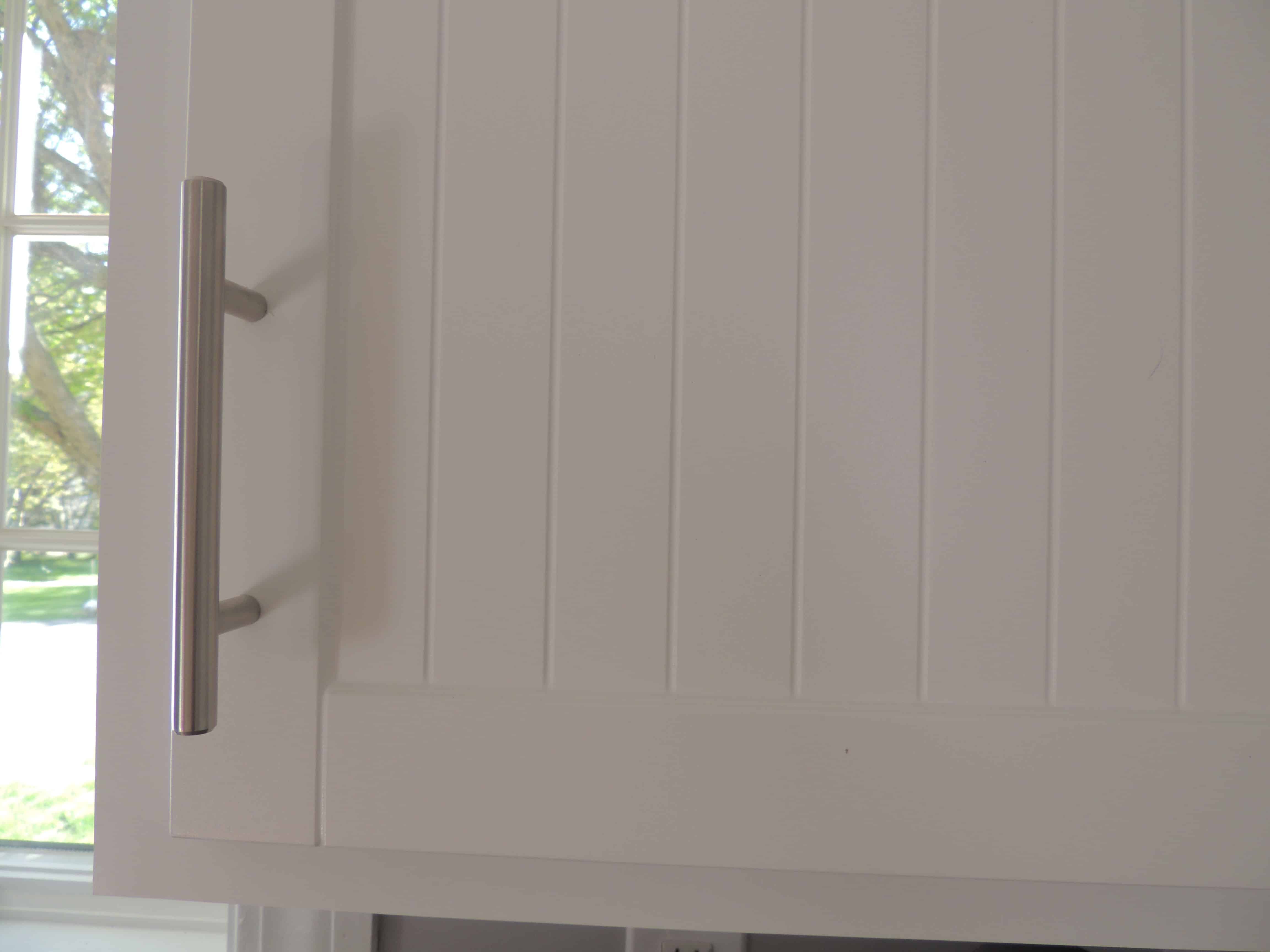 My favorite DIY ever – Peel and Stick mosaic tile backsplash: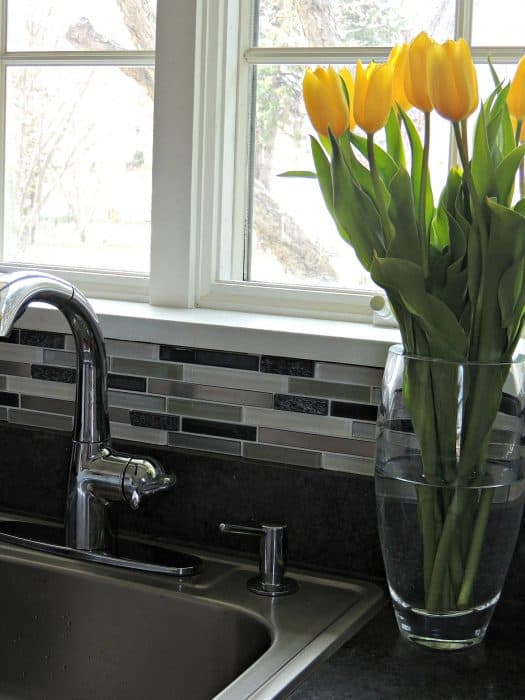 Living Room
>>> Before <<<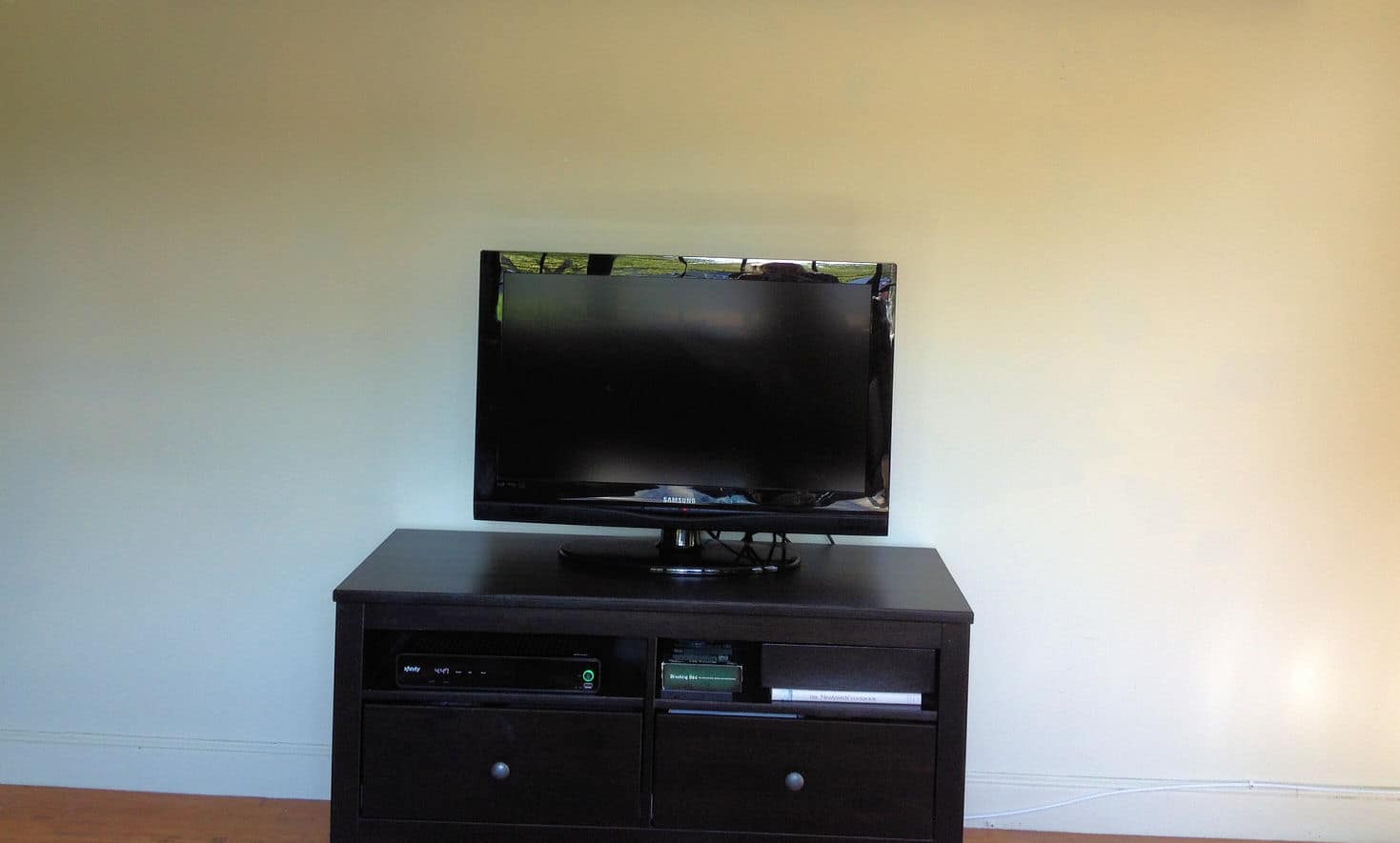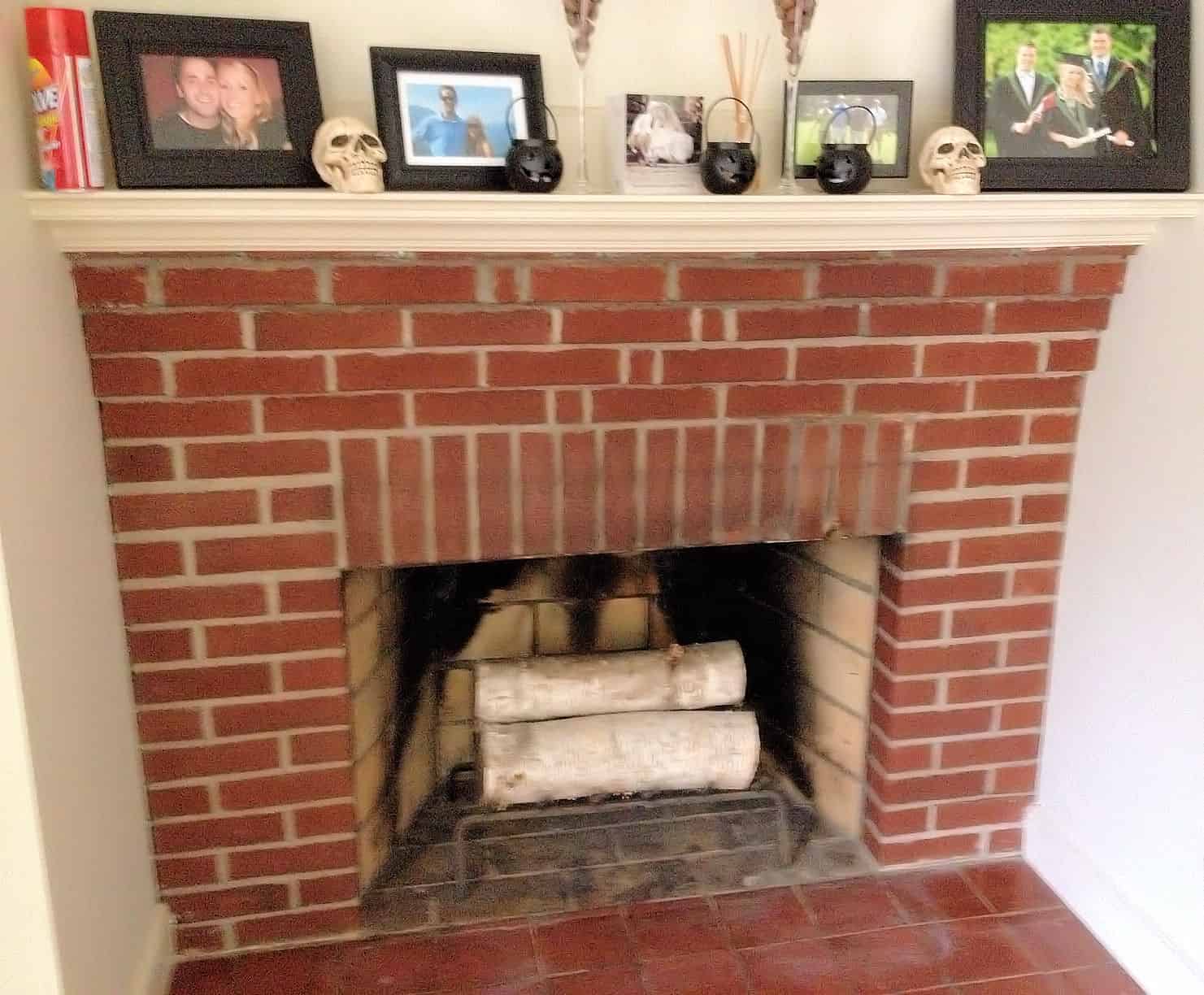 >>> After<<<
This room was the ONLY room in the house not to have wallpaper when we moved in. We painted the walls Dove White and stained the trim work around the windows a rich java color. The fireplace got a little update and the front door was painted.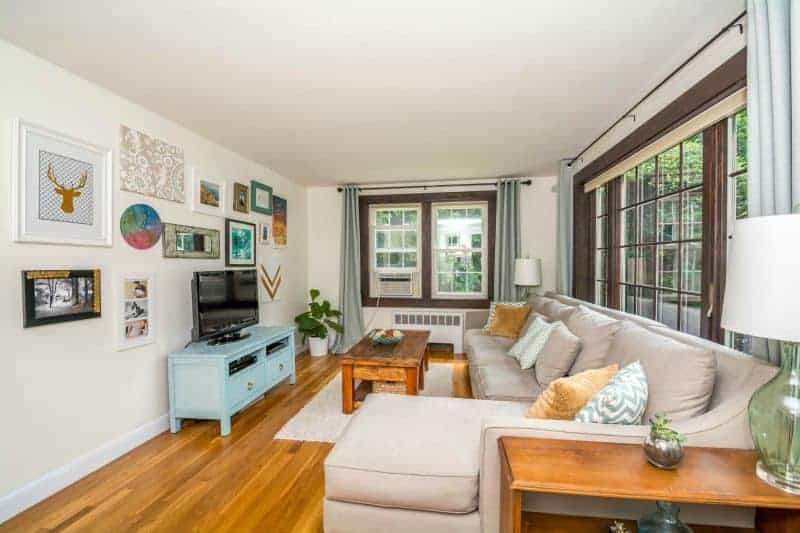 Walls: White Dove by Behr, Windows: "Java" stain by General Finishes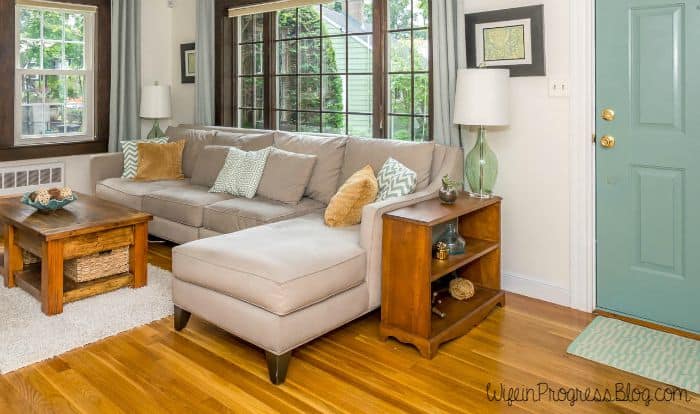 Using a bookcase as an end table adds more functionality and storage to the room.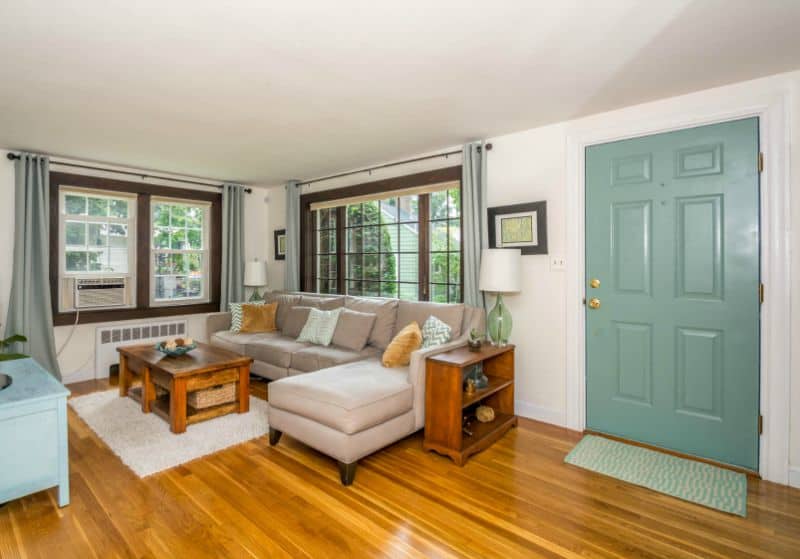 Front door: Mermaids Net by Behr. Learn how to paint your door with this tutorial.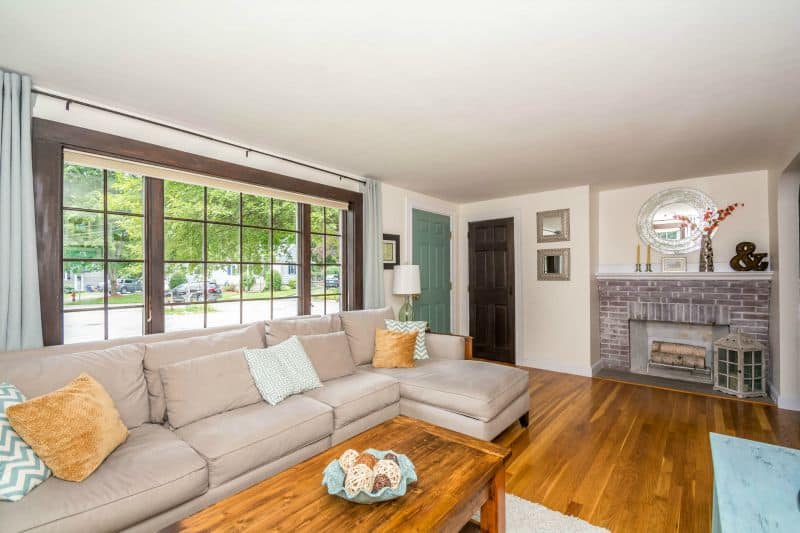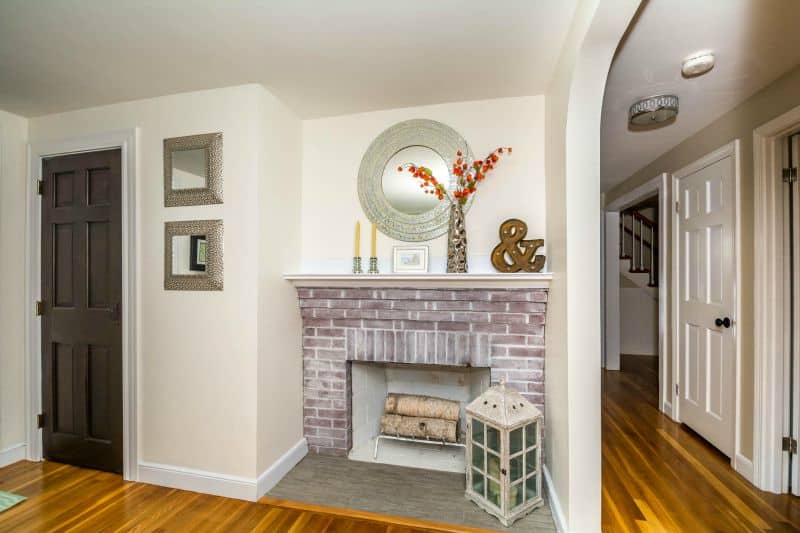 The fireplace was completely transformed from dirty old red brick and tile to whitewashed with gray tile. See the tutorial here.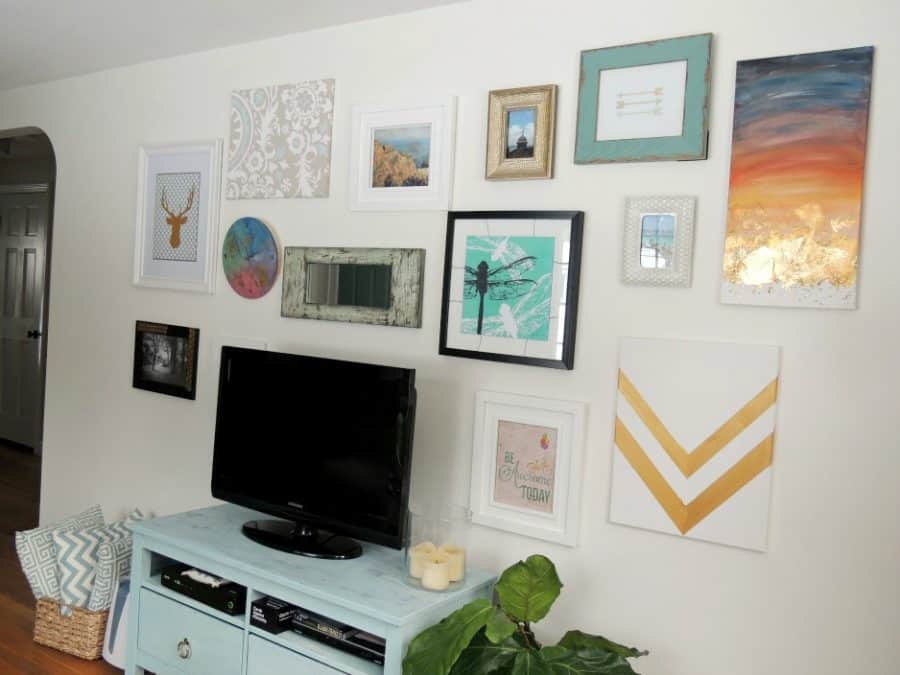 The TV stand is Ikea and was painted with MMS Milk Paint. I also created a gallery wall from frames and prints that were lying around the house.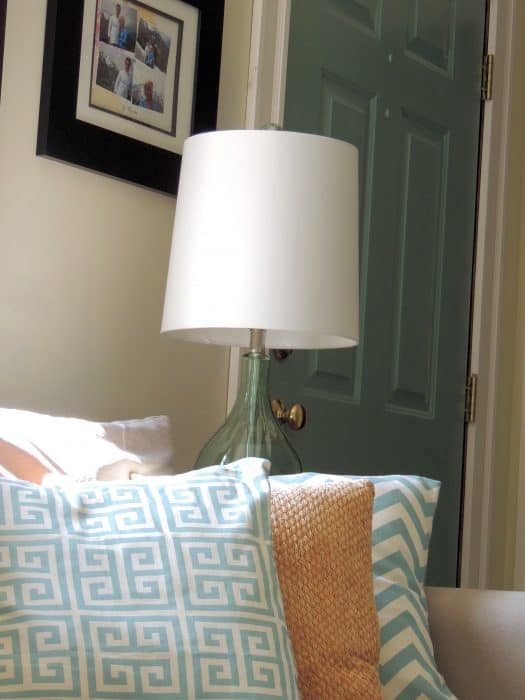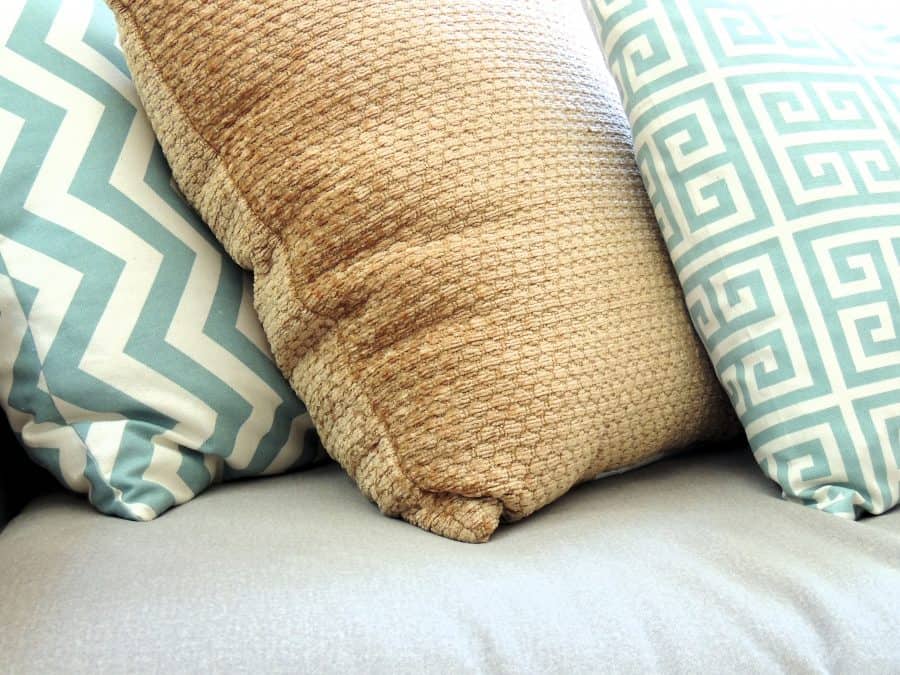 Greek Key & Zig Zag throw pillows available on Etsy [affiliate link]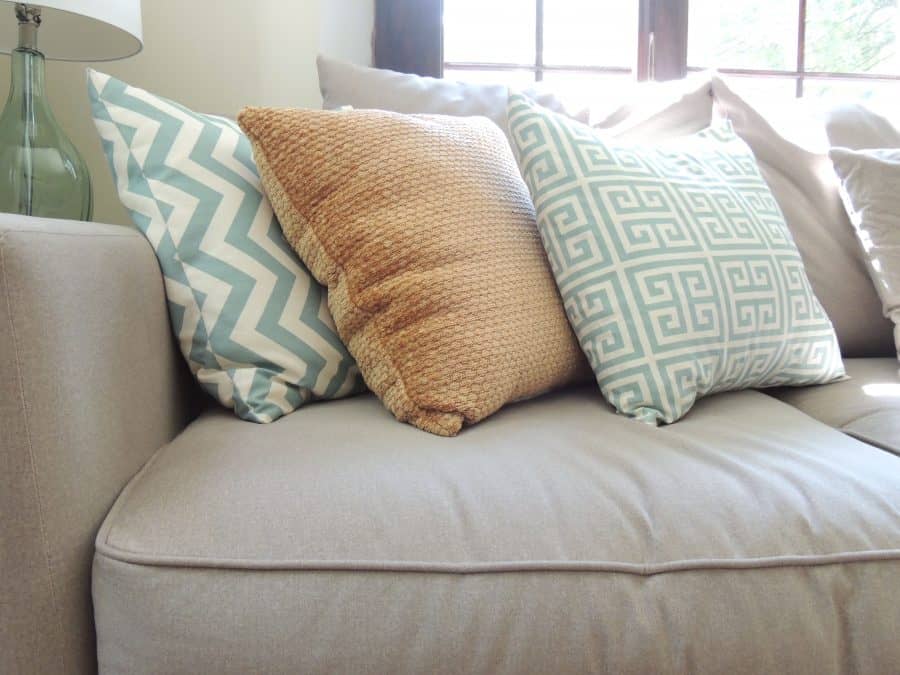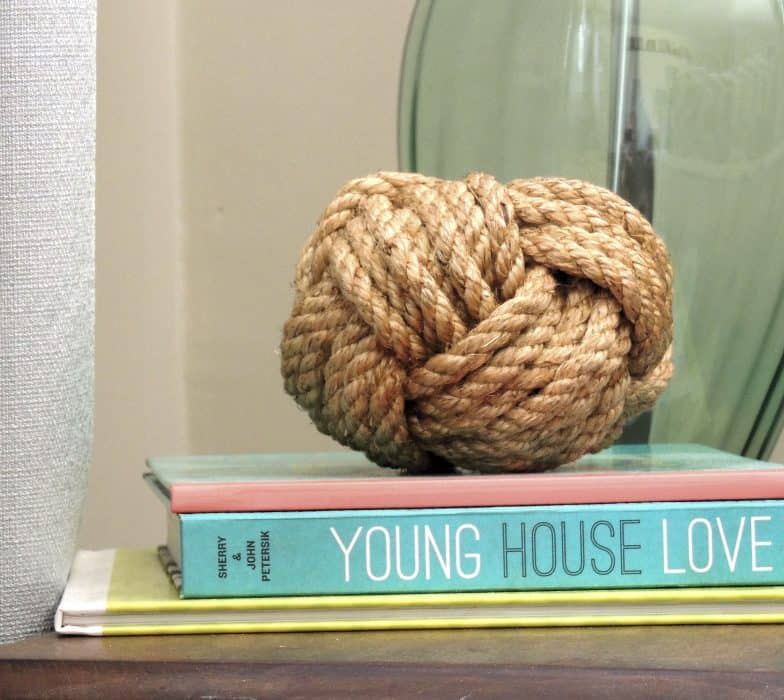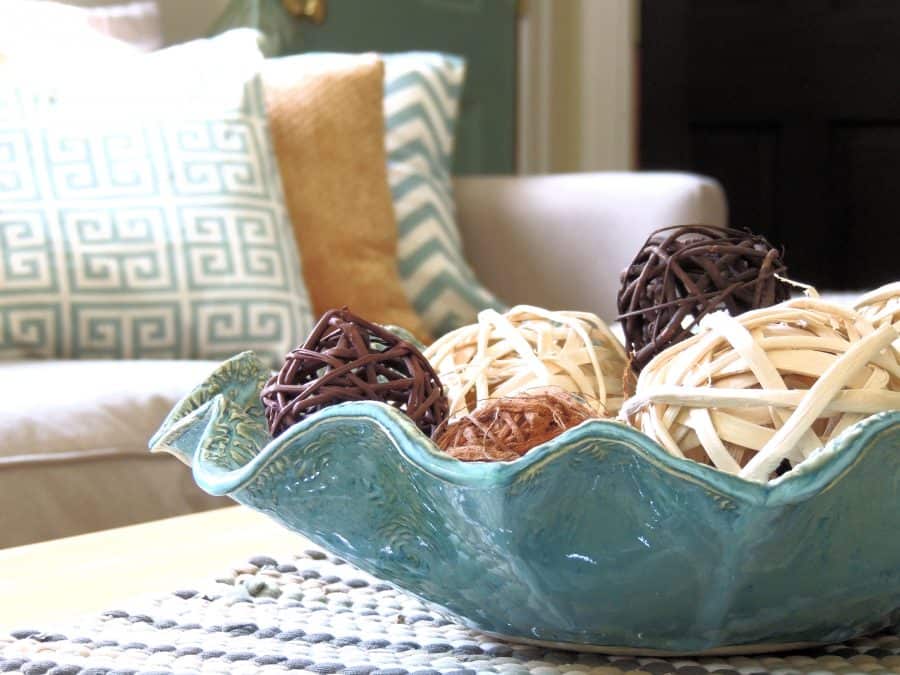 Dining Room
>>> Before <<<
This was the first room in the house that we tackled so unfortunately I don't have a before picture. Just picture old-school patterned wallpaper and doors that matched the hardwood floor. The entire stairs was also all the same shade of stain.
>>> Initial Progress <<<
We've made some headway with the dining room but it's still not a great room. It's the darkest room in the house so we might possibly get french doors in the future. Our next purchase for this room will be a new table and chairs. We can't complain too much about the current set because we got them for free!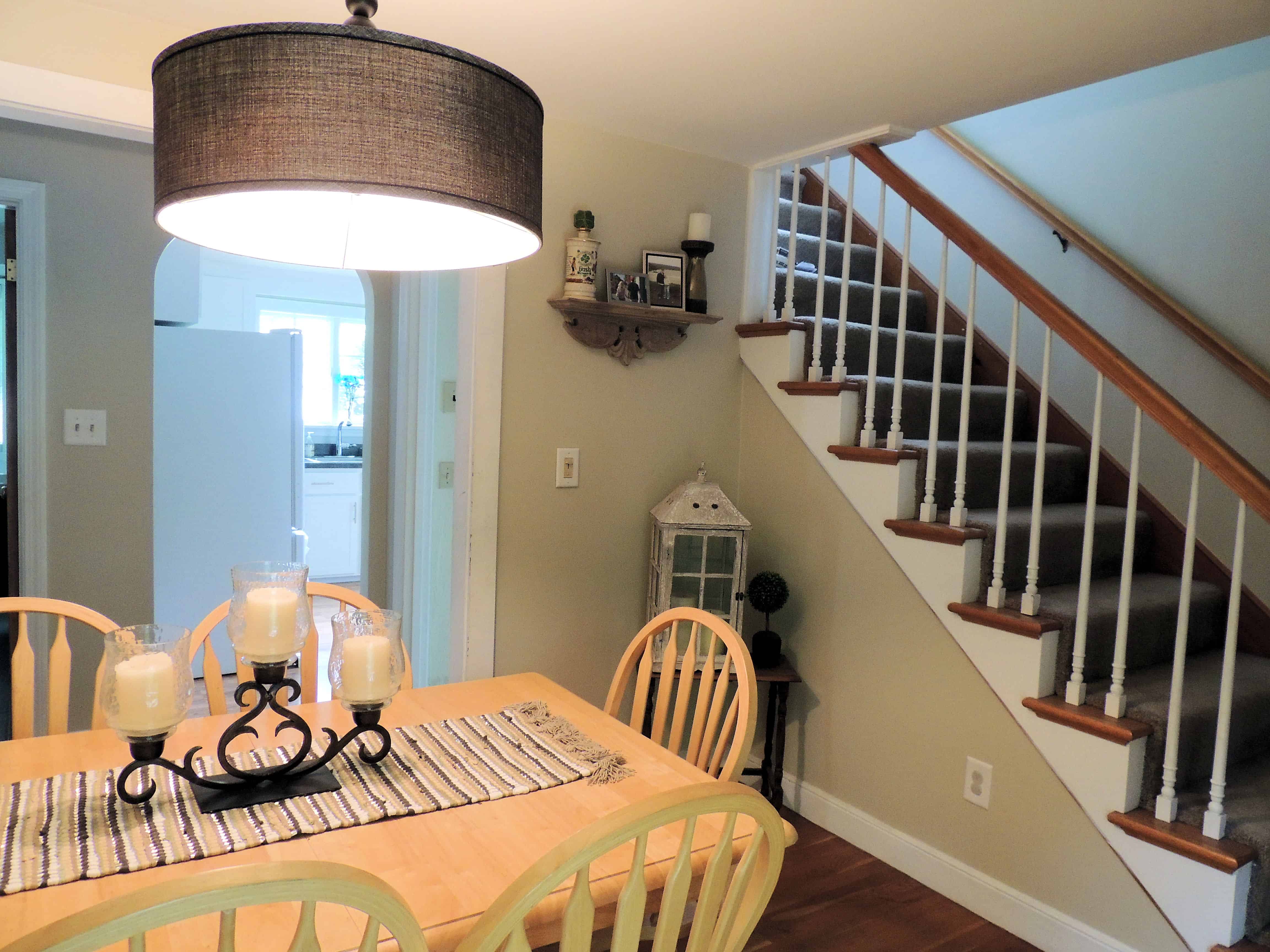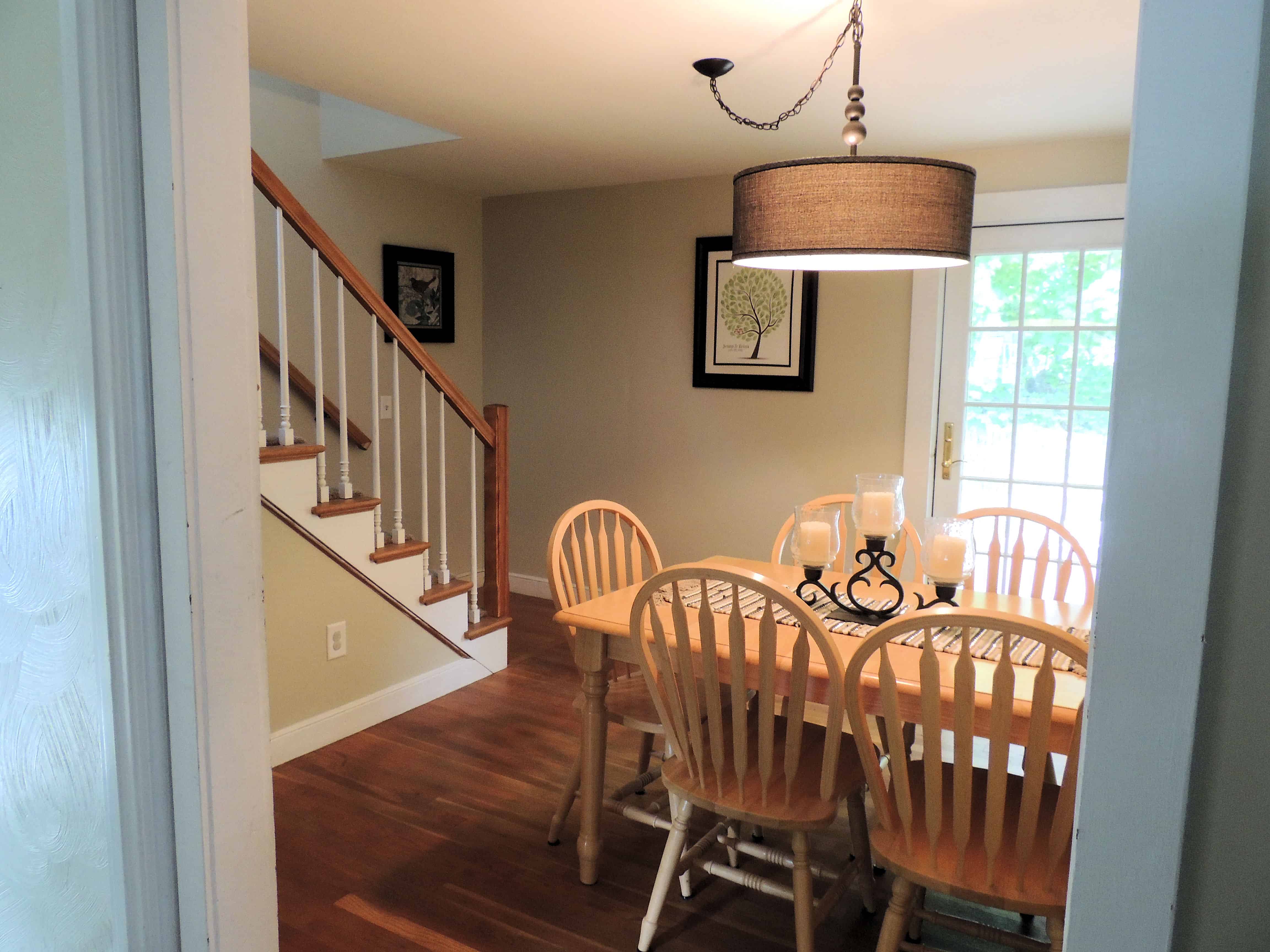 >> After <<<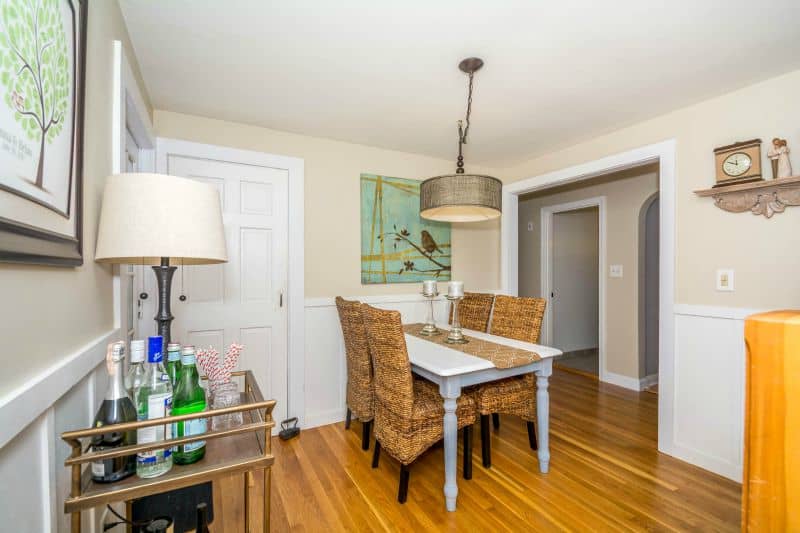 Walls: Manchester Tan by Benjamin Moore; Chairs: Amazon; Pendant Light: Amazon
The DIY Board and Batten that we installed added a ton of value when he had our house appraised! See the full tutorial here.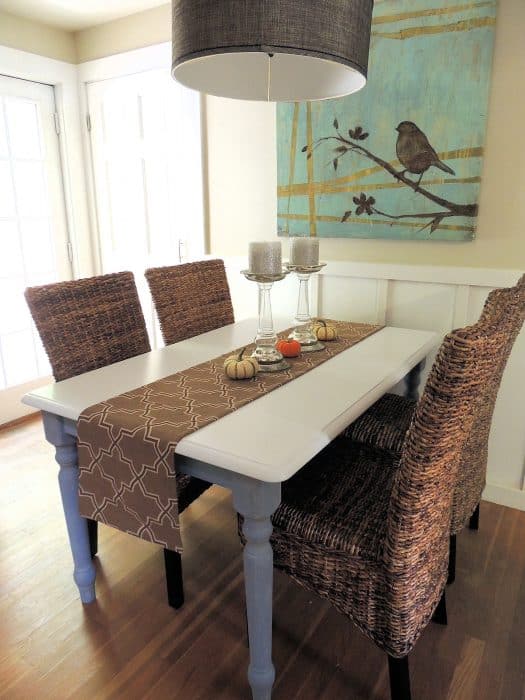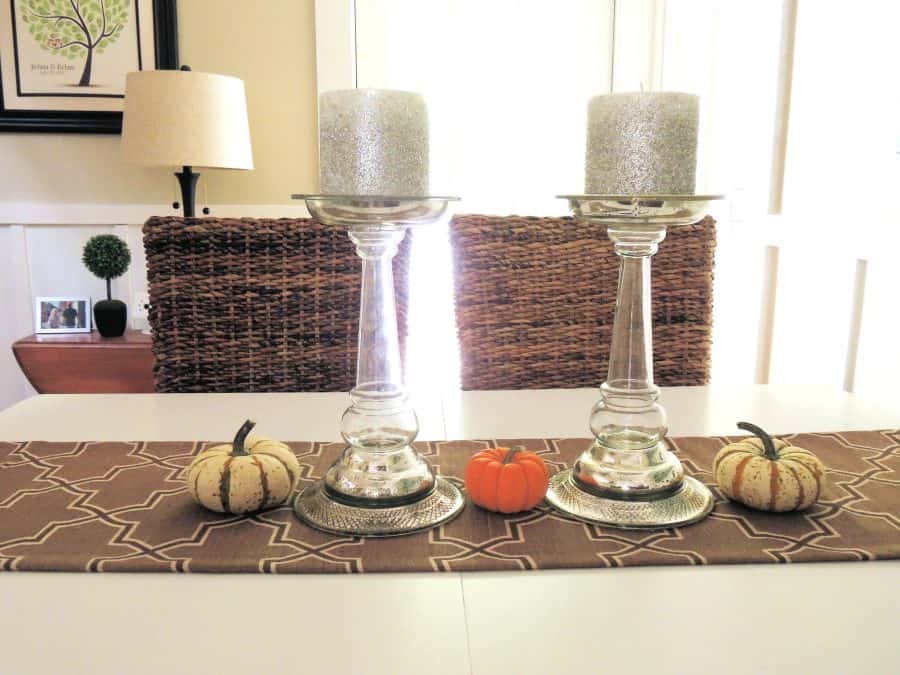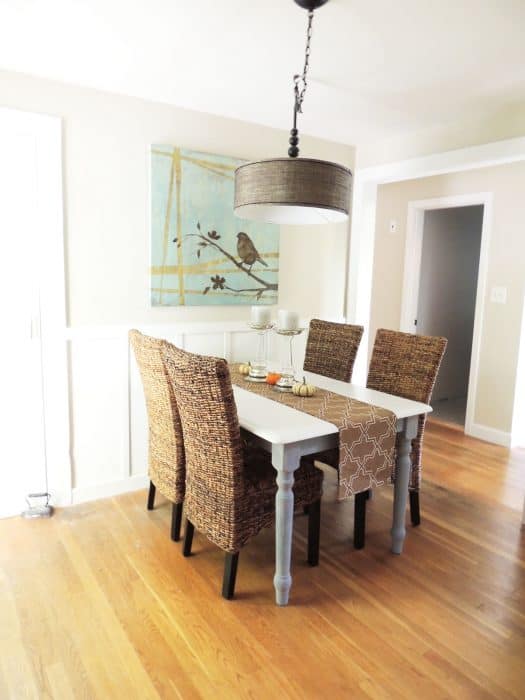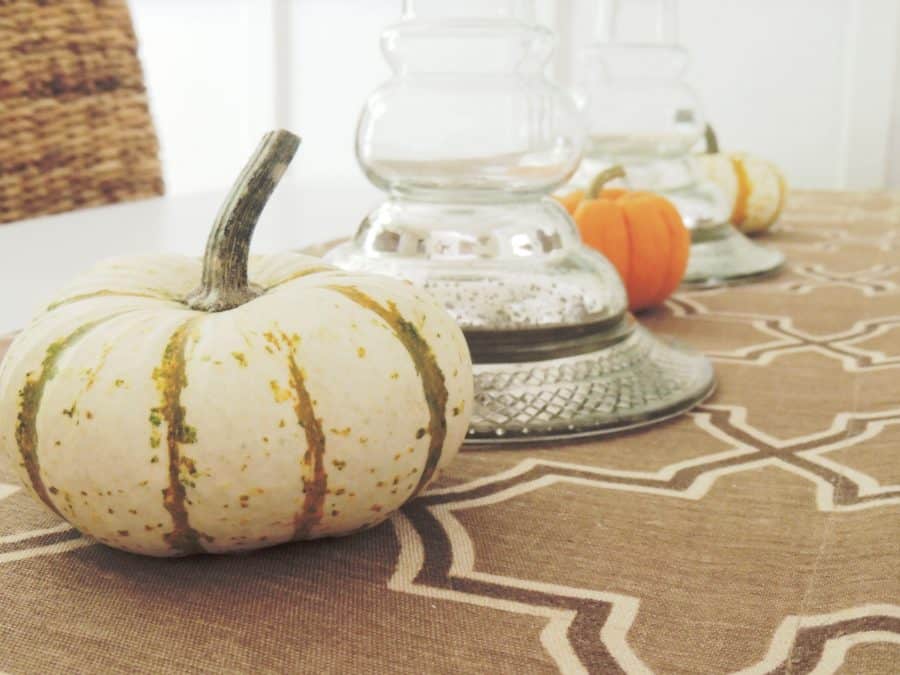 Bathroom
This is the first major renovation we did. We had contractors come in and fit a new bath (the old one starting leaking). We also had the tile professionally laid and the new sink mounted to the wall. The entire room was actually gutted and all new dry wall was hung. The bathroom is still tiny, but it's my little sanctuary in the house and feels very spa-like and calming.
>>> Before <<<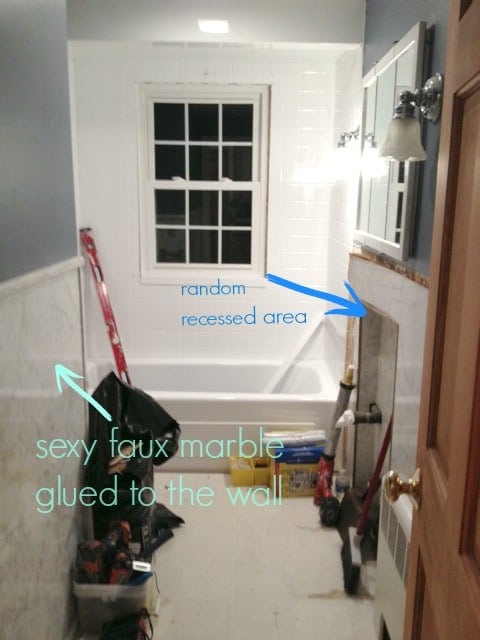 We installed a new bathroom and tile surround as well as a curved shower curtain (there was just a tension rod there before)
In order to remove the plastic marble glued to the wall, all the dry wall needed to be replaced. The linoleum floor was removed and the wall with the recessed sink area and medicine cabinet was made flush.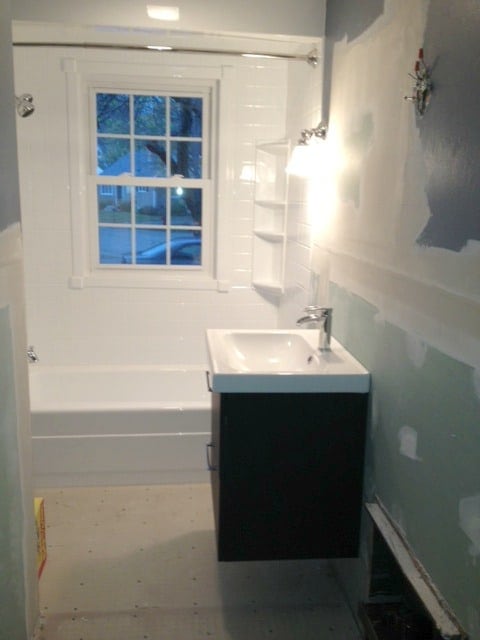 <<< After >>>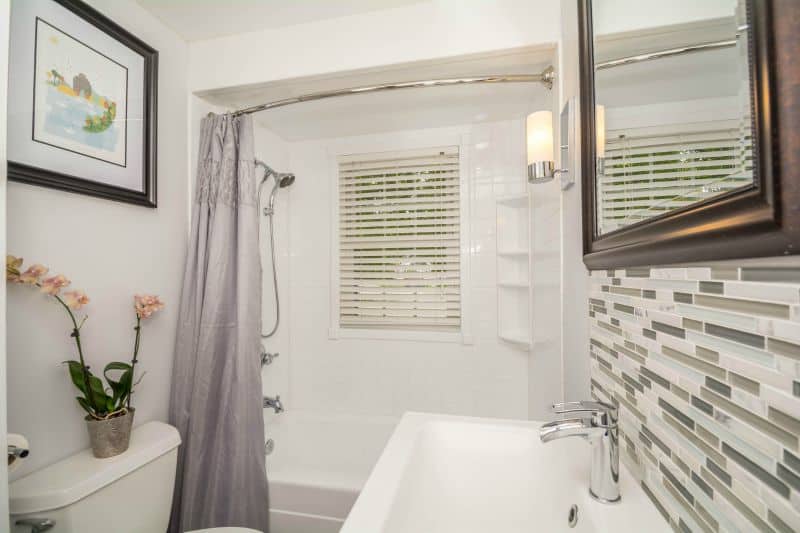 Boston Art Print: Etsy

(picture taken before backsplash was installed)
Sink base and top: Ikea; Faucet: Home Depot; Candle: West Elm Glass tile backsplash: Lowes or online here
Faux hydrangas: Pottery Barn; silver tray: Target
Porcelain Tile Floor (Bambu Grigio Tile)
Master Bedroom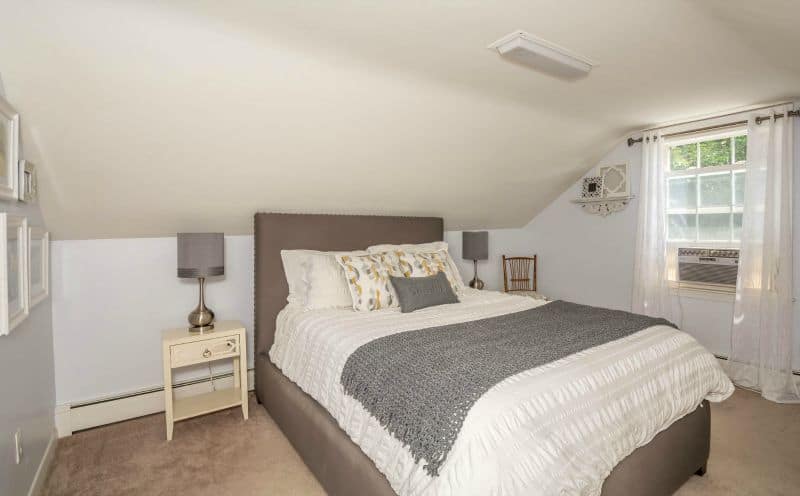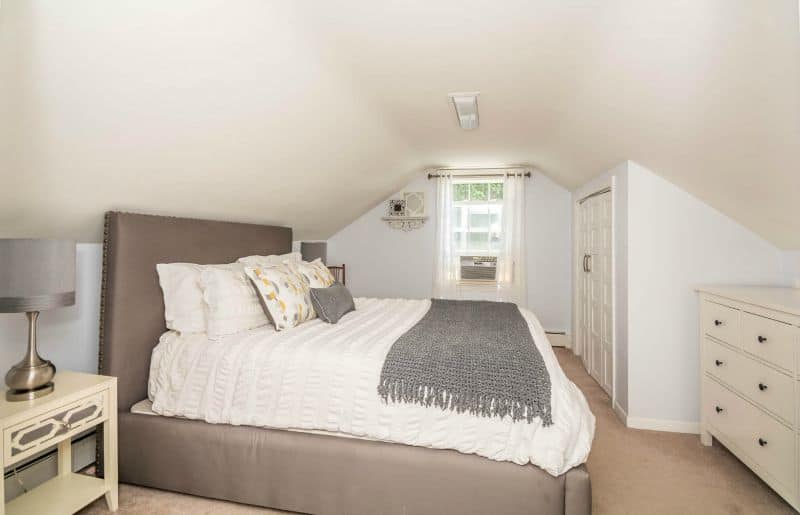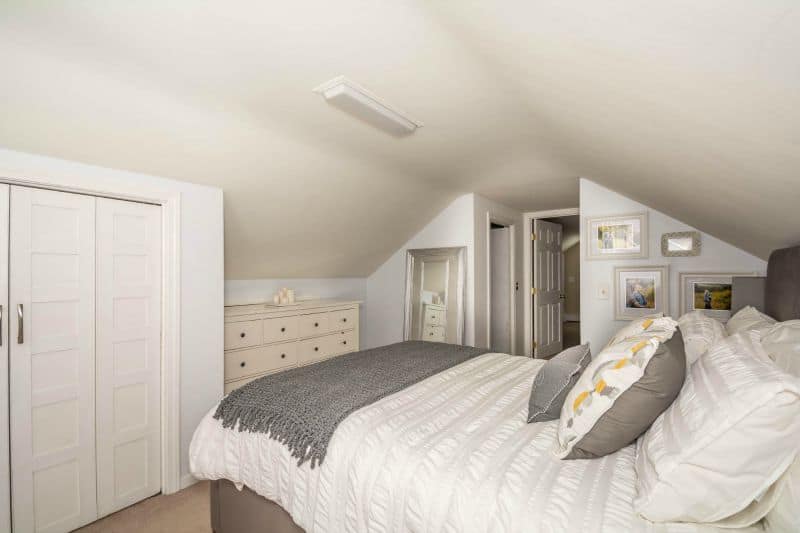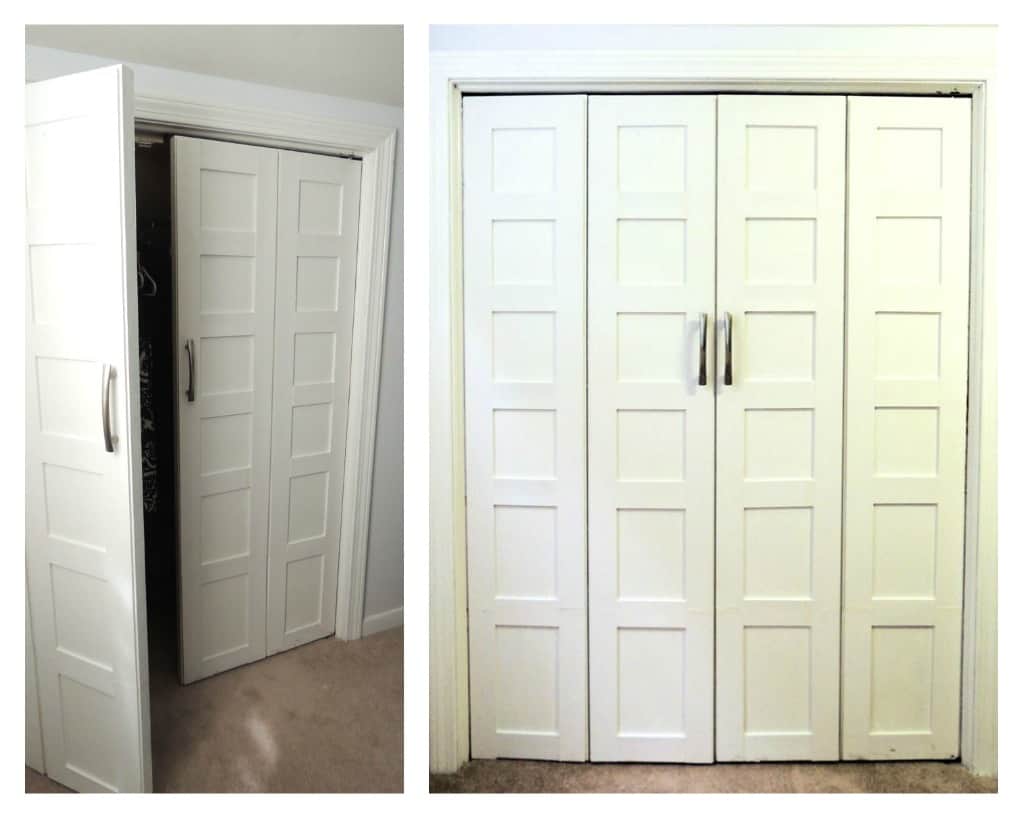 Click here to see how I transformed my builder grade bi-fold closet doors
and here to learn how to convert bi-fold doors to french doors!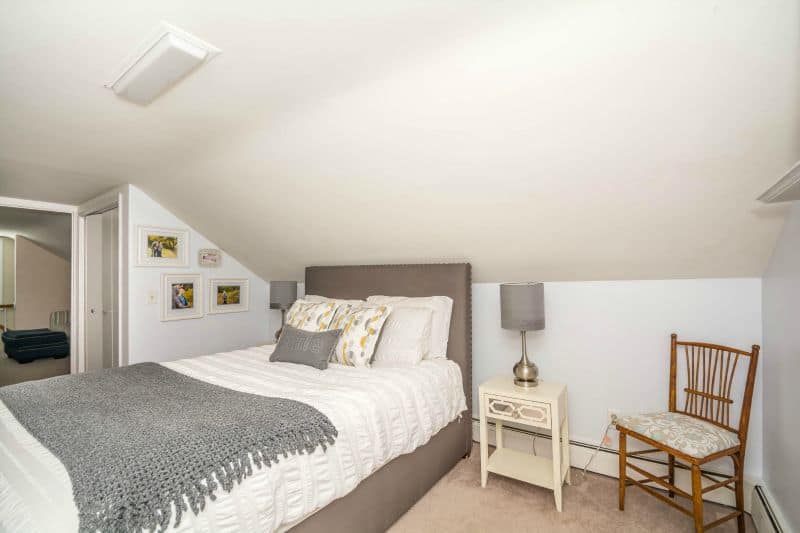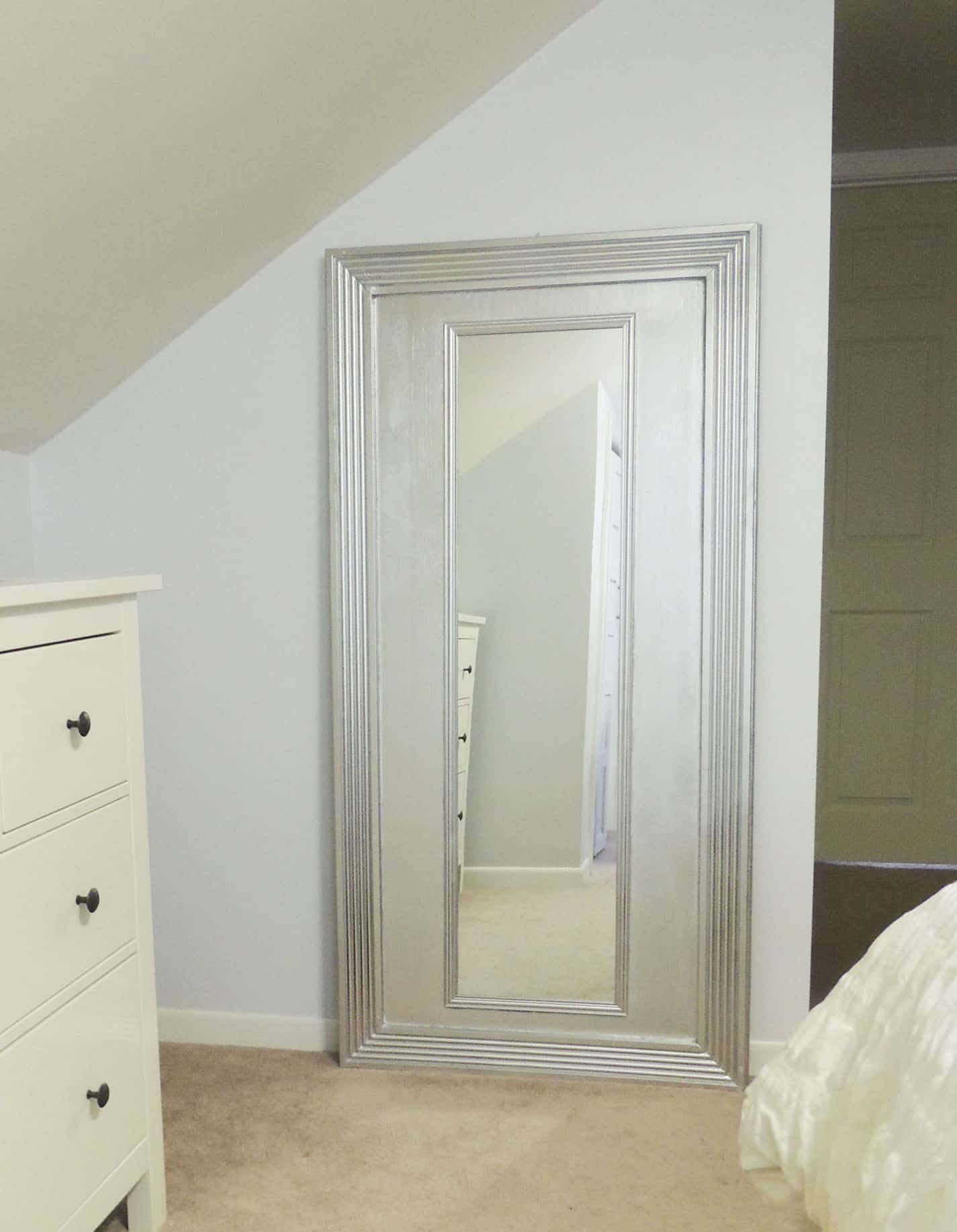 I made this floor mirror from a cheap $5 door mirror! Learn how to create your own floor mirror here.
Master Half-Bathroom
BEFORE
This was actually the first room we painted when we initially bought the house. I had never painted anything before, so I figured this was an inconspicuous spot to test my skills! I loved the paint color at the time (and still do) because it ties in with the beige veining on the floor tile, but it did't match the grays and of the master bedroom.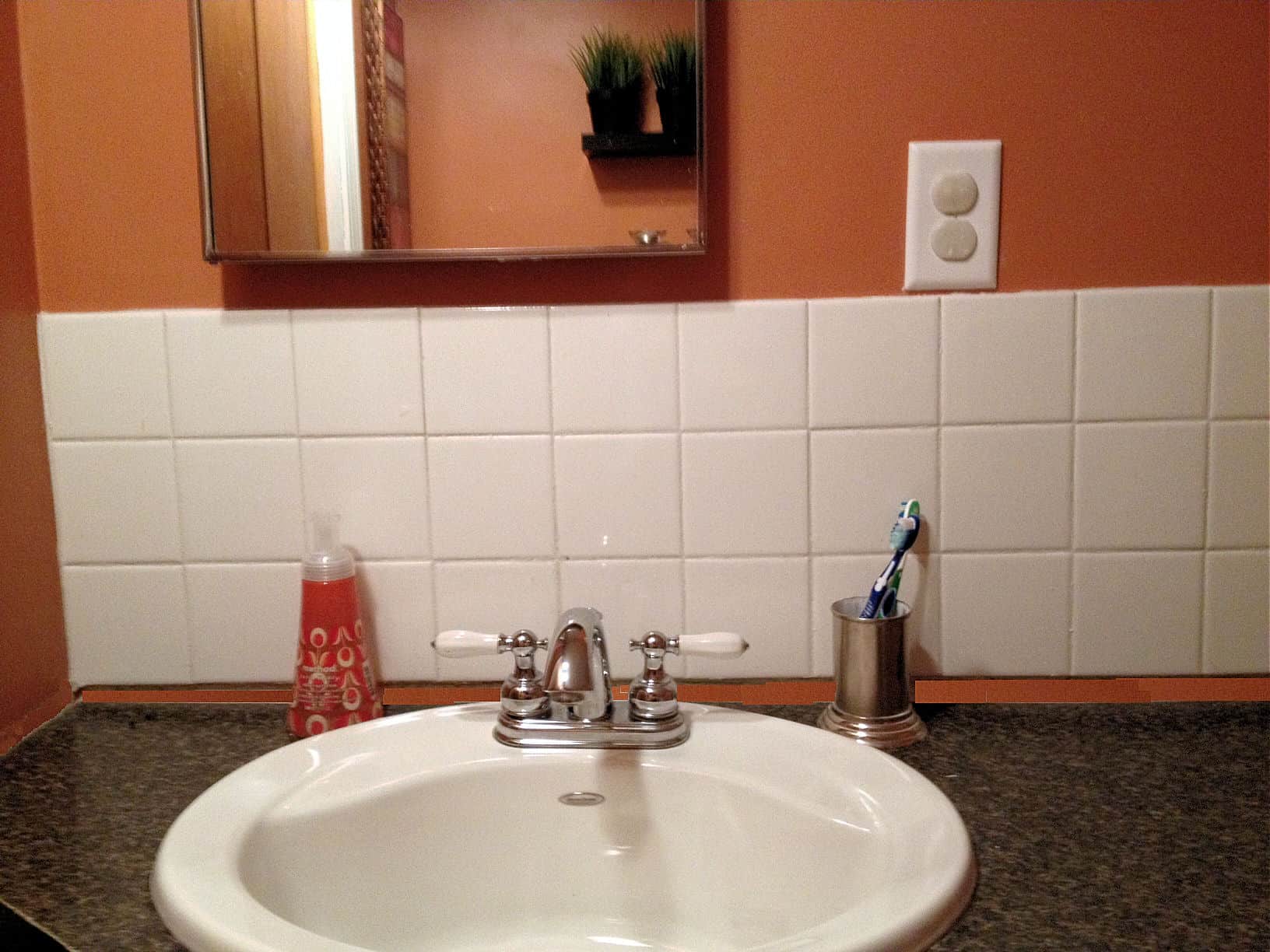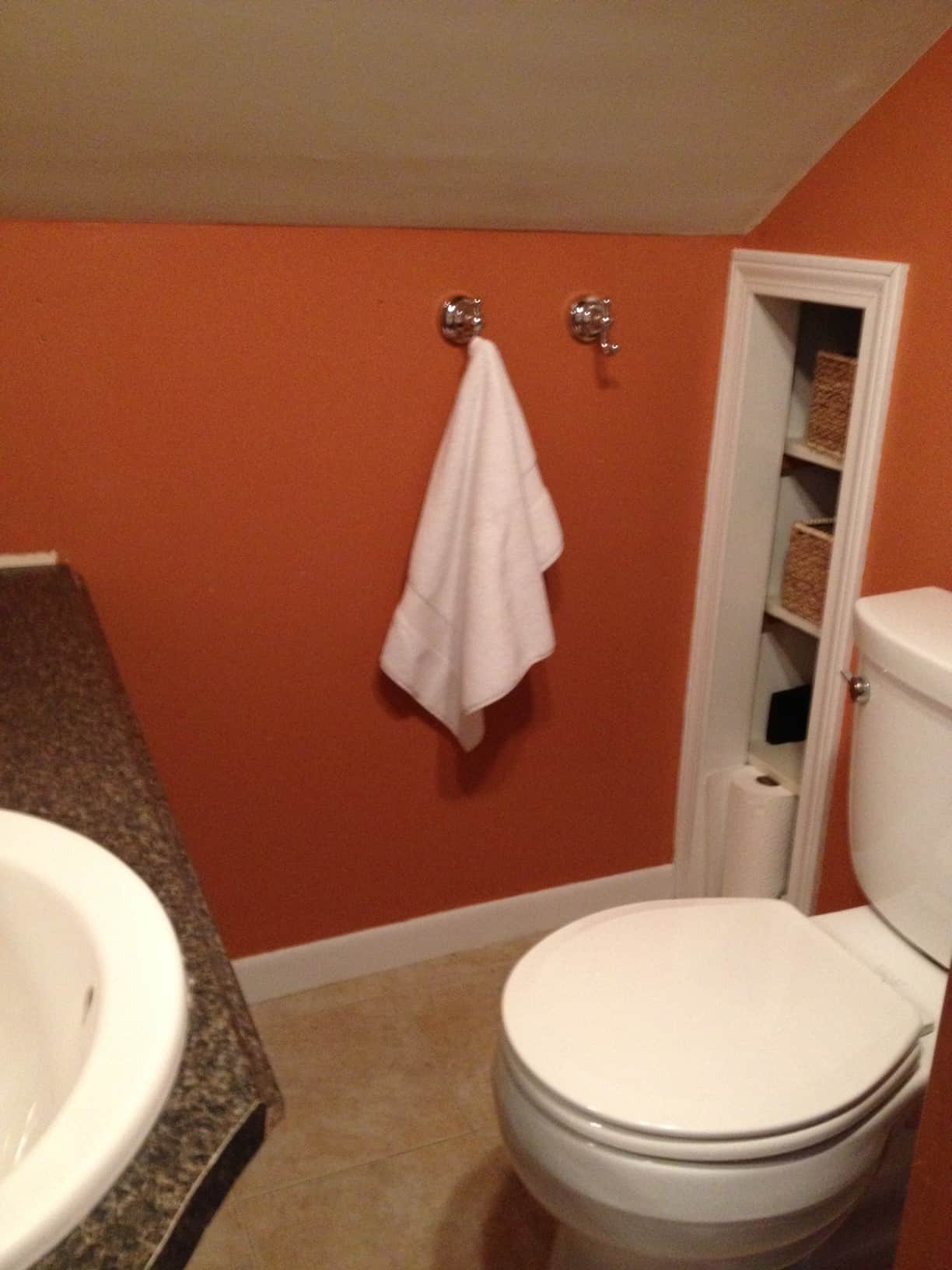 <<< AFTER >>>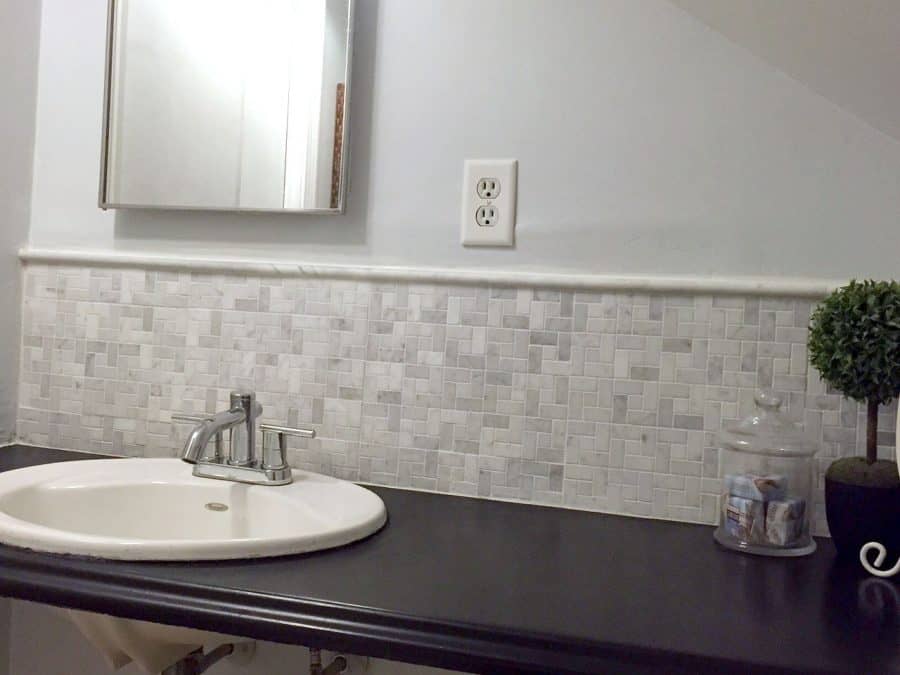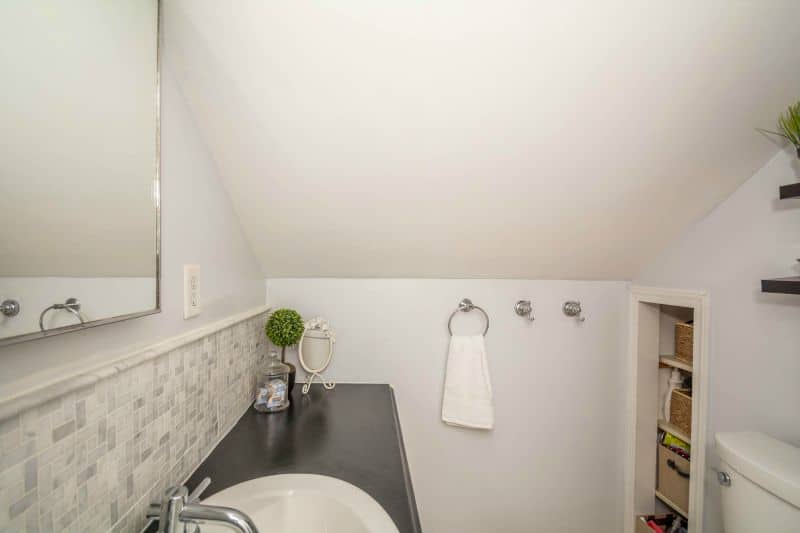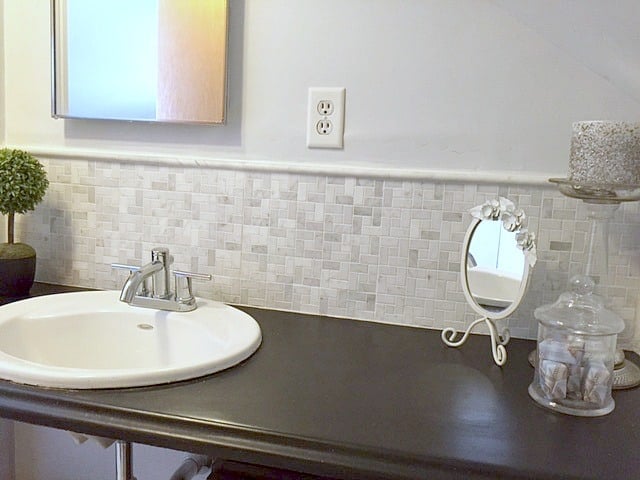 For bathroom sources, please see the Master Bathroom Reveal
Nursery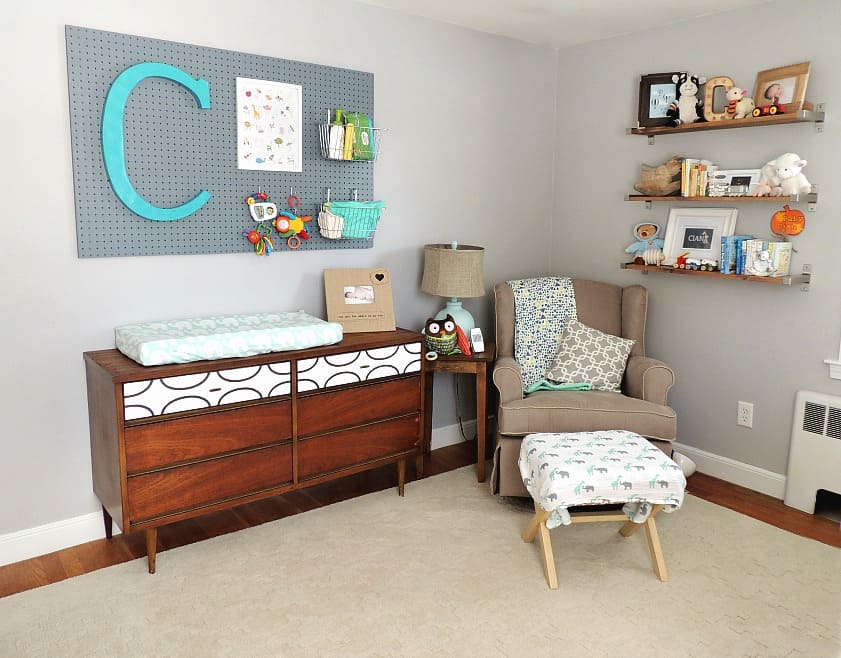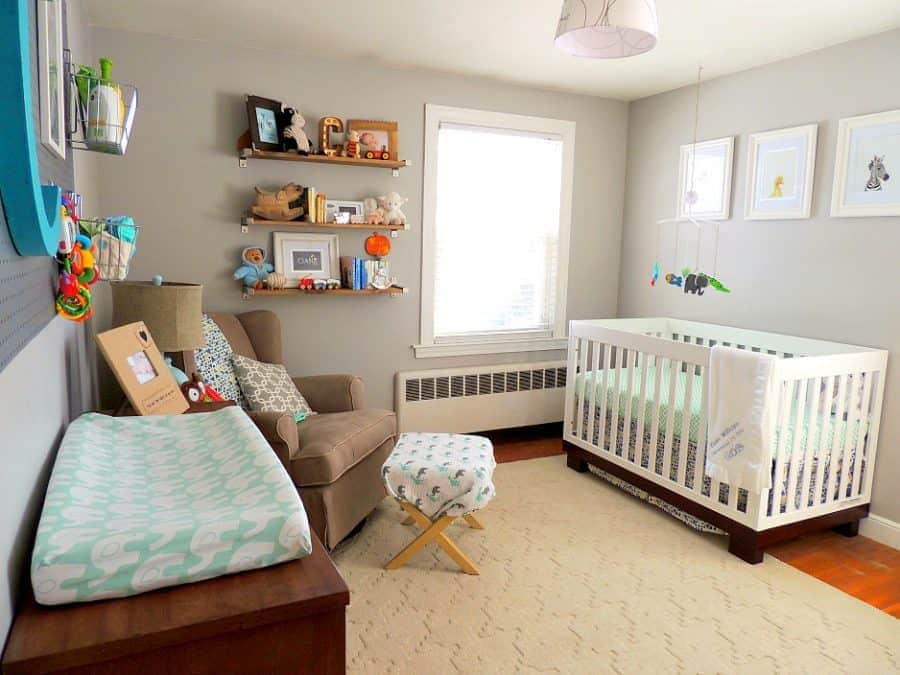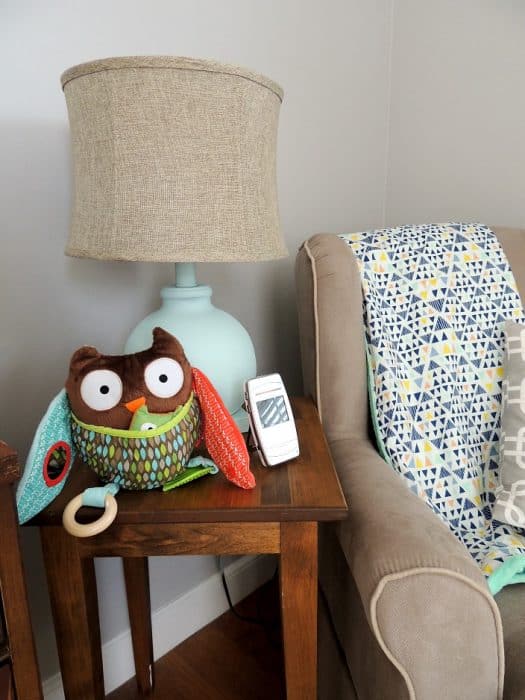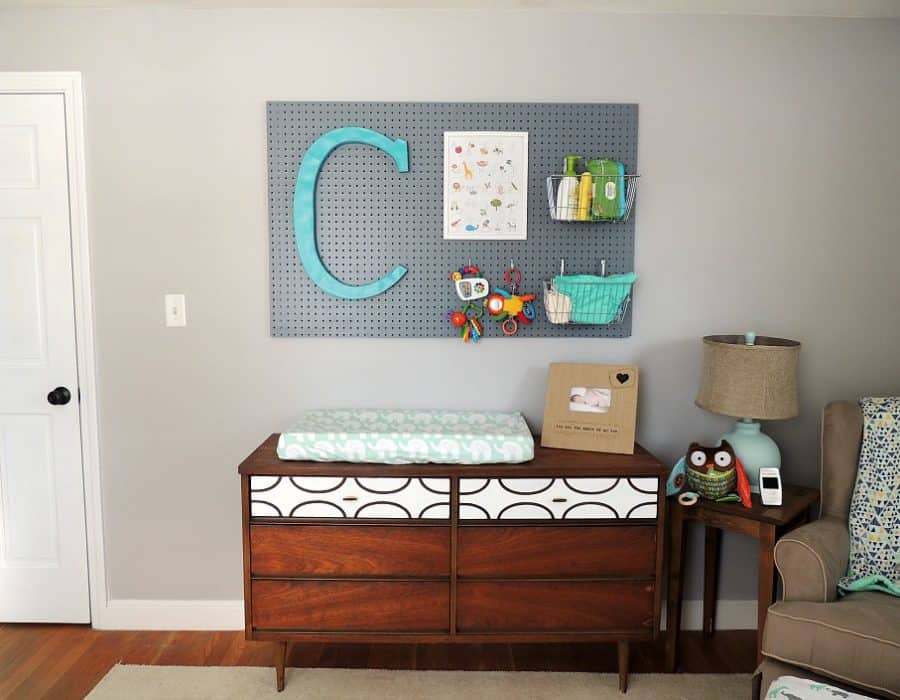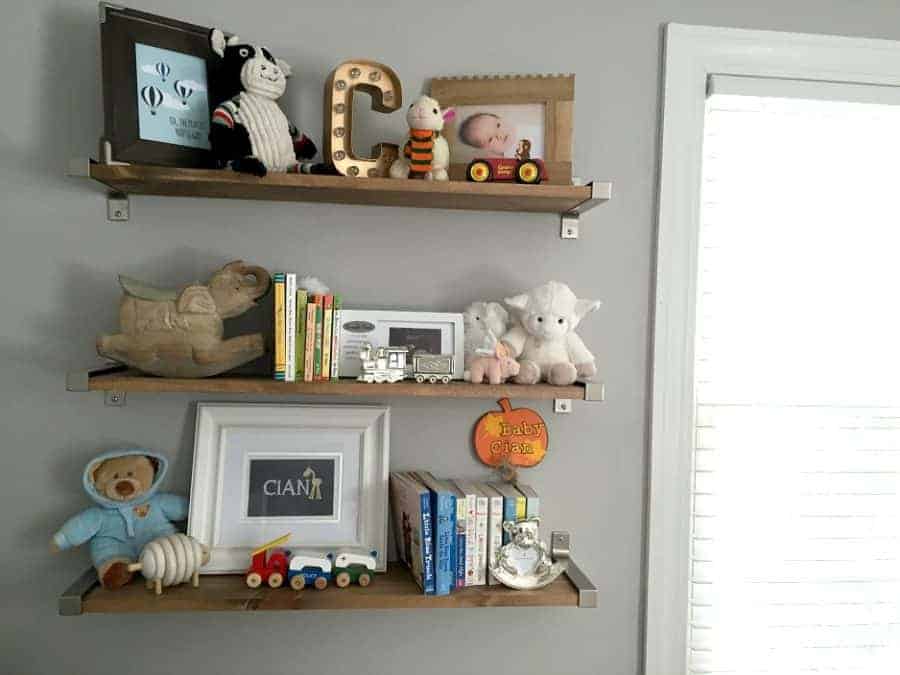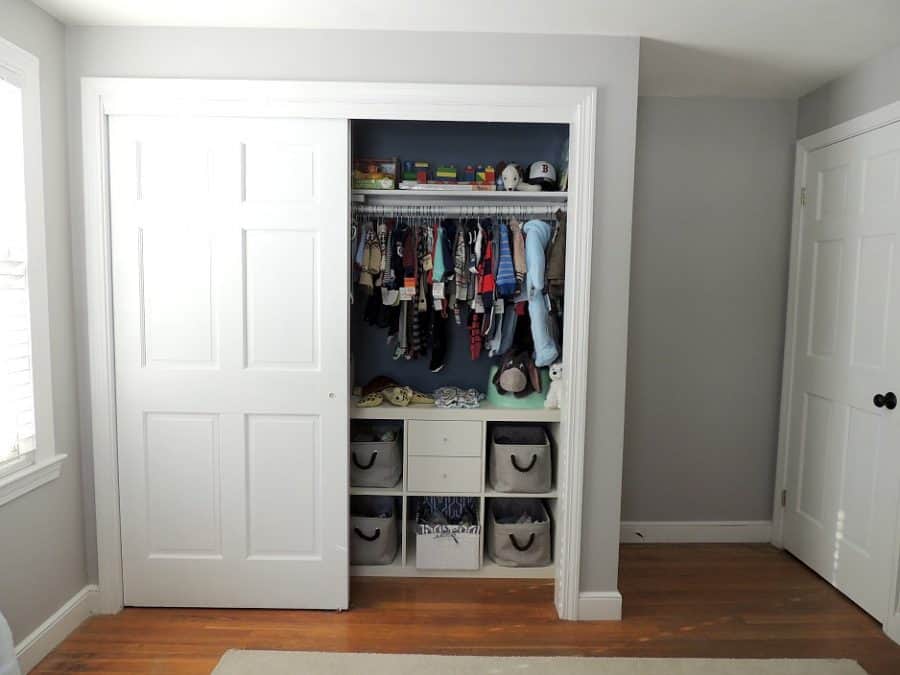 For more pictures and a full list of sources, see Baby Boy's Nursery Reveal
Guest Room
This is the old guest room that is now the nursery.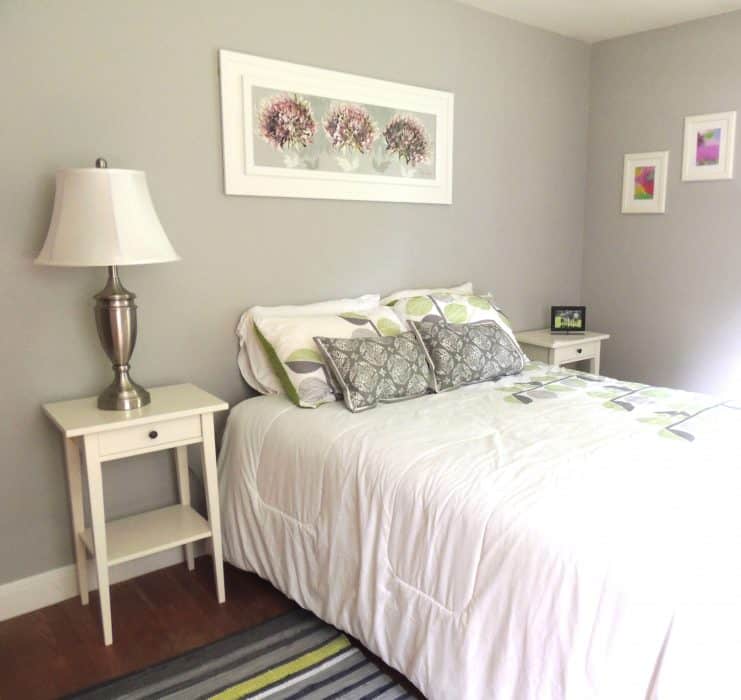 Check out my placemat pillow tutorial click here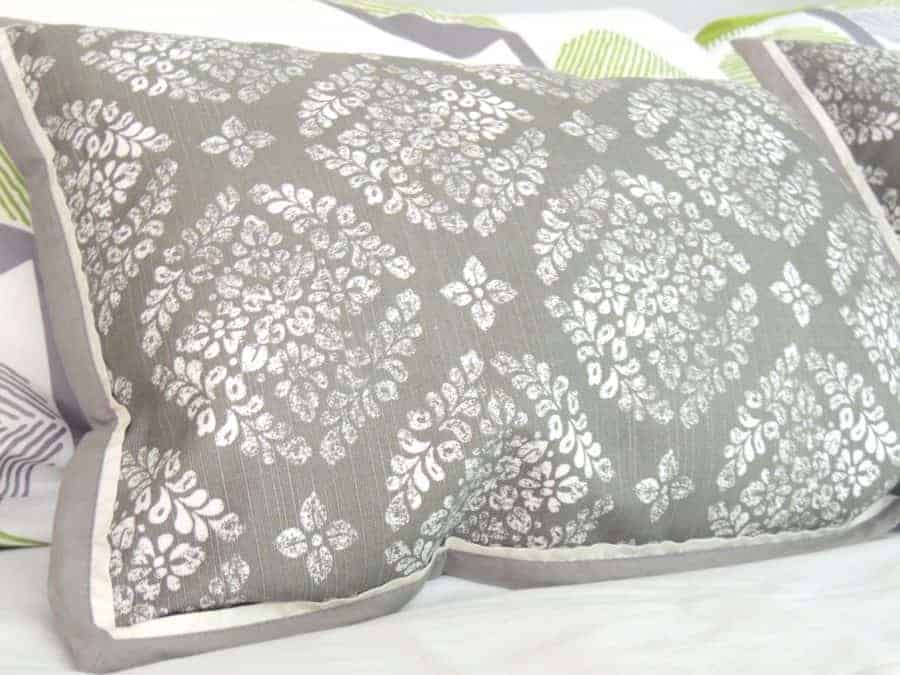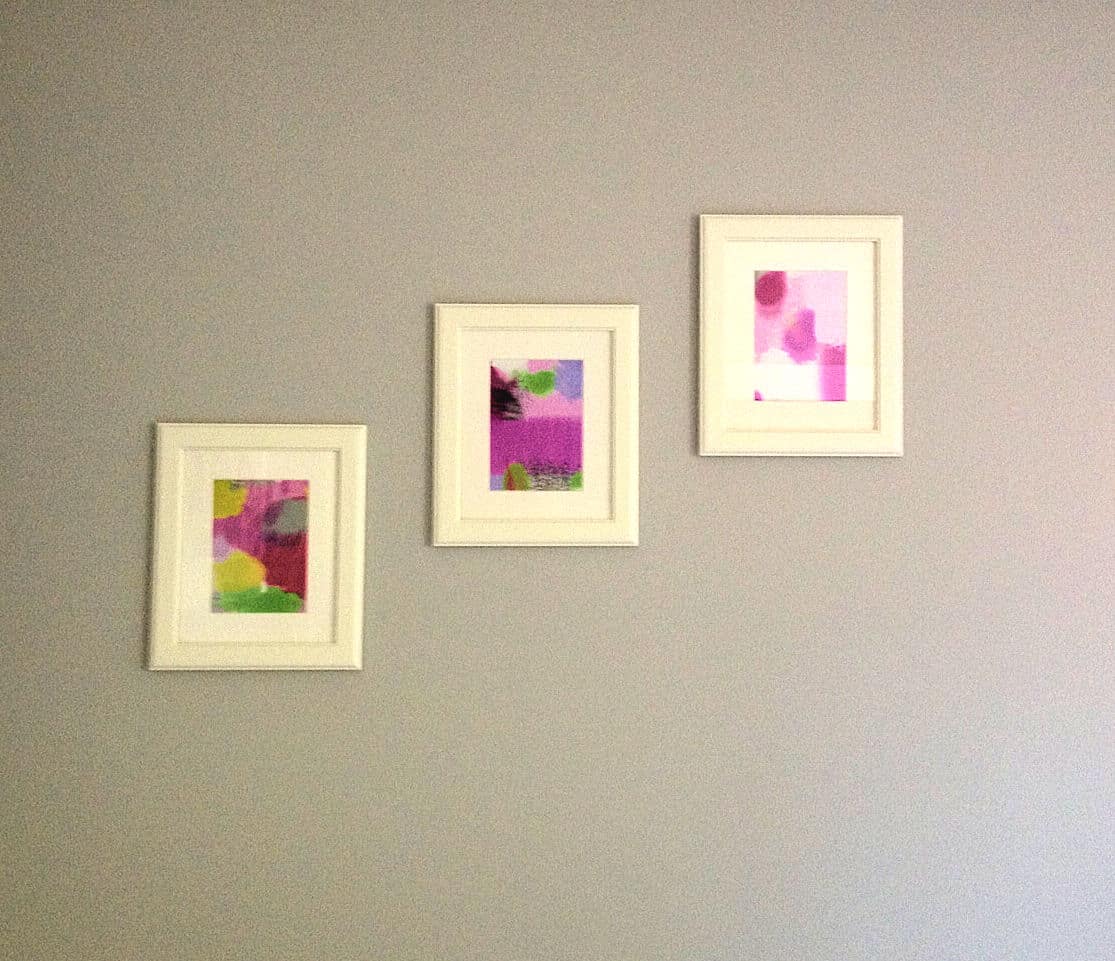 More about DIY Digital Abstract Artwork here
<<<New Guest Room >>>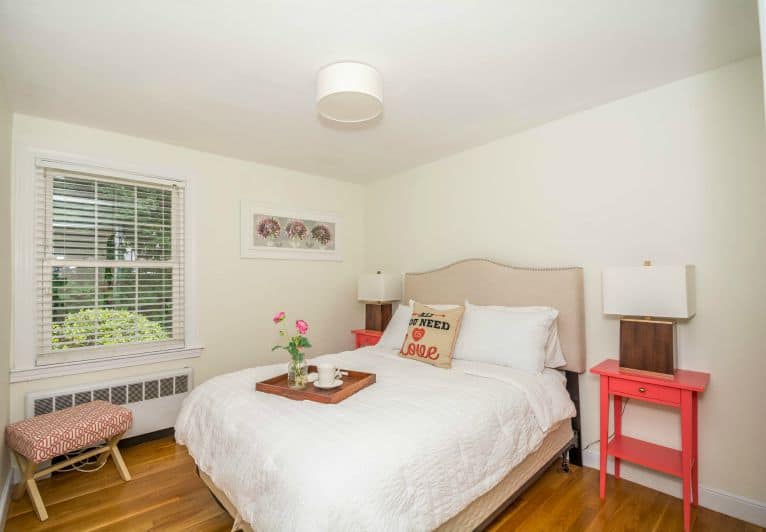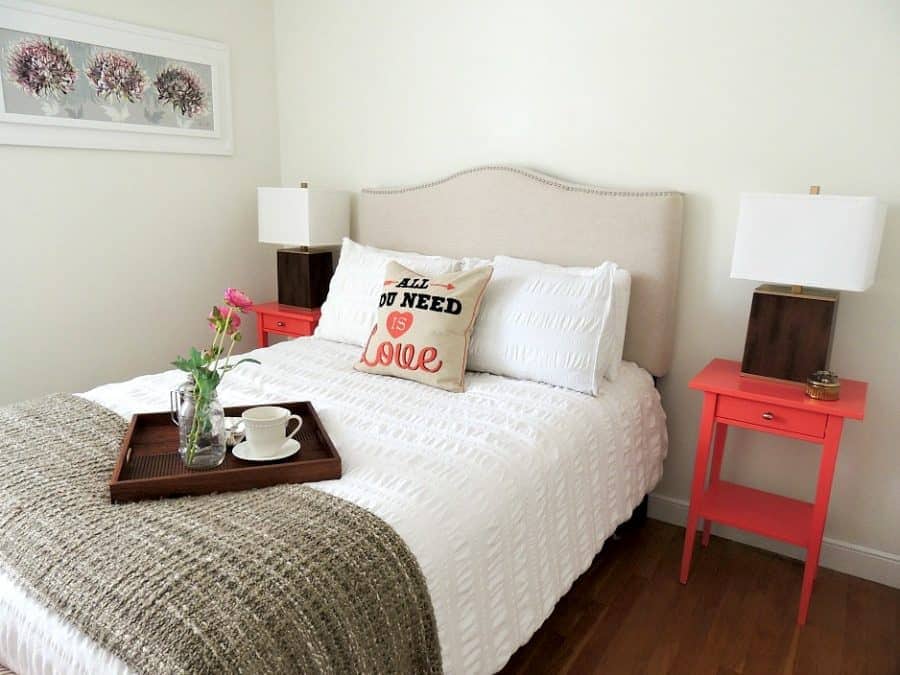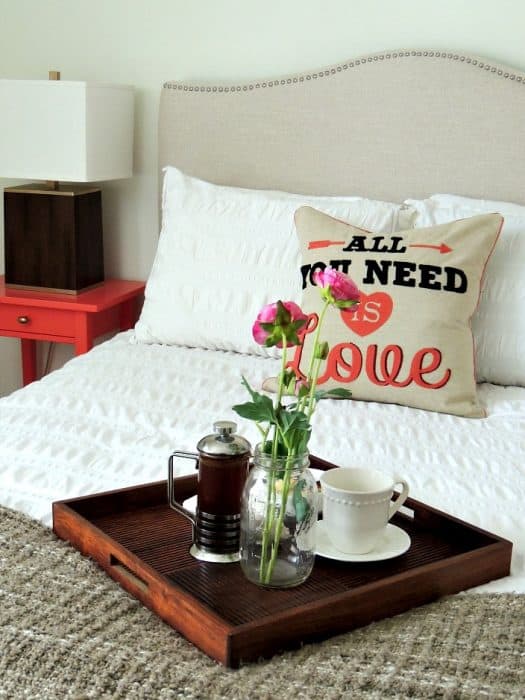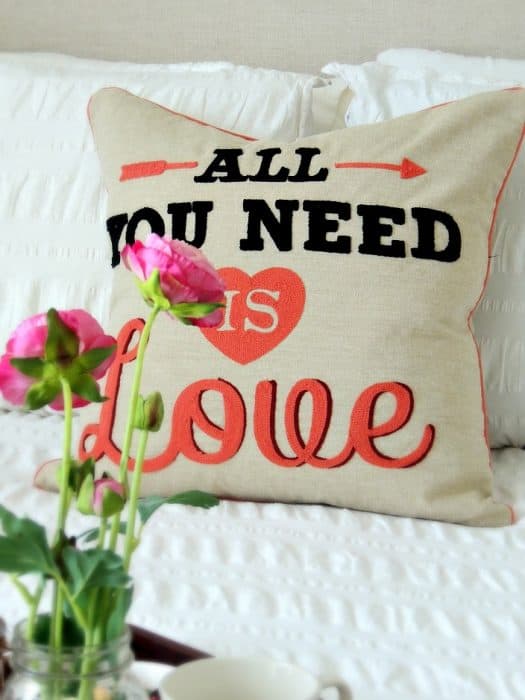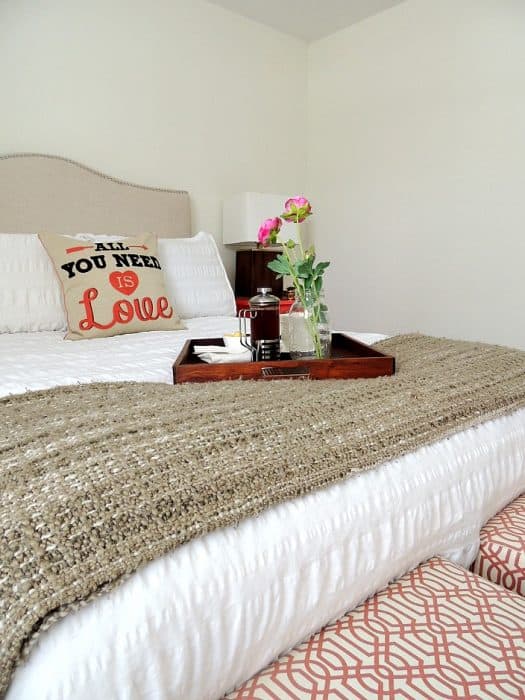 See the full room reveal + painted nightstand tutorial here
Office
This office is now the new guest room!
Download my free map printable
Basement
>>>In Progress <<<
I don't have a before pic, but the wood paneling on the wall was stained the same color as the old kitchen cabinets and there was no furniture down here.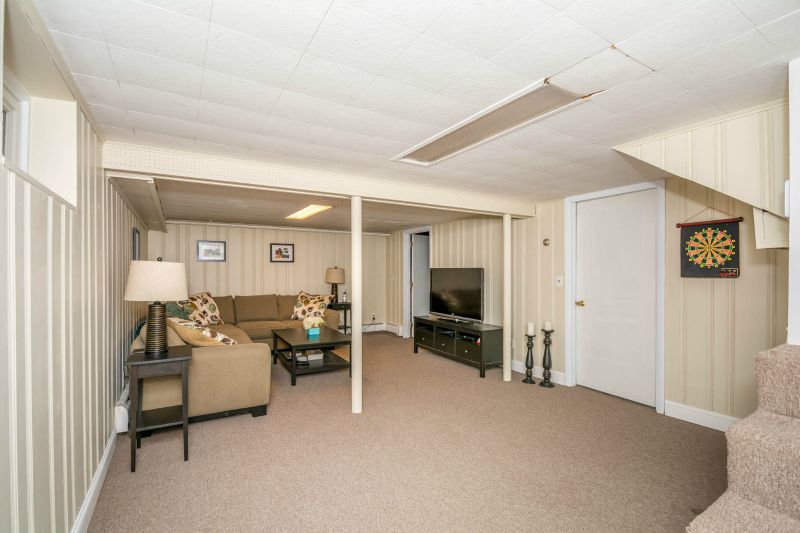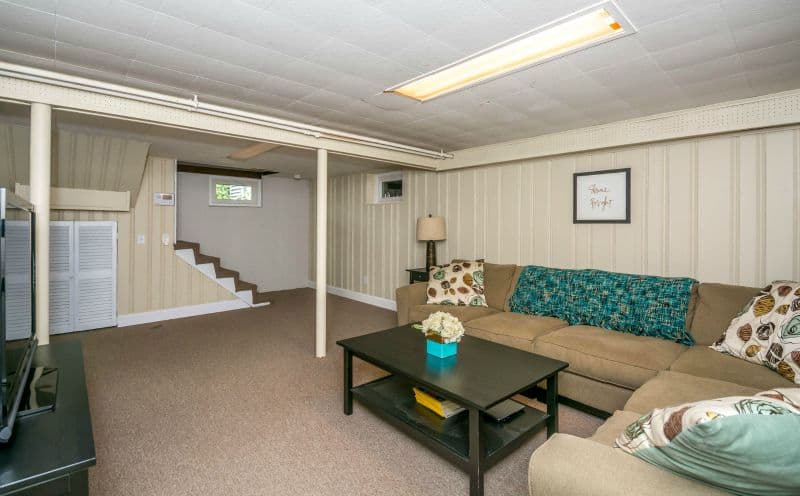 Laundry Room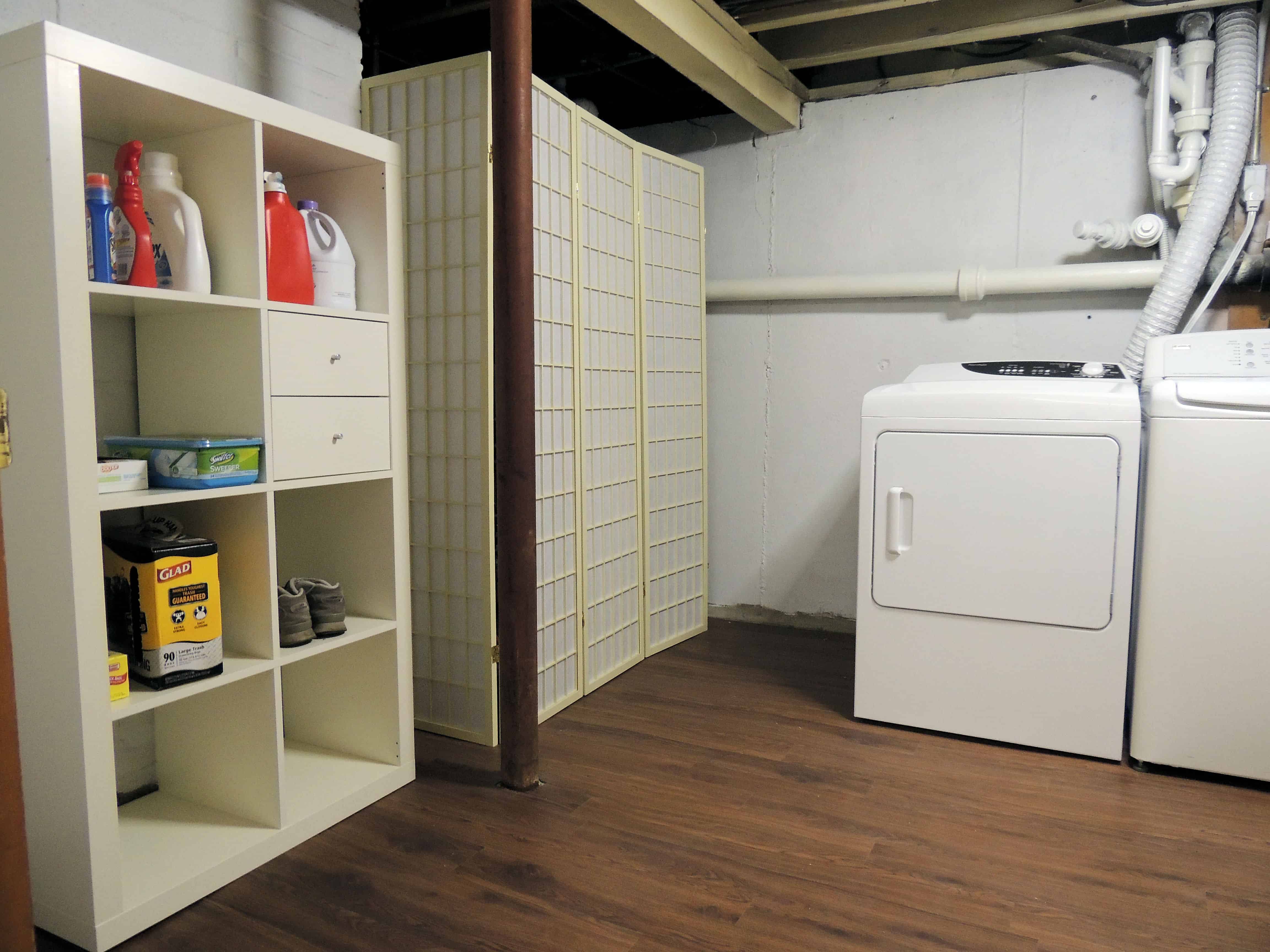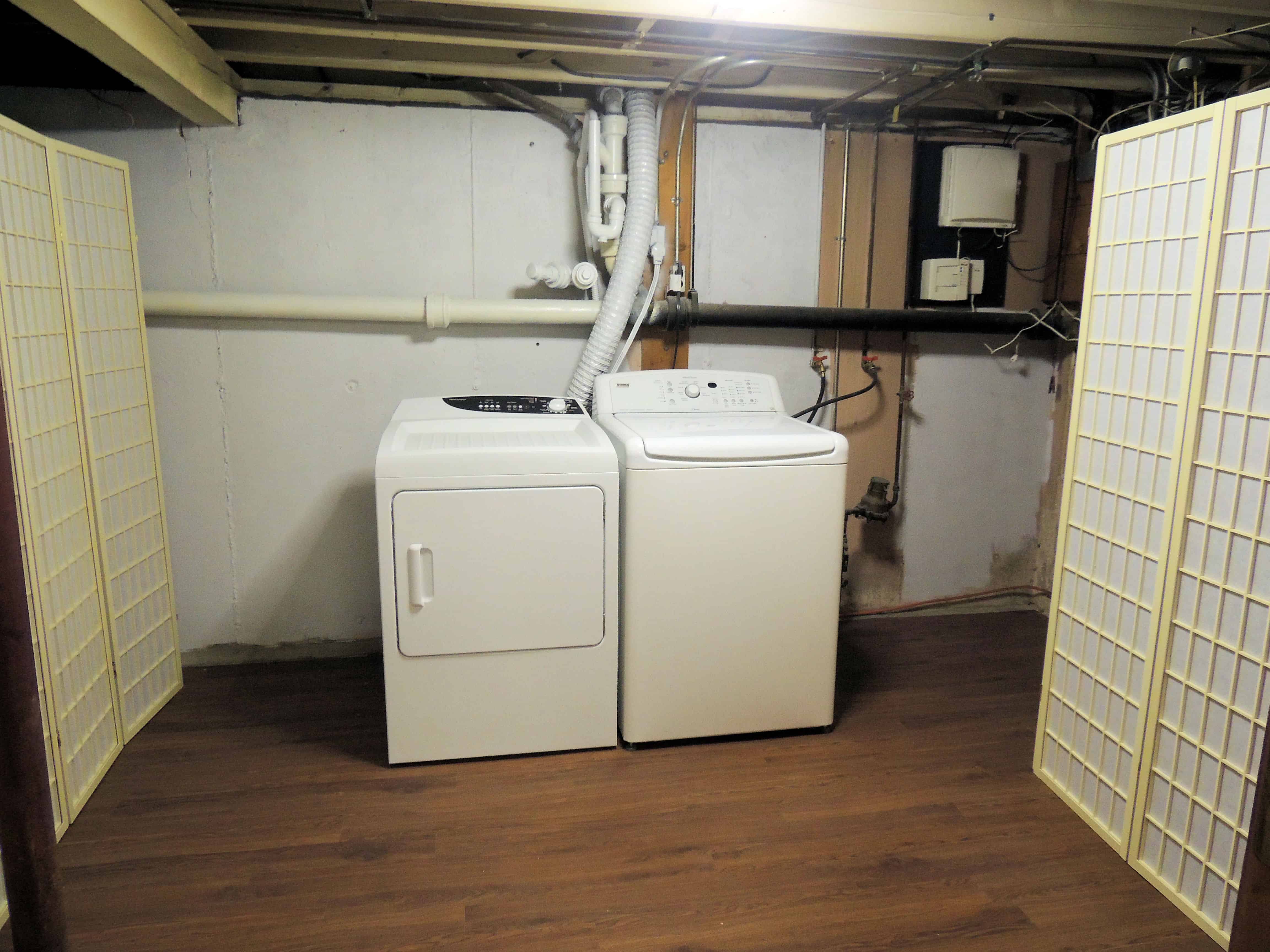 Peel and stick flooring and how to hide an oil tank & water heater with Shoji Screens.