This post may contain affiliate links | For further details, please read our privacy policy
I bet you never realized just how easy it is to whitewash a brick fireplace. It's a simple DIY that you can do in an afternoon—especially with this quick and easy whitewashing technique. It's a great way to update that rustic look in your home.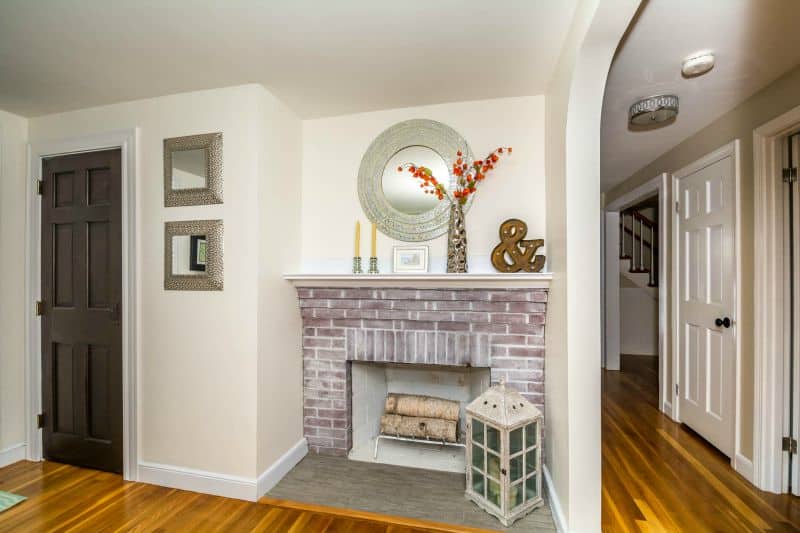 Easily Update an Outdated Room
Simple updates can totally transform the look of any space. When a fireplace is the focal point of a living room, it can be a major eyesore if it doesn't fit with the style of the space.
Red brick fireplaces can look absolutely stunning and classic in the right room, but in this living room, the richness of the color was detracting from the end goal of a bright and airy vibe. It was in dire need of a fresh new look.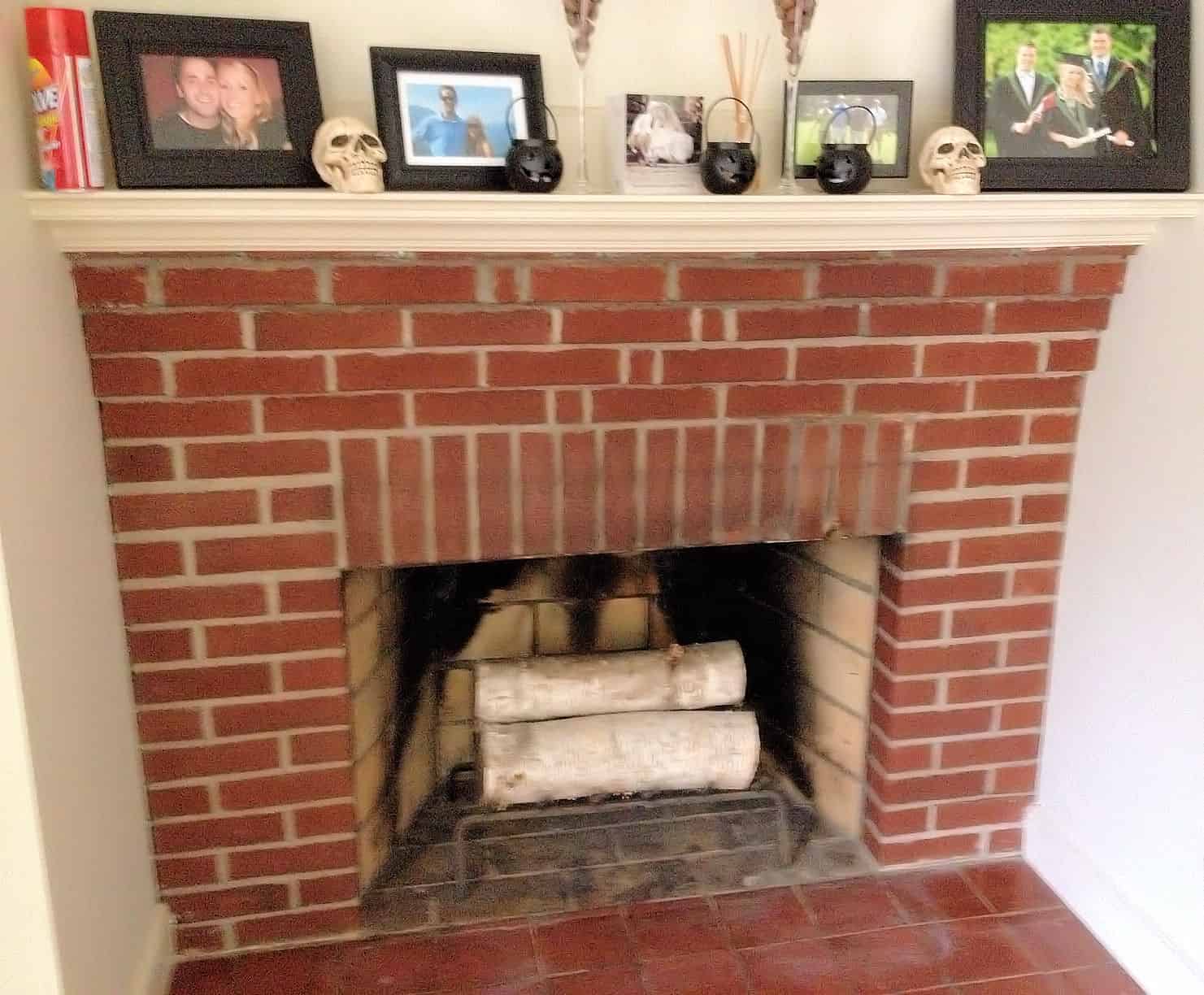 Tile, Whitewash or Paint?
While I would have preferred to tile over the brick fireplace with a pretty marble tile, at this point in time it was neither in our budget nor our basic DIY skillset. In the end, it came down to choosing between a coat of whitewash or painting the brick fireplace white.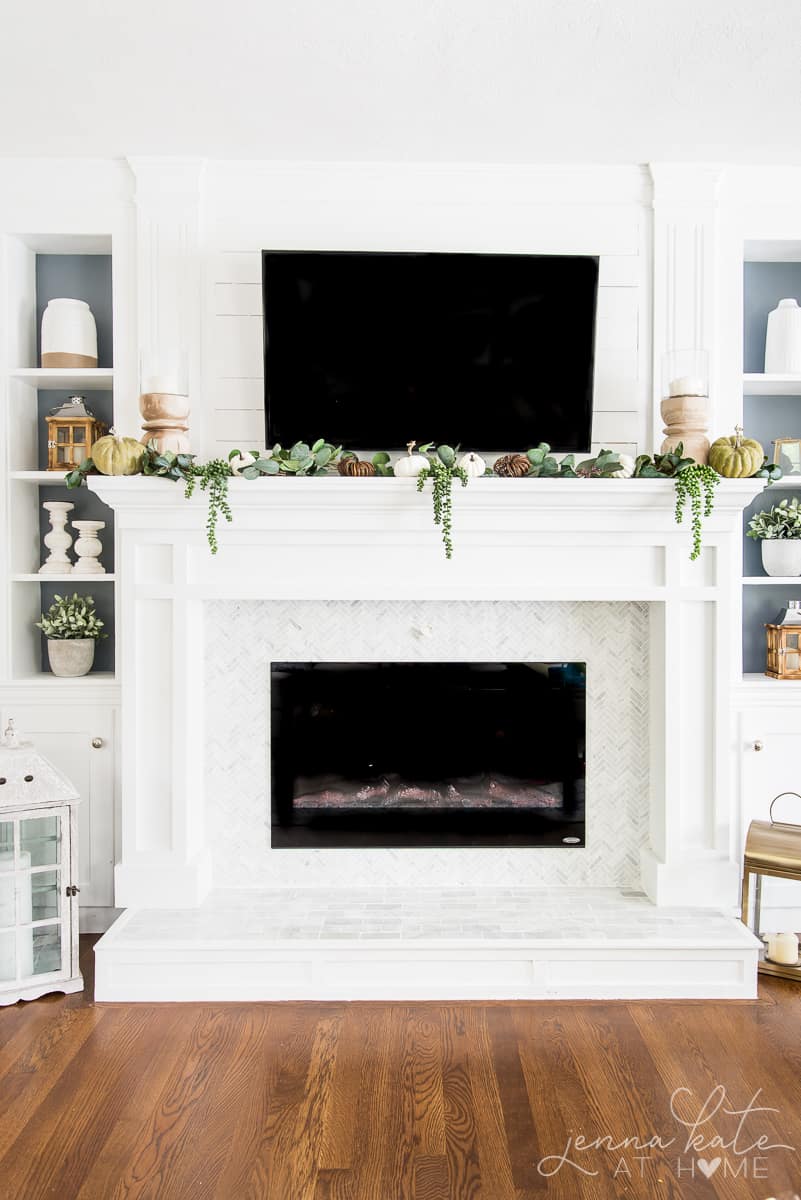 Since I wanted to keep some of the texture of the brick, I decided that whitewashing it would give us better results. Plus, if I didn't like it, it would be easy to just paint it one color. If I painted it opaque to start with, I couldn't do the reverse!
Deciding on painting versus whitewashing really depends on how much you want the surface of the brick to show through. If you want to completely hide the original brick colors (s), painting it would be the best way, if you still want some of the red/brown hues to come through, then whitewashing is a great option.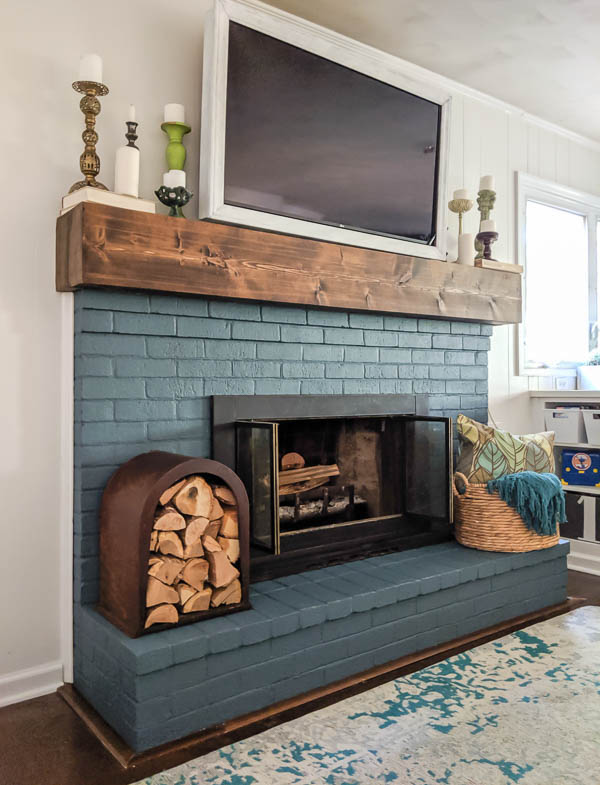 What Kind of Paint do You Use to Whitewash Brick?
You'll want to get white latex paint or water-based paint for your whitewash brick project. In order to create the whitewash mixture you need a 1:1 ratio of paint and water because brick absorbs water so much this will help hold the color for longer.
Do You Seal Brick Before Whitewashing?
It is not necessary to seal before you add your whitewash solution to the brick if you don't want to. It will help prevent scratching or any other damage in the future with little maintenance, but I decided to skip that step and it still came out looking beautiful.
Can You Use a Roller Instead of a Paint Brush?
I've seen it done with a roller before but I much prefer using a brush on the fireplace bricks in order to get the desired effect I was looking for. You could even use a rag or faux finish brush for an even more unique look to your fireplace. It's all personal preference, but for that classic whitewash effect, I would recommend using a brush.
What You'll Need To Whitewash Brick
Paint brush
White paint (any sheen except high gloss)
Rags
Tarps or drop cloth
TSP
Stiff bristled brush
Painter's tape
Directions
Protect The Area
Cover the surrounding area with a tarp. Make sure floors are well covered before proceeding. Before painting, use painter's tape where the wall meets the brick, as well as the mantel or any surround that you don't want to get paint on.
Clean the Brick
The first thing I needed to do was clean the brick. Despite the fireplace not having been used in over 30 years, there was a lot of soot caked into the brick. Using TSP diluted in water, I scrubbed the brick with a stiff bristled brush and let it dry.
Dilute the Paint
I had plenty of half-empty cans of white semi-gloss paint lying around the garage so I didn't even need to buy any supplies. I added water to my can of paint until it had a watery texture. I started out with about half a gallon of paint and added approximately 1 and a half cups of water to get the right consistency.
Apply The Whitewash
Using a paintbrush, I brushed the whitewash paint onto the brick with thin layers. The brick soaked up the color readily. I continued brushing the paint on until I achieve the color depth that I wanted. If you apply too much in one area, use a clean rag or sponge to soak it up. You can also use the rag/sponge to apply more paint to an area or continue using the brush.
Don't forget about the brick grout lines! If it's very dark gray, you may want to use a finer paintbrush to paint it to achieve a more opaque look.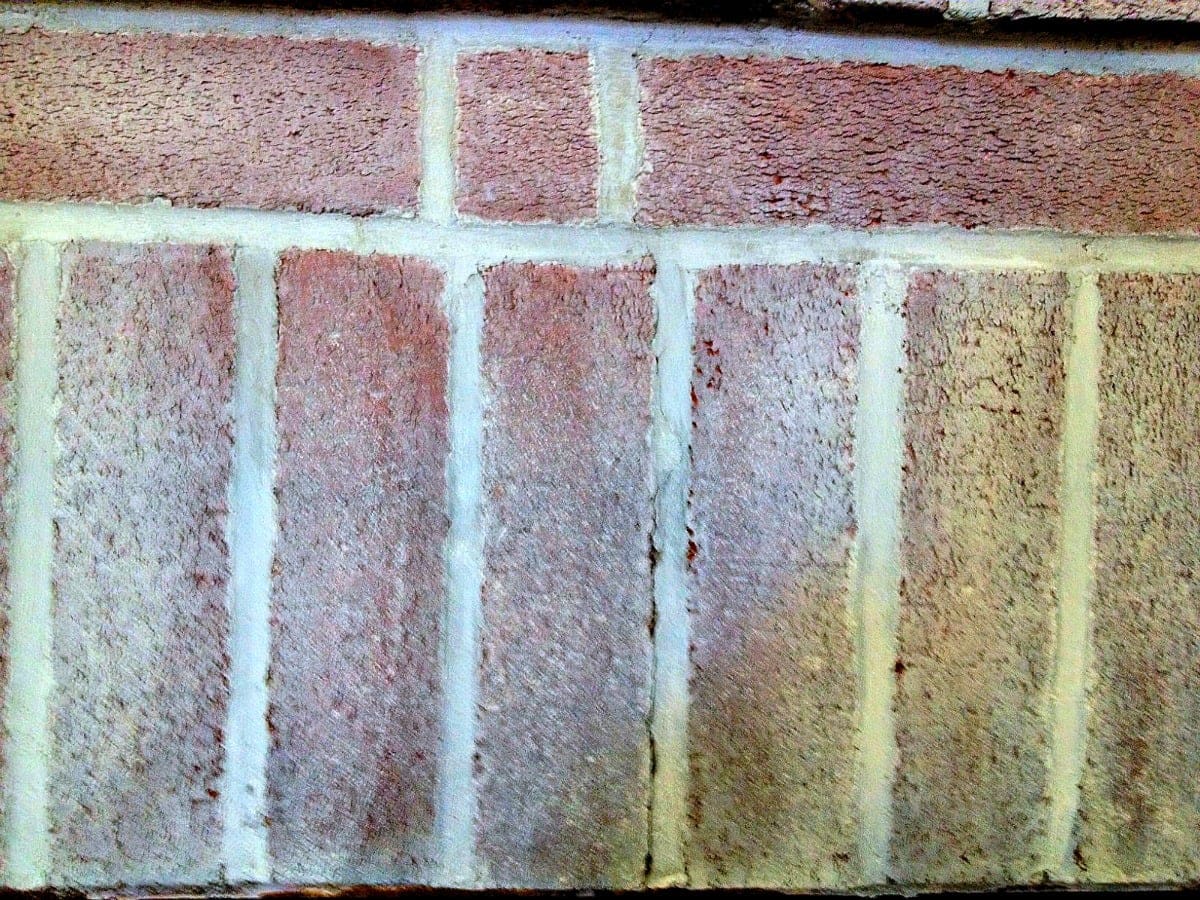 Using regular semi-gloss paint (that had not been watered down) I also painted the mantel white.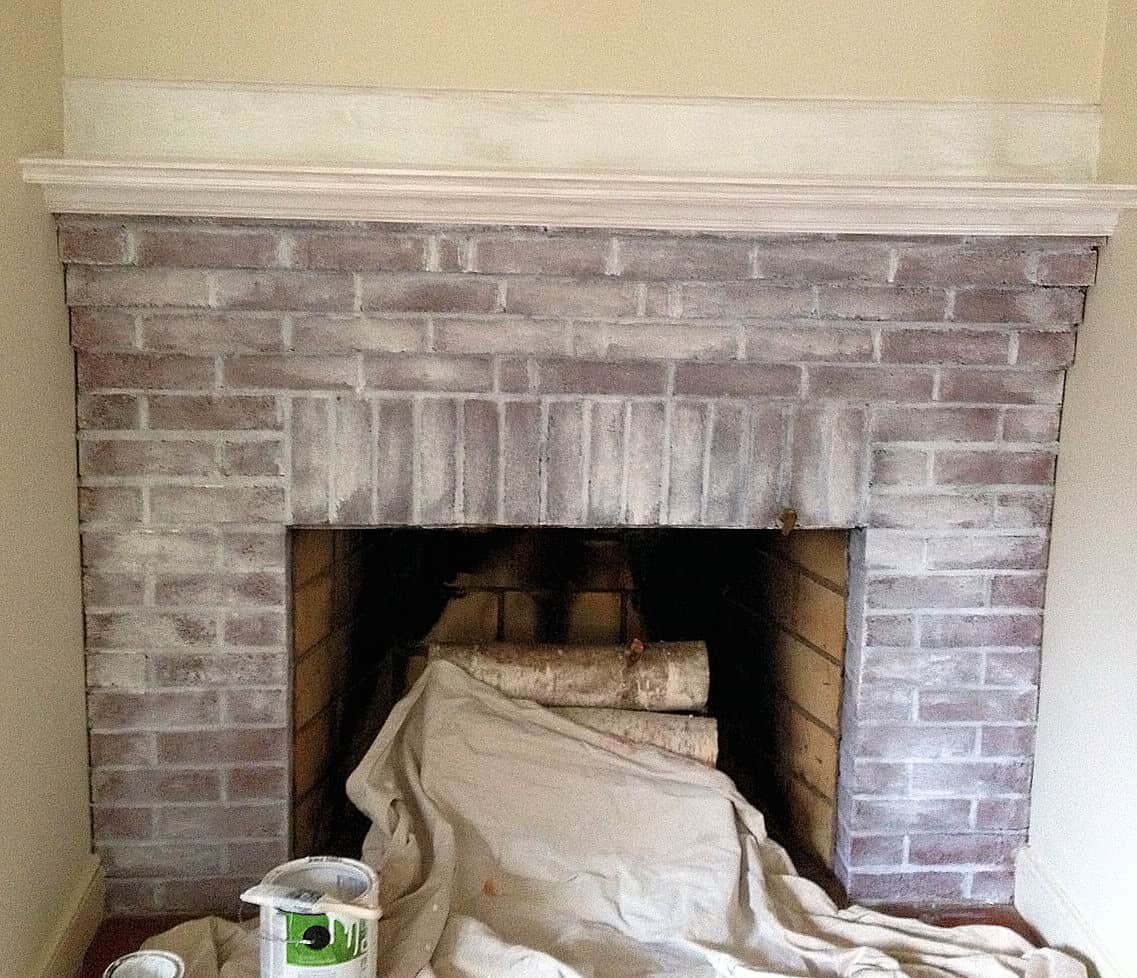 The Result
Doesn't it look so much cleaner and brighter? Whitewashing brick is SO easy to do!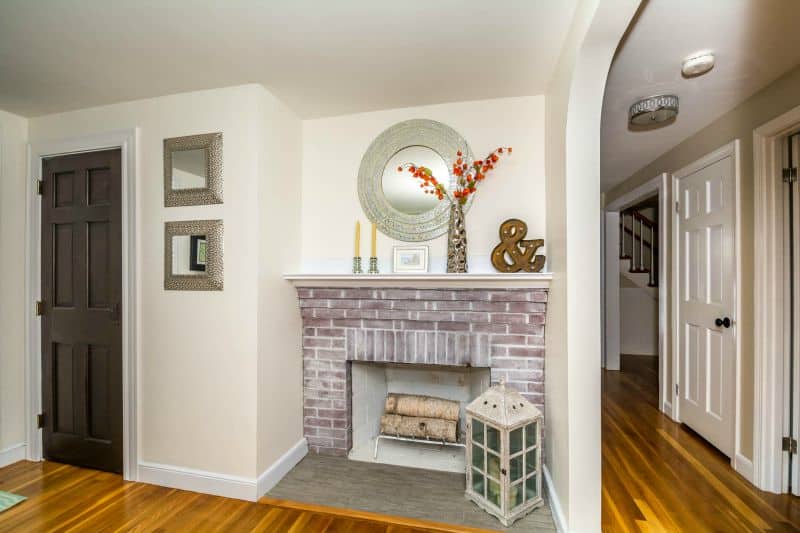 You will notice that the soot-filled hearth also got a coat of fresh paint, after being scrubbed down with TSP. Finally, I replaced the red hearth tile with this soft gray tile that we had left over from our bathroom remodel. This was my first ever experience tiling, and it went much better than I had anticipated!
How do you feel about painted brick fireplaces? I know some people have very strong opinions on keeping the brick's natural color, but I personally love both an opaque and whitewashed look of painted brick. And I certainly love how this whitewashed brick fireplace turned out!