This post may contain affiliate links | For further details, please read our privacy policy
Choosing an exterior paint color can seem like a daunting task. There are so many options out there and it's difficult to know what will look best on your home's exterior.
Fortunately, I've compiled a list of my absolute favorite exterior paint shades to help you with your choice. No matter what look you are aiming to achieve – you will find a color here to make your home look amazing!
Sherwin Williams Pure White
Sherwin Williams Pure White is a stunning choice if you are looking for a paint color for your exterior home which is a soft bright white without any strong undertones. It's also one of the best whole house colors for interiors!
I simply love how pure white pairs so well with SW Tricorn Black on doors – it provides such a beautiful contrast.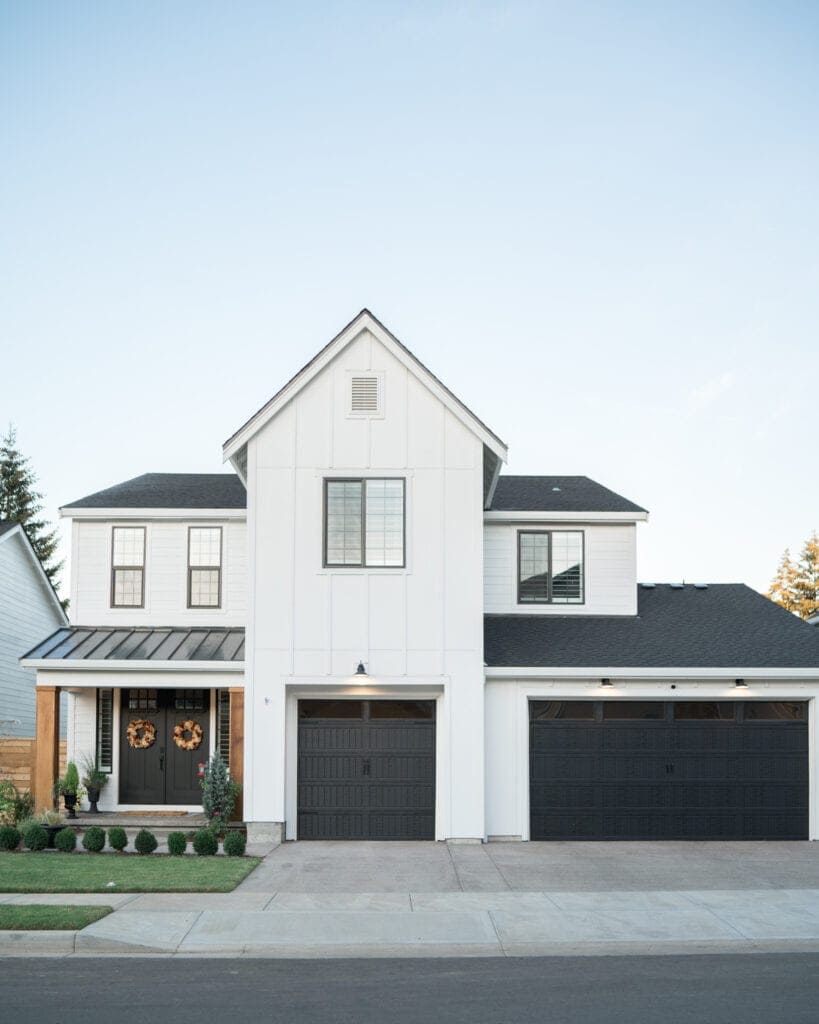 Benjamin Moore Simply White
Put simply – Benjamin Moore's Simply White is a stunning white exterior choice with a little cheer.
This is all thanks to Simply White's slight yellow undertone, which stops this shade of white from being too glaring or stark.
Of course, Simply White is an equally popular paint color for interior trim and doors. This exterior paint shade looks beautiful paired with wood tones.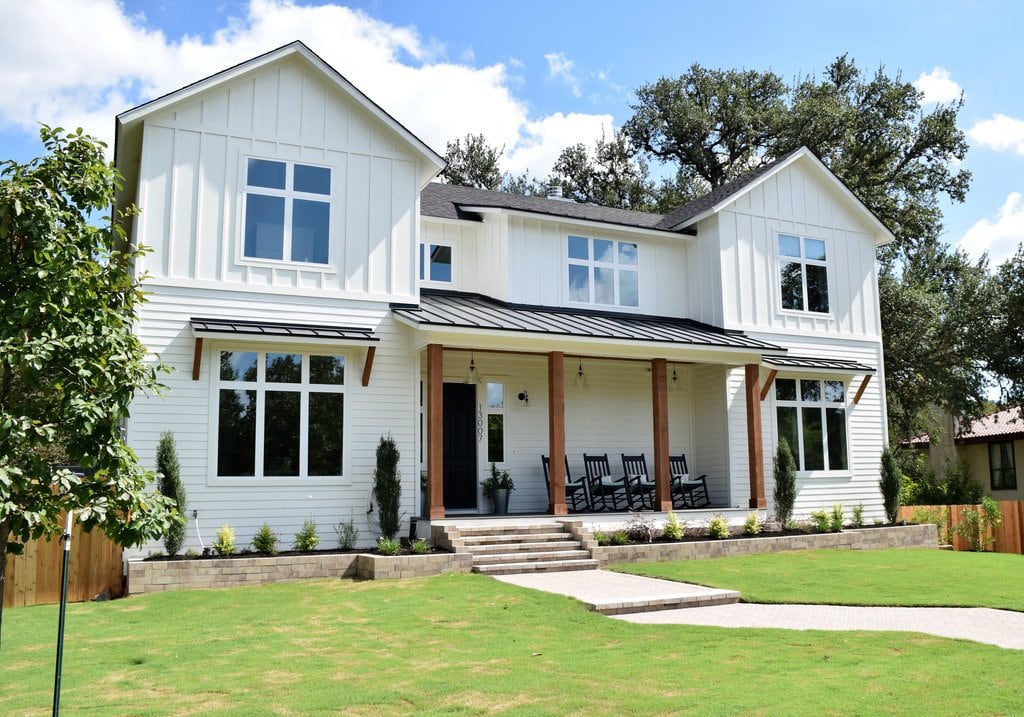 Sherwin Williams Alabaster
Sherwin Williams Alabaster is a breathtaking choice if you're looking for an exterior paint color that's white, but verging on a creamy off-white.
This is a wonderful warm shade that looks stunning alongside exposed wood.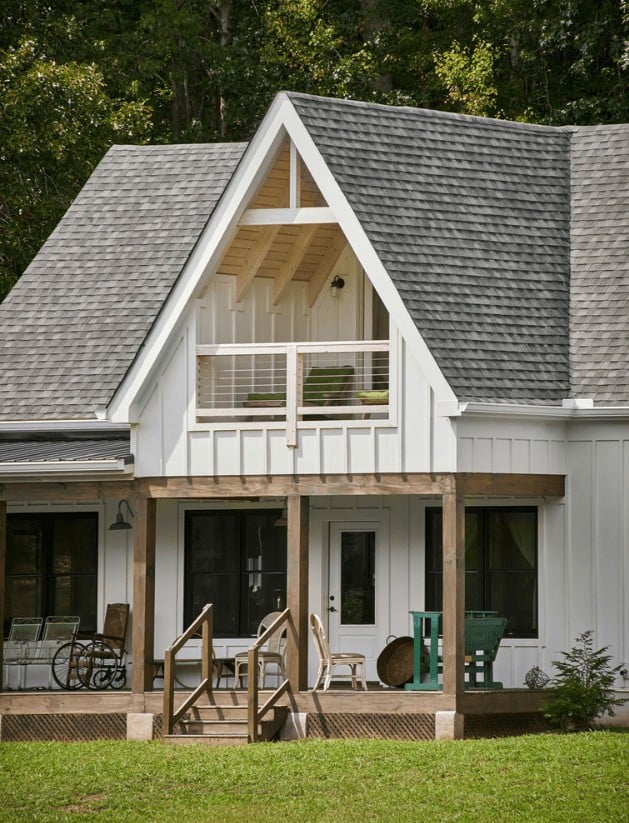 Benjamin Moore Lancaster Whitewash
I'm not going to lie – I'm low key obsessed with how beautiful this creamy green gray tan shade looks on a home exterior. This beautiful shade spells timeless elegance and looks so perfect with that just off white trim.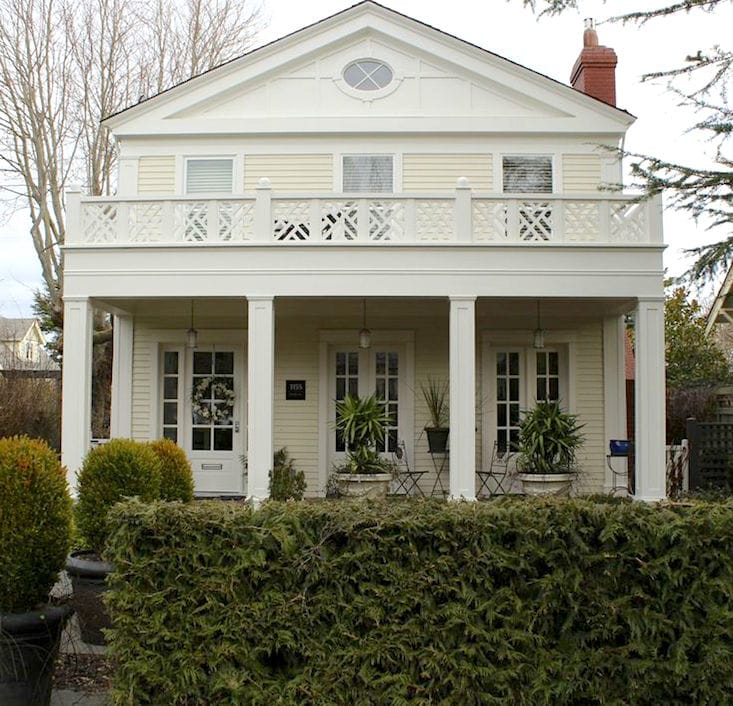 Sherwin Williams Repose Gray
If you've read this blog for any length of time, you'll know of my love for Repose Gray. I've used it throughout my house, at both full strength and (my preferred) lightened by 50%.
I always thought it would look washed on an a house exterior until I came across the photo below.
Repose Gray, is in fact, the perfect color for a beach house. Even though the pictured house is in Florida, I feel like this soft warm gray is the quintessential Cape Cod vacation home shingle color. It's just perfection!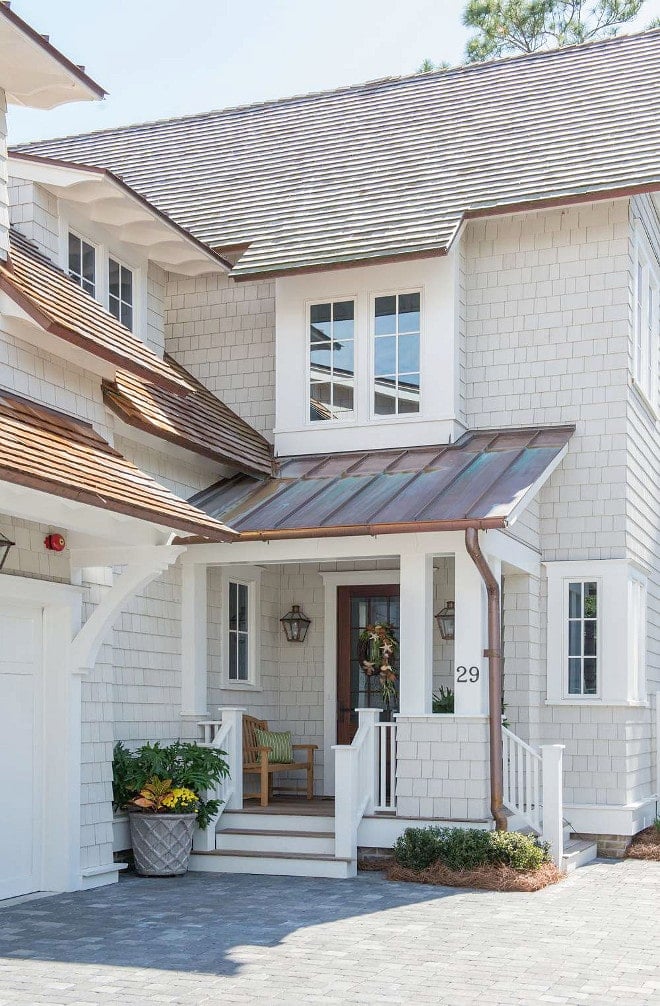 Sherwin Williams Warm Stone
Sherwin Williams Warm Stone is an excellent choice is you are looking for a neutral-warm mid-tone grey-beige for your exterior home.
This may appeal to anyone who see's repose gray as being too light for their home. This gray-beige which will look great with white trim and either a darker grey or beige roof as seen in the photo.
I kind of want those garage doors to be white in that photo, right? It would make this color pop even more!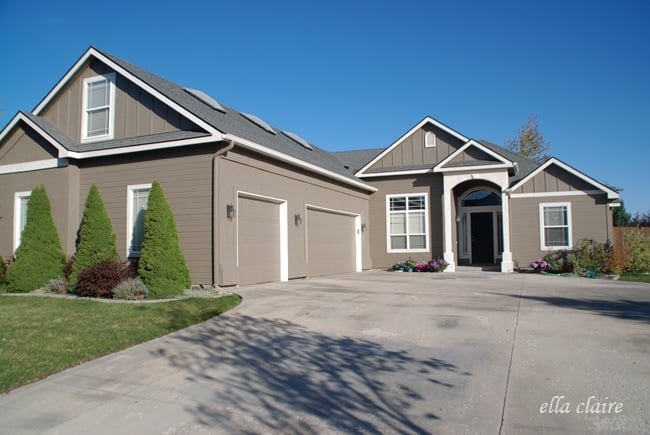 Benjamin Moore Coventry Gray
Benjamin Moore Coventry Gray is a wonderful exterior paint color for those looking for a gray with a little more depth.
It typically looks slightly darker in real life than how it translates in photo however it is a stunning midtone gray which looks even more stunning with a crisp white trim.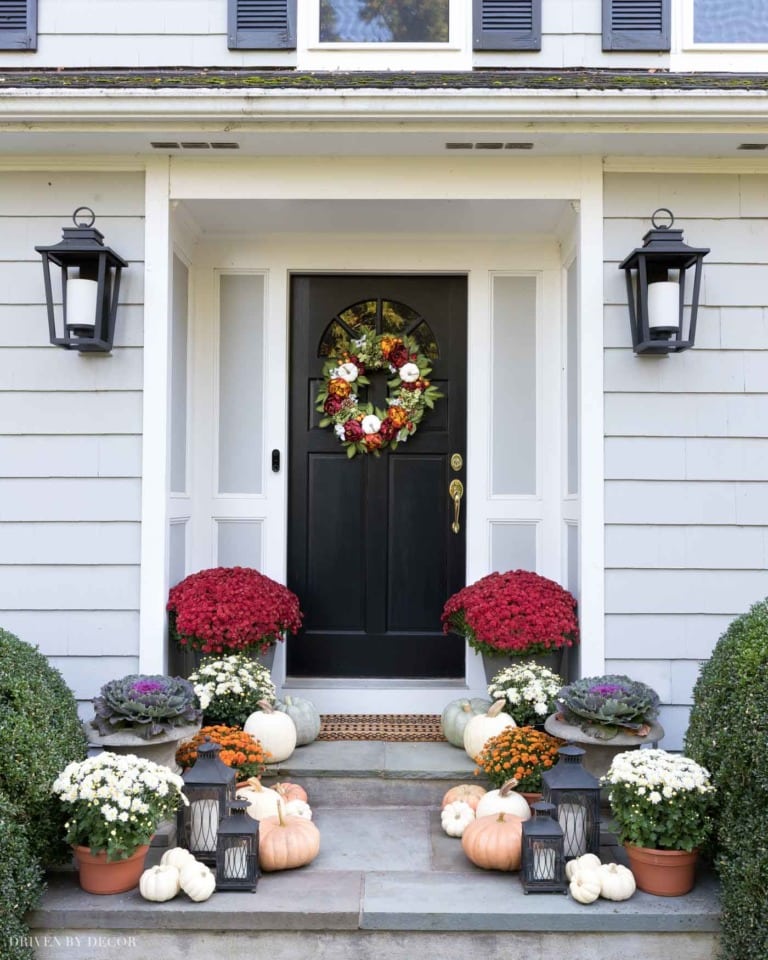 Benjamin Moore Gray Huskie
Benjamin Moore Gray Huskie may be a moodier choice for indoors however always bear in mind that any color will wash out more when painted on an exterior.
Gray Huskie is a wonderful warm toned smooth gray with some very mild blue undertones.
This is a really pretty choice for your home and pairs lovely with a darker gray roof.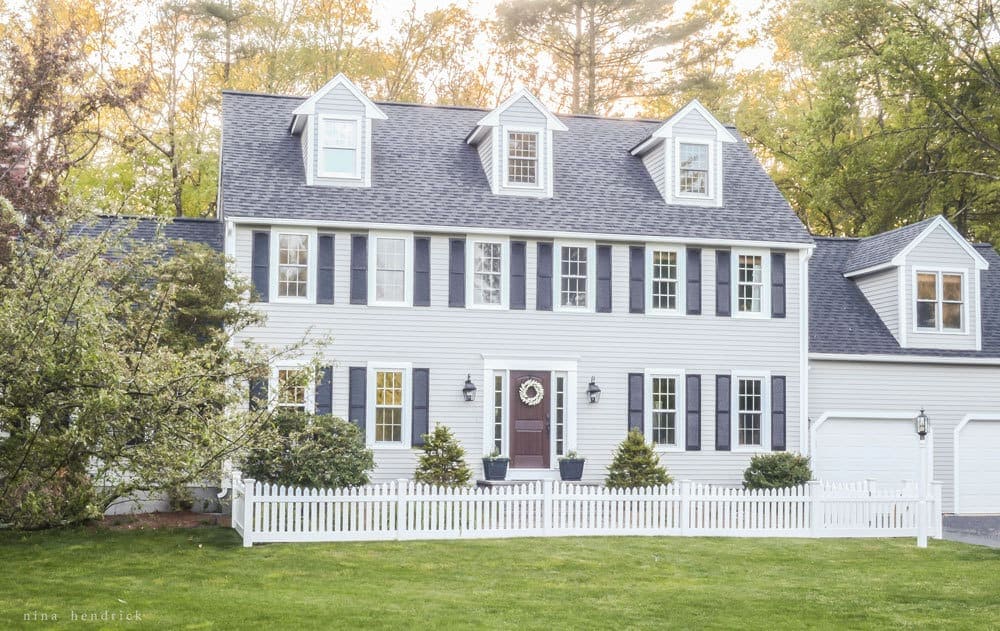 Benjamin Moore Chelsea Gray
I'm kind of obsessed with how Chelsea Gray looks with unfinished stone work on an exterior home.
Chelsea Gray has a slight green undertone to it so it's definitely leaning towards the warmer side.
This color would look wonderful on most types of homes and I especially love how this warmer shade of gray gives a timeless, modern look to a home.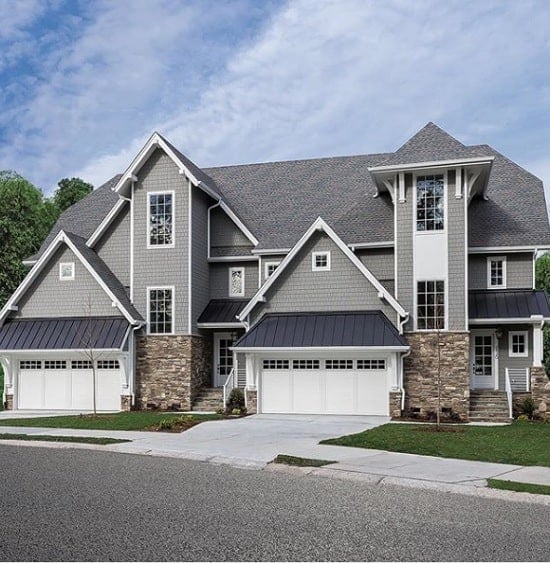 Sherwin Williams Cityscape
Sherwin Williams Cityscape is a breathtaking neutral toned gray with a deep green undertone.
This gray is such a wonderful choice if you are looking to make a statement but you're not entirely sure whether you need to go warm or cool toned.
It is a wonderful versatile shade which looks amazing against white or dark trim and exposed brick work.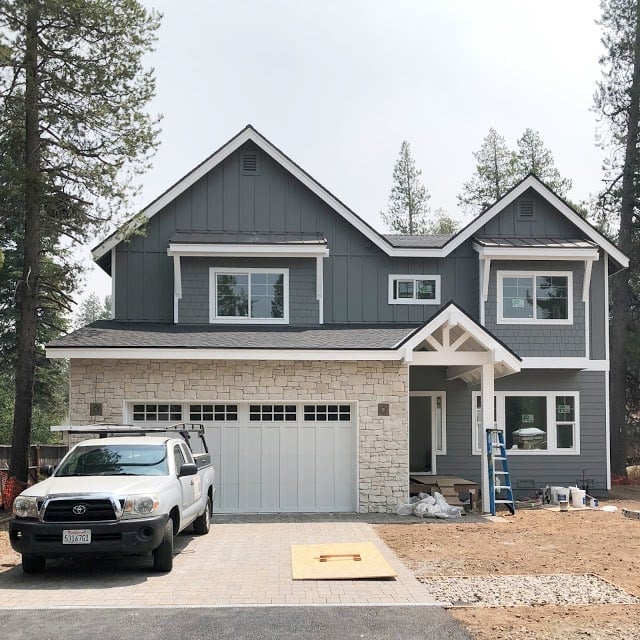 Benjamin Moore Hale Navy is a wonderful choice if you are looking for a deeper, darker toned paint for your exterior home but you don't want to commit to something too dark either.
Hale Navy has a beautiful gray undertone and works nicely with gray or white doors and roofing.
I especially love how these home owners have chosen beautiful pink foliage to really show off that navy color.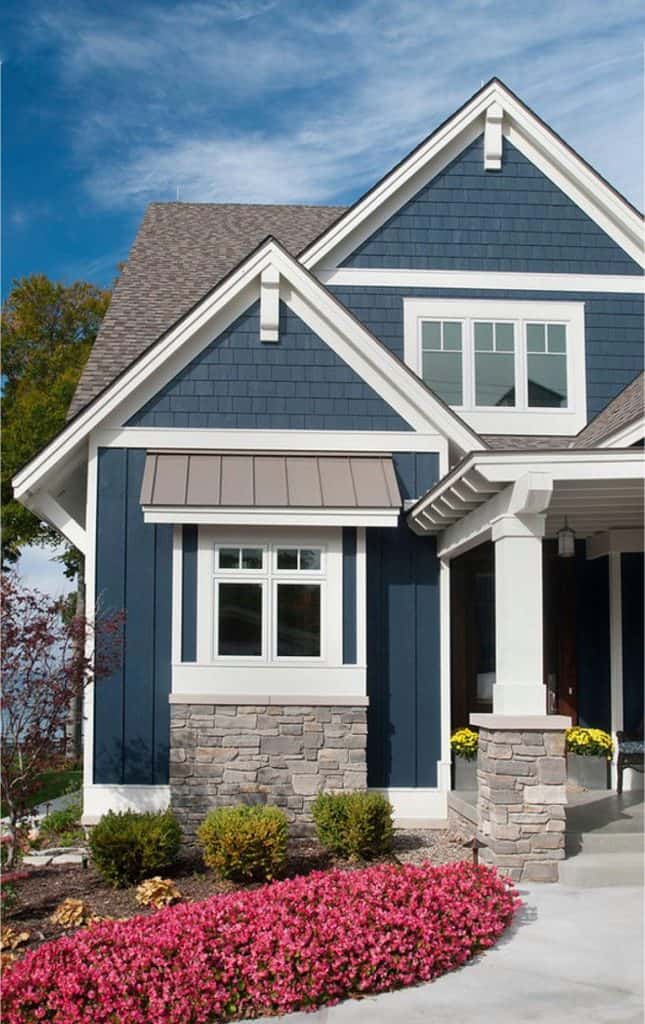 Benjamin Moore Saybrook Sage
Benjamin Moore's Saybrook Sage is a gorgeous sage green – and as we know for this year, sage green is on trend!
This green is definitely a warmer, creamy and almost pastel green so it pairs really nicely with a warm or off-white trim.
I think you'll agree just how quaint and pretty this color is!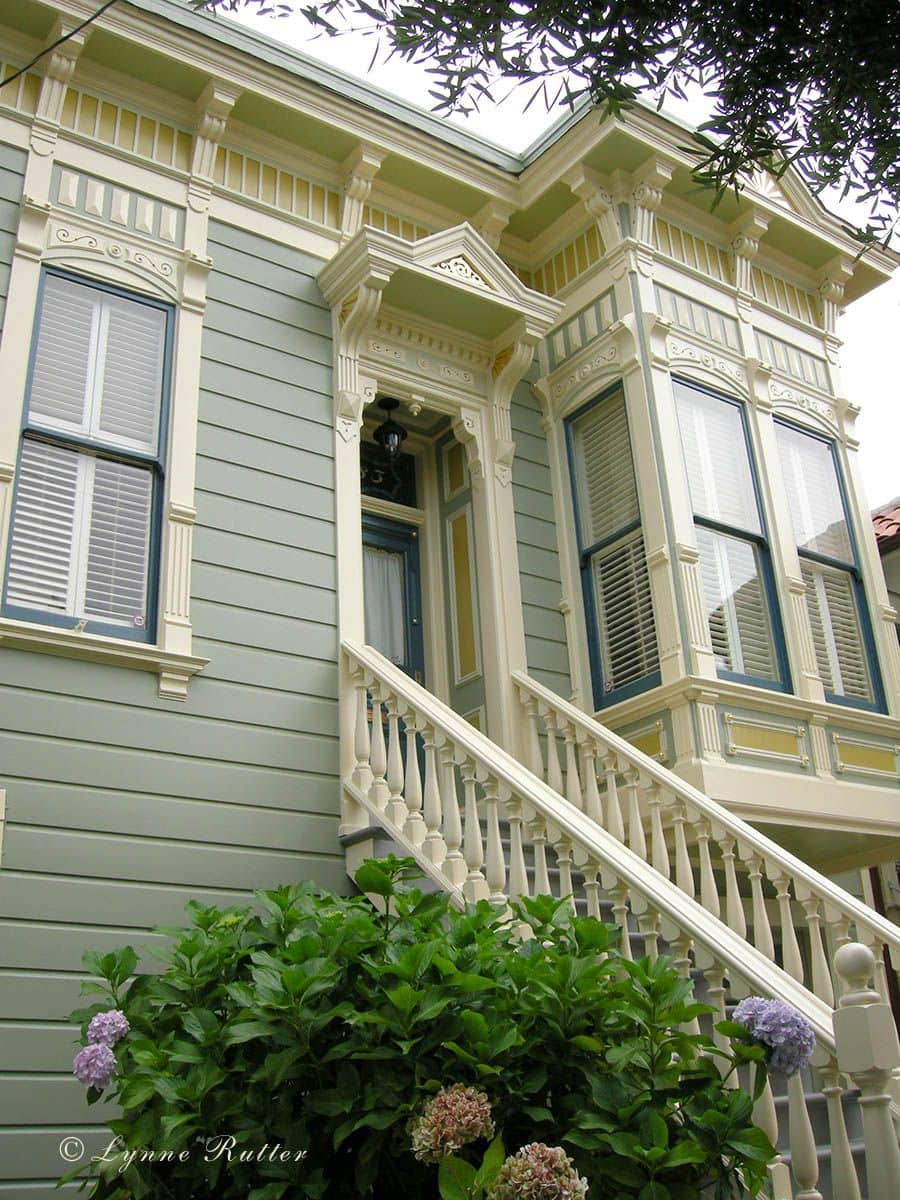 Benjamin Moore Caldwell Green
Benjamin Moore's Caldwell Green is a stunning and moody choice of color if you are looking for something unique, earthy and inspired by nature.
This is a beautiful mid green shade with some blue undertones – it would be a wonderful color on the exterior of a home surrounded by greenery – almost allowing the home itself to sit and camouflage in with nature.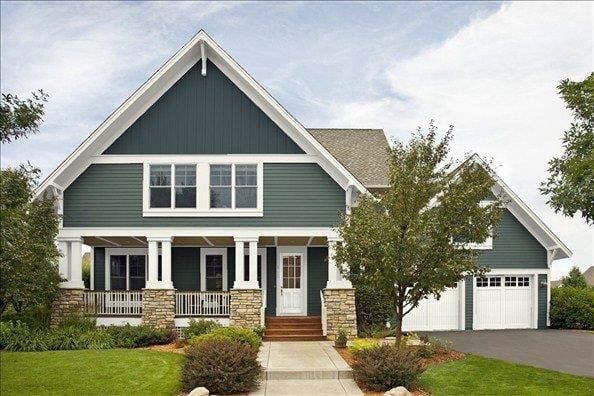 Sherwin Williams Tricorn Black
Tricorn Black is known to be popular and stunning choice for front doors, but it's equally awe-inspiring for a whole-house exterior color.
A color this dark and bold may not be perfect for everyone, but if you want to be daring and different, this is certainly an elegant and modern paint color for a house.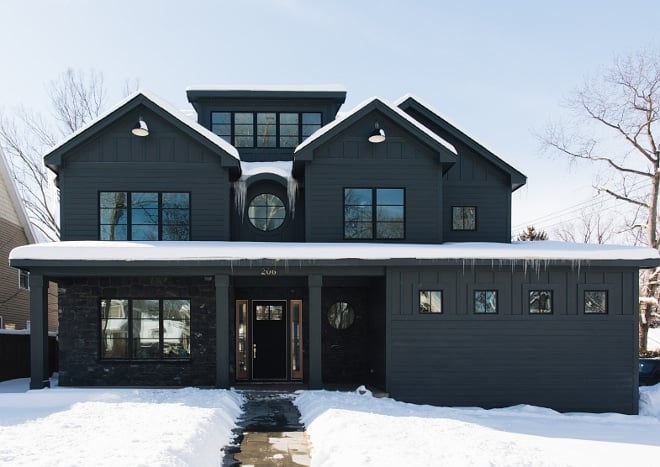 Benjamin Moore Authentic Pink
Can we all take a minute and appreciate how beautiful this shade of pink is on a home exterior?
Okay, it's certainly not a color for the shy, but done well, this can look absolutely stunning!
I absolutely love this pink with the crisp white trim and the beautiful purple pink of the flowers that really accentuate its quirky color.
This would be an excellent choice for a quaint cottage or even a beach-side home.
If you are the playful type, I dare you.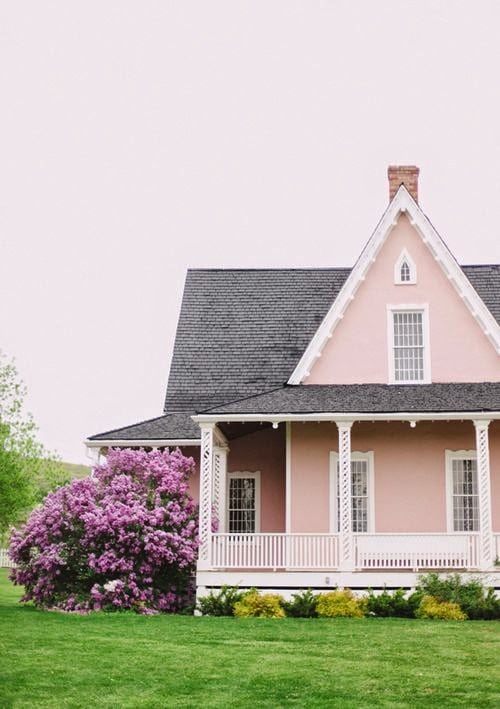 Final Thoughts
Have any of these inspiration images swayed you in a different direction for your choice of exterior paint color? Are you going to stick with the classic white or delve into the world of color? I'm excited to hear what you choose!
Don't Forget…
Don't forget – no matter what you've read or photos you've seen online, it's really important to sample paint colors in your home before committing!
Samplize provides real paint samples that are easy to move around your home, and cheaper than buying a gazillion paint pots! It's the only way I buy paint samples.
Use code JENNAK10 at checkout and get 10% off your order
Coupon entitles all customers to 10% off the entire order with no minimum purchase requirement. This is a one-time use coupon and it cannot be combined with other discounts.