The ability to mix patterns in textiles such as throw pillows, curtains and rugs will really help to bring your space together, create a cohesive look and add interest to your space.This is also one of the easiest ways to experiment with color in a non-permanent way!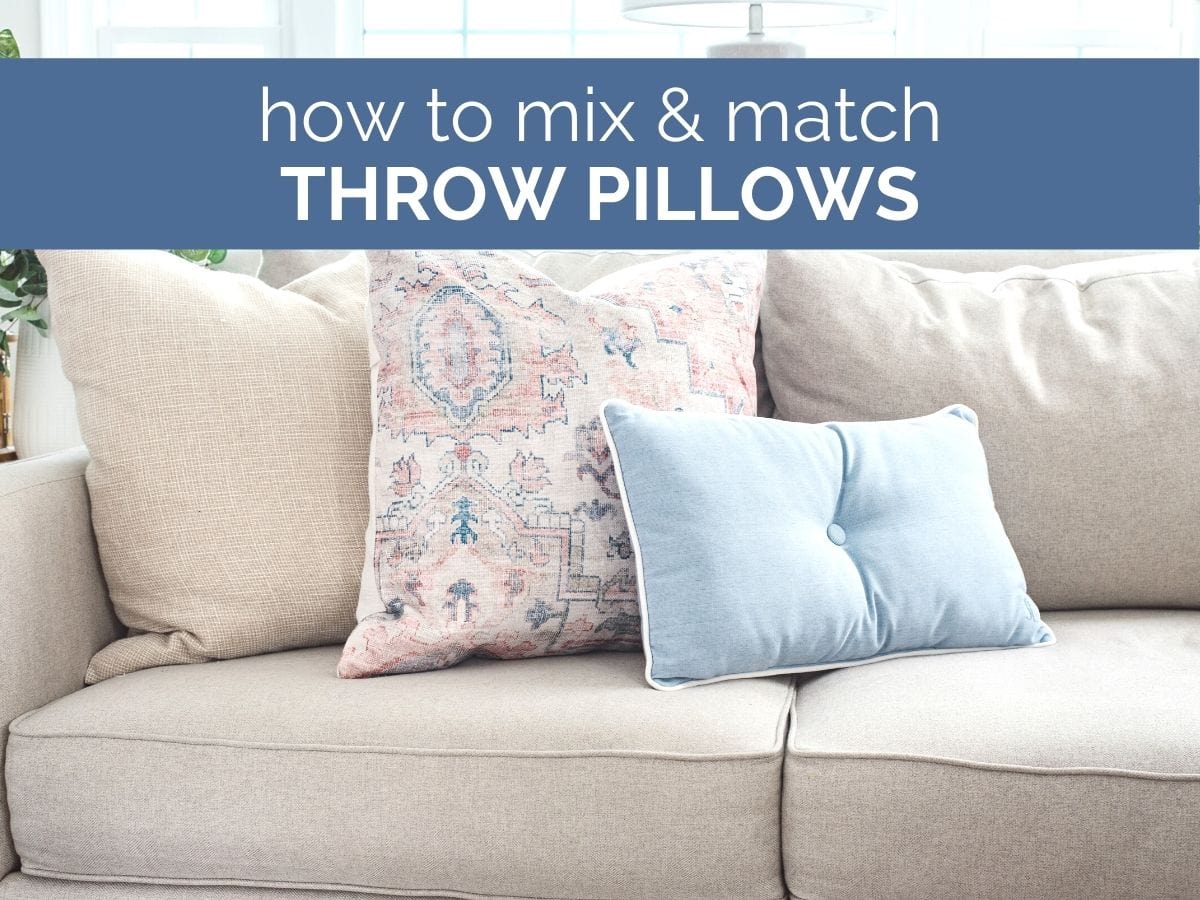 Throw pillows in particular have an amazing way of completely transforming a space. If you like to keep everything else relatively neutral, adding some fun throw pillows will really add personality and visual interest to your space.
Pattern Mixing Formula
There's a simple formula that I use that guarantees beautifully styled pillows every time:

Pick a Dominant Pattern: Think of this as a busier print, maybe featuring
large scale flowers or a geometric design. You can pick something with only
a couple of colors or many colors. This should be the "busiest" of your
patterns. From this fabric, you'll pull your other colors.
Pick a Solid Pattern: Pull one of the colors from your dominant pattern. It doesn't have to be the most obvious color, any of the colors in that pattern will work. Usually, picking the least obvious actually looks the best. Also, it doesn't have to be an exact match but should be pretty similar in tone. Don't be afraid of picking a different texture like faux fur or leather. Layering textures is the ultimate way to get a designer-inspired look.
Pick a smaller scale print in either the same color as the solid fabric or another color pulled from your dominant print. This smaller scale print could be polka dots, subtle stripes, a gingham print or even a solid print with a lot of texture that gives the effect of having a print on it.
My go-to for three pillows is a solid, a geometric and another pattern. The geometic print can either be the large scale or small scale pattern, with the third pillow then being the opposite.
Texture also works in place of the smaller scale pattern, and/or can be part of the solid pillow, too. I think it's always important to vary the textures on throw pillows to really elevate the look.
I'm sharing my formula plus lots of other great tips in my YouTube video below. If you liked it, please give it a thumbs up and consider subscribing!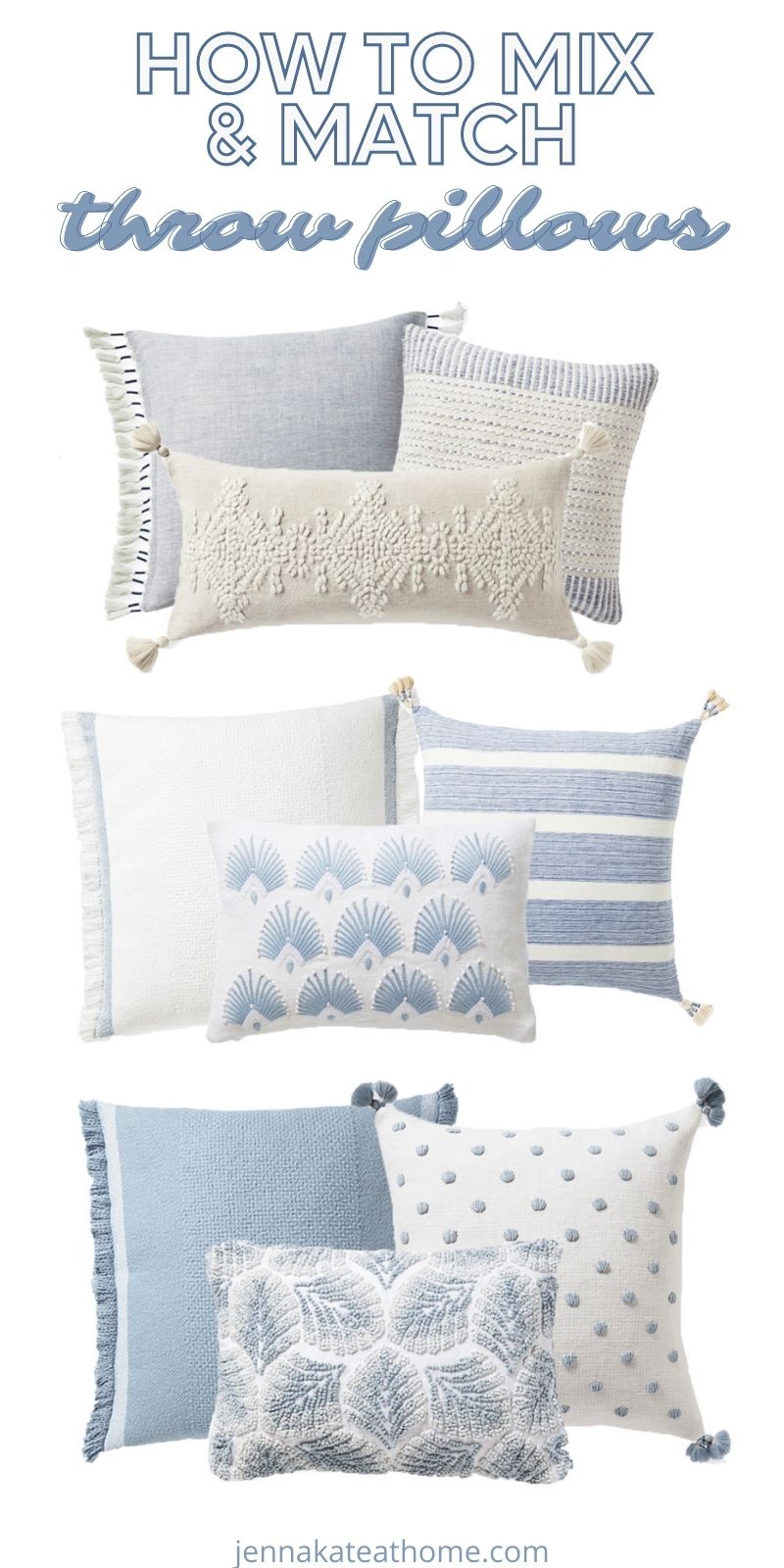 The above examples use a a simple two color formula – all blues and white (or off-white). When you're only dealing with two colors, mixing and matching these colors will always guarantee success as long as you are following the pattern mixing formula.
But What if You Want More Color and Variation?
This is the next step in the process! It's not any more difficult than pattern mixing with two colors, and follows the exact same formula. Instead of only using two of the colors from one of your patterns, you simply use three!
When you get comfortable with the basic formula, you'll find it easier to train your eye to pull in additional colors that complement the pillows.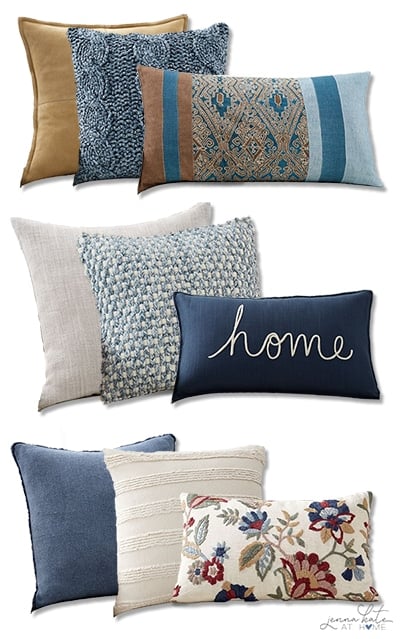 Study the images above. In the first example, I've pulled out 2 of the colors from the patterned lumbar pillow to get coordinating colors – a warm camel color, and a darker blue (the less evident color in the pattern).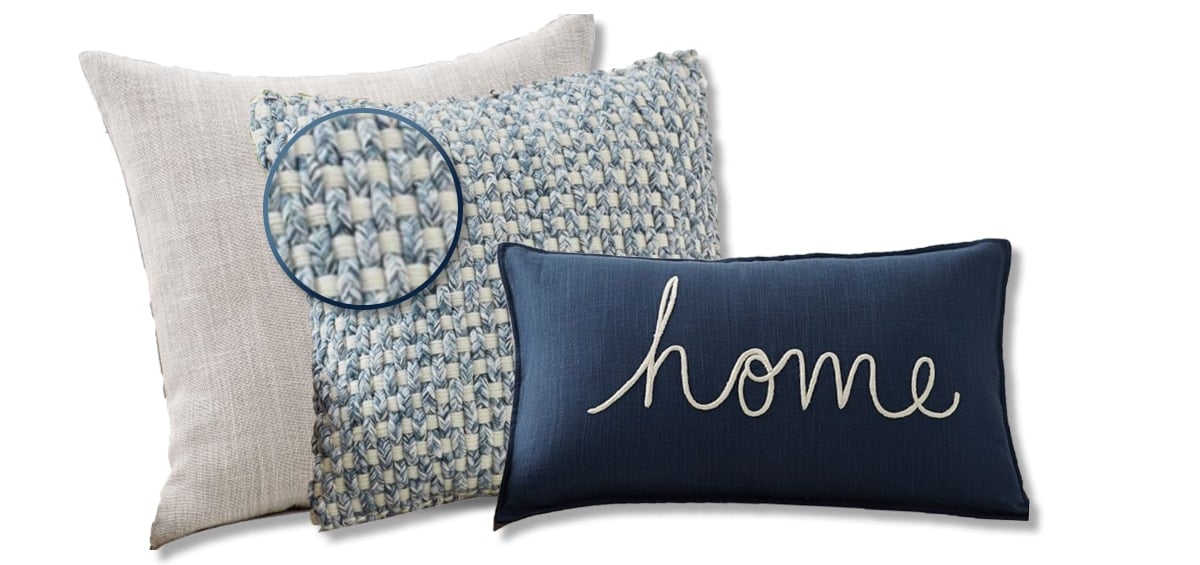 In the second example, I again opted for the less obvious colors. I could easily have chosen a sky blue solid pillow, but it would look flat and lifeless. Instead, by choosing the deeper blue that's evident in the threads, as well as the neutral color between the knit texture, the pillow combination really comes to life.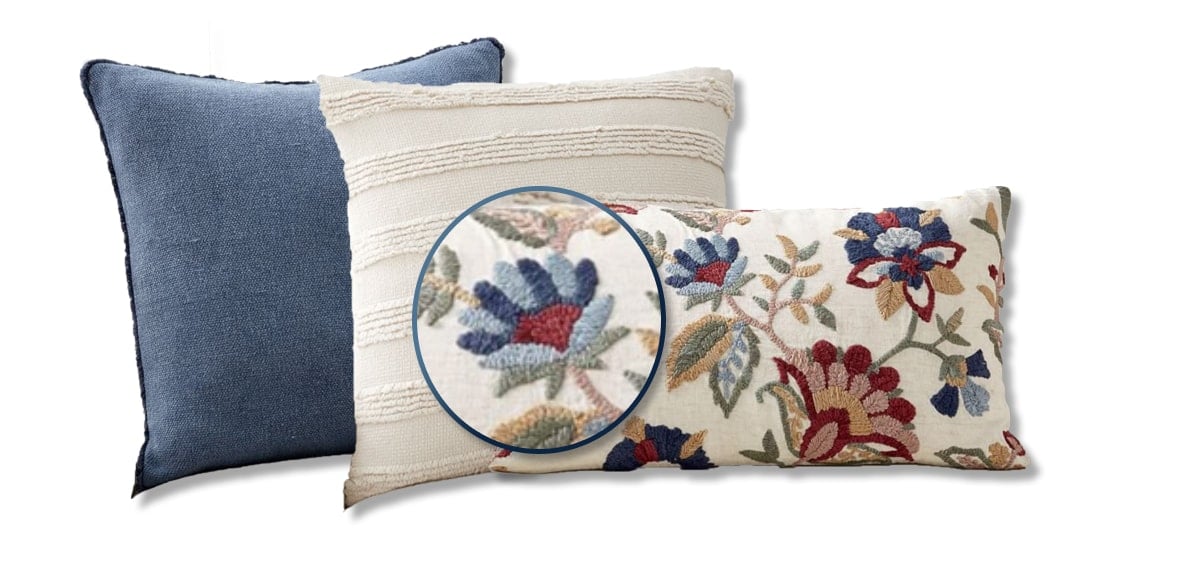 Finally, in the last trio, I opted for the darker shade of blue as well as the darker neutral shade from the pattern. I could have just as easily pulled out the green, or even that pretty dusty pink color. In fact, let's take a look at how that would look…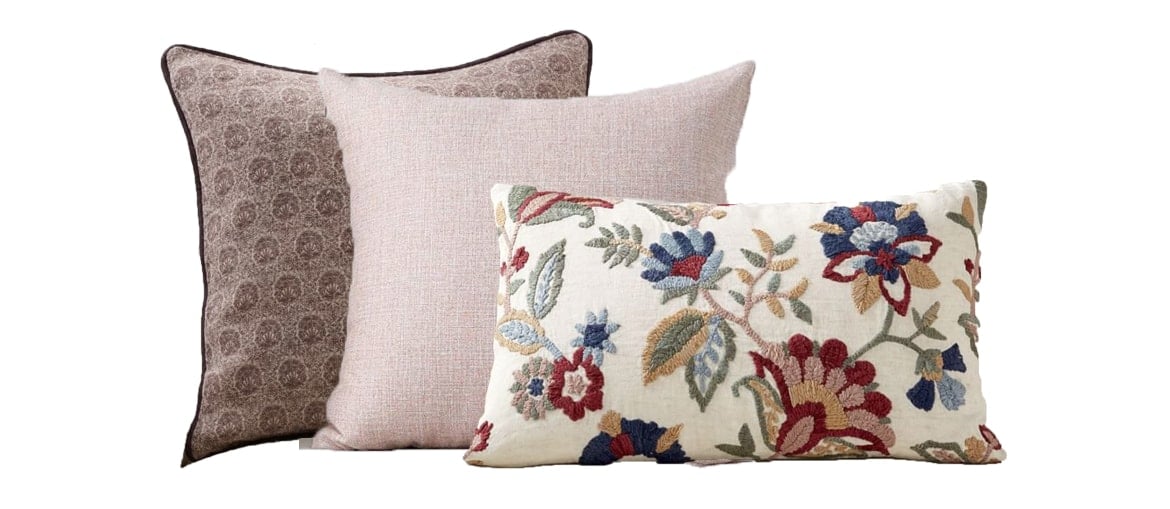 Using the dusty pink color the solid, I opted for a less red version of the red in the pillow, with the fig colored small scale pattern.
Then below, I pulled out the warm golden tone for the small scale/textured pillow as well as the green from the floral stems and leaves.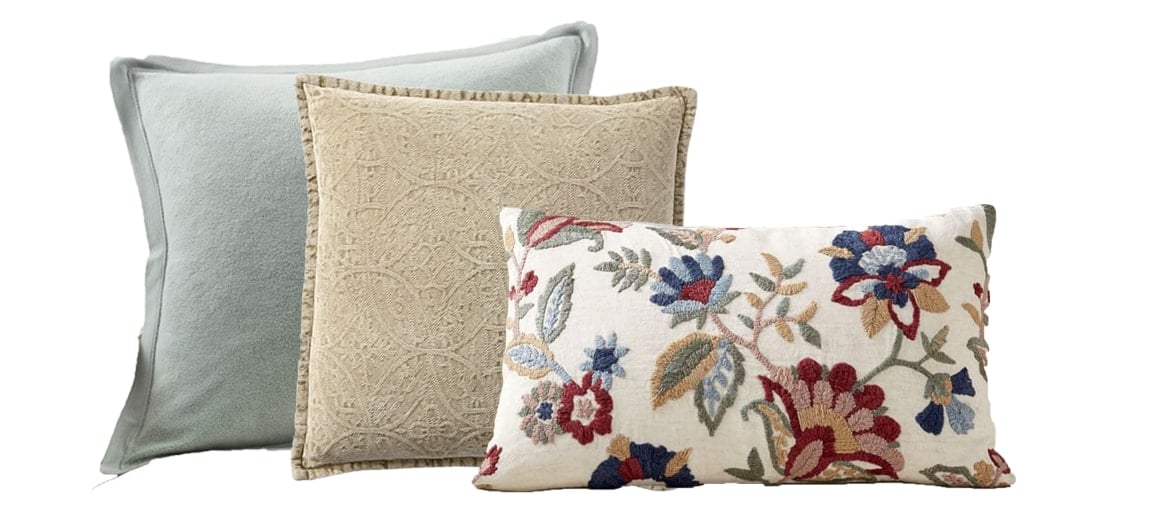 Owning a patterned pillow like the lumbar that I've been using in this demonstration, is such a great piece to own because it's so versatile!
The Best Places to Buy Throw Pillows
I adore the throw pillows from Serena and Lily (the blue and white ones at the top of the post) but they are pricey, so I always wait for a 50% off sale before purchasing. The quality is really good and the prints are timeless and classic if you like the coastal look.
Pottery Barn is another favorite of mine. While they're not cheap, they are a lot less expensive than Serena & Lily and the quality is also really good. I also highly recommend their down inserts. They are excellent quality.
For solid color pillows in particular, I buy a lot from H&M Home, HomeGoods and even Amazon. Additonally, The TJ Maxx website regularly has Serena & Lily dupes that get snatched up quickly. The quality tends to not be as good, but for the price they can't be beaten.
Final Thoughts
I hope you found my tips helpful! Just remember, practice makes perfect! Don't be afraid to pull out a bunch of pillows in the store and get your pattern mixing on while you're there. Pottery Barn in particular is a great place to do this, as they usually have a couch right in the pillow section!