Do you have a hard time narrowing down your decorating style? Or think you love every style!?
Do you find yourself return throw pillows and other decor to the store all.the.time? You thought it would work in your home, but it doesn't.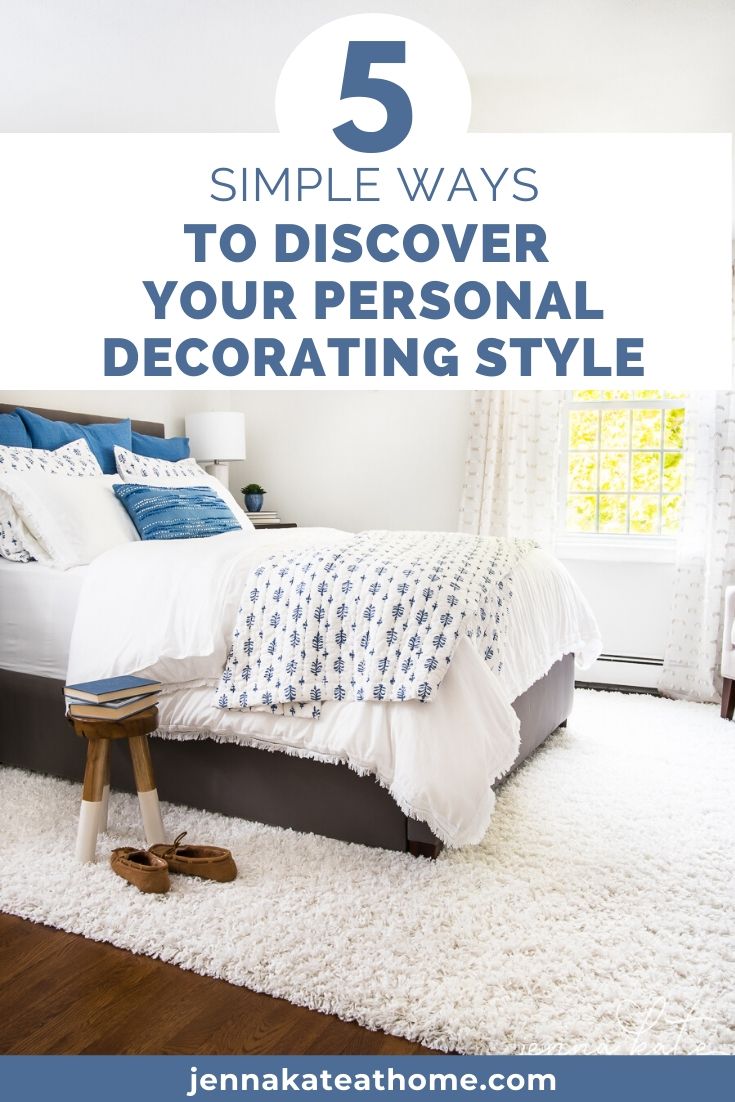 Are you constantly frustrated? Spending money left, right and center, and yet your home still doesn't feel like you?
I completely understand! As a home decorator, I am bombarded with images of beautiful interiors all day long. Sometimes it really gives me an itch to try out a new trend or a new color.
But because I know what my personal decorating style is, it's easy for me to stick to what I know works in my home. Because as much as those black walls might look amaaaaazing in my friend's house, they're not me and I know it just won't work in my home, no matter how hard I try to force it.
Just like you, I've been in the same situation. But after years of trial and error (expensive trial and error at that!), I've finally figured out a formula that will help you discover your personal decorating style.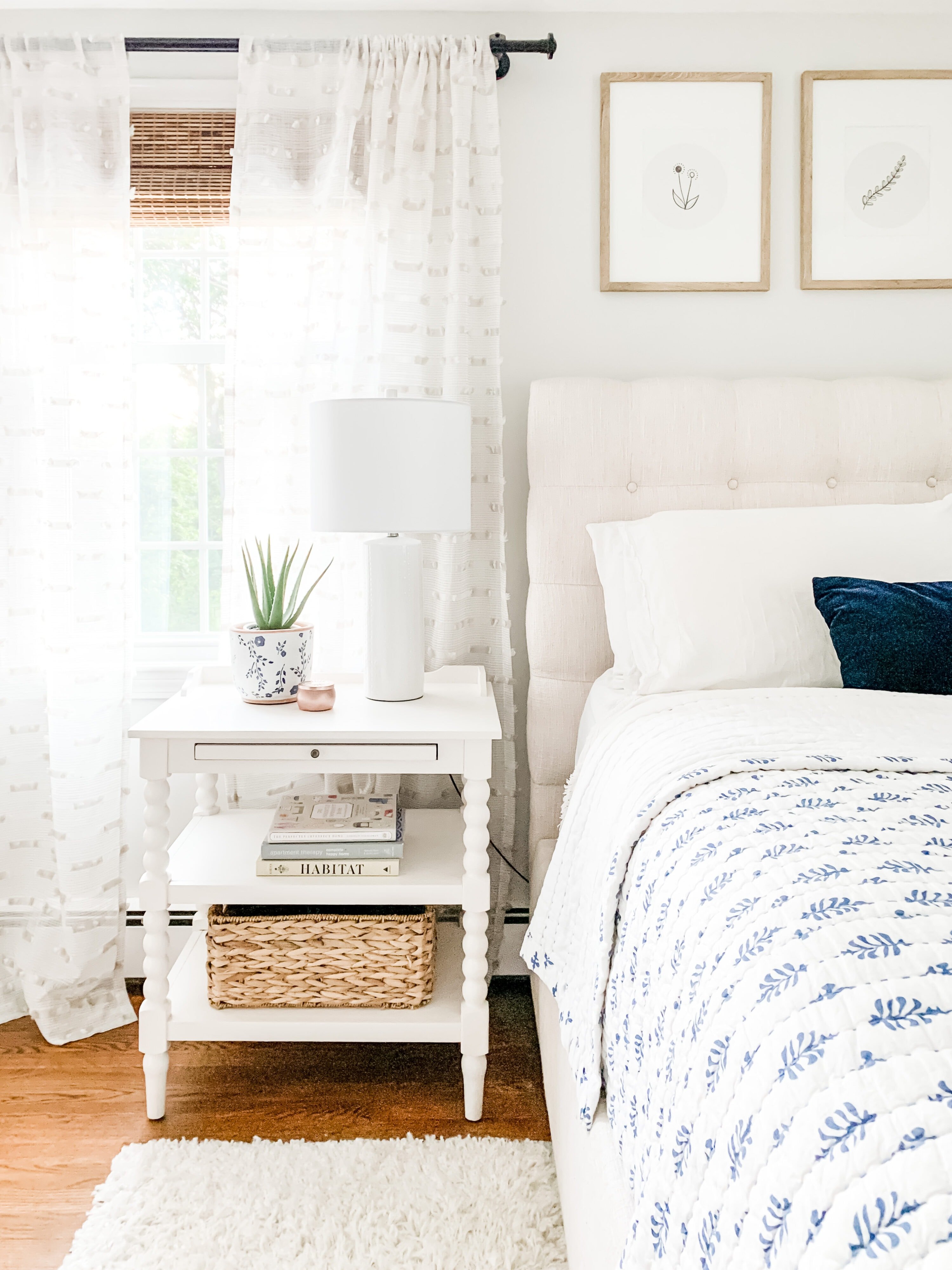 When it comes to decorating, a lot of people don't truly understand what their personal decorating style is. As a result, their homes lack cohesiveness and uniqueness.
Today I'm going to share some tips from my book, Home in Progress: The Ultimate Home Decorator's Guide that will help you define your decorating style.
I've had great feedback from everyone who's read the book that this particular lesson has really given them the clarity they needed.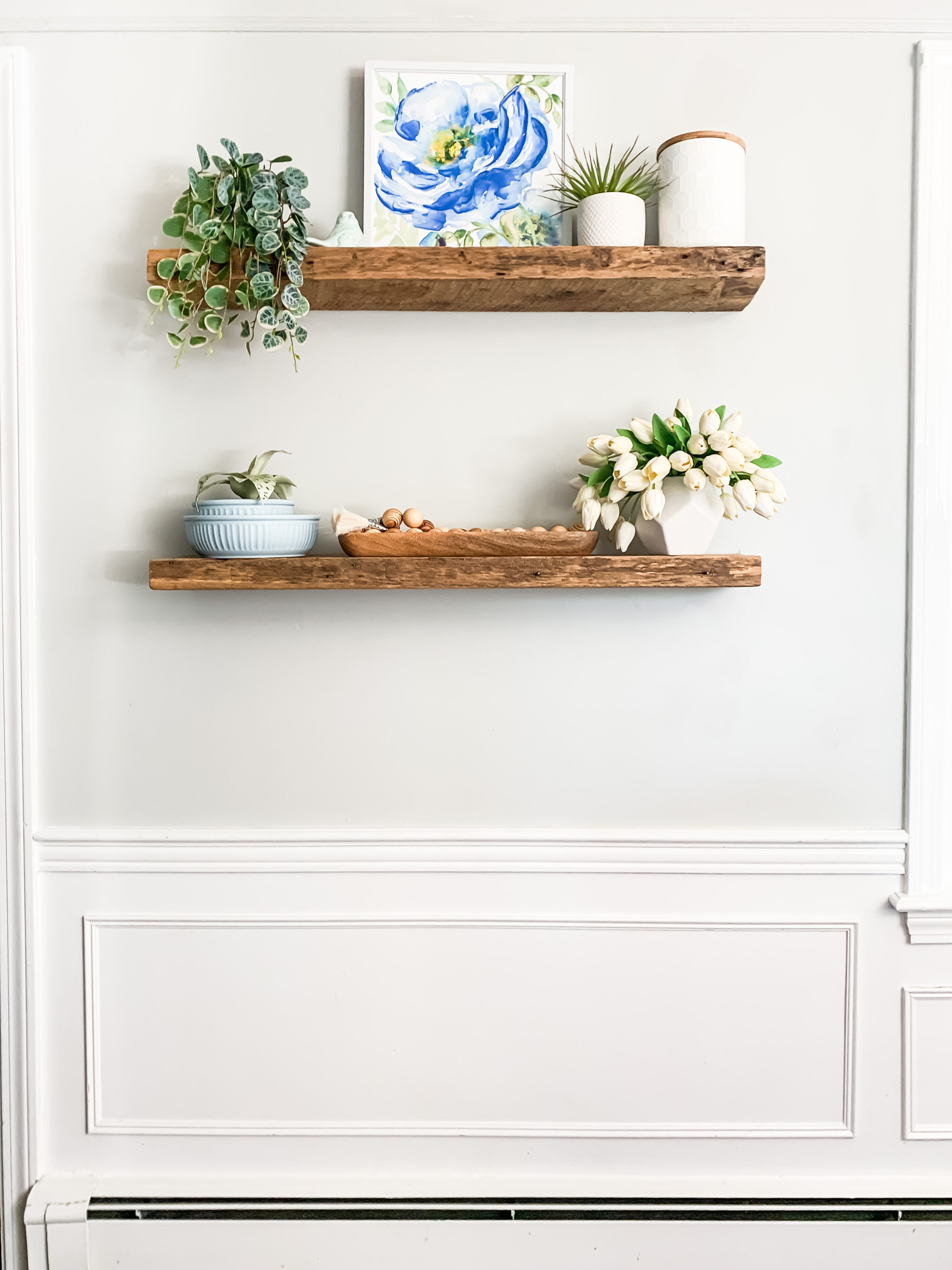 My Simple 5 Step Process to Define Your Style
This process, or formula if you will, is very simple. Do all the steps in order and you'll be happy with the outcome!
1. Take a Look in Your Closet
Your closet is probably one of the biggest clues as to what your style is. Look at the types of clothes you own. Are they classic? Eclectic? Edgy? Do you favor lots of bright colors? Maybe (like me!) you notice that you own a heck of a lot of blue!
Your personal decorating style is a reflection of your personality, so it makes sense that it would also be a reflection of what's in your closet. Use these colors and styles as your first starting point in refining your decorating preferences.
2. Source Inspiration Images of Interiors
Create a new board on Pinterest. Call it "Home Inspiration", "My Decorating Style" or something along those lines.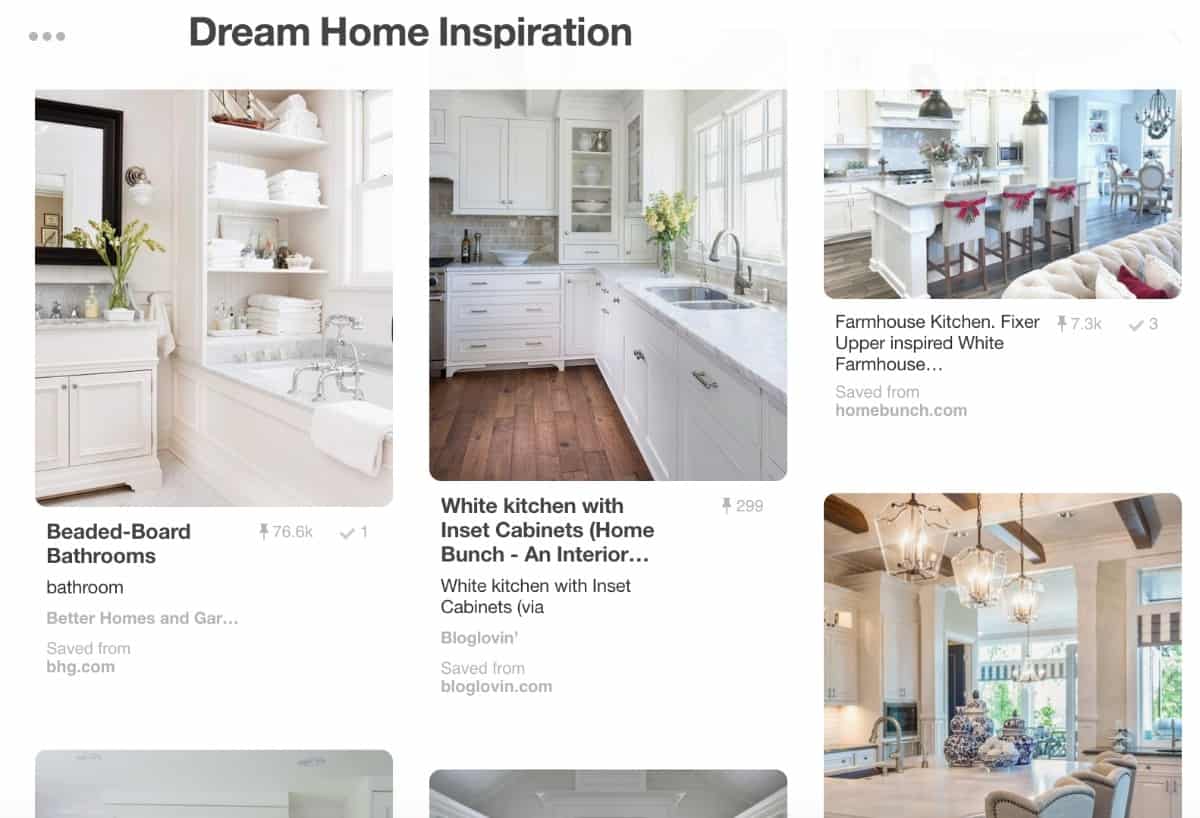 Next (and take as long as you need with this step), pin images of interiors that really speak to you. Aim for 15 – 20. ONLY pin them if you truly love the image. If you only love a particular element (for example, the style or color of rug), note that in the pin description.
3. Analyze the Images
Look back through what you've pinned and delete anything that you don't really love. Be brutal here. This is not a time for wishy washy. If you only like an element of an image, make sure that's noted.
Here's where we start analyzing what you've pinned. I want you to pay particular attention to:
The colors you are drawn to (neutrals, brights, darker colors, etc.)
Types of furniture (mid century, traditional, modern, farmhouse, etc.)
The mood/atmosphere/feeling the images evoke (casual, relaxed, moody, happy, spa-like, dramatic, etc.)
Finally look at the accessories and other details. Do you like lots of pops of color by using throw pillows, art, etc? Is there a lot of wood tones? Lots of soft furnishings? Maybe you prefer the minimal look?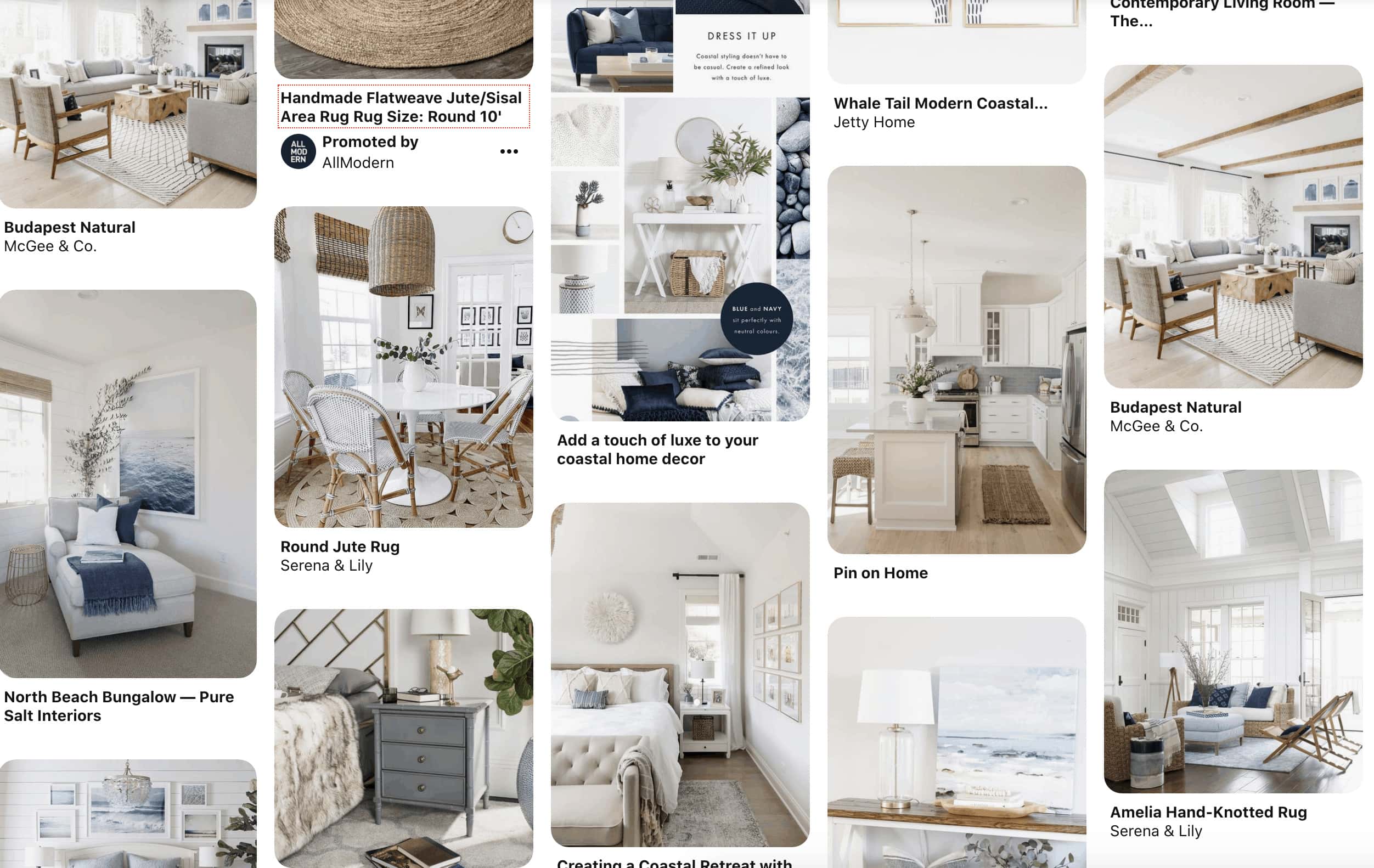 If you were to analyze my board, you'd see that I'm drawn to:
Light, bright and airy feeling.
Neutrals with lots of blue accessories.
Modern coastal farmhouse style furniture in light wood tones or painted white.
A casual, livable vibe.
An uncluttered look, with throw pillows and blankets for color and texture. Plants and wood toned objects as decor. Lots of family photos on the walls.
Simple, clean fabrics with minimal prints.
Light colored walls paired with wainscoting or other wall treatments.
Describe Your Style in Your Own Words
Once you've analyzed all these elements, try to describe your style in 1 – 2 sentences.
Don't worry about putting yourself in a box. You don't have to be strictly "farmhouse" or "modern". You can certainly be a mixture of a few different design styles. Each of us is unique, and so is how we decorate.
For instance, I would describe my style as new traditional (or transitional) with a touch of coastal farmhouse. I like clean lines and symmetry, and I prefer neutrals like grays, blues and creams. Overall the atmosphere I'm drawn to is clean and uncluttered, yet casual.
Why Defining Your Style is Important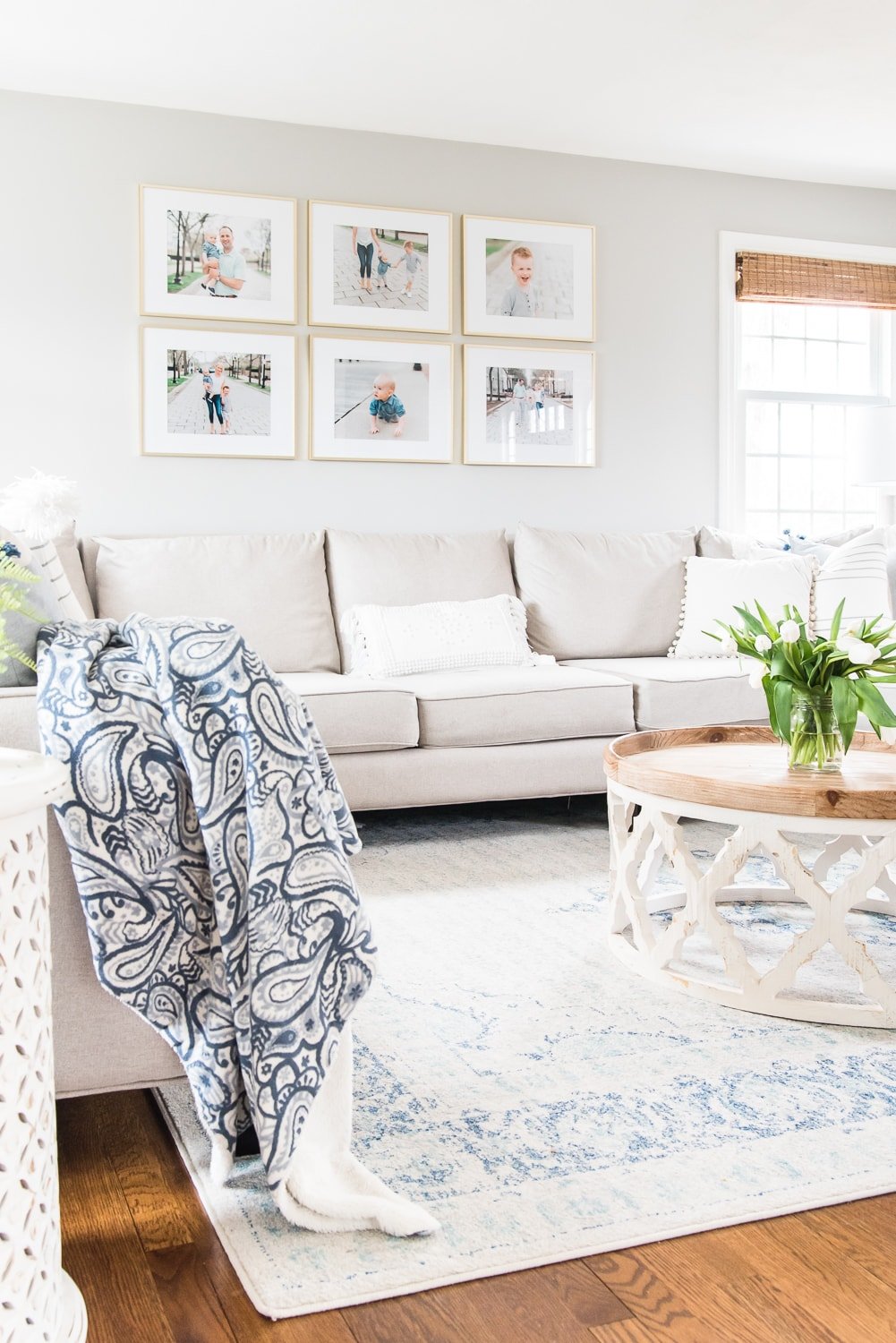 Once you understand your decorating style, it's so much easier to shop for items for your home.
You won't have to second guess whether something will work, or whether the colors will match.
As you become comfortable with your personal design choices, you'll instinctively know what will work and what won't. You'll be well on your way to creating a cohesive home, and you won't constantly be purchasing items that you'll never use, thus saving money (or at least saving a whole lots of returns!) in the long run.
That's not to say that your decorating style won't evolve over time. It more than likely will. Are you the same person now as you were 10 years ago? To some degree, yes, but I bet certain aspects of you have changed.
The same goes for how you decorate. At this stage of my life, I prefer lighter, airier colors. 5 years ago, I wanted brighter, more saturated colors. Maybe in the future that will be my preference again, who knows!
Final Thoughts
I hope you enjoyed this exercise and have some clarity on your personal decorating style.
As a note of caution, don't overthink words and labels. You don't need to know what "transitional" or "boho" means to have a true understanding of what your decorating style is.
Keep your Pinterest board as a reference point to go back to anytime you need to go shopping. Think about what colors and items would work. If they don't fit your style – don't buy them. Period!