This post may contain affiliate links | For further details, please read our privacy policy
Why is a whole house color scheme important? Through my experience, homes that have consistency in the use of colors flow much better. If every room is a completely different color, constantly varying how bright or muted the color is, it just won't feel "right" and will certainly look like not much thought has been put into color choices.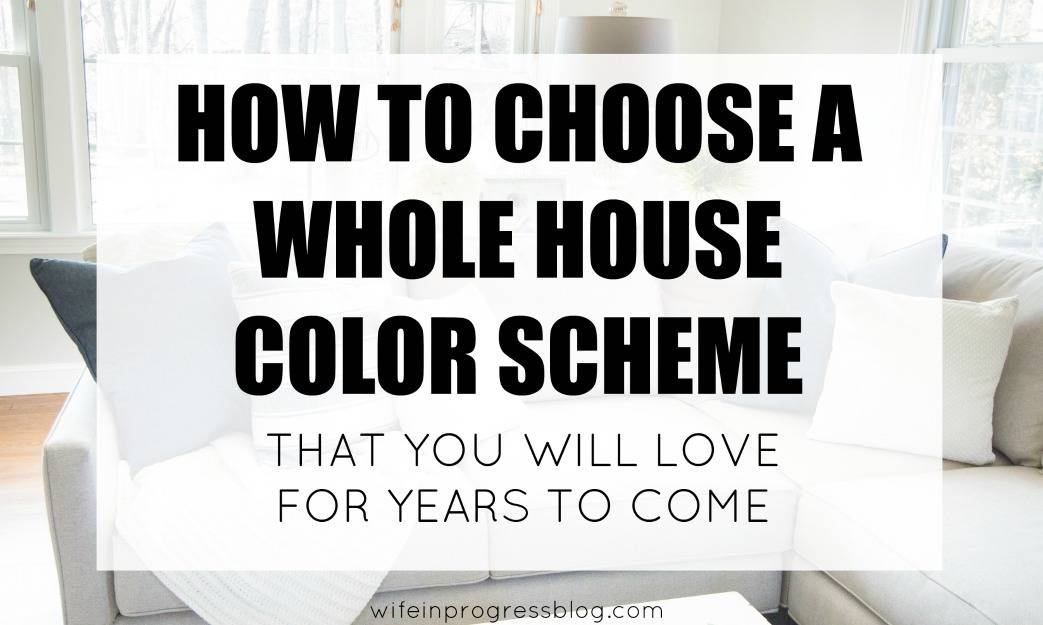 Before You Start
Decide on 2 -3 of your absolute favorite colors. If you're going to use them throughout your home, you'd better really like them! Unsure of where to start? Take a look at your closet. My closet for example, is full of blue, white and grey. I have a few bright pops of green and fuchsia but I pretty much stick to those three main colors.
Decide what mood you want to convey throughout your home. Relaxed, dramatic, romantic, etc. This will help guide you in terms of color saturation (how intense/bright the color is) and how much of it you use.
Types of Color Schemes
Monochromatic – A monochromatic color scheme is one where different shades of one color are used. For example using different shades of blue, ranging from pale to navy.
Analogous – An analogous color scheme is one where you use colors that fall next to each other on the color wheel. For example, using green and blue.
Complementary – Complementary colors are positioned opposite each other on the color wheel. Every primary color has a complement that creates a vibrant contrast.
Picking Your Whole House Color Scheme
If you are lucky enough to be starting from scratch, then your walls are the first consideration. The biggest mistake I made when decorating my first home was painting every room a completely different color. Think gray in one room, green in the next, and yet even pink in another! Yikes!
If you like to change up your decor frequently then it is especially important that you keep your walls a light neutral color. Then, any other decor or changes in color scheme are easy to work in.
If you are working with what you already have, pay attention to whatever is a permanent fixture; kitchen cabinets for example. If you have really red cherry cabinets, you're going to have to pick colors that either work with that color or tone it down.
Neutrals
When I say neutral don't immediately start thinking "beige". There's so many colors that can be a "neutral". For instance, my neutral is gray – every room in my home is some variation of gray. Whether it's a medium gray, dove gray, warm gray, cool gray or even a blue/gray – they are all neutrals.
The neutrals you will pick for you home will fall into one of two categories: warm neutrals or cool neutrals.
Warm neutrals are beige, ivory, taupe, nude, sand and blush.

Cool neutrals are white, blue and gray and they play well with more saturated versions of the same color.
Once you've chosen your neutral, pick 1-5 other colors that will act as your main accent colors and (optionally) one color that you will use sparingly as a saturated "pop" of color.
Example of My Whole House Color Scheme
Blue is my absolutely favorite color. I've always been drawn to blue and I know I will never tire of it.
However, I love blue decor (throw pillows, vases, etc. etc.). I don't really want all the walls in my home to be blue. So instead, I chose an accent of gray which works with pretty much any color scheme. In this case, a neutral of white or cream would work equally well on the walls in my home.
My accent colors are varying hues of blue, gray, cream, white and beige – a color scheme that is both modern, bright and casual. I also like to sparingly use a saturated pop of color, which is usually green.
This color scheme falls into the analogous category, since yellow (cream), green and blue are next to each other on the color wheel.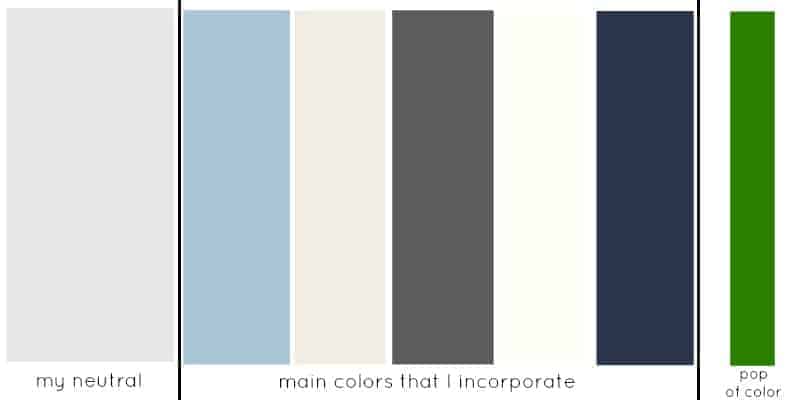 This color scheme looks slightly different in every room of my house, but I stick to these colors for the most part. I don't always use green as my pop of color and sometimes I don't have any majorly saturated pop of color at all.
Let's see how these colors translate in my living room…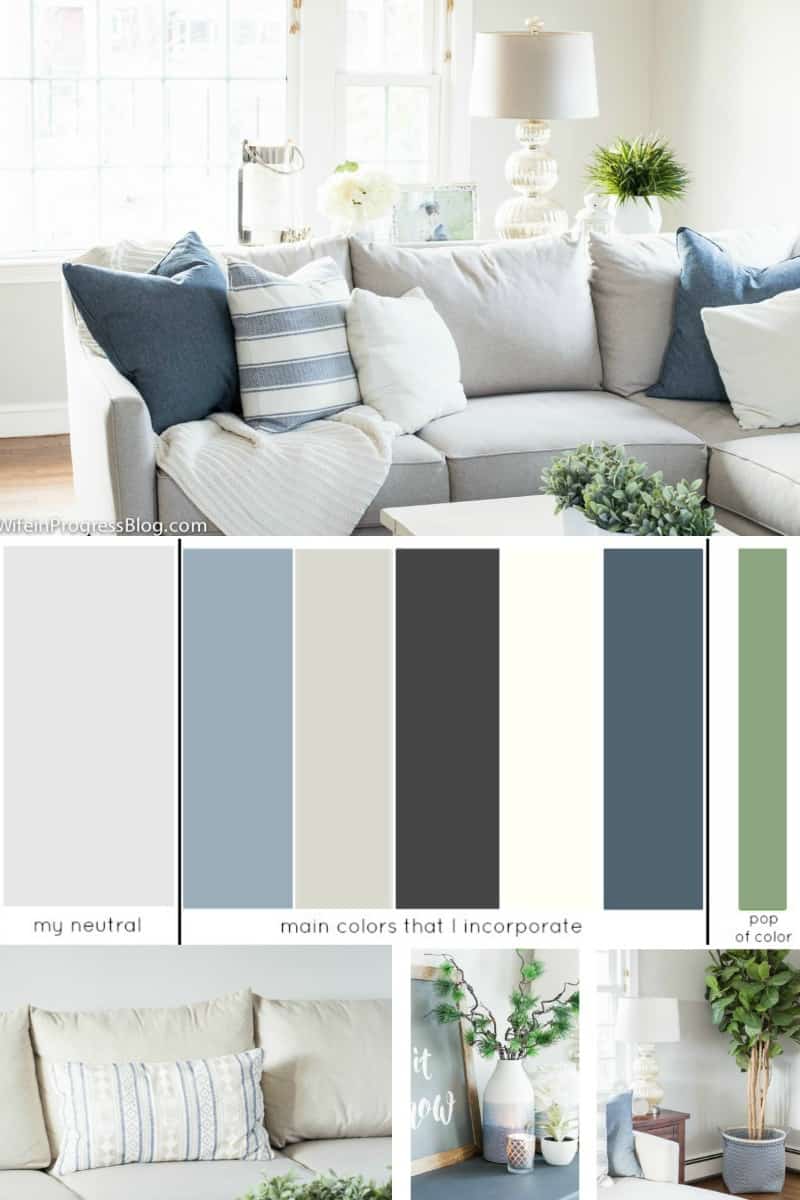 The shades used in the living room, while completely adhering to my color palette, are more muted and not as saturated as some other parts of the house. The muted/softened versions of the colors create a really bright and casual feeling to the space.
Again, the same color scheme is used in the basement (see the full reveal here!) but using slightly different shades of the same colors. There's less emphasis on the lighter colors here and more emphasis on navy and heavy use of dark woods.
Instead of the green pop of color, I've chosen to accent with lots of gold (the rest of the house mostly has cool silver touches).
Because this is an entirely different floor (or if it was an enclosed room), you can get away with switching up the colors a bit more, while retaining the same overall aesthetic as the rest of the house.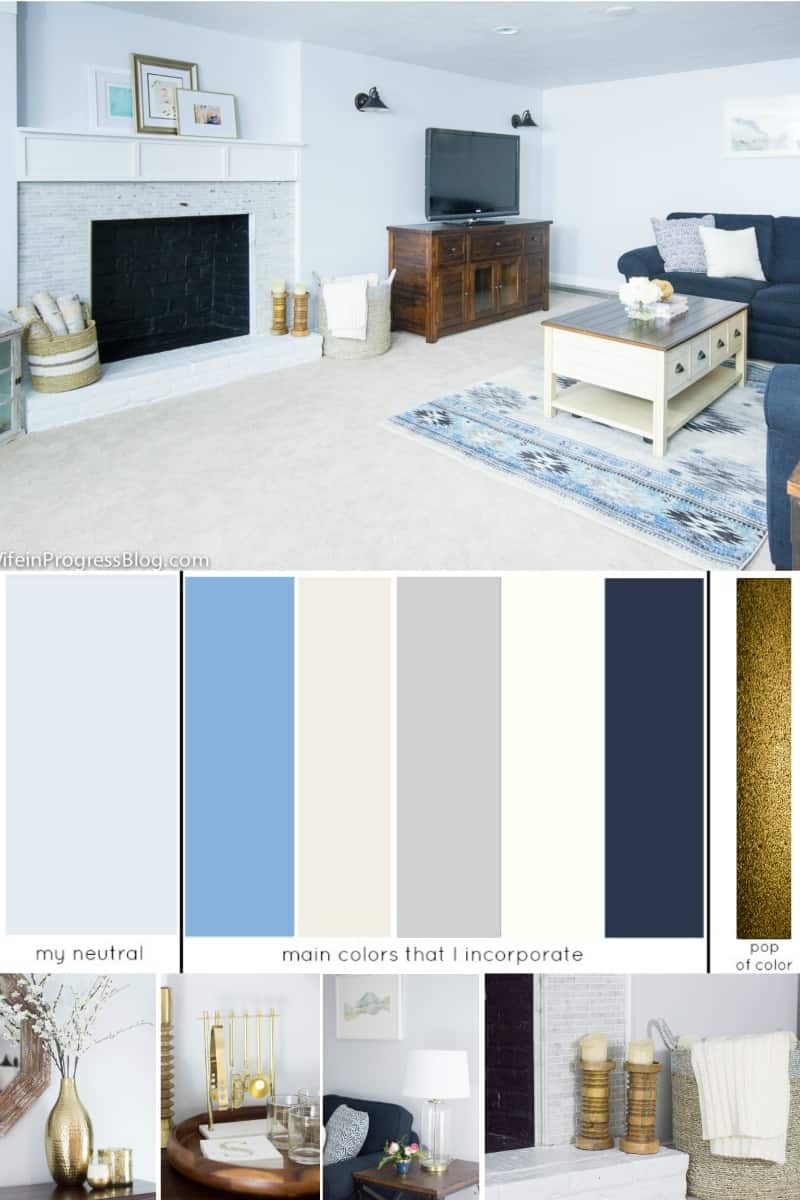 Because I am so confident in my color scheme, I had no reservations purchasing a navy blue couch for this space.
I know I will love it for years to come and that my colors will always work with it.
If you're unsure, I always suggest picking a neutral shade for your couch. It's such a big purchase! Stick to beiges, creams, off-whites, light grays (or even mid tone grays) for colors that will work with pretty much any color scheme.
Take Aways
Use colors you love
Repeat these colors (or at least one color) throughout your home to help create a sense of flow
If you find you like to change colors frequently, keep major elements like walls and couches neutral so that they will work with everything.
[jkah-related title="other posts you may like" posts="24189,14973,7986,23147″]
Frequently Asked Questions
Can I paint my whole house just one color?
Absolutely! Pick a light neutral color with minimal undertones so that you know it will work in every room of your house.
Can my trim be different colors?
It can, but I don't recommend it as a general rule. Pick a shade of white that works well for trim and casings, and use it everywhere.
Can my "pop of color" change?
Yes! This is why it's an accent color and not the main color on your walls! Using this pop of color sparingly makes it more effective in your decor but it also makes it easy to switch it out!
Final Thoughts
I hope this has been helpful to you! There's so much great inspiration out there to help you refine your color palette, so don't be afraid to hit up Pinterest or Google for inspiration.
Found a room that really speaks to you? Copy the color palette! Imitation is the sincerest form of flattery after all :-)