Kitchen counter stools or chairs can be a major focal point in the design of a kitchen. I know for me, I knew exactly what chairs I wanted for my island even before I had chosen the color I wanted for my cabinets!
The right kitchen island chairs can transform even the most basic and utilitarian island into the perfect gathering spot.
However, choosing kitchen counter stools isn't as simple as just picking your favorite. So today I'm sharing some tips on how to choose the best chairs or stools that will work for your kitchen island, with beautiful designs for every budget.
My Favorite Kitchen Counter Stools and Chairs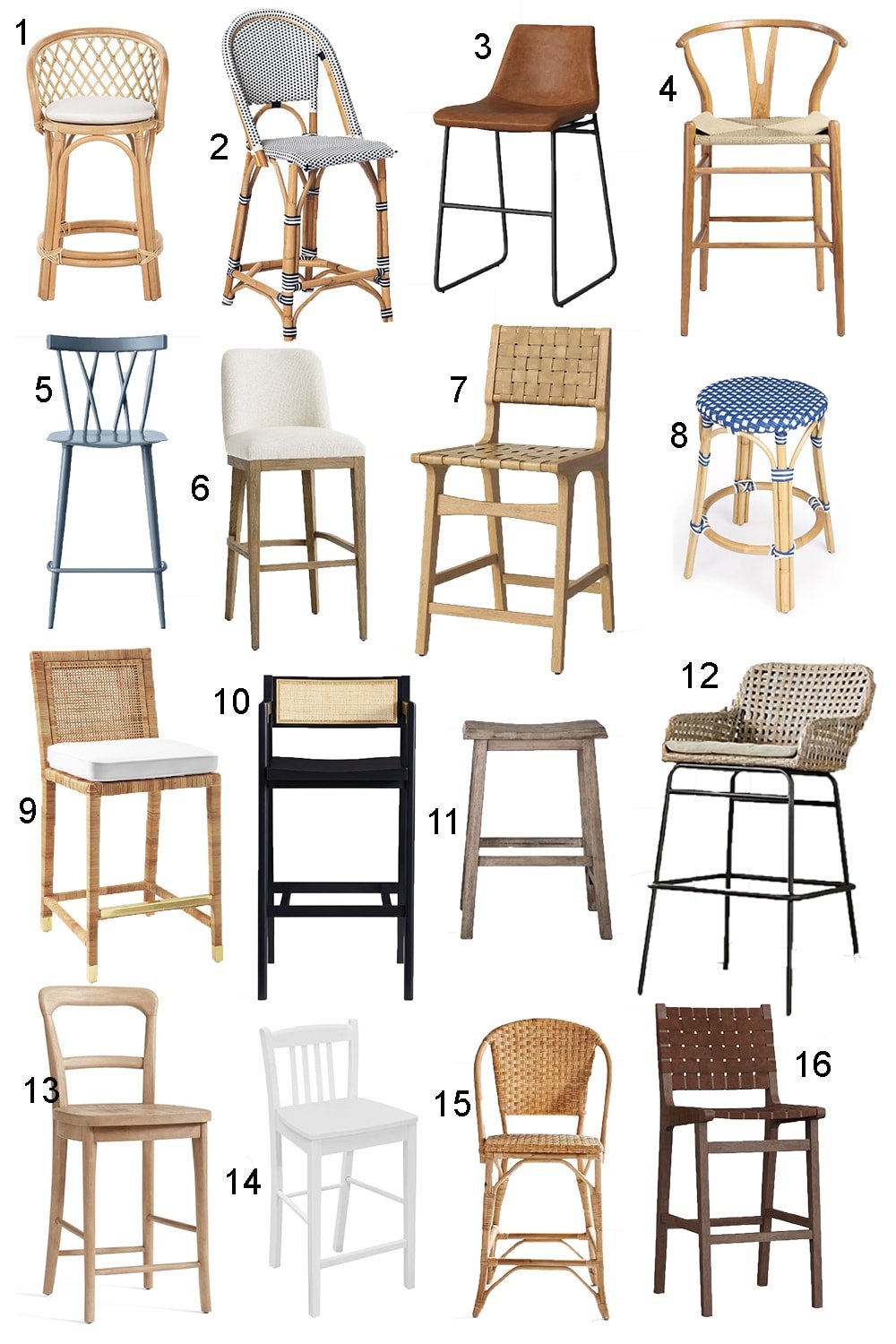 Most of the pictured counter stools are available as kitchen island chairs or as a barstool.
Bar Stools vs Counter Stools
Not sure which size you should get?
Counter stools vary in height from 24-26 inches, which is the appropriate height for standard counter height of 35 or 36 inches. I know what you're thinking – why are they not a standard height? I don't know, but I wish everything was a standard height because it would make decisions a lot easier!
Bar stools on the other hand, are much taller at about 28 to 30 inches, to fit comfortable at a bar that's 40 to 42 inches off the ground.
Counter Stool Width
Whether you're looking to purchase a chair or a stool for your island, the width greatly varies, anywhere from 18 to 24 inches wide is pretty standard. It's really important to know the measurements of your island before purchasing your favorite chairs because you don't want them all squished together. Ideally, you'll want about 8-10 inches between chairs or stools so that they can easily be pulled out for people to comfortably get in and out.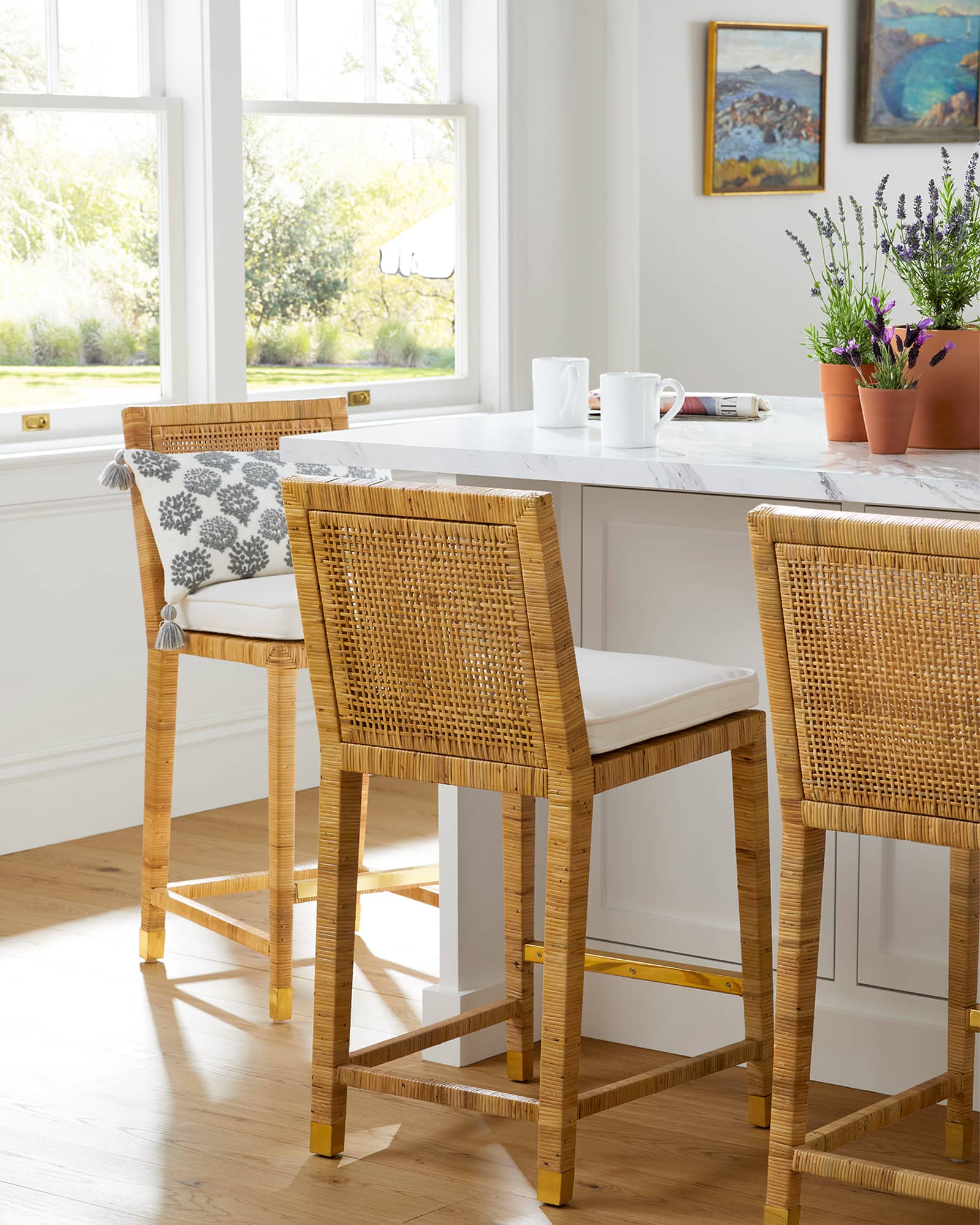 The chairs that I chose for my island, the Serena & Lily Balboa Counter Stools (number 9 in the above image) are on the narrower end, at 18 inches. This will allow for 3 chairs across my 90 inch kitchen island, with plenty of space on each side for maneuverability and ease of access to the island.
They Should Be Part of Your Kitchen Design
Your choice of counter stools should be an intentional part of your design. For my mostly white kitchen, it was important for me to bring in warmth through natural wood tones and brass. The rattan of the Balboa Counter Stools has both, so they were an instant winner for me.
If you want a more traditional look, you may consider a painted or upholstered chair. If you like to tie in a modern look, the leather or woven leather is a great look. Natural wood is perfect for a farmhouse style kitchen, and the rattan and woven Parisian style chairs and stools have a coastal vibe.
Other Considerations Before Purchasing
Think about what you're going to be using the kitchen island for, and who will be sitting there the most. If you have little kids, backless stools will not be ideal. Chairs with a back and maybe even sides would be a better option. Likewise if you have older kids doing homework at the island or you think you may use it as a workspace.
Don't forget to think about the materials of the chairs, too. I made sure to get chair cushions that are stain resistant (little kids!). If your kids are particularly messy, you may need to forego cushions altogether and opt for wipeable painted wood chairs (like #5 or #14 above).
Other Posts You'll Enjoy