As part of our upcoming kitchen remodel, we will be eliminating our current formal dining room, and converting it into two rooms – a walk-in pantry and an office. We will also be opening up the wall between our kitchen and current office, to make way for a more open floor plan and eating area.
Initially, we had planned on bumping out the new kitchen space into the backyard, since it's quite narrow. But after getting several quotes, and doing the math, the return on investment just wasn't there for us. We're still not sure if this is our forever home, so we don't want to risk losing money on it if we were to sell in the future.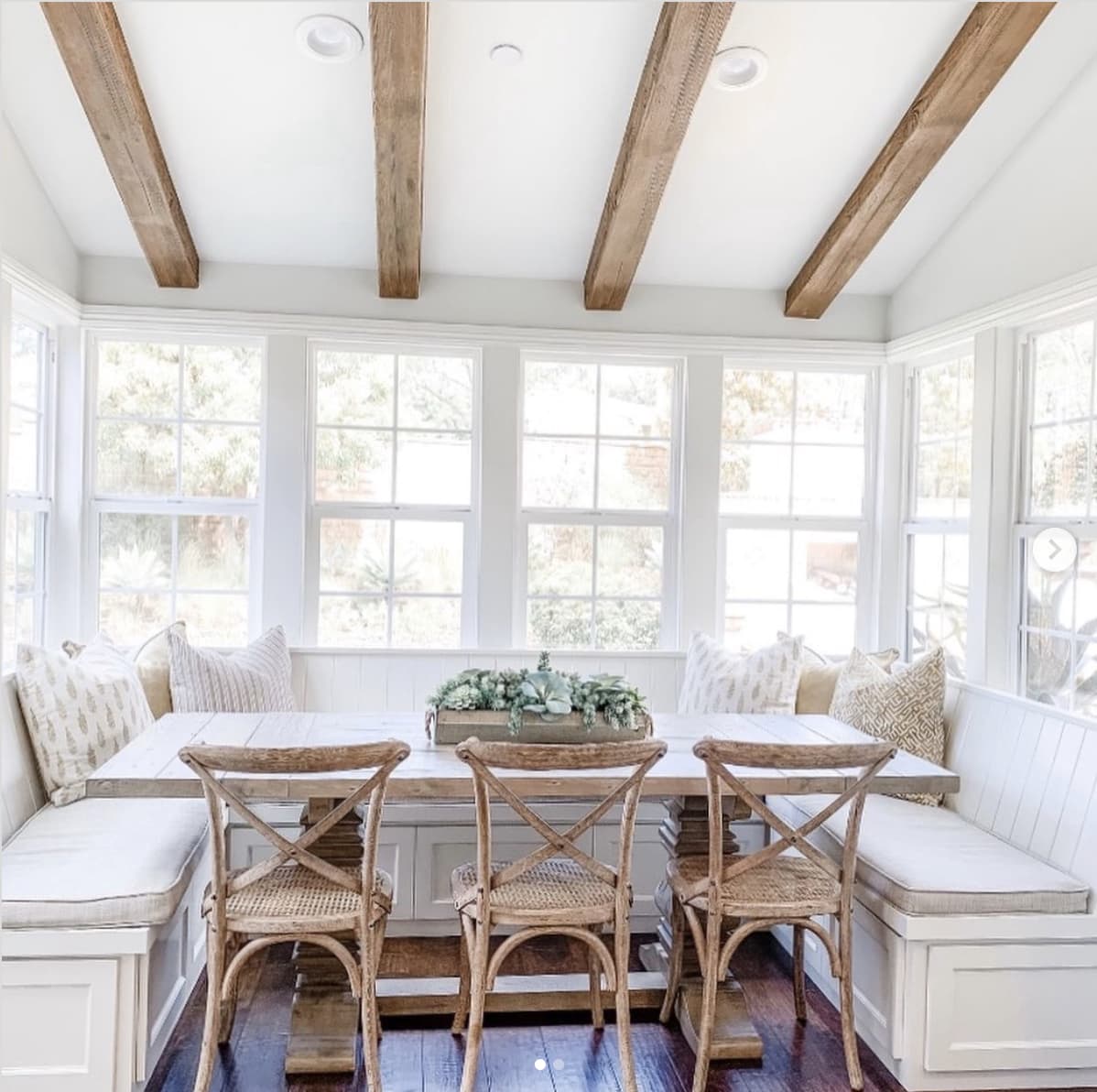 Demo has not started yet, so I'm still trying to figure out exactly how I want this new breakfast nook/kitchen nook to look. It will become our main area for eating dinner and probably weekend breakfasts. And of course, hosting during the holidays! I'm thinking our new kitchen island will mostly be used for snacks and lunch. But I guess time will tell!
Since we won't have a formal dining room anymore – or the space required for a large dining table – I'm going to have to get creative when we have guests over. For now, we are keeping our 5-foot kitchen table (I've already sold our dining room table) and can add leafs when necessary for guests.
My initial vision for this space included a large round pedestal table, floor to ceiling windows and a show-stopping light fixture.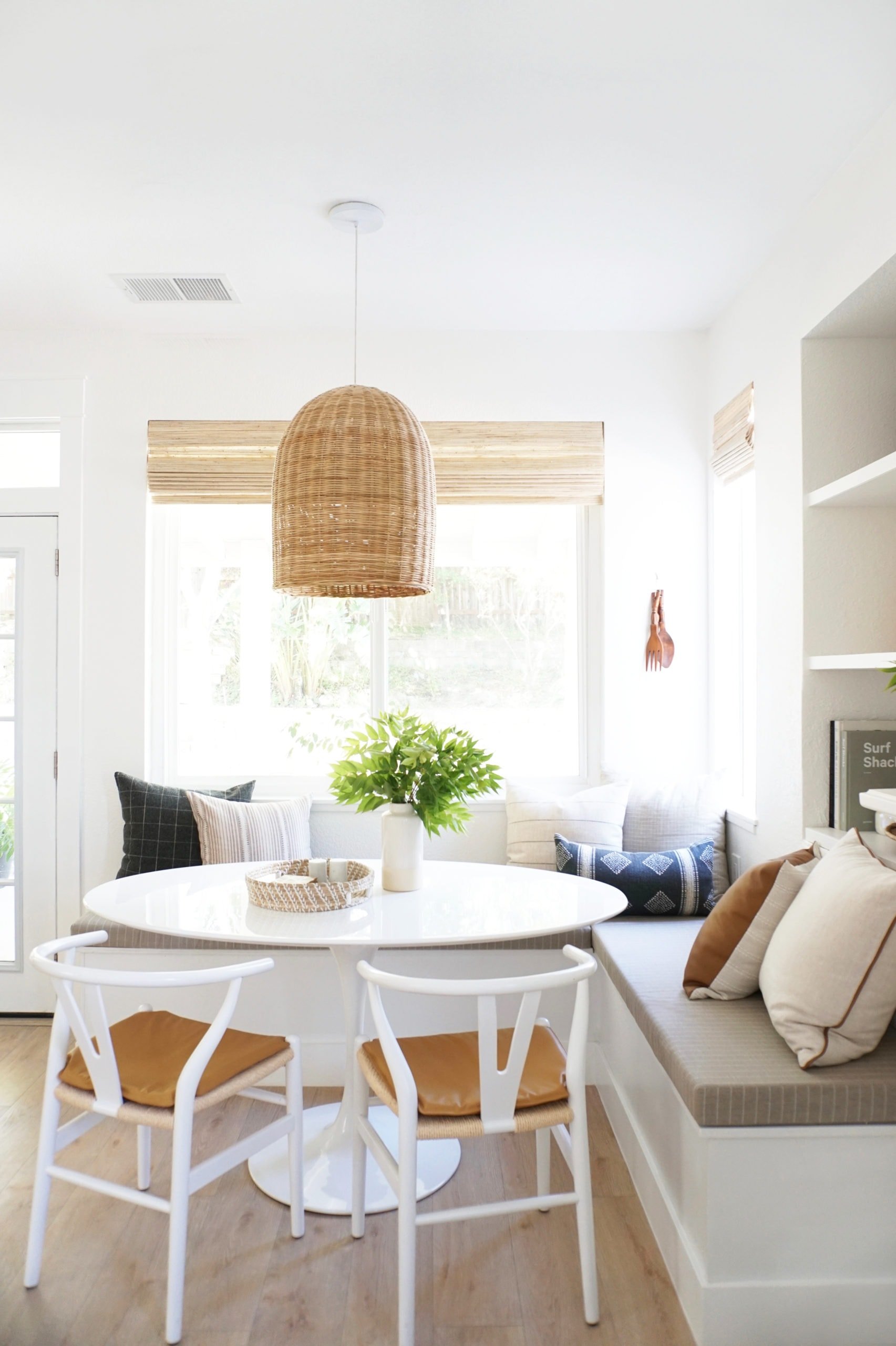 I love this style of breakfast nook above but I'm not sure how well the cushioned seating would hold up to my three little boys. I spend most of my days wiping down chairs and tables, and I don't want to worry about them destroying fabric. Plus, this is definitely more of a casual space than somewhere we could host a full Christmas dinner.
Then I fell in love with this framed breakfast nook with rustic beams from The Lilypad Cottage. She does, however, have a full dining room set up on the other side of her kitchen. I will only have the one space.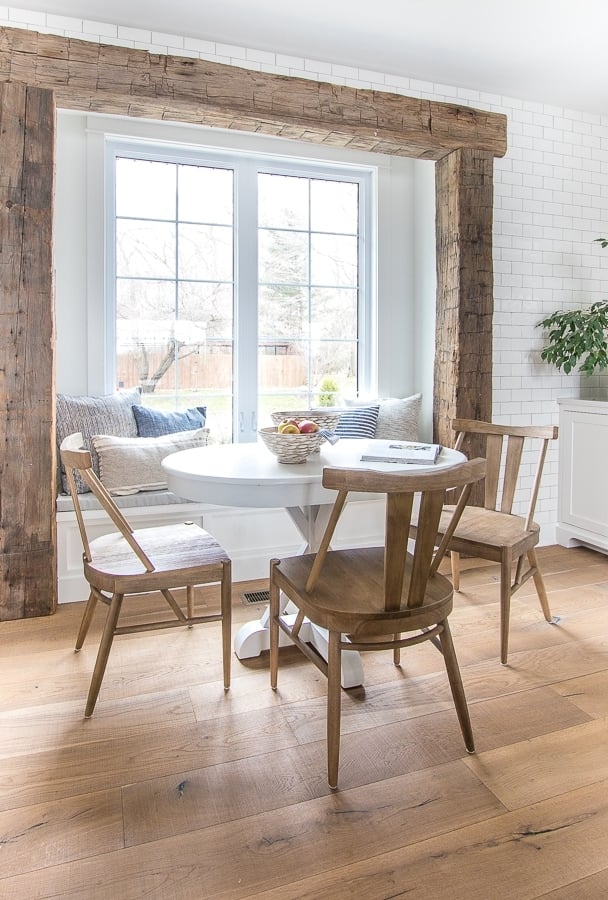 Of course budget realities set in, and my dreams of replacing our perfectly good windows went – well, out the window. I still love the idea of a round pedestal table, but it's probably not ideal for guests, so we are going to work with our current rectangular table and see how that works.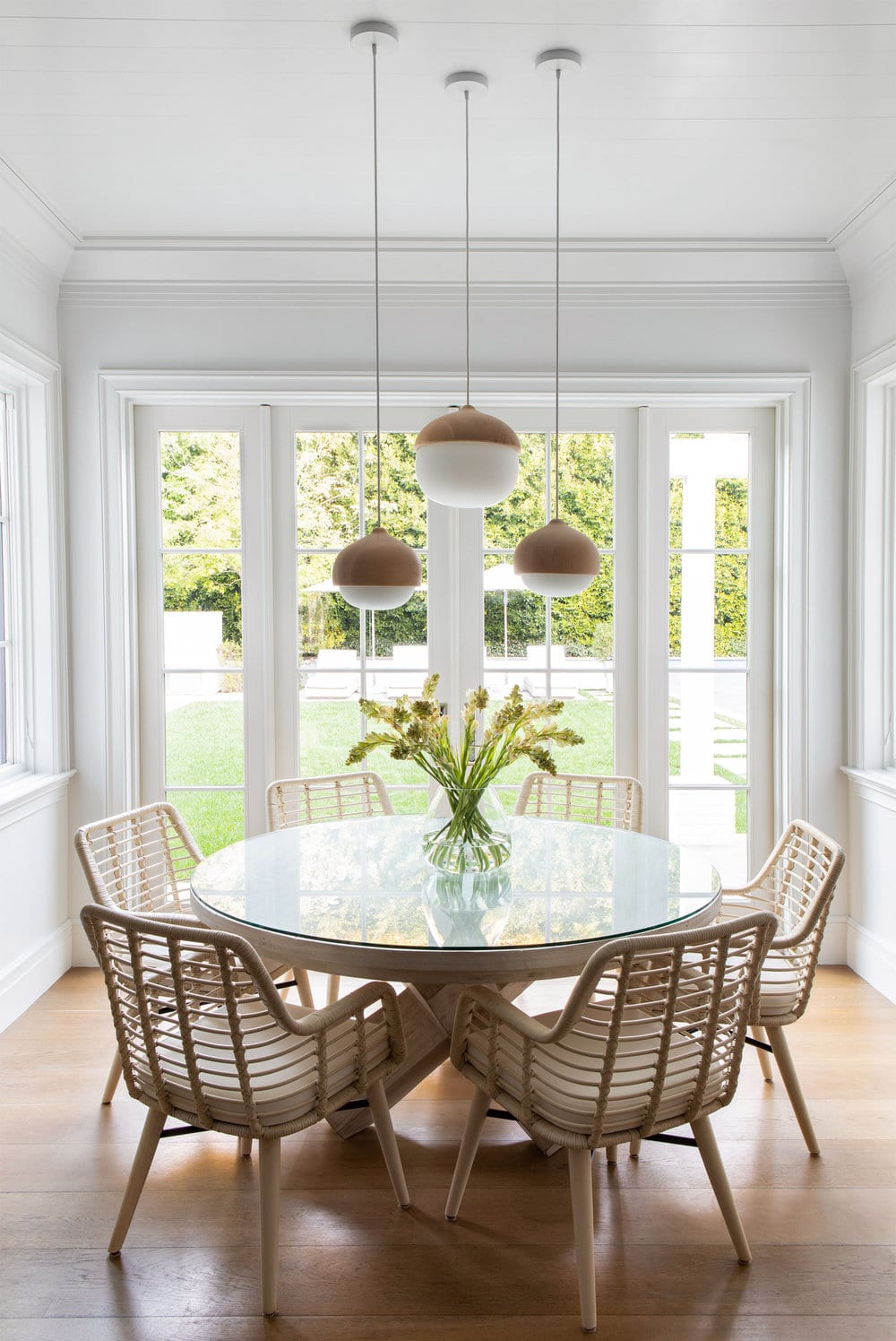 The following two inspiration images are more realistic with how our final design will probably look, albeit we'll have a smaller table (I think).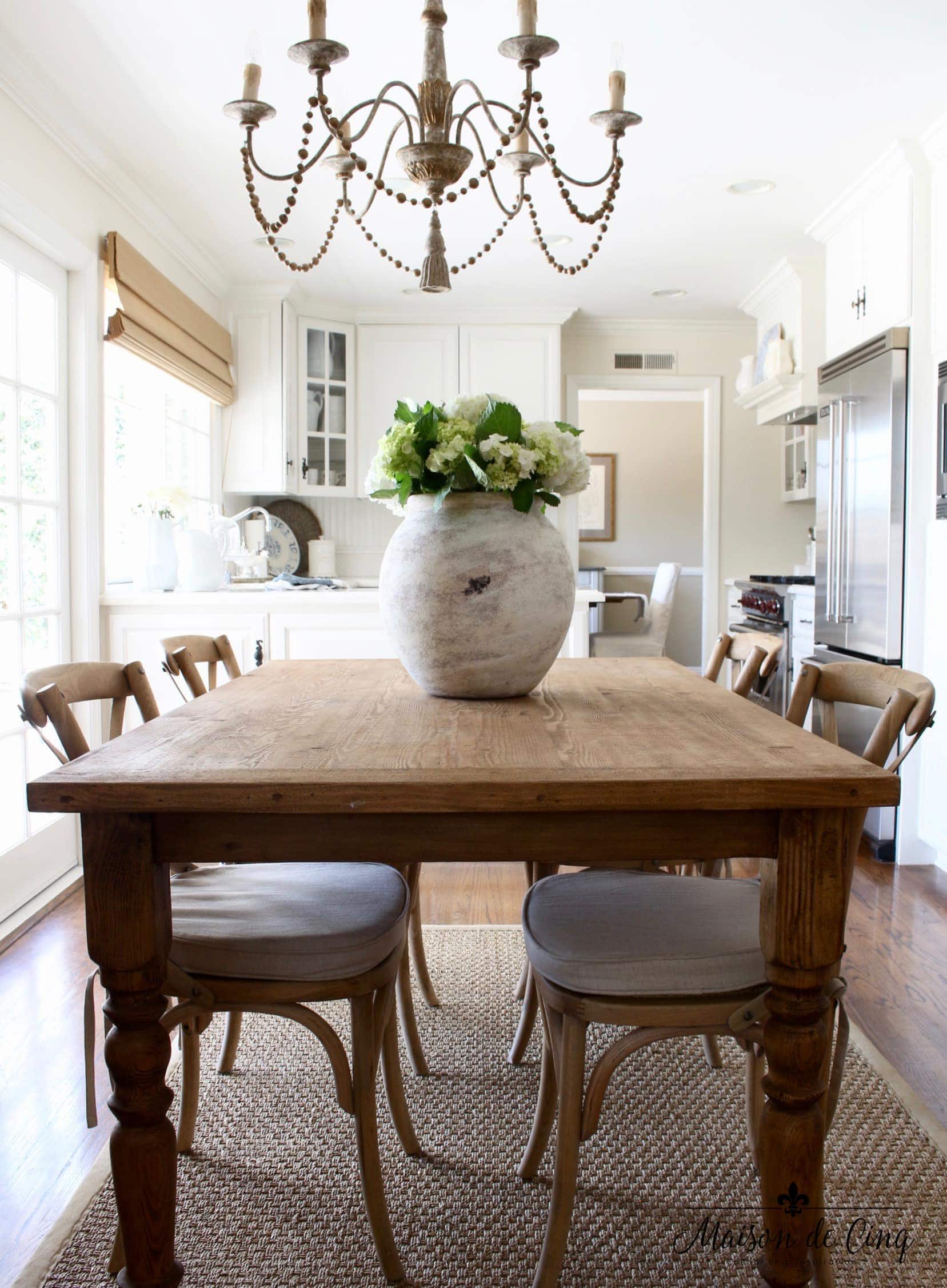 I love how Michael from Inspired by Charm oriented his dining room table. It's directly off his kitchen, like mine will be, and similar to how we will have to place our table to make the most of our space.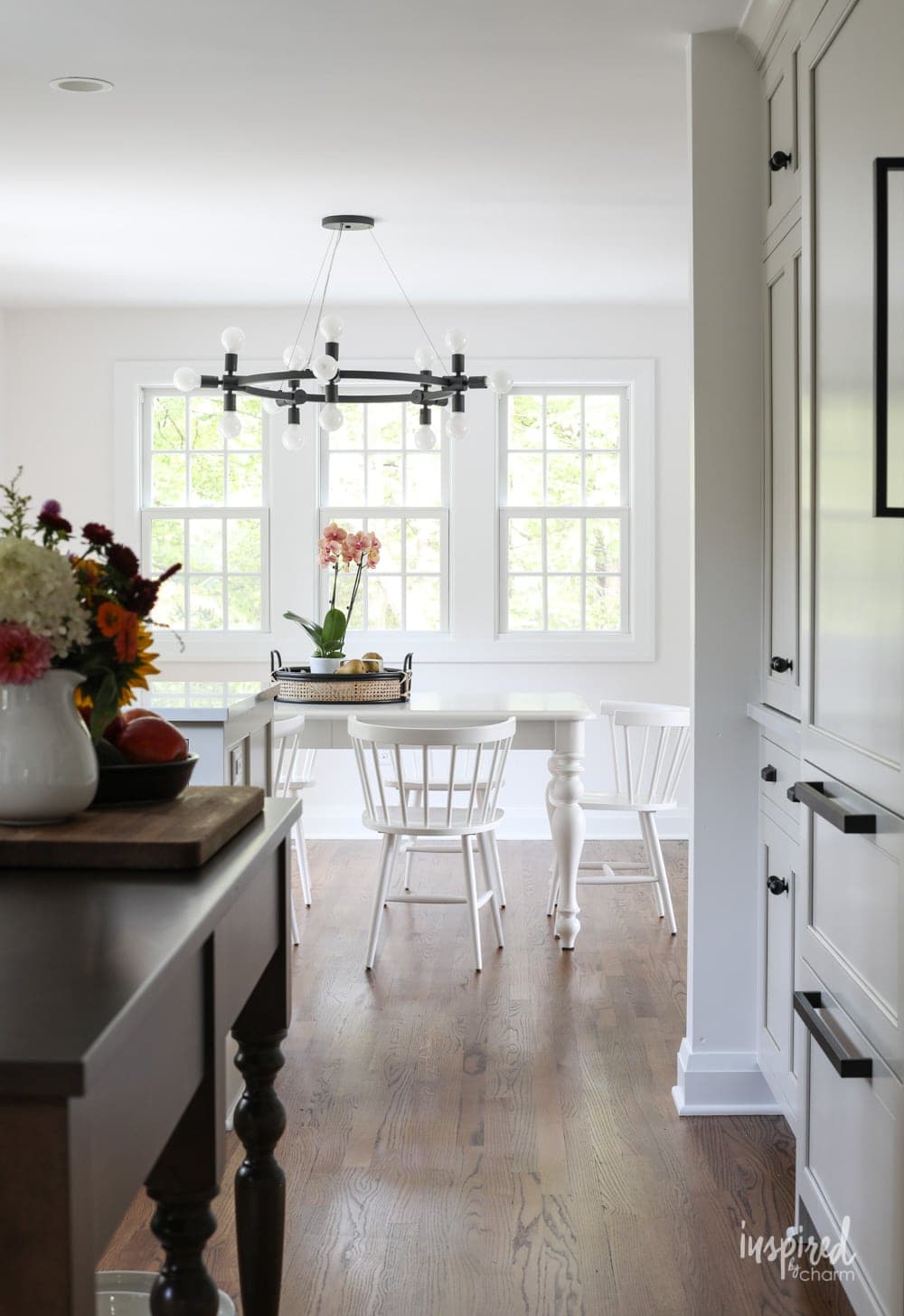 I'm excited for demo to begin in the next month or so! I know once the walls are opening up I will be able to get a better idea of how to space will be able to function for us. I'm sure no matter what, it will be beautiful and we are so thankful that we can even afford to do this remodel!