These gorgeous, custom and DIY-ed coffee bar ideas for the kitchen, are sure to add some character to your space.
They are a fun way to elevate your morning coffee routine, and create a fun and cozy space to start or end your day.
Not only will an at home coffee station add convenience to your morning brewing routine, but it can also become a focal point in your kitchen.
Tips for Setting Up a Coffee Bar
Select the Right Location
Even if you don't have much room in your kitchen, a simple countertop corner can create the perfect location to set up coffee station. You can also use existing cabinetry, an open wall space near your kitchen with a console table or bar cart, or if your budget allows, create a custom nook. No matter where you decide to add your coffee station, remember to keep the area close to an outlet for your coffee maker.
Organization is Key
Your morning routine is already busy enough, so making sure your coffee area is organized can make a huge difference for getting your day started smoothly. Be sure to make the most of your space by keeping everything neat and orderly.
Incorporate Storage
One way to keep your coffee station organized is by adding different storage solutions like baskets, containers, and drawers. Keep your coffee grounds in a pretty canister, or your pods in a basket. Utilize drawers if you have them and neatly organize napkins, spoons, and other small accessories. This will help ensure your coffee bar remains visually pleasing!
Color Scheme and Theme
For a more cohesive look, select colors and decor that match your existing kitchen and surrounding area. I would recommend keeping it as simple and neutral as possible, and add a personal touch through a small piece of artwork, a pop of color from your mugs, or a fun backsplash in your coffee nook.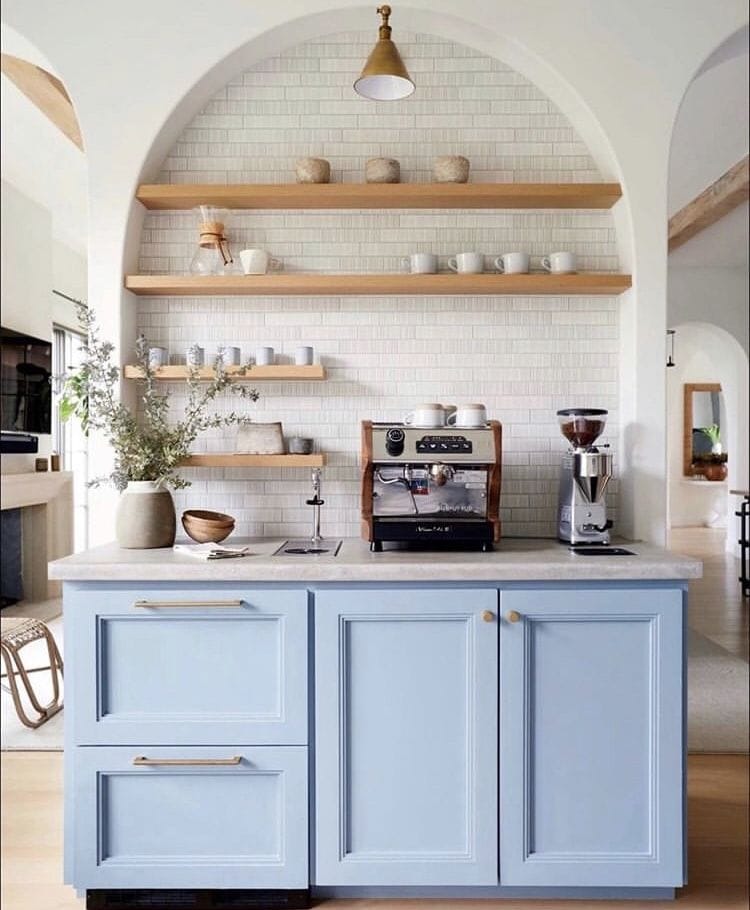 DIY Coffee Bar Ideas
If a custom coffee nook isn't in your budget, no problem! Easily create the perfect brewing station by repurposing furniture you may already have, like a console or buffet table. As mentioned before, even carving out a small corner on your kitchen counter works perfectly. Just add a tray, some small storage containers, and you have a fun spot to serve up your morning cup of joe.
Coffee Bar Decor Ideas
I would recommend keeping the decor simple since you don't want to clutter the space. If you're going to choose a piece of art work to display, choose one or two smaller framed pieces that compliment your home decor.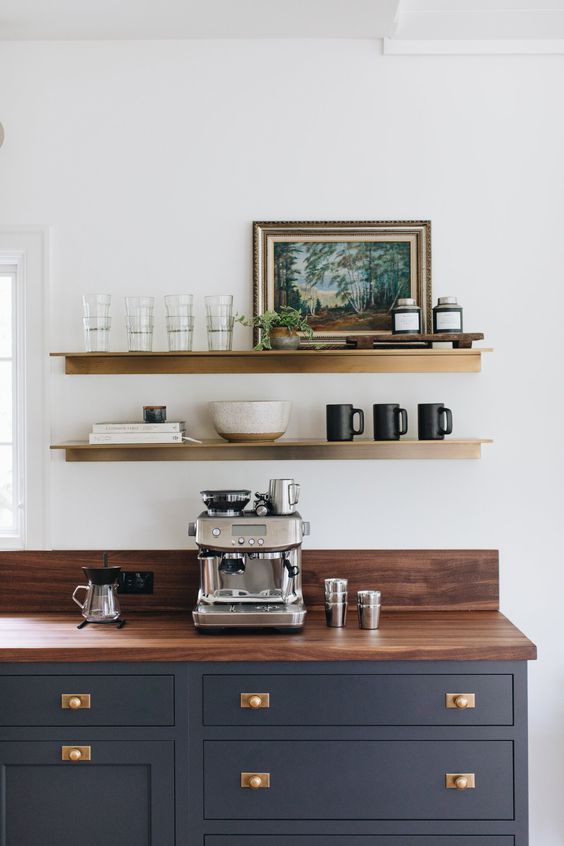 You can certainly add character and your personal touch to your coffee bar based on the coffee mugs you choose. With so many colors, sizes, and even texture, your mugs can be the main star of your brewing station.
Even the baskets and canisters you choose work as "decor", so consider all of these items when working towards a cohesive look.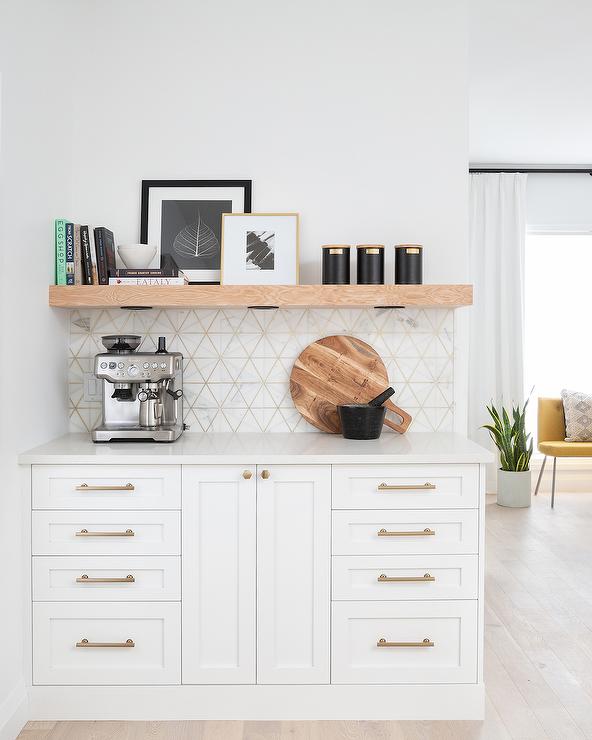 If your coffee station is close to the kitchen, tie it all together by adding a few cookbooks (maybe even coffee related), and a few other useable accessories like cutting boards and bowls.
Types of Coffee Stations
1. Counter Nook
You don't need a lot of space to create the perfect spot for your morning brew. Clear off a small corner on your kitchen counter for a simple solution.
2. Bar Cart
Not just for adult beverages, reuse a bar cart to store your coffee essentials, or combine the two for easy access to make my favorite Irish Coffee!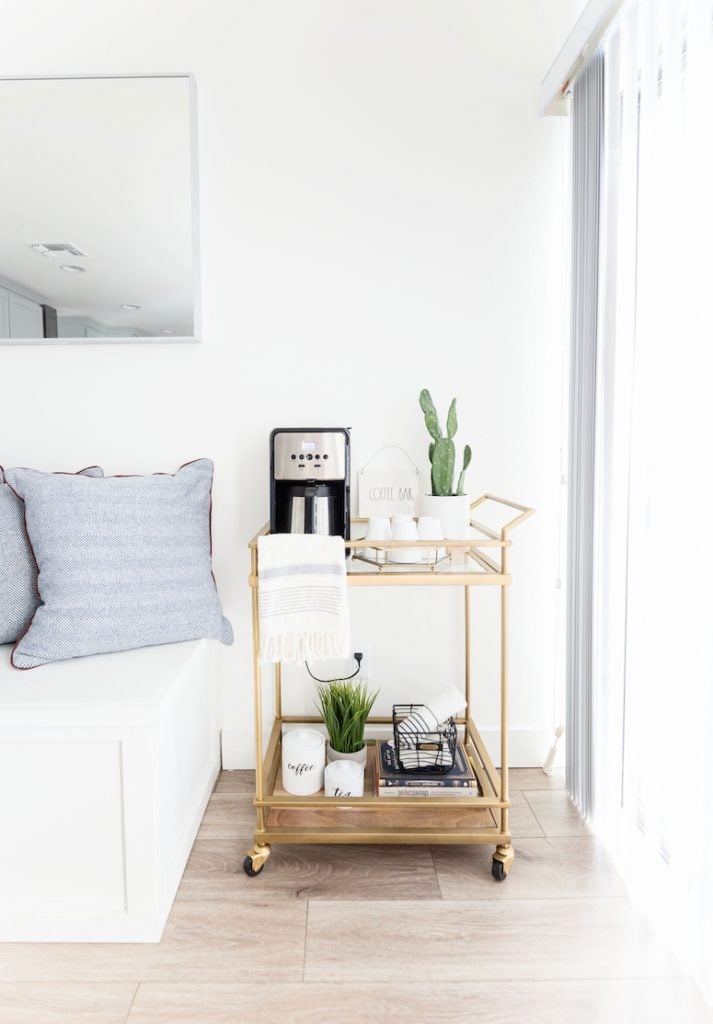 3. Side Table/Buffet
Another easy transformation for your coffee station that you probably already have!
4. Wooden Shelves
If space is an issue, use of that vertical space on a blank wall by adding some floating shelves to house your mugs and accessories.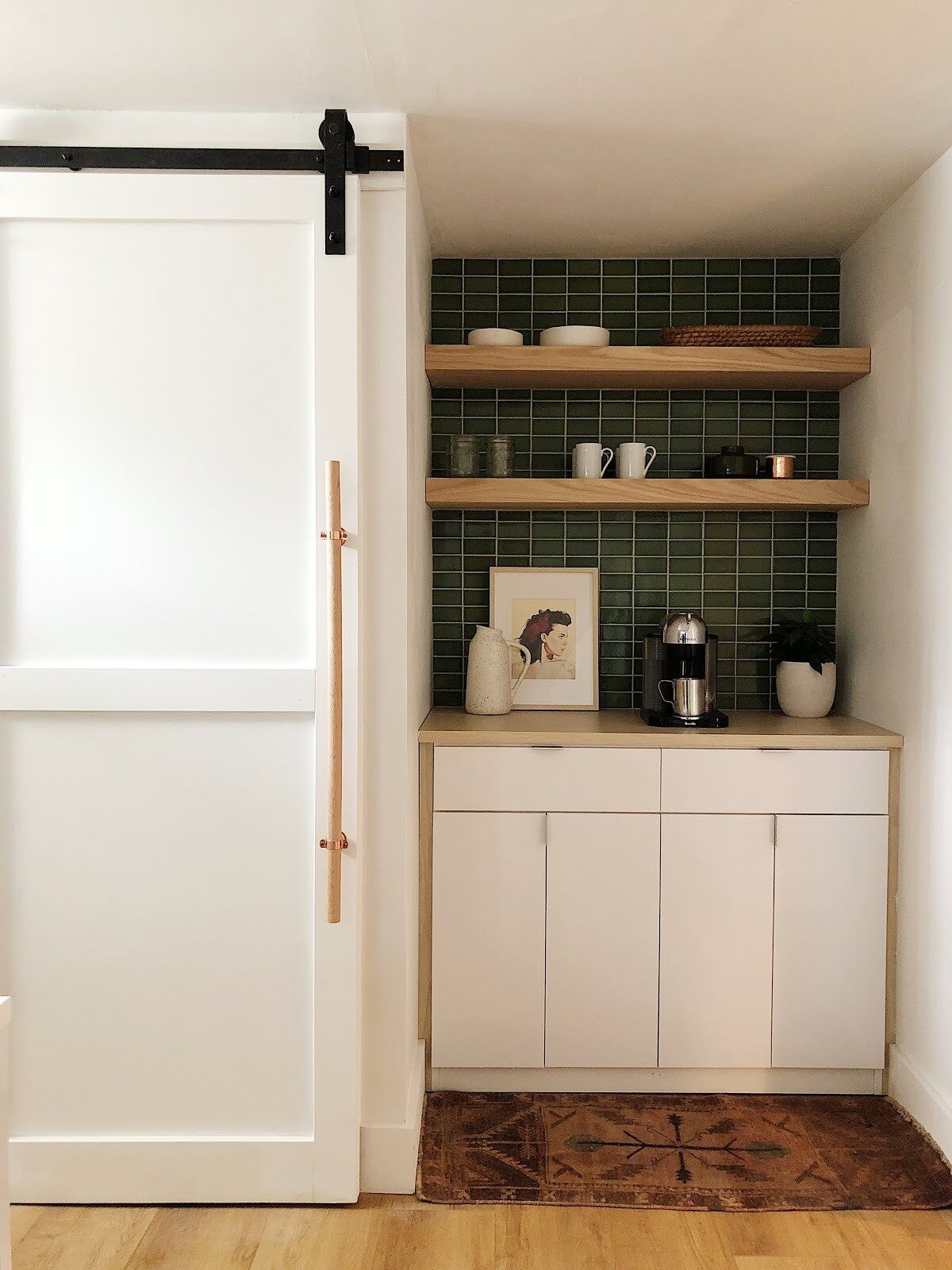 5. Old Dresser/Old Furniture Piece
Upcycle furniture you already have or search for a good deal at a thrift store or garage sale. A little paint will go a long way.
6. Built-in Kitchen Cabinet
Whether you create a custom built-in coffee station cabinet or use a cabinet that isn't getting much use, this is the perfect space for your coffee bar.
7. Appliance Garage
Move the toaster to a new location and turn your appliance garage into a cute little coffee bar instead!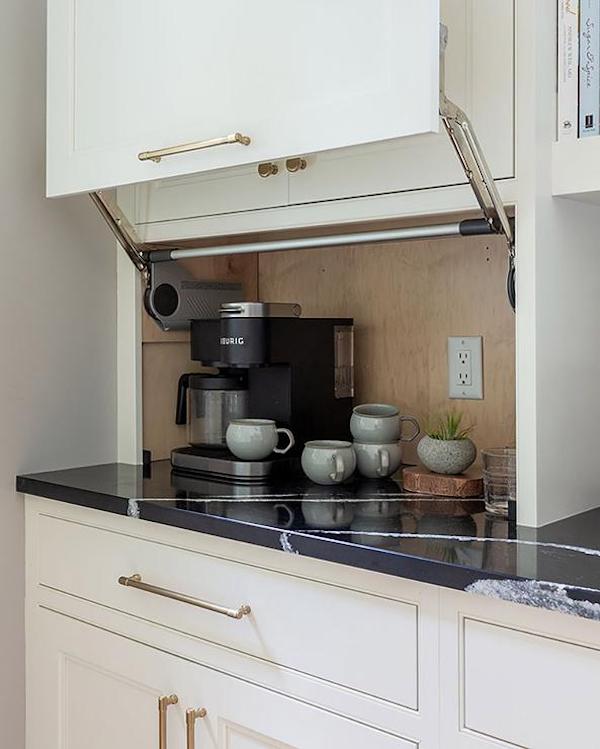 8. Built-in Bar
Whether your home already has the perfect kitchen nook, or you build a custom one, a built-in bar is a stylish way to showcase your favorite morning drink.
9. Bar Cabinet
You can pick one up rather inexpensive, or repurpose your wine cabinet into a coffee station.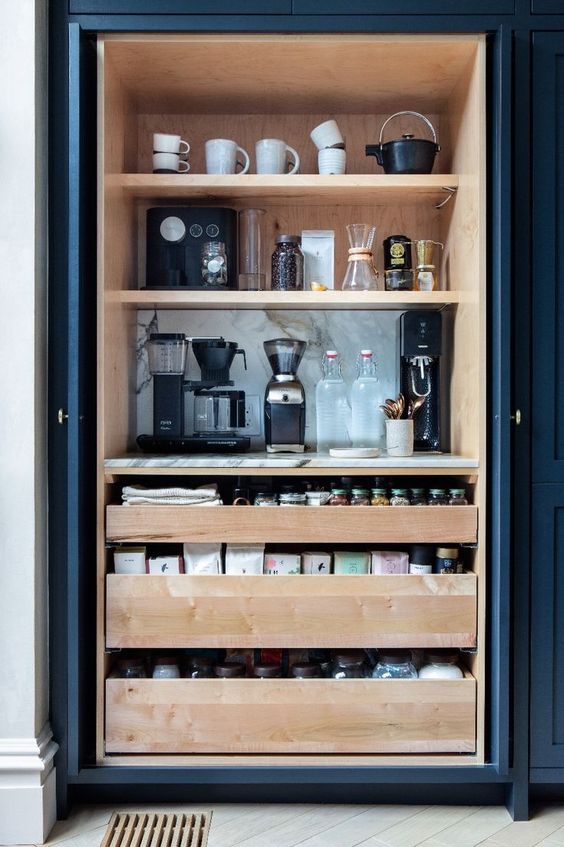 Where to Put a Coffee Station or Coffee Bar
Kitchen: The most popular and convenient location to put your coffee station is in the kitchen so that your morning breakfast routine flows smoothly. Consider using a corner of your countertop, appliance garage, cabinet, or open shelving.
Home Office: For those that work from home, having your coffee in the same room can help you stay caffeinated all day! This would be a great place to have a bar cart, old furniture piece, or a bar cabinet.
Dining Room/Living Room: If you like to entertain, the dining room or living room is the perfect place for a coffee station. It provides a convenient location to offer your guest an espresso or tea after their meal. The use of a buffet table or bar cart would work nicely here.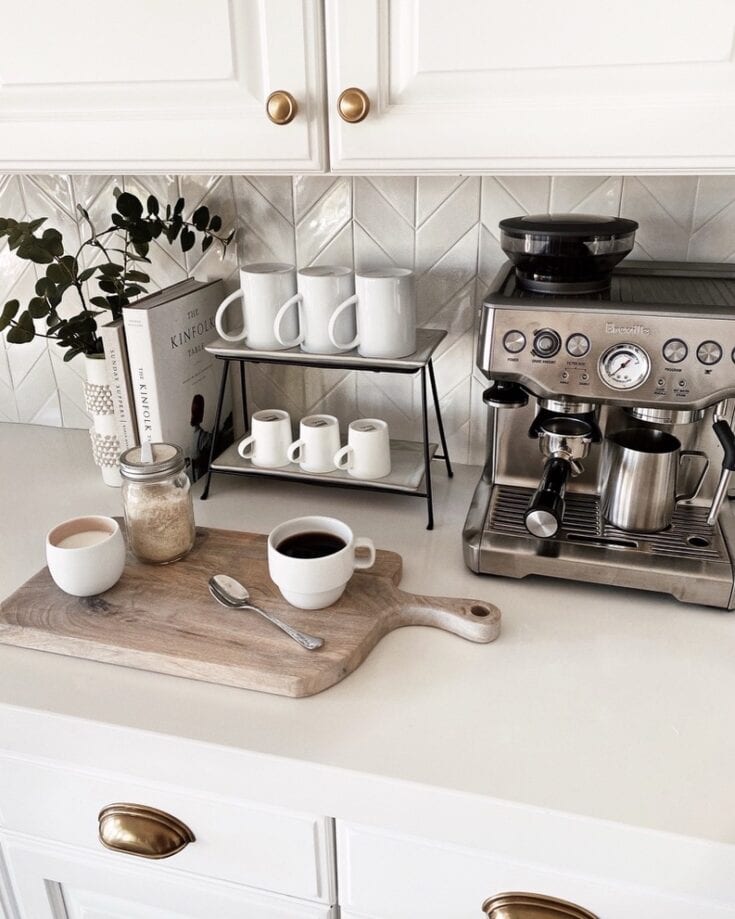 Essentials For a Well Stocked Coffee Bar
Appliances: Coffee machine, french press, espresso machine, Keurig, coffee bean grinder
Coffee mugs
Coffee pot
Coffee: grounds, beans, pods
Cream and sugar
Tray
Stirrers/spoons
Syrup bottles
Canisters
Bowls (for sugar)
Baskets
Napkins
Cinnamon
Biscotti (options, but YUM!)
Get The Look For Your Own Coffee Bar
Shop Essential Appliances
Final Thoughts
By adding a coffee station to your home, you're not only creating a stylish focal point to your room, but a convenient way to enjoy your morning cup of coffee—perfect for any coffee lover.
No matter your space or budget, you can easily incorporate these ideas into your home.