These gorgeous, DIY-ed coffee bar ideas for the kitchen, are sure to add some character to your space.
Fun ways to elevate your morning coffee routine, and create a fun and cozy space to start or end your day.
From farmhouse coffee bars, counter spaces, or even bar carts we have gathered some fund ways to incorporate a dedicated coffee space in your own home.
Farmhouse Charm Kitchen Coffee Stations
When it comes to charm these farmhouse kitchen coffee stations, these ideas will leave you swooning for more.
Joanna Gaines would surely swoon over these beautiful farmhouse-style creative coffee bars.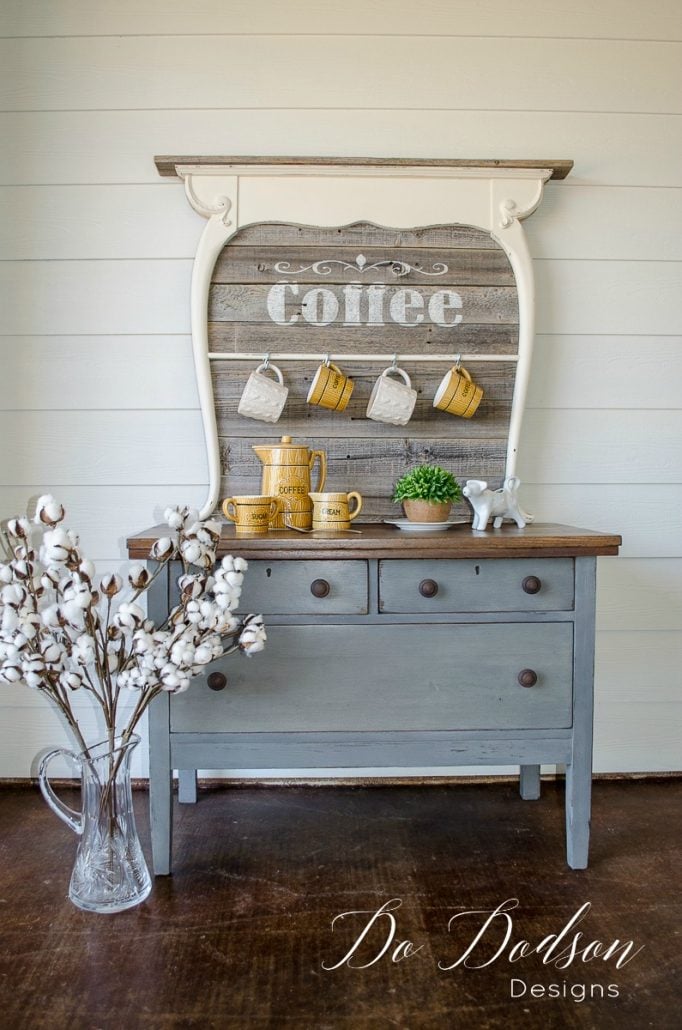 Do Dodson Designs had the creative vision to turn a vintage washstand table into a DIY coffee station, and we are here for it.
We love the rustic farmhouse look of this space.
Can you belive how amazing the mirrror looks turned upside down?
So creative and we love the perfect pop of yellow to balance off the space.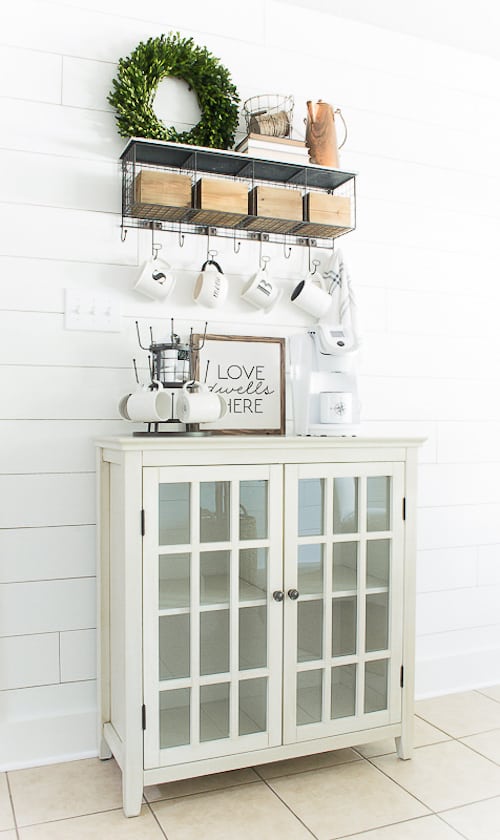 Sarah's goal for this space was to take some of the clutter off her kitchen countertop and have more counter space.
We think this cute dining room coffee station was the perfect solution.
The cubbies allow her to hide some of her coffee necessities, while not using them.
How creative to add coffee cups to the hooks n the cabinet.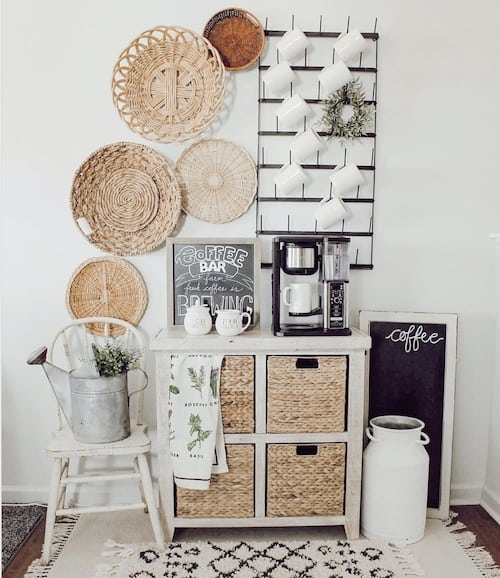 Kait's motto is "Good days start with coffee." We are with you Kait!
Coffee is a must to start our day, what about you?
The basket wall is full of texture and perfectly matches her storage baskets.
Who doesn't love a good wooden sign, right?
DIY Chalkboard Coffee Bars
These DIY chalkboard coffee bar ideas are not only super versatile, they are interchangeable and functional at the same time.
With just a few supplies you can have a cute coffee bar area too!
You can easily repurpose an old frame, or grab a chalkboard from your local home decor, shop to achieve a similar look.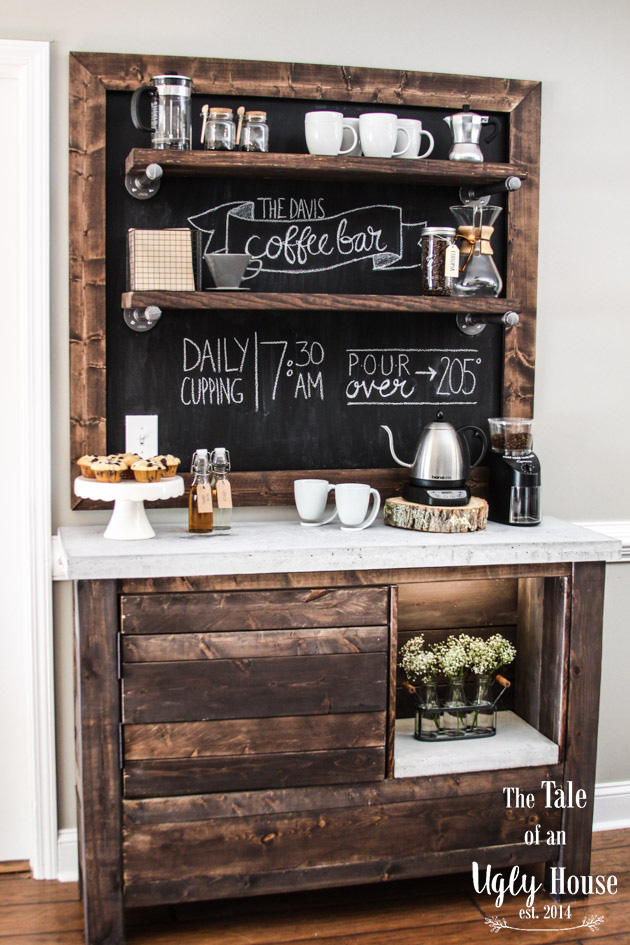 When it comes to showing you how to build your own DIY rustic coffee bar, Amanda Marie has you covered.
This coffee station has all the necessities you need to create the perfect cup of coffee and a jolt of caffeine.
How cool is her DIY chalkboard, and coffee beans in a jar, such creativity? It adds so much character to her space.
Look at this gorgeous black and white buffet coffee station via Kris at Junk Chic Cottage.
All of her drawers allow for great storage for her coffee supplies like napkins, k-cup refillers, and teas.
We are getting french bakery cafe vibes with her amazing collection of white pitchers, dishes, and decor.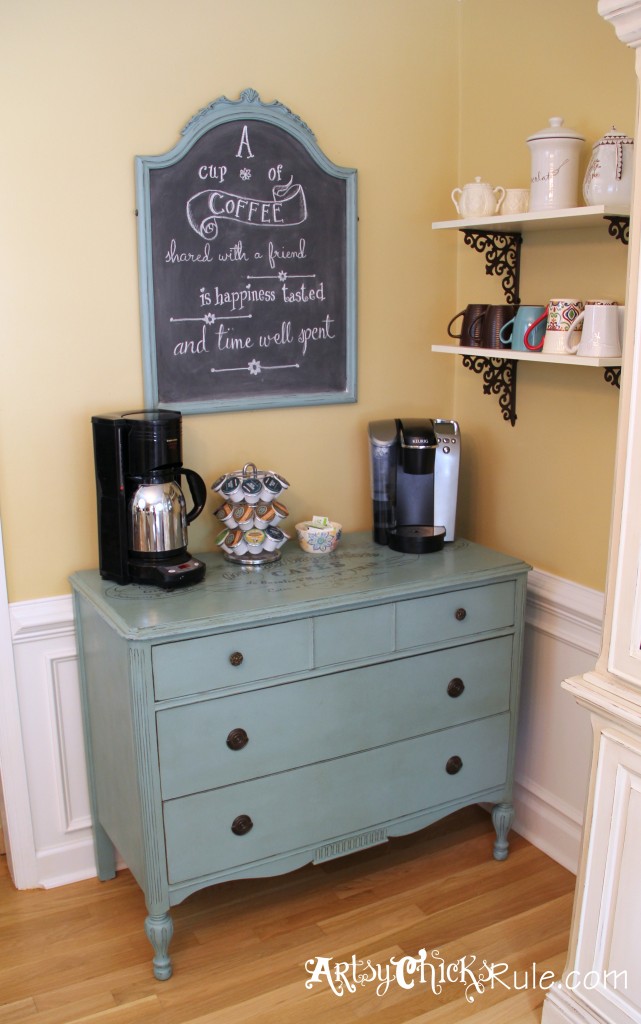 Nancy decided to use a refurbished dresser and turned this kitchen coffee nook into a coffee station. We love how she used a vintage mirror and turned it into a chalkboard.
She added a few shelves off to the side to hold all her necessities, so much fun!
Such a creative idea to have two types of coffee machines, for guests to choose from.
Colorful Coffee Bars
When it comes to adding a pop of color to these home coffee bar ideas, we have gathered some of the best for you to see.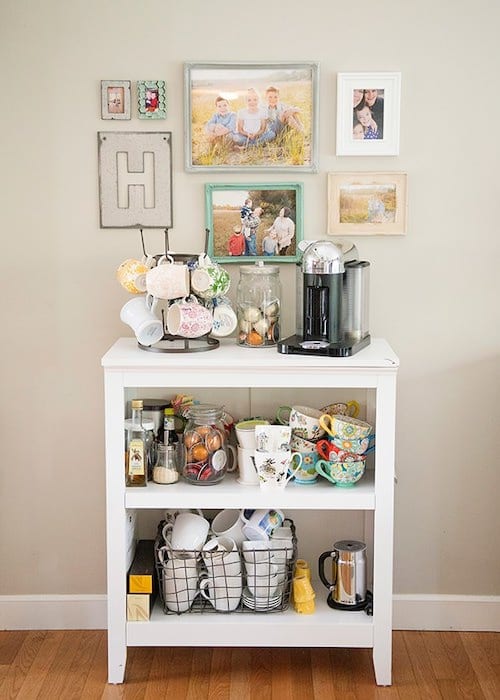 Bree's coffee station brings her joy, and we can totally see why.
From the colorful frames to coffee cups, our hearts are happy looking at her coffee bar.
This gives us so much inspiration to decorate our own coffee bar.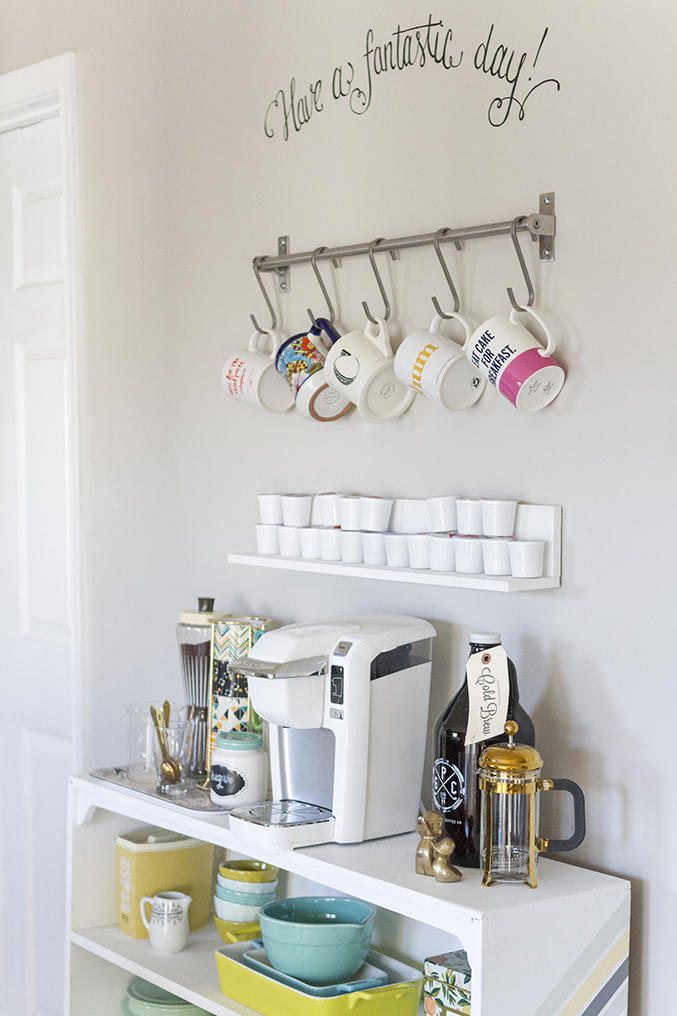 Carrie starts the day with a wonderful quote "Have a fantastic day" sometimes we all need that positive start to our day.
Loving the white coffee maker and mug rack, I am sure her guests enjoy this space while waiting for their coffee to brew.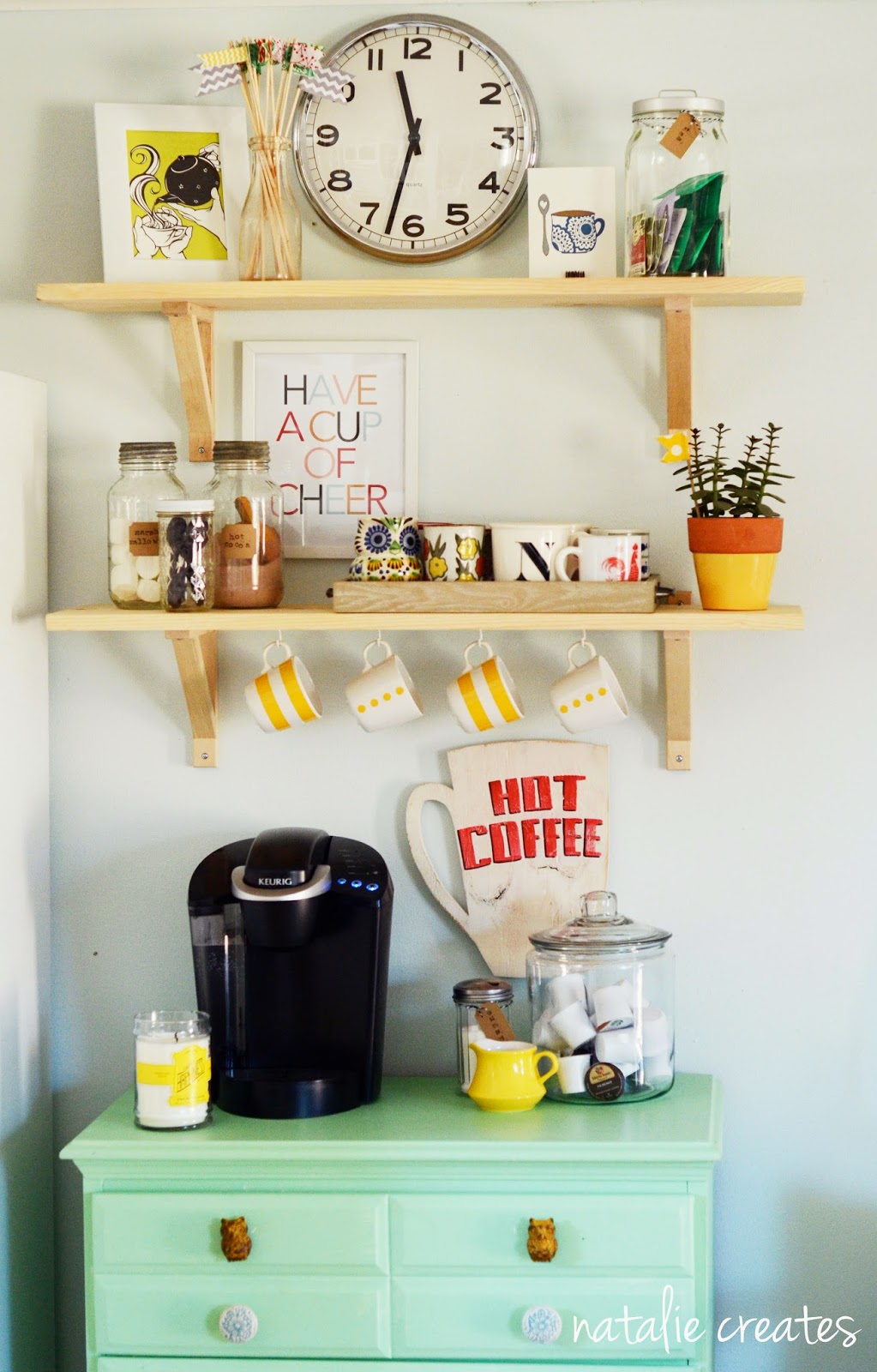 Natalie took a beat up dresser she found at Goodwill and created this colorful and cheerful place to make her coffee.
She wanted a space that could be enjoyed by her family & guests. Natalie loves hosting parties, potlucks, and craft nights.
She even has cute mason jars with marshmallows and hot chocolate on her dining room coffee bar shelves.
Coffee Carts
Don't worry if you don't have the dedicated space to make a large coffee bar area, we have some fun coffee cart ideas for you.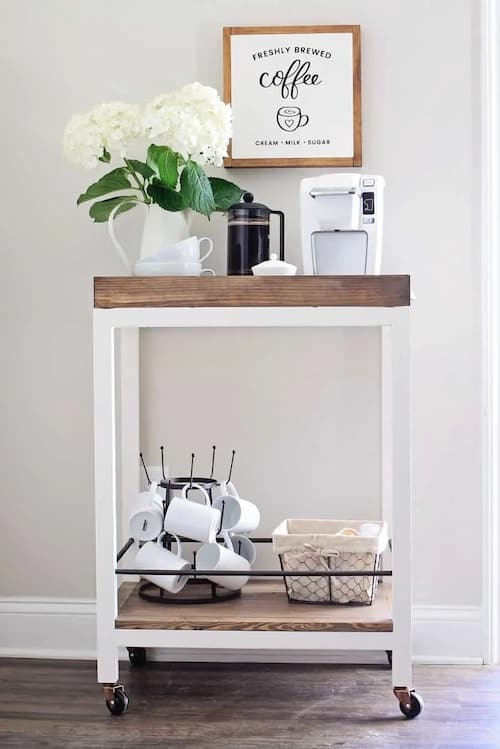 What a wonderful accent to Angela's dining space.
This coffee bar cart has everything you need to make the perfect cup of coffee.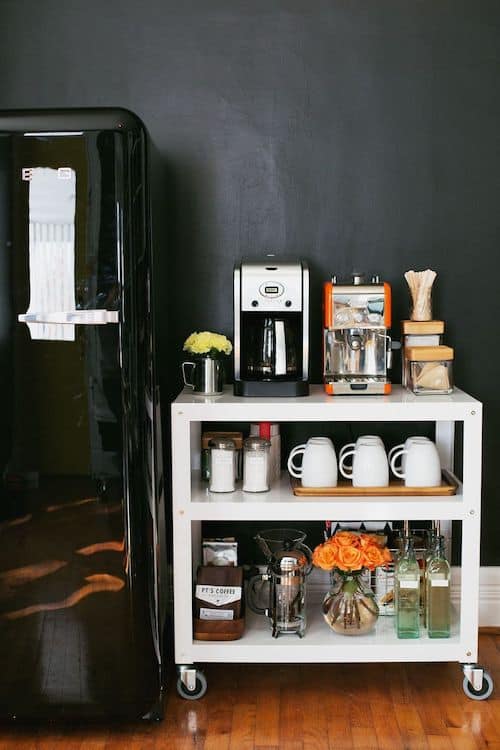 This office coffee bar cart has all the necessities to keep the employees feuled for the day.
Perfect supplies from the tray of coffee mugs, and coffee syrups, to the espresso machine. Everything you need for brewing the perfect cup of coffee for the office.
Counter Top Coffee Station
We love the coffee bar ideas for kitchen counter, a perfect use of space.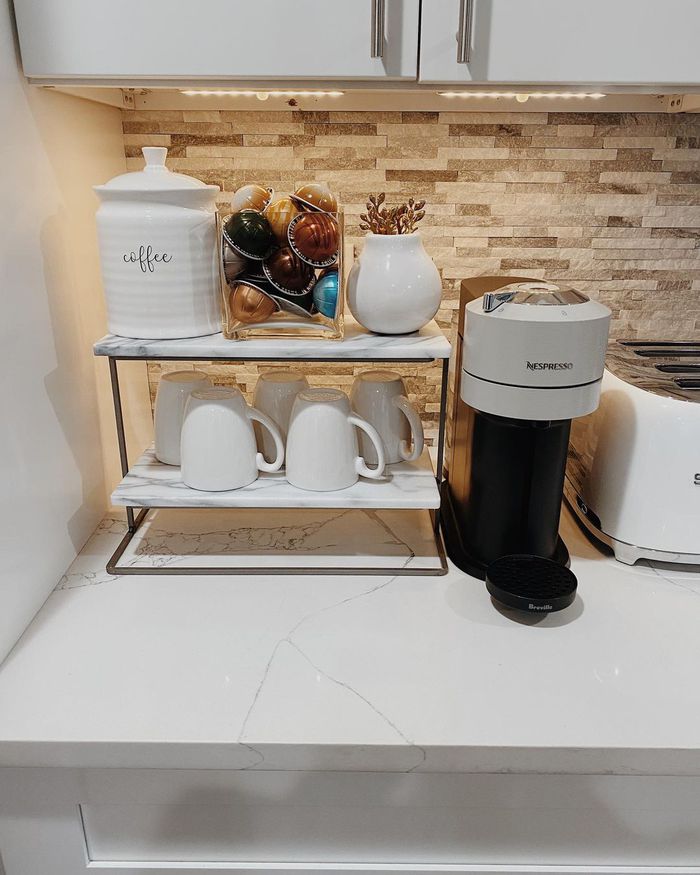 Leigh Ann has created a cute little coffee set up right under her kitchen cabinets.
Everything she needs is right within her reach.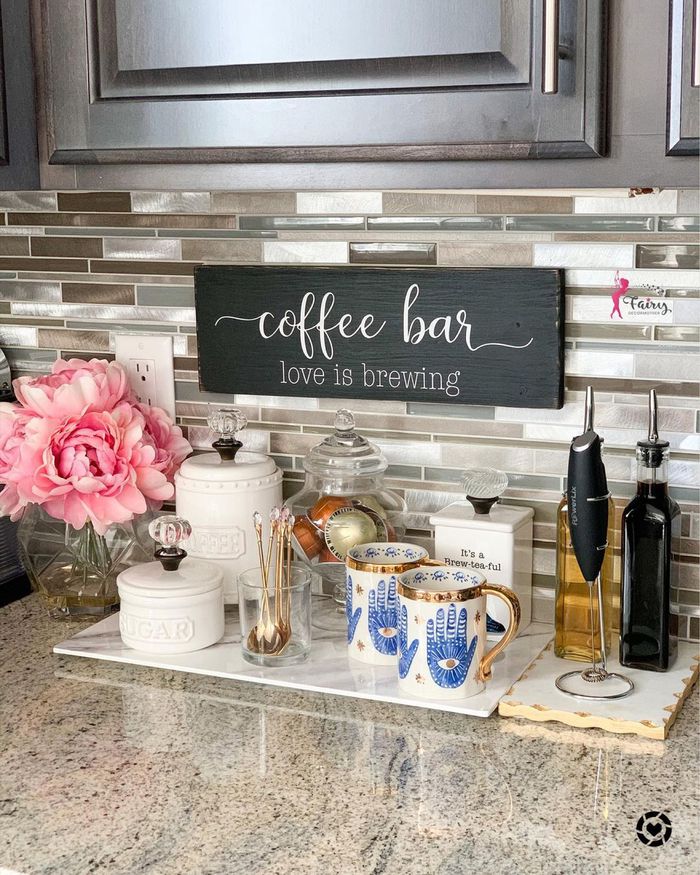 This Instagram worthy coffee setup has us swooning.
We just love the coffee sign and her gorgeous coffee and sugar jars.
Finished off with the cutest coffee mugs.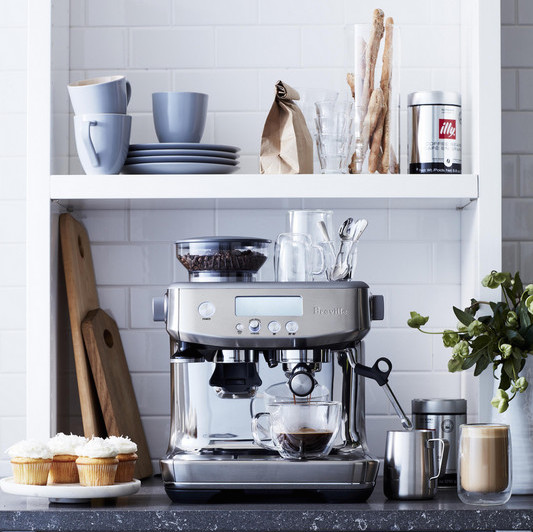 This stylish coffee bar makes us really want a cup of Joe and a cupcake to boot.
Small Spaces coffee bar ide
This is proof that even small coffee bars can make a huge impact on a space.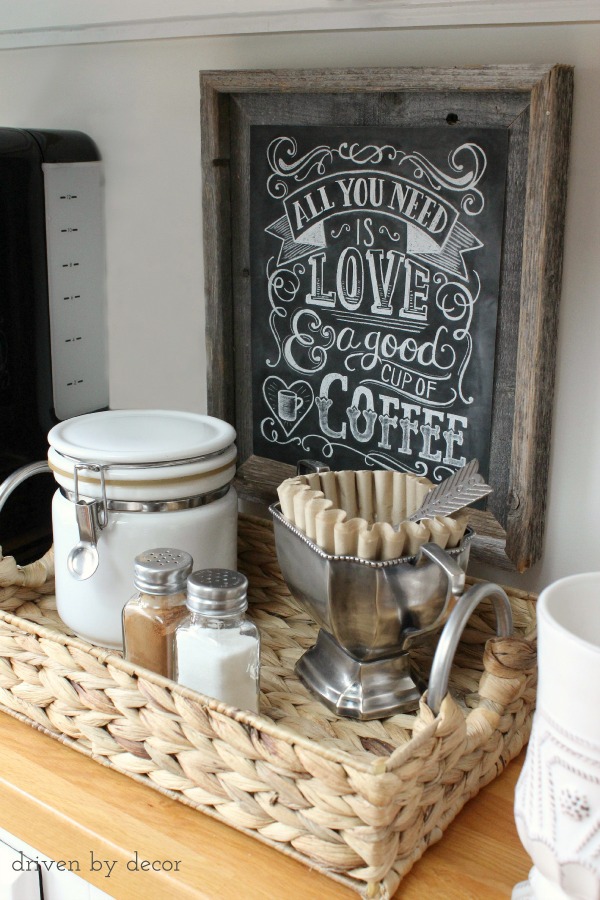 We love how this kitchen coffee space is super organized.
Don't you just love the chalkboard print above a basket?
Which is complete with all the coffee essentials from coffee beans, filters, coffee scoops, and sugar and cinnamon shakers.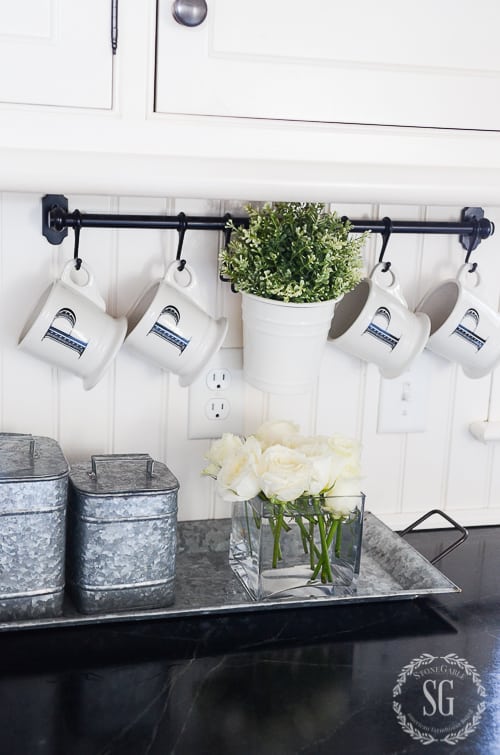 Look how gorgeous this pop of greenery is mixed with white personalized coffee cups and metal accents.
Mixing in a little decor really finishes off this counter coffee space.
Final Thoughts
If you love coffee in the morning as a pick-me-up, or to enjoy it throughout the day, you should consider creating a dedicated place for it. From a simple bar cart to a full-blown coffee station. Make use of a large or super small space, with your design space.