This post may contain affiliate links | For further details, please read our privacy policy
I'm sharing my honest review of my Caraway Cookware set after owning it for almost 2 years. If you've been debating whether or not to buy the set, you'll want to read this first!
Almost two years ago, we started our kitchen renovation. As part of the remodel, I wanted to get a new set of cookware, since the ones we were using were old ones that we inherited from my husband's parents. Of course, I didn't just want any cookware set, I wanted one that looked pretty on my stovetop and that was nonstick (but without the nasty toxic materials).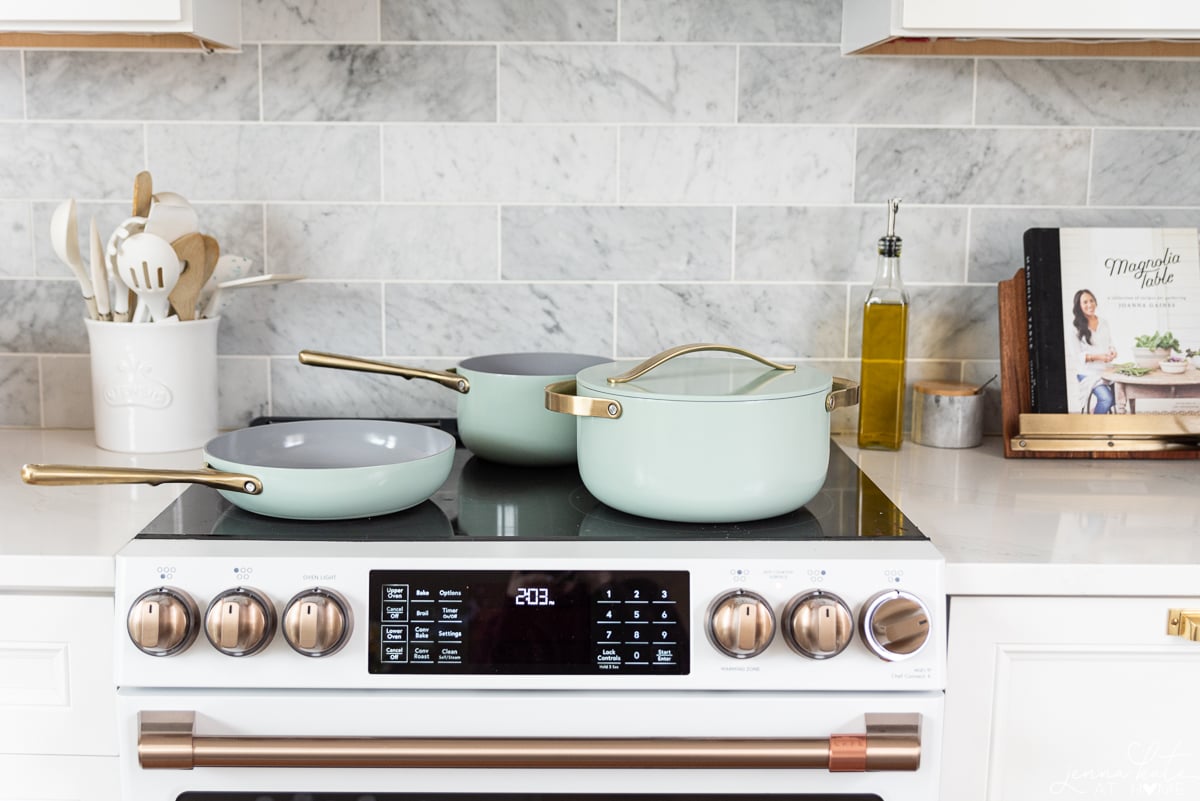 After some research, the name Caraway kept coming up so I reached out to them in the hopes of getting a gifted set. Well, long story short, I didn't get a full set but they did gift me a frying pan and a 6.5 quart dutch oven. It looked pretty, and I didn't have to pay for it so I wasn't too bothered if I ended up like them or not.
Well….let me tell you – I find that a lot of things that are "hyped" in the influencer world are because the people hyping them are getting large commissions to sell them. I know how this works, since that's my business, too. But for once, the hype is spot on for this cookware set. The set is so amazing and blows anything I've ever previously owned out of the water.
So much so, that once they released more colors (hello gold handles!) I went out and bought an entire set with my own money. And it does not disappoint.
Why I Love my Caraway Cookware Set So Much
1. No Toxic Coating
First off, if you've ever owned traditional cookware with a non-stick Teflon coating you'll know that eventually that coating starts to come off. When your pan reaches a temperature of 500 degrees, that Teflon coating can also start releasing toxic fumes and chemicals. Which means it's probably in your food that you're eating. Not good.
Caraway Cookware is ceramic, which is a mineral-based coating that won't leach toxic materials into your food.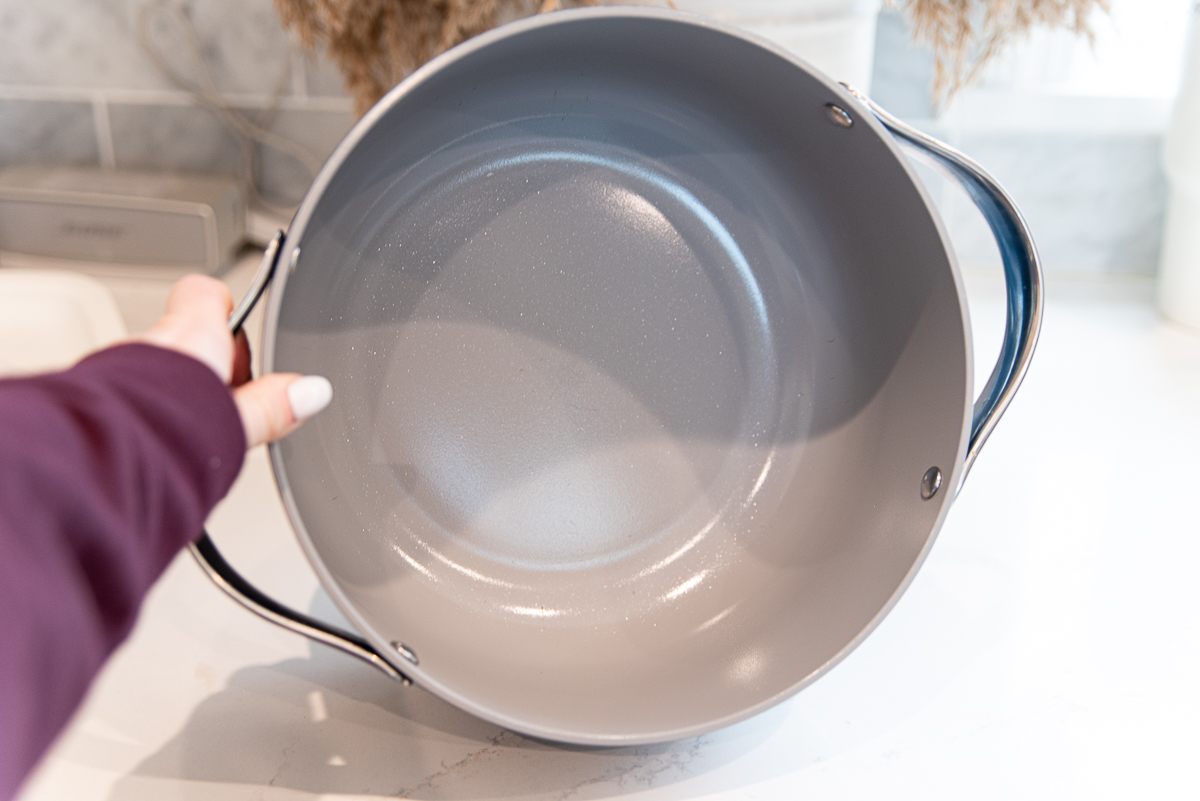 2. Non-Stick & So Easy To Clean
The big selling point for me is that it's naturally slick and incredibly non-stick. You need so little butter or oil for cooking, and food cleans right off (most of the time with just a rinse).
I've cooked everything from fried eggs, to caramelized onions and even chili in my pots and pans. Almost everything has rinses right off, but sometimes needs a little help from my nylon pot scrubber.
Only once, when I actually allowed some pasta sauce to bubble over and get burnt, did I need a little extra help from my favorite non-abrasive scrubber, Bar Keeper's Friend to get some residue off the side of the pan.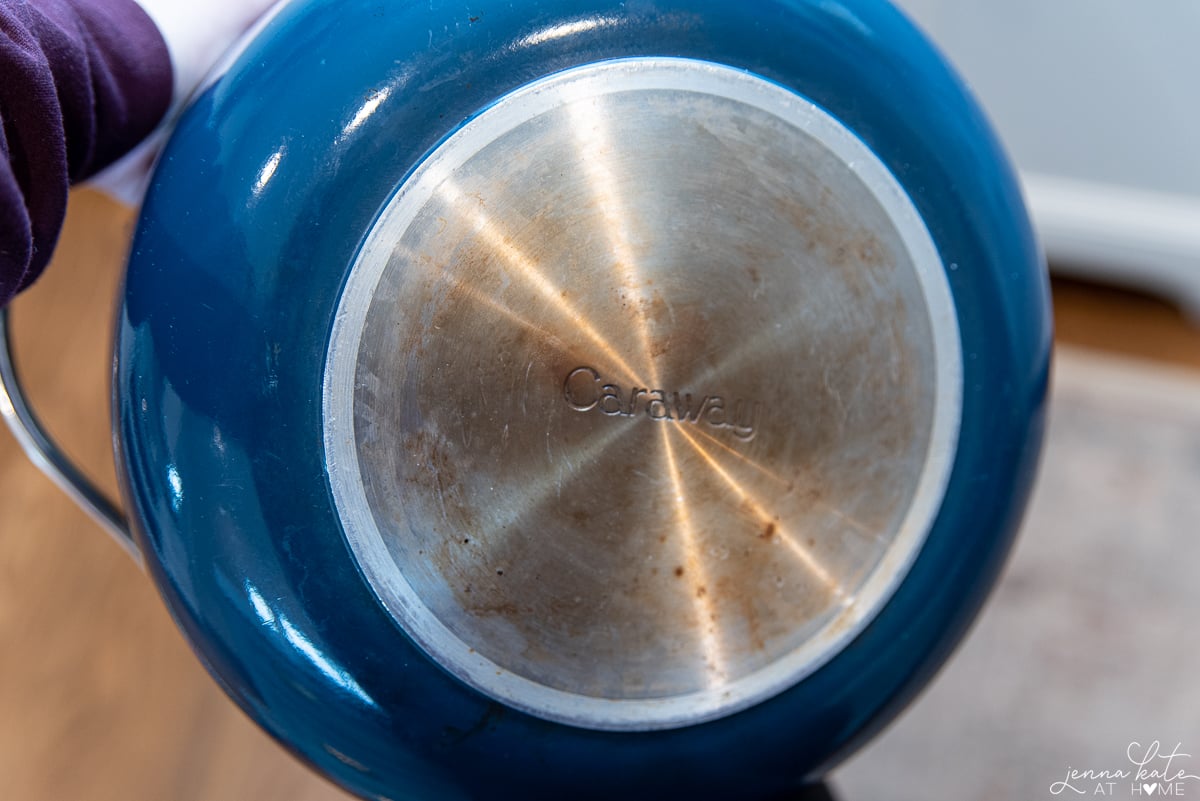 3. Heats Quickly
The first week I had my Caraway set, I kept burning and overcooking my food. Why? The pans get hot so much quicker than the cheap ones I've had in the past!
They heat evenly and don't have cool spots that result in unevenly cooked food. So definitely keep that in mind! I went from frying an egg on medium-high to having to bring my stove temperature closer to low.
I also used to have to wait 5 minutes for my pan to warm up, but my Caraway pan is hot within 60 seconds.
Oh, and the pots and pans work on electric, gas and induction stovetops.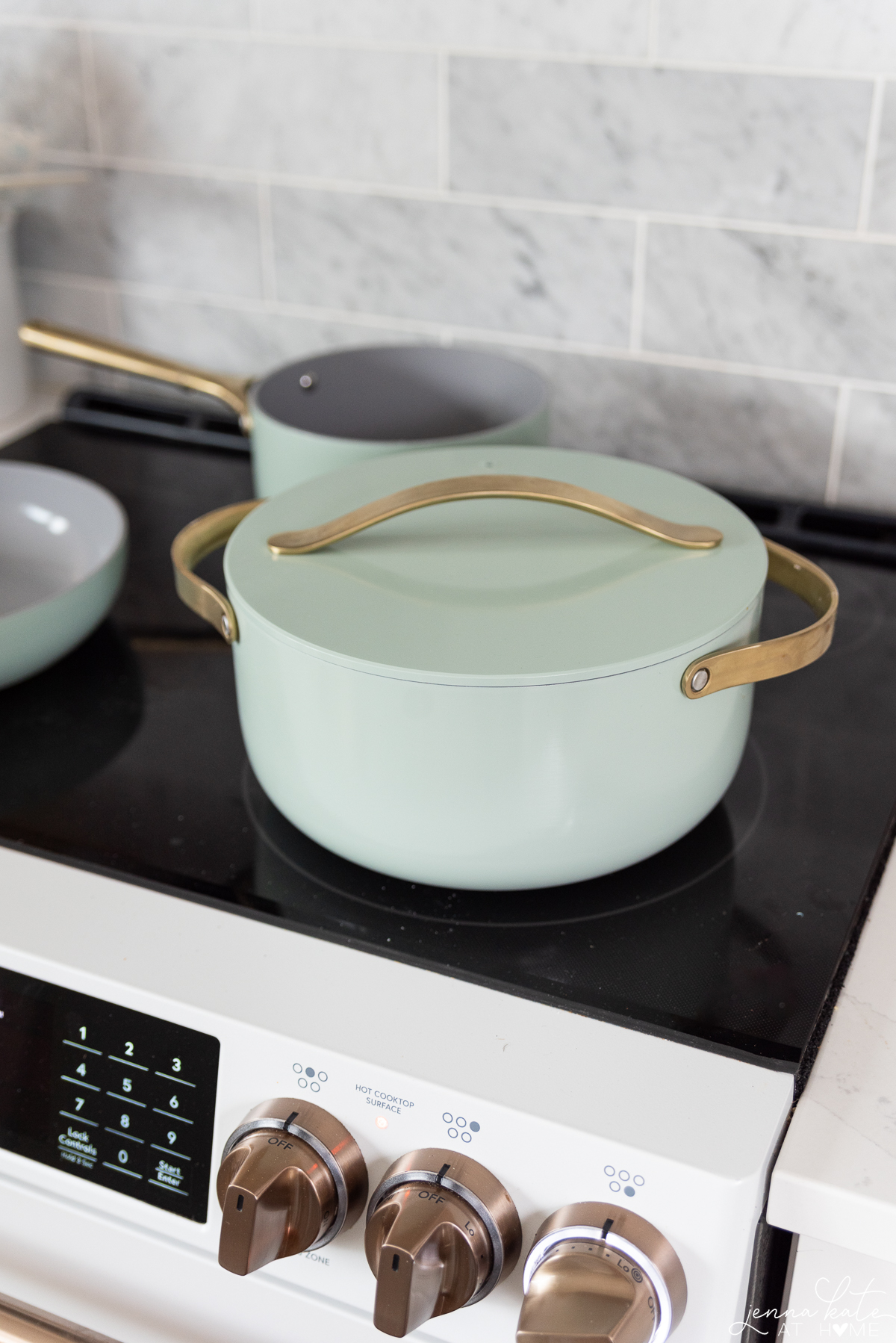 4. Beautiful Colors
As amazing as the pots and pans are, they are equally beautiful. You'll find a color that works without your home decor and fits perfectly in with your kitchen. It's not often that functional kitchen items actually look pretty sitting out, but Caraway Cookware does!
I read somewhere that someone had issues with the paint chipping of their pans. As you can see from mine (the blue is what I've had for almost 2 years) I have not had a single issue with paint chipping.
I hand wash everything – which is super quick to do, and something I always hated before but now it doesn't bother me – and I don't use anything abrasive to clean them.
5. Easy to Organize
When you purchase the full set, it comes with an awesome magnetic organizer and a handy canvas lid holder. The organizer is nice enough to sit on your countertop, or you can put it inside a cabinet. The lid organizer can be hung up, again inside a cabinet or on the back of a cabinet door.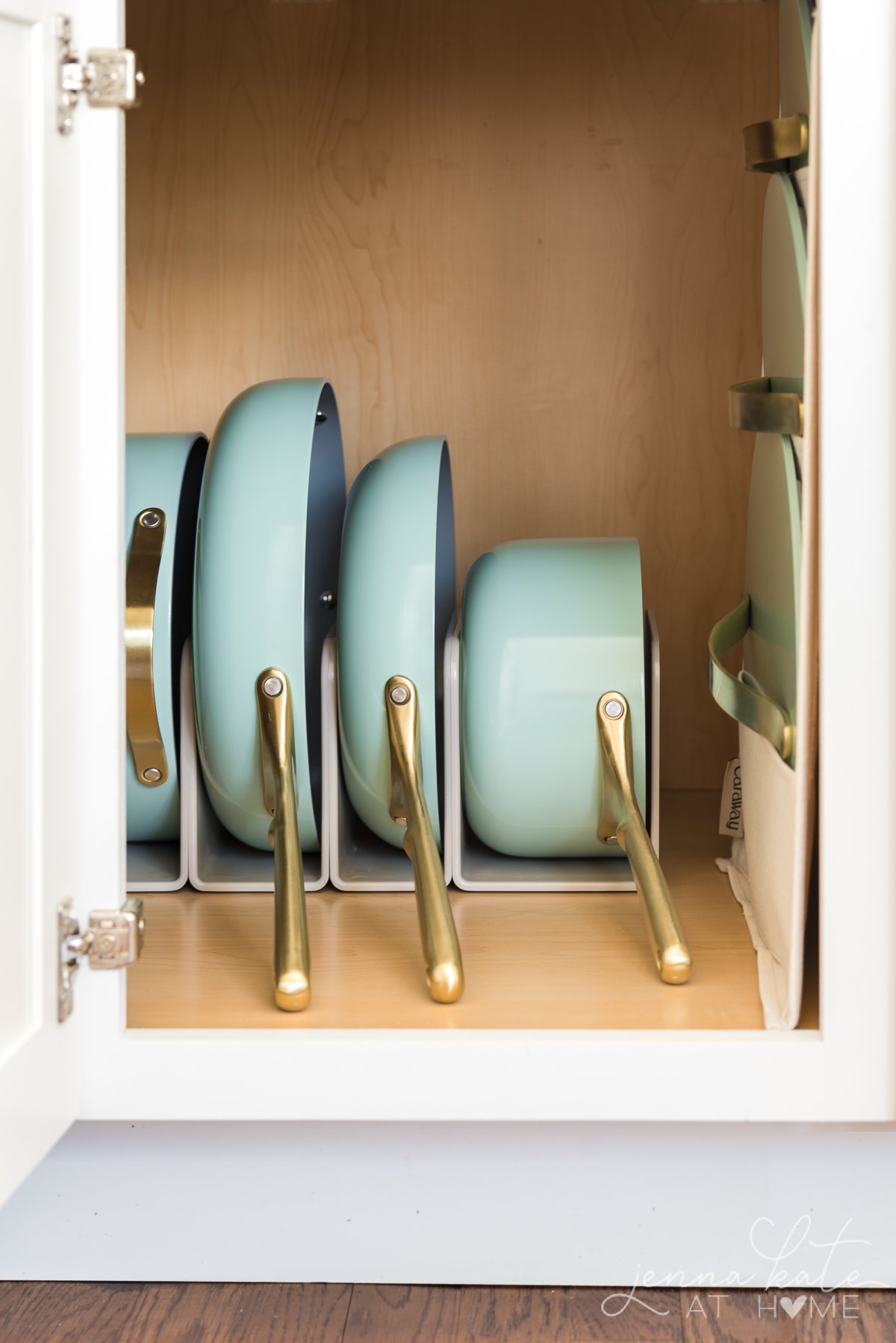 Cons
1. Handles Can Get Really Hot
This is me being ridiculously picky and trying to come up with some negatives, because this issue is not unique to Caraway. The pots and pans all have stainless steel handles, and can get really hot. I guess previously most of my frying pans had rubber handles. The easy solution here is to use an oven glove or pot holder before grabbing the handle. But just thought I'd mention it!
2. Limited Selection
My only other gripe is that when I originally purchased my set, smaller pots and pans were not available. The ones that come in the set are large, and sometimes I just want a mini pan for one egg, or a small saucepan to heat soup or make sauce.
Caraway recently launched a new line of mini-cookware, so I guess that solves my problem and I'll just have to go out and buy more! They now also offer bakeware, a squareware set and even food storage containers! So I should really check this off the list of cons!
think that caraway cookware is right for you?
Order today and get 20% off site wide with my exclusive promo link