This post may contain affiliate links | For further details, please read our privacy policy
I'm in the middle of a half bathroom remodel. Half being the fact that my shower got a total remodel, but the rest of the bathroom is getting a simple refresh.
I have toyed with the idea of getting a new vanity but decided it was unnecessary. However, I did source some great bathroom vanities during my research, so I thought it would be helpful to share them with you in case you're ever in the market for a new bathroom vanity!
These are all modern-style vanities that will work with a range of budgets, from low to high. I've included different sizes and colors, too, so there should be something for everyone's tastes and bathroom size.
If you're planning on a full bathroom remodel, just like any remodel, I suggest picking one item as the focal point in designing the room around that. A beautiful vanity is a great opportunity to create a focal point that can be a real design statement in your bathroom, so don't pass it up!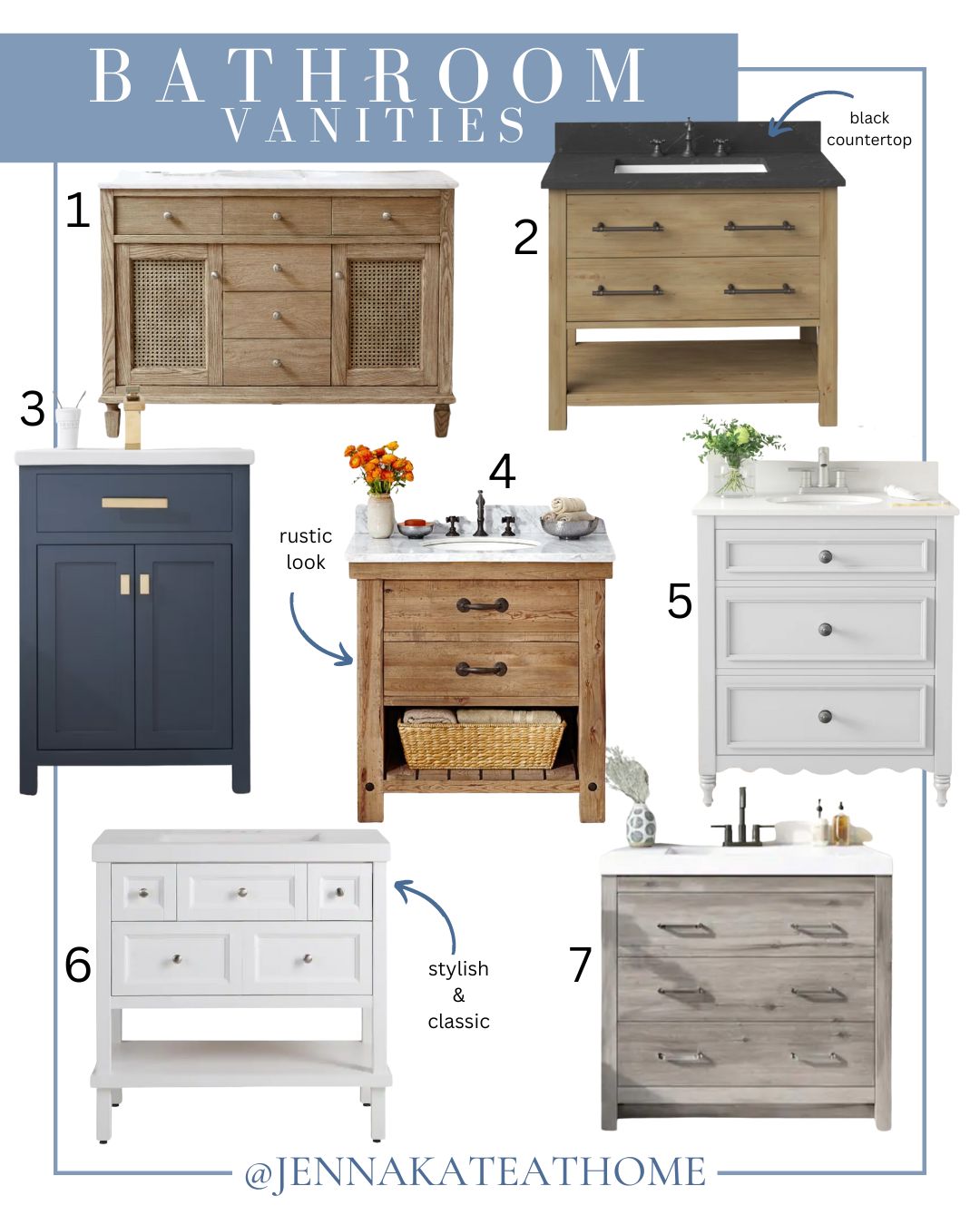 Vanity #1: I'm sure you've seen this wood vanity before if you've been pinning inspirational images on Pinterest recently. It's very popular, and for good reason – it's stunning! It has a classic look with some french country flair that works in any bathroom. The natural wood tone warms up even the plainest white bathroom and works with both warm and cool-toned hardware. It's pricey, though! Definitely not a low-budget option.
Vanity #2: I love the black countertop and black hardware on this rustic-style vanity. It's perfect if you're into the farmhouse style, but will also add a masculine, industrial touch to a plain bathroom. The bottom shelf is perfect for adding a basket with extra towels or toilet paper. This one will get you the Pottery Barn look for under $1000.
Vanity #3: I love this narrow navy-blue vanity for a powder room. The satin brass hardware adds a modern touch, and a pop of color is a great way to add some fun into a small space. This one is a great price, perfect for a lower budget and has plenty of storage space in the cabinet.
Vanity #4: Back to another higher-priced option. but it is a stunner! This one again has that rustic charm, and will work beautifully to warm up any style of bathroom. It's a good option for a full-size bathroom or a powder room and will truly create a focal point.
Vanity #5: Take a basic white vanity and elevate it, please. The pretty wavy detail on the bottom of this vanity adds just enough interest. This vanity is designed to look like an old dresser and I love it! At 30 inches wide, this is a great powder room or primary bathroom option, and at just over $300 it's an excellent choice if you have a tight budget.
Vanity #6: I love the drawers on this vanity, which make it look like a piece of furniture. Swap out the knobs for new hardware in a color of your choice and you'll have a stunning bathroom vanity for under $500.
Vanity #7: This is a more modern look, with the gray washed wood and squared-off countertop. It's a middle-of-the-road budget price, but it a great option for those who need extra storage in their bathroom vanity.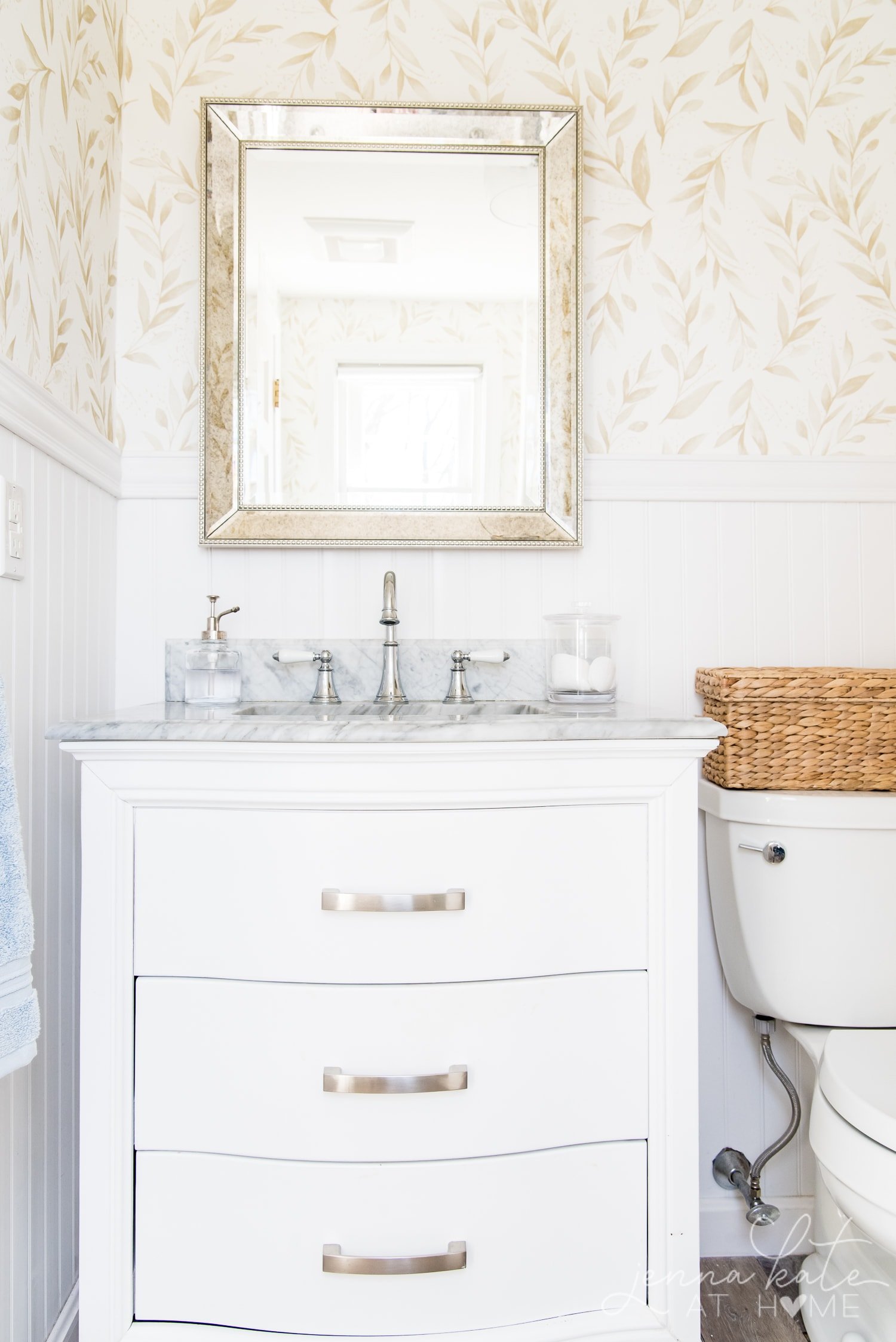 Final Thoughts
Adding a new bathroom vanity to your master bathroom, guest bathroom or powder room is a sure-fire way to update the space. Whether you prefer a vanity that looks old, rustic, modern or classic, a new bathroom vanity will completely change the look of your entire space.
If you have a hard time finding something that's exactly what you want, consider the bones of the vanity. It's easy to add a fresh coat of paint or switch out the hardware to give it a whole new look, and make it exactly what you want it to be.
Vanities can also be purchased without tops, allowing you to get a remnant from stone fabricator and get a custom look vanity.